Delightfully chewy and filled with nutty flavor, these Chocolate Monster Cookies are packed with healthy oats. Serve them warm with a glass of cold milk for a super satisfying dessert experience.
Did you enjoy these chocolate monster cookies? Try out this traditional Monster Cookie recipe.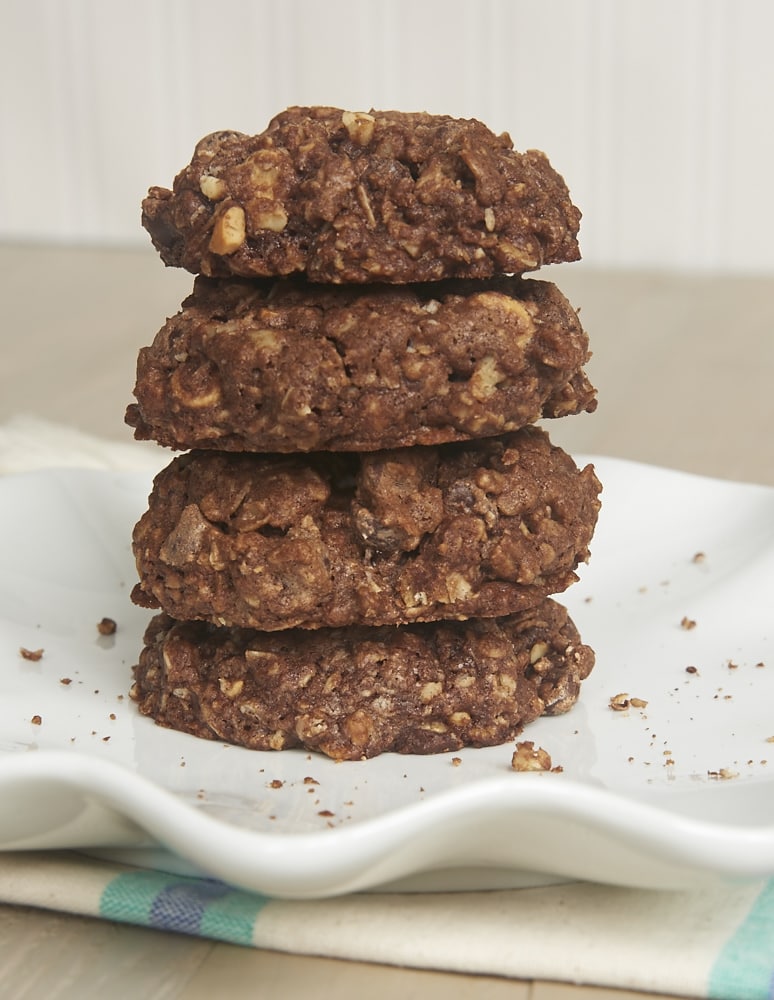 Chewy Chocolate Peanut Butter Oatmeal Cookies
These chewy cookies are a great way to get some nutrients into your evening's dessert. The oats offer tons of good fiber, while the peanut butter is full of protein. Guilty pleasures are always fun, but it's even better to be able to enjoy your treats guilt-free.
The vitamins and minerals in these cookies make them ideal for a workplace snack, and you can even eat them for breakfast. They're also perfect for slipping into lunchboxes so that kids get a tasty treat that keeps them healthy. And they're great for potlucks, as long as you slap an allergy warning on the container.
What Is a Monster Cookie?
Monster cookies are soft, thick cookies that use oats instead of flour as their main base. They usually have lots of different candies, nuts, and other goodies mixed in. These feature chocolate and peanut butter chips, as well as cashews.
Recipe Ingredients
First things first, let's get into what you'll need to have on hand when you want whip up a batch of these babies. Scroll down to the printable recipe card to find exact amounts.
Unsalted butter: Softened almost to room temperature. Learn more: How to Soften Butter
Granulated sugar
Brown sugar: Packed tightly into the measuring cup or measured by weight.
Baking powder
Baking soda: Yes, you need both!
Salt
Eggs
Vanilla extract
All-purpose flour
Cocoa powder: I use the unsweetened kind.
Rolled oats
Semisweet chocolate chips
Peanut butter chips
Cashews: Coarsely chopped.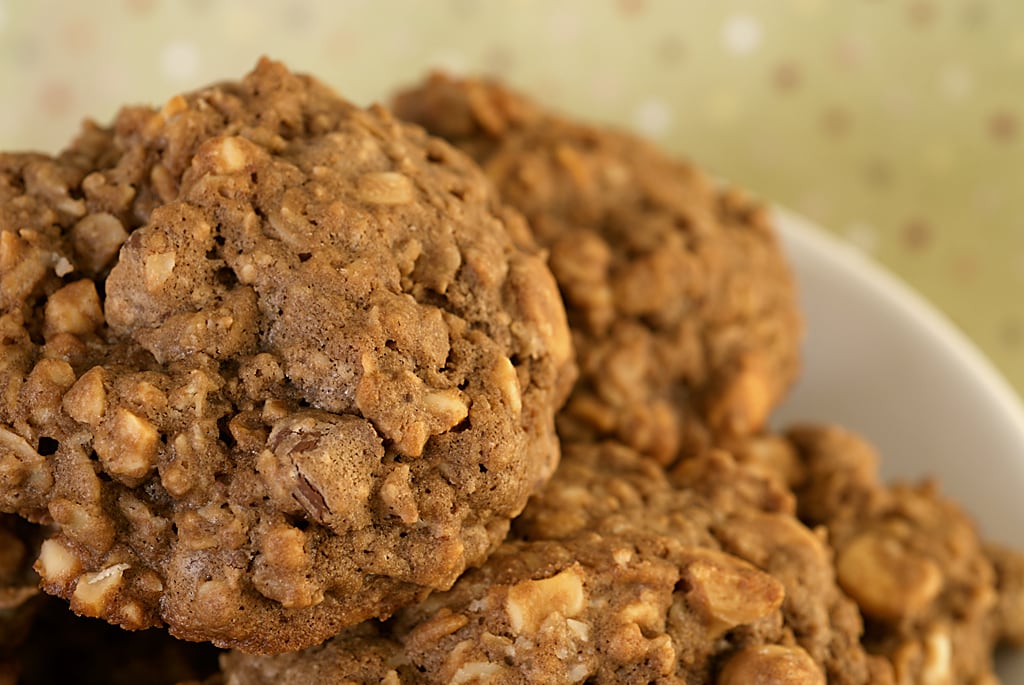 How to Make Chocolate Monster Cookies
With only 20 minutes of active prep, these cookies are a total breeze to throw together. Here's how you can make them at home.
Prep Your Materials: Preheat your oven to 350°F. Line a baking sheet or 2 with silicone liners or parchment paper.
Make the Dough Base: Beat the room temperature butter until it smooths out. Add both kinds of sugar, baking powder, baking soda, and salt, then beat until they combine with the butter. Add your eggs, one at a time, and mix them in well after each addition. Add the vanilla and beat again until everything has fully combined.
Add the Final Dry Ingredients: Gradually add the flour and cocoa powder, beating them in until they're just combined. Stir in your oats, chocolate chips, peanut butter chips, and cashews.
Bake and Serve: Form each cookie out of 1/4-cup of dough and drop them onto prepared baking sheets, about 3 inches apart in case of spreading. Bake them for 12 to 14 minutes, or until they hit your desired doneness. Let them stand for 1-2 minutes on the baking sheet. Transfer to wire racks to cool completely, then serve them warm or at room temperature.
Can I Make the Dough Ahead of Time?
Yes! Since the dough needs to chill anyway, go ahead and mix it together up to 24 hours before you plan to use it. And if you want to make a double batch, you can form the extra dough into balls and freeze them so they're ready to go whenever. Either way, just make sure you wrap the dough well to keep bacteria and freezer burn out.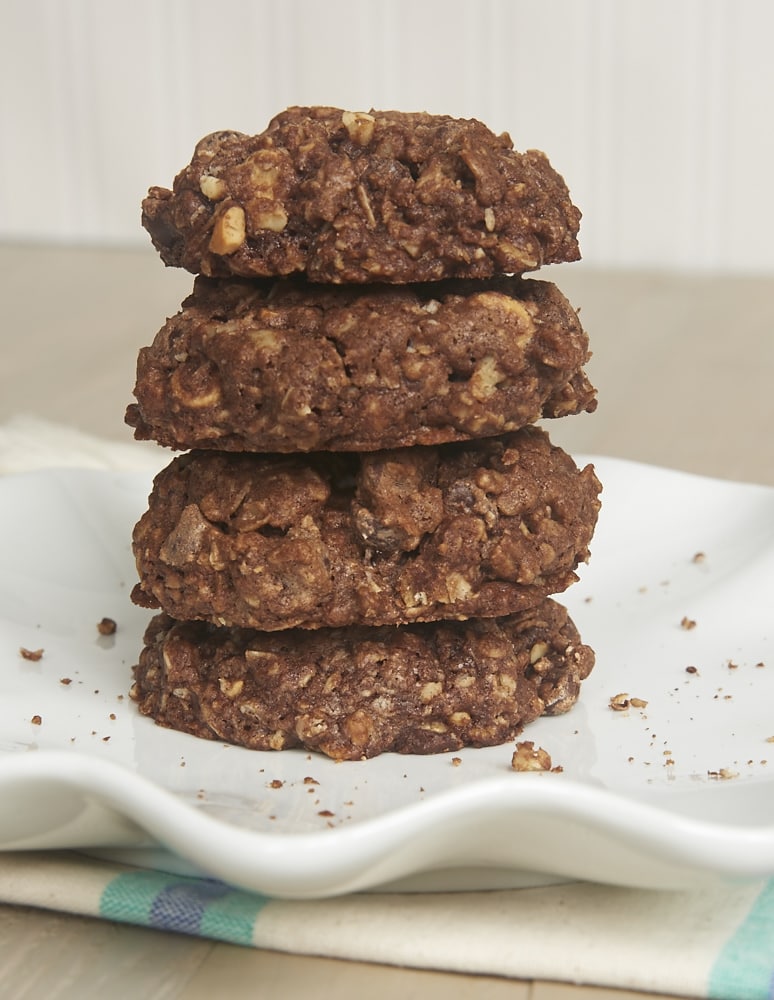 Tips for Success
These chocolate monster cookies are really simple to make. Follow these tips for perfectly chewy chocolate peanut butter cookies.
Toast the Nuts: If you want to really bring out their flavor, place the chopped cashews in the oven for about 10 minutes before adding them to the batter. This will also give them a satisfying crunch.
Check Your Baking Powder: One of the main reasons for flat cookies is expired baking powder. Check the date on the container before adding it, and make sure it's still at its best.
Spoon and Level: Since these cookies are meant to be chewy instead of cakey, you don't want to add too much flour. Make sure you don't stick your measuring cup directly into the flour bag, since this will pack it down. Instead, use a spoon to transfer the flour into the cup and then level it off. Better yet, measure by weight.
Variation Ideas
There are so many ways to make these cookies you own. Here are a few ideas to help you get started.
Use a Different Nut Butter: The most obvious switch here is to swap out the peanut butter for something else. For example, almond butter has a subtler nutty flavor, letting the chocolate in these cookies shine.
Switch Out the Cashews: Just like you can use a different nut butter, you can also use a different nut. I like to go with toasted peanuts to really lean into the nutty flavor, but you can also use walnuts, almonds, or pecans.
Add M&Ms: The classic monster cookie features M&Ms as well as chocolate chips. Toss some of the iconic candy-coated chocolates into your monster cookies for a bit more sweetness and crunch. You can also add Reese's Pieces to highlight the nuttiness in these cookies' flavor profile.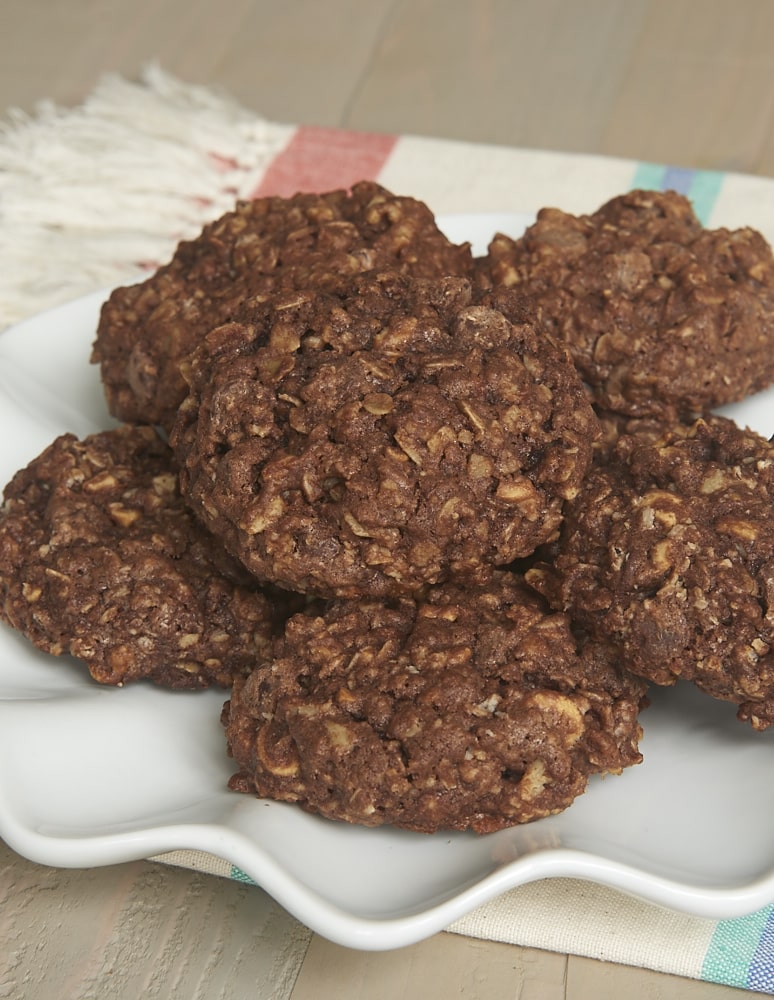 How to Store Extra Cookies
These cookies keep well at room temperature in an airtight container. You don't want them to dry out, so make sure you seal them up tightly. They'll last for about 4 days.
Can I Freeze These?
Yes, these cookies can be frozen for up to 3 months. Store them tightly in a double-lock freezer bag or a freezer-safe container. You can thaw them out right on the counter before you serve them. You can also freeze balls of dough and bake them from frozen, adding a minute or two to the baking time.
More Chocolate Peanut Butter Treats to Try