May 26, 2015
Lemon Thumbprint Cookies
Thumbprint cookies are just adorable, aren't they? It's such a simple concept, yet it always makes me immensely happy to make that little indentation in the cookies and fill them with something tasty. They're just so fun and happy!
For these thumbprint cookies, I made some simple vanilla cookies that benefit in both flavor and texture from a bit of cream cheese. They're so wonderfully soft and sweet that I could just eat them all on their own. But then I filled them with lemon curd for a nice bite of tartness. And they got even better!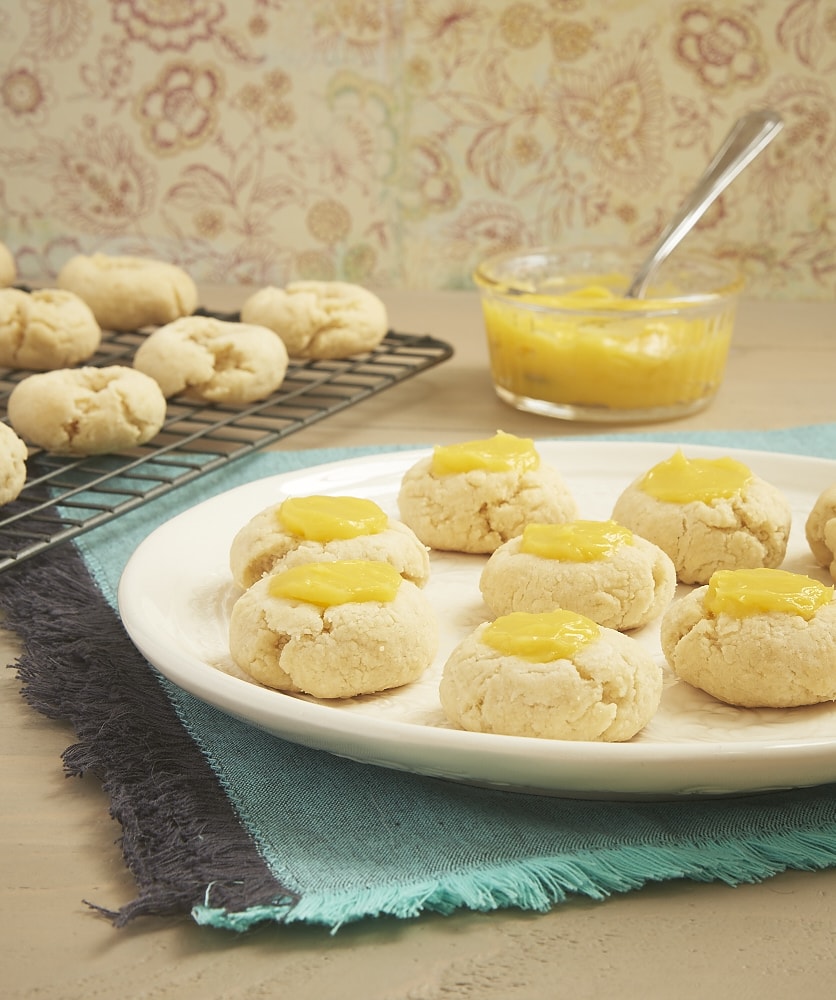 You can, of course, use store-bought lemon curd for a handy shortcut. Or keep in mind that making your own is very simple.
For a simple variation, fill these little cookies with your favorite jam or preserves. Or take a turn from fruity fillings and go with a chocolate-hazelnut spread, caramel, or frosting. A variety of fillings is perfect for serving a crowd!
Lemon Thumbprint Cookies
Yield: 24 cookies
Prep Time:25 minutes
Cook Time:14 minutes per pan
Sweet, tart lemon curd adds a delicious bite to these Lemon Thumbprint Cookies.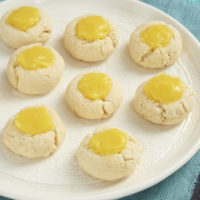 Ingredients:
1 & 1/2 cups all-purpose flour
1/4 teaspoon baking soda
1/4 teaspoon salt
4 ounces cream cheese, softened
1/4 cup unsalted butter, softened
1/2 cup granulated sugar
1 teaspoon vanilla extract
1/4 to 1/2 cup lemon curd
Directions:
Preheat oven to 350°F. Line baking sheets with parchment paper or silicone liners.
Whisk together the flour, baking soda, and salt. Set aside.
Using an electric mixer on medium speed, beat the cream cheese, butter, sugar, and vanilla until light and fluffy.
Reduce mixer speed to low. Gradually add the flour mixture, mixing just until combined. The dough will be crumbly but will hold together when pinched.
Using a tablespoonful of dough at a time, roll the dough into balls and place on the prepared pans, leaving about 2 inches between the cookies.
Bake 10 to 14 minutes, or until the edges of the cookies are lightly browned.
While the cookies are still warm, use the end of a wooden spoon to make an indentation in the top of each cookie. After the cookies have cooled for 5 minutes, transfer the cookies to a wire rack to cool completely.
Fill the indentions of each cooled cookie with 1/2 to 1 teaspoon of lemon curd.
This recipe was originally developed for Clabber Girl, where I am a paid contributor.