October 6, 2014
Apple Spice Cake with Cinnamon Cream Cheese Frosting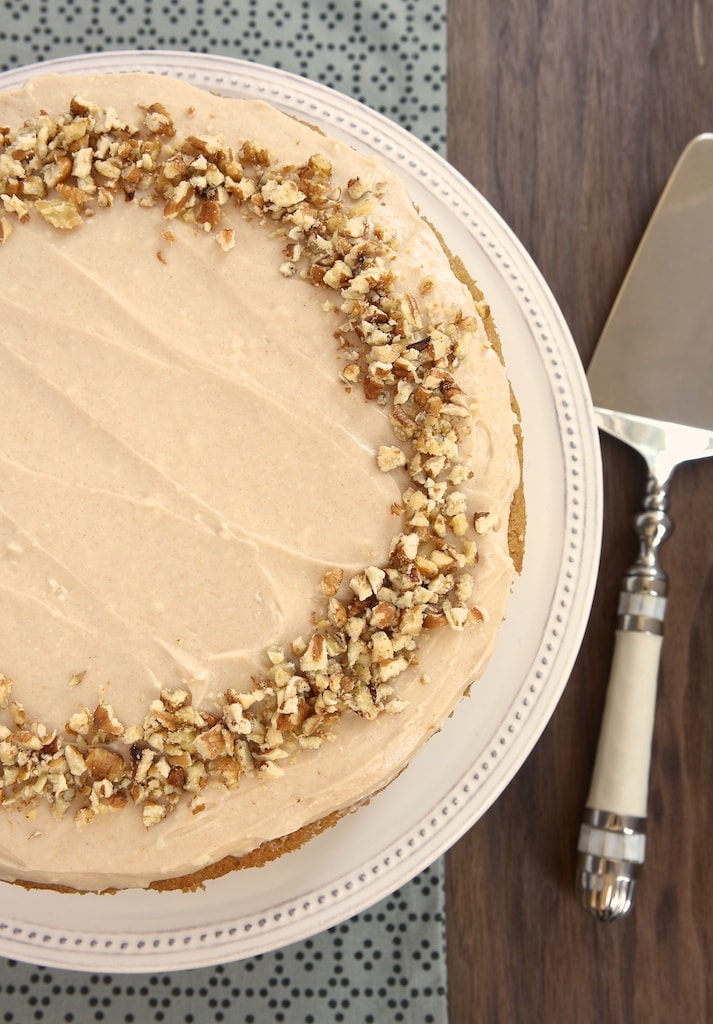 We all know I'll tell anyone who will listen how much I adore fall. And we are getting to the really good parts of the season right now. The leaves are just starting to change, there's a chill in the air, and this girl is all kinds of happy.
To celebrate my favorite season, let me introduce you to fall in a cake. This beauty has all kinds of good fall-like things going on, from apples to a whole slew of fall spices. That frosting doesn't hurt, either.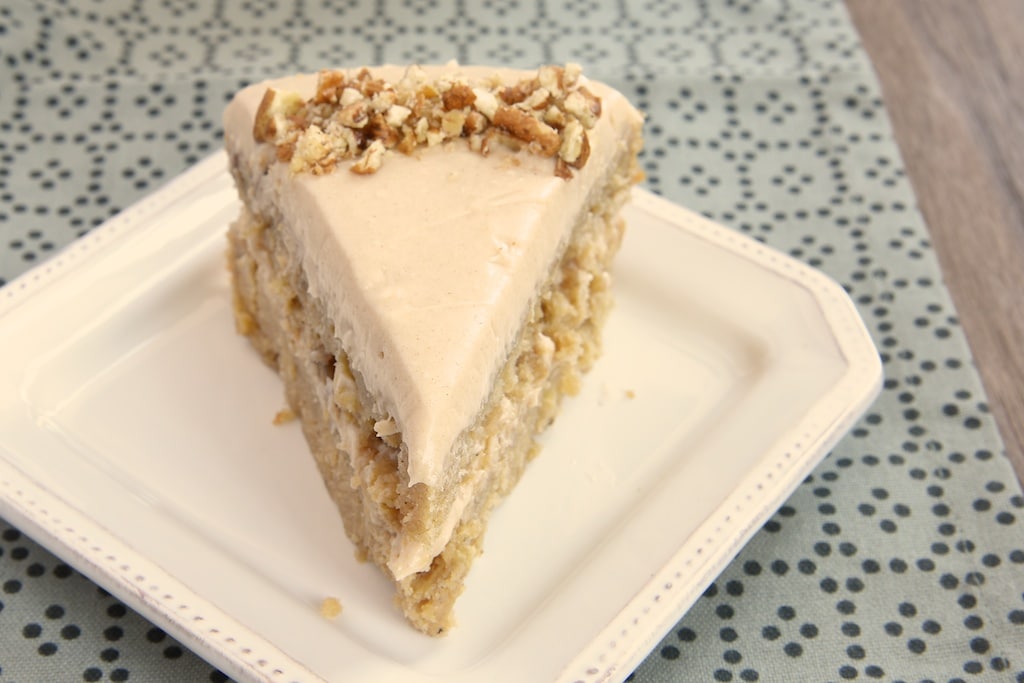 I used a combination of some of my favorite spices for flavoring the cake. If you have a different ratio or blend that you like to use, then go right ahead and switch it up a bit to suit your tastes.
I freely admit that frosting cakes is not one of my best skills. I also tend to like a lower frosting to cake ratio than some people. Those two facts combined mean that I tend to do really simple frostings on cakes. If you'd prefer to frost the entire cake, just increase the frosting ingredients by 50%, and you should have plenty of frosting to cover the entire cake.
This Apple Spice Cake is an incredibly moist and delicious cake. And those flavors are just exactly what I crave this time of year. It's just the thing for serving at your fall celebrations!
Fall is the perfect baking season! Find more of Bake or Break's favorite fall recipes by clicking here.
Apple Spice Cake with Cinnamon Cream Cheese Frosting
Yield: 12 to 14 servings
Prep Time:30 minutes
Cook Time:30 minutes
Apple Spice Cake with Cinnamon Cream Cheese Frosting is a delicious celebration of all things fall with lots of apples and fall spices.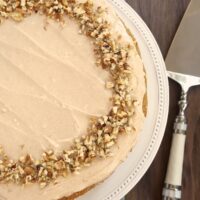 Ingredients:
For the cake:
2 & 1/4 cups all-purpose flour
1 & 1/2 teaspoons baking powder
1 teaspoon ground cinnamon
1/2 teaspoon salt
1/4 teaspoon ground nutmeg
1/4 teaspoon ground allspice
3/4 cup unsalted butter, softened
1 cup packed light brown sugar
1/2 cup granulated sugar
3 large eggs
2 teaspoons vanilla extract
1 cup milk
2 medium apples, finely chopped
For the frosting:
8 ounces cream cheese, at room temperature*
1/2 cup unsalted butter, softened
2 cups confectioners' sugar, sifted
1 teaspoon ground cinnamon
1/2 teaspoon vanilla extract
1/4 cup chopped toasted nuts, for garnish
Directions:
To make the cake:
Preheat oven to 350°F. Butter two 9-inch round cake pans. Line the bottoms of the pans with parchment paper. Butter the paper.
Whisk together the flour, baking powder, cinnamon, salt, nutmeg, and allspice. Set aside.
Using an electric mixer on medium speed, beat the butter, brown sugar, and sugar until light and fluffy.
Add the eggs, one at a time, mixing well after each addition. Mix in the vanilla.
Add the flour in 3 portions, alternating with 2 portions of milk. Mix just until combined. Stir in the apples.
Divide the batter between the prepared pans and smooth evenly.
Bake 25 to 30 minutes, or until a pick inserted into the center comes out clean.
Cool the cakes in the pans for 15 minutes. Then, flip the cakes onto wire racks, remove the parchment paper, and allow to cool.
To make the frosting:
Place the cream cheese and butter in a large bowl. Using an electric mixer on medium speed, beat until combined and smooth.
Gradually add the confectioners' sugar, mixing until smooth. Add the cinnamon and vanilla, and mix well.
Place one cake layer on a cake plate. Spread half of the frosting over the top of the cake.
Place the other cake layer on top of the frosted cake layer. Spread the remainder of the frosting on top of the cake. If desired, garnish the top of cake with chopped toasted nuts.
Notes:
*Make sure your cream cheese is very soft to avoid lumps.
This recipe was originally developed in collaboration with Go Bold with Butter, where I am a paid contributor.
This post contains affiliate links. If you make a purchase through one of the links, I'll receive a small commission at no additional cost to you.