With tender bits of baked apples and a cozy blend of spices, this Apple Spice Cake with Cinnamon Cream Cheese Frosting is a delicious celebration of all things fall!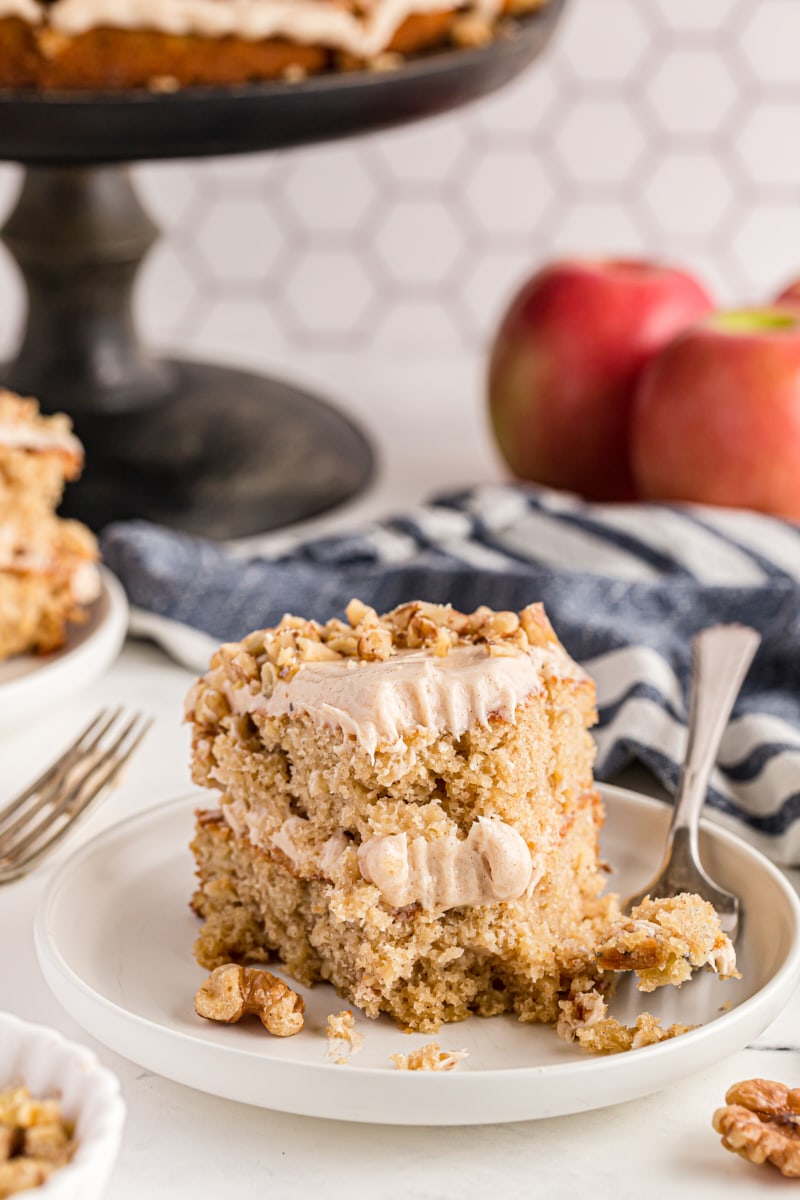 Super Moist Spiced Apple Cake
If I could come up with an alternate name for this recipe, it would be fall-in-the-form-of-a-cake. This beauty has all kinds of good autumnal things going on, from apples to a whole slew of fall spices. The cinnamon-spiced frosting doesn't hurt, either. It's not just one of my favorite cake recipes for fall, it's one of my all-time favorite desserts!
The apples in this recipe deliver sweetness and flavor, but they also make for a super moist cake—and while we all hate that word, there's no denying that moist cake is the best cake.
I freely admit that frosting cakes is not one of my best skills. I also tend to like a lower frosting to cake ratio than some people. Those two facts combined mean that I tend to do simple frosting on cakes. If you'd prefer to frost the entire cake, just increase the frosting ingredients by 50%, and you should have plenty of frosting to cover the entire cake.
And if you don't want to frost your cake at all? Well, I have a solution for that, too: this Apple Spice Cake with Caramel Glaze skips the frosting process and instead you simply pour a glorious glaze over the top!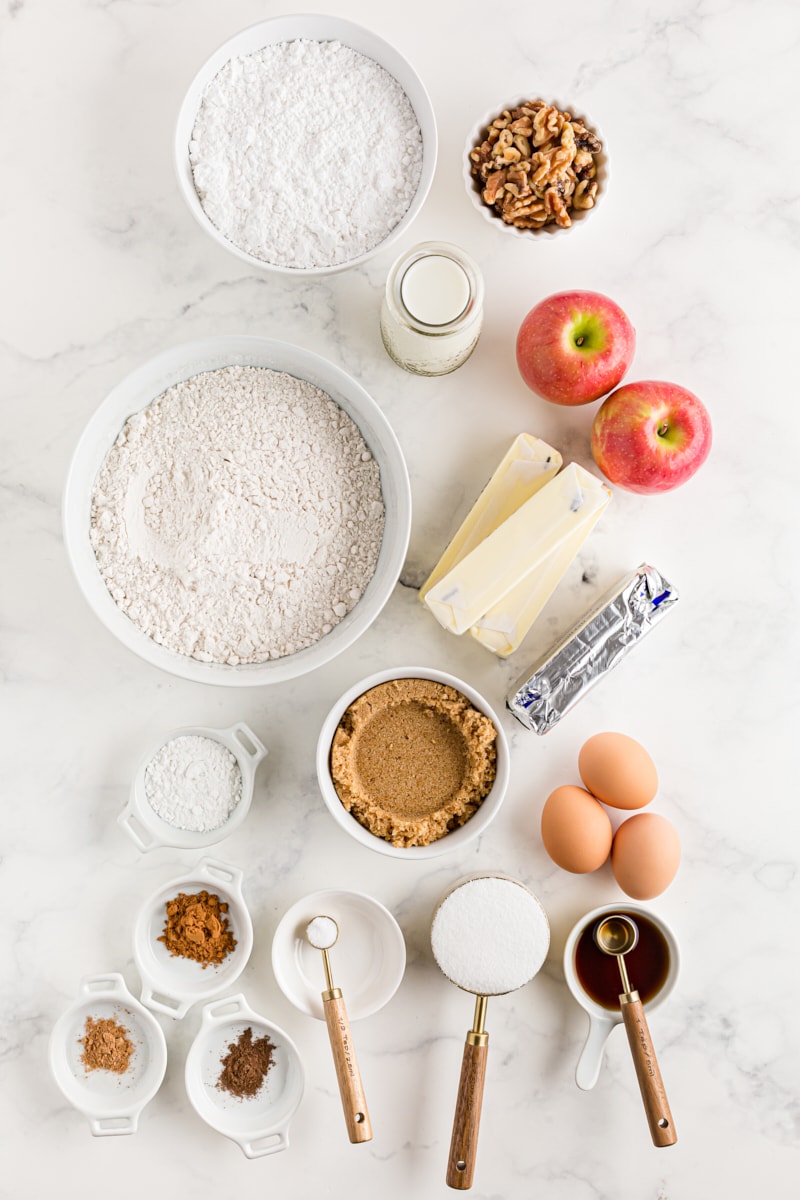 What You'll Need
Other than the apples, you likely have most of these ingredients on hand. (And if it's apple picking season, you might already have the apples too!) Scroll down to the recipe card at the bottom of this post for ingredient quantities and full instructions.
For the cake:
All-purpose flour – Here's how to measure flour.
Baking powder
Ground cinnamon
Salt
Ground nutmeg – Use freshly ground nutmeg if you can. It adds something special to this recipe!
Ground allspice
Unsalted butter – Set out the butter for about half an hour before baking to allow it to soften properly.
Light brown sugar – Pack it firmly in the measuring cup, or measure by weight.
Granulated sugar
Eggs – The eggs should be room temperature for best results. I recommend baking with large eggs.
Vanilla extract
Milk
Apples
What Are the Best Apples for Baking?
Jonagold, Braeburn, Honeycrisp, and Pink Lady apples are all readily available varieties that are good for baking. Don't use apples that are mushy, flavorless, or otherwise past their prime—basically, if you wouldn't want to eat the apple out of hand, you don't want to bake with it either. Learn more: The Best Apples for Baking
For the frosting:
Cream cheese – This should be at room temperature. Use full-fat cream cheese that comes in blocks for best results.
Unsalted butter – The butter also needs to be softened.
Confectioners' sugar – Sift the sugar to keep lumps out of your frosting!
Ground cinnamon
Vanilla extract
Toasted nuts – Walnuts, pecans, or a combination of both work well for this cake.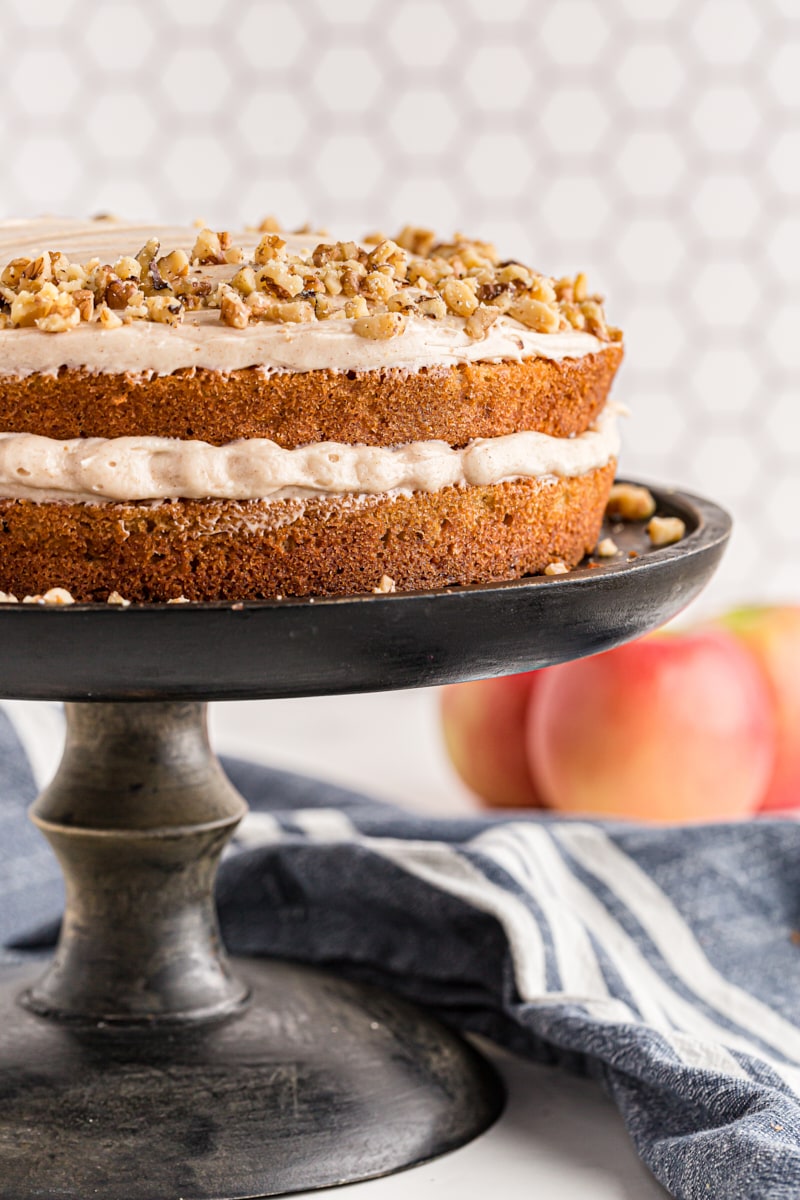 How to Make Apple Spice Cake With Cinnamon Cream Cheese Frosting
If you don't have a large block of time to make this cake, you can bake the cake layers one day and then prepare the frosting and assemble the next.
To make the cake:
Prepare. Preheat the oven to 350°F. Butter two 9-inch round cake pans, then line the bottoms of the pans with parchment paper and butter the paper.
Mix the dry ingredients. Whisk the flour, baking powder, cinnamon, salt, nutmeg, and allspice in a mixing bowl.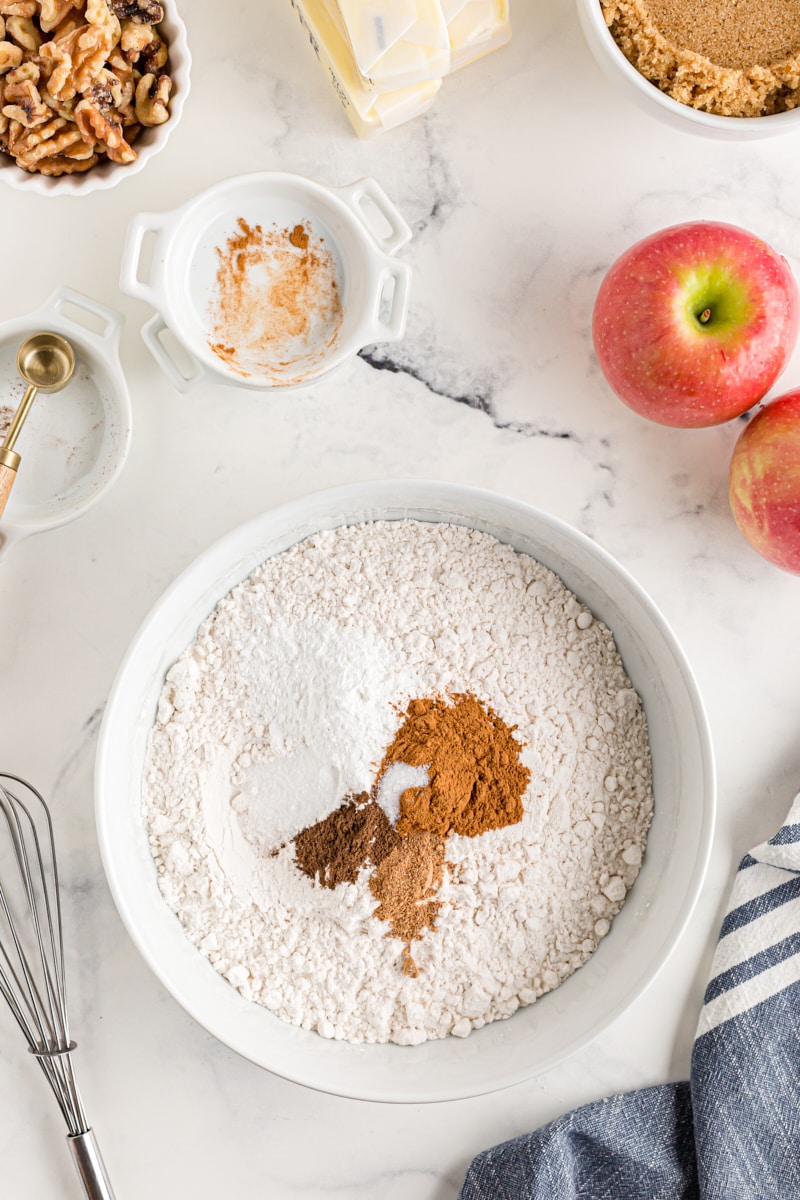 Mix the wet ingredients. Use an electric mixer on medium speed to cream the butter, brown sugar, and sugar until they're light and fluffy. Beat in the eggs one at a time, followed by the vanilla.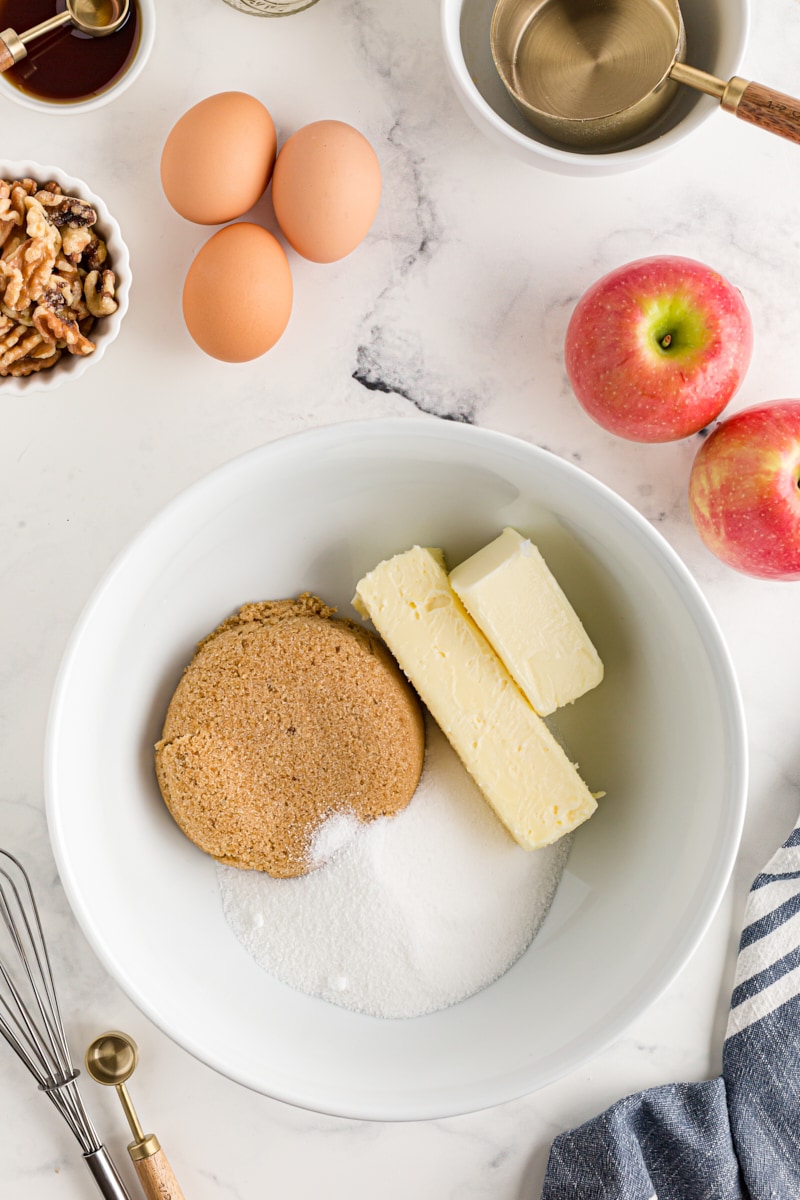 Combine wet and dry ingredients. Add the flour mixture in 3 portions, alternating with 2 portions of milk and mix just until combined. Fold in the apples.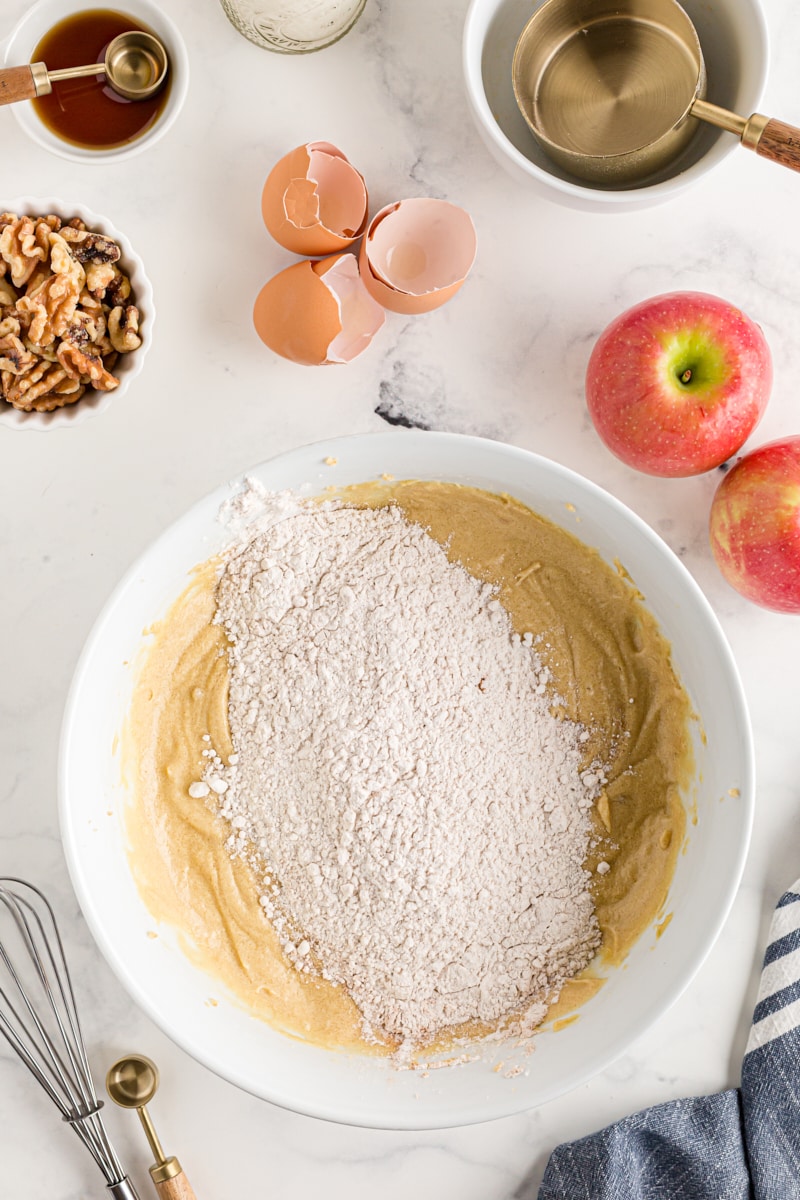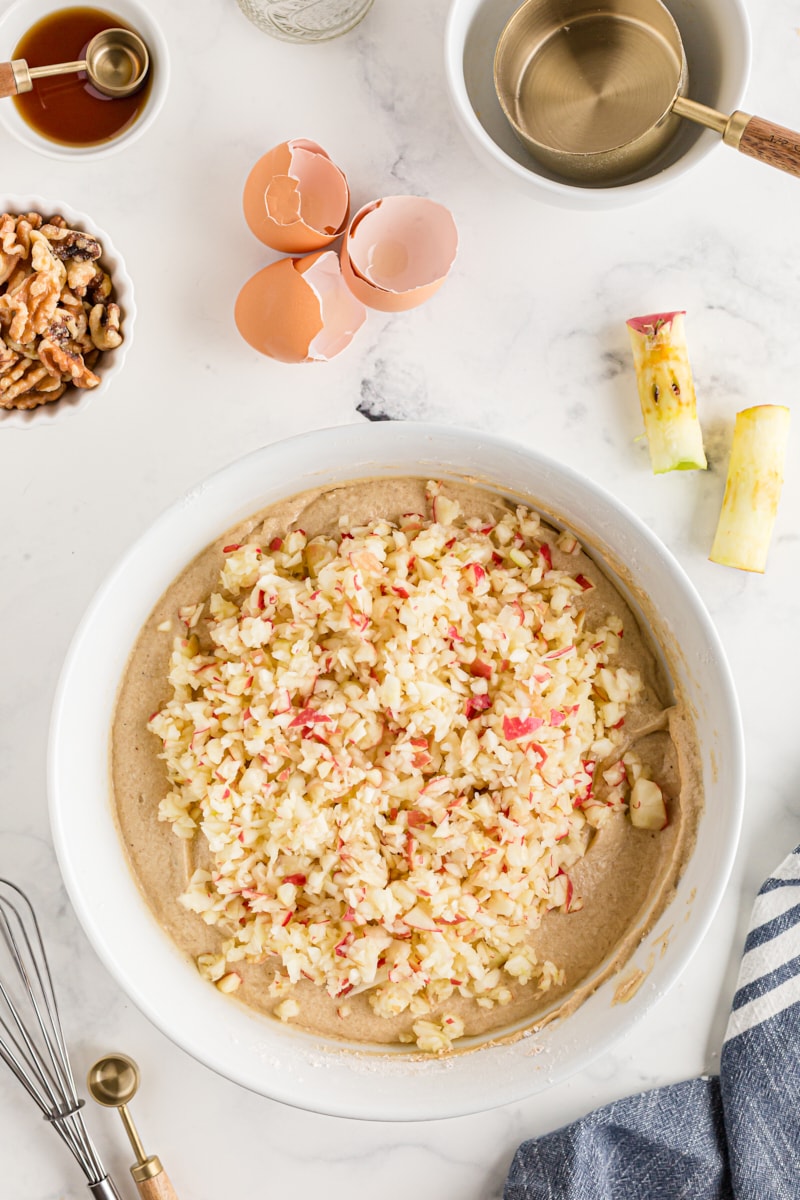 Bake. Divide the batter between the prepared pans and use a spatula to spread it evenly. Bake 25 to 30 minutes, or until a toothpick inserted into the center comes out clean.
Cool. Let the cakes cool in the pans for 15 minutes, then carefully flip them onto wire racks. Remove the parchment paper and allow the cakes to cool completely before frosting.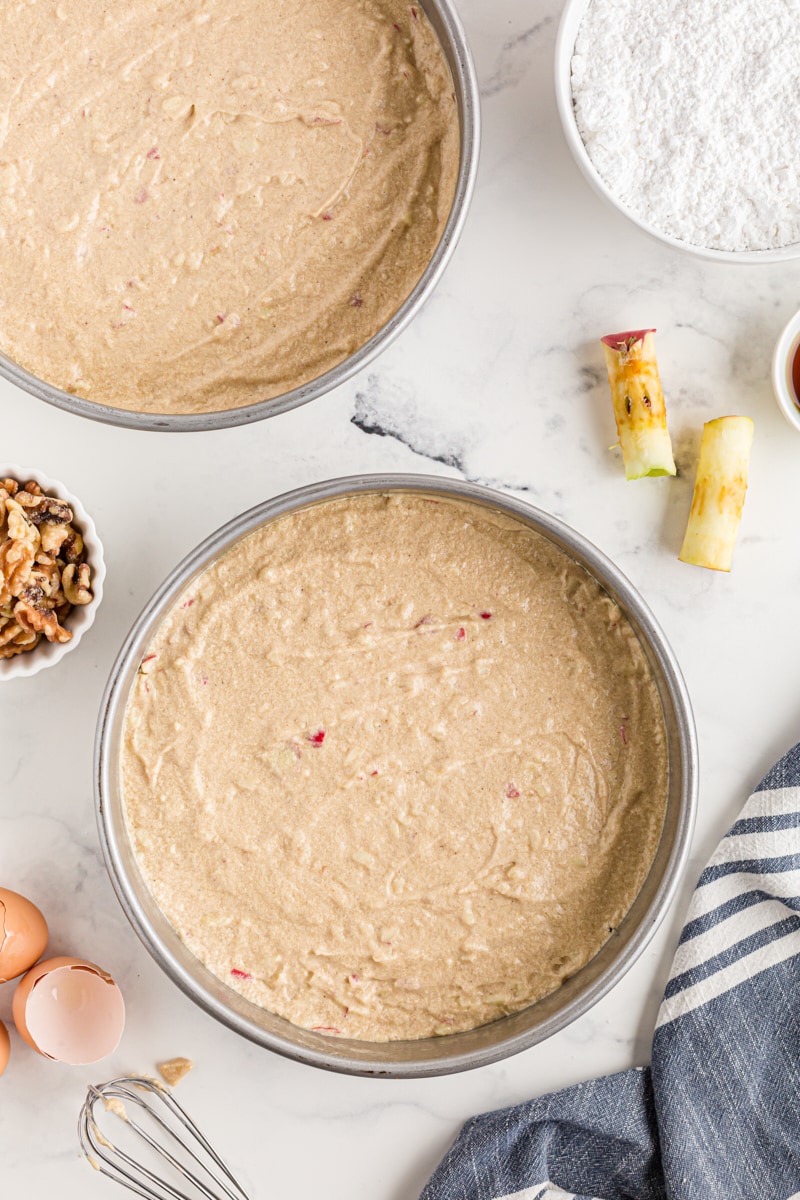 To make the frosting and assemble:
Mix the cream cheese and butter. Place the cream cheese and butter in a large bowl and use an electric mixer on medium speed to beat them until they're smooth and creamy.
Add the remaining ingredients. Slowly add the confectioners' sugar and beat until smooth. Add the cinnamon and vanilla, and mix well.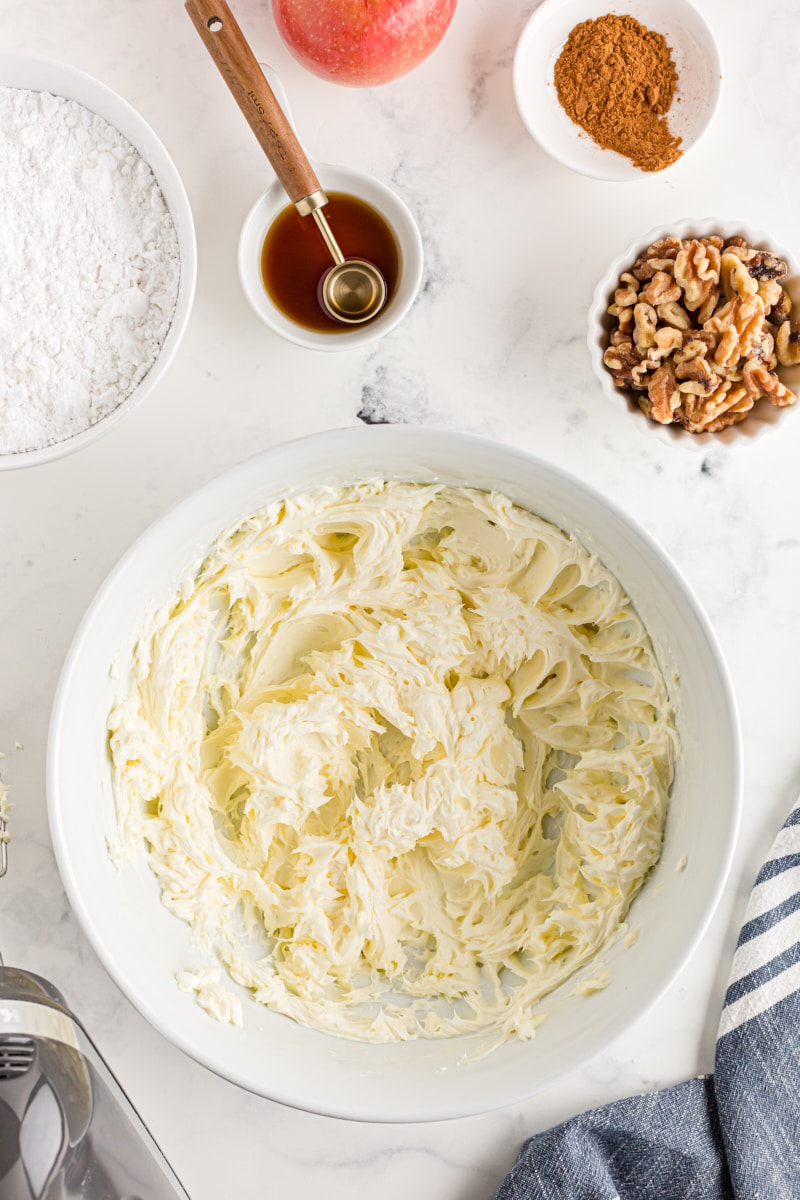 Assemble. Place one cake layer onto a cake plate. Spread half of the frosting over the top of the cake. Set the other cake layer on top of the frosted cake layer. Spread the remaining frosting on top. If desired, garnish with chopped toasted nuts.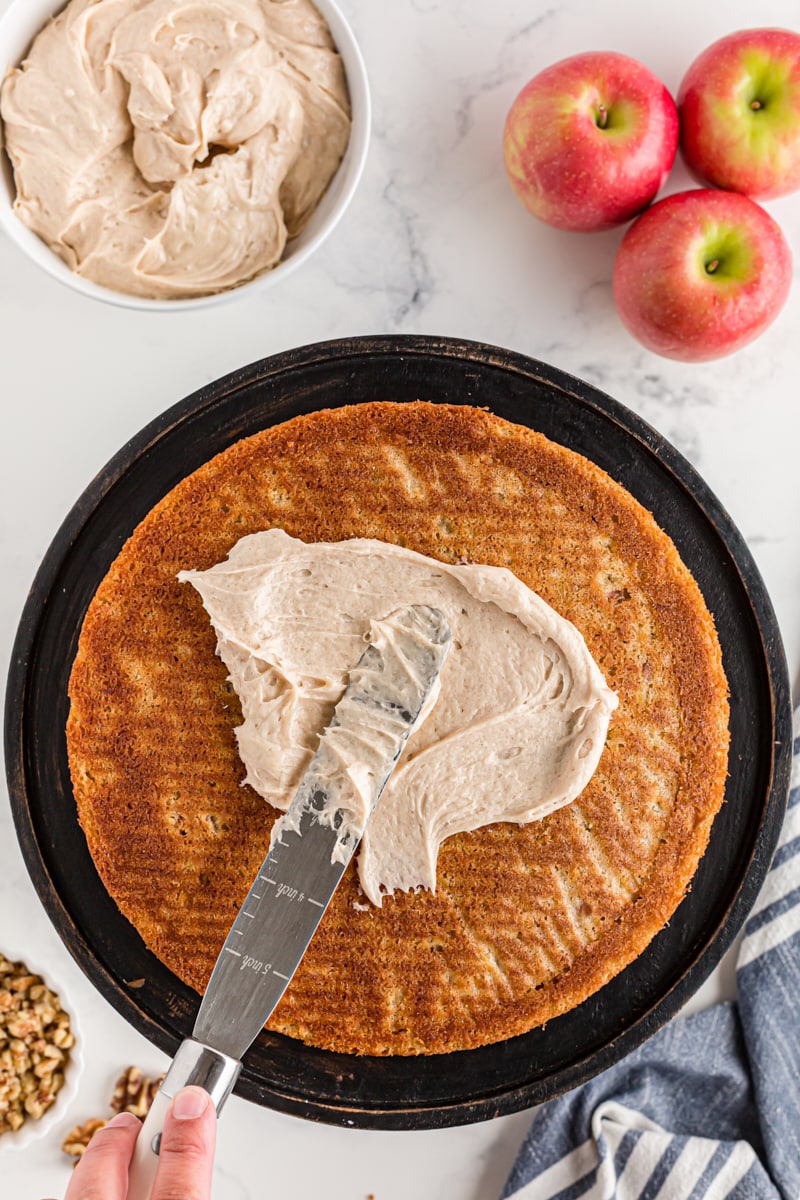 Tips for Success
Here are some of my best tips for making perfect apple spice cake:
To peel or not to peel? It's up to you! Since the apples are chopped, leaving the peel on is fine, and it adds a little extra fiber to the recipe. (Which means this cake is practically health food, right?!)
Use fresh spices. The spices are an important component of this recipe! If you open your spice jars and they no longer have a strong smell, it's time to replace them.
Bake in a light-colored metal pan. Dark pans have a tendency to over-bake cakes on the exterior.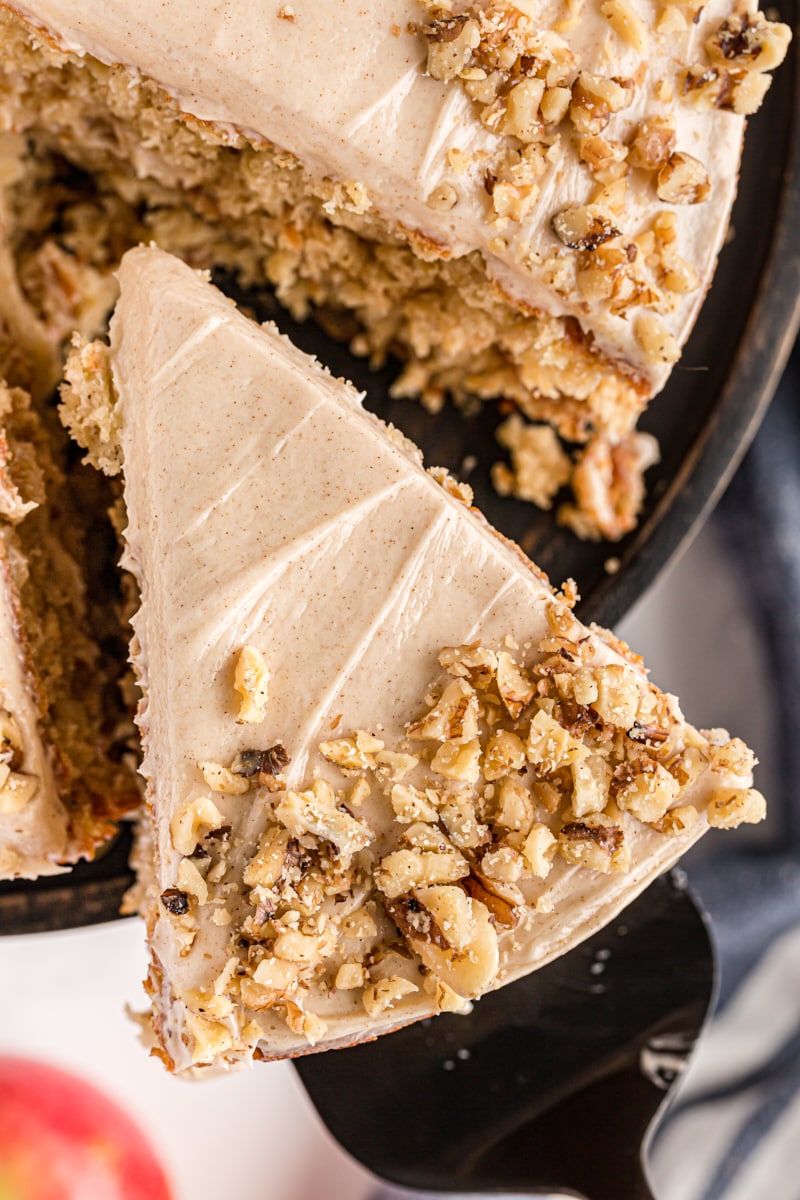 How to Store
Because this apple spice cake has cream cheese frosting, it should be stored in the refrigerator. When stored in an airtight container or wrapped tightly, it should last about 4 to 5 days. I recommend letting it come to room temperature before serving.
Can This Recipe Be Frozen?
Yes, you can freeze this apple spice cake in an airtight container for up to 3 months. Let it thaw in the refrigerator.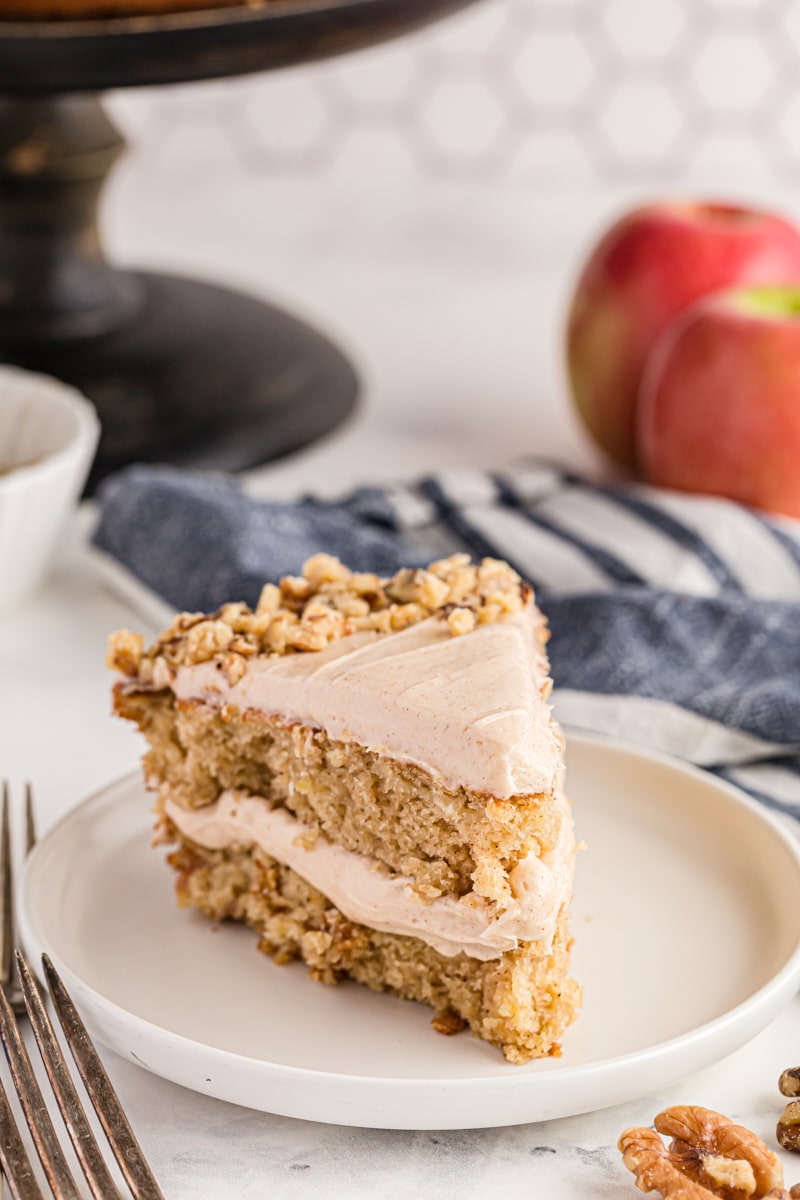 Fall is the perfect baking season! Find more of Bake or Break's favorite fall recipes by clicking here.
This recipe was originally developed in collaboration with Go Bold with Butter, where I am a paid contributor.