This Chocolate Chip Cake recipe proves that you don't need countless tiers and elaborate fillings to make a crowd-pleasing cake. Simple and unfussy, with a perfect chip-to-cake ratio, this classic cake is one you'll want to make again and again.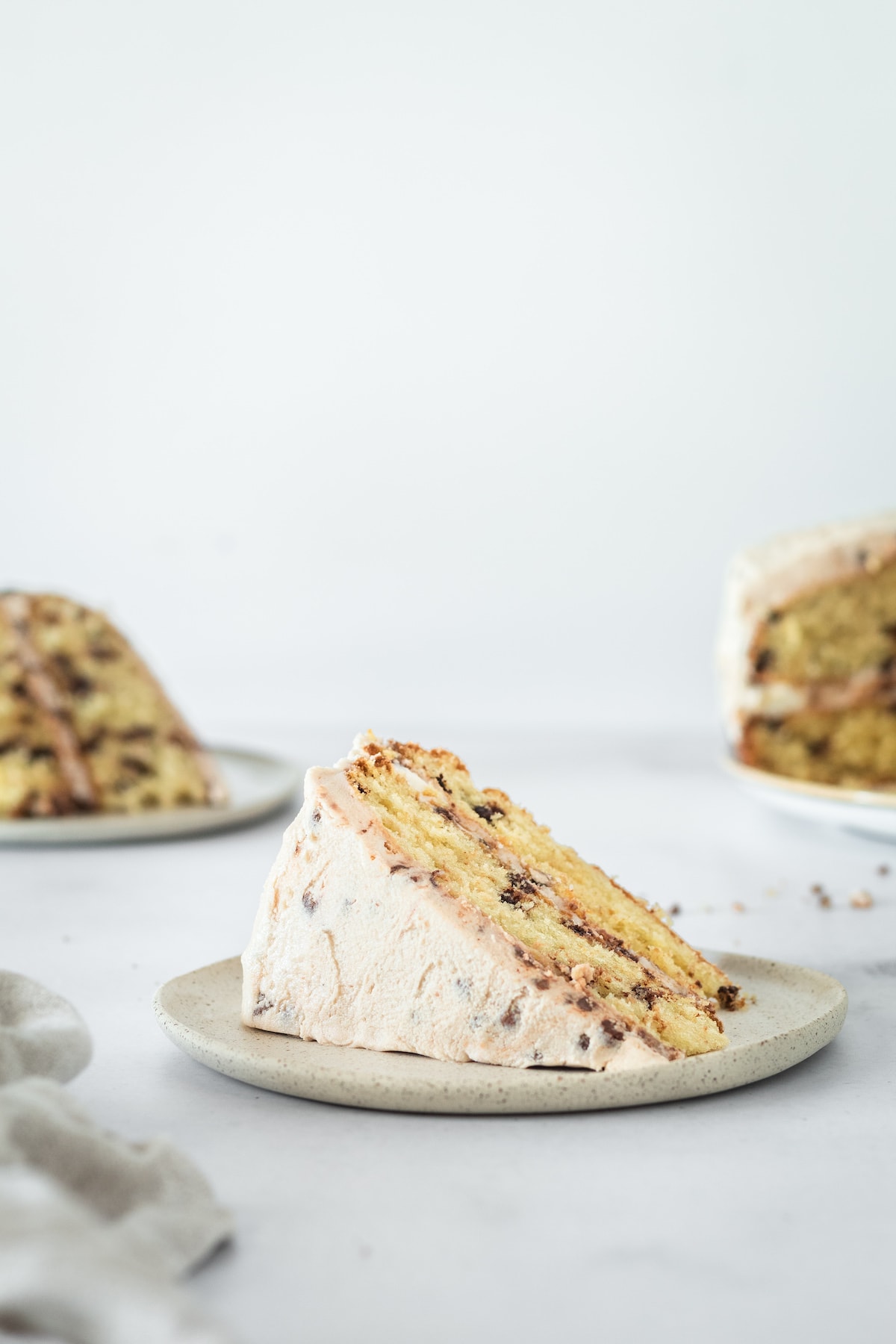 Classic Chocolate Chip Cake
If you go to any fancy bakery these days, you're likely to see a lot of naked cakes. It sounds scandalous, but the name is used for cakes with juuuust enough frosting on the sides and tops—you might even see a bit of the cake poking through the frosting. This trend is good news for anyone who doesn't have the time or skill to create rosettes and other flourishes on their homemade cakes. Now anyone can make a cake and have it look like it came straight from the bakery!
In addition to being semi-naked, this Chocolate Chip Cake boasts a tender, ethereal crumb thanks to a combination of 3 eggs for extra lift and sour cream for richness and moisture. And then there's the buttercream! Is there anything better than a cake topped with real buttercream? There is: a cake topped with buttercream that's flecked with chocolate chips. Yes!
I love that this cake works for a weeknight dessert, but it's equally suited for serving at a get-together with family and friends. This is going to be your new back pocket cake recipe!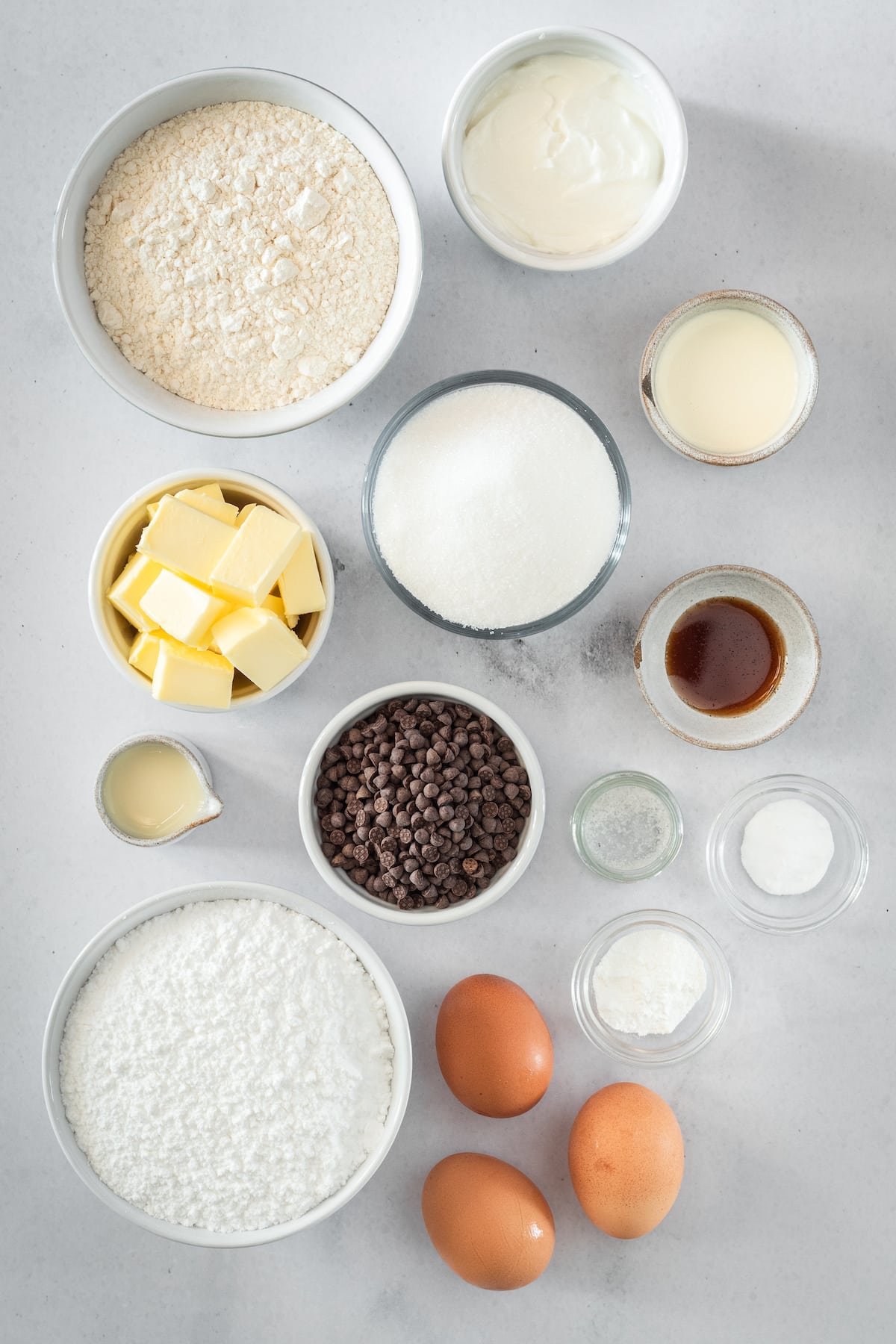 What You'll Need
This Chocolate Chip Cake recipe calls for your standard, everyday baking ingredients, but the results are anything but average! Here's what you'll need. (Be sure to scroll down to the recipe card for specific amounts.)
For the cake:
All-purpose flour – Measure by weight or use the spoon and sweep method.
Baking powder – Here's how to test baking powder.
Baking soda
Salt
Unsalted butter – This needs to be softened, so take it out about a half hour before you're ready to start the recipe.
Granulated sugar
Eggs
Vanilla extract – The vanilla flavor really shines in this recipe, so use a high-quality vanilla extract.
Sour cream
Milk – Any kind of milk will work, including non-dairy.
Chocolate chips – I like semisweet chocolate chips in this cake.
For the buttercream:
Unsalted butter – Again, this needs to be softened, so let it sit on the counter for a bit.
Confectioners' sugar – Sift it for the smoothest frosting.
Vanilla extract
Salt
Heavy cream
Chocolate chips
How to Make Chocolate Chip Cake
Making this Chocolate Chip Cake recipe is easy as can be. Here's how to do it:
Prepare. Preheat your oven to 350ºF and grease two 9-inch round cake pans.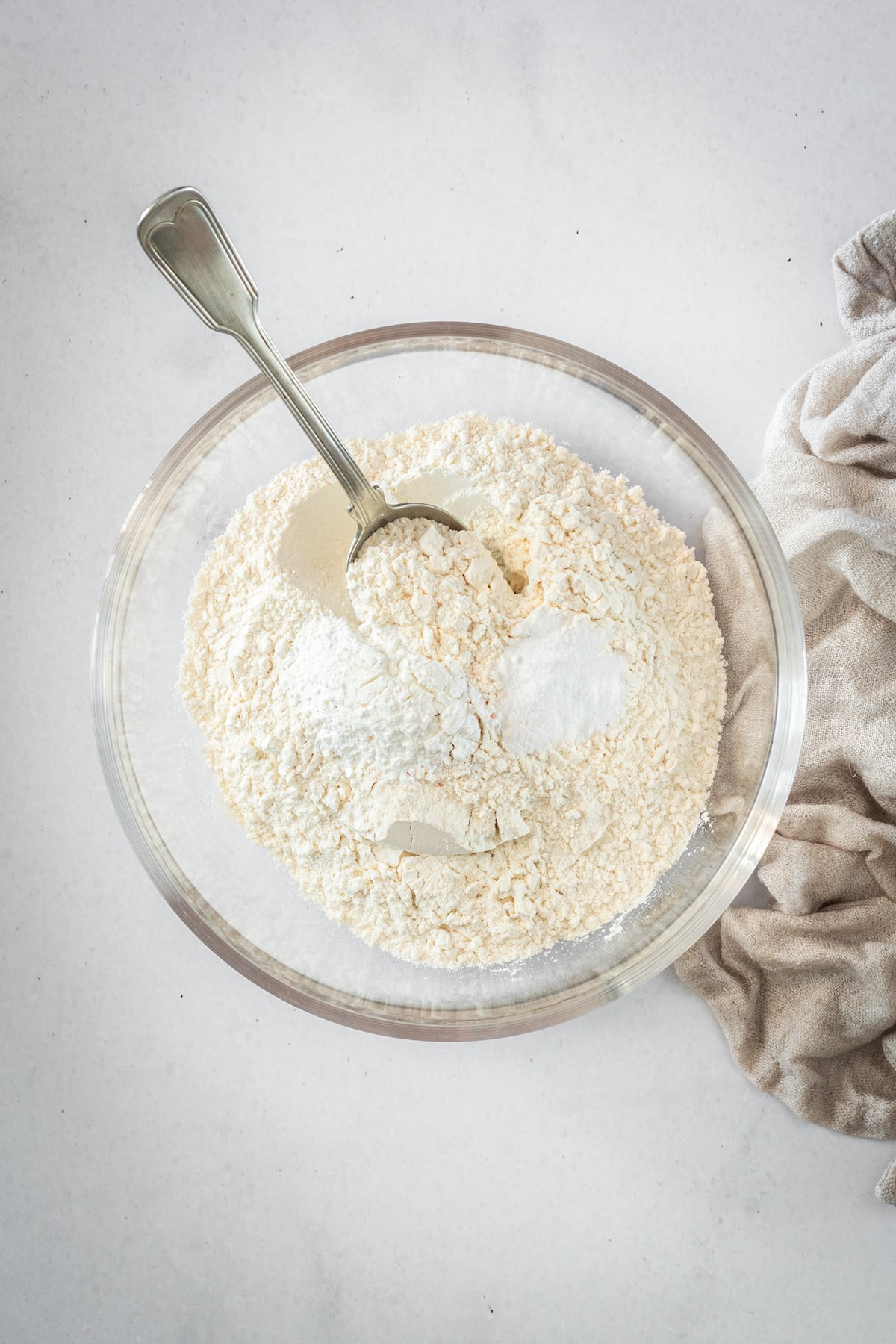 Mix the dry ingredients. In a large bowl, whisk the flour, baking powder, baking soda, and salt.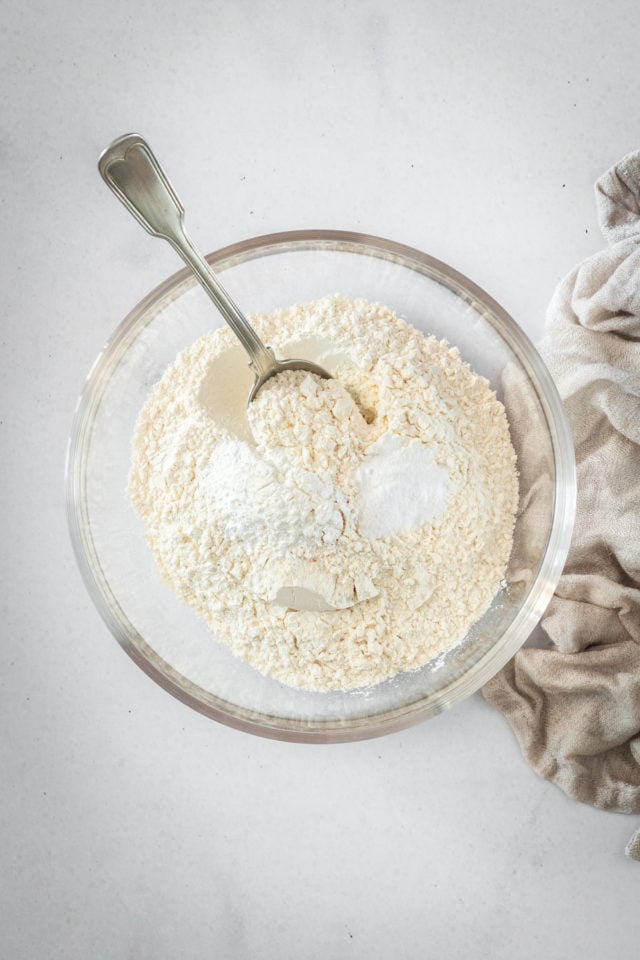 Beat the wet ingredients. In another large bowl, combine the butter and sugar. Use an electric mixer to beat them on medium speed until they're light and fluffy. Beat the eggs in one at a time, then add the vanilla.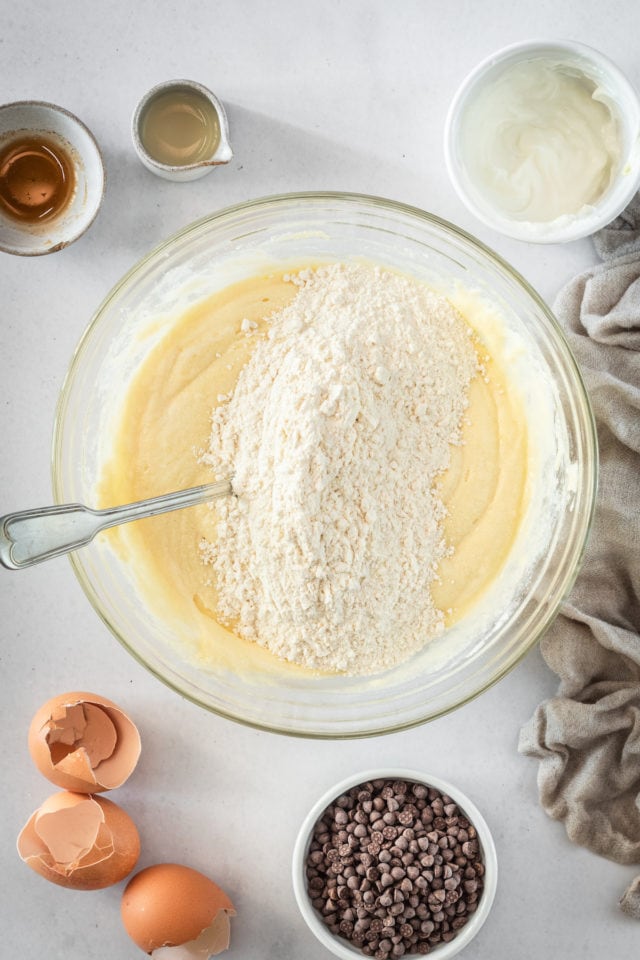 Combine the wet and dry ingredients. Reduce the mixer speed to low, then add the dry mixture in three portions, alternating with the milk and sour cream. Once the ingredients are just combined (be careful not to overmix!), fold in the chocolate chips.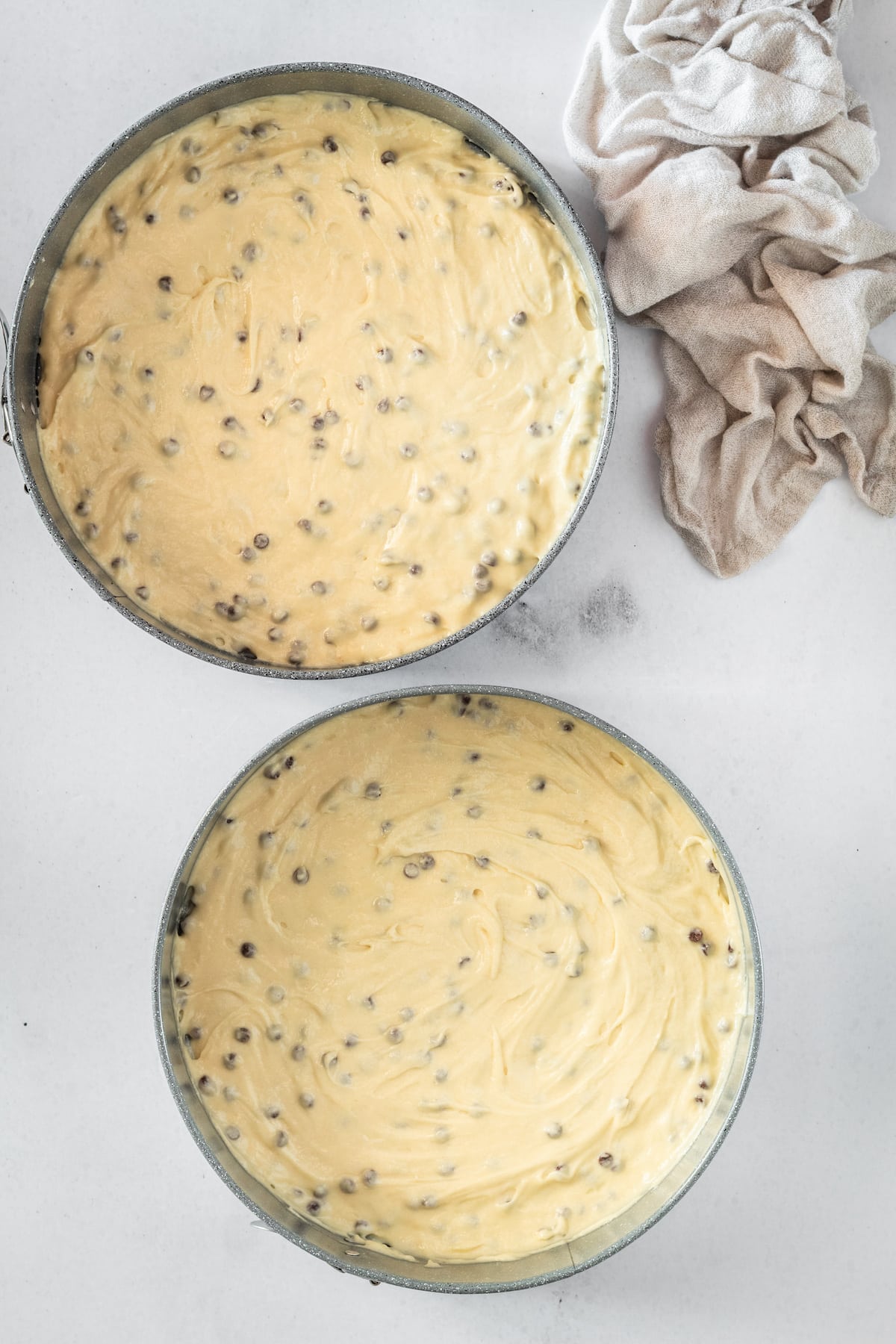 Bake the cakes. Divide the cake batter between the prepared pans and use a spatula to even out the tops. Bake for 25 to 30 minutes, or until a toothpick inserted into the center of the Chocolate Chip Cakes comes out clean.
Cool the cakes. Transfer the cakes to wire racks to cool for 15 minutes, then carefully remove them from the pans and let them finish cooling on the racks.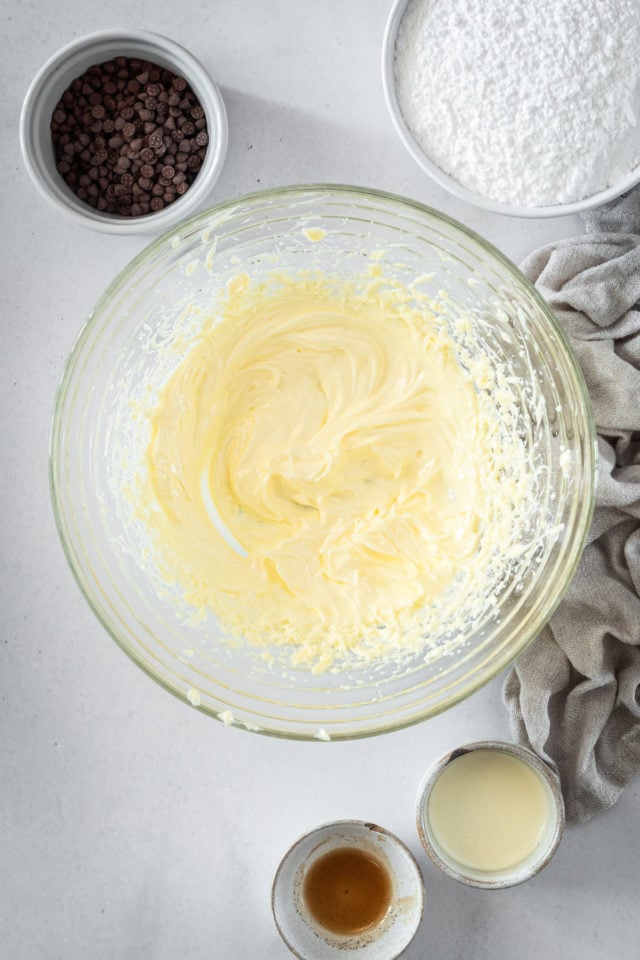 Make the buttercream. In a large bowl, use an electric mixer to beat the butter on medium speed, until it's creamy and smooth. Add half the sugar and beat until it's fully incorporated. Add the rest of the sugar, vanilla, salt, and heavy cream. Beat until the frosting mixture is light and fluffy, then fold in the chocolate chips.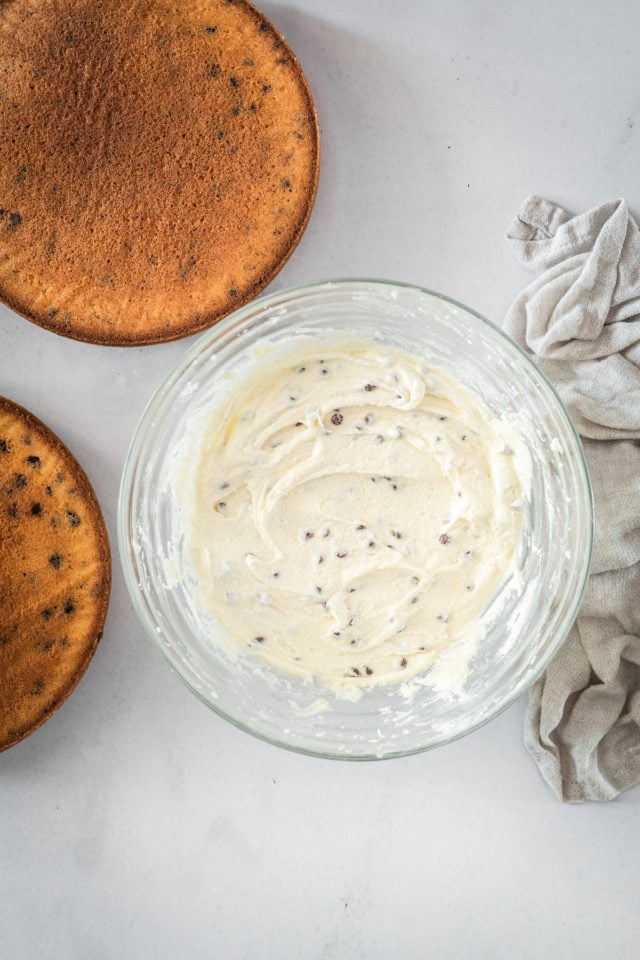 Assemble the cake. Place one of the cakes on a cake plate. Spread an even layer of buttercream over the top, then place the other cake on top of it. Spread the remaining buttercream on the top and sides of the Chocolate Chip Cake.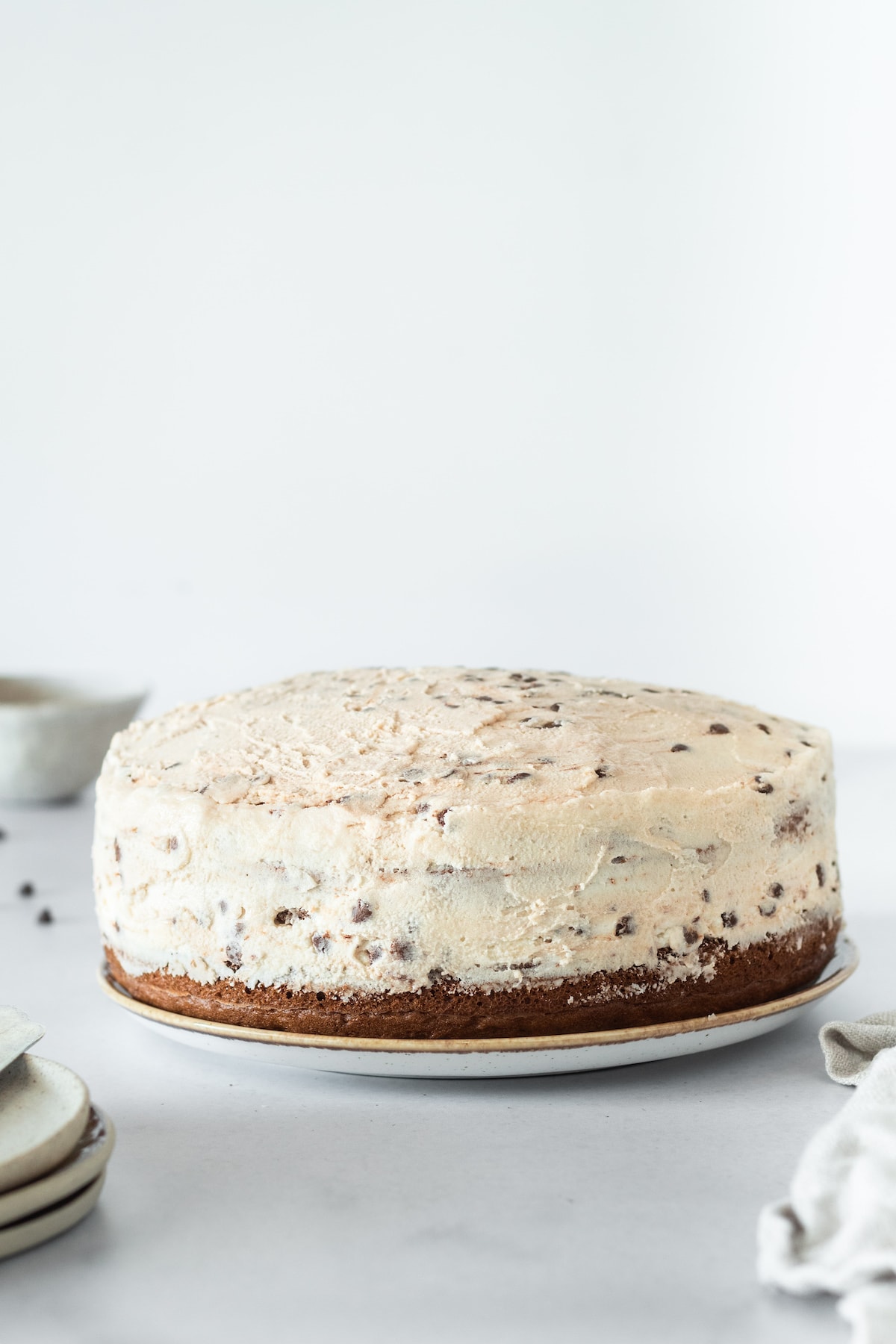 Can You Make This Recipe Into Cupcakes?
Yes, you most certainly can! You'll bake the cupcakes at the same temperature but in cupcake tins instead of cake pans. Check the cupcakes for doneness after about 16 minutes.
Tips for Success
This Chocolate Chip Cake recipe is pretty straightforward and perfect for bakers of all levels. Here are a few tips to help you nail it:
Use room temperature eggs. When you take the butter out to soften it, take the eggs out too. When eggs are room temperature, they can hold more air when beaten, which means a lighter, fluffier cake.
Make sure the cake layers are completely cool. Buttercream frosting + warm cakes are not a good combo.
Use a Lazy Susan if you have one. This makes frosting round cakes a breeze!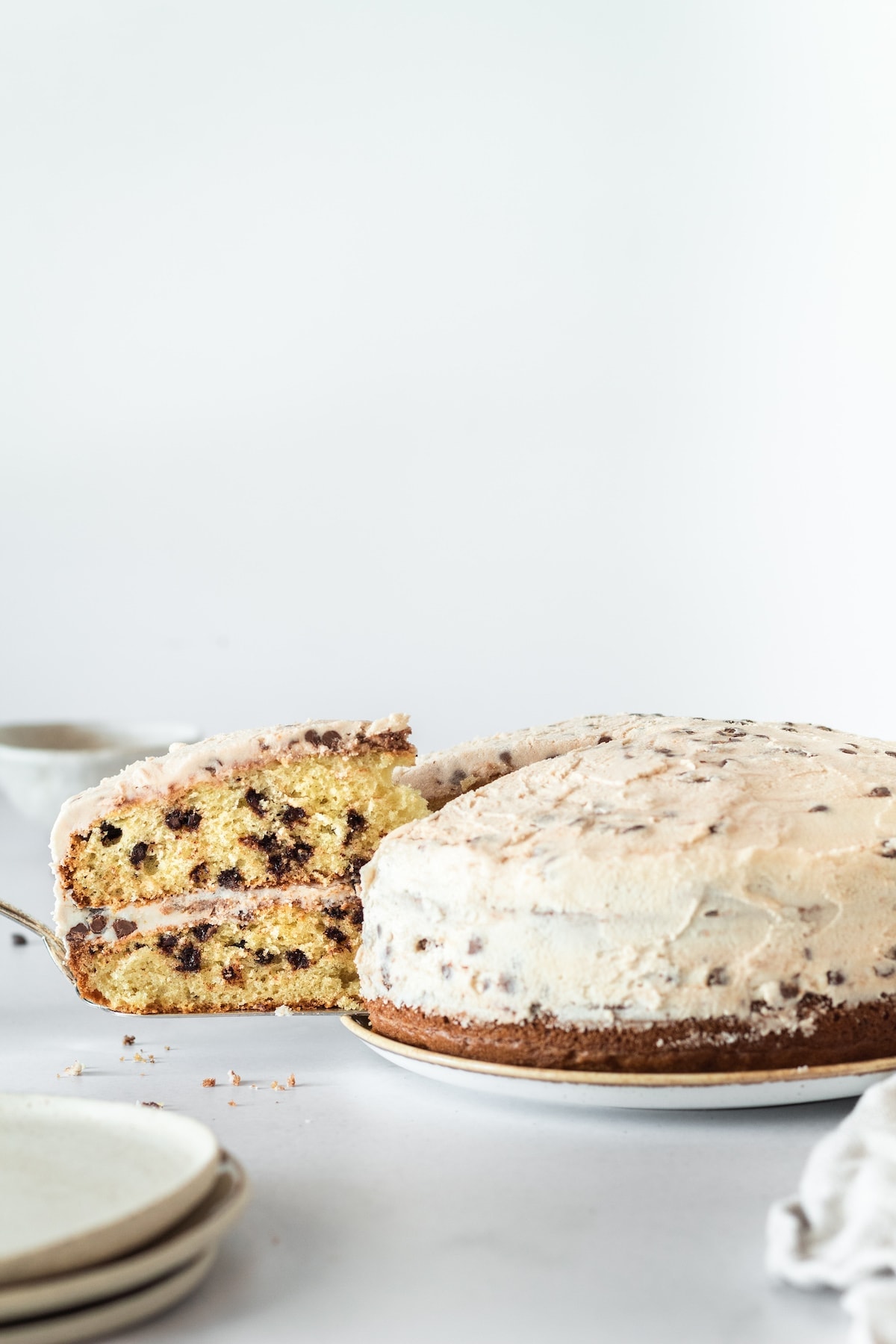 How to Store Chocolate Chip Cake
This Chocolate Chip Cake will keep in the fridge for up to 4 days although, like all cakes, it's best served the day it's made. Take it out of the refrigerator and let it sit on the countertop for about 10 minutes before serving.
Can You Freeze This Cake?
Absolutely! A cake like this freezes beautifully. To keep the frosting from getting messy, place the cake on a large plate or baking sheet lined with parchment paper and put it in the freezer. Once the frosting has hardened, you can wrap the cake in two layers of plastic wrap, then pop it in a freezer bag (if you have leftovers) or wrap it in foil (if you're freezing the whole cake).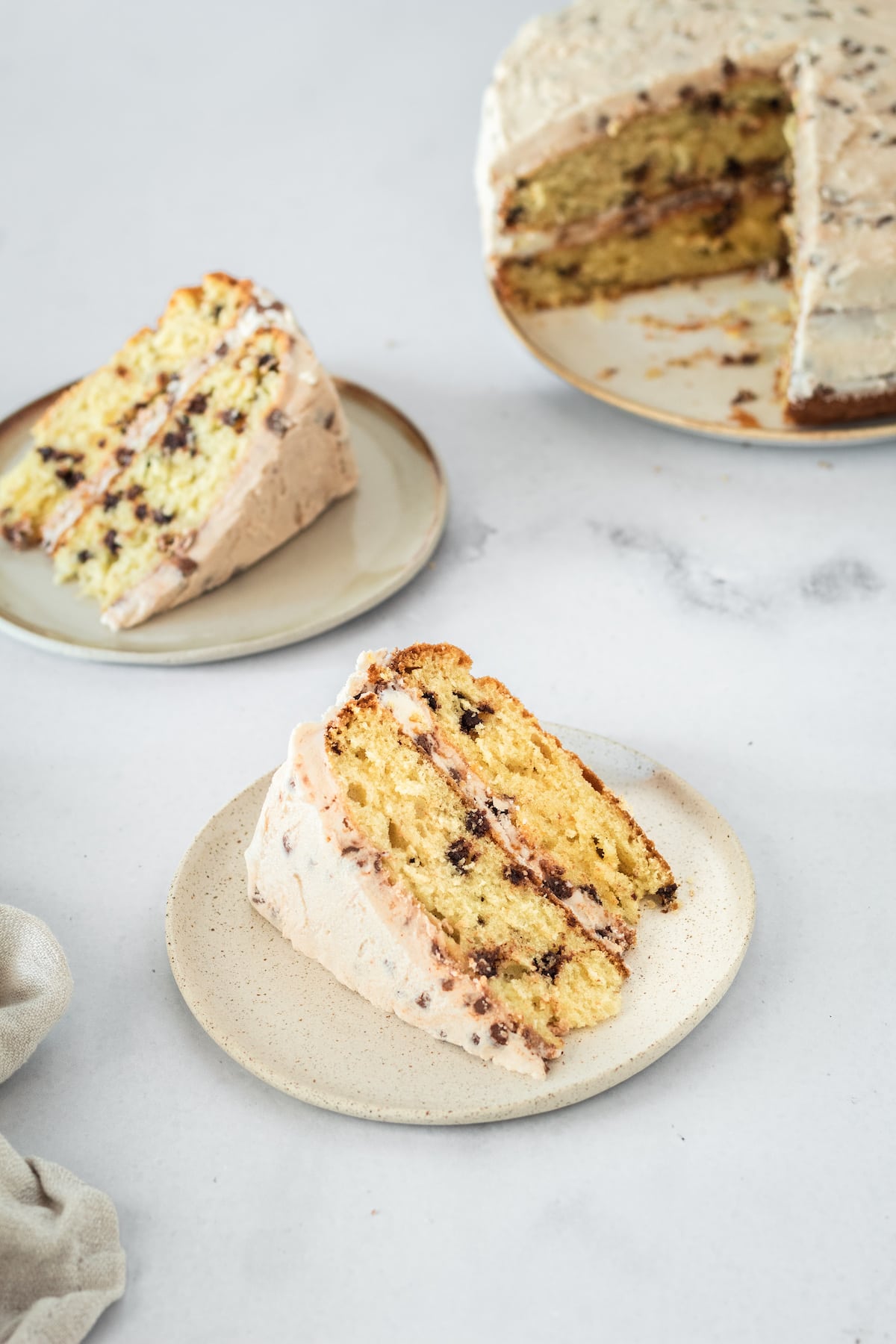 More Chocolate Chip Desserts