This easy Vanilla Pudding Cake is a no-fuss recipe that you'll want to make again and again! With its lovely vanilla flavor, it's delicious all on its own but it also pairs well with your favorite toppings.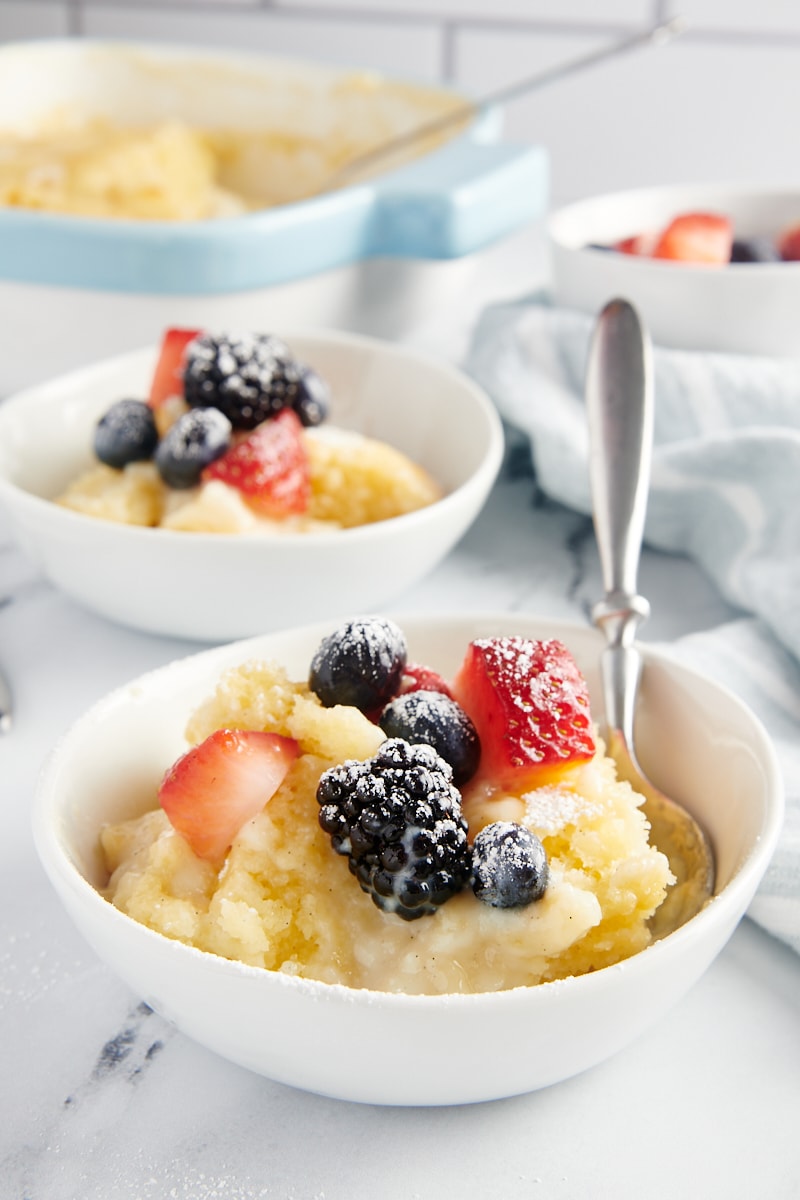 Old-Fashioned Vanilla Pudding Cake
Vanilla is such a big part of baking, but it often takes a supporting role. Here, we're giving it a well-deserved star turn in a simply delicious pudding cake!
This warm, gooey cake is comfort food at its best. If you can, enjoy it when it's freshly baked, at least for your first serving. You'll fall in love with the flavor, the texture, the absolute coziness of this cake!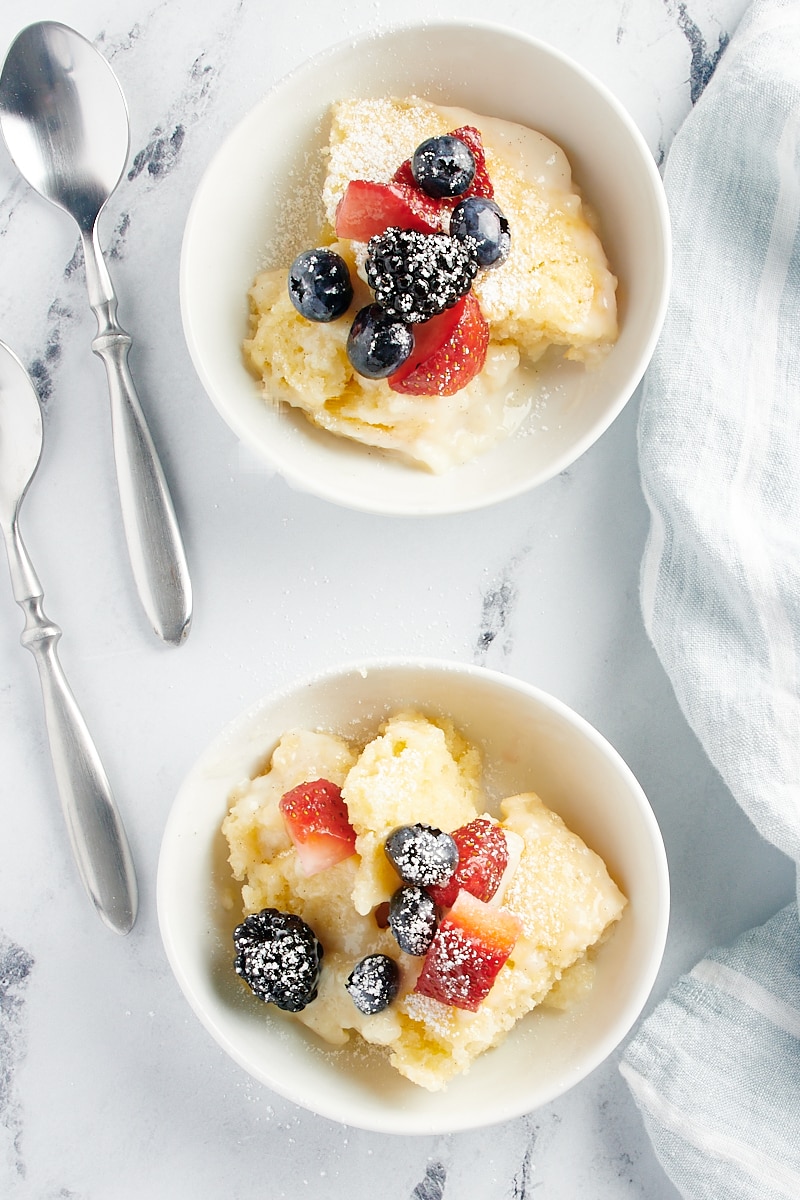 What is a Pudding Cake?
The term pudding cake can be used to refer to a cake made with instant pudding mix in the batter, a poke cake filled and topped with pudding, or a cake that creates two layers of sauce and cake as it bakes. Here, we're talking about the latter.
These old-fashioned pudding cakes are also sometimes called self-saucing cakes. As they bake, they form a layer of sauce or pudding underneath a soft, warm cake. While that may sound complicated, it really is quite simple. Two mixtures are simply added separately to the baking pan, and the magic all happens in the oven!
I love making these kinds of cakes! If you love them, too, try Brownie Chocolate Pudding Cake, Cinnamon Pudding Cake, and Ginger Pear Pudding Cakes next.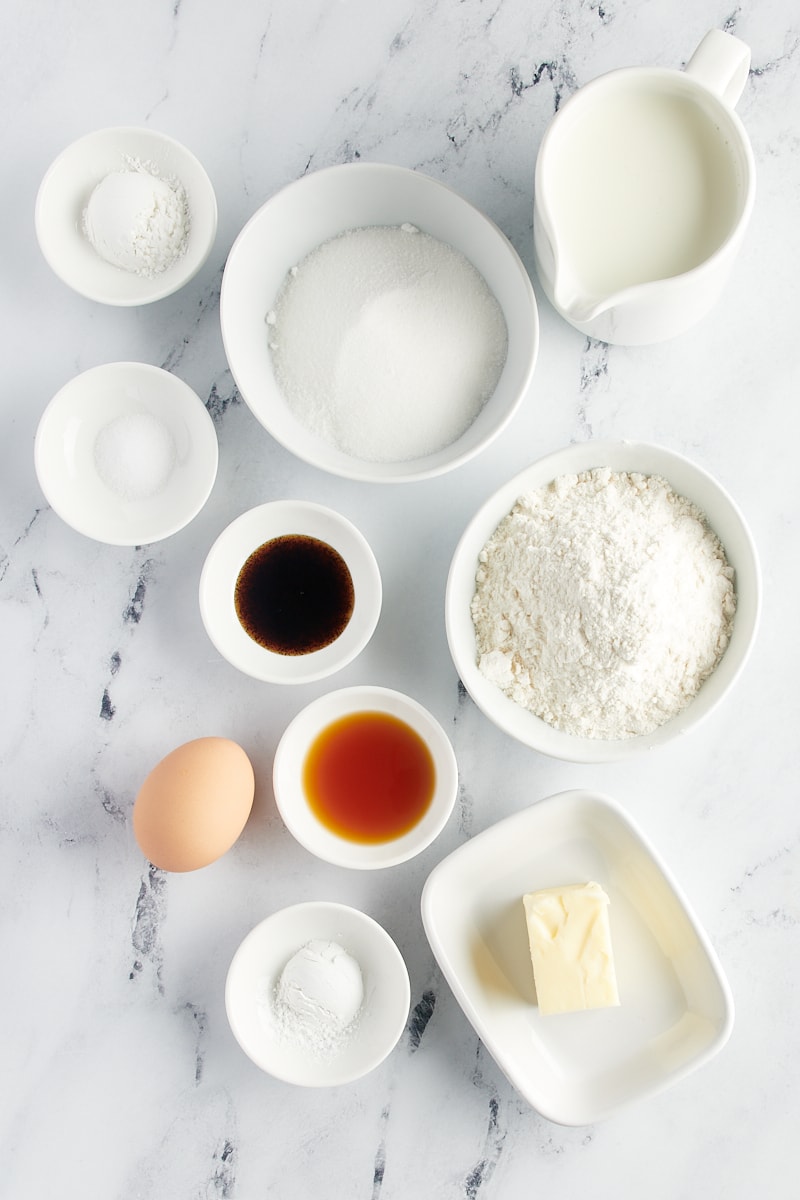 What You'll Need
See the recipe card at the bottom of this post for ingredient quantities and full instructions. Here are some notes about the ingredients you'll need to make this vanilla pudding cake.
Cornstarch – This helps thicken the sauce underneath the cake.
Milk – Be sure to note that there is milk in the pudding and the cake mixtures, and measure accordingly. I recommend whole milk for the best results, but 2% would also work well enough.
Sugar – You'll need sugar for both the pudding and the cake.
Vanilla – I like to use both vanilla bean paste and vanilla extract in this cake. If you prefer, you can just use vanilla extract. Learn more: Types of Vanilla
Salt – There's a bit of salt in each component of this cake to balance the sweetness and vanilla.
All-purpose flour – Measure by weight for best results. Learn more: How to Measure Flour
Baking powder
Egg – Let the egg come to room temperature before mixing.
Unsalted butter – After melting the butter, allow it to cool slightly. If you combine it with the egg immediately, it will start cooking the egg and leave little bits of cooked egg in the batter.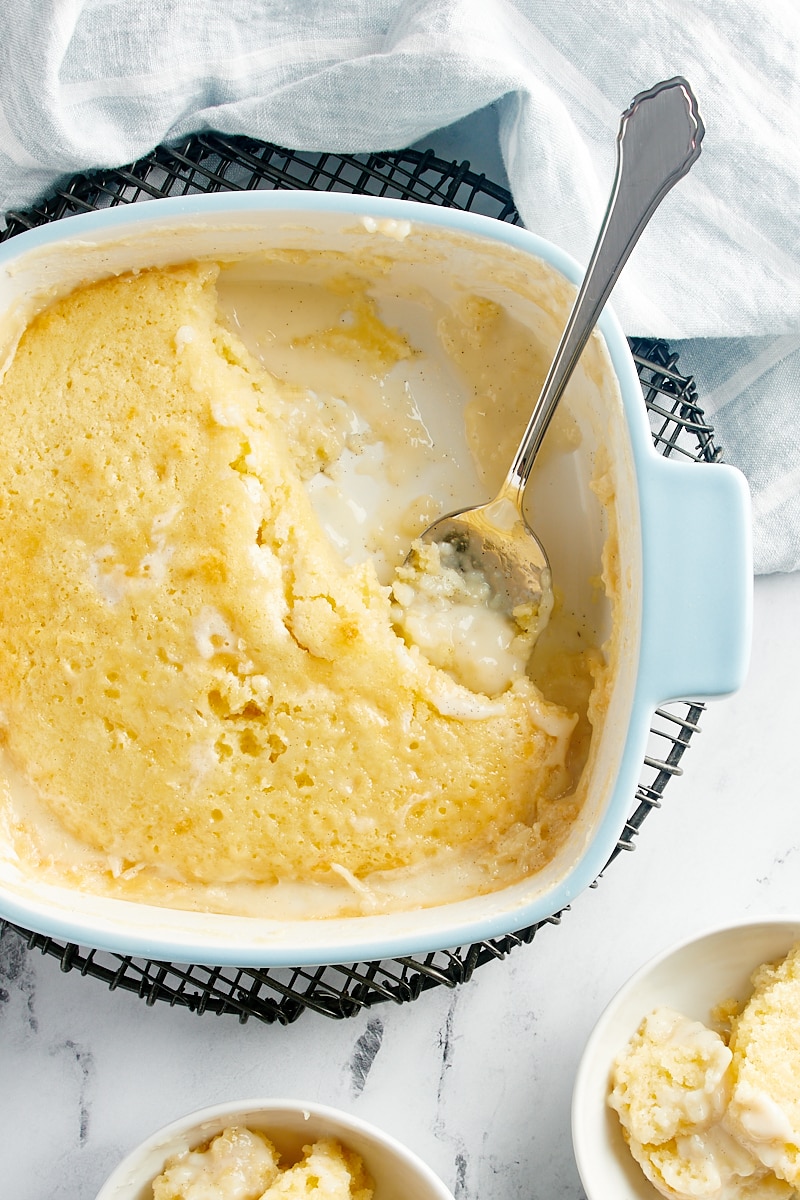 How to Make Vanilla Pudding Cake
This pudding cake comes together quickly and easily. You won't need your mixer here; just mix everything with a whisk and a mixing spoon!
Prepare for baking. Heat the oven to 350°F. Butter an 8-inch square or 9-inch round baking pan.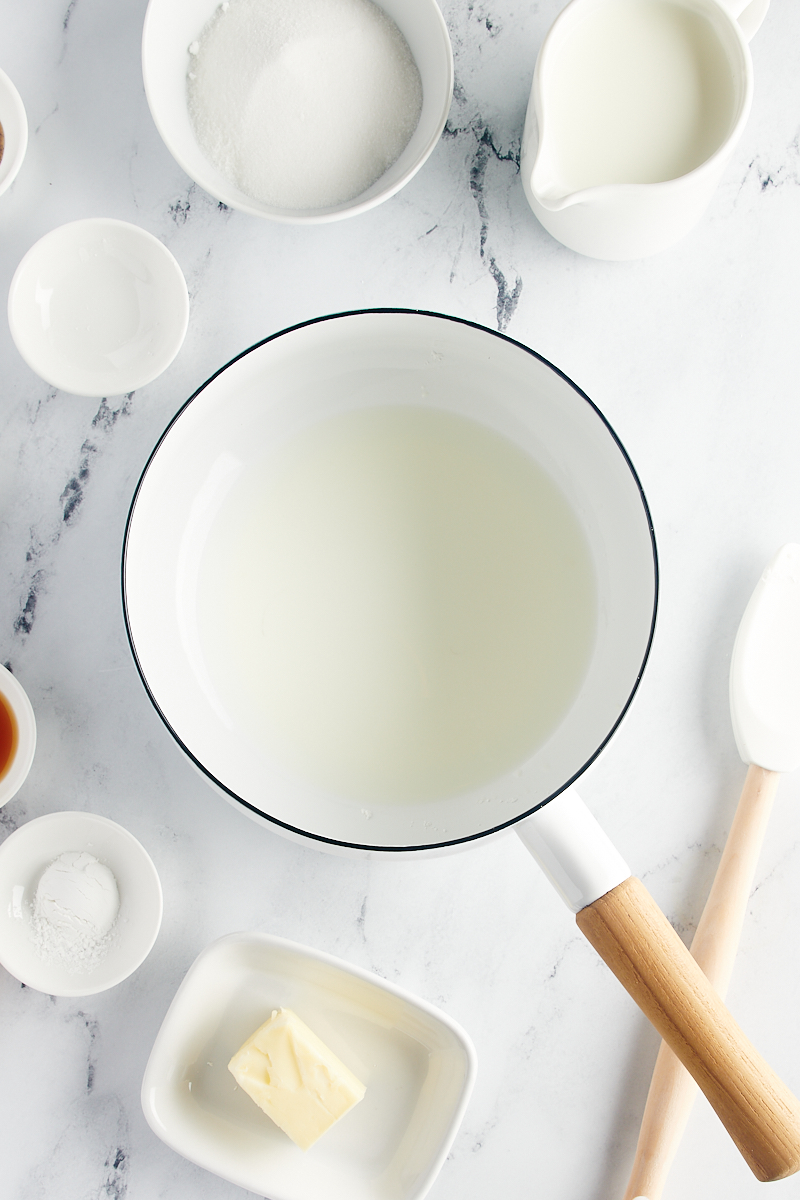 Make the pudding. Measure 1 & 1/2 cups of milk. Place the cornstarch and 2 tablespoons of the milk in a saucepan, and stir until thoroughly combined. Add the remaining milk, 1/2 cup sugar, vanilla bean paste, and salt. Heat over medium-low heat, stirring occasionally, until the mixture begins to simmer. The mixture will have thickened slightly.
Add the pudding to the pan. Pour the pudding mixture into the prepared pan.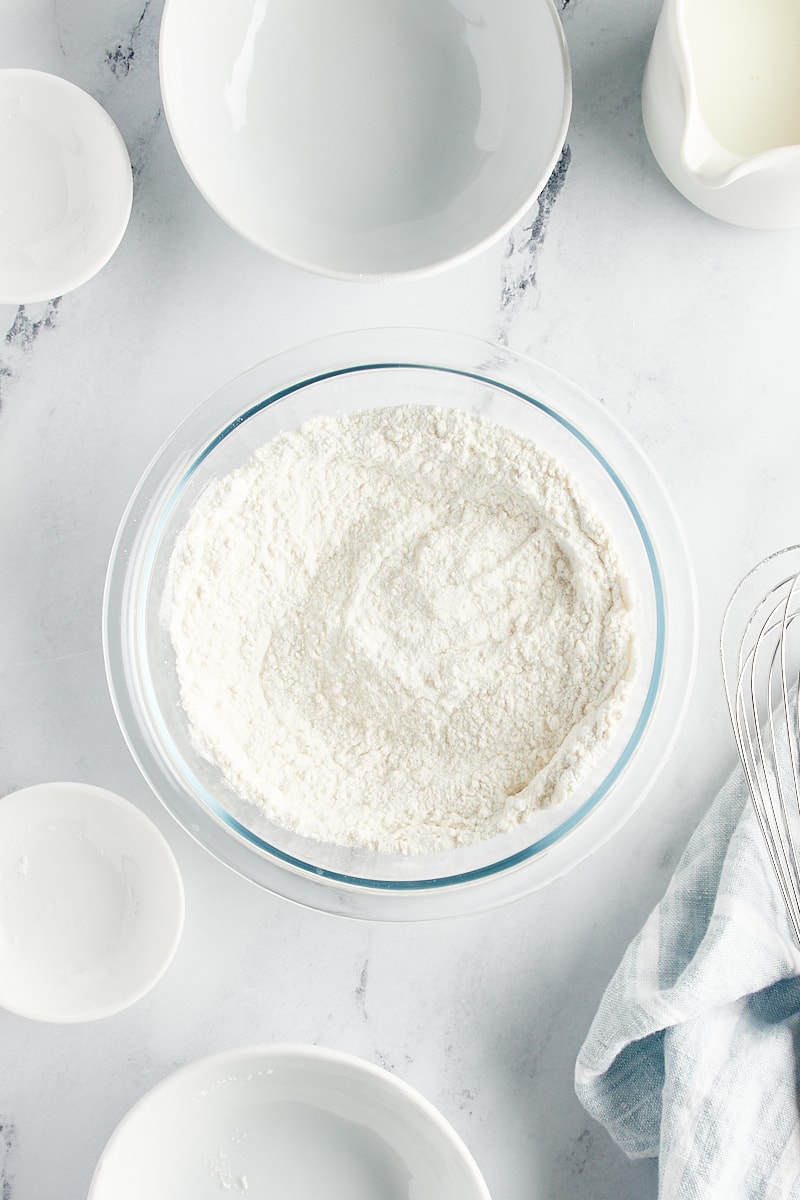 Make the cake. Whisk together the flour, 1/2 cup sugar, baking powder, and salt. In a separate bowl, whisk together the egg, milk, melted butter, and vanilla extract. Add the dry ingredients mixture, and mix just until combined.
Finish assembling. Spoon the batter over the top of the pudding mixture in the baking pan.
Bake. Place the pan in the oven, and bake for 35 to 40 minutes or until a toothpick inserted into the center comes out clean. The top of the cake should be golden brown, and the pudding should be bubbling around the edges.
Cool. Place the pan on a wire rack, and allow to cool for about 15 minutes before serving.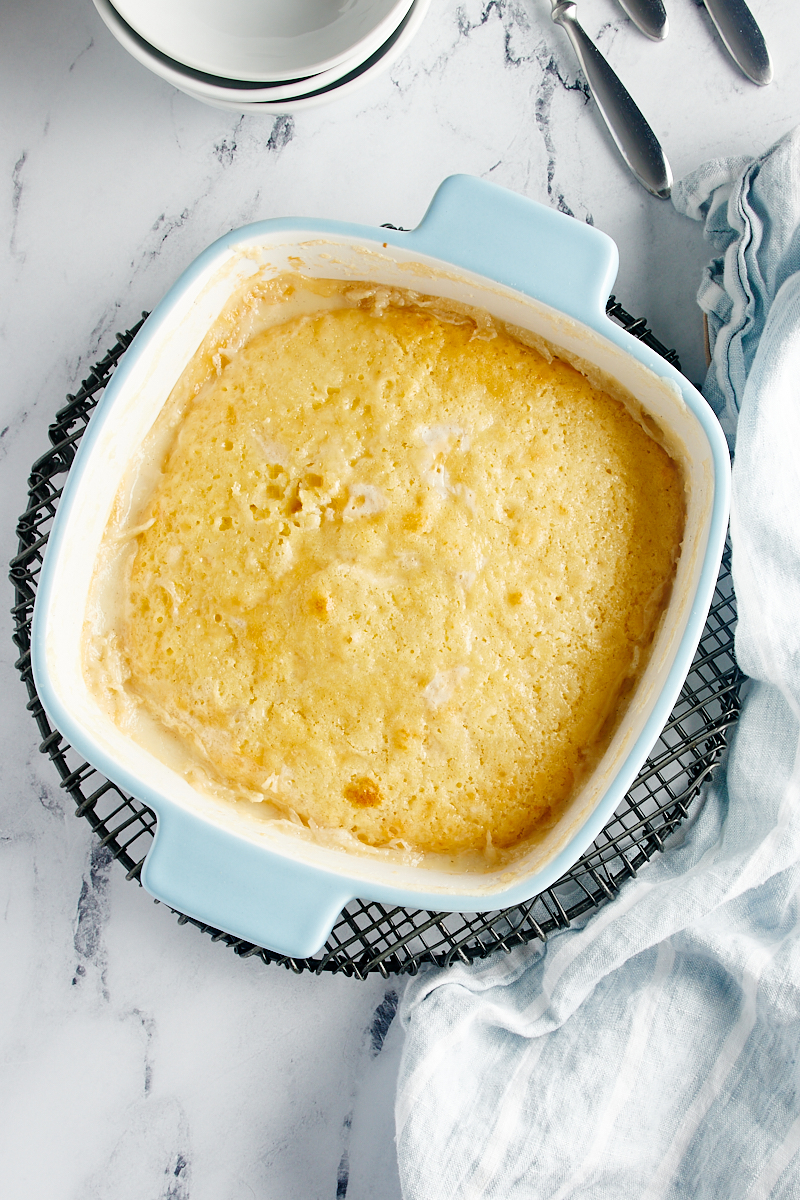 Tips for Success
Keep these tips in mind to help make sure your cake turns out perfectly!
Use good quality vanilla. This cake is all about the vanilla, so you'll get the best flavor with good vanilla. For store-bought vanilla, I prefer Nielsen-Massey. You can also make your own. Learn more: How to Make Vanilla Extract
Gather the ingredients first. While this is always a good idea in baking, I find that it really helps here to get everything measured and ready before beginning to mix. As there are repeat ingredients in the sauce and the cake, be careful to keep those measured ingredients separate.
Want to make individual cakes? You can make this recipe in ramekins. Simply divide the two components evenly among eight buttered 8-ounce ramekins. Place them on a lined rimmed baking sheet to help get them in and out of the oven easily. Reduce the baking time to 25 to 30 minutes.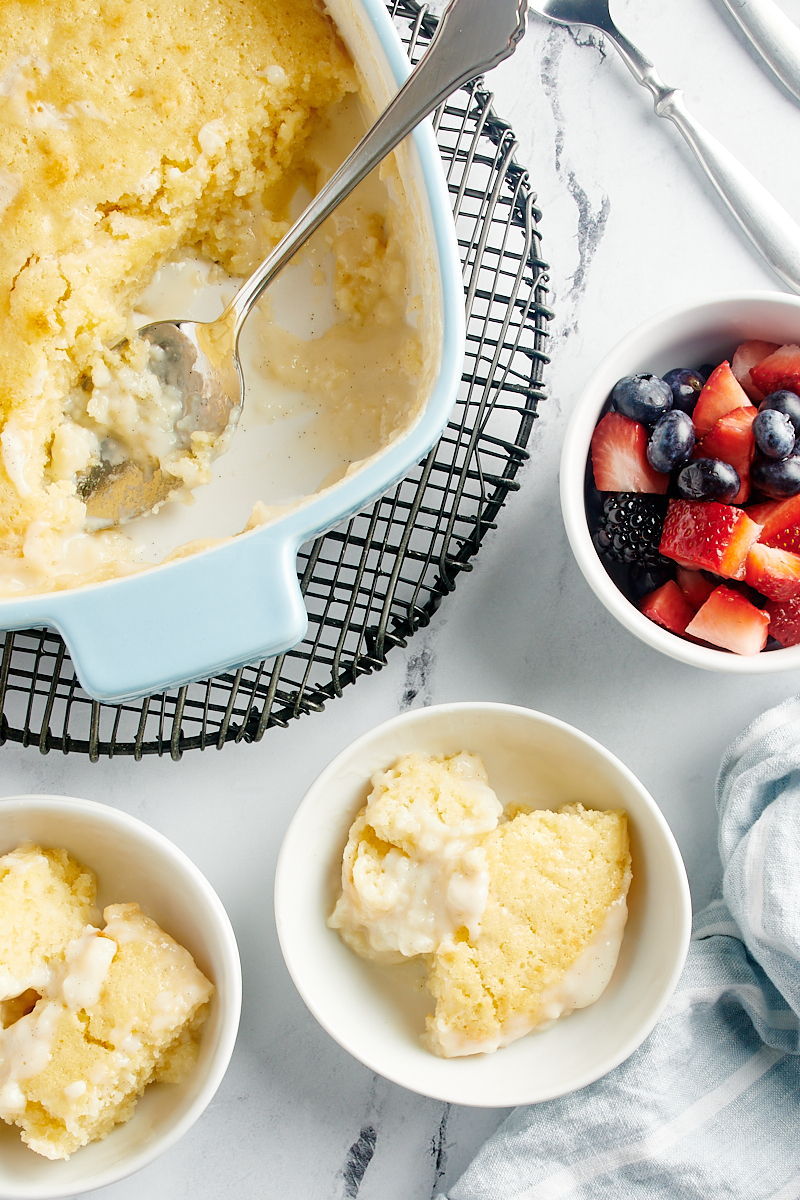 Serving Suggestions
There are so many great complements to the wonderful vanilla flavor of this pudding cake. Here are some of my favorite ways to serve them.
Top with fresh berries. Use a mixture of berries or just use your favorite variety. For a holiday twist, serve with sugared cranberries.
Dust with confectioners' sugar for a simple topping.
Add a dollop of whipped cream. Go with classic sweetened whipped cream, or try a flavored variant made with jam, liqueur, dulce de leche, or cocoa powder. Learn more: How to Make Whipped Cream
Serve with a fruit compote. The added fruit flavor is a great complement to the vanilla in the cake. Try my easy apple compote or the blueberry compote from one of my favorite almond cakes.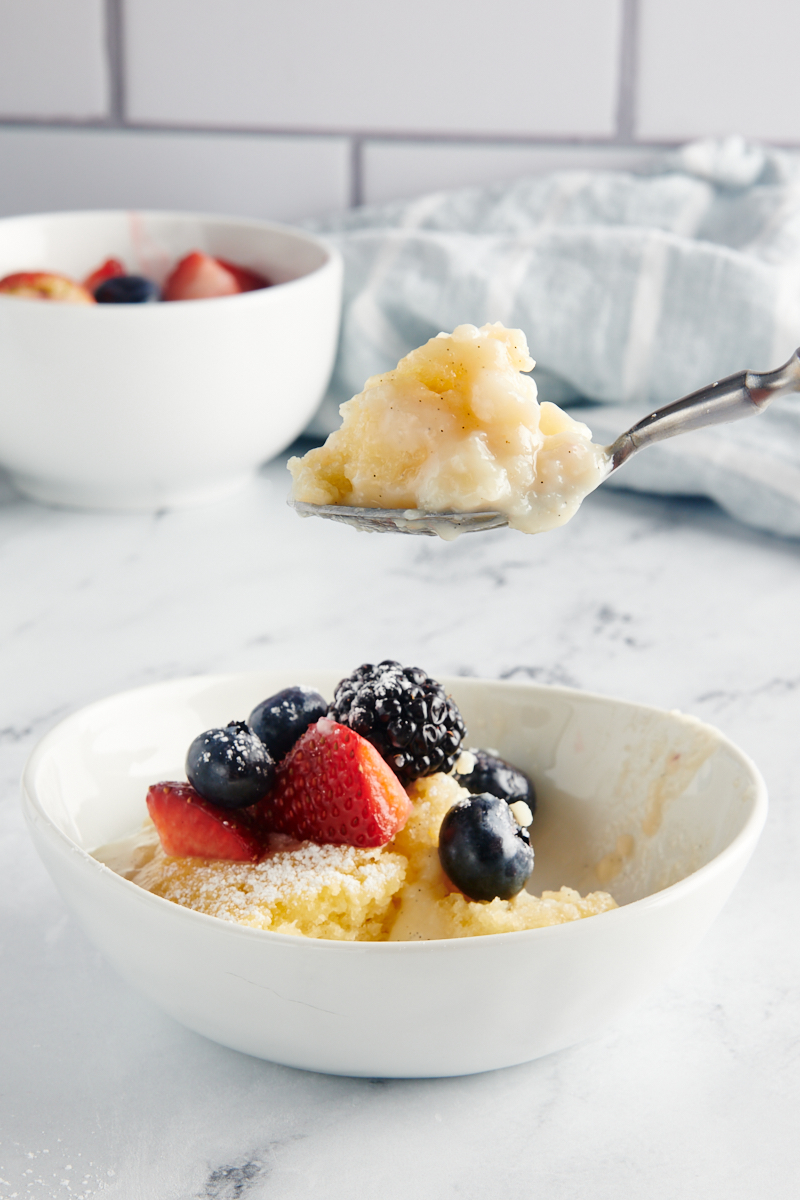 How to Store
This vanilla cake is best served warm, but you can store leftovers in an airtight container in the refrigerator up to 4 days. Reheat in the microwave or a low temperature oven before serving. The sauce will thicken and begin to absorb into the cake as it cools, so you'll notice a difference in the texture.
Can This Pudding Cake Be Frozen?
If you'd like to freeze this pudding cake, place the remaining cake in an airtight, freezer-safe container. Properly stored, it should keep in the freezer up to 3 months. Thaw overnight in the refrigerator, and reheat before serving.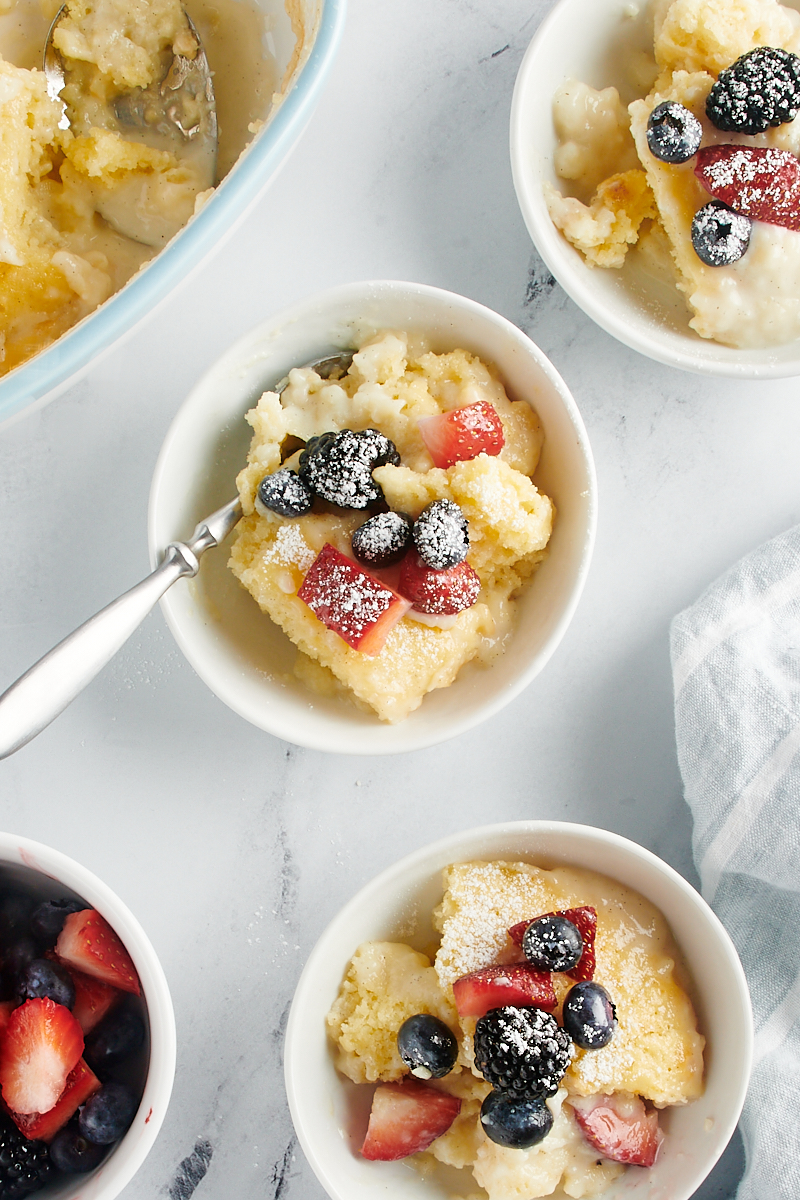 Video Tutorial: Vanilla Pudding Cake