Chocolate pots de crème are an elegant dessert that comes together easier than you think! Serve this creamy, rich chocolate custard with a dollop of whipped cream on top for the perfect finishing touch.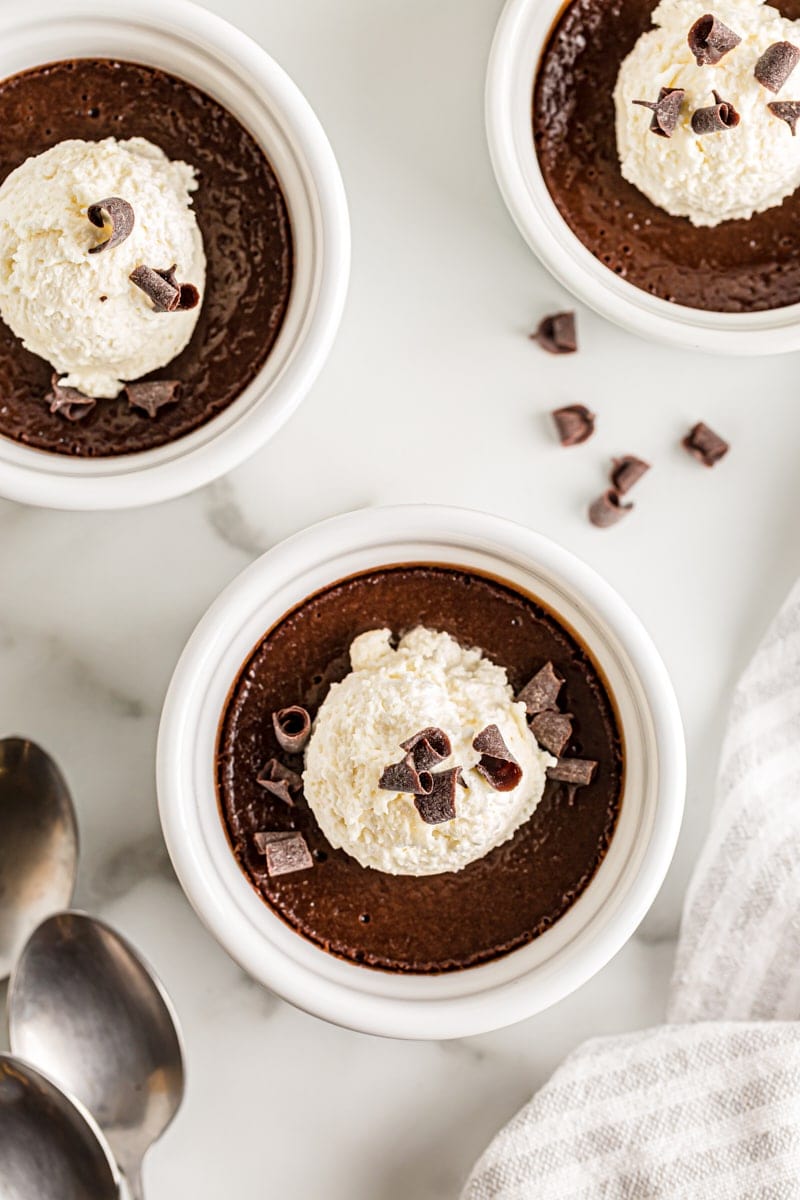 French Pot au Chocolat Recipe
I don't make a lot of what I call fancy desserts. You won't see many complicated baked goods or intricately decorated cakes here. What I prefer—and I think I'm not alone—are desserts that are simple to prepare and a pleasure to eat. Desserts and baked goods that we, as home bakers, can easily achieve without a lot of fuss. You might be surprised to learn that chocolate pots de crème fall into this category!
These little chocolate pots are one of those magical desserts that are embarrassingly simple to make, but elegant enough to be worthy of a very special occasion.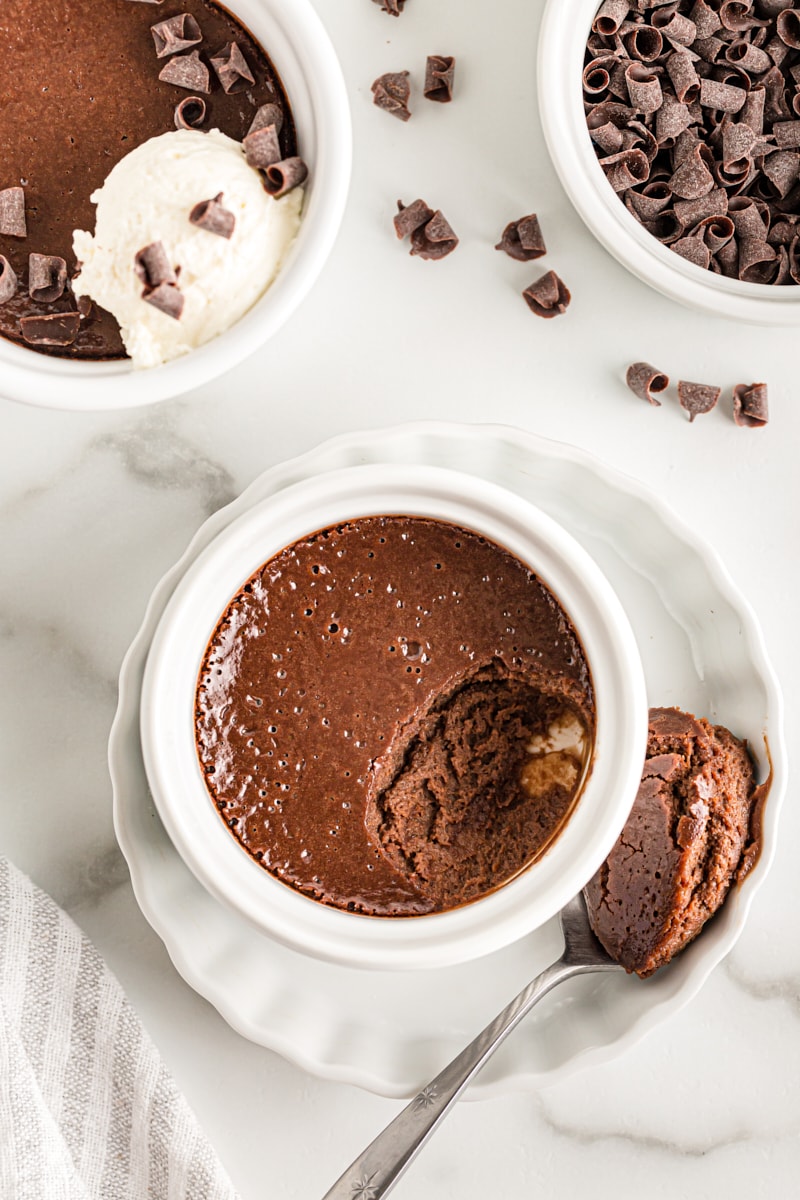 What Is Pot de Crème?
If you aren't familiar with the term, pot de crème means pot of custard. If you want to sound all French about it, it's pronounced po-duh-crem. Basically, it's a cooked custard made with just a few ingredients that you most likely have in your kitchen right now. If you call yourself a chocolate fan but have never had a chocolate pots de crème, then you have done yourself an injustice. Trust me.
Pots de crème are simply a pleasure to eat. They're smooth and creamy and so very chocolate-y. You can serve them at room temperature, but I love them still a bit chilled. And, I just have to have that dollop of sweetened whipped cream on top.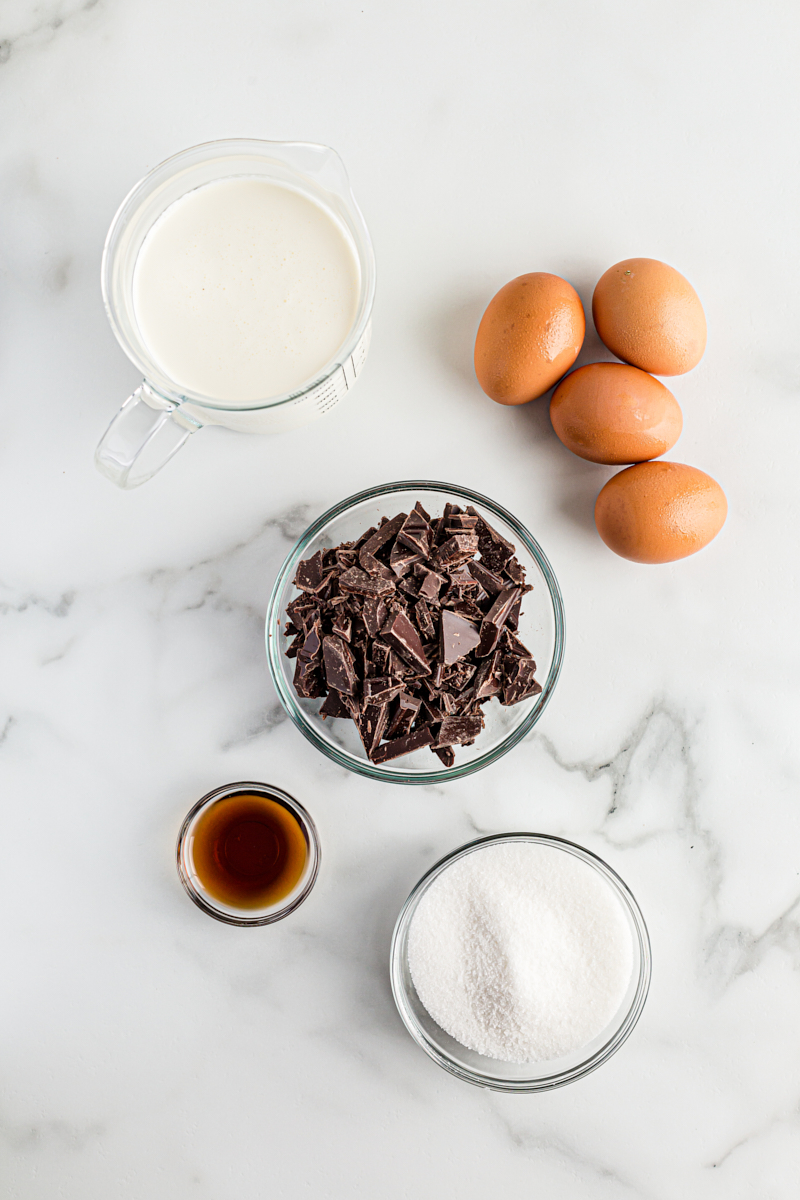 What You'll Need
Scroll down to the recipe card to find the ingredient quantities and recipe instructions.
Heavy cream – There's no cutting calories here—half-and-half or whole milk just won't do.
Bittersweet chocolate – Or your favorite dark chocolate.
Granulated sugar
Egg yolks – Cold eggs separate more easily than room temperature, so this is one instance in which you'll want to make sure your eggs are chilled.
Coffee-flavored liqueur or vanilla extract
Hot water
Sweetened whipped cream – Although this is optional, I highly recommend it!
What Is Considered a Coffee Liqueur?
Kahlua and Tia Maria are the two most widely available coffee liqueurs. I use Kahlua to add a little extra flavor and richness, but feel free to use another liqueur or simply substitute vanilla extract. You can also omit the liqueur or extract altogether.
How to Make Chocolate Pots de Crème
Pots de crème are baked in a water bath, similar to what you might use for baking a cheesecake. Don't worry, though—it's not complicated at all.
Prepare. Preheat your oven to 300°F and set eight 4-ounce ramekins in a shallow baking dish.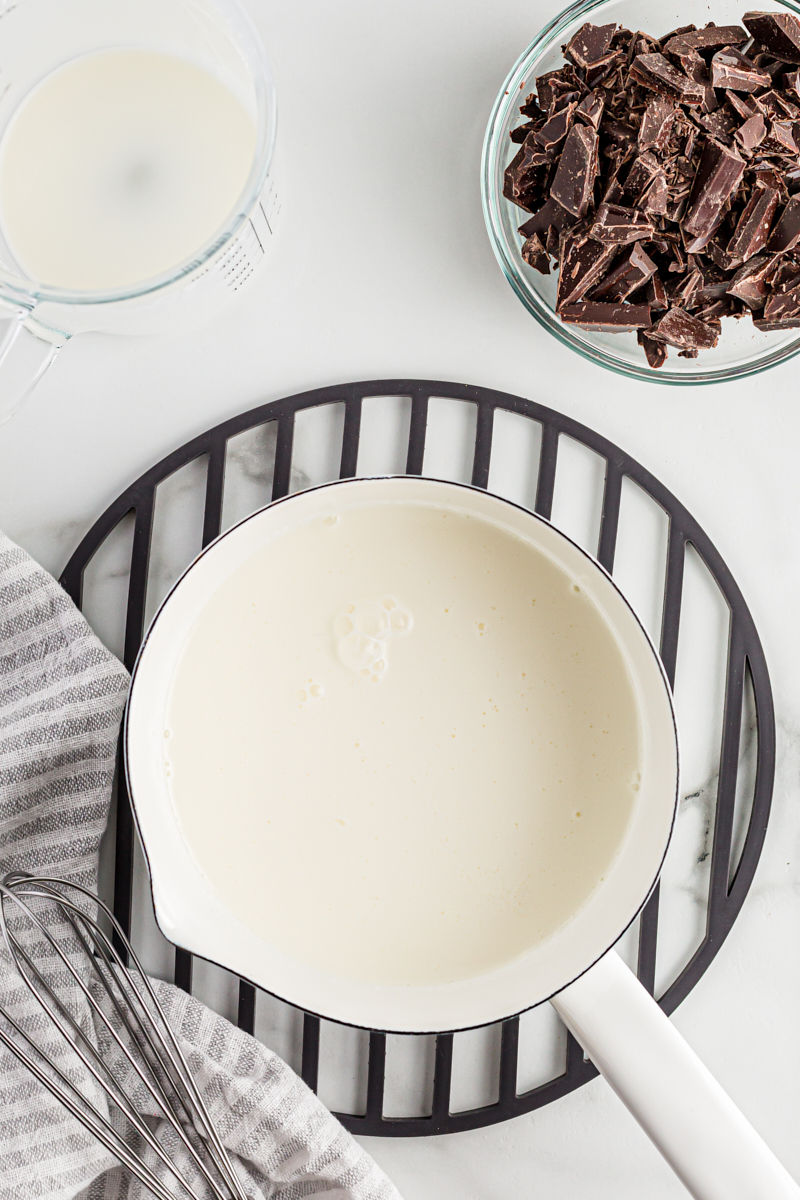 Heat the cream. Place the cream in a medium saucepan set over medium heat. Once the cream begins to simmer, remove it from the stovetop.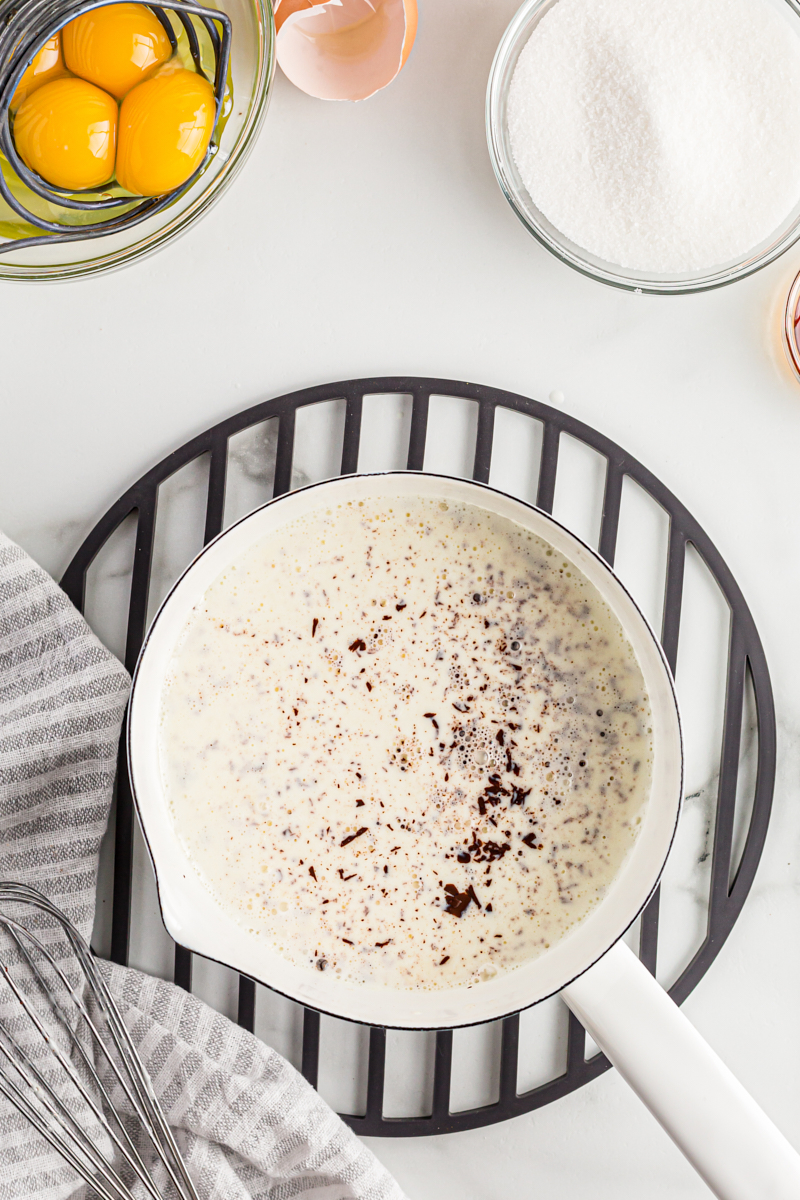 Melt the chocolate in the cream. Add the chocolate to the pan with the heavy cream. Stir until the chocolate has melted smoothly.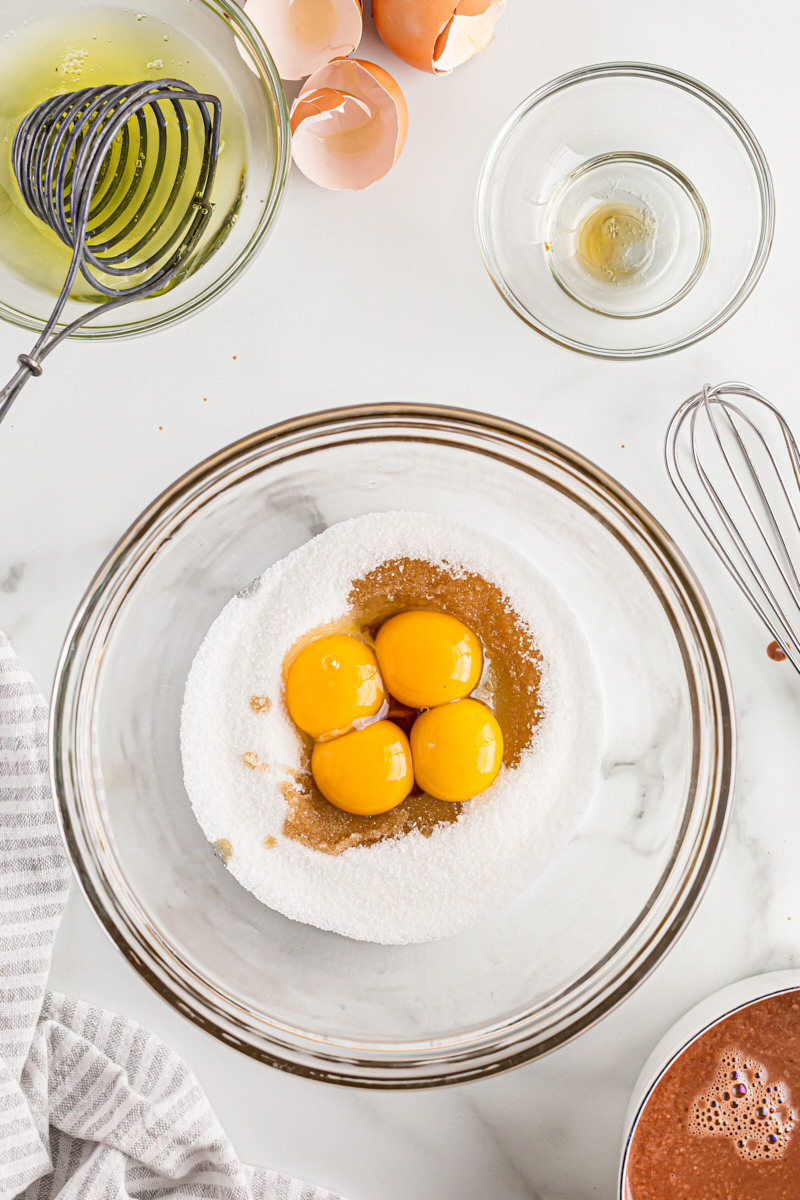 Mix the remaining ingredients. In a large bowl, whisk the sugar, egg yolks, and liqueur until the mixture has thickened and appears lighter in color.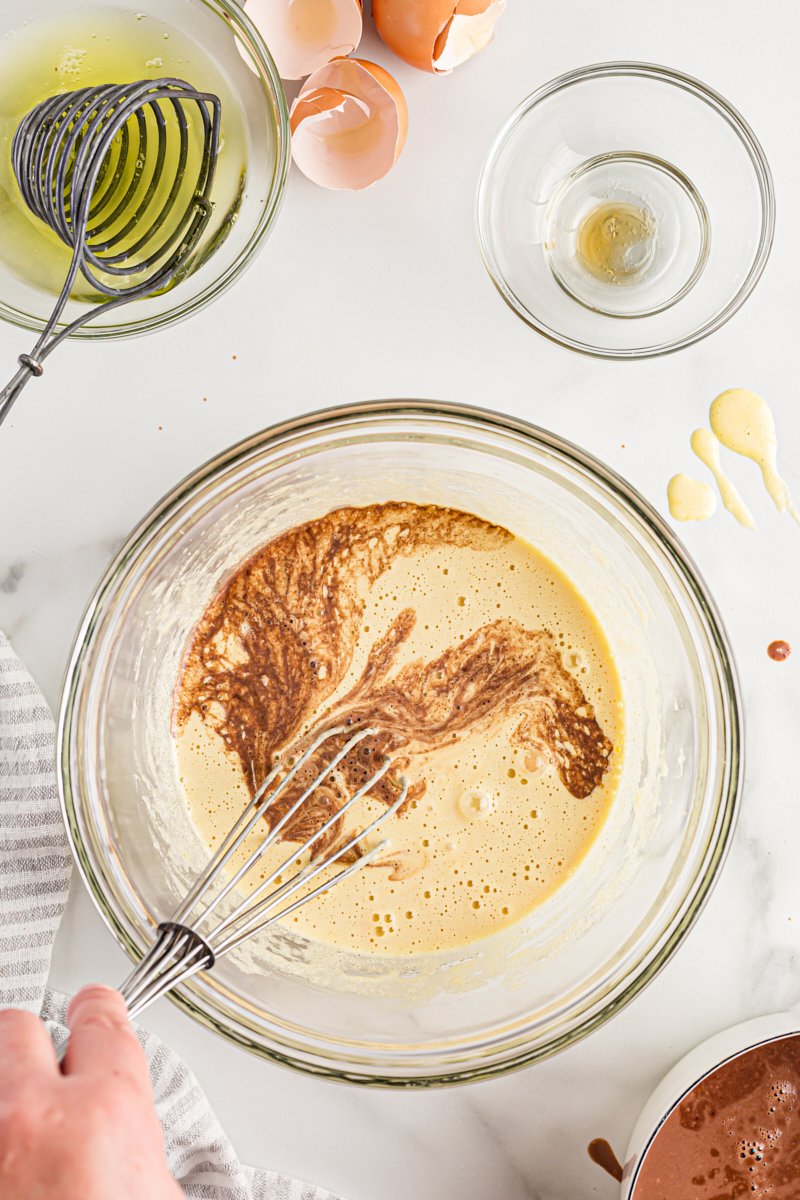 Finish the custard mixture. Slowly whisk about a third of the chocolate/cream mixture into the bowl with the egg yolk mixture. Then, add the remaining chocolate and cream while stirring constantly. Continue to stir until well-combined and smooth.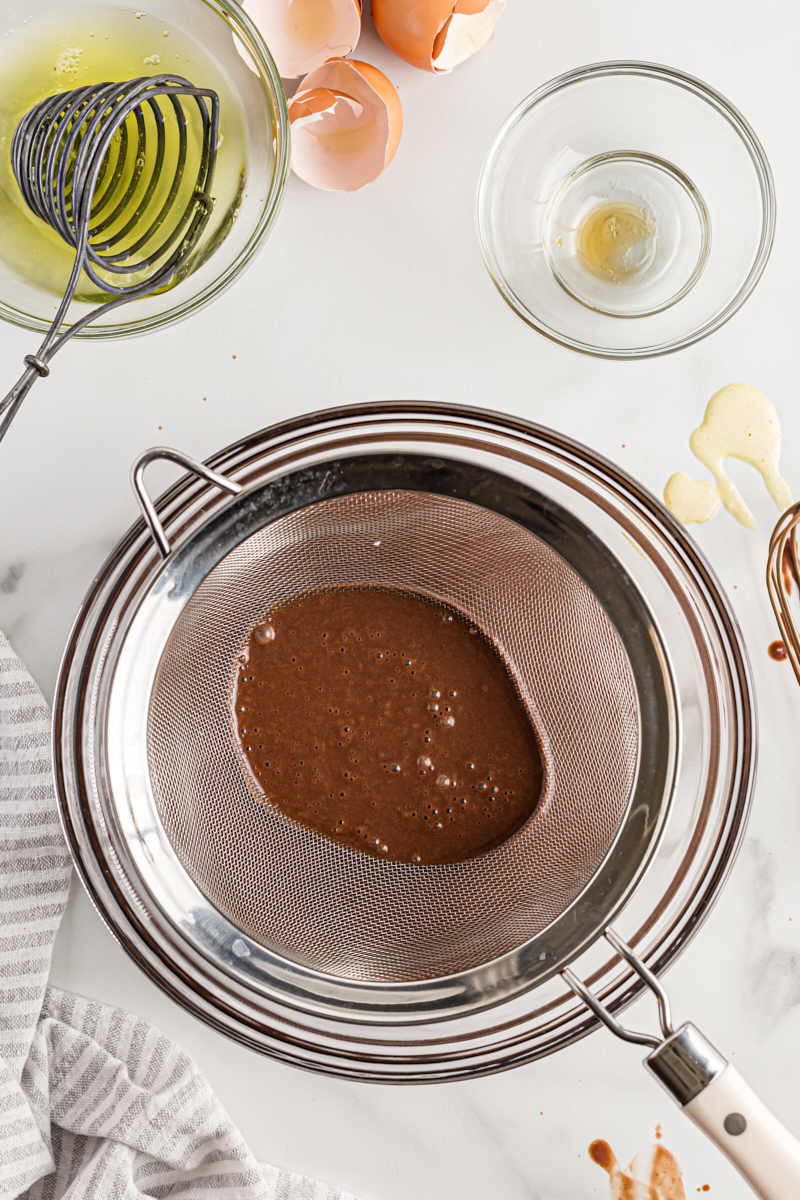 Fill the ramekins. Pour the custard mixture through a fine-mesh sieve, then divide it evenly into the ramekins. Pour enough hot water into the baking pan to reach 1 inch up the outsides of the ramekins.
Bake. Carefully place the pan in the oven and bake for 25 to 30 minutes, or until the centers are almost set.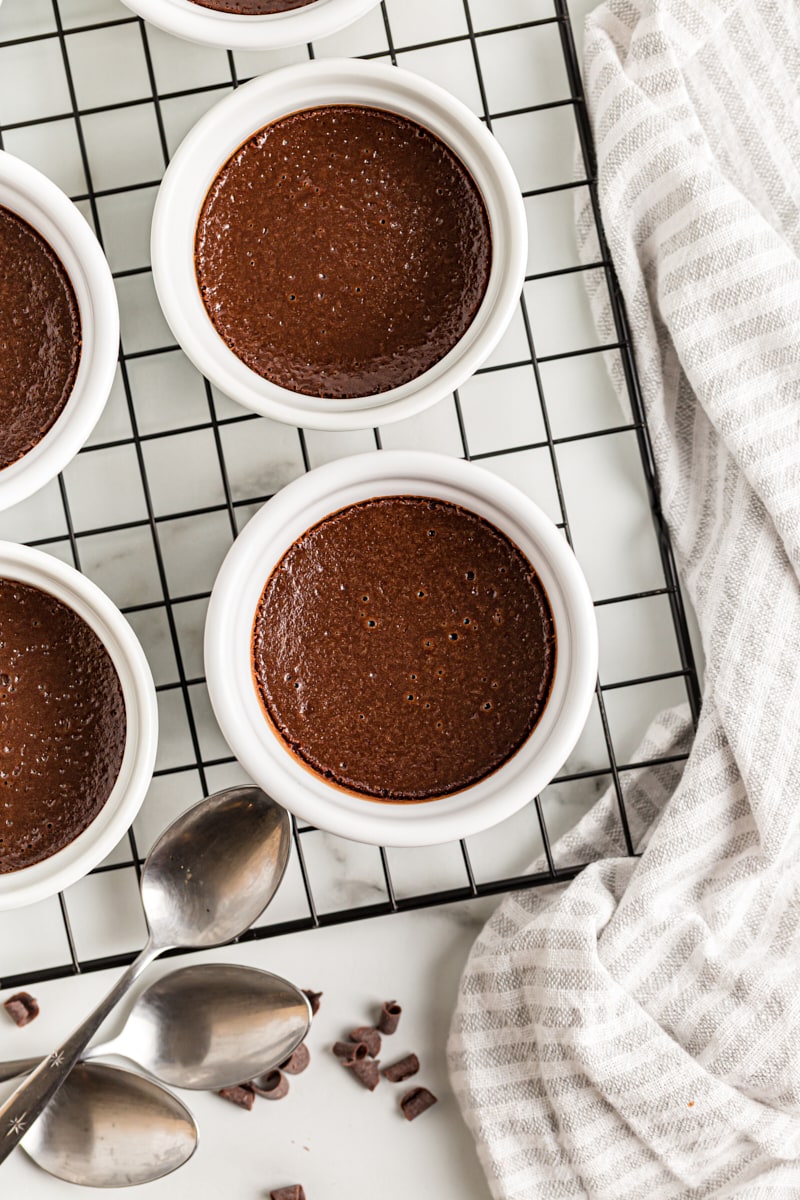 Cool. Remove the ramekins from the pan and place them on a cooling rack to cool for an hour. (Learn more: Why Every Baker Needs Wire Cooling Racks)
Chill. Cover the cooled ramekins with plastic wrap and chill for at least 1 hour or up to 2 days before serving.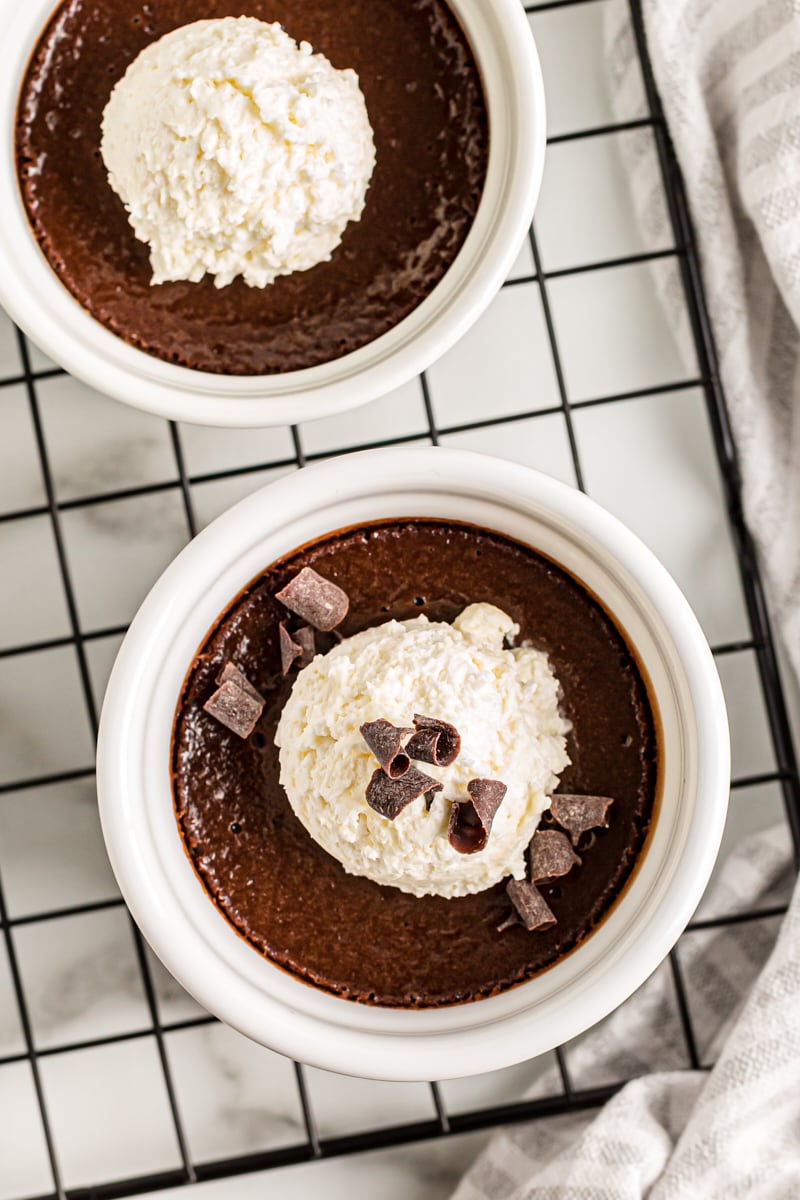 Serve. Serve pots de crème chilled or at room temperature. Garnish with sweetened whipped cream, if desired.
Tips for Success
Here are some simple tips for perfect chocolate pots de crème.
Use the best chocolate you can afford. As I often do, I will implore you to use a very good quality chocolate. Pick one that you enjoy eating on its own. I've listed bittersweet chocolate in the ingredients, but use any favorite dark chocolate.
Adjust accordingly for different ramekin sizes. Feel free to use different size ramekins. You'll have a total of about 32 ounces of custard, so just keep that in mind when calculating how many ramekins you'll need. Larger ramekins will take a few minutes longer to bake.
Removing the hot ramekins from the pan. A jar lifter, like the kind used in canning, works well for removing the ramekins from the hot water. A silicone oven mitt or something else with a bit of gripping power will work, too.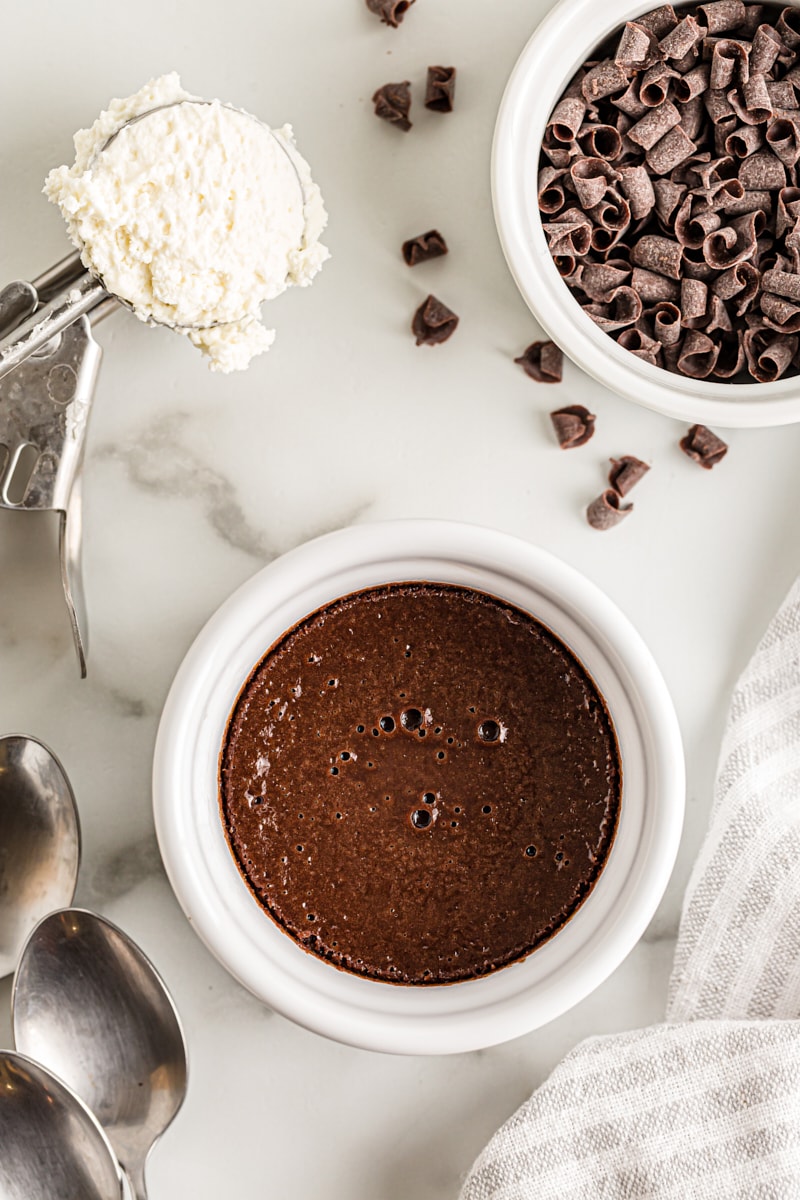 Topping Ideas
A dollop of whipped cream is perfection on a pot de crème, but you can take things to the next level with chocolate shavings or curls—white, dark, milk, or a combination. A ripe strawberry or raspberries are the perfect complement to the rich chocolate, or dust the whipped cream with espresso powder or cocoa powder.
How to Store
Store pots de crème covered in the refrigerator for up to 2 days. Serve chilled or at room temperature.
Can This Recipe Be Frozen?
Wrapped pots de crème can be frozen for up to 3 months. Thaw them in the refrigerator before serving.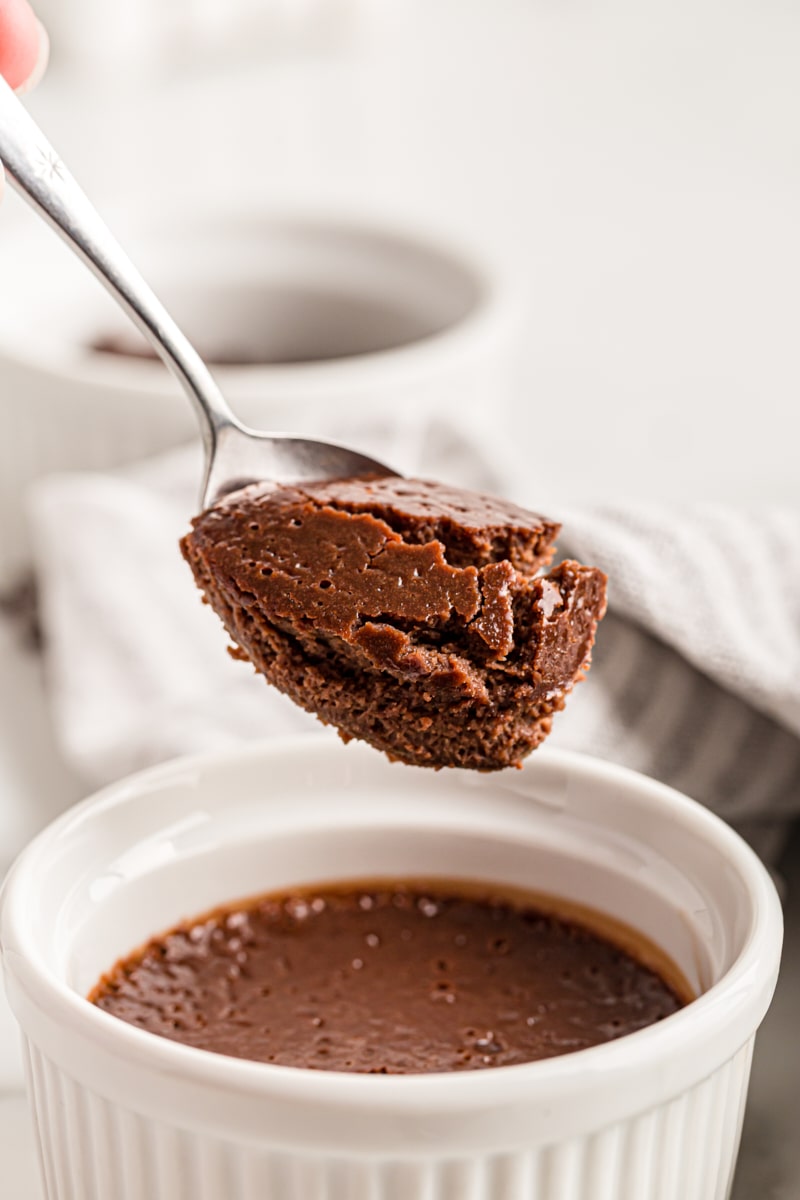 More Custard, Crème, and Mousse Recipes
Video Tutorial: Chocolate Pots de Crème