This blueberry bread pudding is loaded with juicy, fresh blueberries in every bite. You'll love the addition of cream cheese, which ups the decadence factor and adds the perfect amount of tanginess.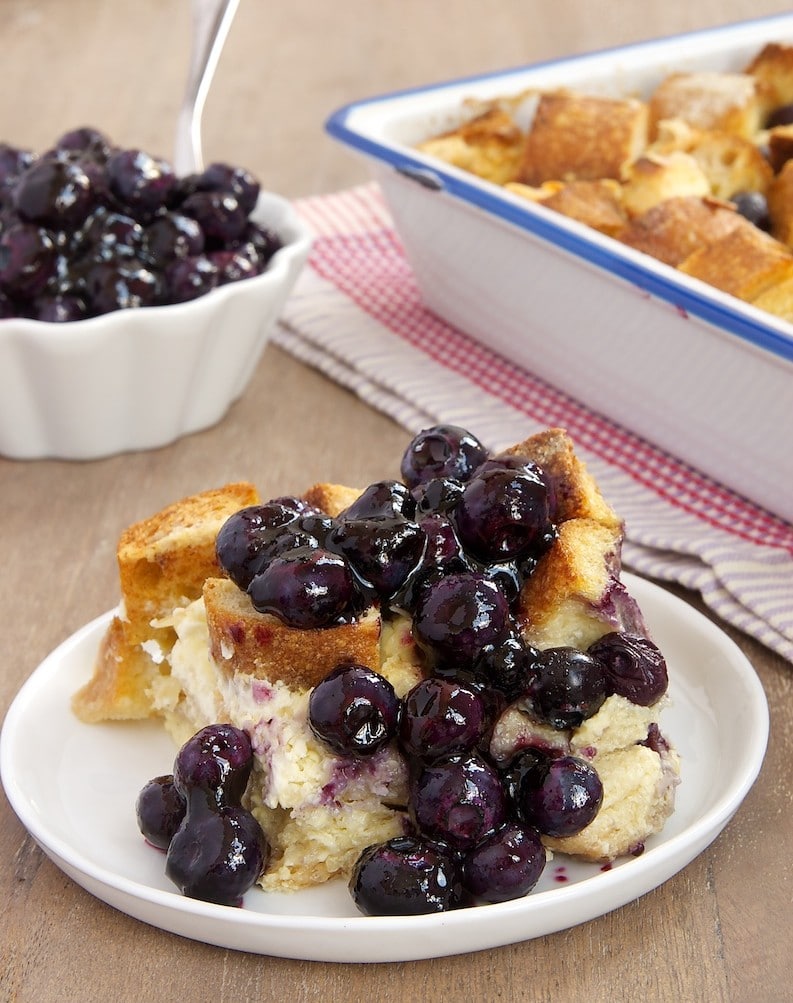 Homemade Bread Pudding With Blueberries and Cream Cheese
As the days of summer are dwindling, I'm trying to squeeze in as many summer fruit recipes as I can. I found myself with an abundance of blueberries after a grocery ordering blunder, ending up with twice as many as I meant to get. But hey, if that's an occasional consequence of ordering groceries for delivery, I'm okay with that.
Knowing I needed a way to use up a bunch of those blueberries, I started brainstorming some baking ideas. I happened to remember finding a recipe for blueberry bread pudding that used lots and lots of fresh berries in the pudding as well as in a sauce. Knowing how much I love bread pudding, I knew it was meant to be.
This bread pudding has so much going for it besides all those blueberries. Most notably is cream cheese. I adore blueberries and cream cheese together, and the combination doesn't disappoint here. The cream cheese adds just a bit of flavor to complement all those sweet berries.
The original recipe included some maple syrup, but I opted to go with a bit of vanilla and lemon instead to make it dessert-worthy as well as brunch-worthy. If you're serving this for breakfast, you might want to skip the lemon and add the maple syrup, or just drizzle a bit on top along with the blueberry sauce.
(Love bread pudding? Me too! Try my Chai Spice Bread Pudding with Vanilla Sauce, Chocolate Croissant Bread Pudding, or Peanut Butter-Chocolate Bread Pudding next.)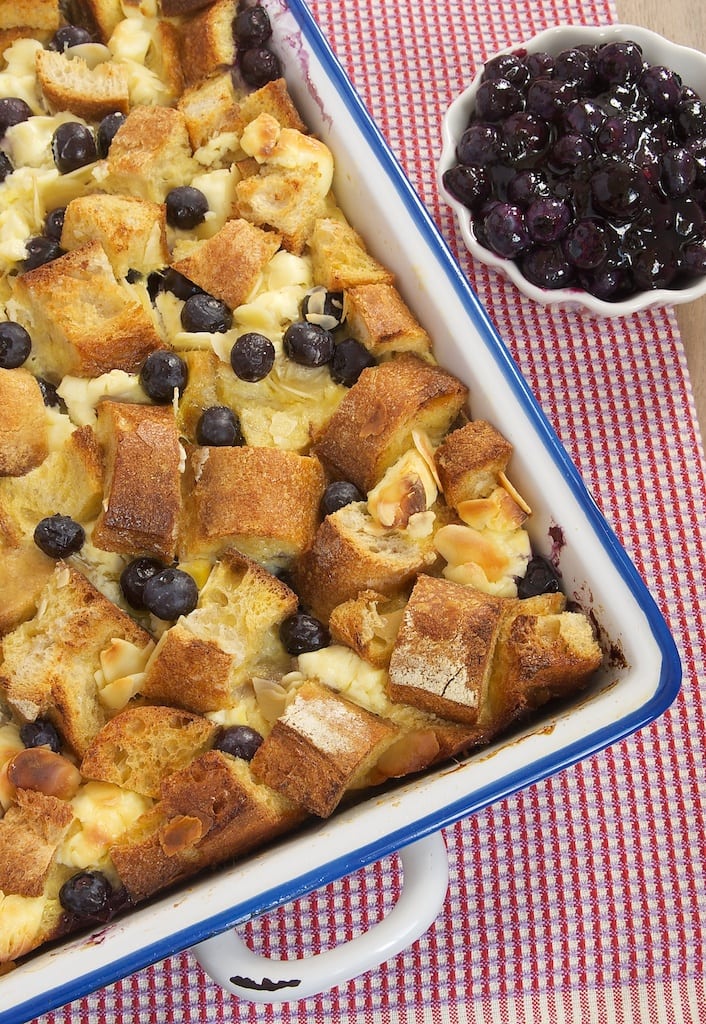 What You'll Need
Scroll down to the recipe card below this post for ingredient quantities and full instructions.
French bread loaf
Cream cheese – Use the full-fat kind that comes in blocks, not tubs.
Blueberries – Fresh is best, but frozen will work when blueberries aren't in season. Learn more: Fresh vs Frozen Fruits in Baking.
Eggs
Milk – I recommend using whole milk in this recipe.
Granulated sugar
Unsalted butter – Learn more: Unsalted or Salted Butter: Which is Better for Baking?
Vanilla extract – Almond extract would work well in this recipe, too.
Lemon juice
Sliced almonds
For the sauce:
Blueberries
Blueberry preserves
Is Bread Pudding Made from Old Bread?
Traditionally, bread pudding was a way to repurpose stale bread. But if you're bread's not stale, no worries! You can dry it out in a 350ºF oven; cut the bread into cubes and let them bake on a sheet pan for 15 to 20 minutes, or until they're golden brown and feel dry on the outside.
How to Make Blueberry Bread Pudding
Like most bread pudding recipes, this one is gloriously easy. Whisk the custard, pour it over the rest of the ingredients, and let the bread soak until you're ready to bake.
Prepare. Lightly grease a 9″x 13″x 2″ baking pan.
Assemble. Place about half of the bread cubes in the prepared baking dish. Scatter the pieces of cream cheese and 1 cup of the blueberries over the bread, then top this with the remaining bread.
Make the custard. Whisk the eggs, milk, sugar, butter, vanilla, and lemon juice in a mixing bowl. Pour this over the bread mixture, pressing down the cubes of bread to ensure that they soak up the custard. Sprinkle almonds over the top.
Chill. Cover the dish and refrigerate for 8 hours. Start preheating the oven to 350ºF just before the end of the chilling time.
Bake. Bake the bread pudding covered for 40 minutes, then uncover and bake for 30 minutes more, or until it's set and lightly browned. Let the bread pudding rest for 5 minutes before serving.
Make the sauce. Combine the remaining blueberries and preserves in a saucepan set over low heat and cook until the mixture is warm.
Serve. Plate the bread pudding with the warm blueberry sauce.
Tips for Success
This blueberry bread pudding is an easy breakfast or dessert, but these simple tips will make it even better!
Make sure the cream cheese is evenly distributed. You want cream cheese in every bite, so cut it into small pieces.
Use stale (or toasted) bread. Otherwise, it will fall apart in the custard, resulting in a mushy consistency.
Take it to the next level. A dollop of whipped cream or a scoop of vanilla bean ice cream is delicious with the warm bread pudding and blueberry sauce!
Is Bread Pudding Eaten Hot or Cold?
Bread pudding is traditionally served warm, but there's no reason you can't serve it at room temperature or even cold, if you prefer.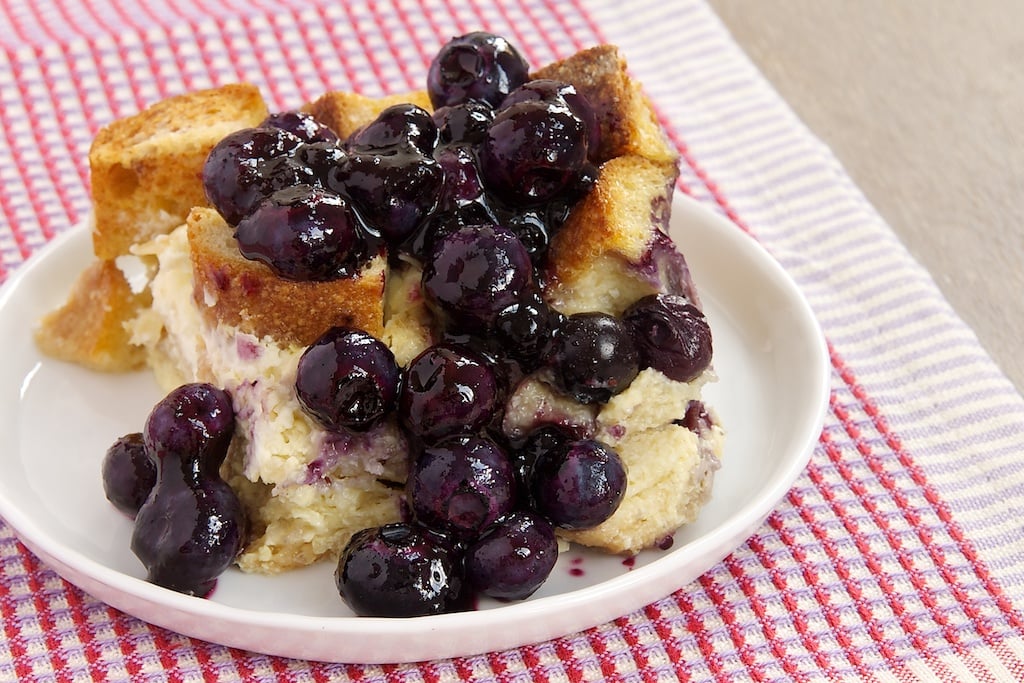 Make Ahead Instructions
This is a great recipe for prepping ahead of time, making it an excellent choice for a special breakfast or brunch. Once assembled, it needs to chill for at least 8 hours, so you can easily put it together the day before you want to serve it and then just pop it in the oven for a warm, freshly baked treat.
How to Store
Leftover bread pudding can be stored in an airtight container in the refrigerator for up to 3 days. Reheat individual portions in the microwave or reheat the entire dish in a 350ºF oven until warmed through.
Can This Recipe Be Frozen?
Yes, this blueberry bread pudding freezes well. Let it cool completely, then cover and freeze for up to 3 months. Thaw overnight in the refrigerator before reheating.