This banana bread cobbler has everything you love about banana bread, minus the loaf pan! A moist cake-like base is studded with sliced bananas, then topped with an irresistible layer of crispy brown sugar and pecan streusel.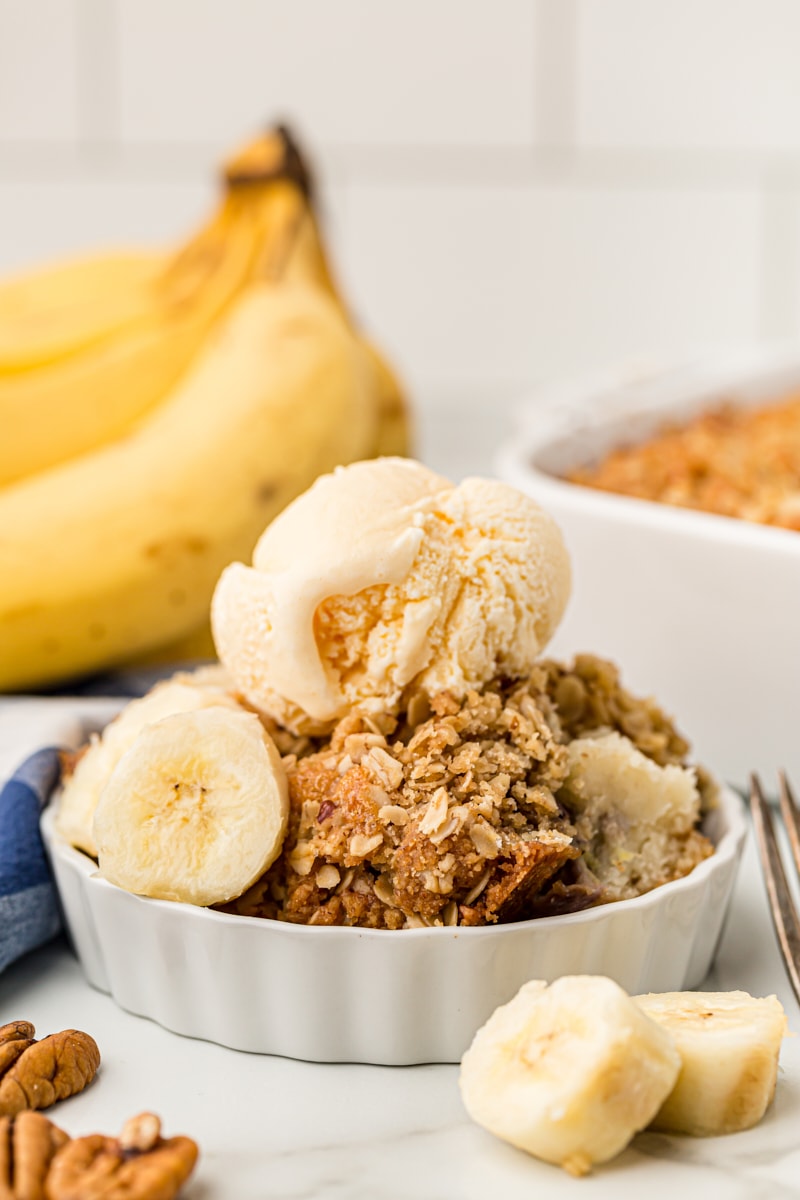 Easy Banana Cobbler With Streusel Topping
If you've made Strawberry Cobbler, Plum Cobbler, or other cobblers in the past, the name of this recipe might leave you a little bit puzzled. How do you make banana bread into cobbler?!
To be sure, this isn't a traditional cobbler recipe. Instead of a jammy fruit filling on the bottom, the base of this banana bread cobbler is more like a super moist banana cake. This is topped with a layer of streusel, giving you all the flavor of a streusel-topped banana bread, simply in a different form.
You see, this is banana bread without the bread. All the good parts of banana bread are put in a baking dish and baked into a bubbly, warm, yummy creation. Top it with some ice cream, and suddenly banana bread is suitable not just for snacking, but for serving as a dessert.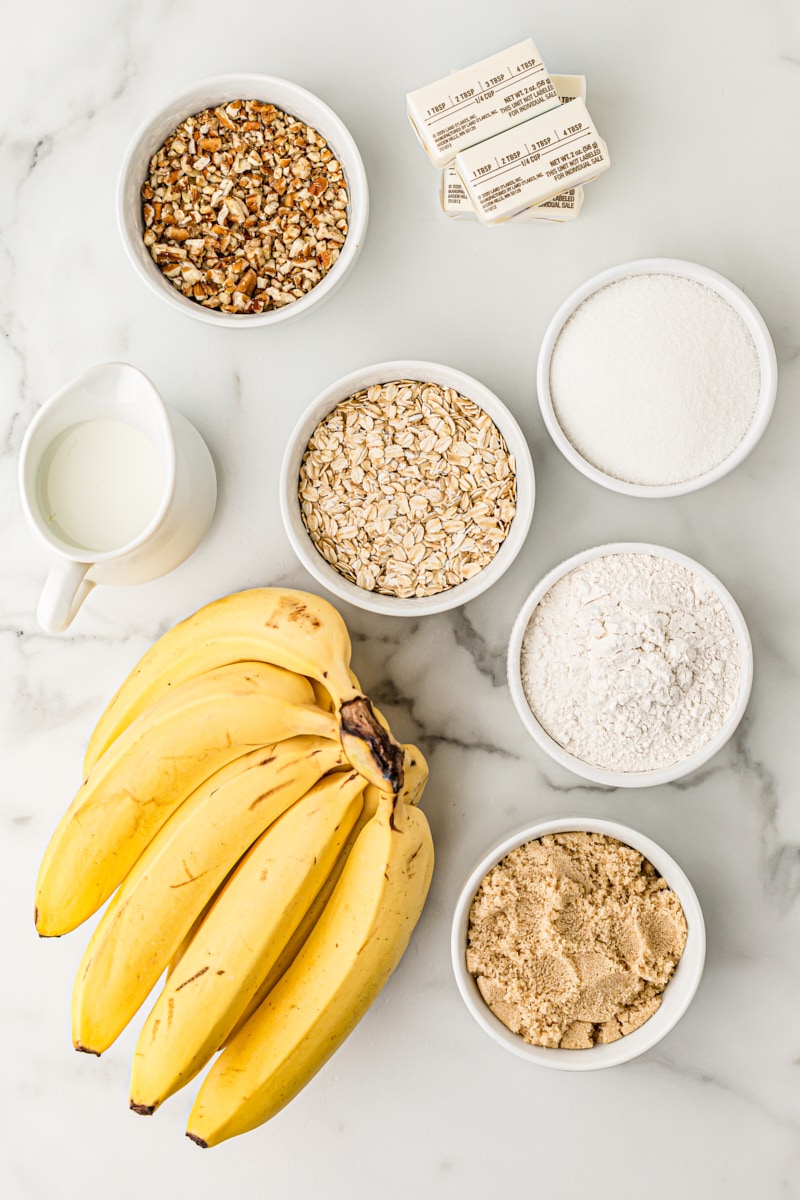 What You'll Need
Scroll down to the recipe card to find the ingredient quantities and recipe instructions.
For the Streusel Topping:
For the Filling:
What Is Self-Rising Flour?
Self-rising flour is flour that already has baking powder and salt mixed into it. While you can buy it readymade at the grocery store, you can also make your own self-rising flour at home.
How to Make Banana Bread Cobbler
One of the best things about this cobbler is how easy it is to make. For the small amount of work that goes into it, you get an incredibly good return on your investment.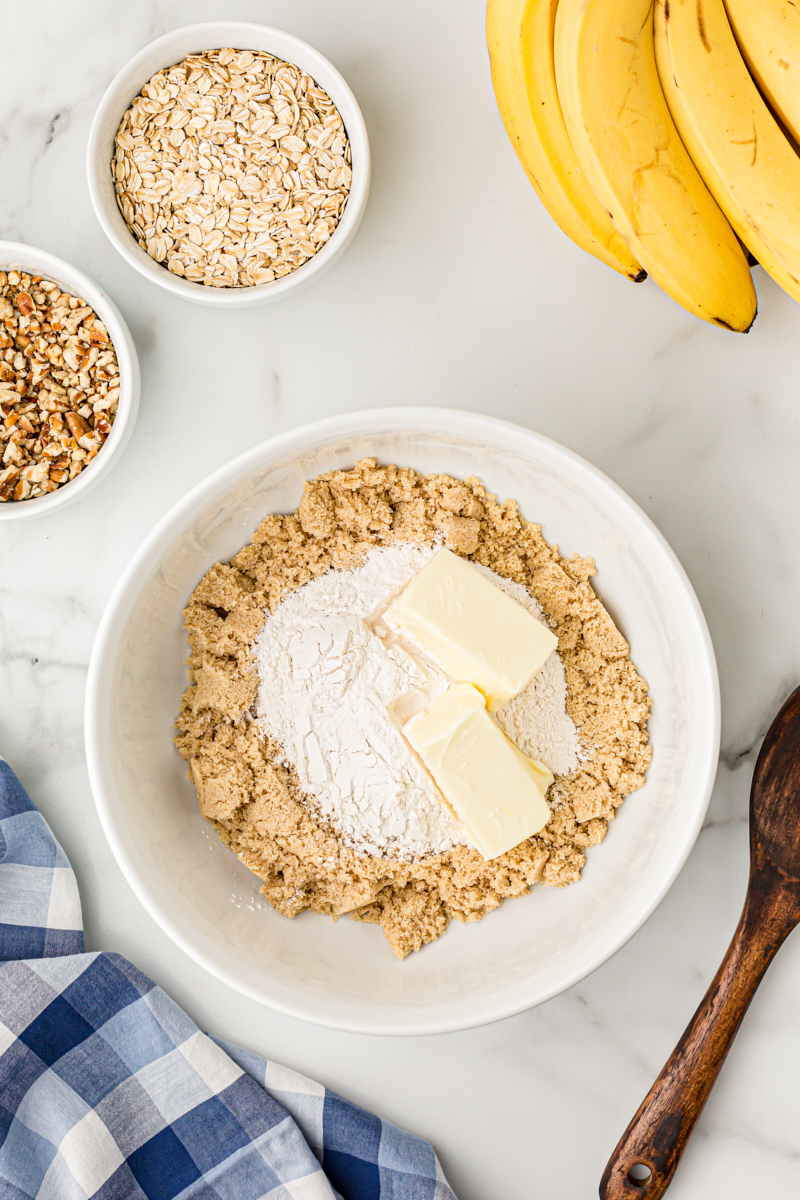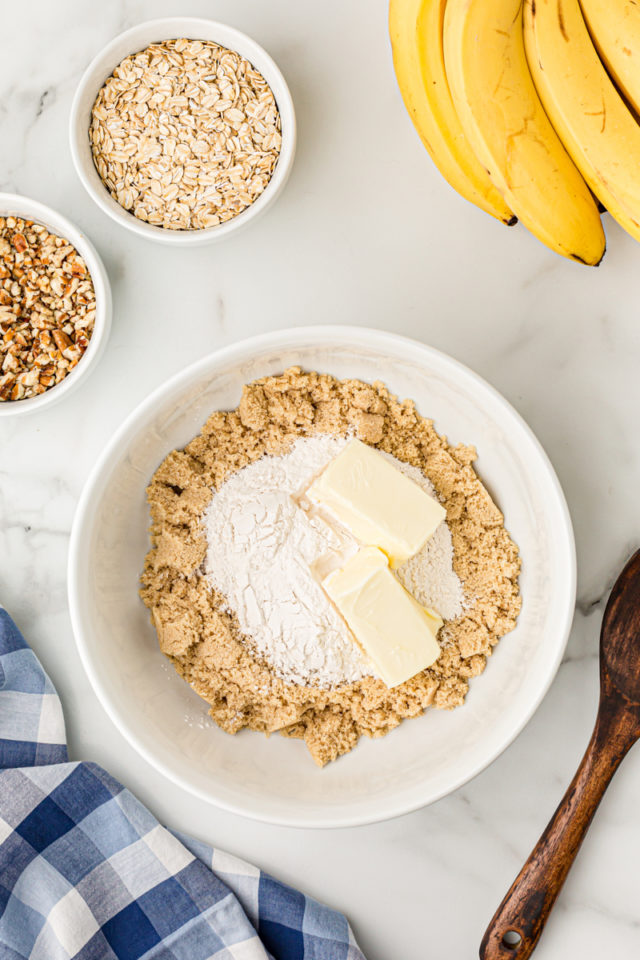 Make the streusel. Stir together the brown sugar, flour, and butter in a small bowl until they're crumbly, then stir in the oats and pecans.
Prepare. Preheat your oven to 375°F and lightly grease an 11″x 7″ baking pan.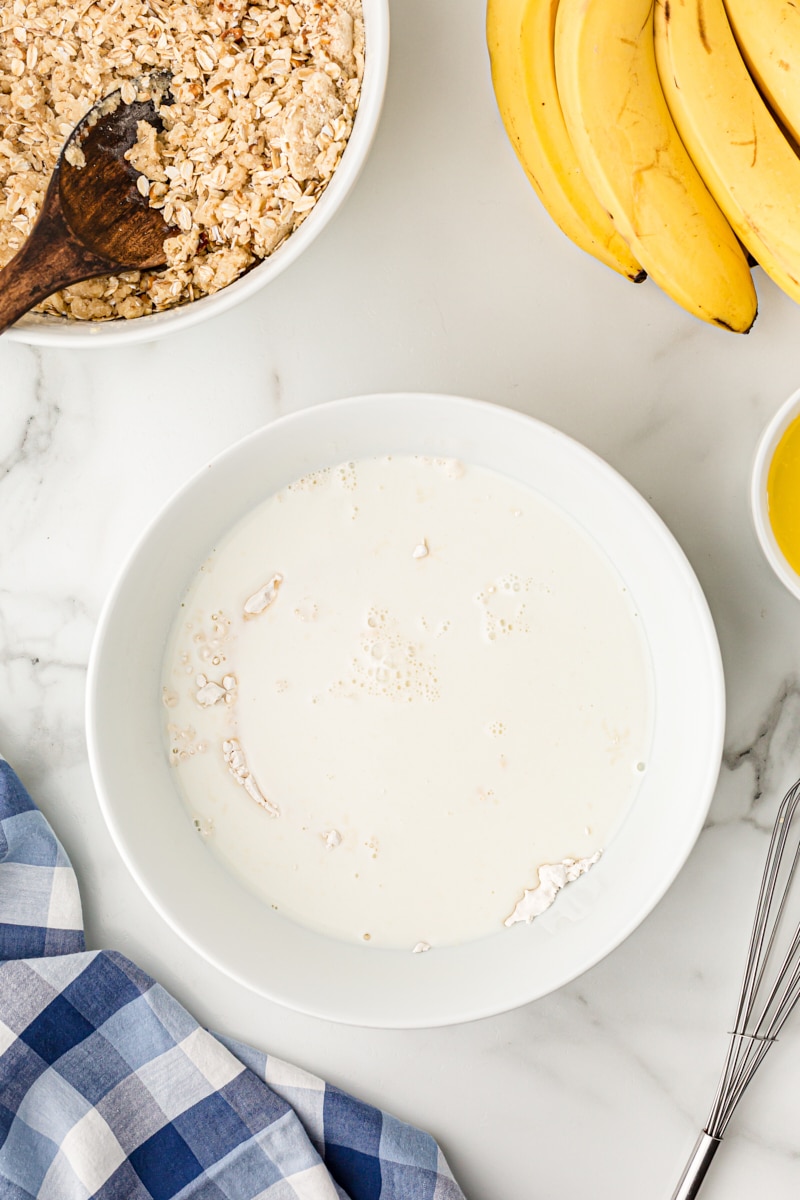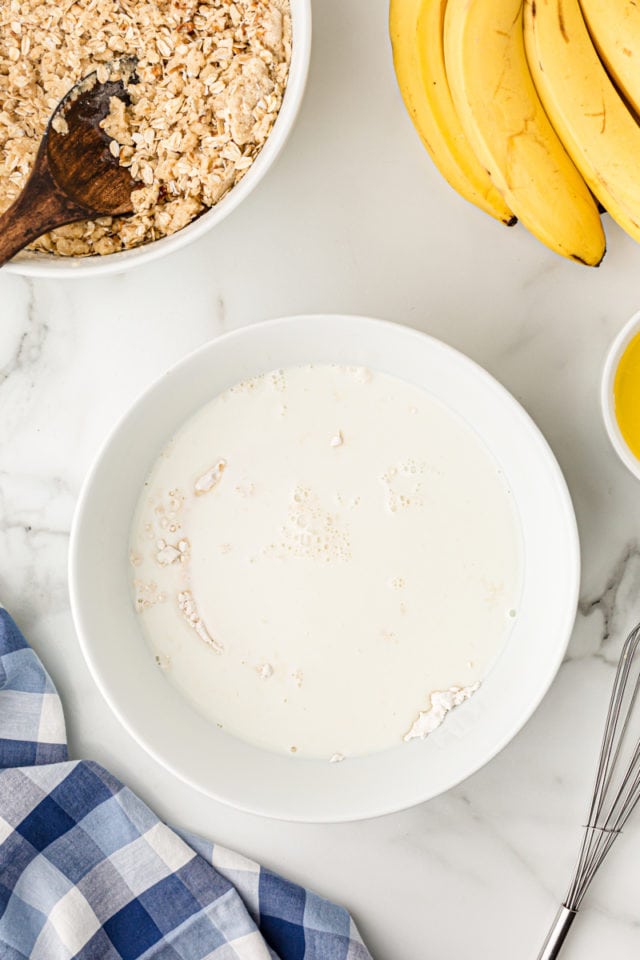 Make the batter. Whisk together the flour, sugar, and milk in a mixing bowl, just until they're blended. Whisk in the melted butter.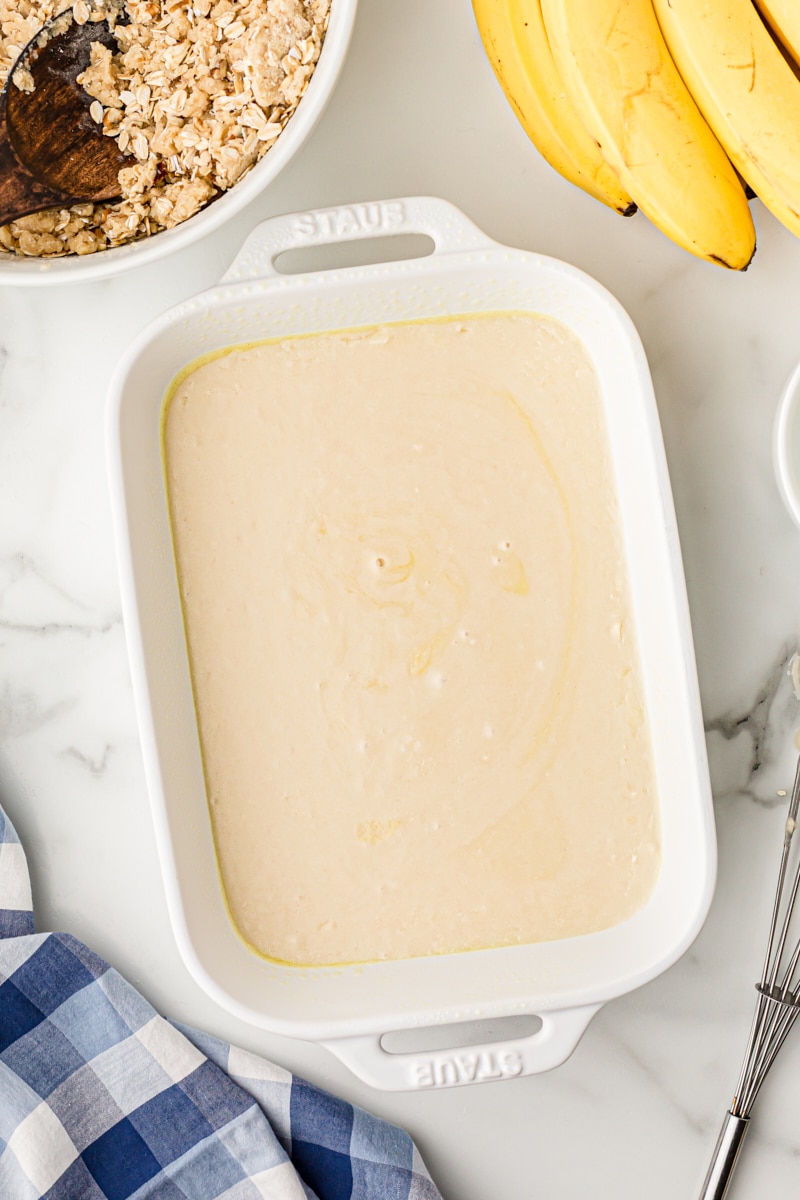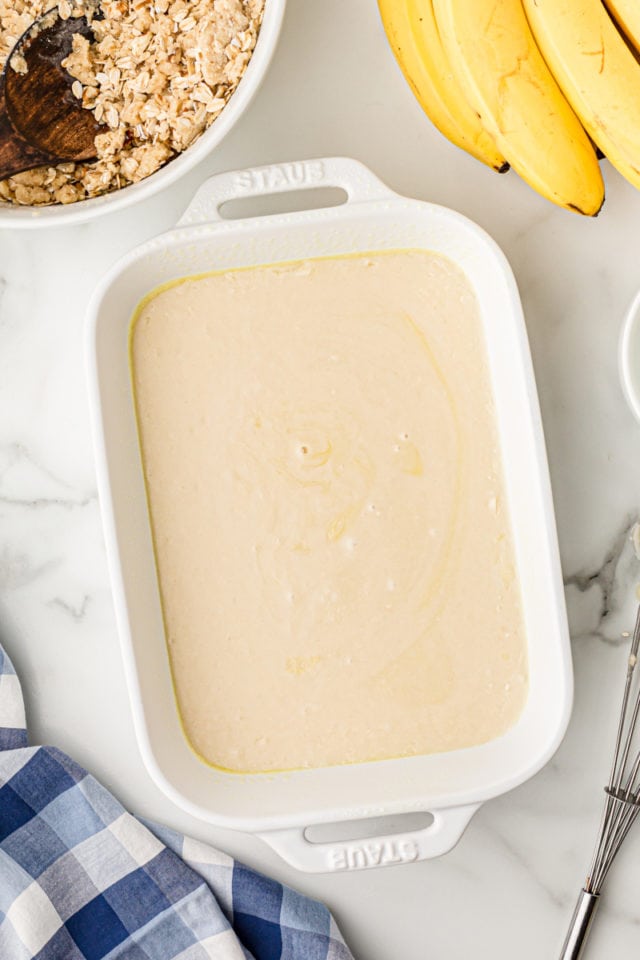 Assemble. Pour the batter mixture into the prepared pan. Arrange the banana slices on top, then add the streusel topping.
Bake. Place the baking dish in the oven and bake for 40 to 45 minutes, or until brown and bubbly. Serve warm.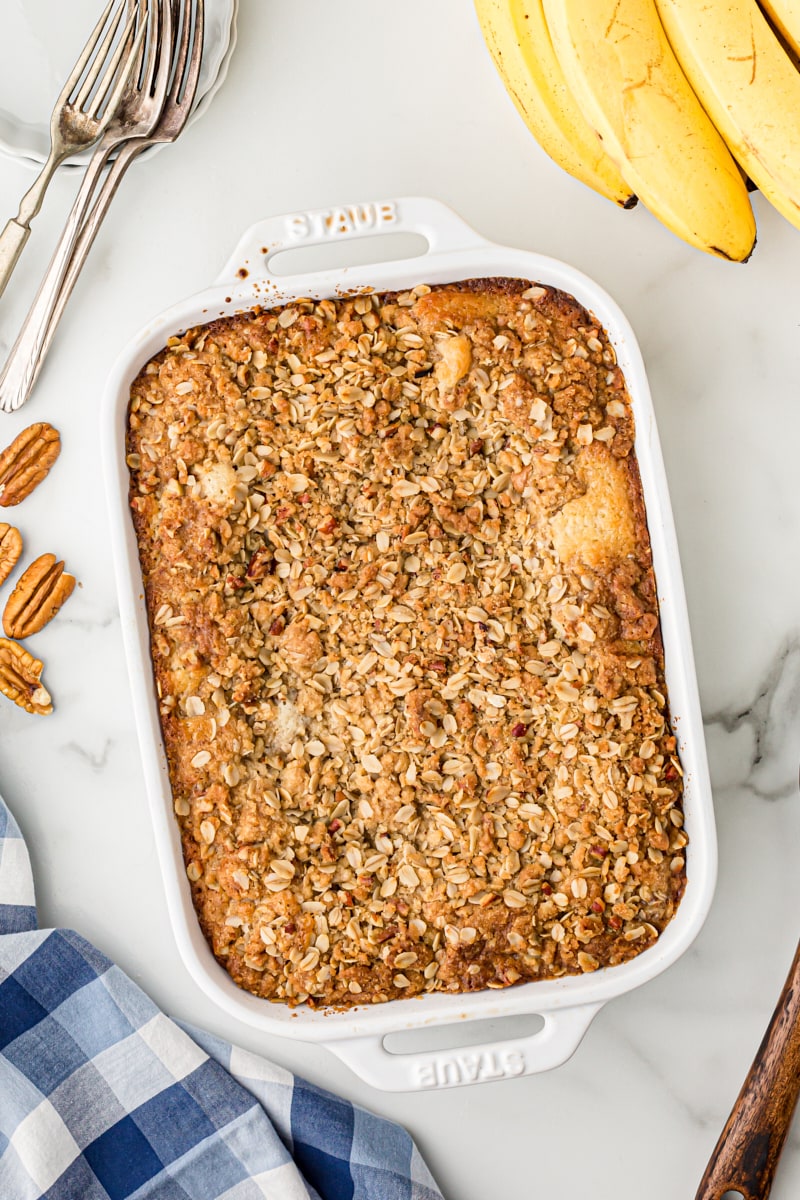 Tips for Success
Read through my baking tips for beginners, then follow these additional tips for this banana bread cobbler recipe:
Use ripe bananas. Ripe bananas will give your banana bread cobbler sweetness and flavor, and they'll also hold their shape (and look more appealing) than the over-ripe bananas you'd typically use for banana bread.
Cover the bananas with the streusel. Making sure the bananas are completely covered will slow down the browning process.
Don't over-mix the streusel. To get that crumbly streusel texture, you'll want small lumps of butter in the streusel mixture.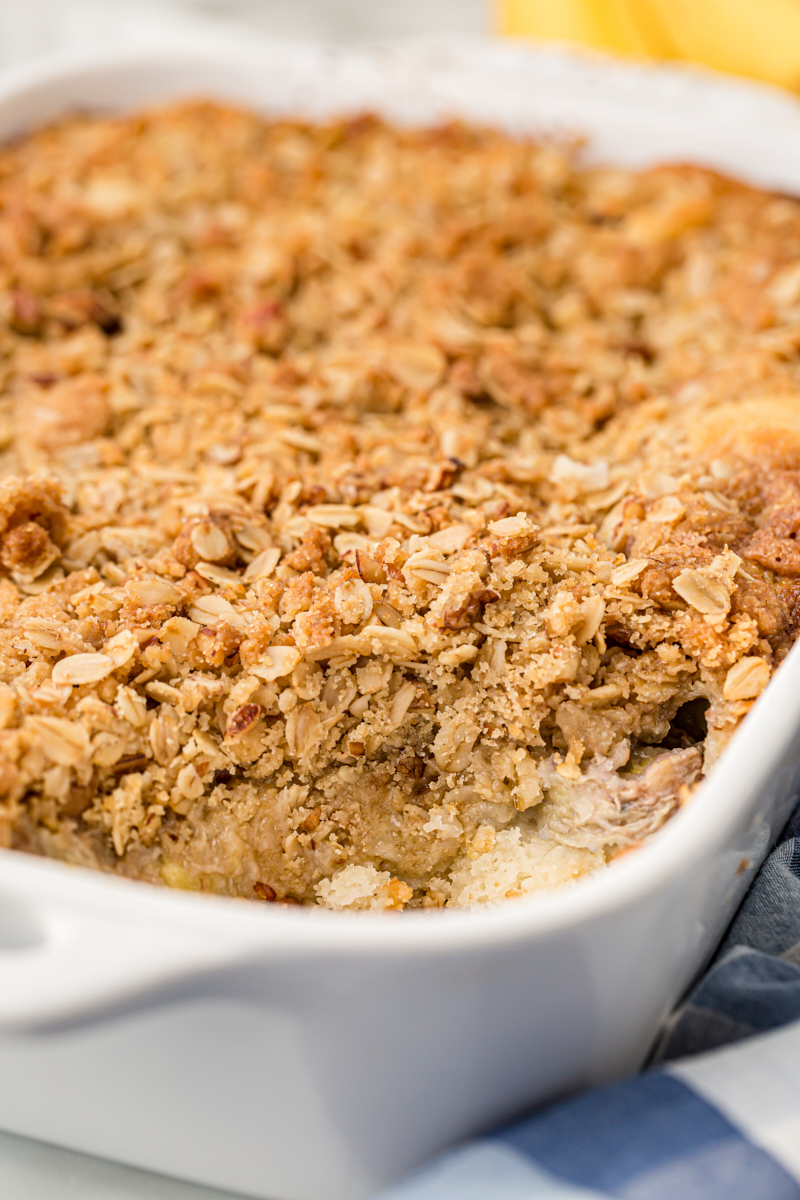 Variations
Try adding a layer of coconut flakes over the bananas before adding the streusel topping. Chocolate chips can be added before layering on the bananas, or try adding mini chocolate chips to the streusel mixture. For a little more cozy flavor, you can add ground cinnamon or other warm spices to the streusel.
Serving Suggestions
I love this banana bread cobbler with a scoop of vanilla ice cream—preferably the kind flecked with real vanilla beans. Of course, you can't go wrong with a dollop of homemade whipped cream either, and a drizzle of caramel sauce is delicious too.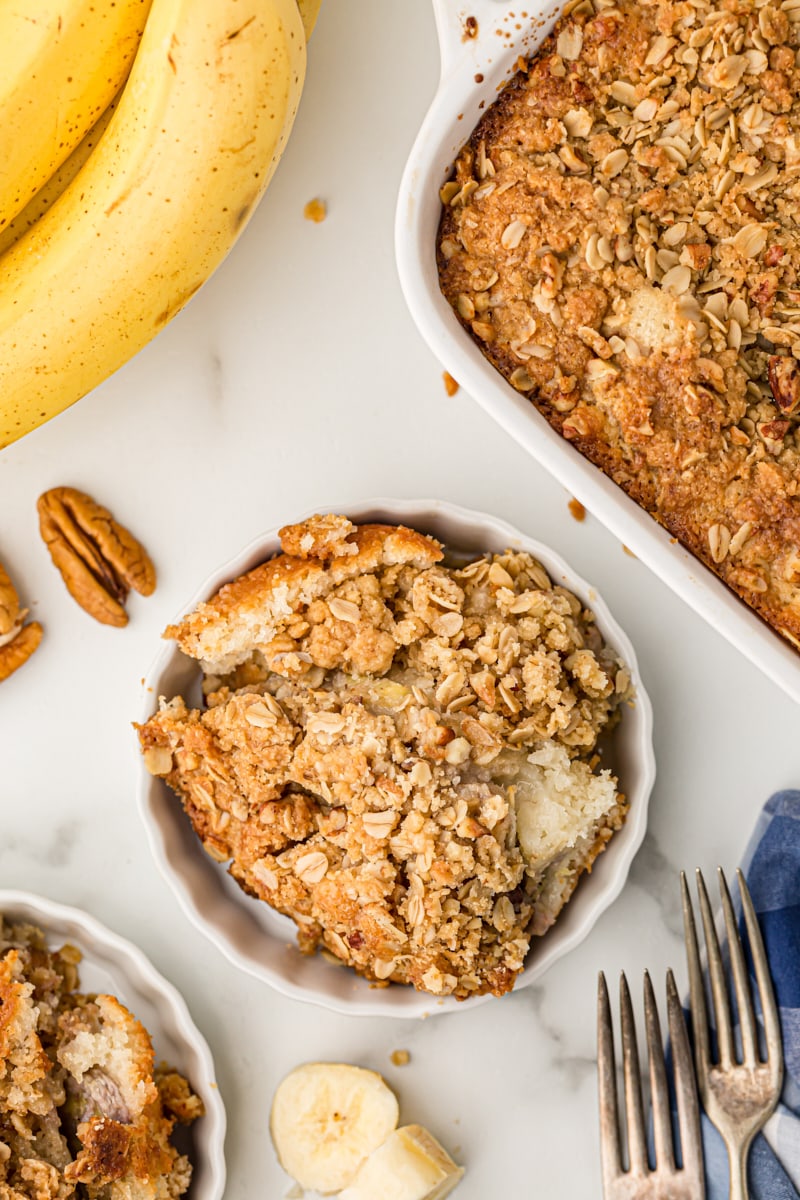 How to Store
Store banana bread cobbler covered in the refrigerator for up to 3 days. Although you can eat it chilled, I recommend warming it up in the microwave first.
Can This Recipe Be Frozen?
Yes, you can freeze this banana bread cobbler for up to 3 months. Wrap it tightly in the baking dish, or transfer leftovers to an airtight container. Let it thaw in the refrigerator before warming and serving.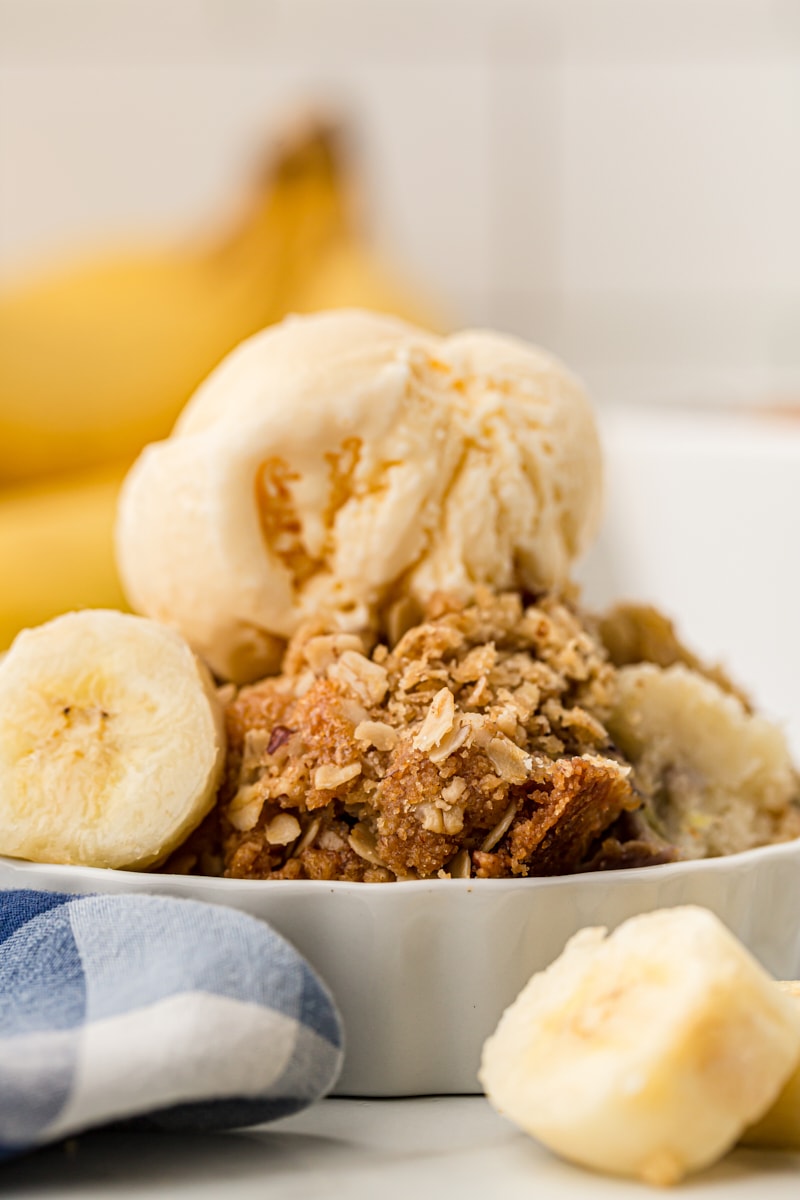 More Banana Bread Recipes
Video Tutorial: Banana Bread Cobbler