Need a substitute for self-rising flour? This easy recipe lets you make your own homemade DIY version with just a few basic ingredients!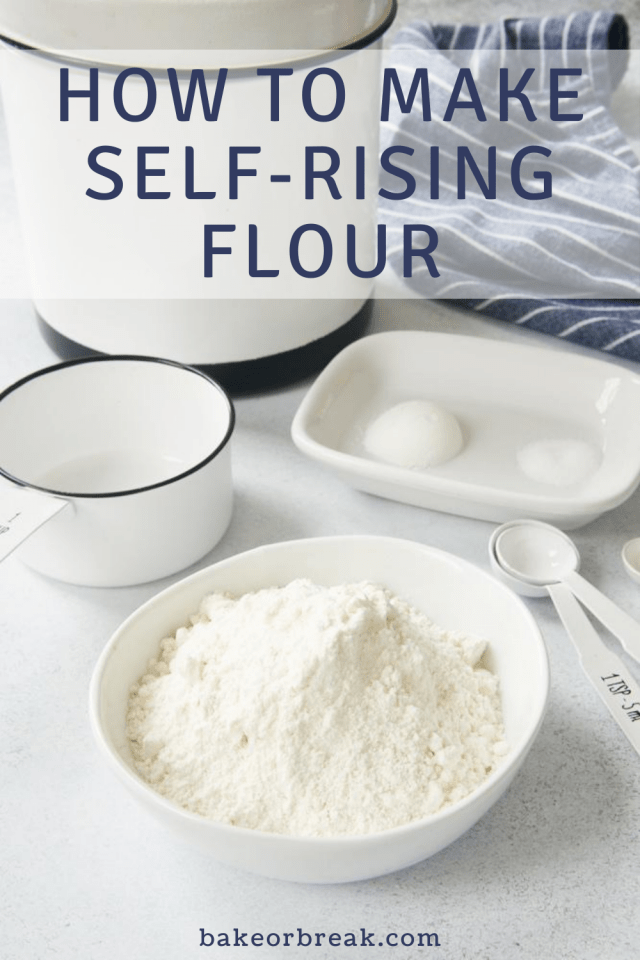 Self-rising flour is an ingredient that you've likely seen pop up now and then in baking recipes. So many times, though, you may find yourself without any in your pantry and need a substitute. I'm here to help with an easy DIY recipe!

What is Self-Rising Flour
First, let's talk about self-rising flour and how it's used in baking. It is simply flour that has had baking powder and salt added to it. As you likely already know, baking powder is a leavening agent, which is what causes baked goods to rise. And salt is a common ingredient in baking to add some flavor.
Most baking recipes are made with all-purpose flour with the leavening agent and salt added separately. Self-rising flour is not used nearly as commonly, but you'll sometimes come across a recipe made that lists it as an ingredient. It's a great shortcut ingredient that I often keep on-hand if for no other reason than making a batch of quick and easy Cream Biscuits.
How to Make Self-Rising Flour
If you don't use self-rising flour often enough to justify buying it, or you simply don't want to keep another kind of flour in your pantry, it's very easy to make a substitute. All you'll need is some flour, baking powder, and salt!
With just a few minutes of measuring and mixing, you'll be all set. The recipe below will serve you very well for an easy substitution.
Choosing a Flour to Make Self-Rising Flour
While all-purpose flour is most commonly used, you can use different types of flour to make self-rising flour. You're most likely to have all-purpose flour in your kitchen, and that works really well as a base for making this substitute.
Self-rising flour gained popularity in the South, where brands like White Lily became pantry staples for home bakers. If you're trying to replicate that Southern style, keep in mind that those are most often made with a softer flour. You may want to experiment with using pastry flour or a blend of flours to get a closer substitute.
How to Store Self-Rising Flour
This recipe for making self-rising flour can easily be scaled to be used for a specific recipe or to make extra to keep for future use. To make a large batch, simply multiply the quantities and store the flour in an airtight container to use when needed.
Remember that baking powder will lose its leavening abilities over time. Be sure to check the expiration date of your baking powder before adding it to the flour. Once mixed, the self-rising flour will also lose its leavening ability just like the baking powder. If you're making a large batch, be sure to note the date mixed and the expiration date of the baking powder on the storage container.
Find more baking tips in the Recipe Index.
More Baking Substitutions