Need a substitute for self-rising flour? This easy recipe lets you make your own homemade DIY version with just a few basic ingredients!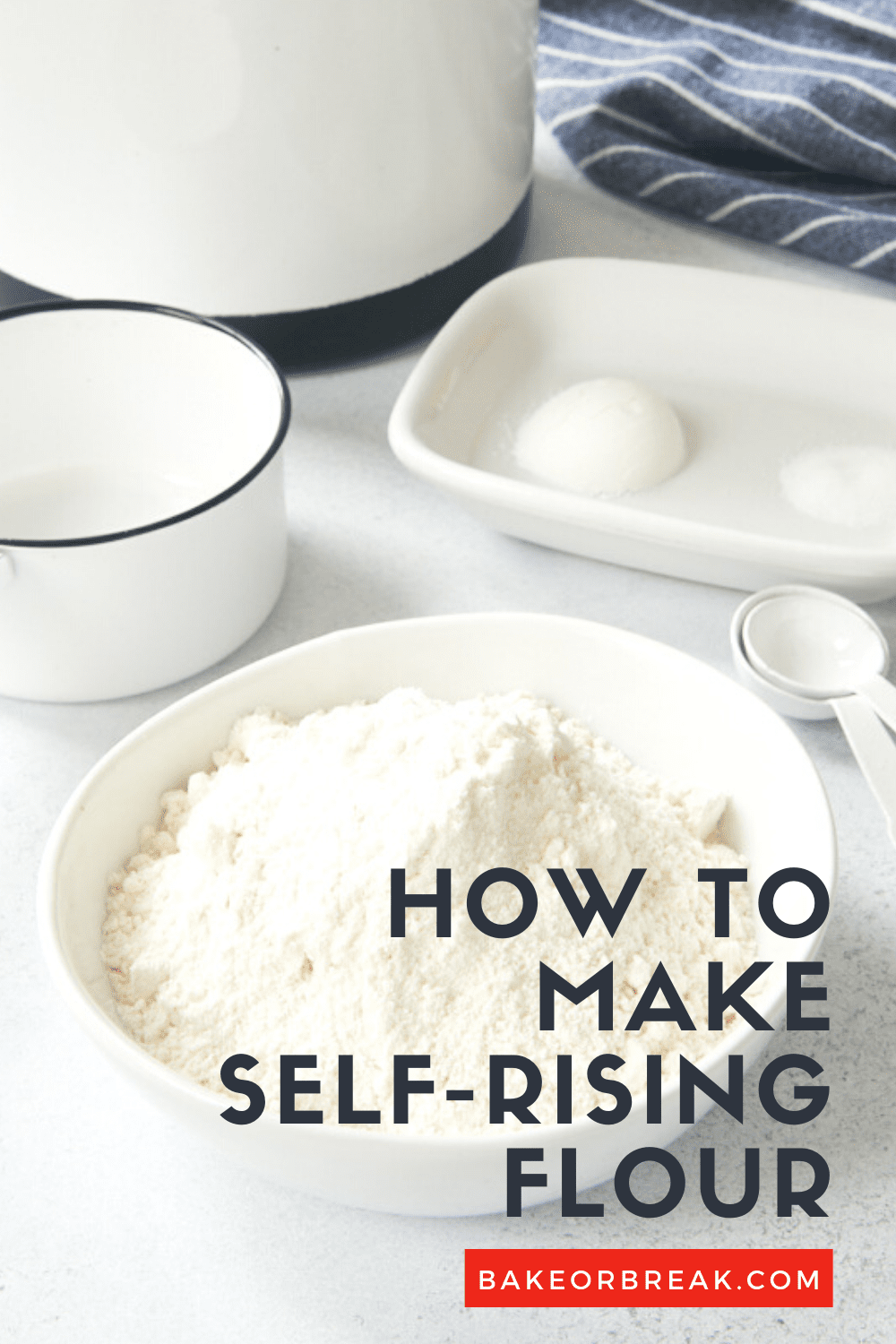 Do you love baking, but don't have time to run out to the store every time you want to make a recipe? Self-rising flour is an ingredient that you've likely seen pop up now and then in baking recipes. So many times, though, you may find yourself making biscuits or another recipe that calls for self rising flour without any in your pantry and need a substitute.
Well, I'm here to help with an easy DIY recipe to make it at home! It's really simple, and all you need are three ingredients that you probably already have in your pantry. This is a great way to save money, and it's also handy for when it is hard to find in your area. So let's get started!
What is Self-Rising Flour?
Self-rising flour is simply flour that has had baking powder and salt added to it. As you likely already know, baking powder is a leavening agent, which is what causes baked goods to rise. And salt is a common ingredient in baking to add some flavor. You generally won't find this type of flour used in yeast breads since they get their leavening from the action of yeast.
Most baking recipes are made with all-purpose flour with leavening and salt added separately. Self-rising flour is not used nearly as commonly in baking recipes, but you'll sometimes come across it in recipes like biscuits and cakes as well as many Southern recipes. It's a great shortcut ingredient that I often keep on-hand if for no other reason than making a batch of quick and easy Cream Biscuits.
You can find self-rising flour in many grocery stores, but it's also easy to make your own at home. Since you can scale the amount you make, it'll be more cost effective to make just what you need. You don't need a self-rising flour substitute since you can just make your own.
Can I substitute all-purpose flour for self-rising?
Yes, you can swap all-purpose flour for self-rising flour in most recipes. You'll need to add baking powder and salt in the proportions of this recipe to make sure your baked goods will rise properly.
Can I substitute self-rising flour for all-purpose?
Generally, you cannot swap self-rising flour in a recipe that calls for all-purpose flour. This depends on the recipe, however. If a recipe includes baking powder and salt, you may be able to reduce the amount of those ingredients and use self-rising flour instead.
How to Make Self-Rising Flour
It's very easy to make a homemade self-rising flour substitute if you don't use it often enough to justify store-bought, or you simply don't want to keep another kind of flour in your pantry. Three simple ingredients are all you'll need: some flour, baking powder, and salt — almost zero prep time!
With just a few minutes of measuring and mixing with a whisk to make sure everything is evenly distributed, you'll be all set. The recipe below will serve you very well for an easy substitute.
The recipe is presented to make just one cup of flour. You can make a large batch or scale the recipe to make only what you need for your current recipe.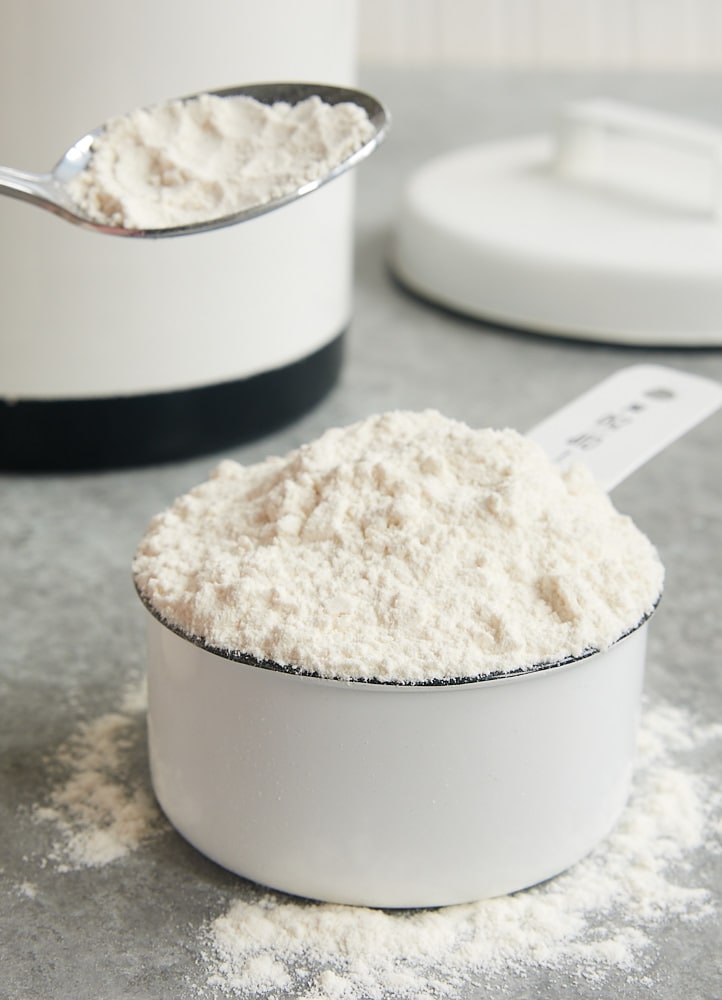 What is the ratio of baking powder to flour in self-rising flour?
There is generally 1 & 1/2 teaspoons of baking powder for every cup of self-rising flour. The weight of flour by volume can vary among different brands and types of flour. In this case, it may prove best to measure by volume using the spoon and sweep method. Spoon the flour lightly into a measuring cup until it's over-filled; then use a straight edge like the back of a knife to scrape off the excess.
What is the best flour for self-rising flour?
While all-purpose flour is most commonly used, you can use different types of flour to make self-rising flour. A home baker is most likely to have all-purpose flour in their kitchen, and that works really well as a base for making this substitute.
Self-rising flour gained popularity in the Southern United States, where brands like White Lily became pantry staples for home bakers. If you're trying to replicate that Southern style, keep in mind that those are most often made with a softer flour with lower protein content. You may want to experiment with using pastry flour, cake flour, or a blend of flours to get a closer substitute.
What does baking powder do?
Baking powder is a leavening agent that helps baked goods rise. When self-rising flour is mixed with liquid, the baking powder reacts with the acid in the flour and produces carbon dioxide gas. This gas forms bubbles in the batter which makes the self-rising flour light and fluffy.
Baking powder becomes less effective over time. You can check its effectiveness by stirring a little bit into a cup of hot tap water. If fresh, it will start bubbling immediately and vigorously. If you don't get any or many bubbles, it's time to replace it. I always check new baking powder before I use it. It's better to realize you need to replace it before you use it to make a deflated recipe. Learn more: How to Test Baking Powder for Freshness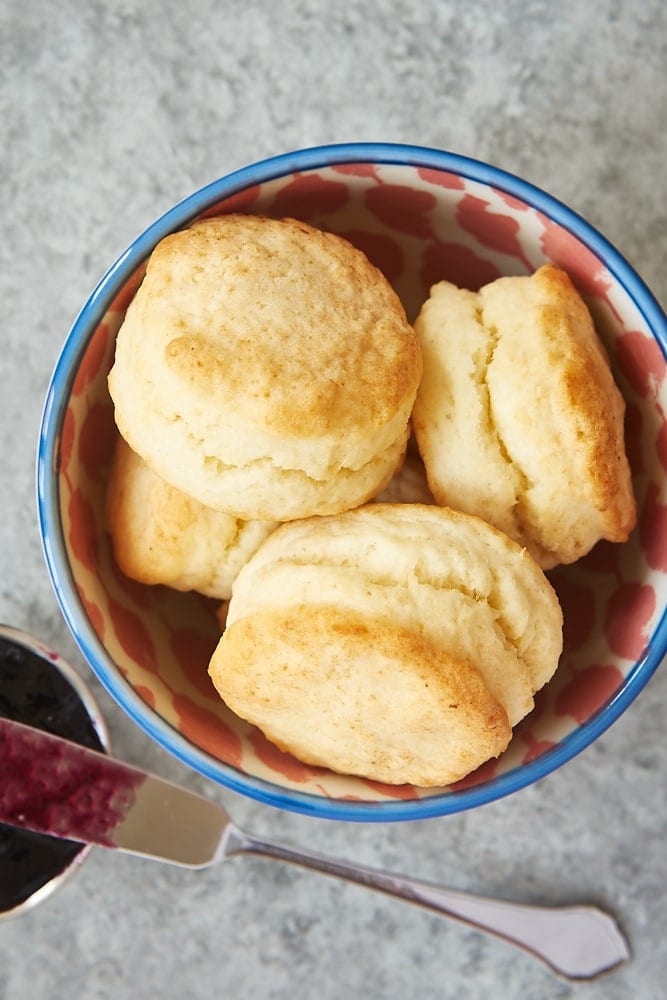 Is there baking soda in self-rising flour?
Nope, there isn't baking soda in self-rising flour. Baking soda works by adding something acidic to your recipe in order to make bubbles, so it works differently and won't work interchangeably in recipes.
How to store self-rising flour
This recipe can easily be scaled to be used for a specific recipe or to make extra to keep for future use. To make a big batch of self-rising flour, simply multiply the quantities and mix in a large mixing bowl. Store it in an airtight container in a dry place to use when needed.
Once mixed, it will also lose its leavening ability. If you're making a large batch, be sure to note the date mixed and the expiration date of the baking powder on the storage container for a guideline to determine its shelf life.
How can I use homemade self-rising flour?
You can use your own self-rising flour substitute in the same way as commercial versions. It's generally used to make tender baked goods like quick breads and pancakes.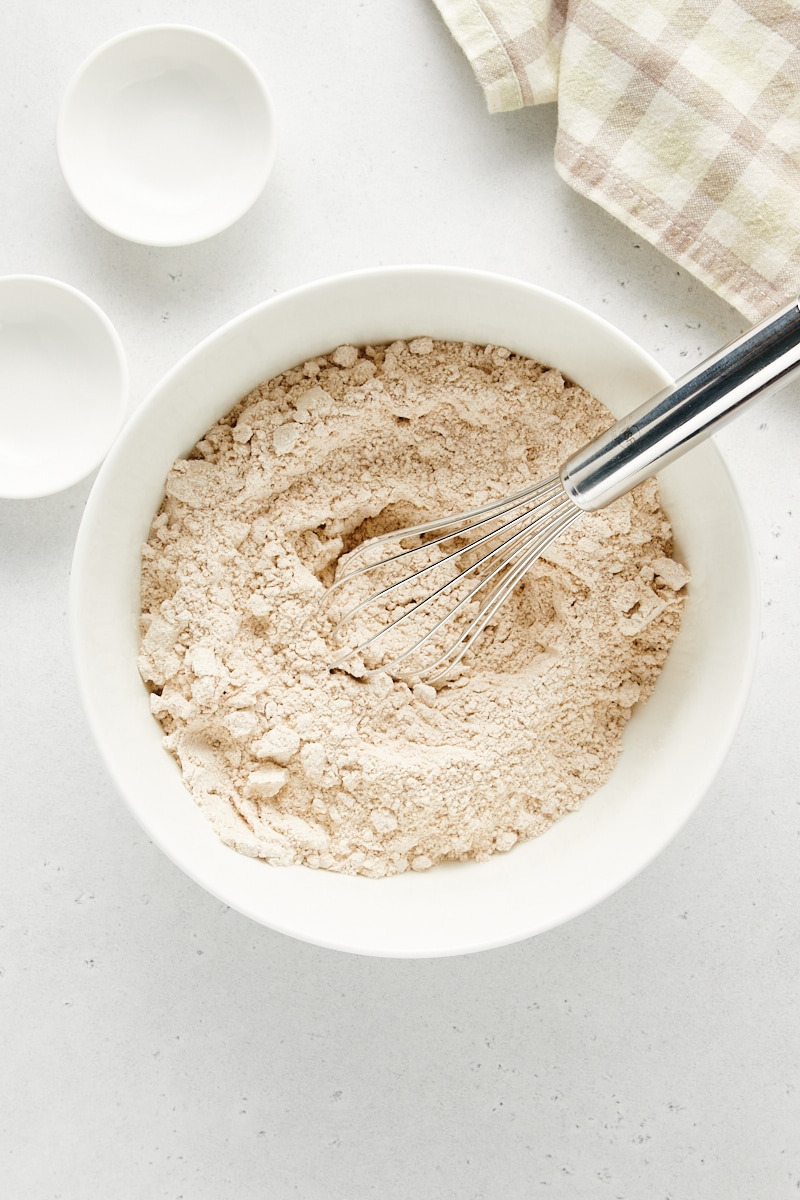 More Baking Substitutions