Love plums? You'll adore this quick and easy Plum Cobbler! It's perfect for a special treat or when you just want a simple dessert.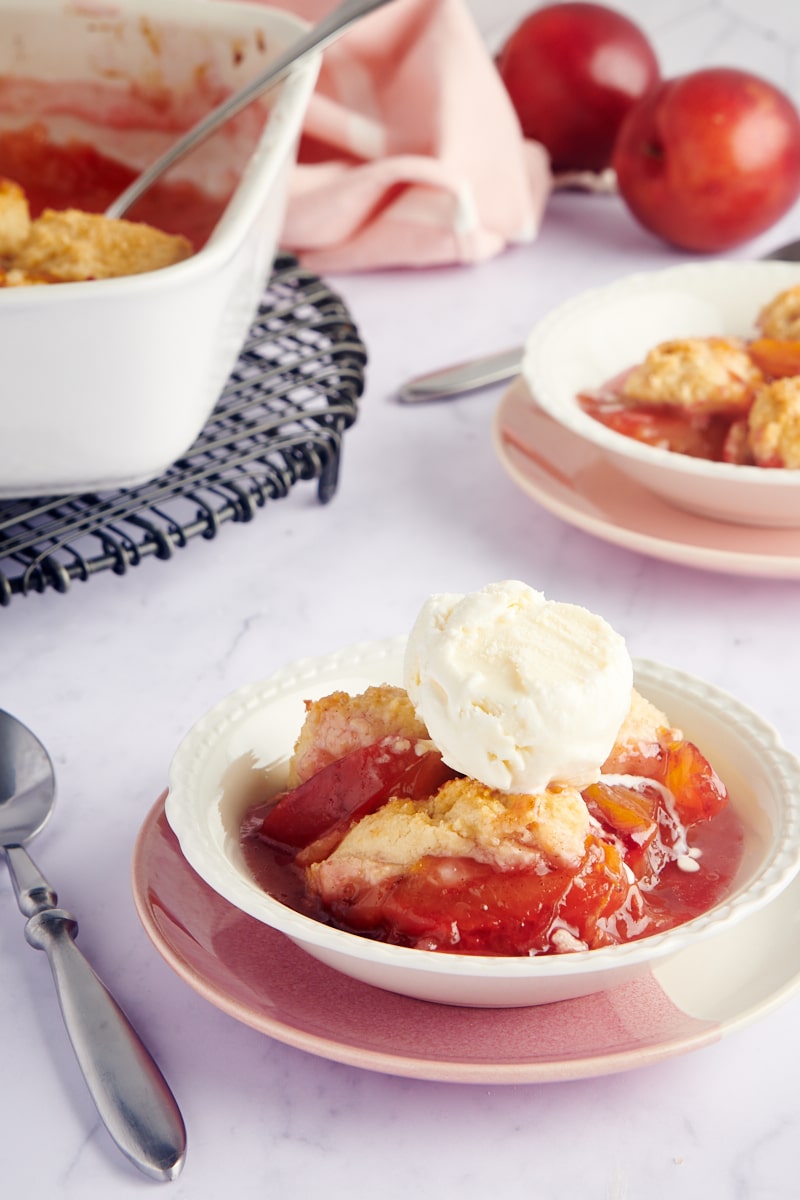 Plum Cobbler
I'm so excited to share one of my favorite summer desserts with you! When fresh plums make their summer debut, I simply cannot wait to grab some and get baking. And this simple plum cobbler is one of the very best ways to do just that.
This is one of those no-fuss recipes that are perfect for summertime. The filling mixes right in the baking pan, and the brown sugar biscuit topping mixes quickly. You'll have it ready to go in the oven with just a few minutes of prep time. Then you'll have a fresh, bubbly, juicy, warm cobbler just waiting to be devoured.
If you love plums like I do, try my Plum Crumble Bars and Plum Almond Crostata next!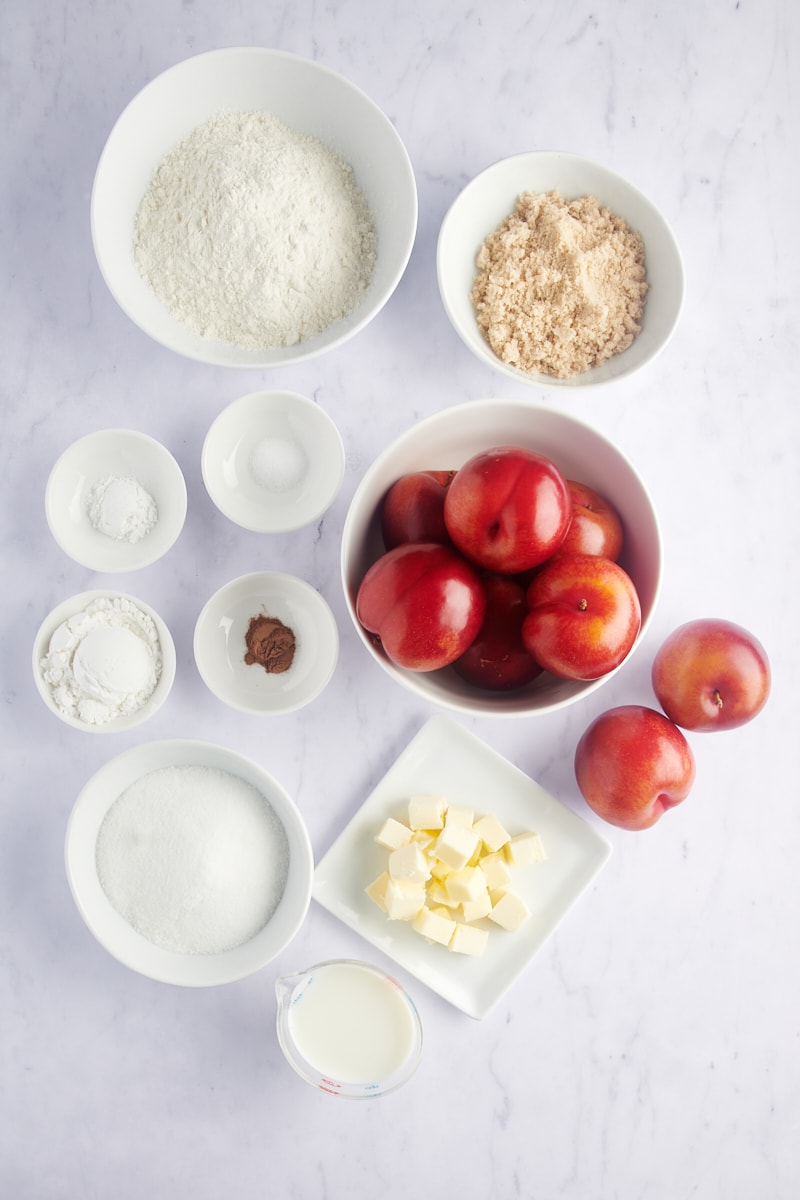 What You'll Need
Scroll down to the recipe card at the bottom of this post for ingredient quantities and full instructions. Here are some helpful notes about the ingredients you'll need.
Plums – Depending on their size, you'll need about 6 to 8 plums to get 4 cups of slices. This measurement is a ballpark, so no worries if you have a little more or less than 4 cups. And no need to peel them!
Granulated sugar
Cornstarch – If your plums seem especially juicy, you may want to sprinkle a pinch or two more cornstarch so the filling isn't overly runny.
Cinnamon
All-purpose flour – Measure by weight for best results. If you don't have a scale, then spoon and sweep. Learn more: How to Measure Flour
Brown sugar – Make sure your brown sugar is firmly packed or measure by weight.
Baking powder
Salt
Unsalted butter – Make sure the butter is cold for mixing. I recommend cutting it into cubes and returning it to the refrigerator until it's needed.
Milk – I recommend whole milk or 2%, but a nondairy milk should work.
Coarse sugar – A sprinkling of coarse sugar on top adds a bit of sweetness and a nice bit of sparkle. You can use sanding sugar, turbinado sugar, or demerara sugar.
Optional toppings – A scoop of vanilla ice cream or whipped cream is perfect for topping servings of this plum cobbler.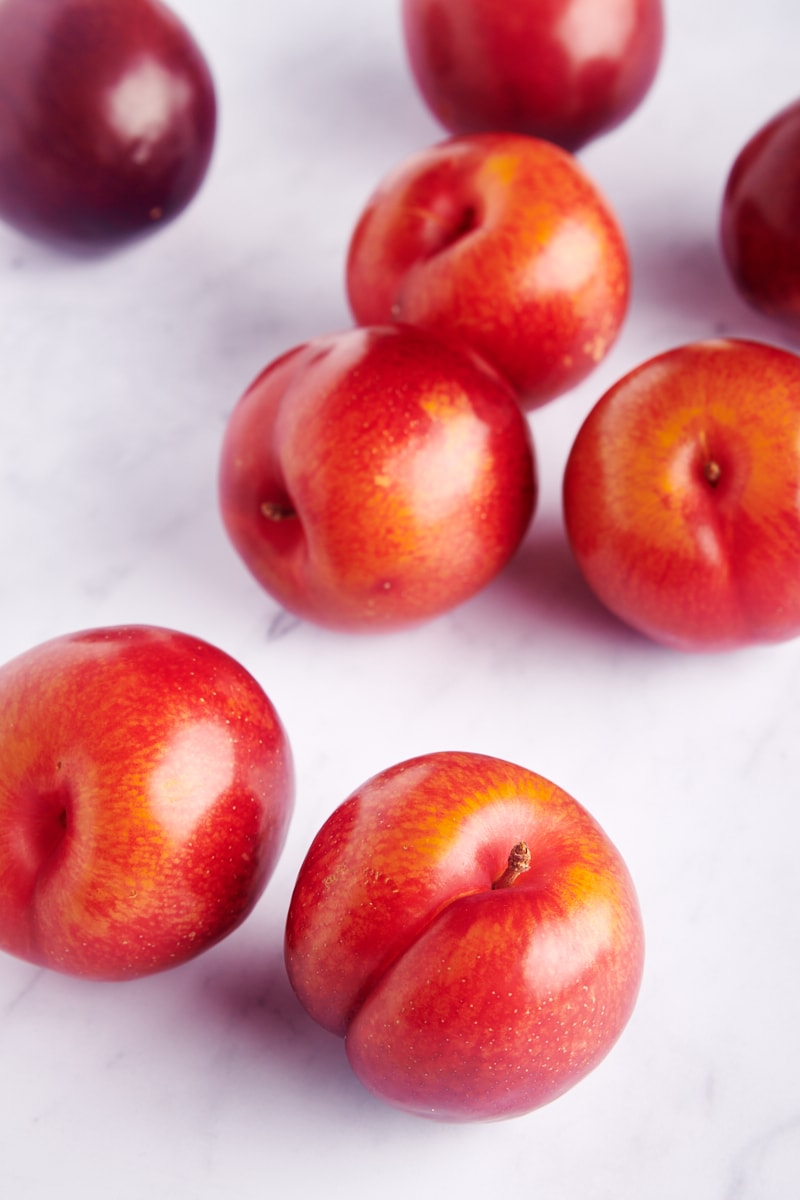 How to Choose Plums for Baking
Look for plums that are firm but give just a little. If your plums aren't sufficiently ripe, you can place them in a paper bag for a day or two.
Once ripe, they don't last long so keep an eye on them. You can also place them in the refrigerator to slow down the ripening process if you aren't quite ready to bake with them.
Despite the existence of over 200 kinds of plums (!!!), there are two main types – European and Japanese. The latter have thin skins, are usually round, and are mostly best for eating fresh.
European plums have thicker skins, are usually oval or heart-shaped, and have a dense flesh. These are the plums you'll want to use for baking. They're likely to be labeled at the grocery store simply by their color – red, black, yellow. The flesh of these plums is usually some shade of yellow.
While you can use any color plum for this cobbler, the plums you see here are red plums. That's my preference, but use your favorite.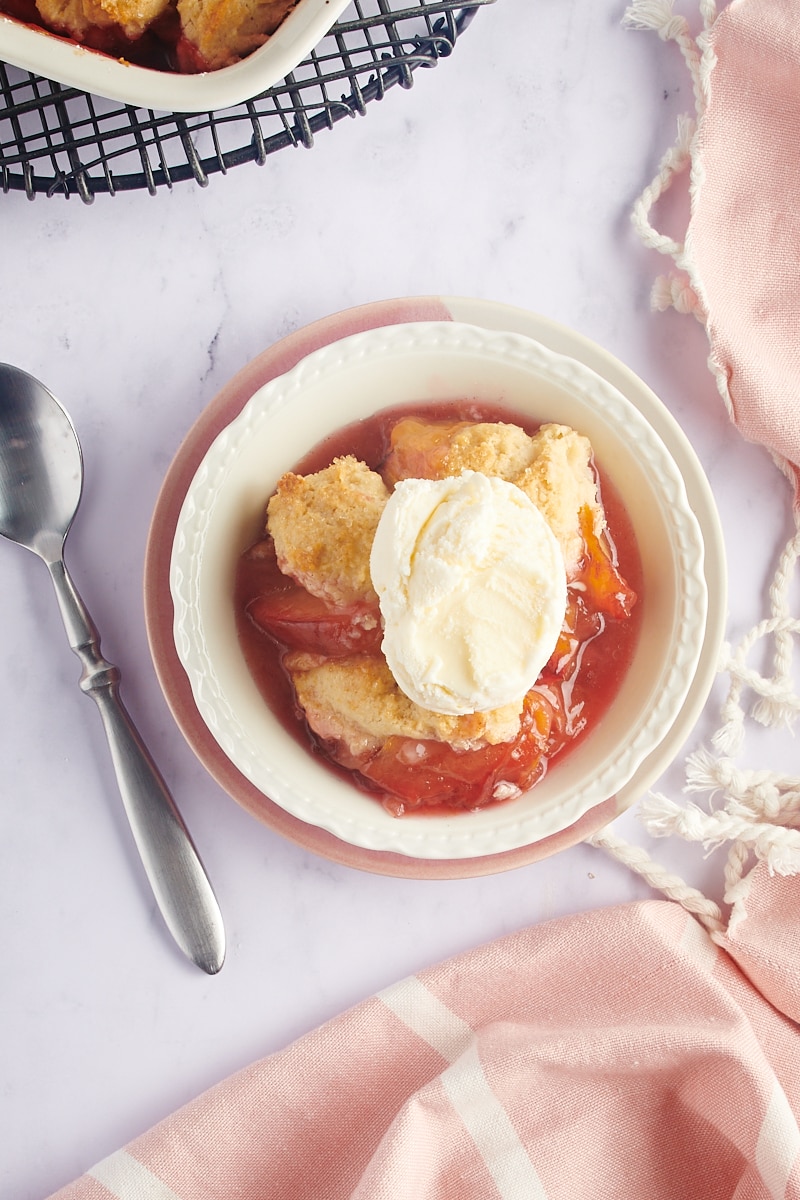 How to Make Plum Cobbler
Prepare for baking. Heat the oven to 375°F. Set aside a 1 & 1/2- or 2-quart baking dish.
Make the filling. Stir together the plums, granulated sugar, cornstarch, and cinnamon. You can mix this directly in the baking dish, or use a separate large bowl and then transfer the mixture to the dish.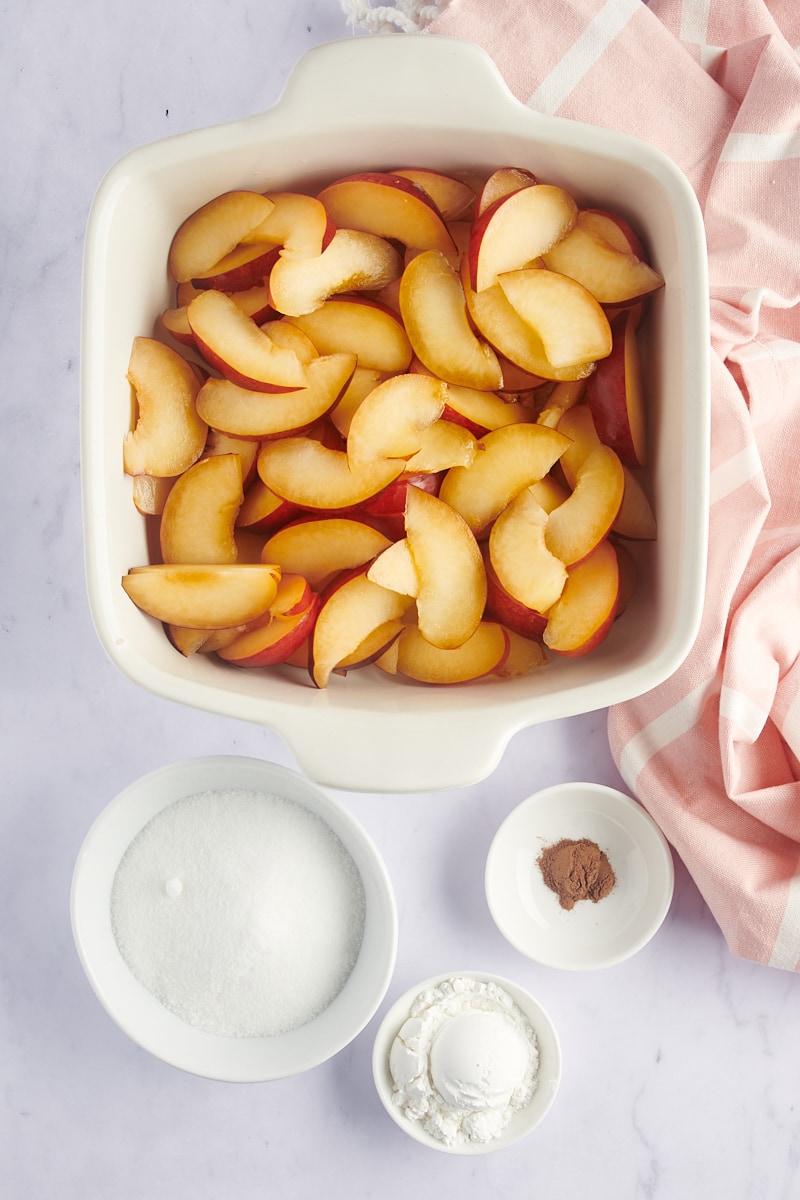 Make the topping. Whisk together the flour, brown sugar, baking powder, and salt. Use a pastry blender, a fork, or your fingers to mix the butter into the flour mixture until crumbly. Add the milk, and mix just until a dough forms.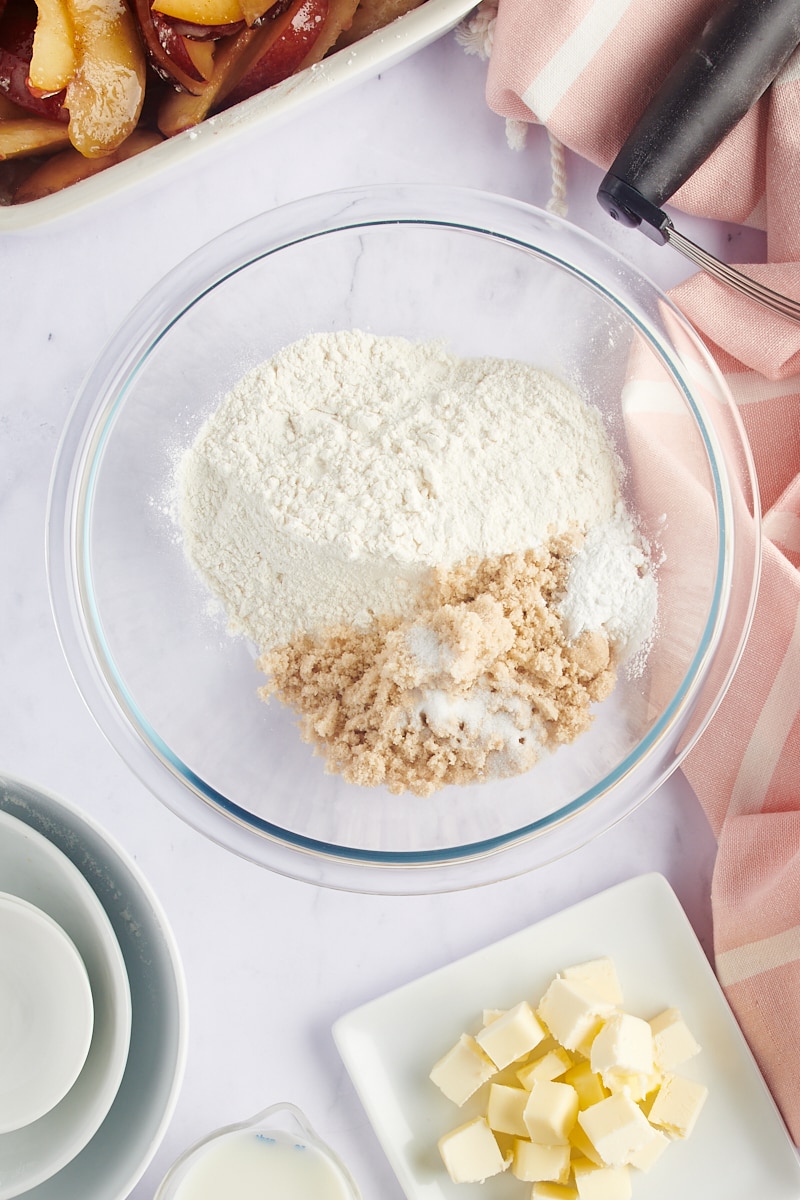 Assemble. Drop the topping over the plum mixture. (About a tablespoon or so at a time.) If you like, sprinkle coarse sugar over the top.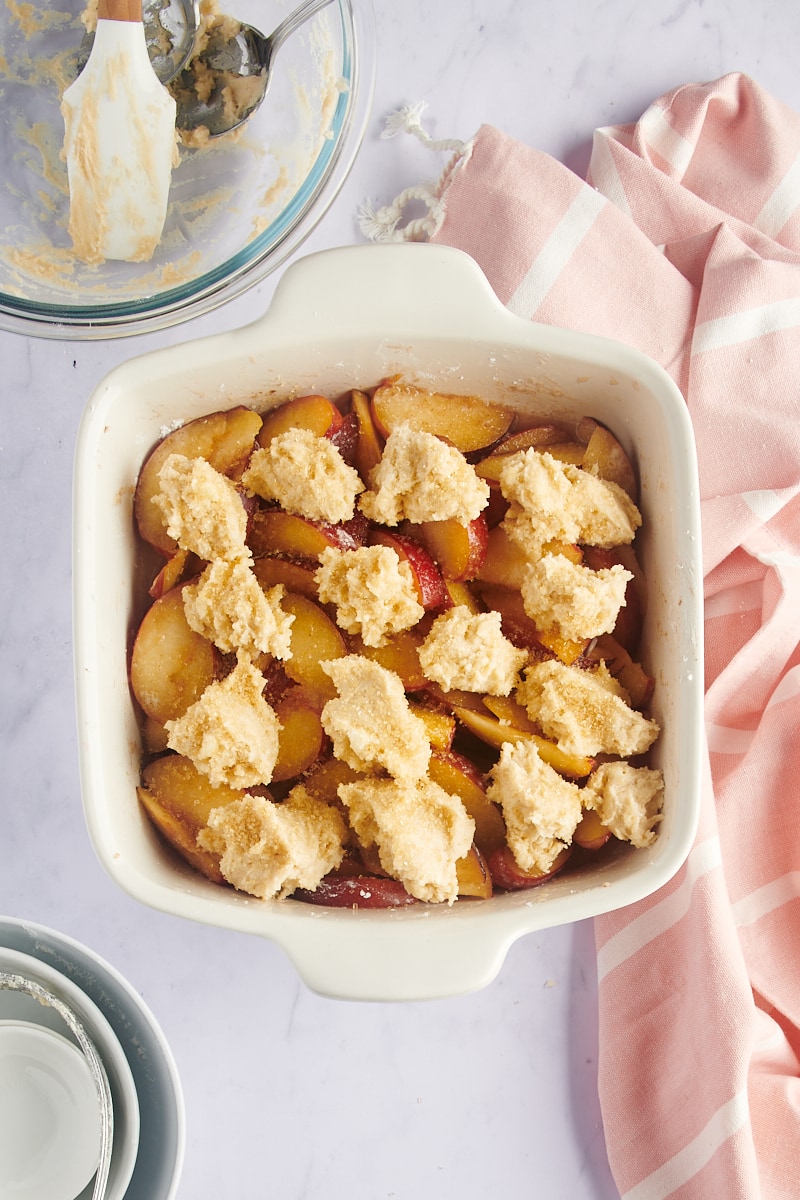 Bake. Place the pan in the oven, and bake for 35 to 40 minutes. The top should be golden brown, and the filling should be bubbly.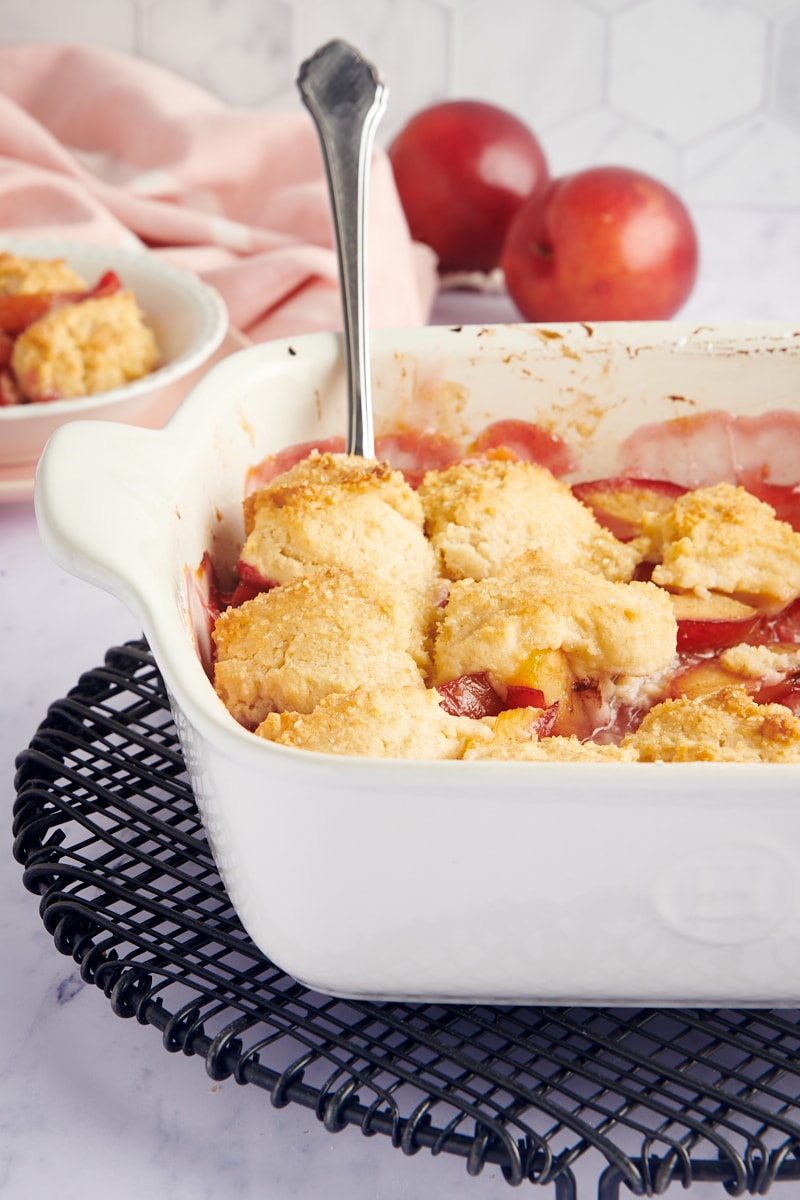 Tips for Success
You'll find that this plum cobbler recipe is simple and straightforward. Here are some tips to help ensure yours turns out perfectly.
Preparing the plums. It's easy to remove the pit from freestone plums (like European varieties), as the flesh isn't attached to the pit. Cut all the way around the plum starting from the stem, and pull the two sides apart to remove the pit. Then cut into slices.
Use a large enough pan. The filling and topping won't fill the pan all the way, and that's fine. It will get pretty bubbly as it bakes, so that extra height will help prevent it from bubbling over the sides. If you're worried about that happening, you can place the pan on a rimmed baking sheet for baking.
Don't have plums? The season for fresh plums isn't very long. If you don't have plums or want something a little different, try a hybrid fruit like plumcots, pluots, or apriums, or a similar fruit like nectarines or apricots.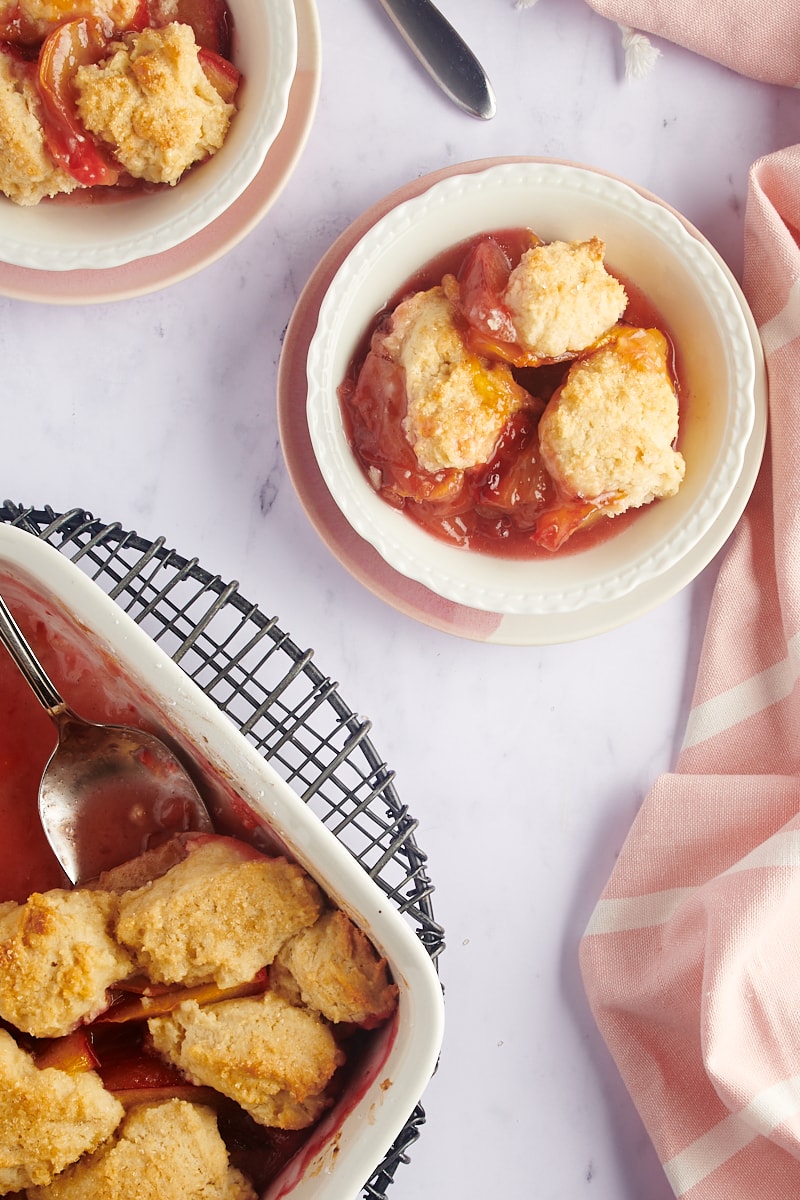 How to Store
Once the cobbler has cooled, cover it tightly or transfer it to an airtight container. Keep refrigerated up to 3 days. Reheat briefly in the microwave or a low temperature oven. The topping will likely become a bit soft after storing, but the taste should be unaffected.
Can This Cobbler Be Frozen?
You can freeze any leftover plum cobbler, although it won't retain the same texture. First, make sure the cobbler is completely cooled. Then transfer it to an airtight, freezer-safe container. Properly stored, it should keep in the freezer up to 3 months. Thaw overnight in the refrigerator and then reheat as described above.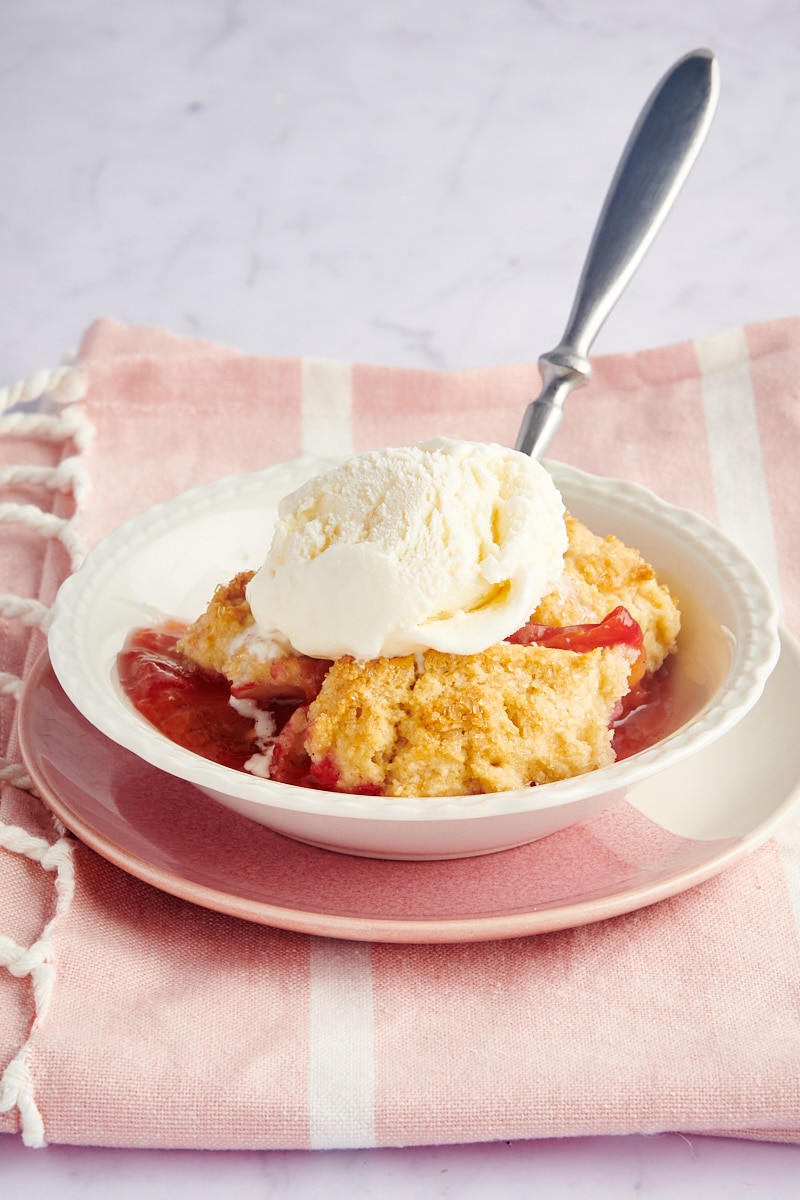 For more summertime cobblers, try Strawberry Cobbler, Blueberry Cobbler, and Peach Cobbler.