May 9, 2016
Strawberry Cobbler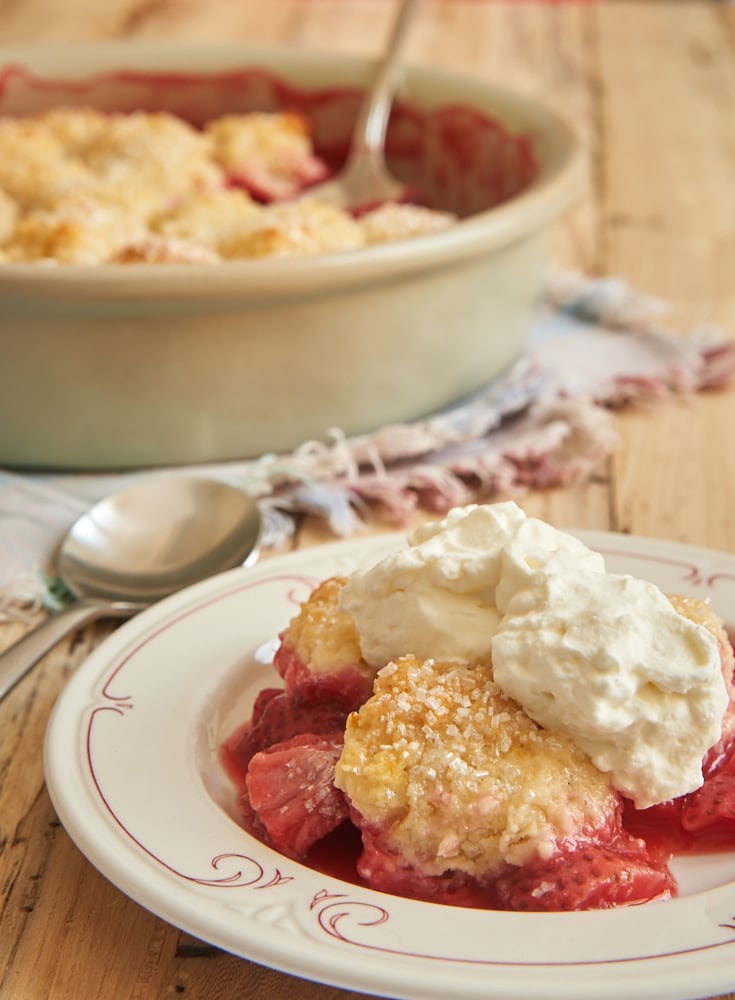 I was never much of a fan of cobblers until well into my adult years. Had I fully appreciated that they are a celebration of sweet fruit and biscuits, I feel sure I would have embraced them far sooner. Now, I just try to make up for lost cobbler time by making them as often as possible.
One of my cobbler obsessions is this simple Strawberry Cobbler that features a quick and easy filling topped with soft, sweet cream cheese biscuits. It's such a wonderfully delicious way to enjoy fresh strawberries!

Of course, strawberries and lemons are BFFs, so I couldn't resist adding a good bit of lemon to this cobbler. There's lemon juice in the filling, as well as lemon zest in the topping. That double dose is just the thing to make this cobbler really outstanding.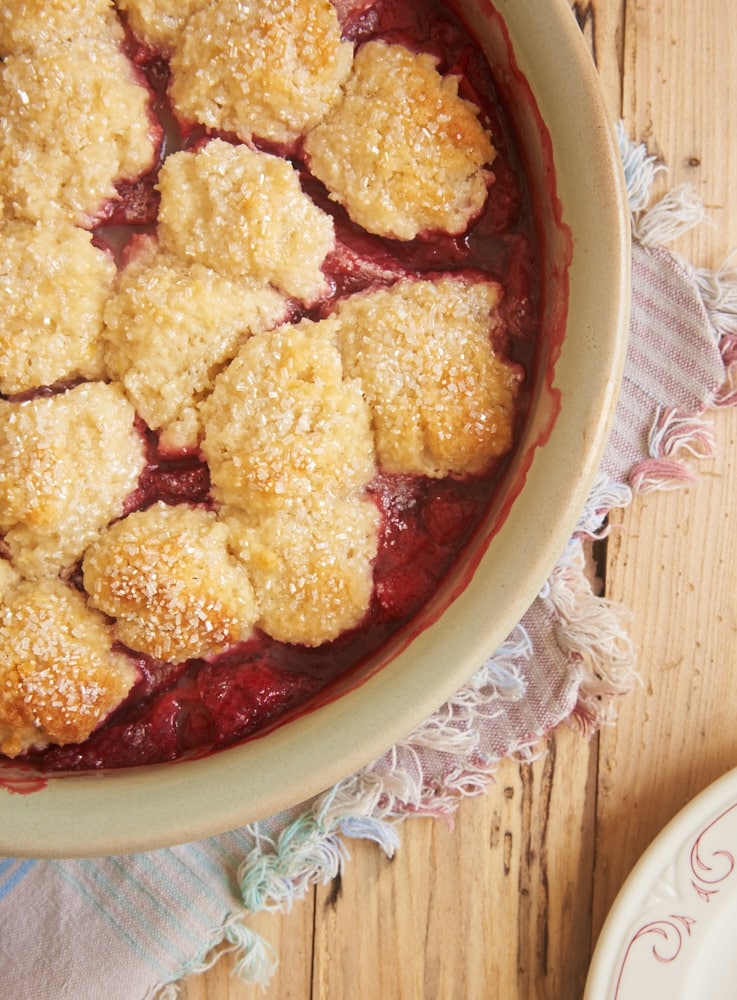 I strayed a bit from the traditional biscuit topping for this cobbler. While the topping is still a biscuit dough, I added a little cream cheese to the dough for a different flavor and a super soft texture. Plus, there's that bit of lemon zest I mentioned for a hint of tartness to complement all those sweet strawberries.
You all know about my love of sanding sugar. I simply adore how just a sprinkle of that coarse sugar adds a little sparkle and a crunchy bite of sweetness to the tops of baked goods. This biscuit topping is the perfect excuse to get out the sanding sugar.
I prefer to top off this cobbler with a bit of sweetened whipped cream. Ice cream, of course, is always a good idea, too. Whether you serve it warm, at room temperature, with whipped cream, or straight out of the pan, I think you'll find that you'll serve it often.
Find more strawberry recipes in the Recipe Index.
We are a participant in the Amazon Services LLC Associates Program, an affiliate advertising program designed to provide a means for us to earn fees by linking to Amazon.com and affiliated sites.
Strawberry Cobbler
Yield: 8 to 10 servings
Prep Time:20 minutes
Cook Time:45 minutes
Fresh strawberries combine with tart lemon and sweet cream cheese biscuits to make this fantastic Strawberry Cobbler!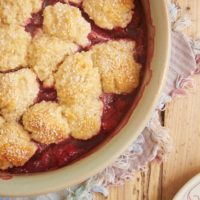 Ingredients:
For the filling:
32 ounces strawberries, trimmed, hulled, and quartered
1/4 cup granulated sugar
2 tablespoons cornstarch
juice of 1 medium lemon
For the topping:
1 cup all-purpose flour
1/4 cup granulated sugar
1 teaspoon baking powder
zest of 1 medium lemon
pinch of salt
2 ounces cream cheese, softened and cut into small pieces
2 tablespoons unsalted butter, cold and cut into small pieces
1/4 cup milk
sanding sugar, optional
sweetened whipped cream or ice cream, for serving
Directions:
To make the filling:
Preheat oven to 375°F.
Stir together the strawberries, sugar, cornstarch, and lemon juice. Set aside while you make the topping.
To make the topping:
Whisk together the flour, sugar, baking powder, lemon zest, and salt.
Add the cream cheese and butter. Mix with a pastry blender, a fork, or your fingers until the butter is about the size of small peas.
Add about two-thirds of the milk, and mix to combine. Continue adding the remaining milk, and mix just until the dough comes together. (It's fine if you don't need to use quite all of the milk.)
Transfer the strawberry mixture to a 1-quart baking dish.
Drop the topping by about 1-tablespoon portions over the strawberry mixture. Sprinkle with sanding sugar.
Place the pan on a lined, rimmed baking sheet to catch any leaks. Bake 40 to 45 minutes, or until the top is lightly browned and the filling is bubbly.