Sweet, indulgent, and perfect for any occasion, these Dulce de Leche Banana Bars are sure to be a hit. Plus, they're easy to make so you can whip them up in no time. Ready to get baking? Let's do this!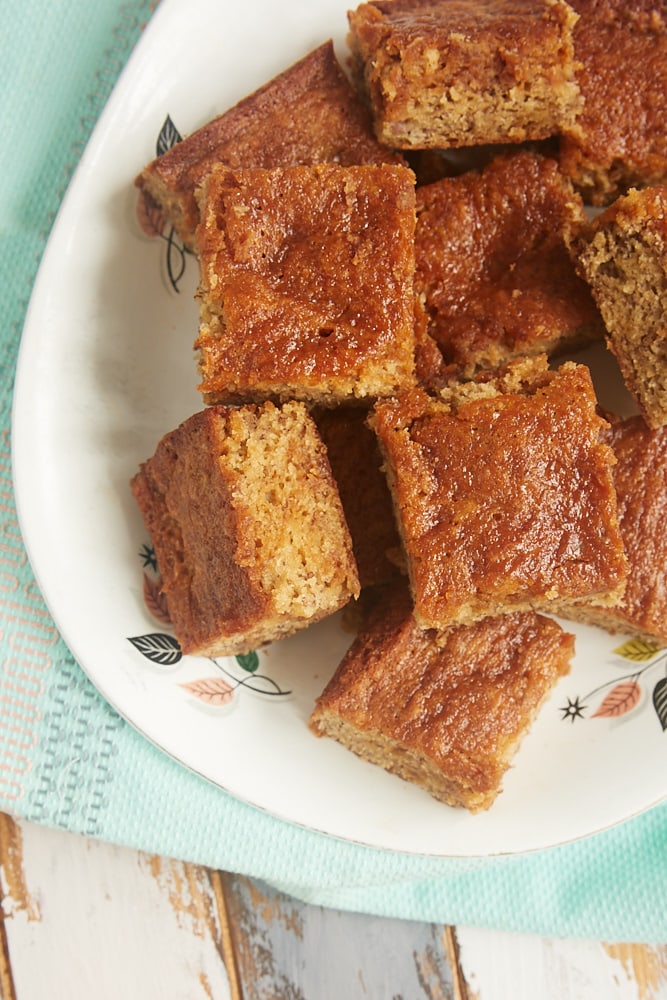 Banana Bars with Dulce de Leche
As odd as it may be, I love baking with bananas but I don't really enjoy eating bananas. It's a texture thing, I think. In any case, you can always sign me up for banana bread, cake, cookies, or most any banana treat. And now I have these Dulce de Leche Banana Bars to add to that list.
There are so many things to love about these banana bars. They're wonderfully soft and moist. The texture is a bit like banana bread but a little sturdier. That makes them easy to serve and to eat out of hand. Serve these as an afternoon snack, pack them in your lunch, or enjoy them as a simple dessert.
Then there's the flavor. Wow, are these things good! The addition of dulce de leche to all that banana deliciousness is just fantastic. I like to swirl the dulce de leche into the batter instead of mixing it into the batter. You may not necessarily see the swirl like you might with something of a more contrasting color, but I love that pretty, shiny top that you get from having most of the dulce de leche near the top of the bars.
If you've never tried the combination of bananas and dulce de leche, I urge you to do so as soon as possible. That rich, caramel-like flavor is such a great complement to bananas. I find it flat-out irresistible. If you're a believer in that tasty pair, too, then be sure to try Dulce de Leche Banana Pudding Bars and Dulce de Leche Banana Bread, too.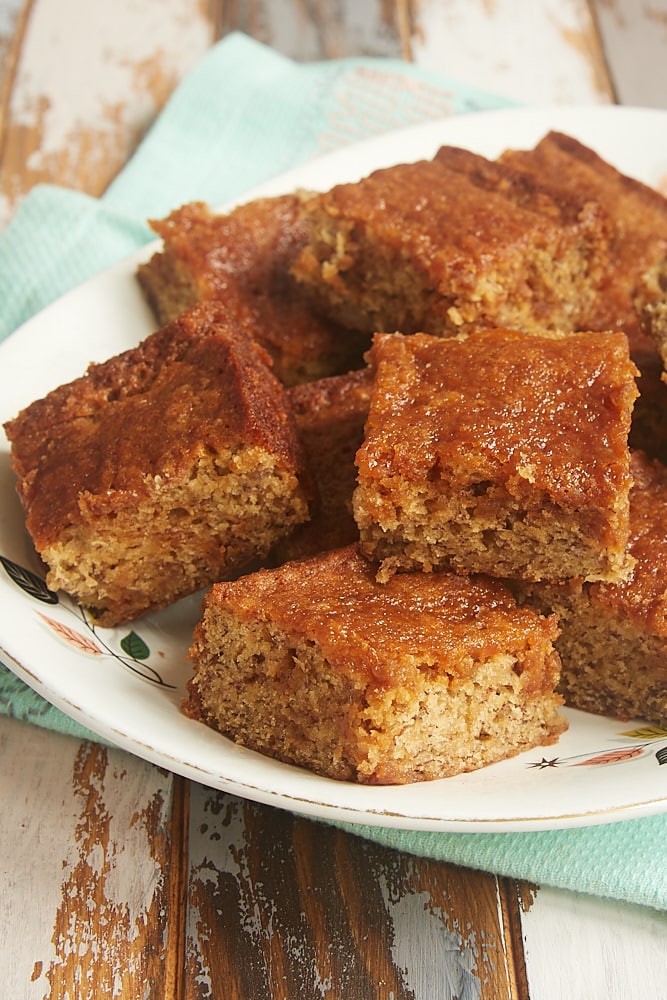 What You'll Need
Besides the bananas and dulce de leche, these banana bars are made with basic baking ingredients. Here are some notes about the ingredients, but be sure to scroll to the recipe below for specific measurements.
All-purpose flour – As always, measure by weight or spoon and sweep.
Baking powder
Salt
Baking soda
Unsalted butter – After melting the butter, allow it to cool slightly. It should be warm but not hot.
Brown sugar – I like light brown sugar here, but you can use dark brown sugar if you want a more pronounced molasses flavor.
Egg – Set out the egg before baking so that it can come to room temperature.
Vanilla extract
Bananas – Two or three medium bananas should give you enough for this recipe.
Dulce de leche – This is a thick, caramel-like spread. Look for it alongside the other spreads, in the international foods section, or with the ice cream toppings.
How to Make Dulce de Leche Banana Bars
Making these bars is about as straightforward as baking gets. Everything mixes in one bowl, and you won't even need your mixer for these. Just grab a bowl and a mixing spoon, and you're set!
Prepare for baking. Heat the oven to 350°F. Grease and 8-inch square pan. If you like, you can line the pan with parchment paper and grease the paper.
Mix the dry ingredients. Whisk together the flour, baking powder, salt, and baking soda.
Mix the wet ingredients. Combine the melted butter, brown sugar, egg, and vanilla.
Finish mixing. Add the flour mixture to the butter mixture, and mix just until combined. Stir in the bananas.
Add the dulce de leche. Transfer the batter to the prepared pan, spreading it evenly. Dollop the dulce de leche over the top of the batter, and use a thin knife to swirl it into the batter. Alternatively, you can mix the dulce de leche into the batter before transferring it to the pan.
Bake. Place the pan in the heated oven, and bake 35 to 40 minutes. The bars are done when a pick inserted into the center comes out clean.
Cool the bars. Place the pan on a wire rack, and allow the bars to cool completely in the pan before cutting into bars.
Tips for Success
You'll love how quick and easy these banana bars are! To make yours the best they can be, here are a few tips.
Don't over-mix. Too much mixing leads to tough baked goods.
Use a light-colored metal baking pan. You'll get more evenly and thoroughly baked bars with this type of pan.
Bananas not quite ripe enough? Remember that the riper the banana, the more flavor and sweetness it has. If your bananas aren't quite ready, see my tips for ripening bananas.
How to Store Dulce de Leche Banana Bars
After the bars have cooled, place them in an airtight container. They should keep up to 3 days. For longer storage, place the container in the refrigerator. Make doubly sure the container is airtight, as they can become dry in the refrigerator.
Can These Banana Bars Be Frozen?
Yes! Wrap the cooled bars in two layers of plastic wrap. Then wrap them again in aluminum foil or place them in a freezer-safe container or bag. Properly stored, they should keep up to 3 months. Thaw the bars at room temperature.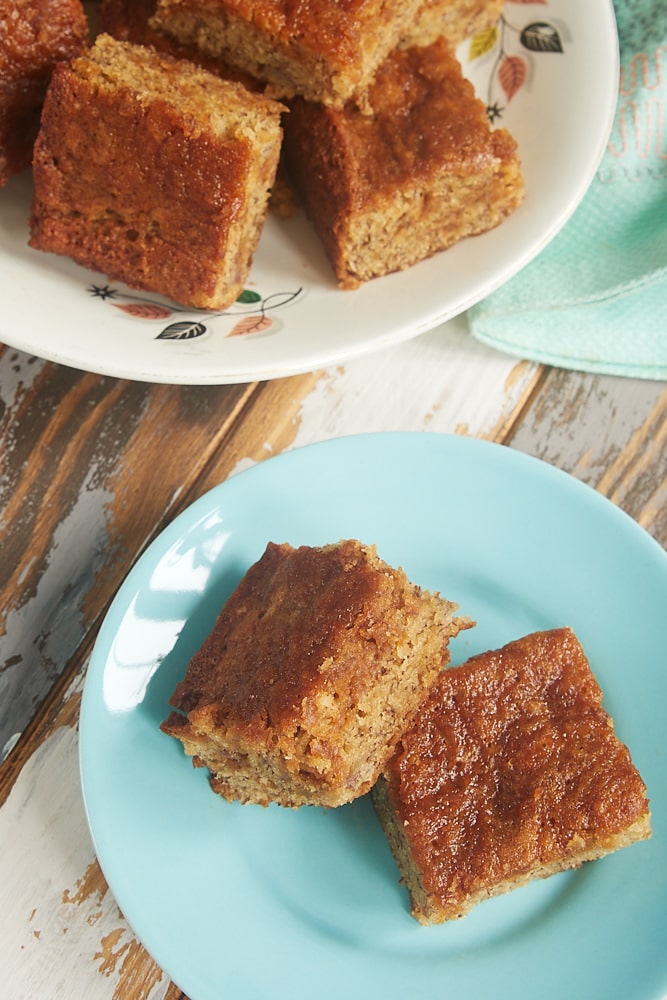 More Banana Bar Recipes