This from-scratch Blueberry Pineapple Dump Cake skips the cake mix for a homemade version of a quick and easy dessert favorite!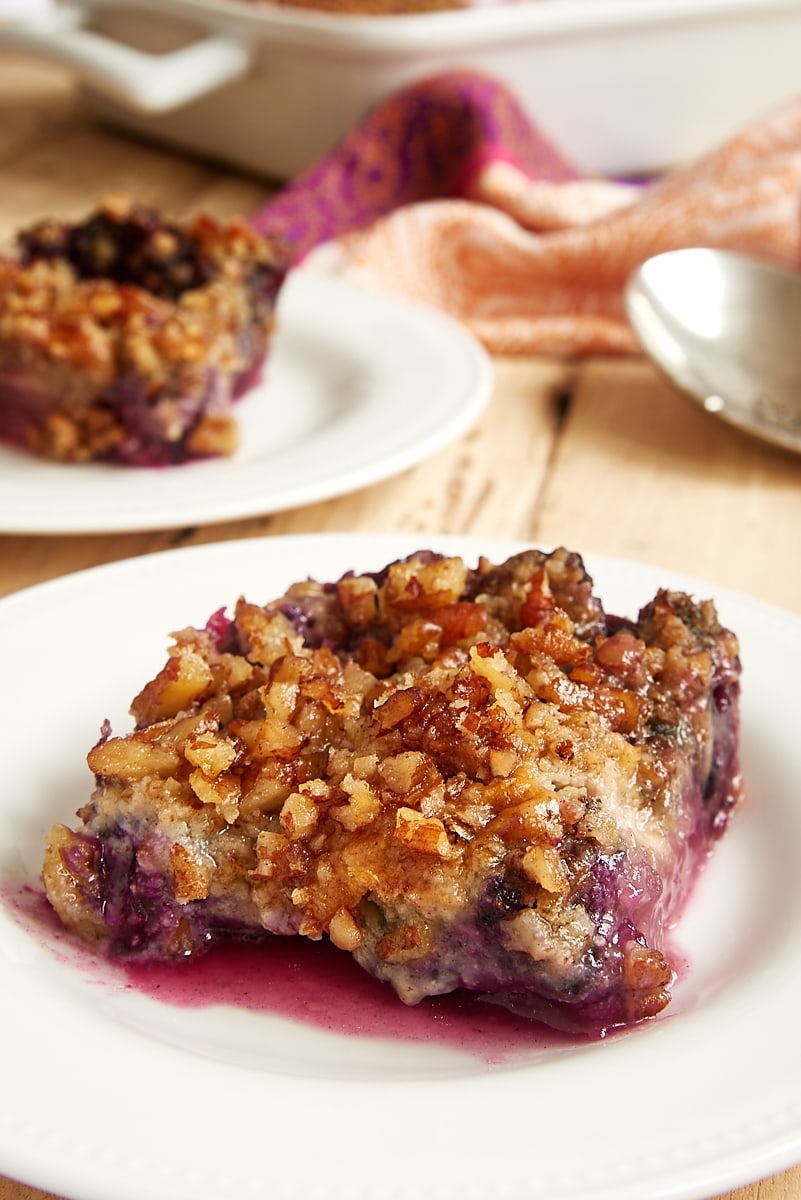 The Best Blueberry Pineapple Dump Cake
Dump cakes are one of the simplest cakes around. Traditionally, they're made by placing fruit in a baking pan and topping it with cake mix. You basically "dump" everything in a pan and bake it, hence the unfortunate name. With no mixing and very little clean-up, they are one of the quickest and easiest desserts you can make.
For those of you (like me) who prefer homemade over a mix, I am happy to tell you that this Blueberry Pineapple Dump Cake is made from scratch with no cake mix in sight. There's just one extra step for mixing the topping, turning a crazy easy dessert into a crazy easy homemade dessert!
The end result is really part cake and part crisp. It's not quite as sturdy as a traditional cake, but it has more structure than a crisp. Serve it as-is or top it with ice cream or sweetened whipped cream – I promise you'll love every bite!
And, if you're looking for more easy blueberry cake recipes, try this blueberry crumb cake or this blueberry coffee cake.
Why You'll Love This Blueberry Pineapple Dump Cake Recipe
This dump cake is such a crowd-pleaser. Here's why I think you'll be a big fan:
Terrific texture. Juicy blueberries combine with sweet pineapple chunks, crunchy nuts, and a tender cake-like topping to create a dessert that you will not be able to get enough of!
Blueberries pair perfectly with pineapple. While it might not be the first fruit pairing that comes to mind, blueberries and pineapple are one of my favorite flavor pairs. The tartness of the pineapple and the sweetness of the blueberries are perfect complements to each other.
Quick and easy. It takes just 15 minutes to prep this dump cake, and then it's ready for the oven.
What You'll Need
Besides the fruit, you likely already have everything you need to whip up this blueberry pineapple dump cake! Be sure to scroll down to the recipe card for exact amounts and the full set of directions.
Pineapple – You can use fresh pineapple or canned. If you're using canned, be sure to drain it well.
Blueberries – Both fresh and frozen blueberries will work. If you've got freshly picked blueberries on hand, this is the perfect way to use them up!
Sugar – I usually add in granulated sugar for this recipe.
Vanilla extract – Pure vanilla extract provides the best flavor.
All-purpose flour – As always, measure it by weight for the best results. Otherwise, spoon and sweep. Learn more by reading up on how to measure flour.
Baking powder & baking soda – These help the cake topping spread over the filling and lighten up its texture.
Cinnamon – For an extra dose of warm, earthy sweetness.
Salt – To balance out the sweet flavor.
Unsalted butter – No need to soften the butter ahead of time.
Chopped nuts – Use your favorite kind or a combination. Pecans, walnuts, hazelnuts, and almonds are all good choices.
Can I Use Frozen Fruit?
Fresh blueberries and fresh or canned pineapple will give you the best results, but you can use frozen if you prefer or if you don't have access to fresh. No need to thaw the fruit; just use them straight from the freezer. Keep in mind that frozen fruits have more moisture, so they may change the consistency of the end result. Learn more by checking out the details on using fresh vs frozen fruits in baking.
How to Make Blueberry Pineapple Dump Cake
The best part about making a dump cake? It's SO easy! Ready to whip up this cake? Let's go!
Prepare for baking. Heat the oven to 350°F. Butter and flour a 9″ x 13″ x 2″ baking pan. (Or use a cooking spray with flour, like Baker's Joy or Pam Baking.)
Make the filling. Place the pineapple and blueberries in a single layer in the prepared pan. Sprinkle them with 1/4 cup sugar and drizzle the vanilla over the top. Give the pan a little shake to slightly mix things.
Mix the dry ingredients. Whisk together the flour, sugar, baking powder, baking soda, cinnamon, and salt. Sprinkle this mixture over the fruit. Gently shake the pan to combine.
Add the butter and nuts. Evenly place the butter and nuts over the top.
Bake the cake. Place the pan in the heated oven, and bake for 40-45 minutes. When the cake is golden brown and appears set, it's ready to come out of the oven. The top should spring back a bit when touched.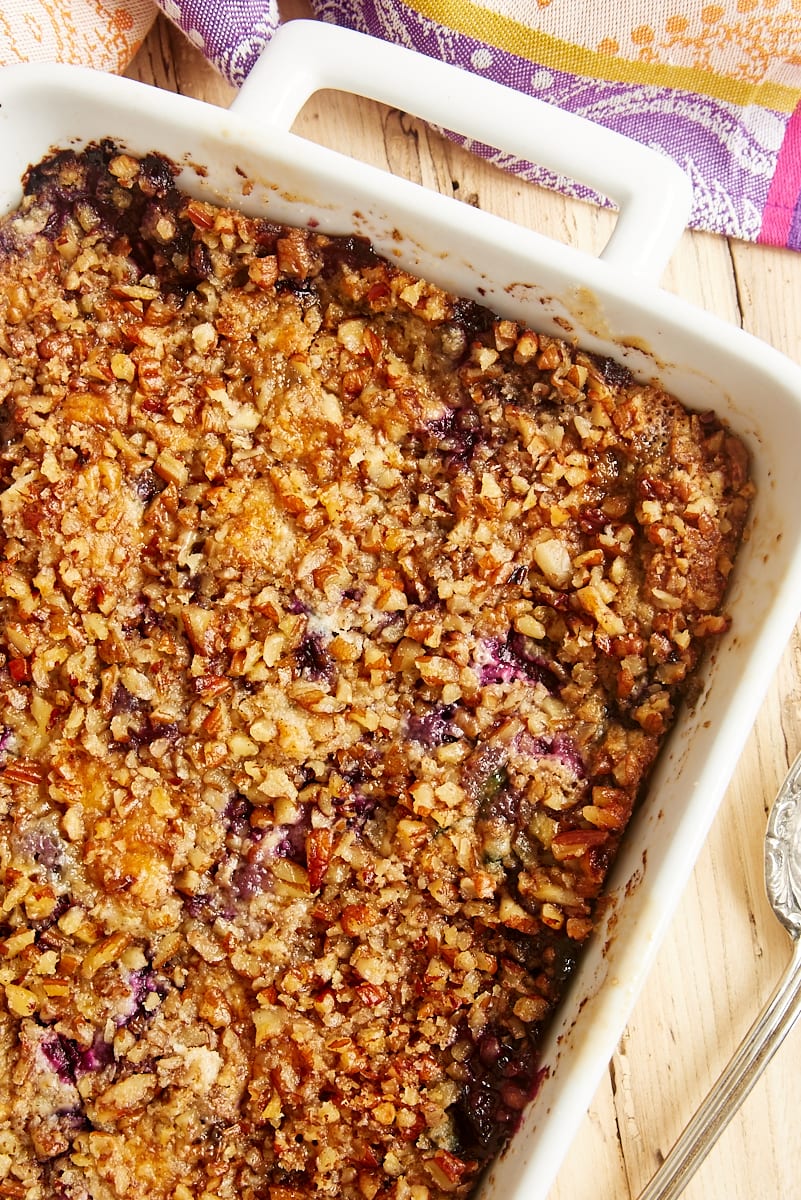 Tips for Success
I've got a few tips and tricks that will make this pineapple blueberry dump cake even easier to put together!
Don't mix the cake. Shaking the pan slightly, as mentioned in the instructions, will help the ingredients to incorporate just a little, but you don't want to fully mix things because then the topping won't bake properly.
Slice the butter into thin squares. This way, you'll definitely have enough to evenly cover the top of the cake.
Let the cake cool before you serve it. This way, the filling has time to thicken up a little, and it won't be super liquidy.
Frequently Asked Questions
Why is it called dump cake?
The name comes from the easy baking process. All of the ingredients are dumped into the pan, therefore it is called a dump cake!
Why is my dump cake powdery?
This could be because the butter wasn't evenly distributed across the top of the cake. Make sure to slice the butter thin so that you have enough to cover all of the dry ingredients.
Why can't I mix the dump cake?
Not mixing the cake ingredients may seem strange, but it's a key part of making a dump cake. The topping won't form a buttery crust above the sweet blueberry pineapple filling if you mix everything together.
Substitutions & Recipe Variations
Besides how easy it is to make, the great thing about this cake is how adaptable it is. Here are a few ways that you can change up this dump cake if you're looking for ideas:
New fruits. This dump cake can be made with most any single fruit or combination of fruits you like. Just keep the total volume about the same. (Feel free to try raspberries, strawberries, blackberries, etc!)
Extract substitutions. You can also swap out the vanilla extract for almond extract or lemon juice.
Other chopped nuts. Use a different nut or coconut for the topping. Play around with your favorite flavors and see what you can create!
How to Store & Reheat Leftovers
Leftover dump cake is quite easy to preserve. Here's how to do it:
To store. After the cake has cooled completely, seal it tightly in an airtight container and refrigerate it for up to 3 days.
To reheat. Reheat servings of blueberry pineapple dump cake briefly in the microwave.
Can I Freeze Dump Cake?
You can freeze the cake, although the texture is likely to be affected. Place leftovers in an airtight, freezer-safe container or bag. Properly stored, it should keep in the freezer for about 2 months. Thaw it overnight in the refrigerator before enjoying again.
More Blueberry Cake Recipes
Want to try out some more homemade blueberry cakes? I highly recommend these ones!