August 1, 2016
Blueberry Pineapple Dump Cake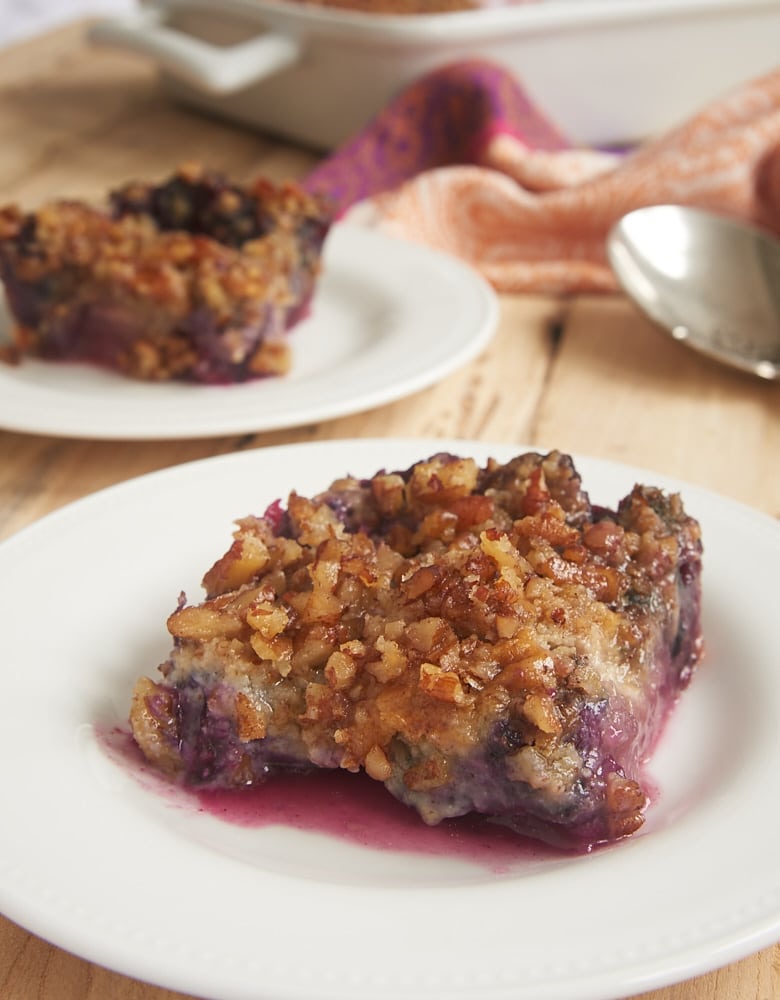 Dump cakes are one of the simplest cakes around. Traditionally, they're made by placing fruit in a baking pan and topping it with cake mix. You basically "dump" everything in a pan and bake it, hence the unfortunate name. With no mixing and very little clean-up, they are one of the quickest and easiest desserts you can make.
For those of you (like me) who prefer homemade over a mix, I am happy to tell you that this Blueberry Pineapple Dump Cake is made from scratch with no cake mix in sight. There's just one extra step for mixing the topping, turning a crazy easy dessert into a crazy easy homemade dessert!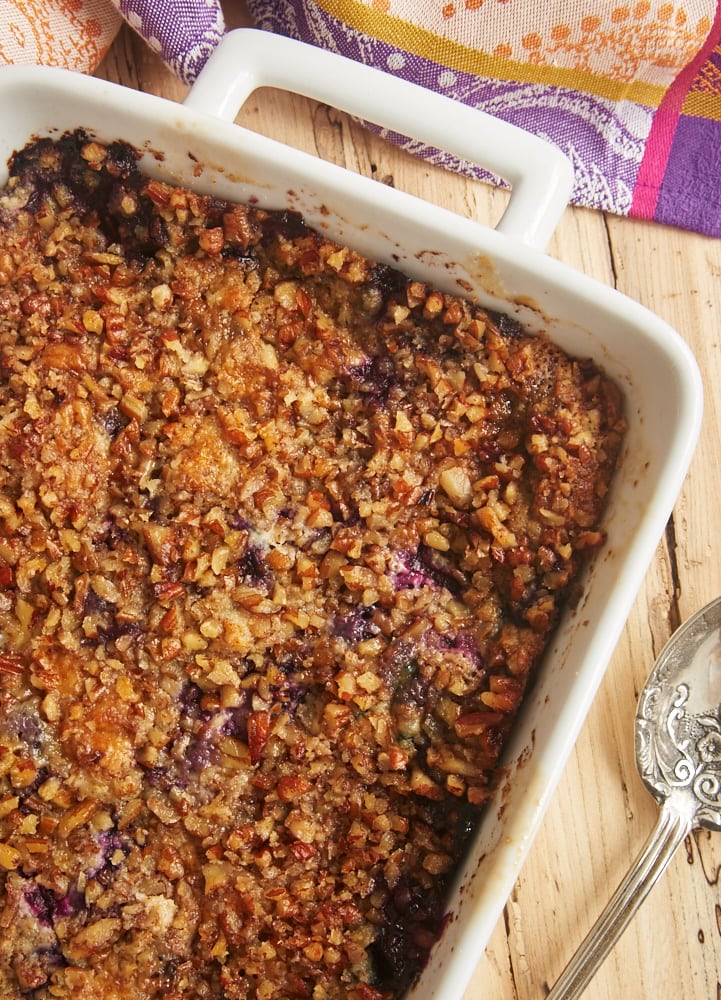 The end result is really part cake and part crisp. It's not quite as sturdy as a traditional cake, but it has more structure than a crisp. Serve it as is or top it with ice cream or whipped cream.
I used a favorite fruit combination in this cake. Blueberries and pineapple are one of my favorite flavor pairs. The tartness of the pineapple and the sweetness of the blueberries are perfect complements to each other.
Besides how easy it is to make, the great thing about this cake is how adaptable it is. It can be made with most any single fruit or combination of fruits you like. Swap out the vanilla extract for almond extract or lemon juice. Use a different nut or coconut for the topping. Play around with your favorite flavors and see what you can create!
Find more cake recipes in the Recipe Index.
Blueberry Pineapple Dump Cake
Yield: 12 to 15 servings
Prep Time: 15 minutes
Cook Time: 45 minutes
This sweet, tart, nutty Blueberry Pineapple Dump Cake is made from scratch. Such a great quick and easy dessert!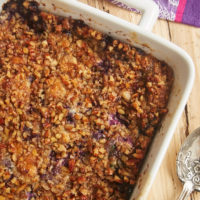 Ingredients:
For the filling:
4 cups pineapple chunks (about 20 ounces)*
2 cups fresh blueberries (about 16 ounces)
1/4 cup granulated sugar
1/2 teaspoon vanilla extract
For the topping:
1 & 1/4 cups all-purpose flour
1 cup granulated sugar
2 teaspoons baking powder
1/2 teaspoon baking soda
1/2 teaspoon ground cinnamon
1/4 teaspoon salt
3/4 cup unsalted butter, cut into cubes
1 cup chopped nuts, such as pecans or hazelnuts
Directions:
To make the filling:
Preheat oven to 350°F. Butter and flour** a 9″x 13″x 2″ baking pan.
Place the pineapple and blueberries in the pan in a single layer. Sprinkle with sugar and drizzle the vanilla over the top. Gently shake the pan to combine.
To make the topping:
Whisk together the flour, sugar, baking powder, baking soda, cinnamon, and salt.
Sprinkle the topping mixture over the fruit. Gently shake the pan to combine.
Place the cubed butter evenly over the top. Sprinkle the nuts over the top.
Bake 40 to 45 minutes, or until the cake is golden brown and set. The top should spring back with touched.
Notes:
*I used fresh pineapple cut into bite-size pieces. If you prefer to use canned, be sure to drain the pineapple before adding it to the pan.
**Alternately, you can use a cooking spray with flour, like Baker's Joy or Pam for Baking.
For any leftover cake, seal tightly and refrigerate for up to 3 days.