Cookies and Cream Cheesecakes feature a sweet, creamy cheesecake filled with bits of cookies. And there's a whole Oreo cookie for the crust!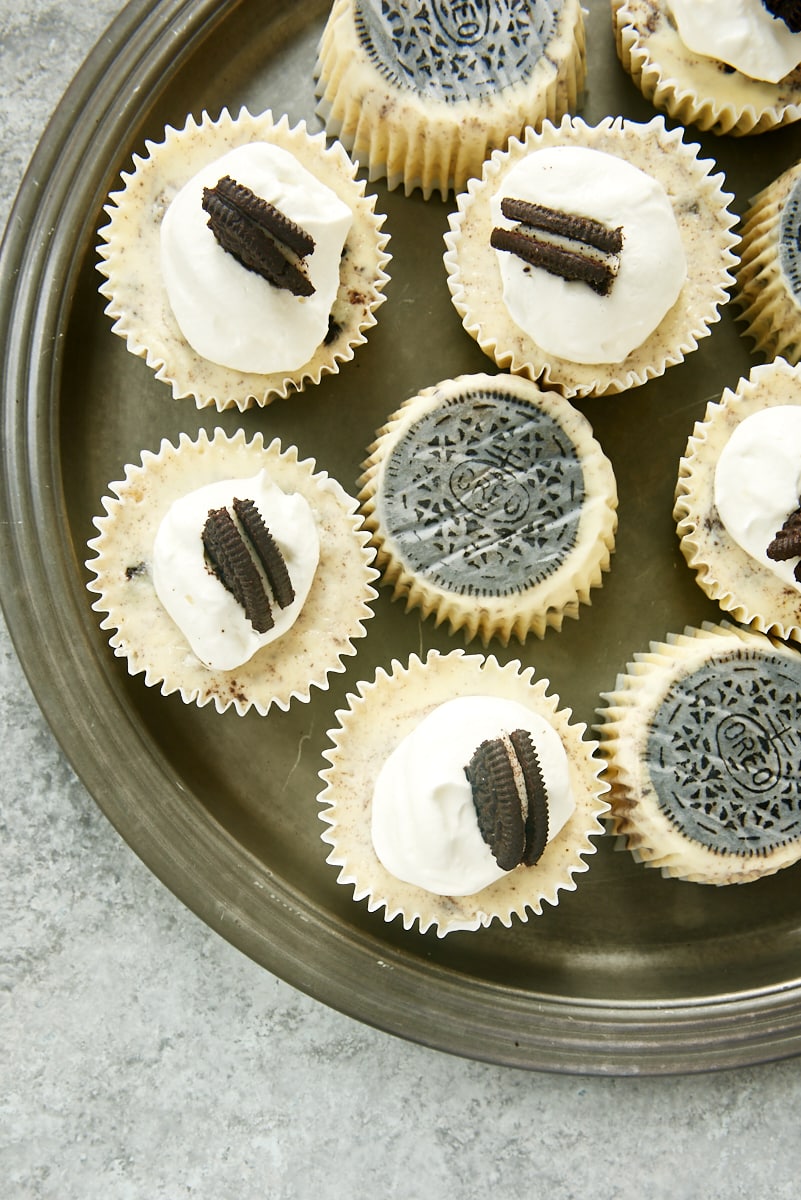 Mini Cookies and Cream Cheesecakes
I'm not a huge fan of Oreos or, really, any kind of store-bought cookie. I suppose I have spoiled myself with the homemade variety. That being said, I am not the least bit hesitant to use store-bought cookies as an ingredient, like with these cheesecakes.
Of course, we need an Oreo cookie crust for a cookies and cream cheesecake. For something a little different, the crust here is actually a whole Oreo, not crumbs. Leaving the cookie intact makes for a thick crust that gets nice and soft after they've baked and chilled. Plus, they make these easy to make by skipping the process of making a crust.
And, of course, topping off those Oreos is something that's always welcomed – a creamy cheesecake filling! This is a simple vanilla cheesecake that pairs perfectly with the dark chocolate cookies.
I suppose it wouldn't meet the legal definition of a cookies and cream cheesecake without even more Oreos mixed into the cheesecake. Those little bits of cookie get distributed all through the cheesecake so there's plenty of chocolate in every bite.
Turning Oreo cheesecake into individually-sized treats is a great idea for feeding a crowd. I like to make individual treats for larger groups because they are so much easier to transport and serve. I think you'll love their flavor and simplicity. And I think you'll enjoy seeing how quickly they disappear!
Love all things Oreo? Try my Cookies and Cream Brownies, Oreo Cheesecake Bars, and Cookies and Cream Cheesecake Cookies next!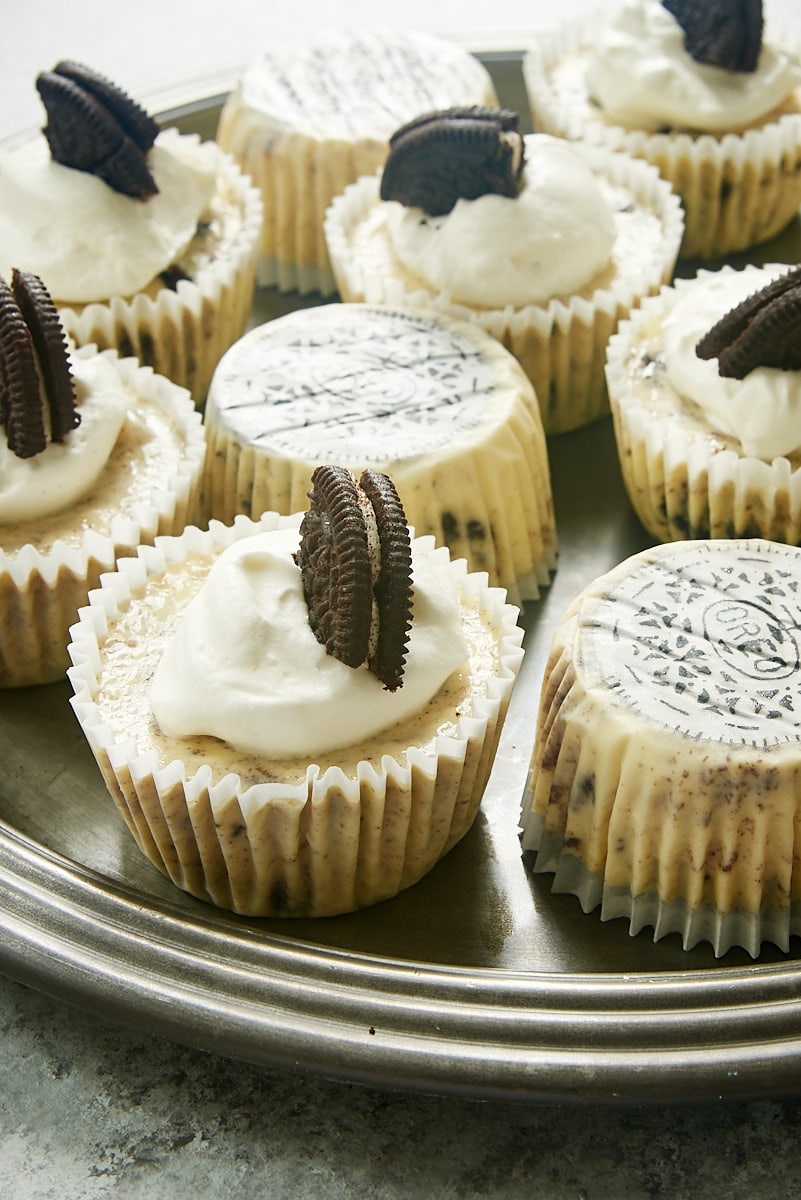 What You'll Need
How wonderful to get such a great dessert from such a short list of ingredients! Here are some notes about them that will prove helpful. Be sure to scroll down to the recipe card below for ingredient quantities and full directions.
Oreos – This is the most common brand of chocolate sandwich cookies, but you can use another brand if you like. You'll need about 42 cookies. Use 30 whole cookies to make the crusts, and roughly chop the remaining Oreos for the filling. If you want to garnish with cookies, then you'll need a few more.
Cream cheese – Full-fat block cream cheese works best. Bring it to room temperature so it will mix smoothly and evenly.
Granulated sugar
Vanilla extract
Eggs – Room temperature eggs will mix more easily. Beat them lightly before adding to the filling.
Sour cream – Full-fat sour cream works best. Also bring this to room temperature. Its tartness helps to balance the sweetness here.
Salt – Just a pinch to complement the sweetness.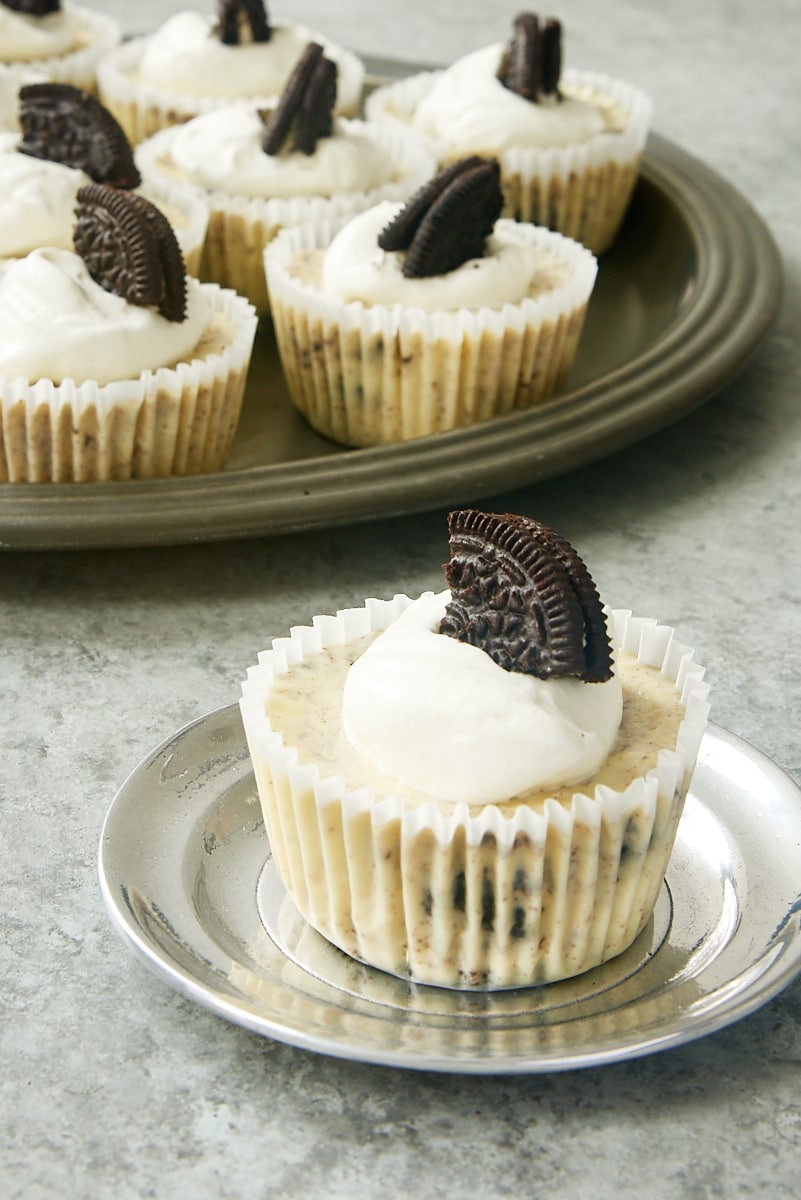 How to Make Cookies and Cream Cheesecakes
As if these beauties don't have enough going on for them, they're wonderfully quick and easy to make, too. No springform pan, water bath, or long baking time needed! You'll just need one bowl to mix the filling because of the simplified crust and, of course, your handy muffin tins.
Prepare for baking. Heat the oven to 275°F. Line 30 standard muffin cups with paper liners. Place a whole cookie in the bottom of each liner.
Begin mixing the filling. Place the cream cheese in a large bowl. Beat until smooth, using an electric mixer on medium speed. Gradually add the sugar, and mix until combined. Mix in the vanilla.
Finish mixing. Drizzle the eggs into the cream cheese mixture while continuing to mix. Then mix in the sour cream and salt. Finally, stir in the chopped Oreos.
Portion the batter. Divide the batter evenly among the muffin cups, filling each almost to the top.
Bake. Place the pan in the heated oven. (You'll very likely need to bake one big pan or two small pans at a time. Refrigerate the batter between batches.) Bake 20 to 25 minutes, or until the filling is set.
Cool. Place the pans on a wire rack and allow the cheesecakes to cool completely. Place the pans in the refrigerator, and chill at least 4 hours or up to overnight.
Serve. Remove the cheesecakes from the pans when you're ready to serve them. If you like, top the cheesecakes with sweetened whipped cream and more cookies.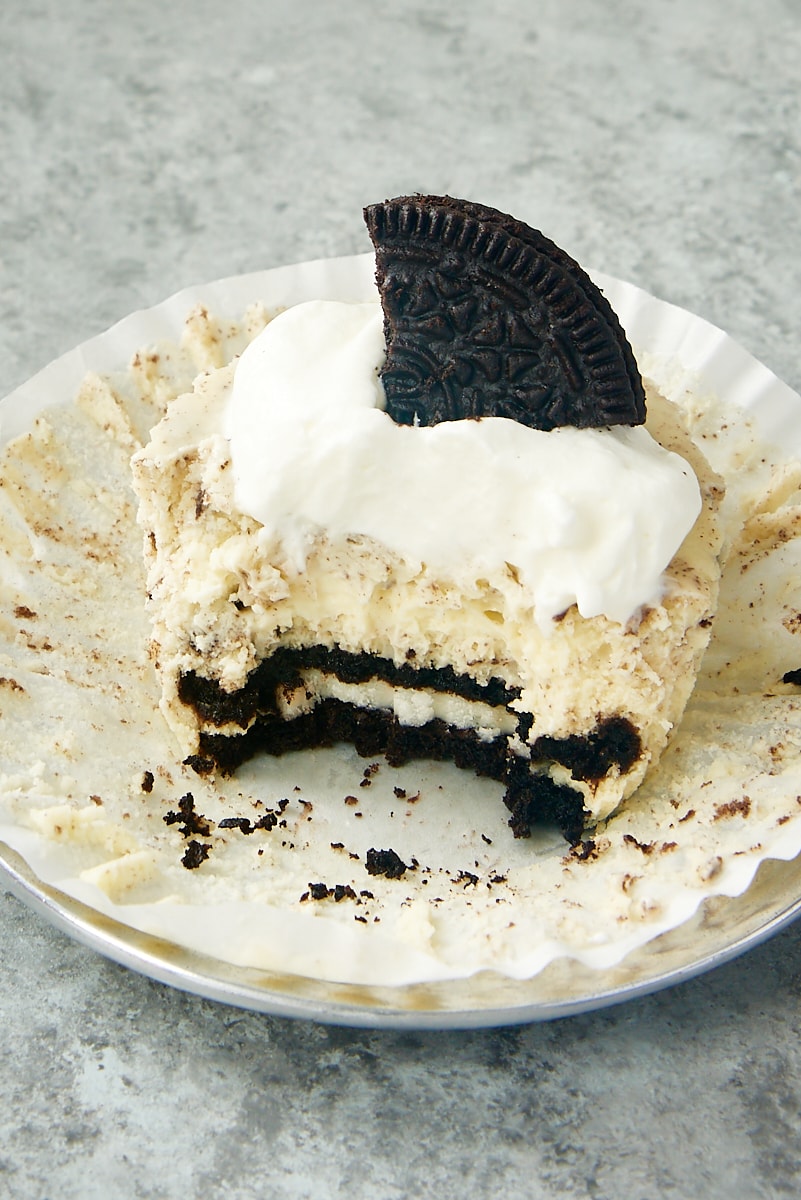 Serving Suggestions
You can serve these little cheesecakes just as they are, but if you're looking to dress them up a bit, that's easily done.
The ones you see here were topped with a dollop of homemade whipped cream and a big piece of cookie. You could also make the cookies into fine crumbs instead of a larger piece, or use mini Oreos for a simple option. A little chocolate syrup would also be a great topping.
Tips for Success
While these Cookies and Cream Cheesecakes are quite easy to make, here are a few tips to make sure yours turn out perfectly!
Use a light-colored metal pan. Your cheesecakes will bake more thoroughly and evenly.
Bring ingredients to room temperature. You'll get a smoother filling.
Don't skip the liners. Not only do paper liners make removing the cheesecakes from the pan simpler, they also provide a little more structure to make them sturdier for serving and handling. Using a lined pan also keeps the cheesecakes from sticking to the sides to help prevent cracks, too.
Bake one pan at a time. Don't crowd your oven. One 12-cup muffin pan or two 6-cup pans are usually all you should try to fit in your oven at one time. Refrigerate the remaining batter between batches. If you're reusing pans, be sure to let them cool completely before filling again.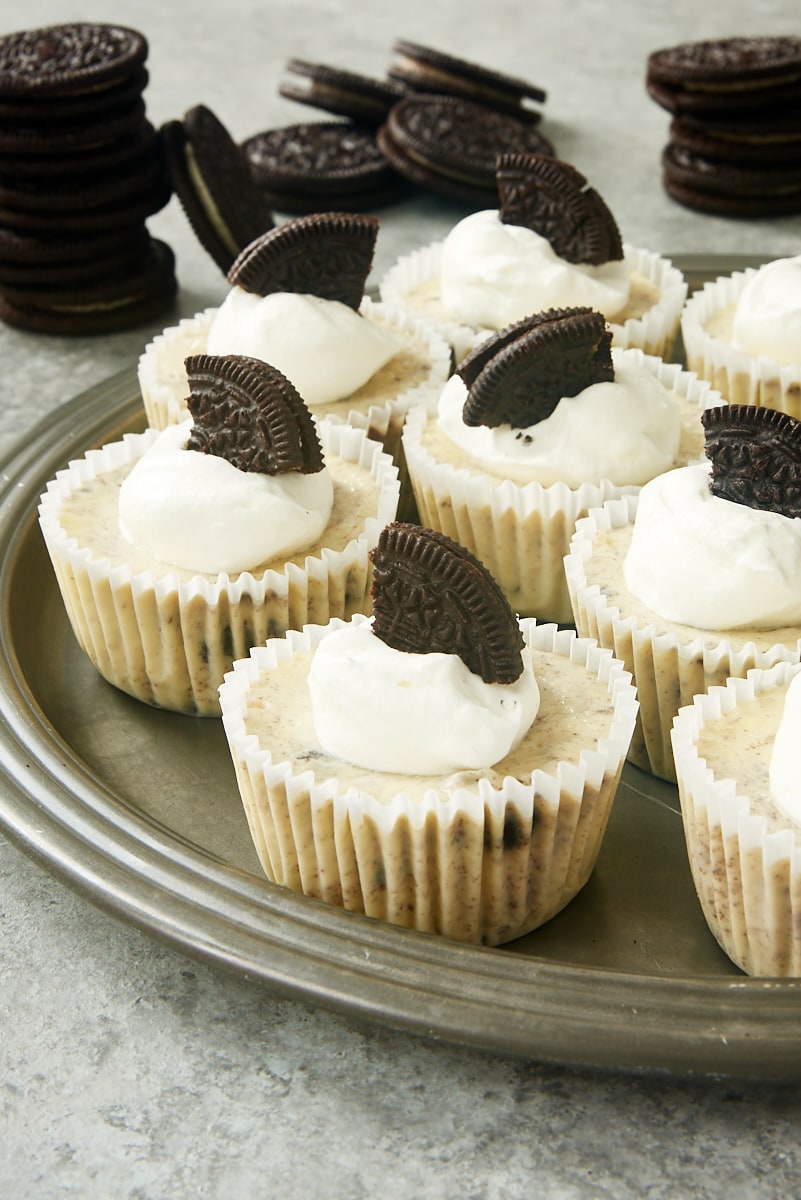 How to Store
These cheesecakes need to be kept refrigerated. Stored in an airtight container, they should keep up to 3 or 4 days. They'll store best without any toppings.
Can These Cheesecakes Be Frozen?
Yes! Once they've chilled as directed, wrap each one well in two layers of plastic wrap. Wrap again in aluminum foil or place in an airtight, freezer-safe container. Properly stored, they should keep up to 3 months in the freezer. Thaw overnight in the refrigerator.
Video Tutorial: Cookies and Cream Cheesecakes