September 18, 2009
Chocolate Salted-Caramel Mini Cupcakes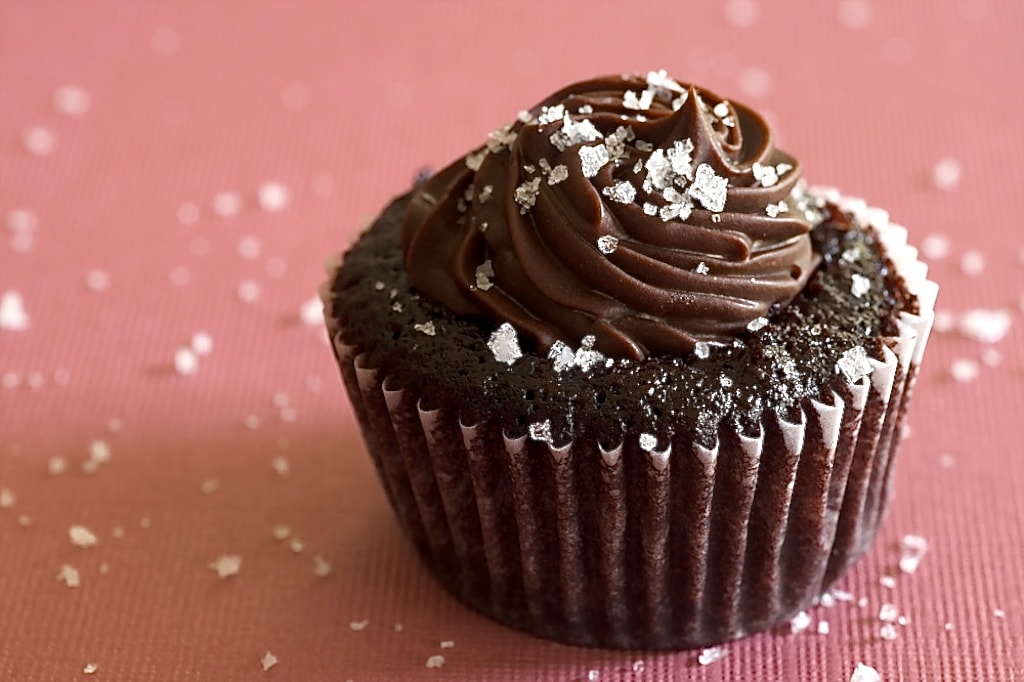 I could begin this post by apologizing for my blogging absence and giving you all the reasons that I've been on an unplanned hiatus, but after getting a good look at these cupcakes I'm sure you'd rather I get right to the business at hand. Chocolate cupcakes + salted caramel = incredibly good!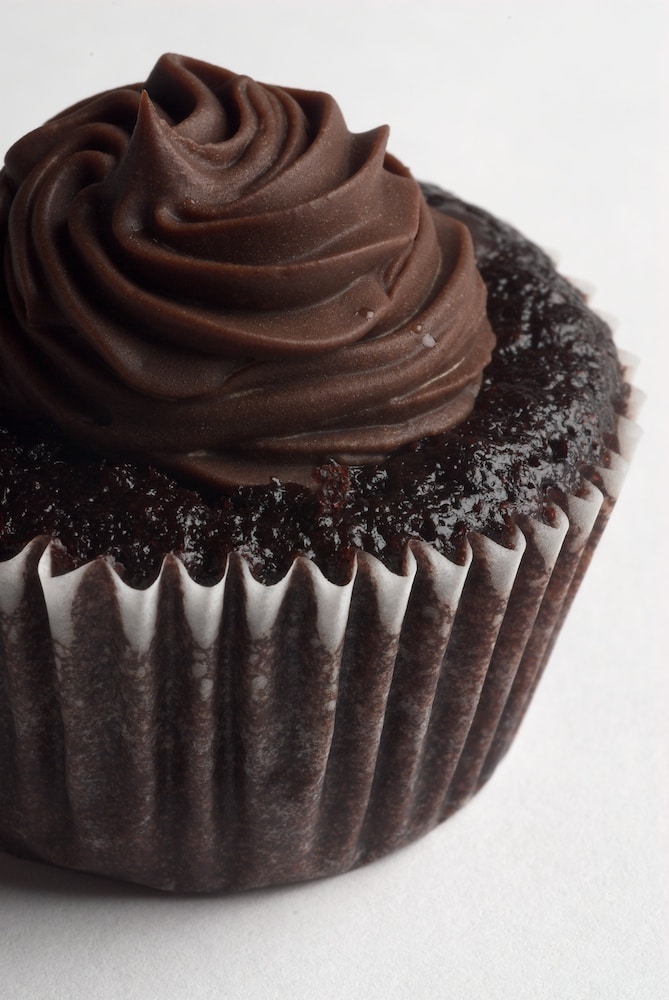 Salted caramel is one of my favorite discoveries of the last few years. And combined with chocolate? Well, let's just say it didn't take a lot of self-convincing to get me to make this recipe from Martha Stewart's Cupcakes.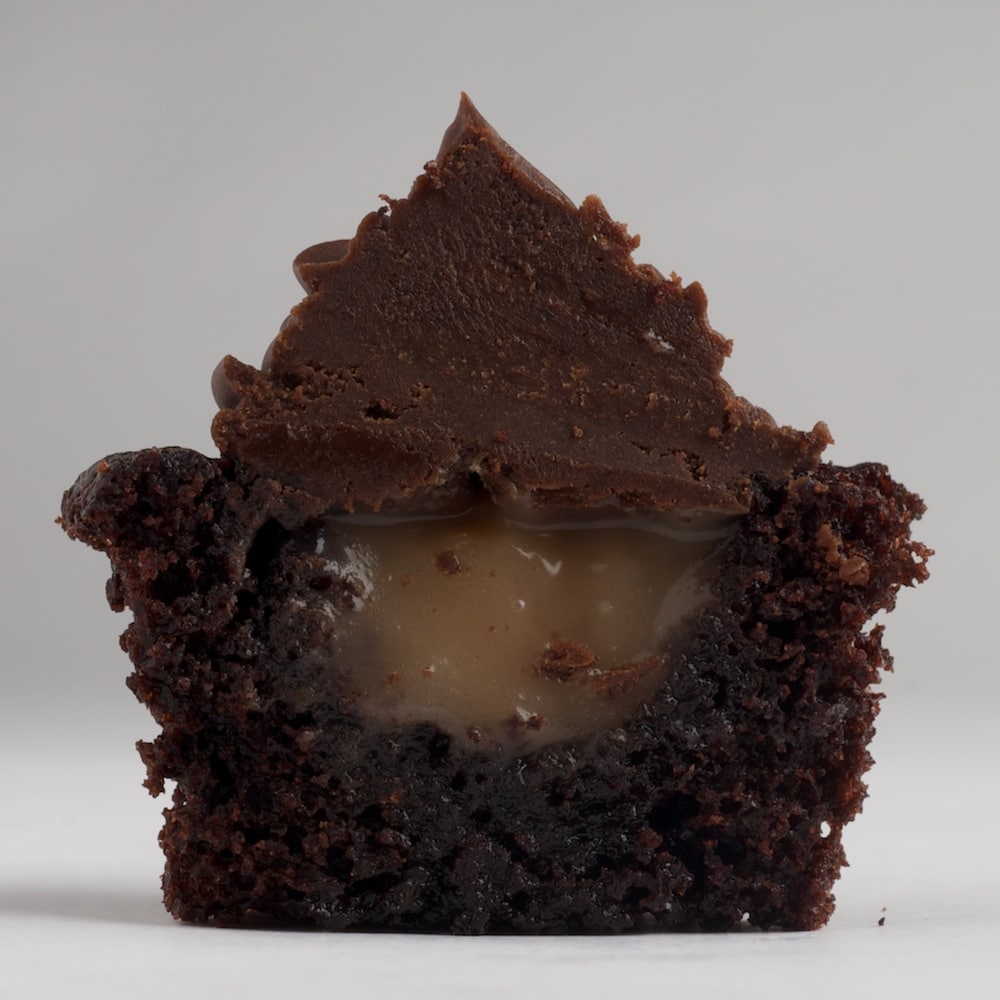 As much as I love cupcakes, I don't make them very often. It's the frosting thing. I have no patience for it. Luckily, I can usually recruit Quinn to take on that task. He was glad to do it in exchange for some of the scooped out cupcake remnants.
The chocolate cupcakes topped off with that dark chocolate frosting would be enough. Add in the salted caramel filling, and these cupcakes are transformed into something fantastic. They are a bit labor-intensive, but trust me when I say that they are worth every minute.
Chocolate Salted-Caramel Mini Cupcakes
Yield: 56-60 mini cupcakes
Prep Time:45 minutes
Cook Time:30 minutes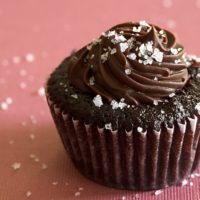 Ingredients:
For the cupcakes:
1 & 1/2 cups all-purpose flour
3/4 cup unsweetened Dutch-process cocoa powder
1 & 1/2 cups granulated sugar
1 & 1/2 teaspoons baking soda
3/4 teaspoon baking powder
3/4 teaspoon salt
2 large eggs
3/4 cup buttermilk
3 tablespoons vegetable oil
1 teaspoon vanilla extract
3/4 cup warm water
sea salt, for garnish
For the filling:
2 & 1/2 cups sugar
2/3 cup water
1 tablespoon light corn syrup
3/4 cup heavy cream
2 & 1/2 teaspoons sea salt
For the frosting:
1/2 cup plus 1 tablespoon unsweetened Dutch-process cocoa powder
1/2 cup plus 1 tablespoon boiling water
2 & 1/4 cups unsalted butter, room temperature
3/4 cup confectioners' sugar, sifted
1/4 teaspoon salt
1 & 1/2 pounds semi-sweet chocolate, melted and cooled
Directions:
To make the cupcakes:
Preheat oven to 350°. Line mini muffin pans with paper liners.
Whisk together flour, cocoa, sugar, baking soda, baking powder, and salt. Add eggs, buttermilk, oil, vanilla, and water. Using an electric mixer on low speed, mix until smooth.
Fill muffin pans about 2/3 full. Bake about 15 minutes, or until a toothpick inserted in the center comes out clean. Cool in pans on wire racks about 10 minutes. Remove cupcakes to wire racks to let cool completely.
Cupcakes can be stored overnight at room temperature or frozen in an airtight container for up to a month.
To make the filling:
Heat sugar, water, and corn syrup in a heavy saucepan over high heat. Stir occasionally until syrup is clear. Attach a candy thermometer to side of pan. Stop stirring, and cook until syrup comes to a boil, washing down sides of pan with a wet pastry brush as needed.
Boil, gently swirling pan occasionally, until mixture is caramelized and temperature just reaches 360°.
Remove from heat. Slowly pour in cream and stir with a wooden spoon until smooth. Stir in sea salt. Use immediately. If caramel begins to harden, reheat gently until pourable.
Use a paring knife, cut a cone-shaped piece, about 1/2-inch deep, from the center of each cupcake. Spoon 1-2 teaspoons of warm filling into each cupcake. Sprinkle a pinch of sea salt over filling.
To make the frosting:
Combine cocoa and boiling water. Stir until cocoa has dissolved.
Using an electric mixer on medium-high speed, beat butter, confectioners' sugar, and salt until pale and fluffy. Reduce speed to low and add melted and cooled chocolate. Beat until combined. Beat in cocoa mixture.
Frosting can be refrigerated up to 5 days or frozen up to 1 month. Bring to room temperature and beat on low speed until smooth before using.
Fit a pastry bag with a medium open-star tip (Wilton #18). Fill pastry bag with frosting. Pipe onto cupcakes, swirling tip and releasing as you pull up to form a peak. Garnish with a pinch of sea salt.
Cupcakes are best eaten the day they are filled and frosted. Store at room temperature in an air-tight container until ready to serve.