Chocolate salted caramel mini cupcakes are little bites of pure decadence! Moist chocolate cupcakes are stuffed with gooey salted caramel, then finished with a rich, ganache-like frosting and a sprinkle of flaky sea salt.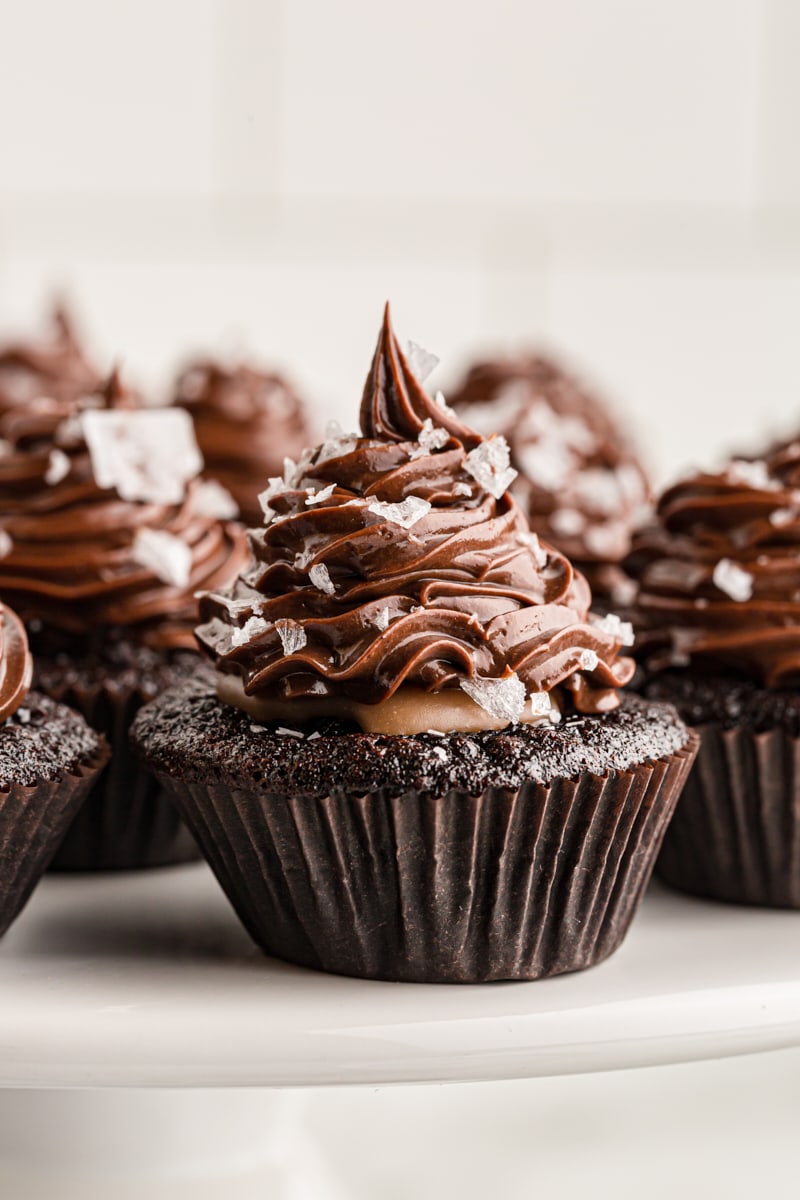 Bite-Sized Salted Caramel Filled Cupcakes
As much as I love cupcakes, I don't make them very often. It's the frosting thing; I just have no patience for it. But cupcakes with salted caramel and chocolate? Well, let's just say it didn't take a lot of convincing to get me to make this recipe from Martha Stewart's Cupcakes.
Salted caramel is the more sophisticated version of the bottles of syrupy caramel we all used to squeeze onto our ice cream sundaes when we were kids. Instead of cloying sweetness, you get the perfect balance of sweet and salty. And when you make your own caramel, it's thick, creamy, and miles better than what you can buy at the grocery store.
The chocolate cupcakes topped off with that rich dark chocolate frosting would be a delicious sweet treat on their own. But add the salted caramel filling, and these cupcakes are transformed into something fantastic. They are a bit labor-intensive, but trust me when I say that they are worth every minute.
(Love salted caramel? Try my Salted Caramel Brownies, Pecan and Salted Caramel Cheesecake, or Salted Caramel Panna Cotta next.)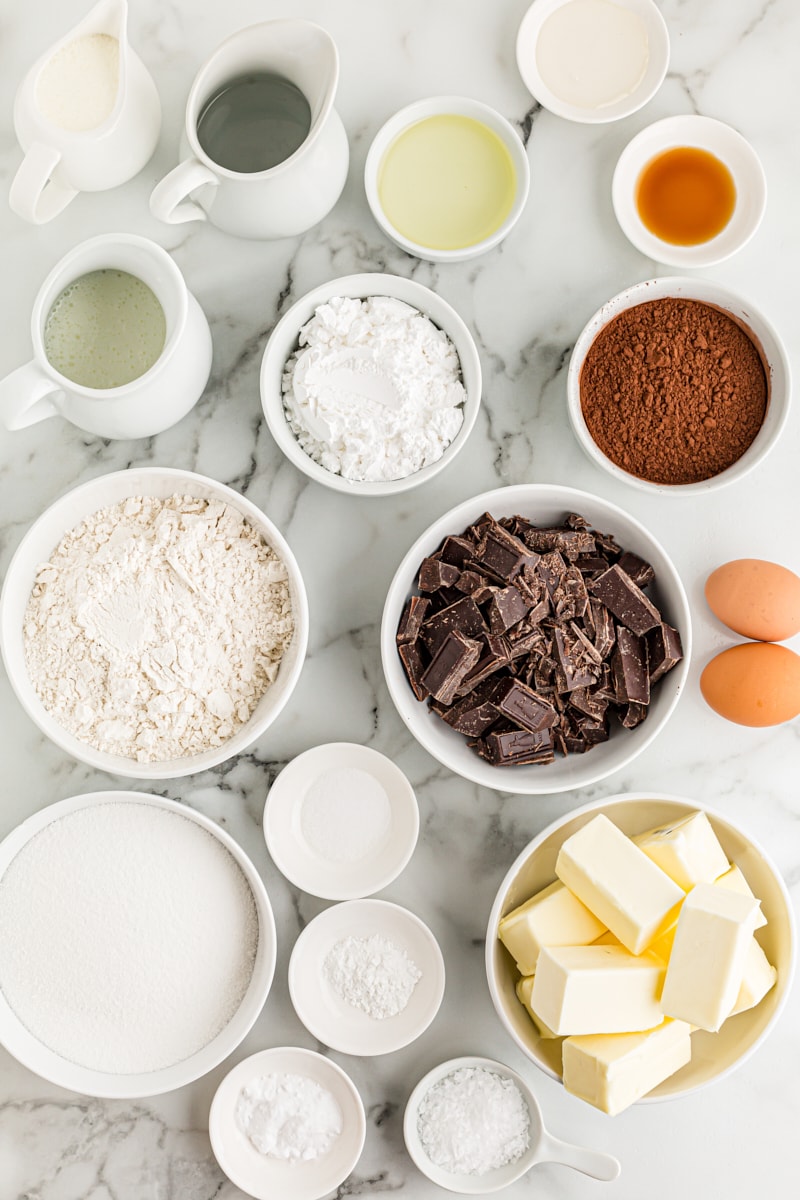 What You'll Need
Scroll down to the recipe card to find the ingredient quantities and recipe instructions.
For the cupcakes:
All-purpose flour – Learn more: How to Measure Flour
Unsweetened Dutch-process cocoa powder – Don't substitute natural cocoa powder; you'll need Dutch-process cocoa for its dark color and intense flavor.
Granulated sugar
Baking soda
Baking powder
Salt
Eggs – Let these come to room temperature.
Buttermilk
Vegetable oil – Canola oil is fine, too.
Vanilla extract – Use store-bought or homemade vanilla extract.
Warm water
Sea salt – Use a flaky variety like Maldon or fleur de sel.
For the filling:
Granulated sugar
Water
Light corn syrup – Light corn syrup has a smooth vanilla flavor, so there's no need for additional vanilla in the filling.
Heavy cream – Accept no substitutes! You really need heavy cream here, not milk or half-and-half.
Sea salt
For the frosting:
Can I Just Use Milk for Buttermilk?
For this recipe, you can't. Buttermilk is necessary because its natural acidity reacts with the baking soda in the batter, making your cupcakes light and fluffy.
If you don't have—or don't want to buy—buttermilk, the best alternative is to add a tablespoon of white vinegar to a liquid measuring cup, then pour in whole milk until it reaches the 1 cup mark. Give it a stir and let it sit for 5 minutes; it will curdle and make an excellent buttermilk substitute. (This will make a cup of buttermilk; you can freeze the extra for another time.)
You can also thin sour cream or Greek yogurt with water or milk and use that instead of buttermilk. Learn more: Buttermilk Substitutes in Baking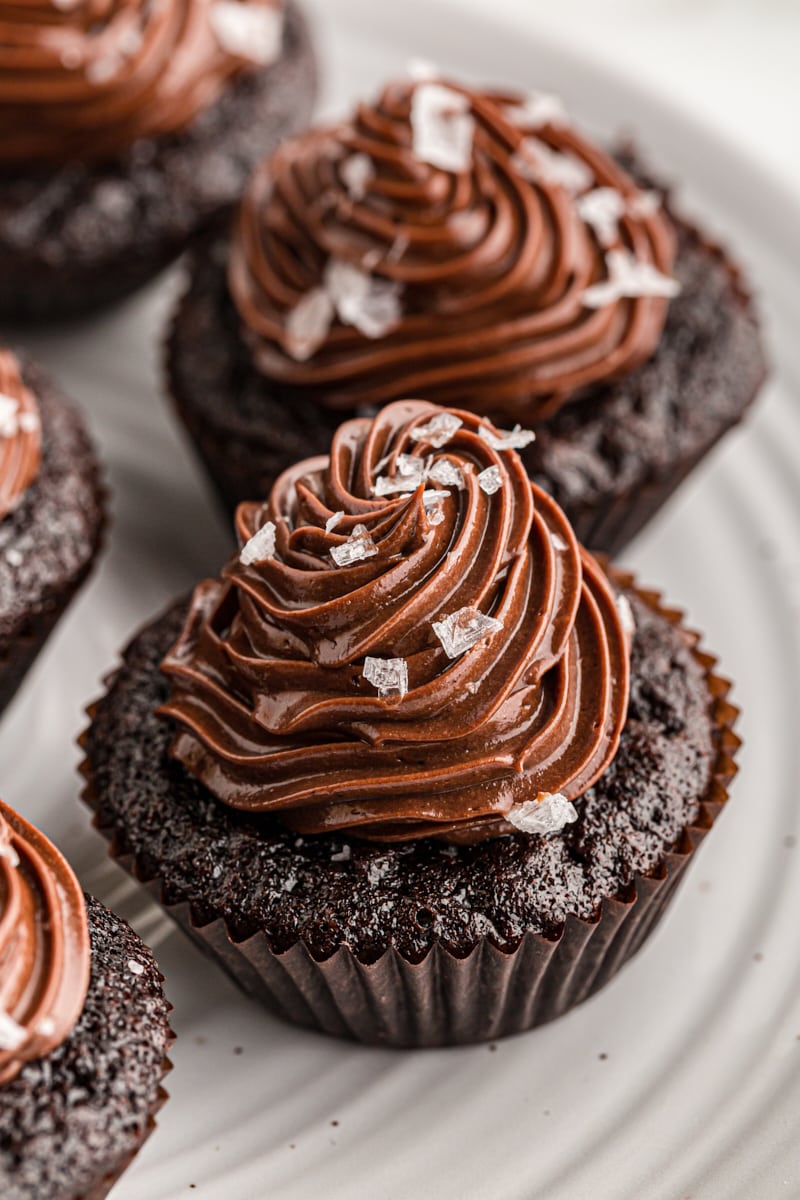 How to Make Chocolate Salted Caramel Mini Cupcakes
If you don't have a big block of time to make this recipe from start to finish, you can easily break it up into steps. The baked cupcakes can be stored overnight in an airtight container before filling and frosting, or you can freeze them for up to a month.
Make the cupcakes:
Prepare. Preheat your oven to 350°F and line mini muffin pans with paper liners.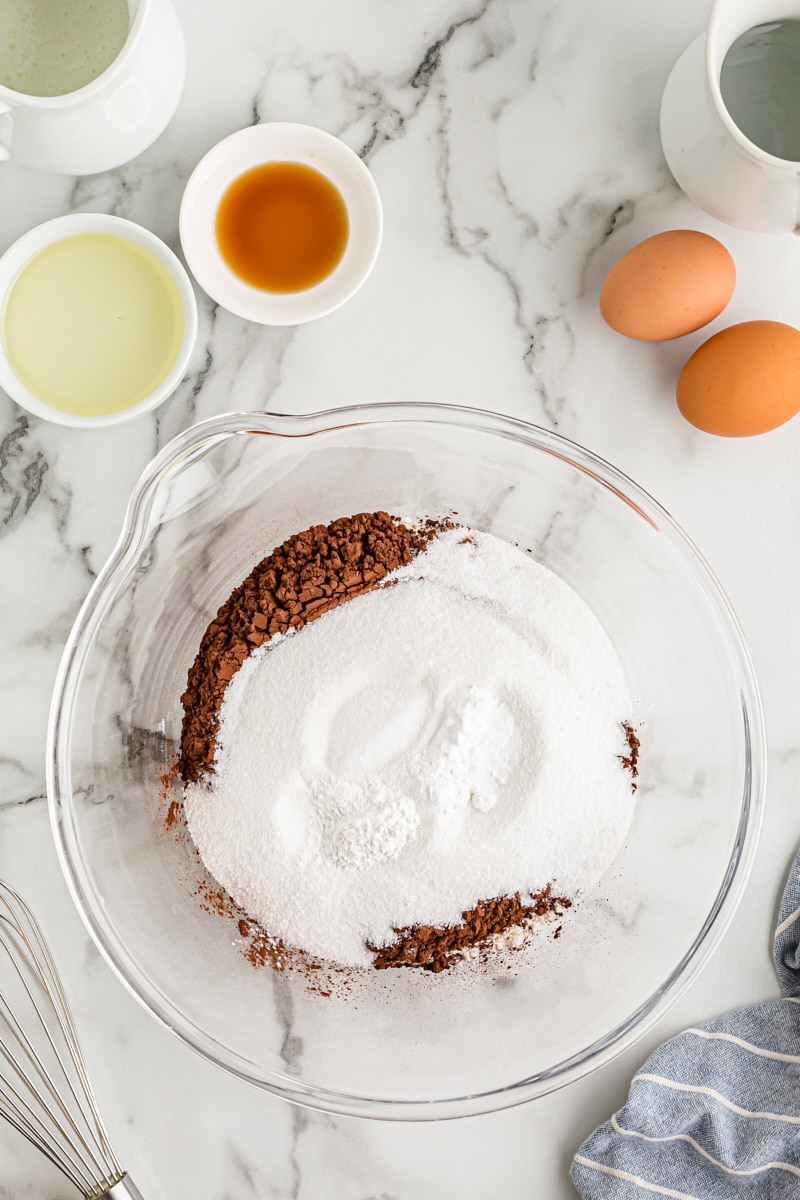 Make the batter. Whisk together the flour, cocoa, sugar, baking soda, baking powder, and salt in a large mixing bowl. Add the eggs, buttermilk, oil, vanilla, and water, then beat until smooth with an electric mixer on low speed.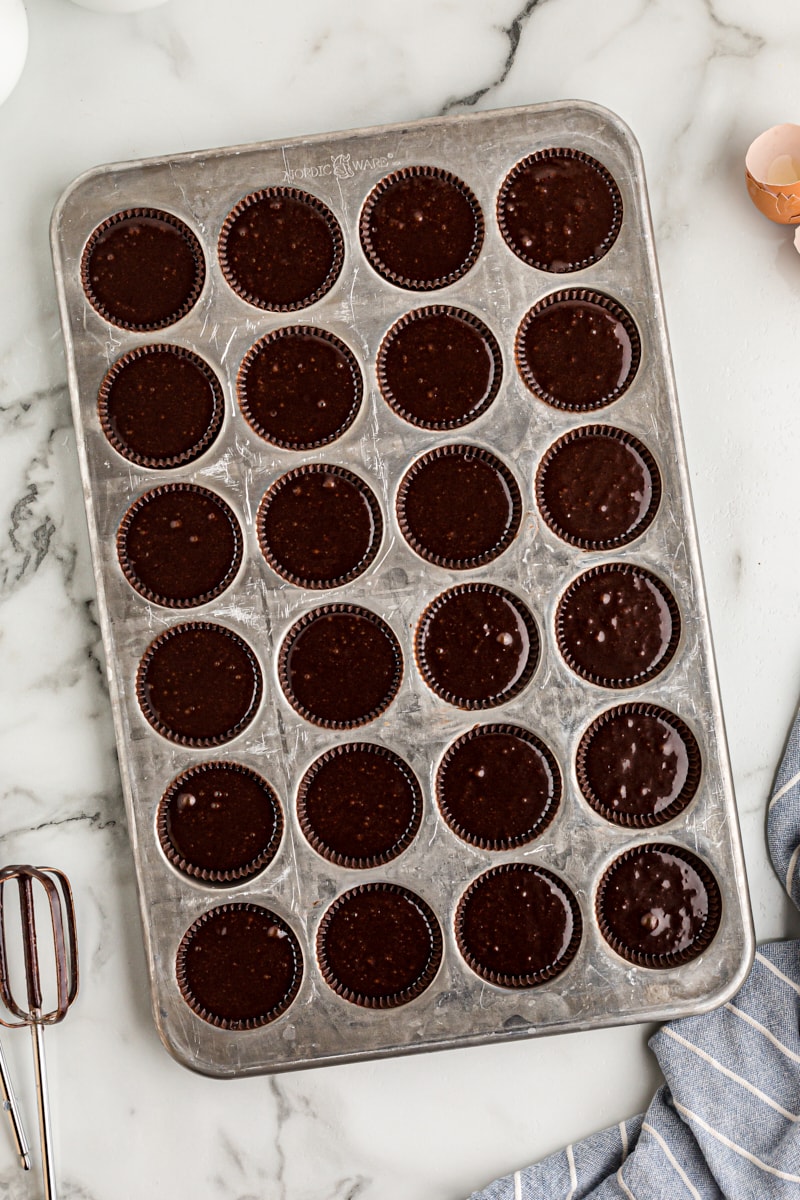 Bake. Fill each cup in the muffin pan about two-thirds of the way with the batter. Bake one pan at a time for about 15 minutes, or until a toothpick inserted in the center comes out clean.
Cool. Let the mini cupcakes cool in the pans on wire racks about 10 minutes. Then, transfer the cupcakes from the pans directly to wire racks to finish cooling. (Learn more: Why Every Baker Needs Wire Cooling Racks)
Make the filling:
Start the caramel mixture. Combine the sugar, water, and corn syrup in a heavy saucepan set over high heat. Stir occasionally until the sugar dissolves and the syrup is clear. Attach a candy thermometer to the side of the pan and stop stirring. Cook the syrup until it comes to a boil, washing down the sides of pan with a wet pastry brush as needed.
Let the syrup caramelize. Boil and gently swirl the pan occasionally until the syrup is caramelized and the temperature just reaches 360°F. Remove from the heat.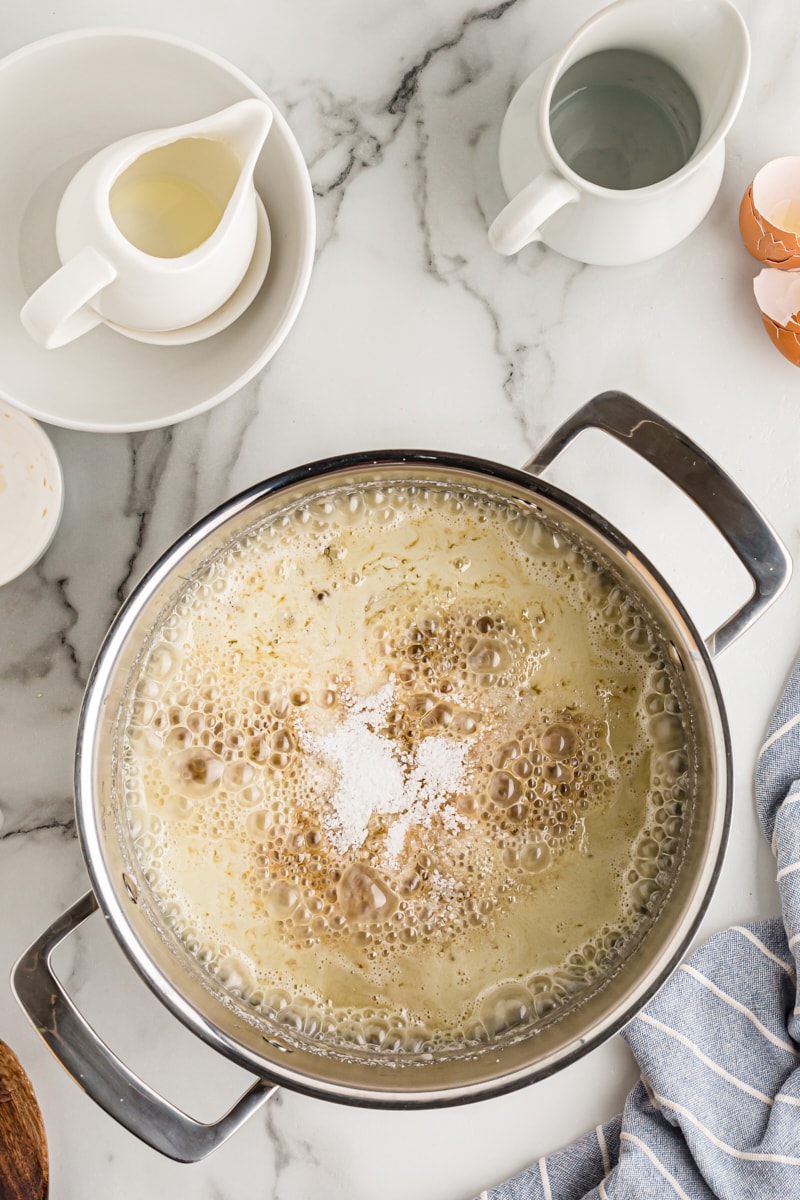 Finish the filling. Slowly pour the cream into the caramel and stir with a wooden spoon until the mixture is smooth. Stir in the sea salt. If the caramel begins to harden, reheat it over low heat until it's pourable.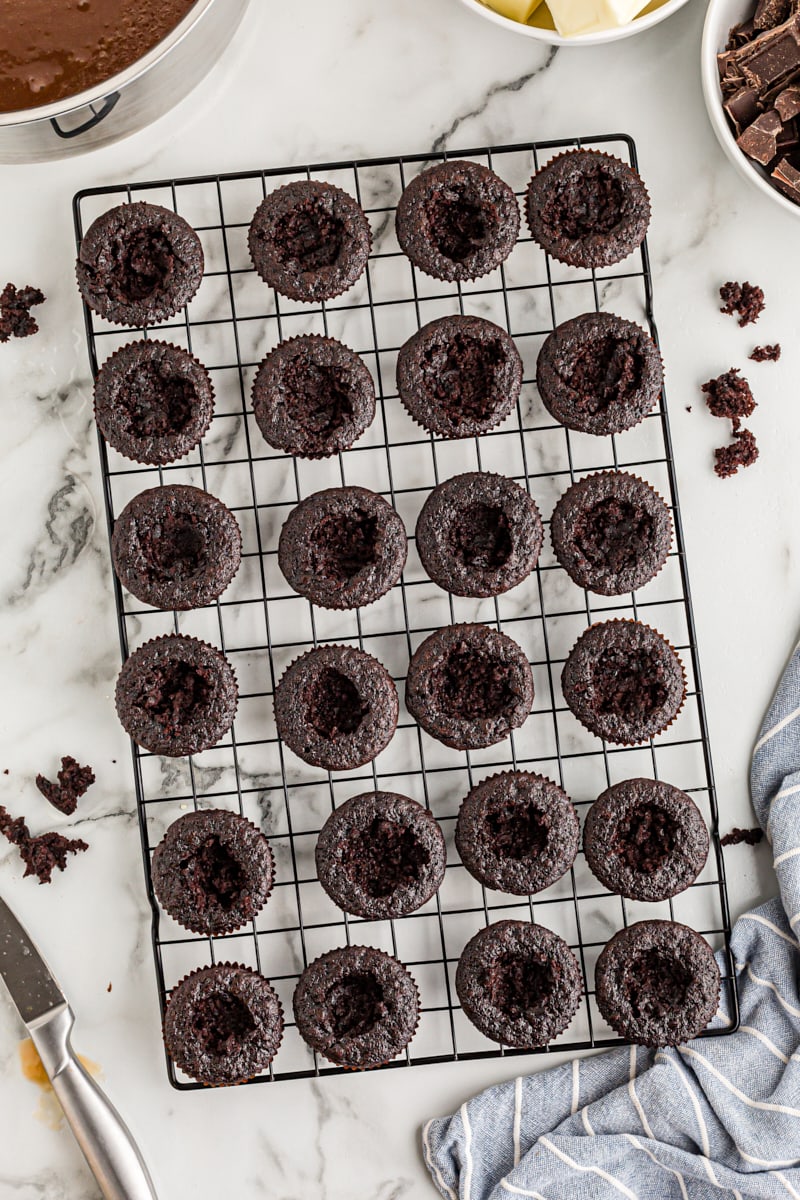 Fill the cupcakes. Using a paring knife to cut a cone-shaped divot from the center of each cupcake. Spoon a teaspoon or two of salted caramel into the cupcakes, then sprinkle a pinch of sea salt over the filling.
Make the frosting and finish:
Hydrate the cocoa powder. Combine the cocoa and boiling water in a small mixing bowl and stir until the cocoa is dissolved.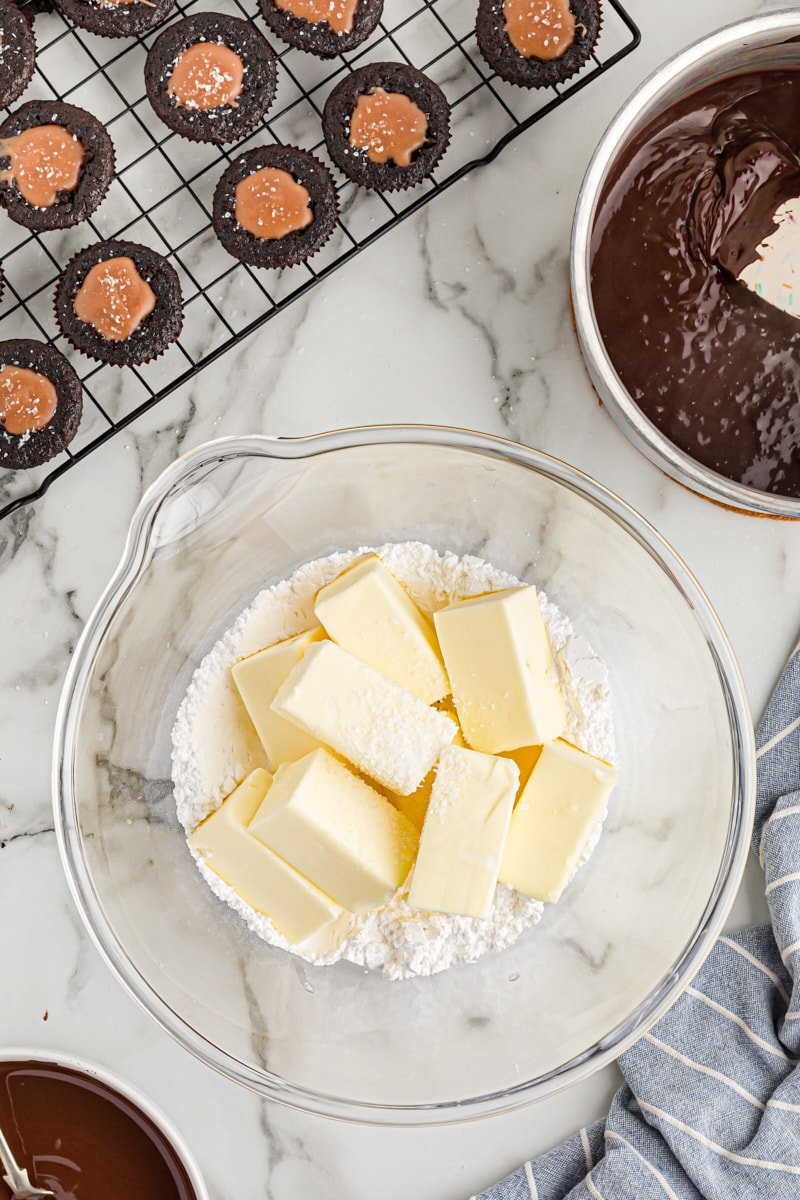 Finish the frosting. Use an electric mixer on medium-high speed to beat the butter, confectioners' sugar, and salt until the mixture is pale and fluffy. Reduce the speed to low and add the melted and cooled chocolate. Beat until combined, then beat in the cocoa mixture.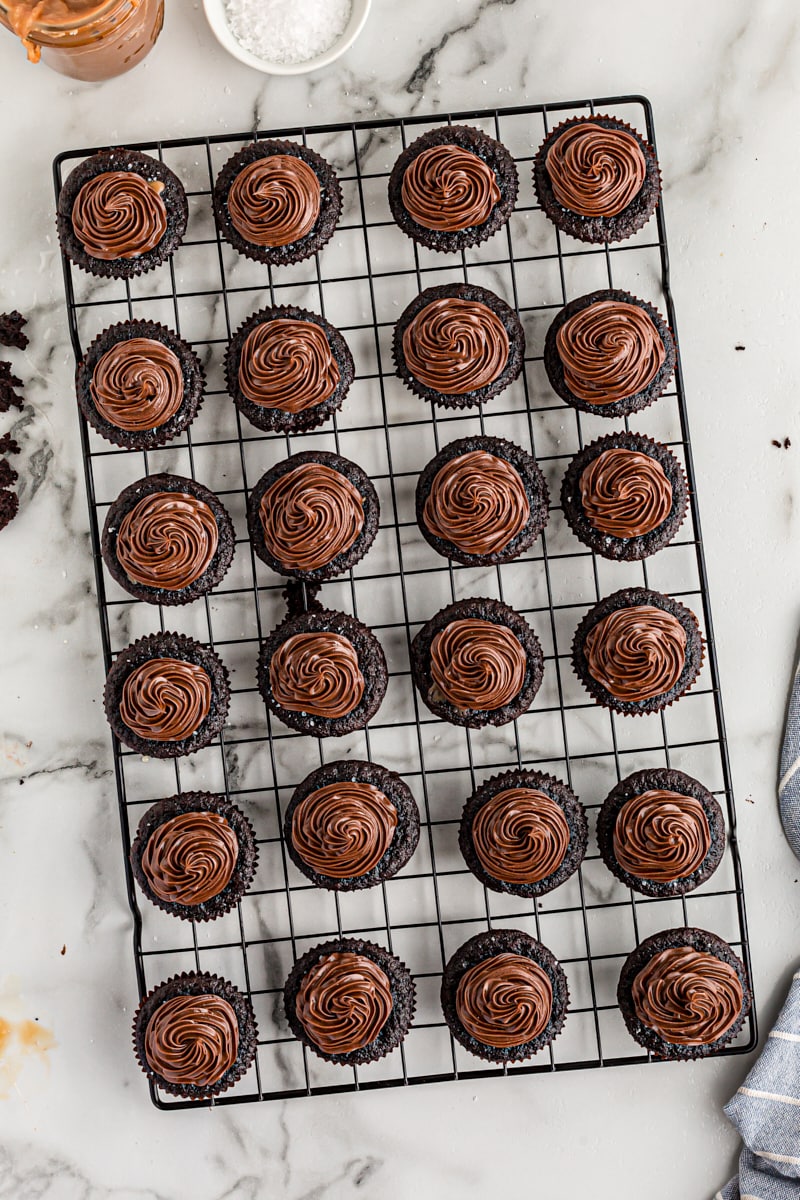 Frost. Pipe the frosting onto the cupcakes, and garnish with a pinch of sea salt. These were frosted using Wilton #18, a medium open-star tip.
How to Frost Cupcakes Without Piping
If you don't have piping bag or tips, you can scoop the frosting into a zip-top bag, snip off the corner, and use that to make swirls of frosting on top of your chocolate salted caramel mini cupcakes.
Another option is to use an offset spatula. It's a little more elegant than using a butterknife (although that certainly works in a pinch!), and a lot easier than piping.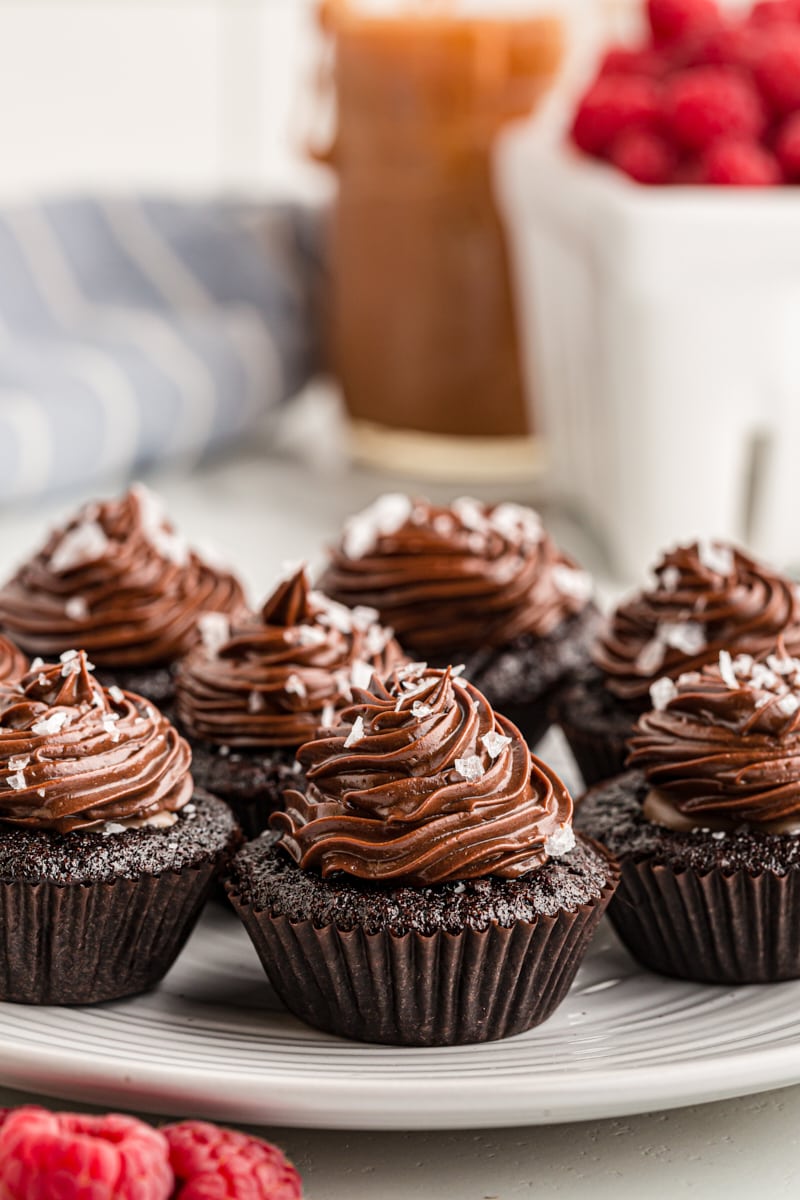 Tips for Success
Read my baking tips for beginners, then use these additional pointers for perfect chocolate salted caramel mini cupcakes.
Don't over-mix the batter. The buttermilk makes these cupcakes light and airy, but over-mixing the batter will pop the bubbles formed by the buttermilk and baking soda reaction and overwork the gluten in the flour, leaving your cupcakes flat.
Fill the mini muffin tin without making a mess. If you have a small cookie dough scoop, use that to fill the mini muffin tin. Otherwise, use a small measuring spoon to fill the muffin cups without getting batter all over the pan.
Work quickly. When you're filling the cupcakes with the caramel, you'll need to work fast, as the caramel will start to harden once it's removed from the heat. You can prepare the cupcakes prior to starting the caramel so they're ready to go.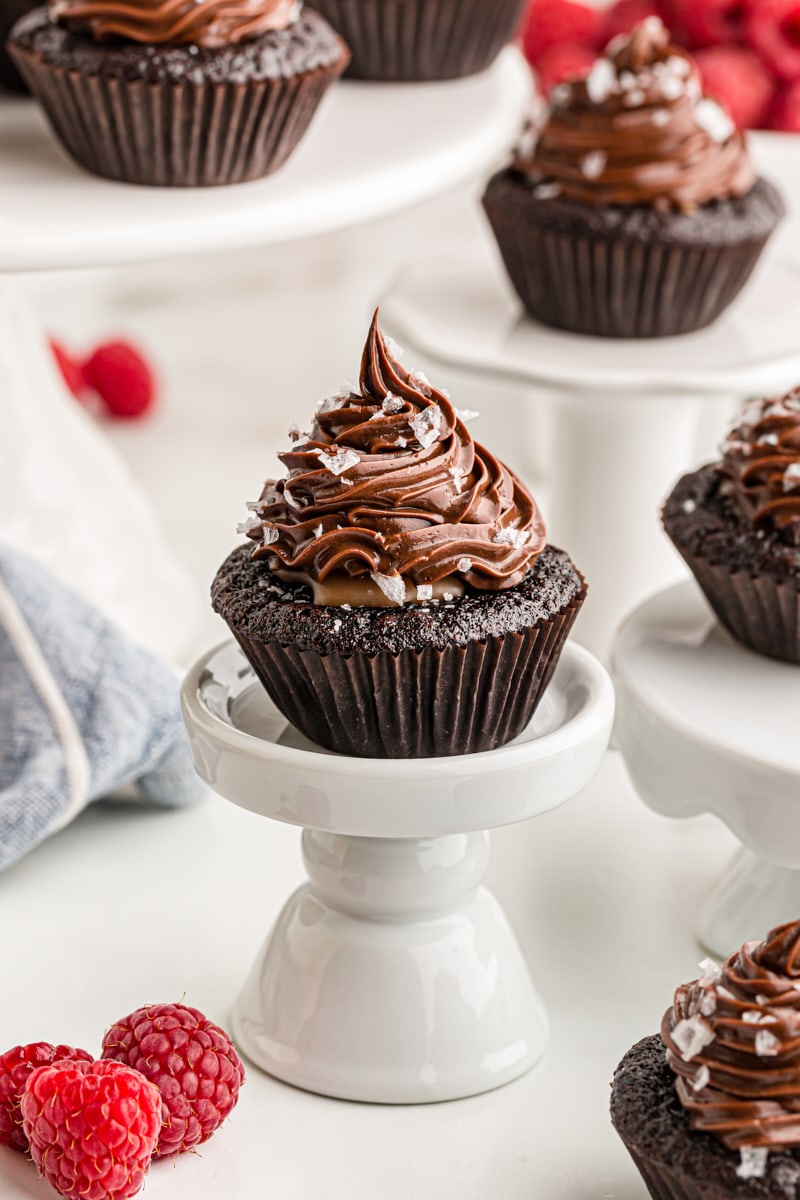 How to Store Leftovers
These cupcakes are best eaten the day they are filled and frosted. Store any leftovers at room temperature in an airtight container for a day or two.
Can This Recipe Be Frozen?
Once frosted, you can freeze these chocolate salted caramel mini cupcakes for up to 2 months. Set them on a baking sheet and place them in the freezer until the frosting is frozen solid. Then, transfer the cupcakes to an airtight container or freezer bag. Let them thaw at room temperature before serving.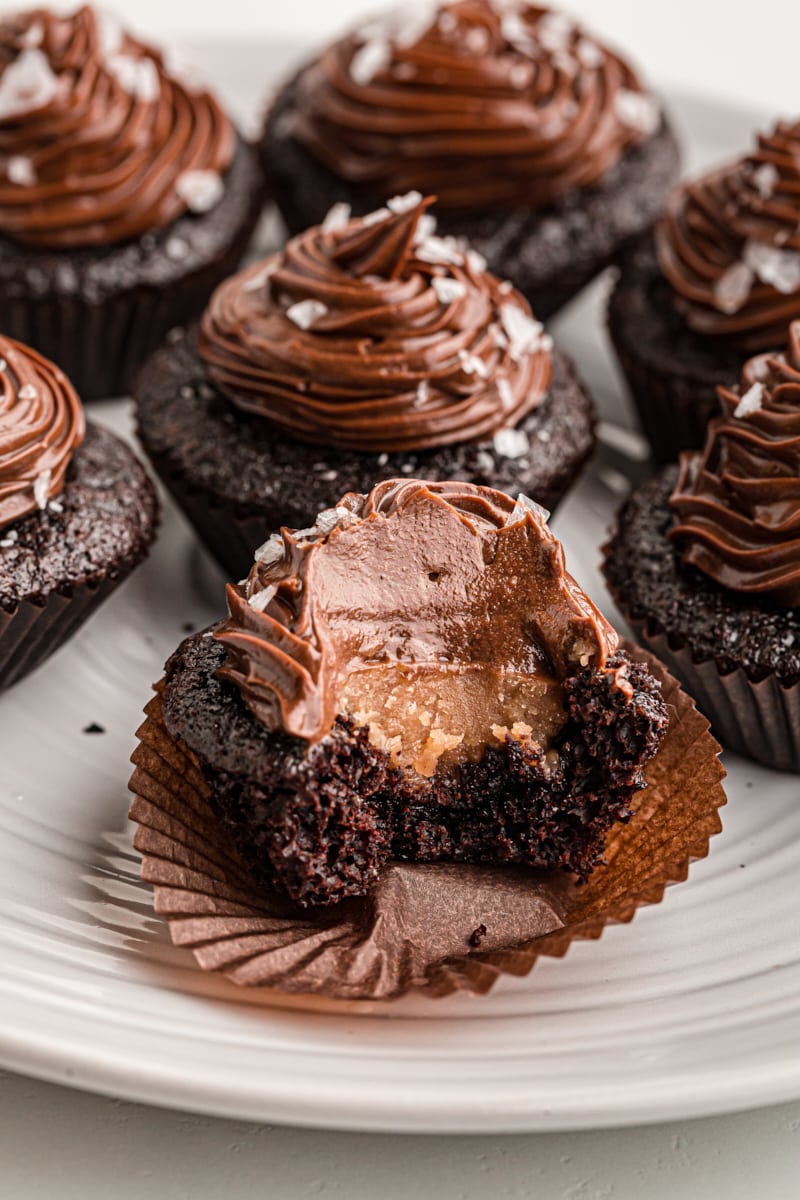 More Mini Dessert Recipes