Attention chocolate lovers! These double chocolate cookies are destined to become a new favorite. With melted bittersweet chocolate folded into the dough and lots of chocolate chips, you get maximum decadence in every bite.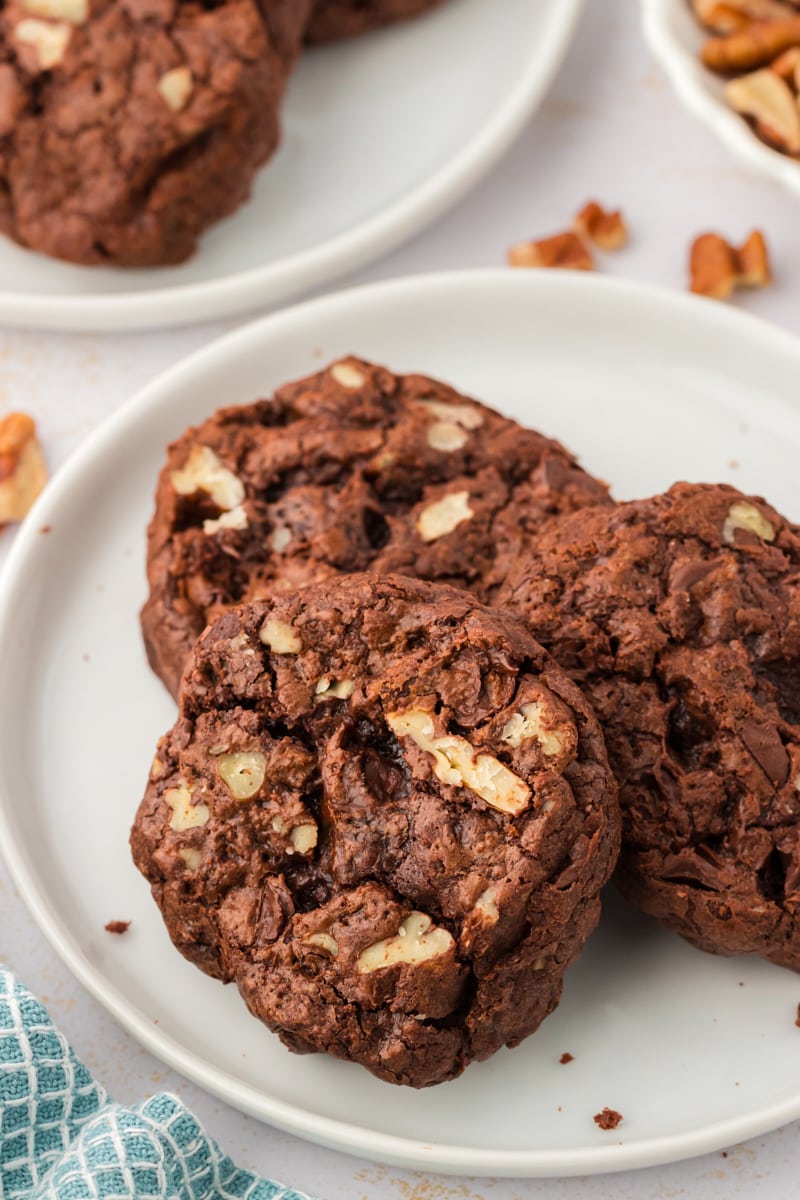 Decadent Double Chocolate Chip Cookies
It's hard to argue with chocolate, much less double chocolate, so when I stumbled upon this recipe several years ago, I knew I had to make it immediately.
Double chocolate cookies, like Drop Sugar Cookies and Big Chewy M&M Cookies, are an everyday kind of cookie you can easily enjoy year-round. But they're also special enough that they'd be right at home on a tray of homemade Christmas cookies.
As you would expect, these cookies are quite rich and decadent. You certainly won't be able to overindulge. One of these babies goes a long way. But, of course, that makes them perfect for sharing—a big plus for the holidays!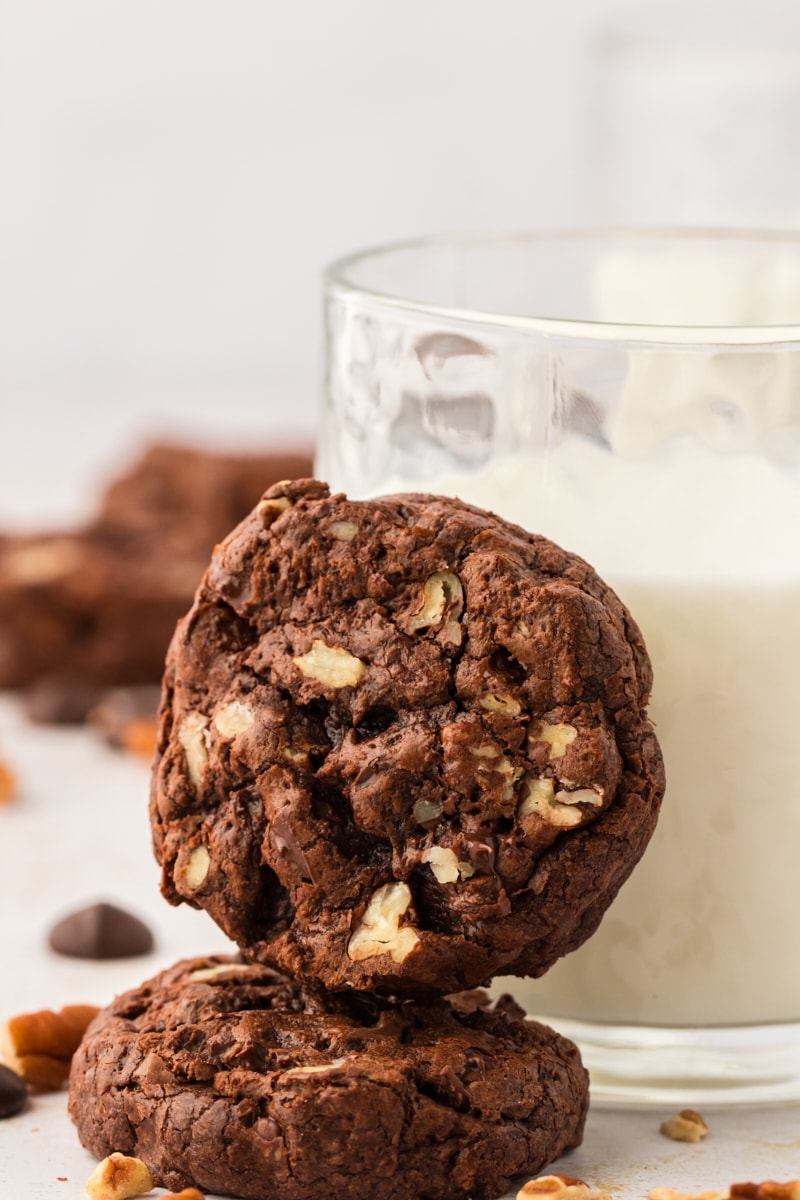 Why You'll Love This Double Chocolate Cookies Recipe
Here's what makes these double chocolate cookies a standout:
The ultimate rich chocolate cookie. These cookies may look innocent, but they pack a serious chocolate punch. With both melted chocolate and chocolate chips, you're sure to get your chocolate fix.
Easy to make. You probably have a lot of the ingredients on hand already and the process is quite simple. If you can make Chewy Chocolate Chip Cookies, you can make these double chocolate cookies!
Versatile. Customize the recipe with your choice of mix-ins. I share some of my favorite ideas later in this post!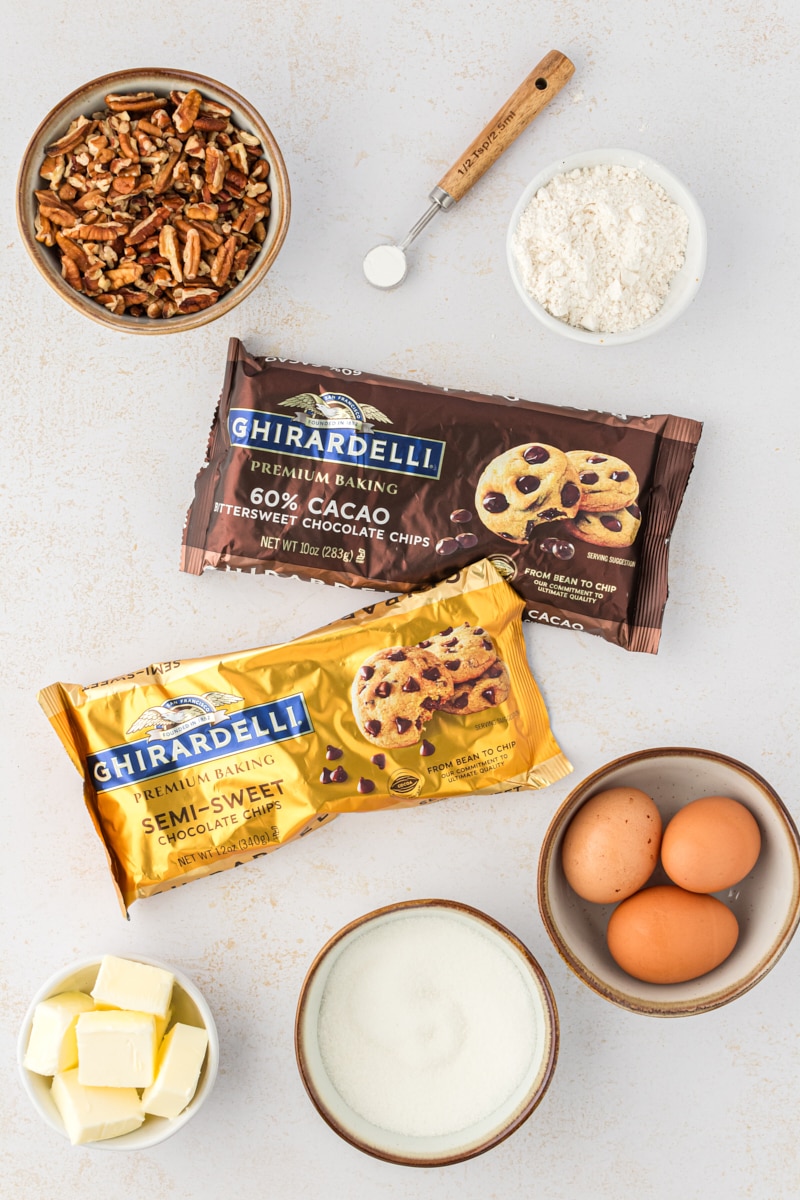 What You'll Need
Scroll down to the recipe card to find the ingredient quantities and recipe instructions.
Bittersweet chocolate chips – Look for about 60% cacao.
Unsalted butter – Learn more: Unsalted or Salted Butter: Which is Better for Baking?
Eggs – I recommend baking with large eggs.
Granulated sugar
All-purpose flour – Here's how to measure flour for baking.
Baking powder
Semi-sweet chocolate chips – You can also use a coarsely chopped chocolate bar or chocolate chunks instead.
Chopped nuts – Like pecans, walnuts, or hazelnuts.
Is Bittersweet the Same as Dark Chocolate?
Bittersweet chocolate is a type of dark chocolate. It typically has a higher percentage of cocoa solids and less sugar than other varieties of dark chocolate like semisweet. It also has a more intense, slightly bitter flavor. Learn more: Types of Chocolate: A Home Baker's Guide
How to Make Double Chocolate Cookies
There are two methods for making these cookies. The first is the one from the original recipe that I adapted these cookies from. I'll share the second method right below that. Choose whichever works best for you!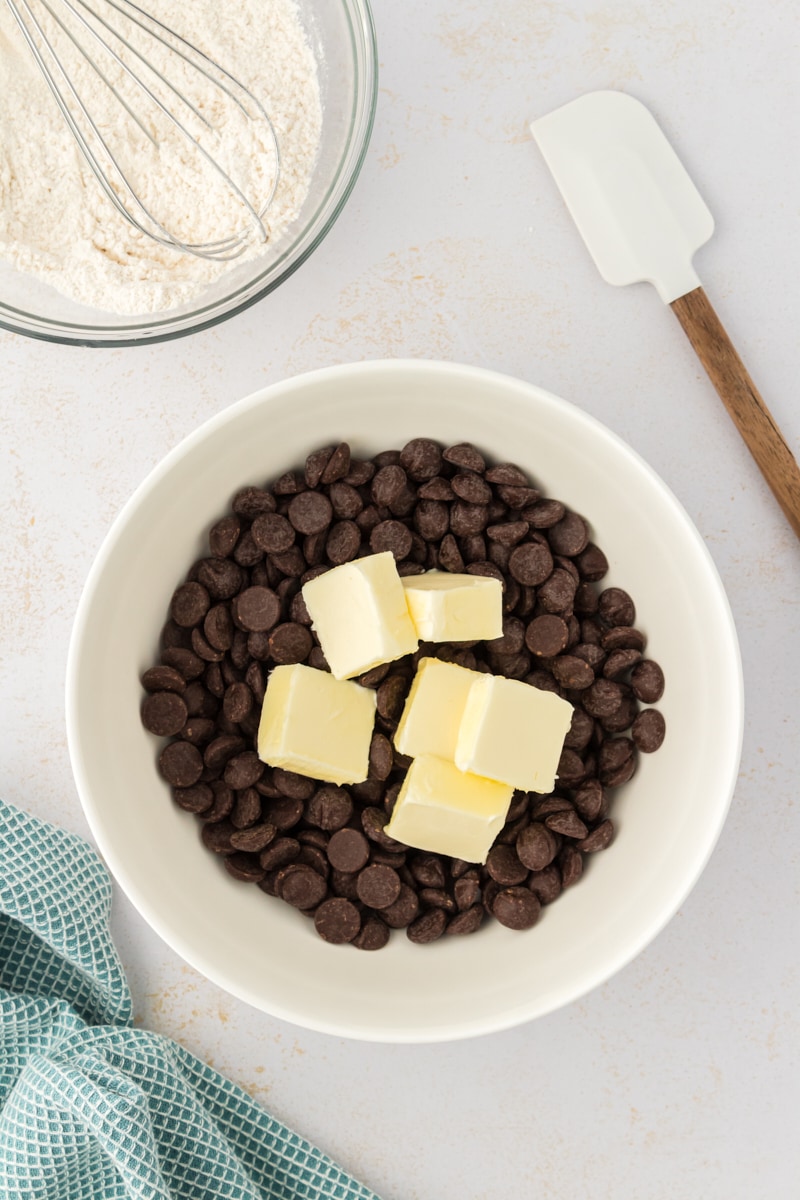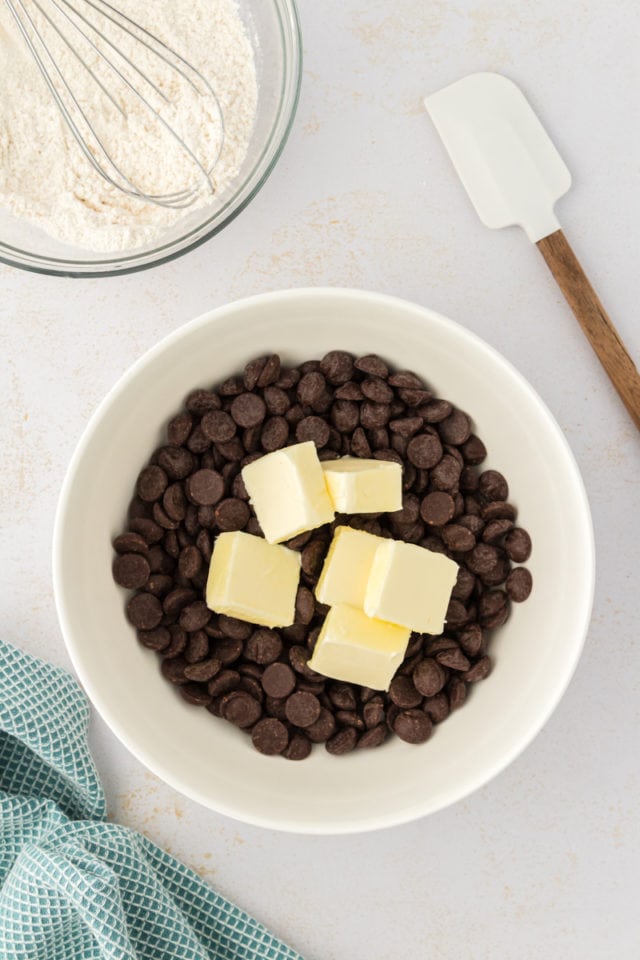 Combine the chocolate and butter. Melt the bittersweet chocolate chips and butter in a double boiler or in the microwave. Cool slightly.
Mix the dry ingredients. Whisk the flour and baking powder in a separate bowl.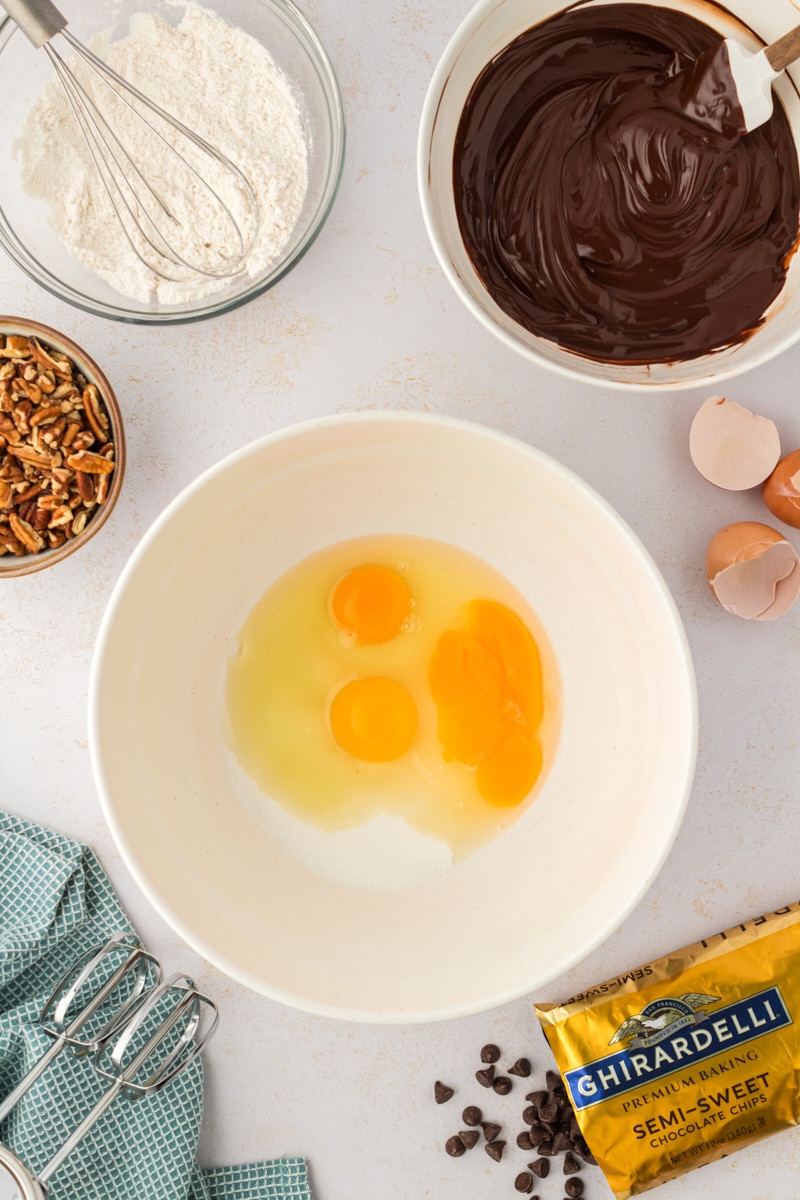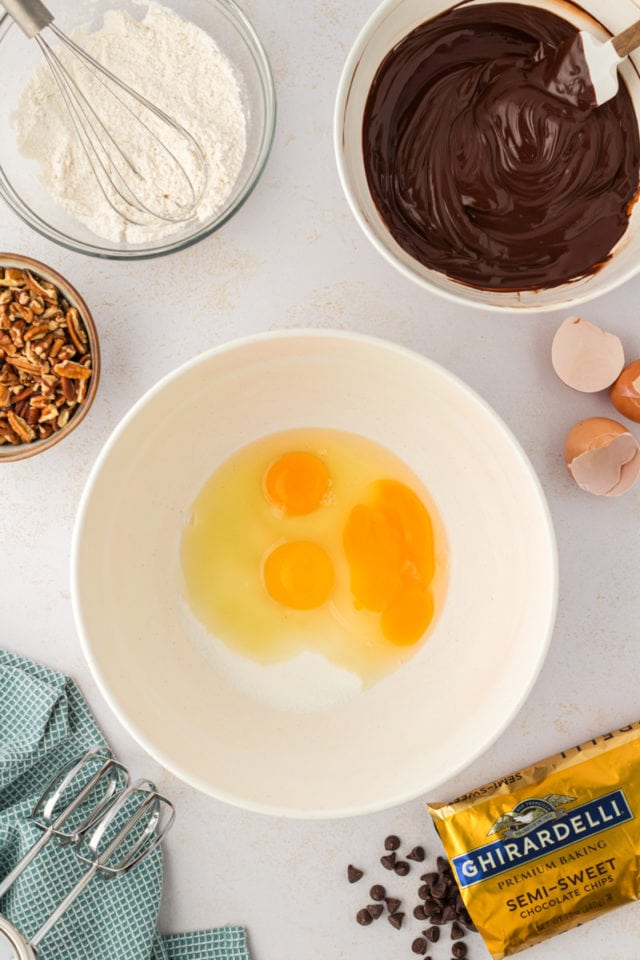 Mix the wet ingredients. In a large bowl, beat the eggs and sugar until the mixture is thick. Stir in the chocolate mixture.
Finish the dough. Stir the flour mixture into the wet ingredients, then fold in the semisweet chocolate chips and nuts.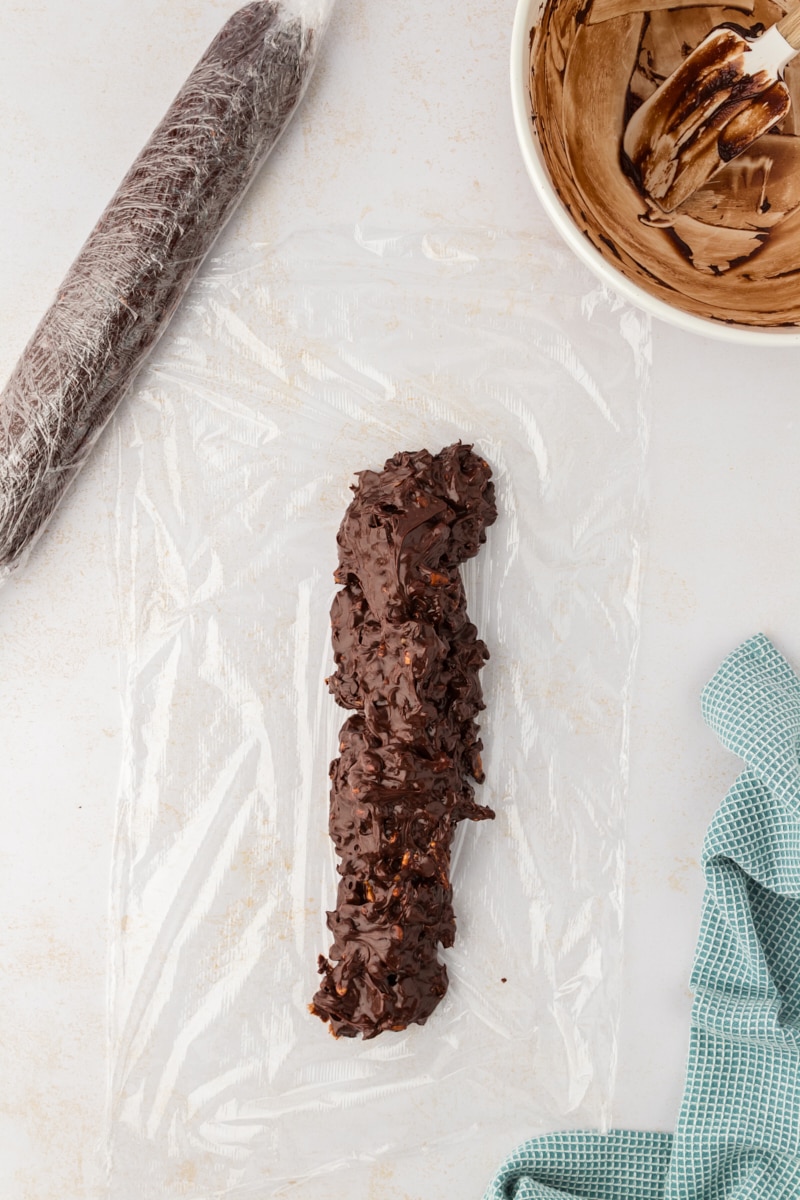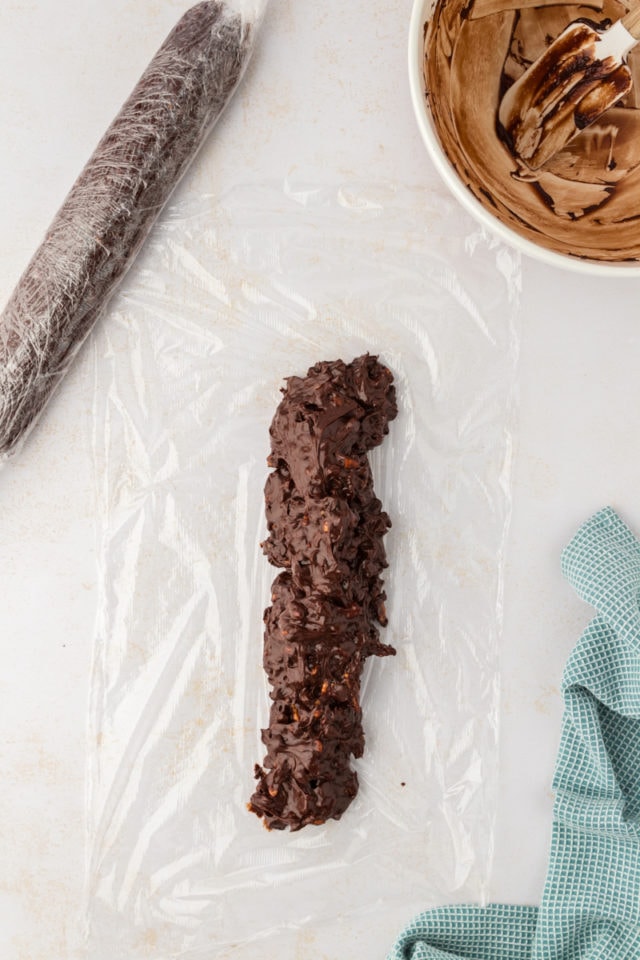 Form the dough into logs. Divide the dough into two portions; place each on a large piece of plastic wrap and shape them into logs about 2 inches in diameter and 12 inches long.
Chill. Refrigerate the dough until it's firm.
Prepare. Preheat your oven to 375°F and line baking sheets with parchment paper or silicone liners.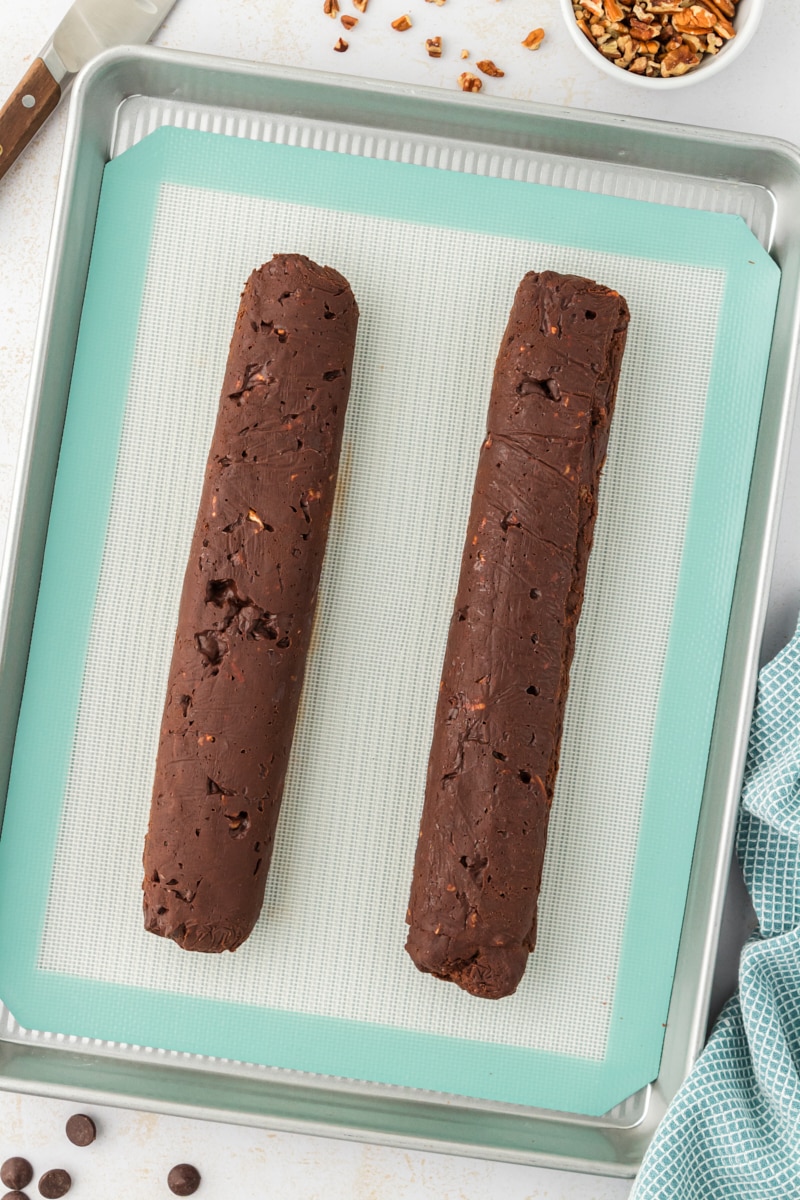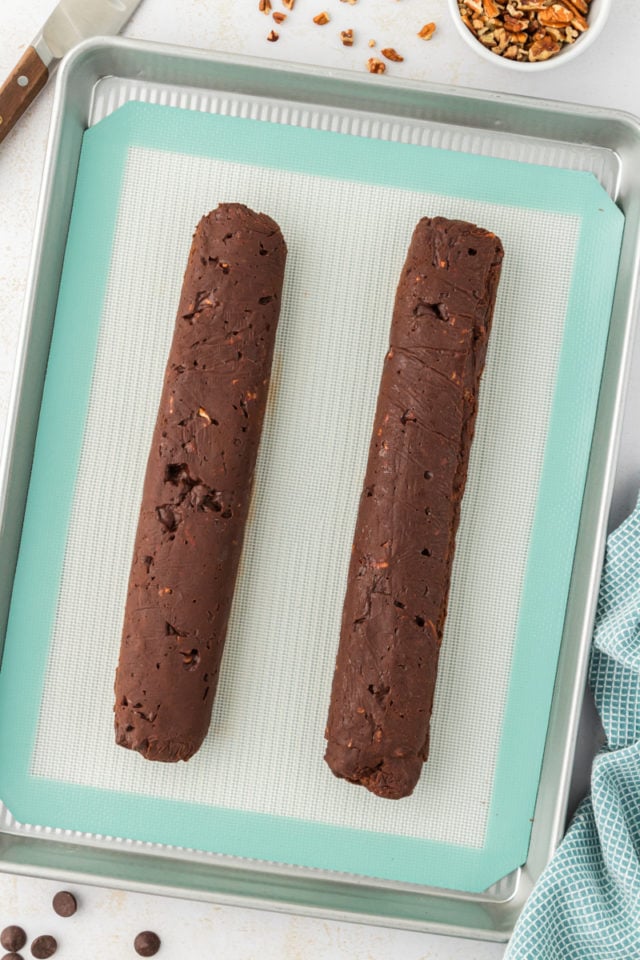 Cut the cookies. Unwrap the chilled dough and slice it into 3/4-inch rounds.
Bake. Set the cookies on the prepared pans with 2 inches of space between them. Bake one pan at a time for 12 to 14 minutes, or until a shiny crust forms on top but the interior is still soft.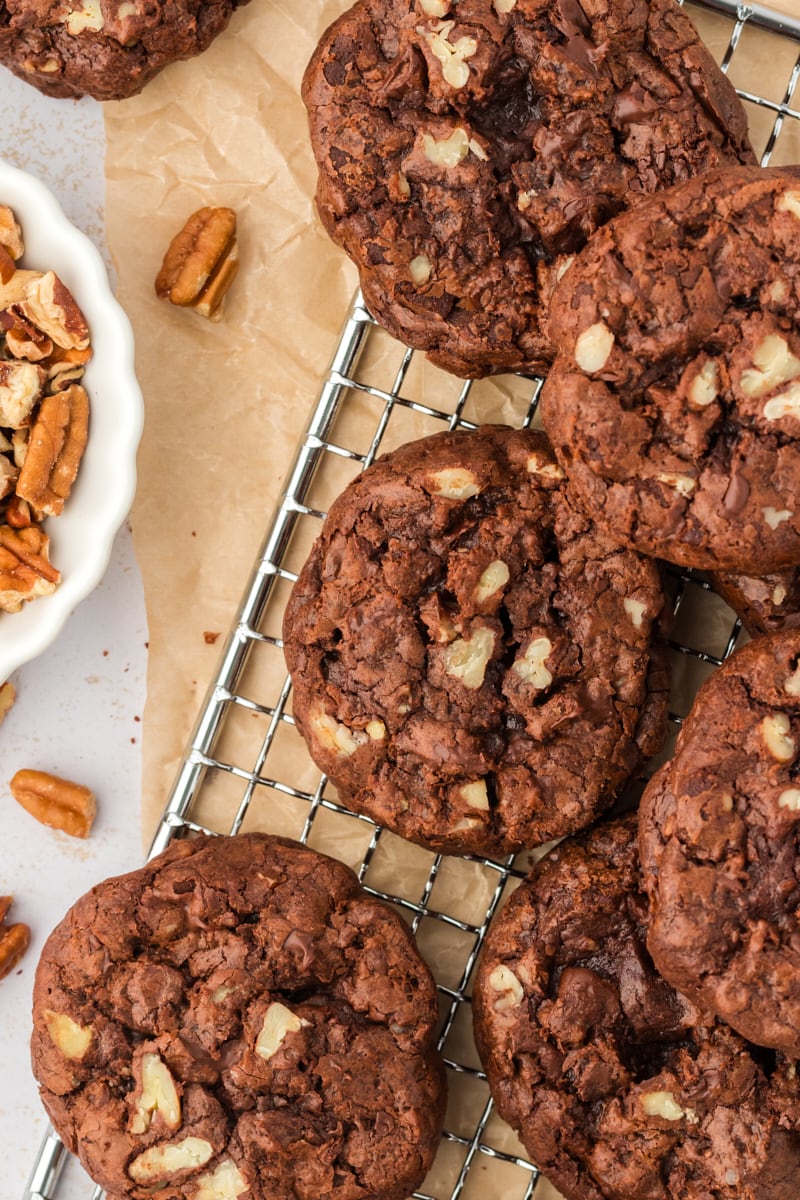 Cool. Let the cookies cool on the pans for 5-10 minutes, then transfer them to a wire rack to finish cooling.
Drop Cookie Method
For even easier double chocolate cookies, you can simply chill the dough in the mixing bowl for about an hour, then use a cookie dough scoop to form the cookies instead of forming logs and slicing. While drop cookies aren't quite as perfect as they might be with the slice-and-bake method, this does mean they're ready to eat faster—and who can argue with that?!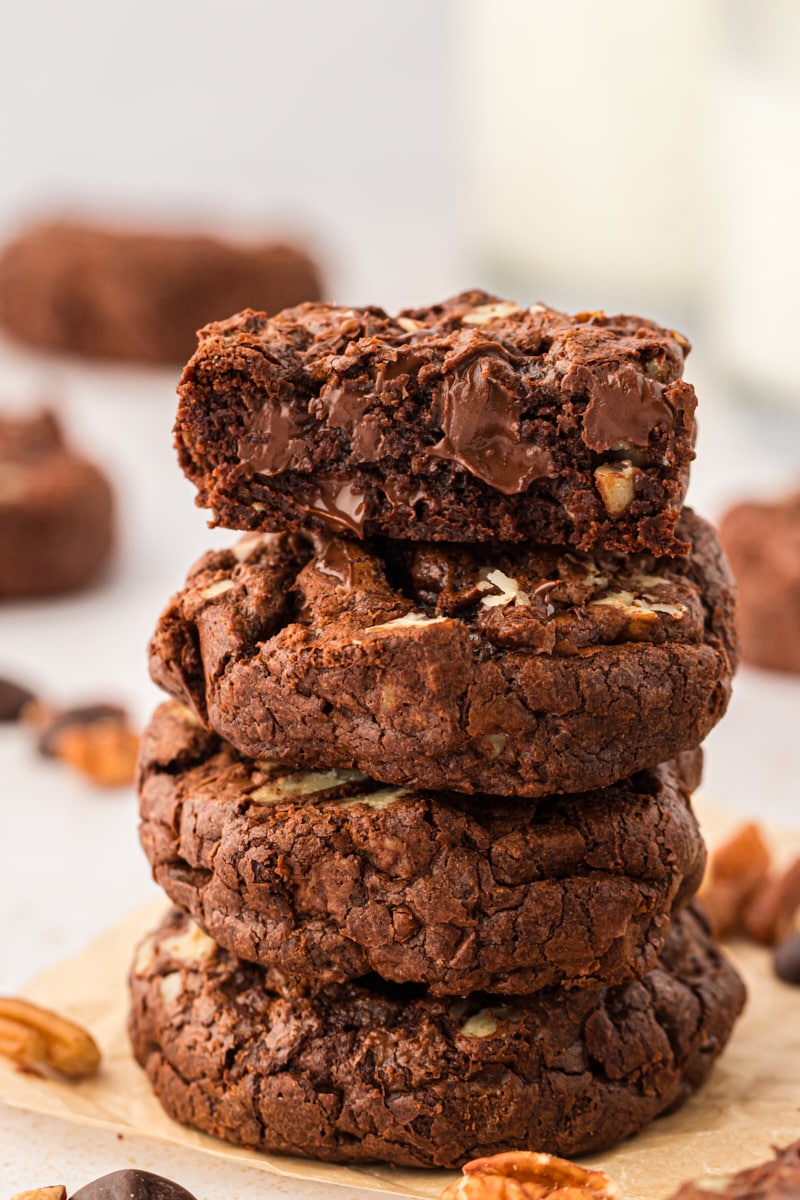 Tips for Success
Read over my baking tips for beginners, then follow these additional pointers for double chocolate cookies:
Use high-quality ingredients. When you're working with chocolate, the quality of your ingredients really matters.
Be careful not to over-mix. It's okay if there are a few lumps in the batter. Over-mixing can result in tough cookies.
Chill the dough. This will make it easier to handle and shape, as well as help prevent spreading while baking. You'll also want to refrigerate the dough between batches.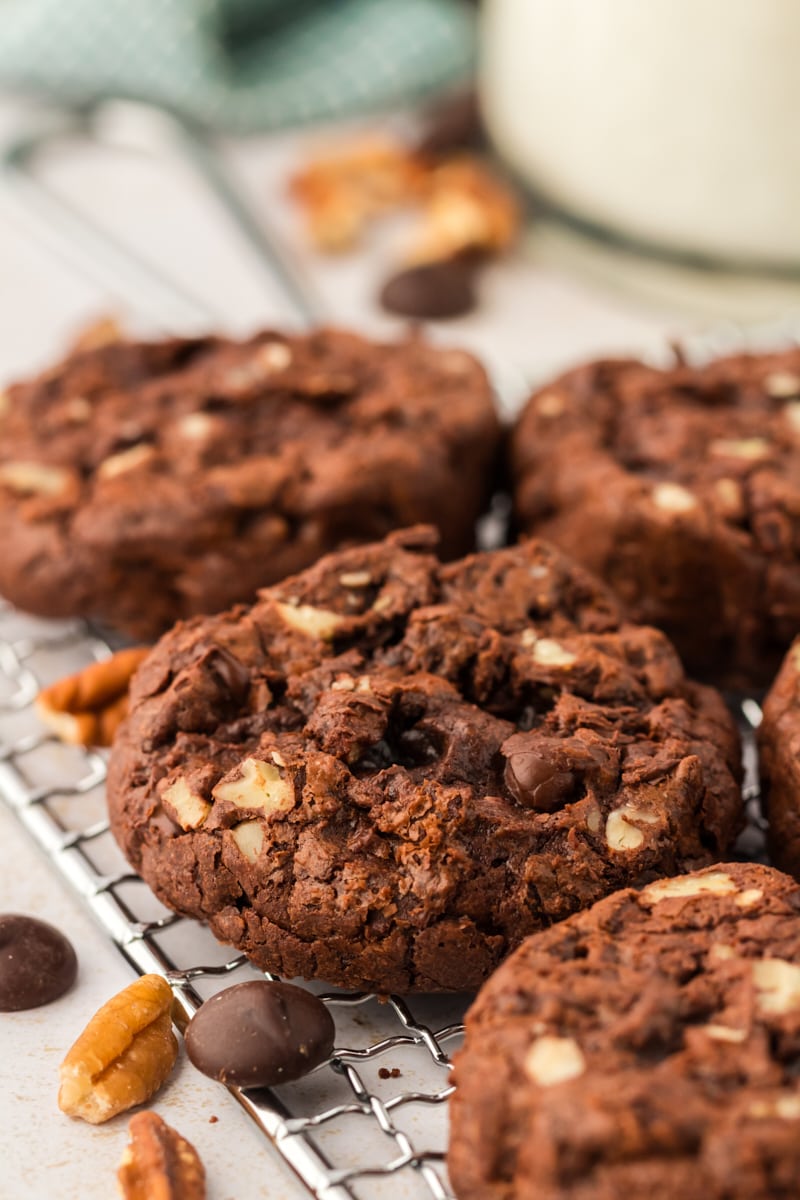 Variations
If you're not a fan of nuts, you can leave them out or replace them with something else. Here are a few ideas to try:
White chocolate chips. These add a creamy contrast to the dark chocolate.
Peanut butter chips. You can't go wrong with peanut butter and chocolate together! Mini baking peanut butter cups would also be delicious.
Dried cherries. The tartness of dried cherries pairs perfectly with the rich chocolate flavor in these cookies.
Crushed candy canes. For a holiday twist, mix in crushed candy canes for a delicious peppermint crunch.
Flaky sea salt. Sprinkle a small amount on top of the cookies as soon as they come out of the oven for a sweet and salty twist.
How to Store
Store double chocolate cookies in an airtight container at room temperature for up to 3 days.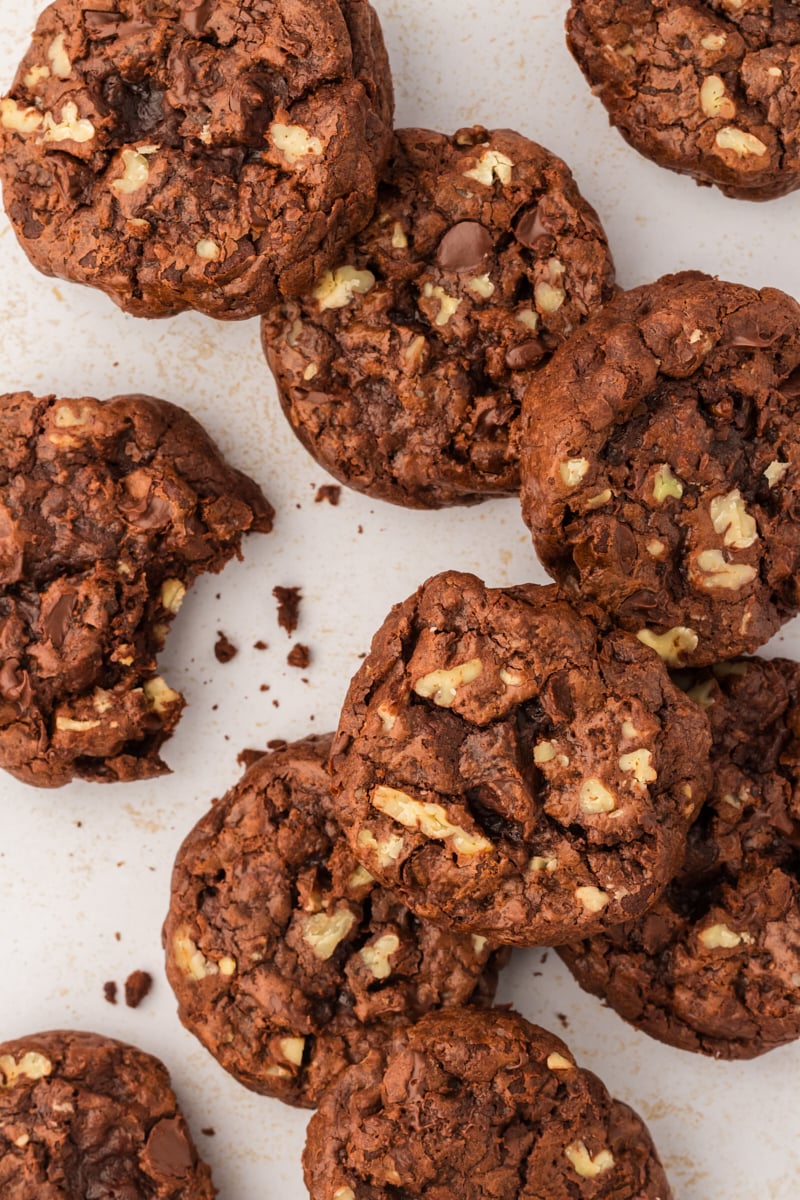 Can I Freeze This Recipe?
You can freeze these double chocolate cookies either before or after baking. To freeze the unbaked dough, shape it into logs and wrap tightly in plastic wrap; the logs of dough will last for about 2 months in the freezer. Let them thaw in the refrigerator, then slice and bake as instructed.
To freeze after baking, let the cookies cool completely before placing them in an airtight container or freezer bag. They will stay fresh in the freezer for up to 3 months. Let them thaw at room temperature before serving or reheat in the microwave for warm, gooey cookies.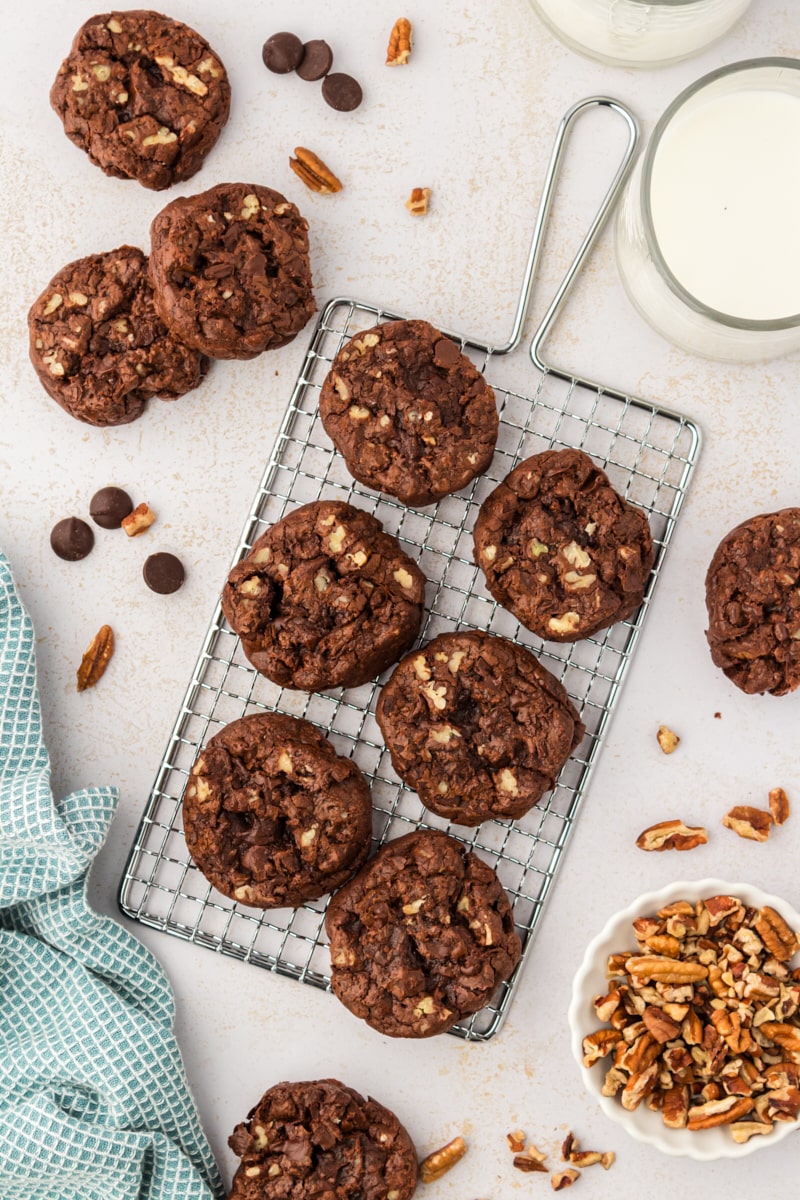 More Cookie Recipes for Chocolate Lovers