These chocolate mascarpone brownies are incredibly decadent, with a dense fudgy texture thanks to the addition of creamy mascarpone cheese. A layer of rich ganache over the top is the perfect finishing touch!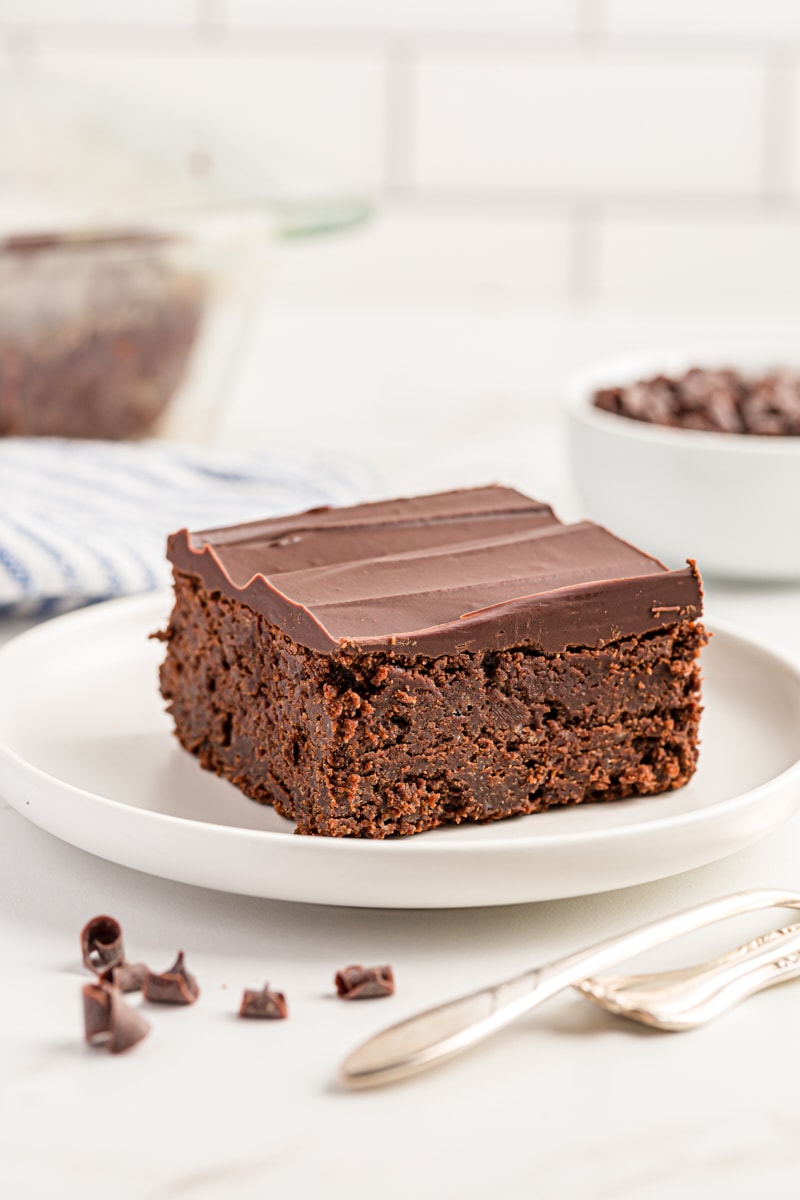 Rich Chocolate Brownies With Mascarpone Cheese
Brownies are humble in appearance, but they have the decadence of a fancy bakery dessert. If you ask me, this makes them the perfect treat for home bakers—you can whip them up with minimal effort, but they taste like a true indulgence. And this recipe for chocolate mascarpone brownies is definitely indulgent.
I found this recipe years ago on Recipe Zaar, a website that no longer exists, which is your first clue as to how long ago that was. While your thought upon hearing the name might be that these are something akin to a cheesecake brownie, the mascarpone is actually mixed into the batter (similar to my cream cheese brownies). This gives them a uniquely rich texture.
I first made these brownies for New Year's Eve, and the wonderful aroma that filled the kitchen was just heavenly. Few things offer a better smell than chocolate baking in the oven. If that weren't enough, adding chocolate ganache just pushed them over the top. Trust me when I tell you that these chocolate mascarpone brownies are truly decadent. For all you chocolate lovers, this is a must for your recipe collection.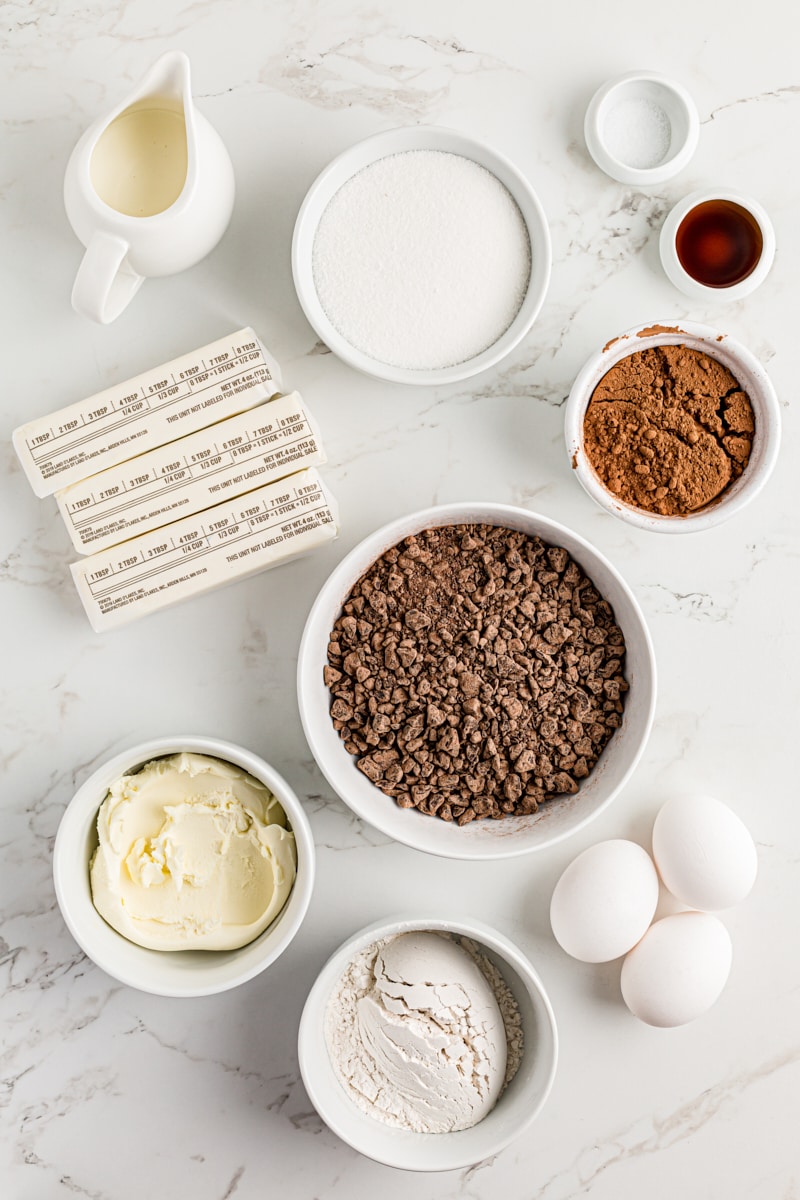 What You'll Need
Scroll down to the recipe card to find the ingredient quantities and recipe instructions.
For the Brownies:
For the Ganache:
Semisweet chocolate
Heavy cream – Don't substitute whole milk or half-and-half! Heavy cream is essential for that thick, fudge-like ganache texture.
Unsalted butter
Can I Replace Mascarpone With Cream Cheese?
Cream cheese will also work in this recipe, but to match the texture of mascarpone, add heavy whipping cream and sour cream to the cream cheese. Combine 12 ounces of room temperature cream cheese with 1/4 cup of heavy whipping cream and 1/4 cup of sour cream, then measure out the amount needed for this recipe. (Leftovers can be used to make my chocolate mascarpone tart or tiramisu cake.)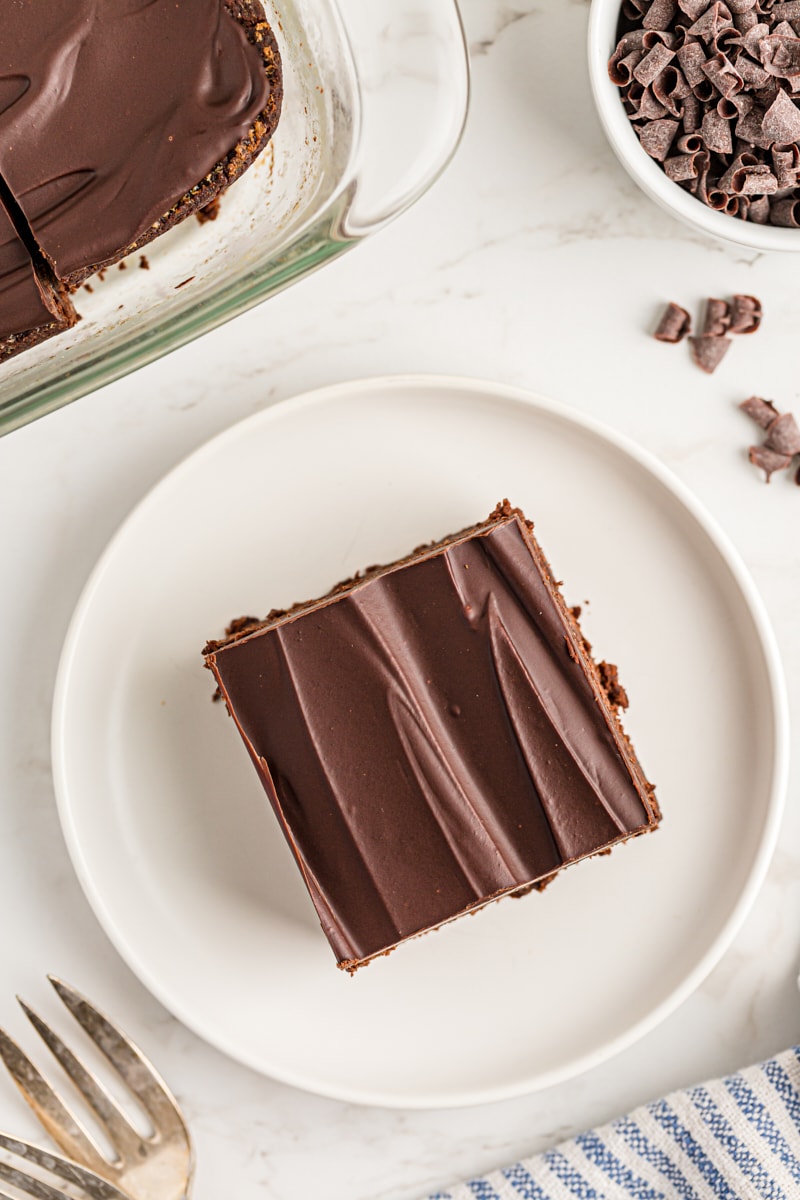 How to Make Chocolate Mascarpone Brownies
As with most brownie recipes, these chocolate mascarpone brownies are quite simple to make. Here's what you'll need to do.
Make the Brownies:
Prepare. Preheat your oven to 325°F and grease an 8-inch square glass baking pan with butter.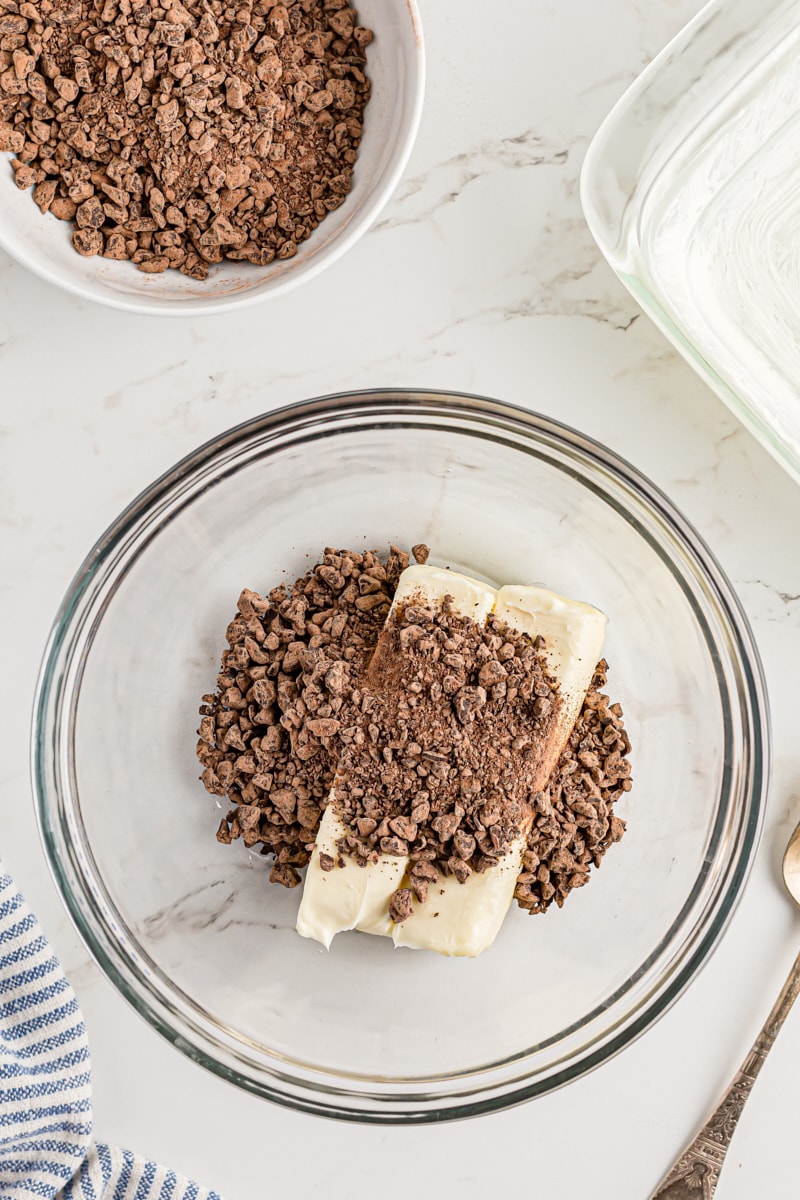 Melt the chocolate and butter. Microwave the chocolate and butter in a microwave-safe bowl at half power in 30 second intervals, stirring between each, until the mixture is melted and smooth.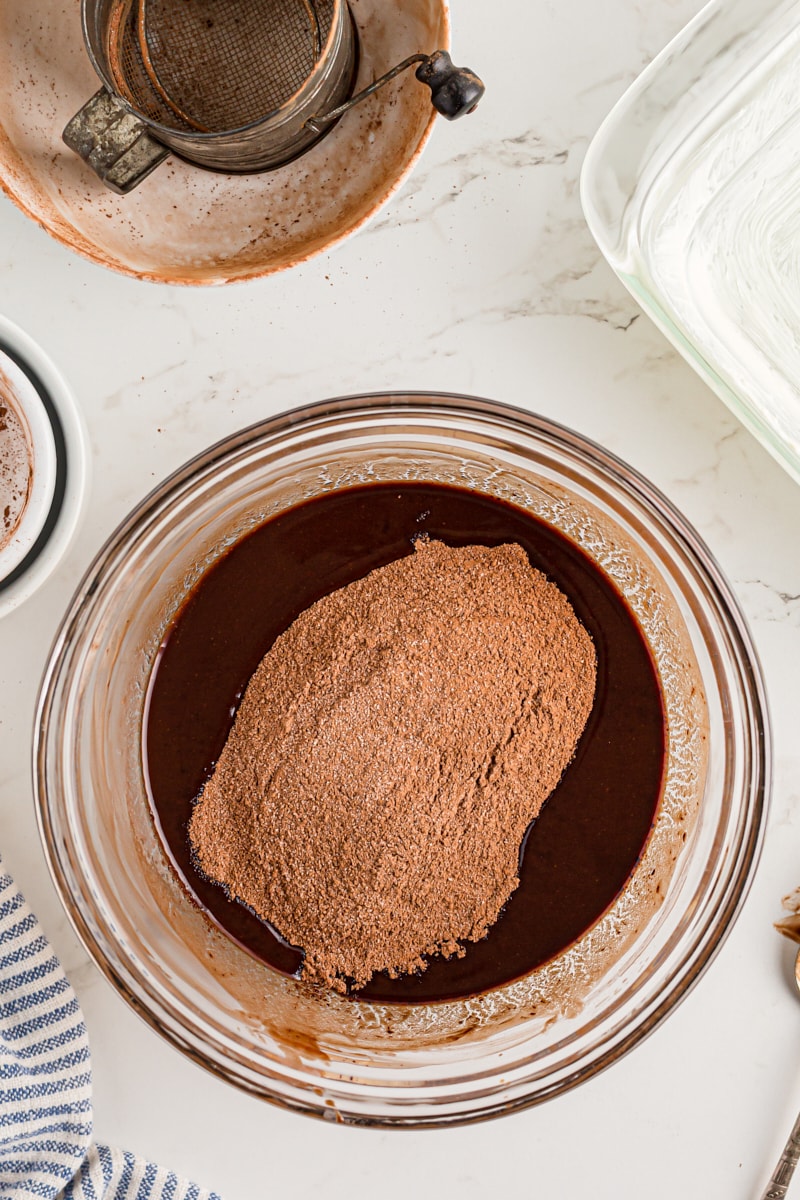 Finish the batter. Sift the sugar and cocoa powder into a small mixing bowl, then add it to the butter and chocolate mixture. Use a hand whisk to beat in the mascarpone, eggs, and vanilla extract, then fold in the flour and salt.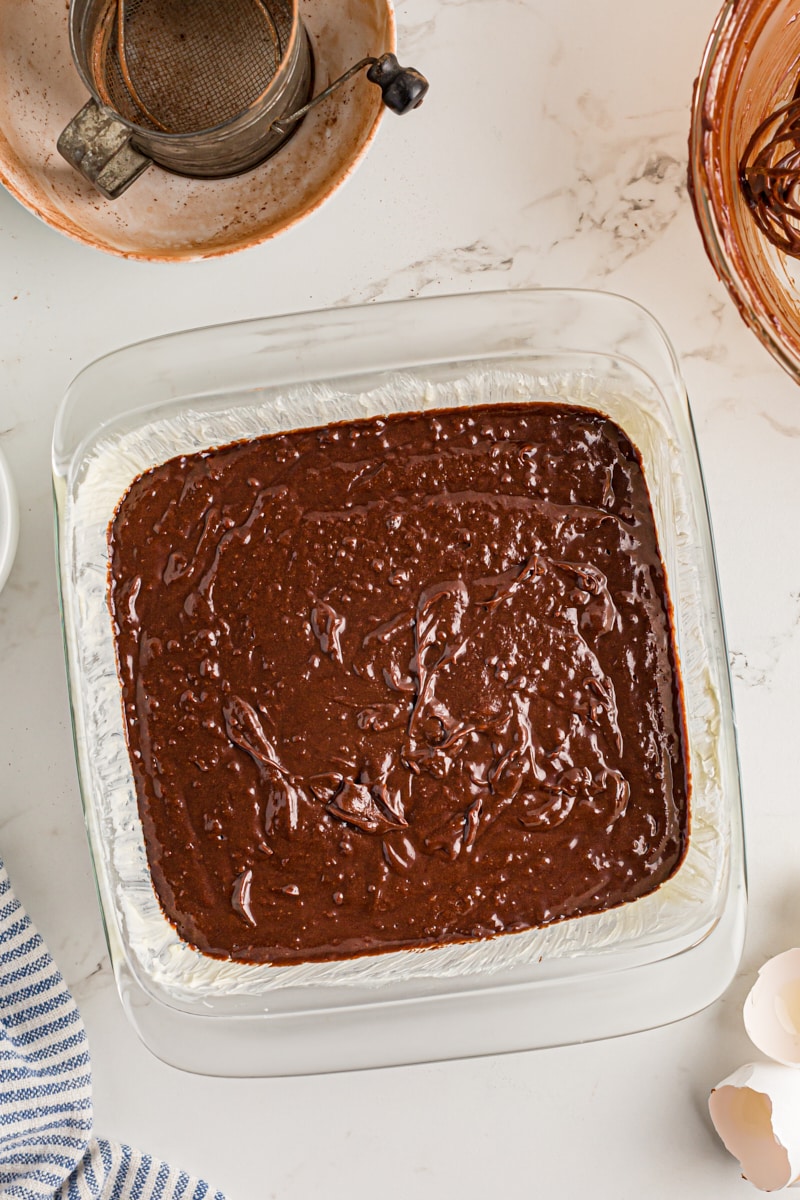 Bake. Pour the batter into the prepared pan and spread it evenly. Bake for 45 to 50 minutes, or until a toothpick inserted in the center of the pan comes out clean.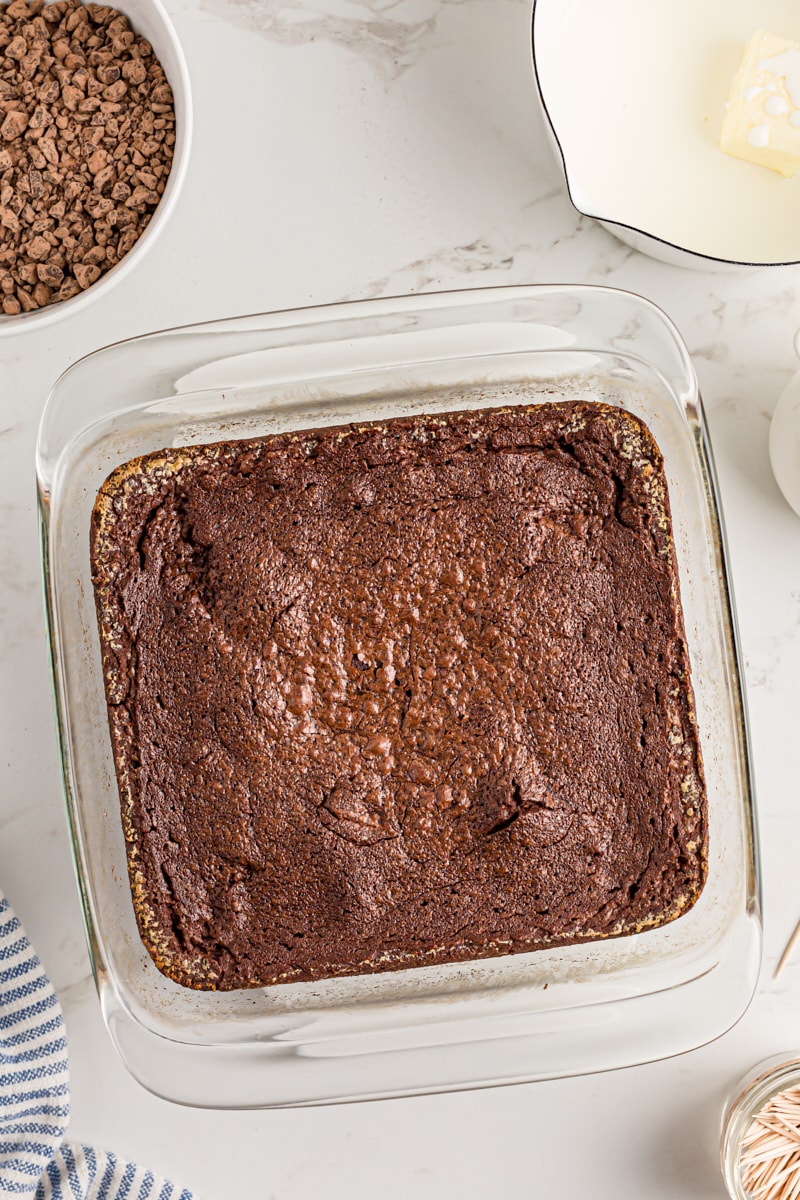 Cool. Place the pan of brownies on a wire rack to cool. (Learn more: Why Every Baker Needs Wire Cooling Racks)
Make the Ganache:
Prepare. Place the chopped chocolate in a small heat-proof bowl.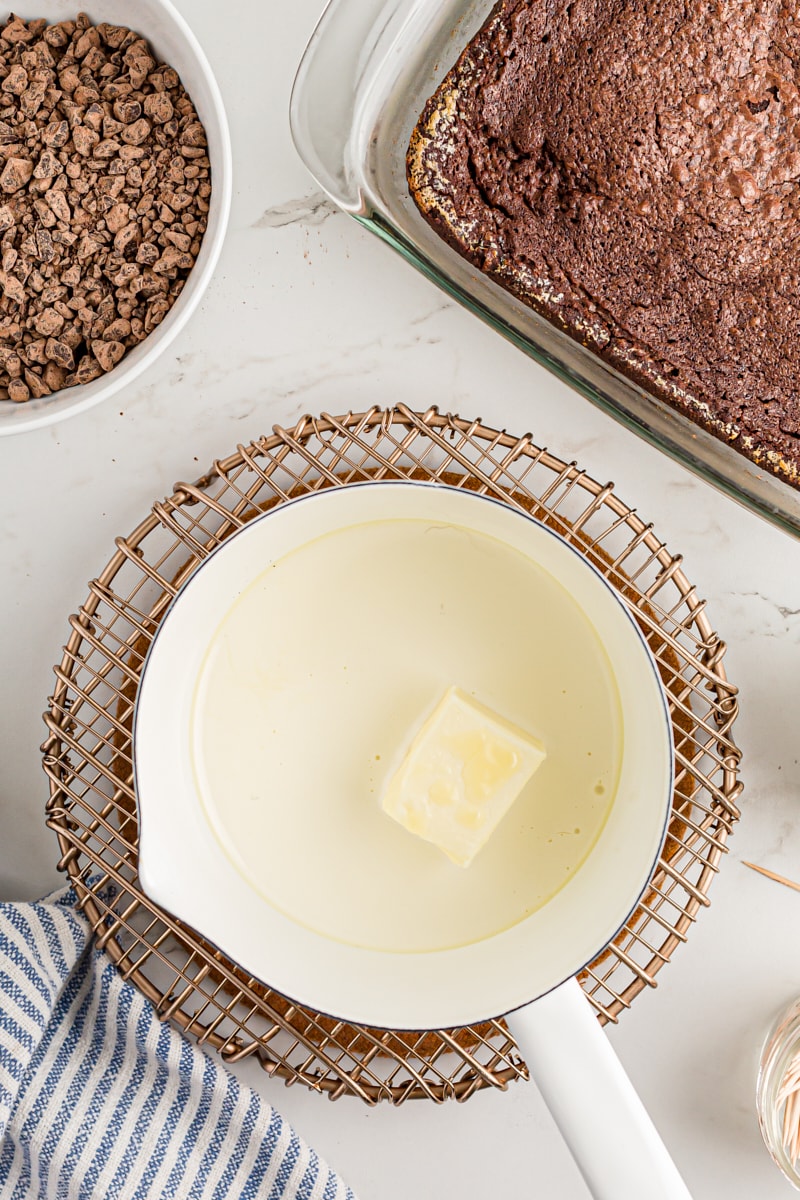 Warm the butter and cream. Heat the butter and cream in a small saucepan set over medium heat, stirring constantly. Turn off the heat when the butter has melted and the mixture is almost boiling.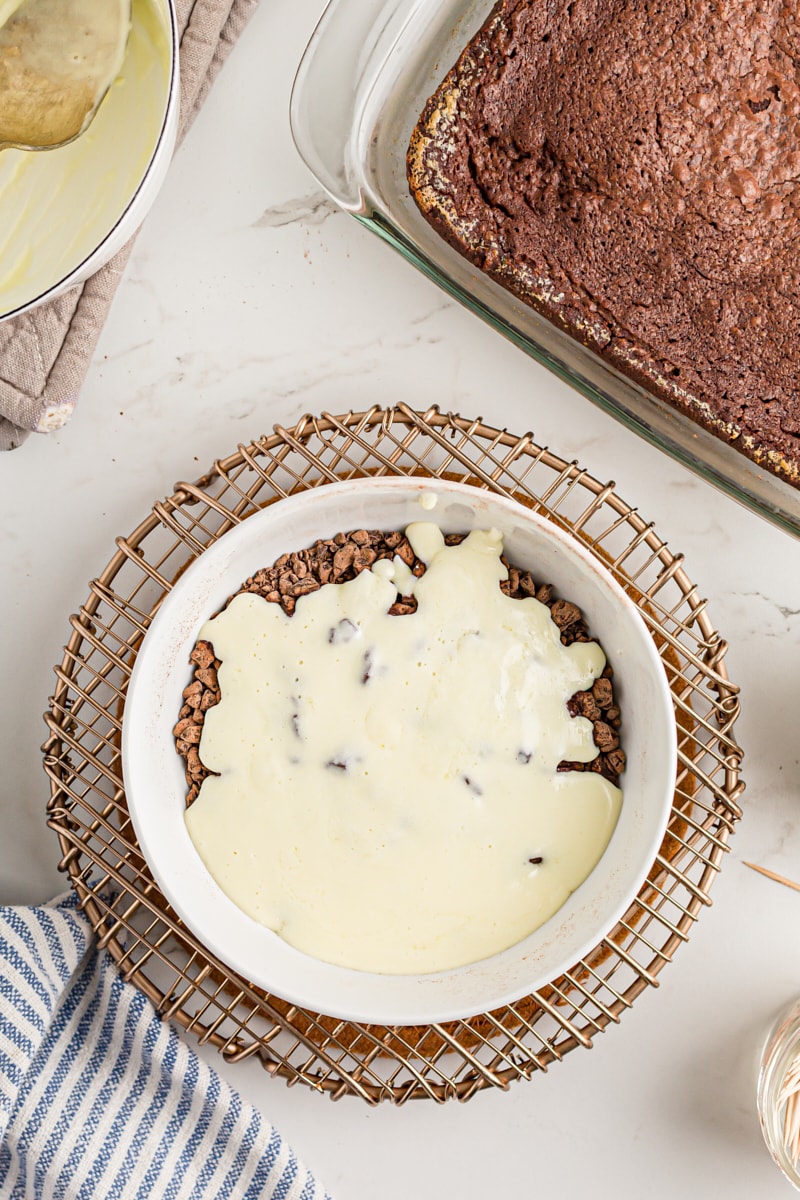 Finish the ganache. Pour the warm cream mixture over the chopped chocolate. Let this stand for 30 seconds so the chocolate can soften, then stir until the ganache is smooth. Pour the mixture over the brownies and spread it evenly.
Cool and serve. Let the ganache set before cutting the brownies into squares.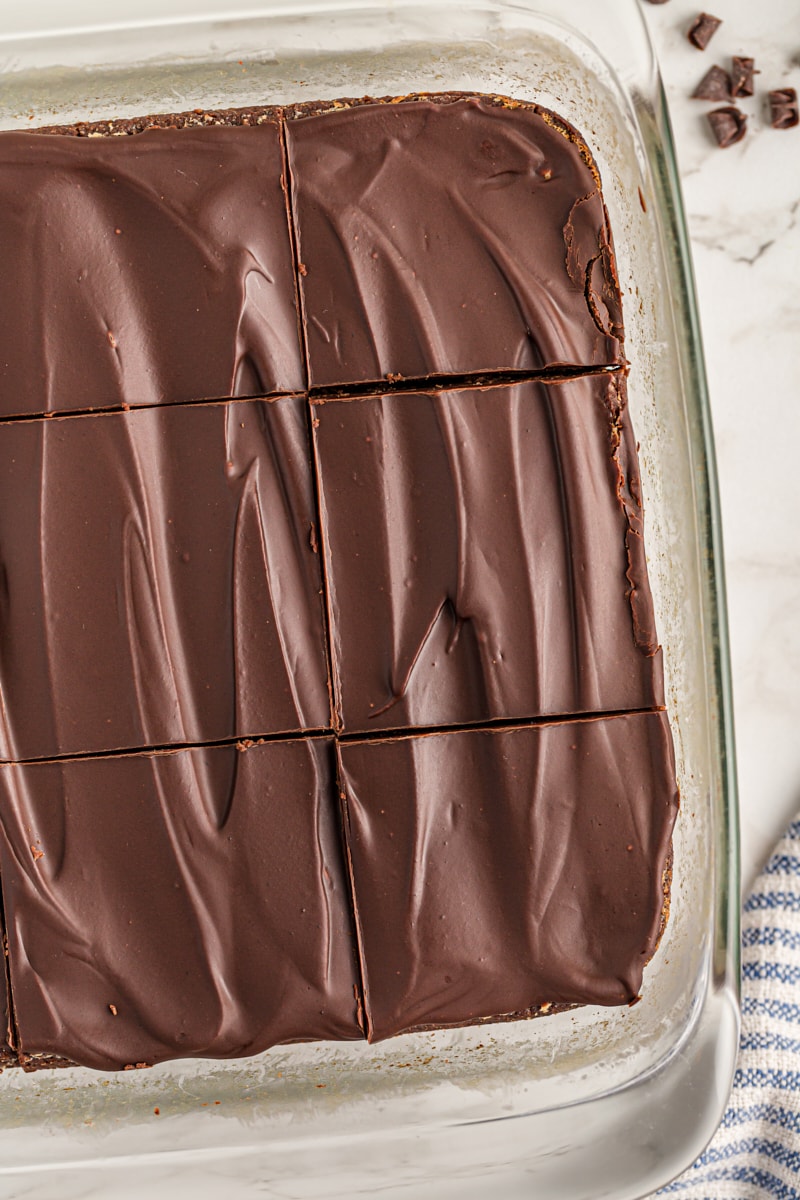 Tips for Success
Read over my baking tips for beginners and my primer on making brownies. Here are some additional tips for perfect chocolate mascarpone brownies.
Use room temperature eggs and mascarpone. Room temperature ingredients mix more smoothly into the batter.
Buy good quality chocolate and cocoa powder. The flavor of the brownies will reflect whatever you use. These brownies are all about the chocolate, so use the best you're willing to buy.
Let the brownies set before cutting. If you cut them before the ganache has solidified, you'll have a mess on your hands—figuratively and literally. If you're in a hurry, you can expedite the process by chilling the pan of brownies in the refrigerator.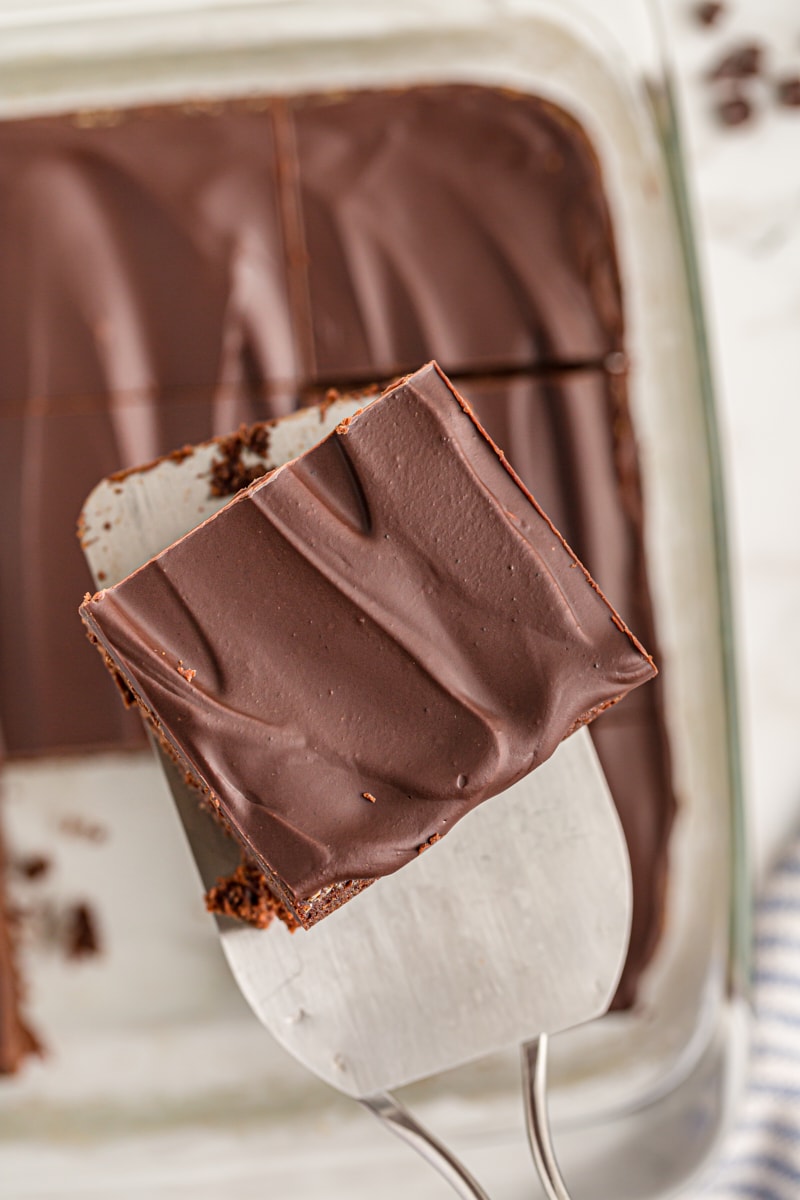 Serving Suggestions
If desired, sprinkle some flaky sea salt on top of the ganache before it sets for a nice salty-sweet flavor—Maldon or fleur de sel are perfect. A scoop of vanilla ice cream can cut some of the richness of this chocolate mascarpone brownie recipe, as can fresh fruit like strawberries or raspberries.
How to Store
These brownies are best enjoyed fresh, but they can be stored in an airtight container at room temperature for up to 3 days.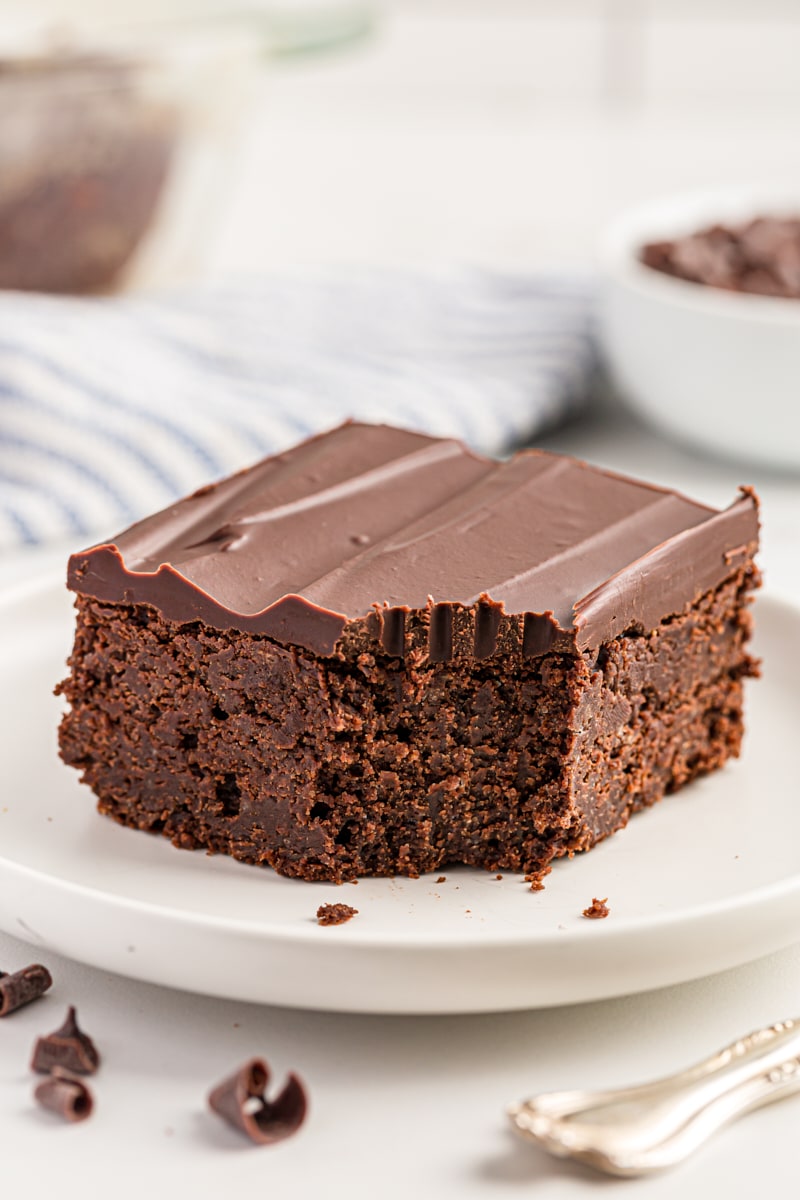 Can This Recipe Be Frozen?
Chocolate mascarpone brownies can be frozen for up to 3 months. Allow them to set completely before transferring to a freezer-safe container; if you need to layer them, place parchment paper between the layers to keep them from sticking. Thaw the brownies at room temperature before serving.
More Decadent Brownie Recipes