Chocolate, cream cheese, and cookie butter come together to make these decadent Cookie Butter Cheesecake Brownies!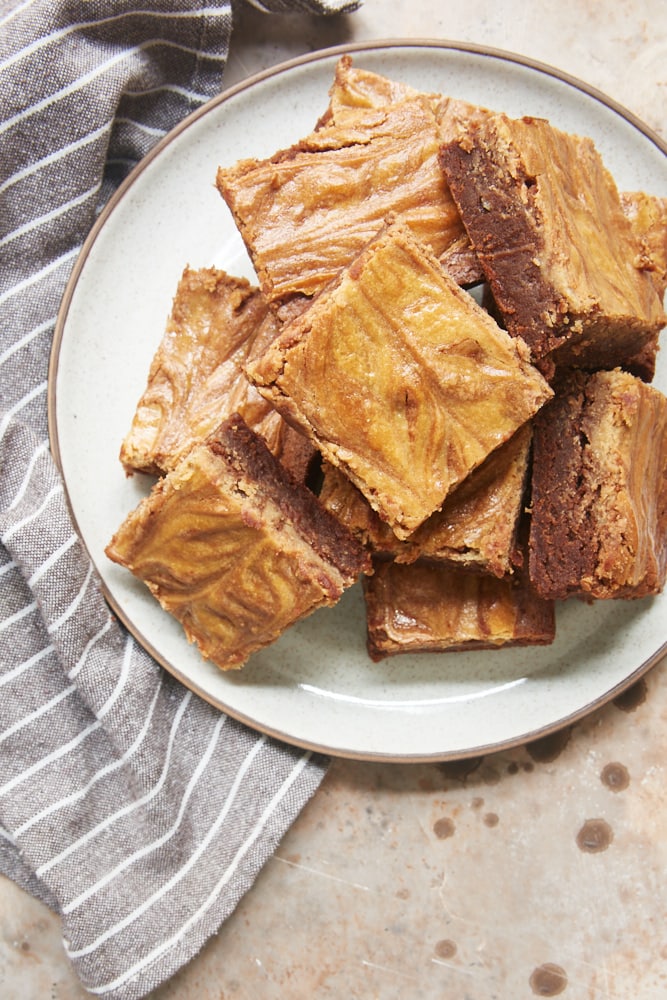 Fudgy Cheesecake Brownies with Cookie Butter
I'm not sure how I had never combined three of my favorite things into a brownie, but we will go with the reliable "better late than never" sentiment. This recipe features a rich, fudgy brownie base that's swirled with a cookie butter infused cheesecake batter, creating a beautiful marbled look and an irresistible flavor.
The cookie butter in this recipe lends these brownies a subtle spiced flavor that adds depth to the cheesecake-and-chocolate combination. While cheesecake brownies are always a treat, this version with cookie butter is a little something different!
What You'll Need
Here's what you'll need to pick up to make Cookie Butter Cheesecake Brownies.
For the brownies:
Bittersweet chocolate discs or bar – Chocolate is the star here, so use a high-quality variety.
Unsalted butter – Using unsalted butter gives you more control over the salt level in the recipe.
Granulated sugar
Light brown sugar
Eggs – The eggs should be at room temperature.
Vanilla extract
Salt
All-purpose flour – Learn more: How to Measure Flour
For the cheesecake swirl:
Cream cheese – Let this come to room temperature so it can be beaten into a smooth, creamy filling.
Granulated sugar
Vanilla extract
Egg – You only need half of an egg for the cheesecake mixture. Lightly beat the egg, and measure half of that volume to use in the recipe. That's usually about 1 1/2 tablespoons.
Cookie butter
What Is Cookie Butter?
Cookie butter (also known as Biscoff or Speculoos Cookie Butter) is made out of ground spice cookies, a fat to make it spreadable, flour, and sugar. Surprisingly, the consistency and mouthfeel are very similar to a nut butter despite being made from cookies!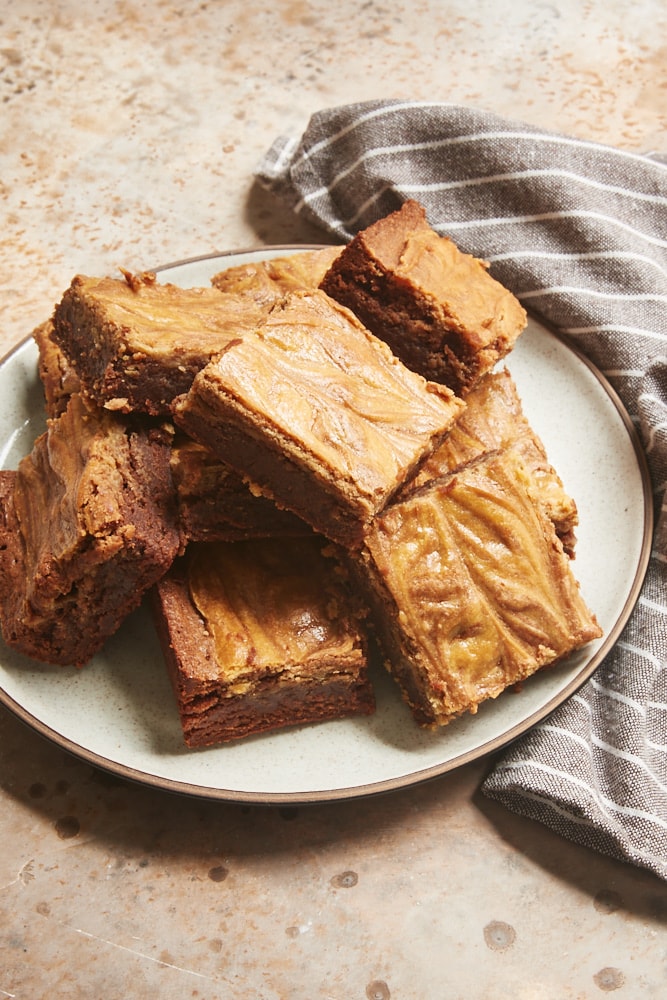 How to Make Cookie Butter Cheesecake Brownies
Ready to make some rich, fudgy brownies? Let's get started!
Prepare. Preheat your oven to 350°F and line a 9-inch square baking pan with parchment paper, with the paper overhanging by about 2 inches on opposite sides. Spray the paper with nonstick baking spray.
Melt the chocolate and butter. Place the chocolate and butter in a microwave-safe bowl. Microwave at half-power in 30-second increments until the butter has melted and the chocolate melts when stirred. Continue stirring until the mixture is smooth, then set aside to cool slightly.
Mix remaining ingredients. Combine the sugar, brown sugar, eggs, vanilla, and salt in a large bowl, then stir in the cooled chocolate mixture, followed by the flour. Pour the batter into the prepared pan and spread it evenly.
Make the cheesecake swirl. Use an electric mixer on medium speed to beat the cream cheese, sugar, vanilla, and egg until they're smooth and creamy. Add the cookie butter and mix until combined.
Assemble. Drop the cheesecake mixture by the spoonful over the top of the brownie batter. Use an offset spatula or butter knife to swirl the cheesecake into the brownie batter.
Bake. Place the pan in the oven and bake for 40 to 45 minutes, or until a toothpick inserted into the center comes out clean.
Cool and cut. Let the brownies cool completely in the pan on a wire rack. Then, cover and refrigerate at least 4 hours before cutting into bars. To cut, use the overhanging parchment paper to transfer the brownies to a cutting board and cut them with a large chef's knife.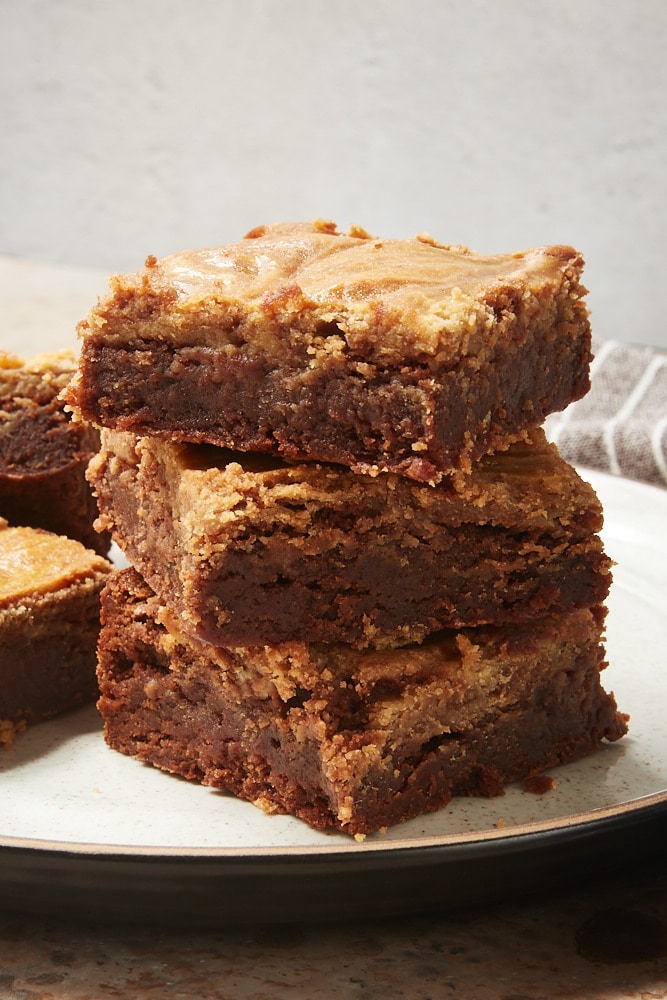 Tips for Success
Read my tips for baking brownies before getting started on this recipe. Here are a few additional pointers:
About the parchment sling. I like to line the pan with a parchment paper "sling" for a few reasons. The most obvious is to make it easy to remove the brownies from the pan, which also lets you transfer the brownies to a cutting board so you can cut them easily and save your pan from knife scratches.
Swirling the cheesecake mixture. I'm the first to admit that getting a pretty swirl in baked goods often eludes me. I find that using something very thin like a small offset spatula works well. Just dollop the cream cheese mixture over the top of the brownie batter and swirl just enough to get the two intertwined a bit. I often use small circular motions to start and then finish by making some straight lines with the spatula through the top.
Don't rush it! The chilling time in the refrigerator will help you get nice, clean cuts on your brownies.
How to Store
Transfer the Cookie Butter Cheesecake Brownies to an airtight storage container and refrigerate for up to 5 days. You can eat them chilled or let them come to room temperature just before serving.
Can I Freeze This Recipe?
You can freeze these brownies in an airtight storage container or freezer bag for up to 3 months. Let them thaw in the refrigerator overnight before serving.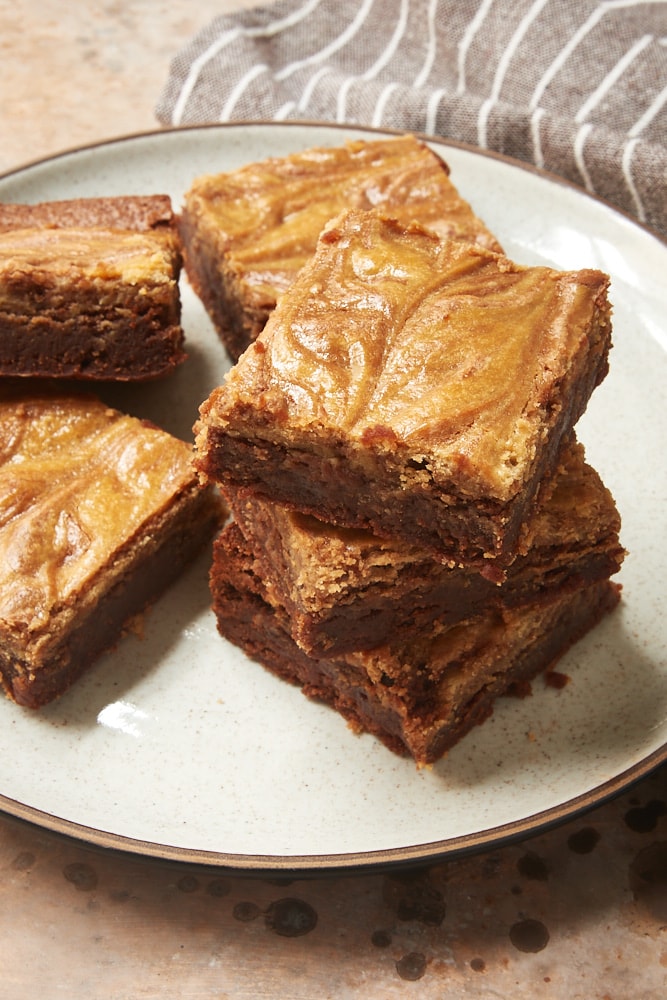 More Cheesecake Brownie Recipes