Pecan Lovers' Brownies are just the nutty, fudgy brownie you've always wanted. If you love pecans and chocolate, don't miss out on these!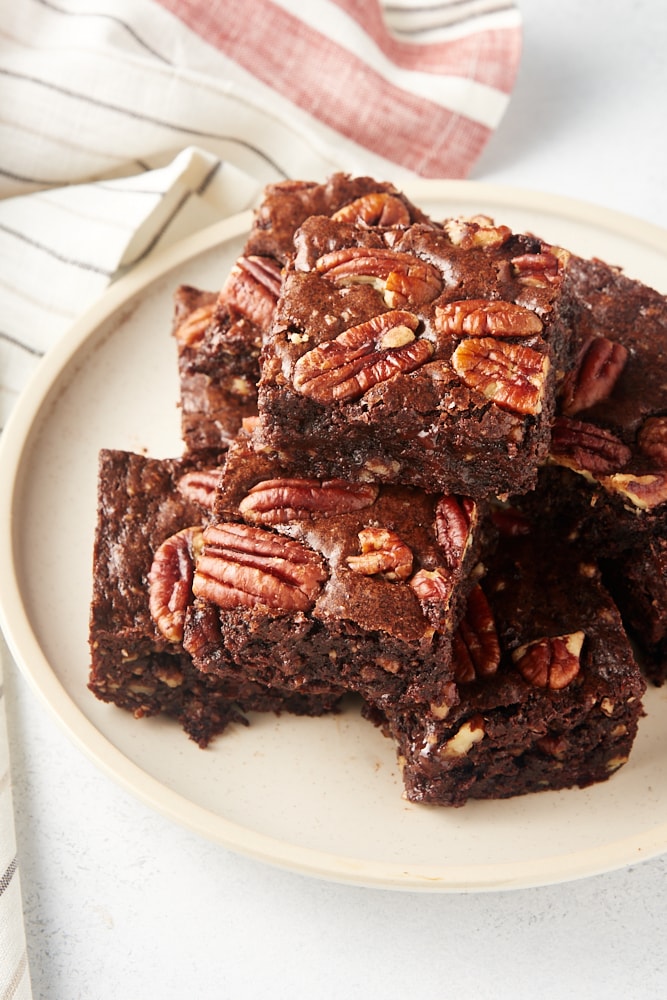 Pecan Lovers' Brownies
If you love nutty brownies, then I'm about to make you very, very happy. These Pecan Lovers' Brownies are jam-packed with oodles of pecans for the ultimate nutty brownie experience.
There are ground pecans as well as chopped pecans in the batter. That gives you lots of pecan flavor plus a little crunch. Add to that some pecan halves and pieces on top, and there's zero chance a pecan lover like me will be able to resist.
These Pecan Lovers' Brownies are ridiculously fudgy, rich, and oh-so good. They're a decadent treat that will make you question the very existence of plain brownies.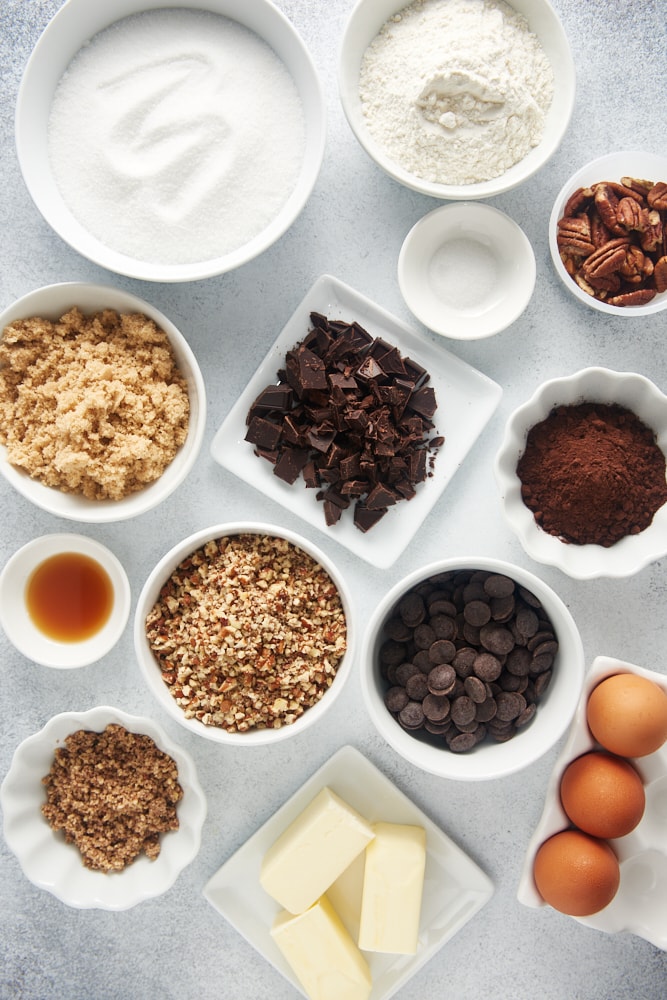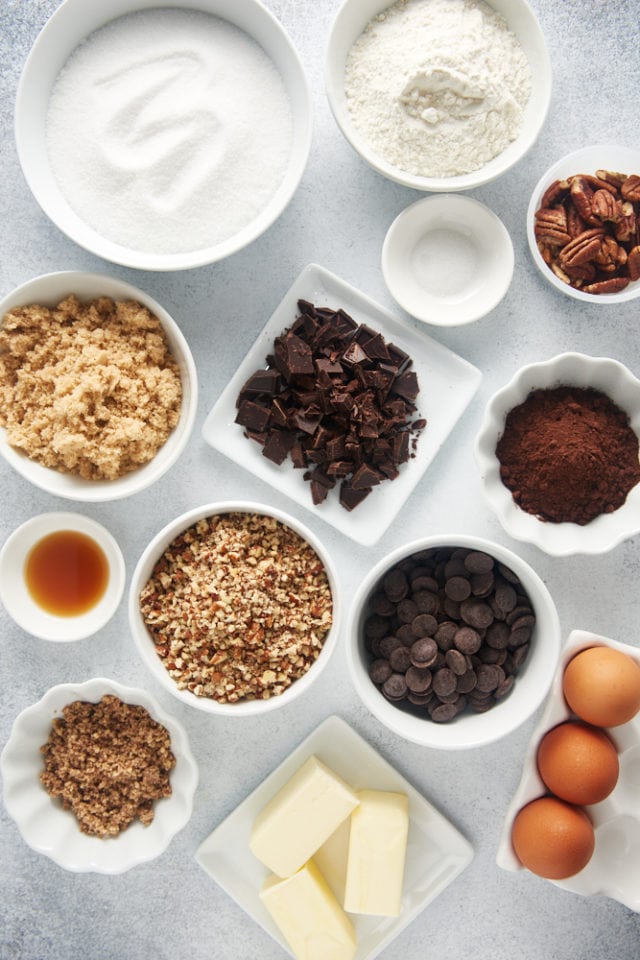 What You'll Need
You'll mostly need the basics for these brownies. And anytime we're talking about brownies, expect me to tell you repeatedly to use good quality chocolate.
Unsalted butter
Unsweetened chocolate – Use a good quality chocolate, and chop it roughly to help it melt faster.
Unsweetened cocoa powder – I like natural cocoa powder in these brownies, but you can use Dutch-process if you like. Quality really matters here, so pick a good one. Ideally, sift the cocoa so you don't end up with lumps.
Granulated sugar
Brown sugar
Eggs – Set the eggs out before you begin baking so they won't be cold when mixed into the batter.
Vanilla extract
All-purpose flour – Measure by weight or use the spoon and sweep method.
Pecans – You'll need finely ground pecans (or pecan meal) as well as chopped pecans for the batter. For grinding the pecans, I highly recommend using a food processor. I also like to add some pecan halves and pieces to the top of the brownies before baking.
Salt – If your pecans are salted, you'll likely want to reduce the salt in the recipe.
Chocolate chips – Dark chocolate chips are so good in these brownies, but semisweet will work, too.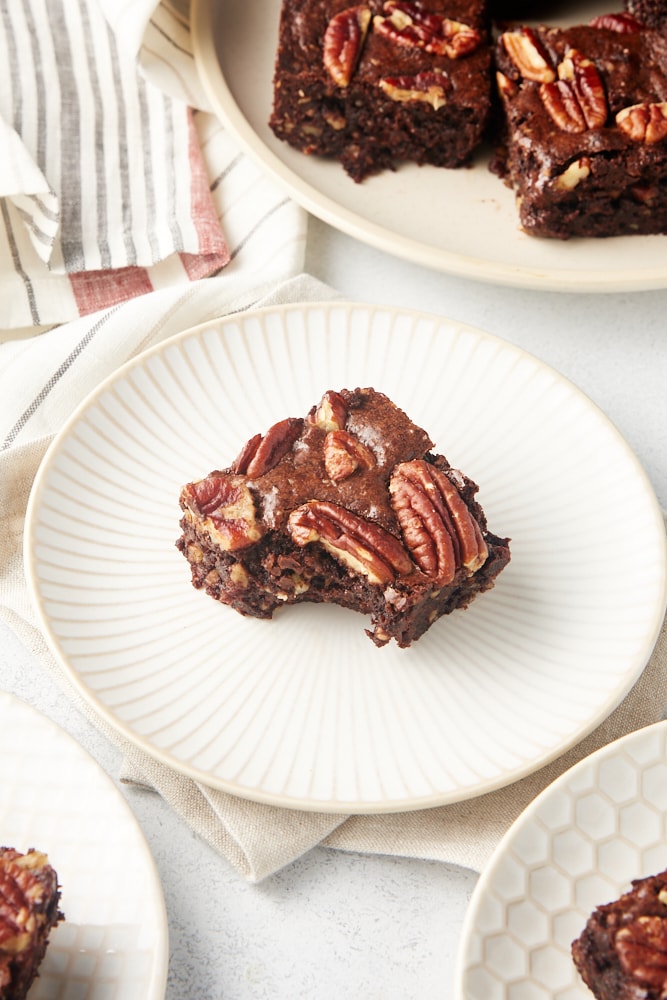 How to Make Pecan Lovers' Brownies
These brownies mix easily in just one bowl. I prefer to mix brownie batter by hand, but you can use an electric mixer if you take care not to over-mix.
Prepare for baking. Gather all the ingredients, and heat the oven to 350°F. Line a 9-inch square baking pan with parchment paper, and grease the paper and any exposed parts of the inside of the pan. The lining will allow the brownies to be easily removed from the pan later. Alternatively, you can skip the lining and just grease the pan.
Melt the butter and chocolate. This can be done in a double boiler or in the microwave. Stir until smooth. Let the mixture cool slightly before continuing.
Add the cocoa powder and the sugars. Whisk in the cocoa powder, followed by the granulated sugar and the brown sugar.
Add the eggs and vanilla. Next, add the eggs and vanilla, and mix until combined.
Add the dry ingredients. Stir in the flour, ground pecans, and salt. Mix just until combined.
Stir in the pecans and chocolate chips. Add the chopped pecans and chocolate chips, and stir just until combined.
Bake. Transfer the batter to the prepared pan, and spread it evenly. Top the brownie batter with pecan halves and pieces. Bake for 30 to 35 minutes, or until a pick inserted into the center comes out with moist crumbs.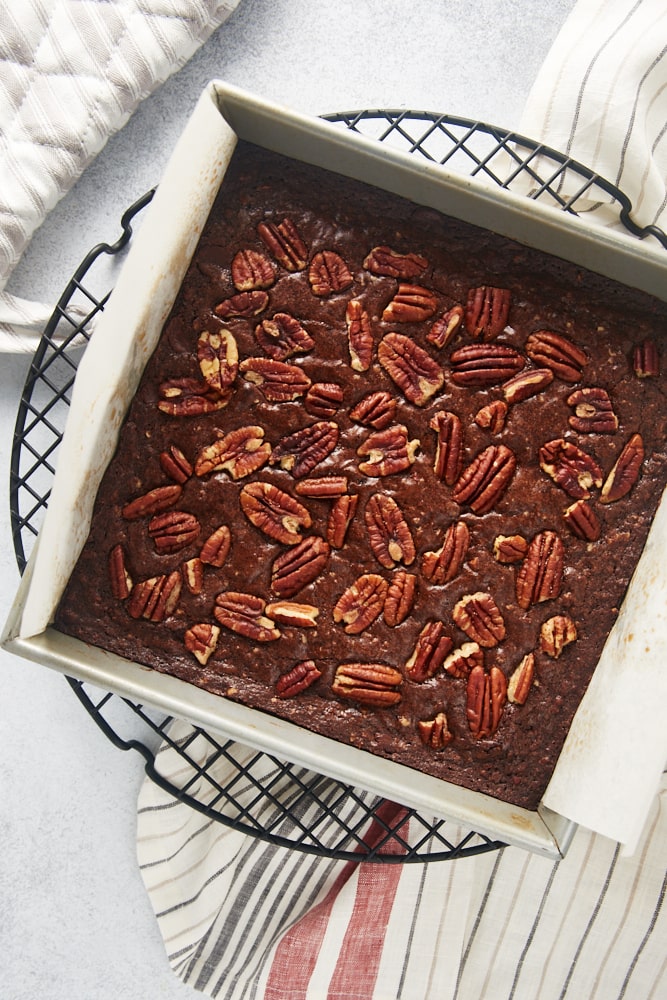 Cool and cut. Place the pan on a wire rack and cool the brownies completely. Then use the parchment paper to lift the cooled brownies from the pan onto a cutting board. Cut into squares.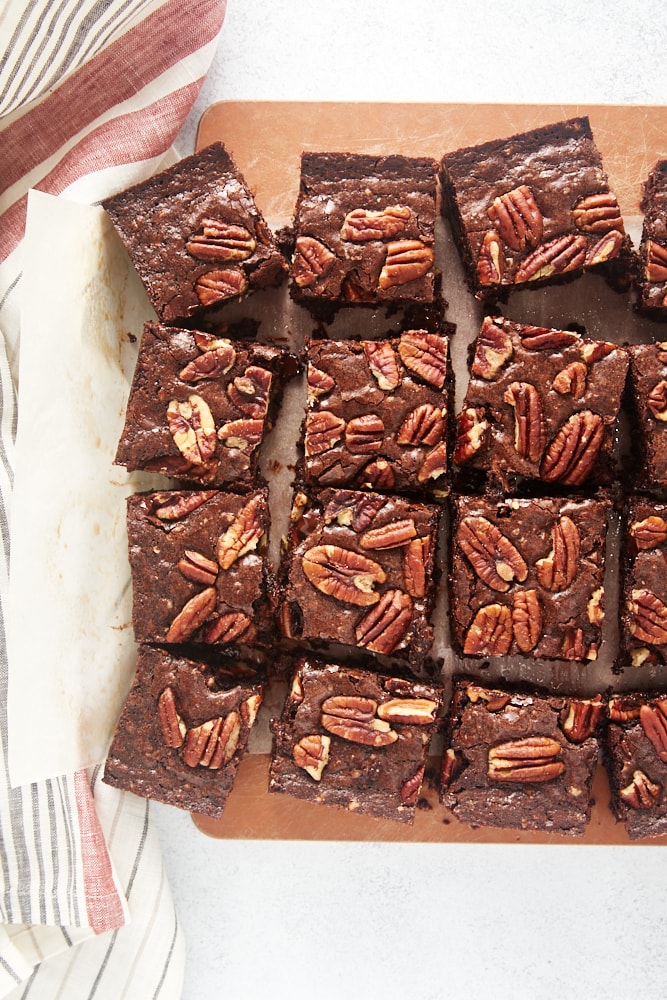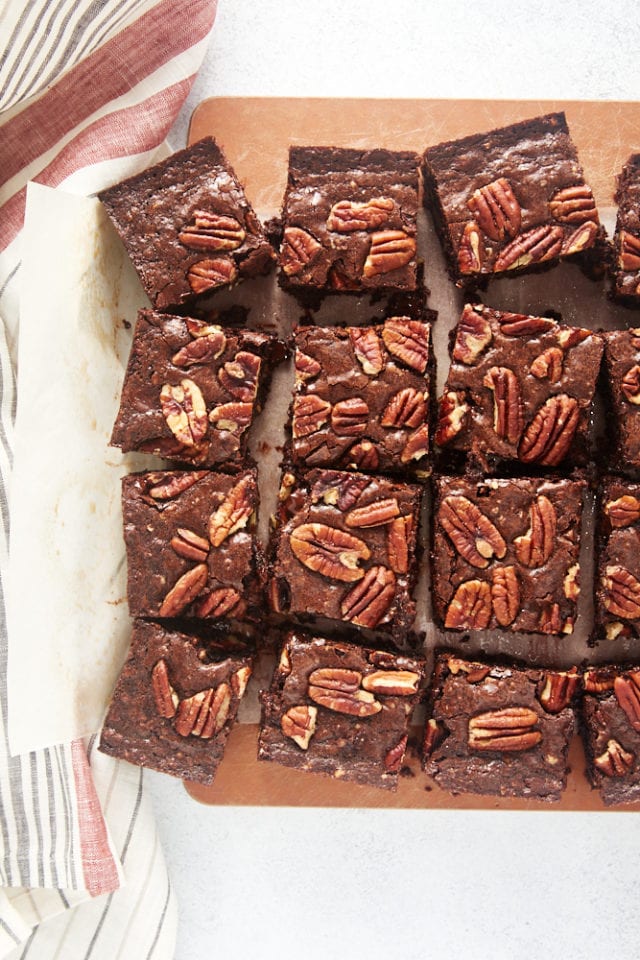 Tips for Success
Use good quality chocolates. I know I'm a bit of a broken record about this, but with brownies it really makes a difference. It doesn't have to be expensive to be good. I most often use Guittard and Ghirardelli.
Don't over-mix the batter. That can lead to tough brownies.
Use a light-colored metal pan. I don't recommend glass or another material because of differences in how they conduct heat. If you want to know more, I have some good info about how your pan can affect your brownies.
Don't over-bake. When a pick inserted into the center comes out with moist crumbs, the brownies are done. Too much oven time means dry brownies.
Cool completely before cutting into bars. Otherwise, your brownies may be crumbly and not hold together well.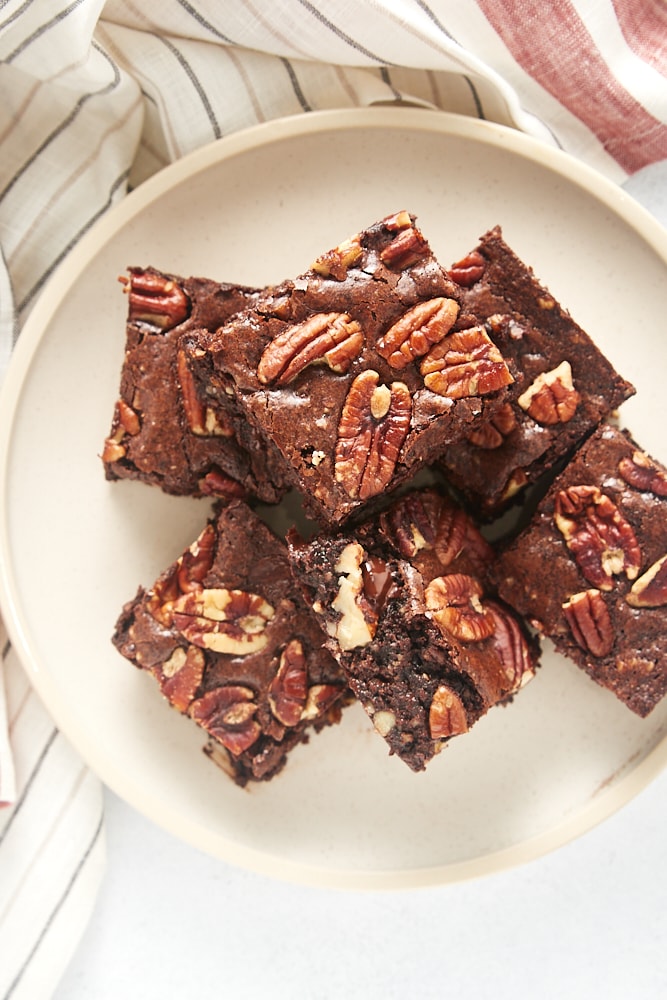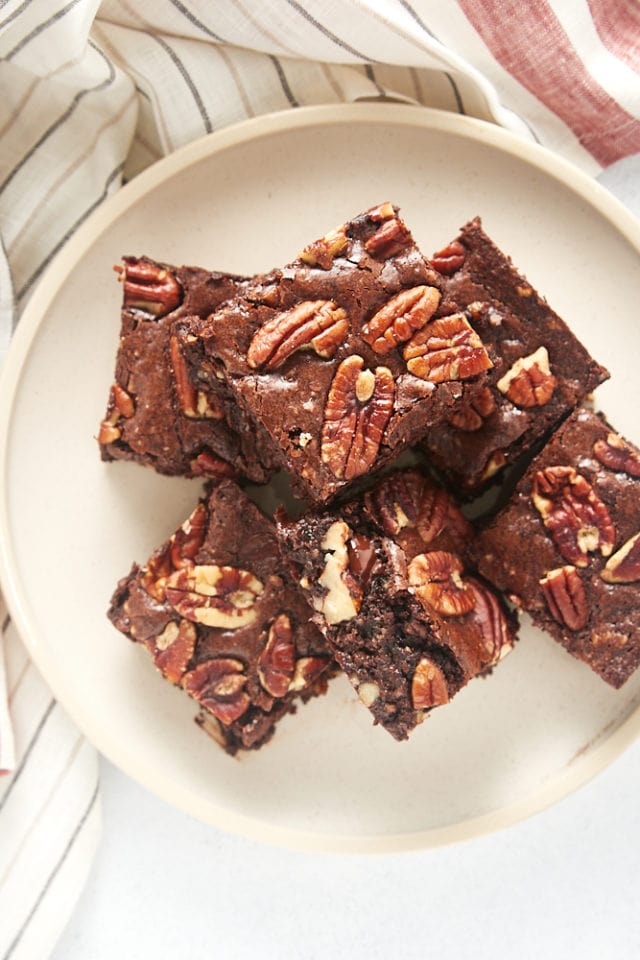 How to Store Leftovers
Store cooled brownies in an airtight container for up to 2 days. If they're uncut, they'll likely keep another day or two.
For longer storage, wrap them well and place in the refrigerator. They should keep for a week. Bring them to room temperature or heat them briefly in the microwave before serving.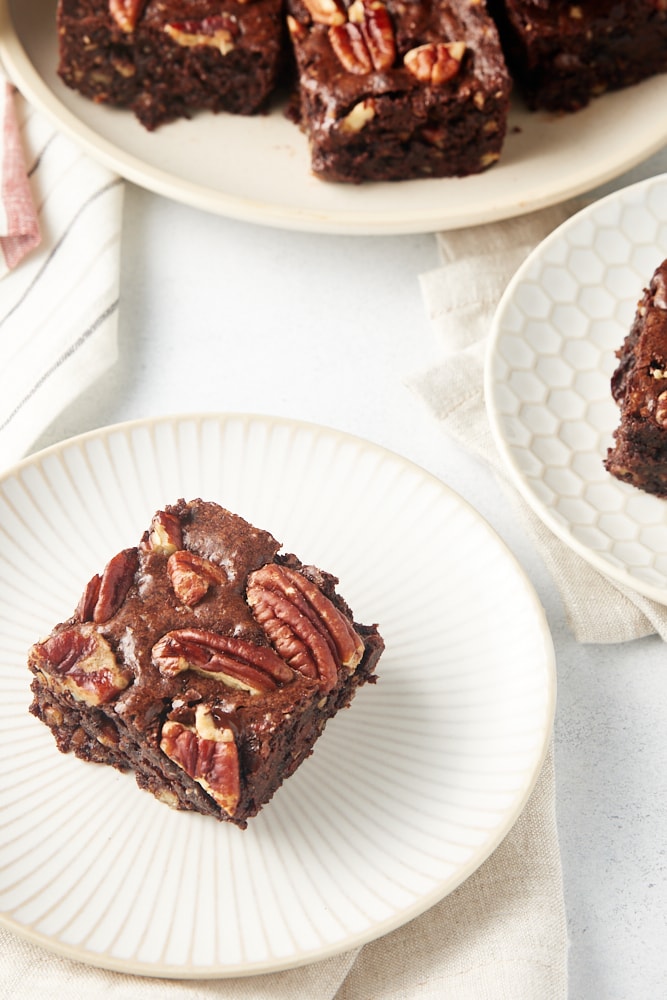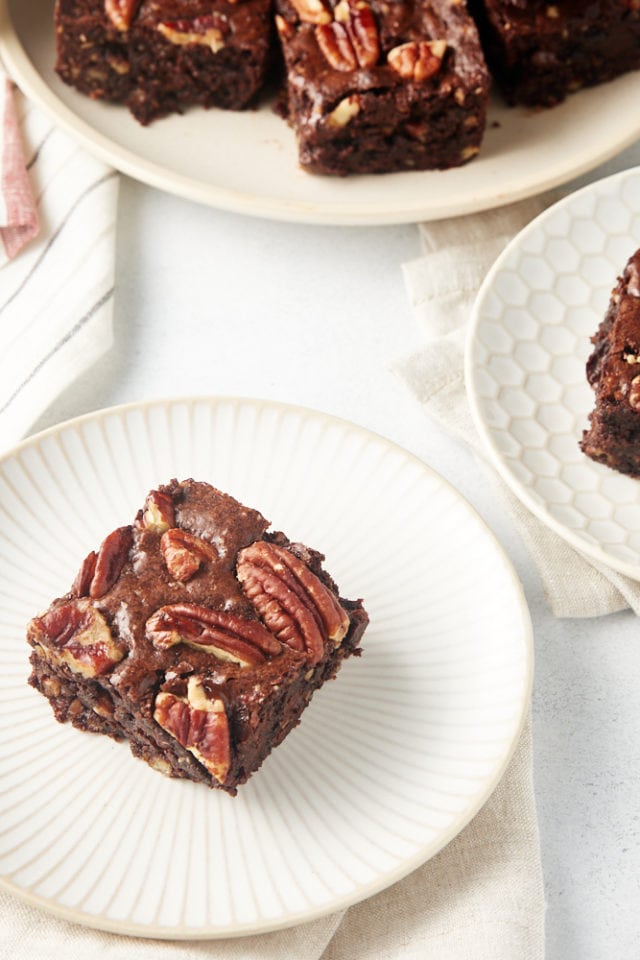 Can These Brownies Be Frozen?
Yes! Wrap the uncut brownies or each of the cooled, cut brownies in plastic wrap, and wrap again in aluminum foil or place in a freezer-safe bag or container. Stored properly, they should keep in the freezer up to 3 months.
To thaw the brownies, you can place them on the counter for a couple of hours before serving. If you're impatient, try placing them on a plate and heating at half-power in the microwave in 20-second increments until warmed.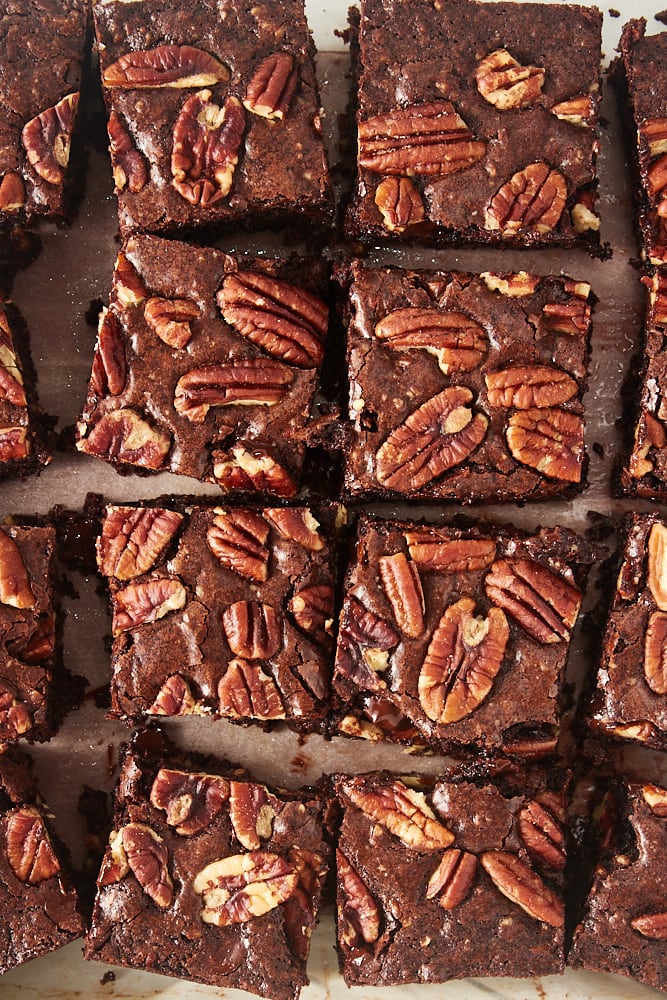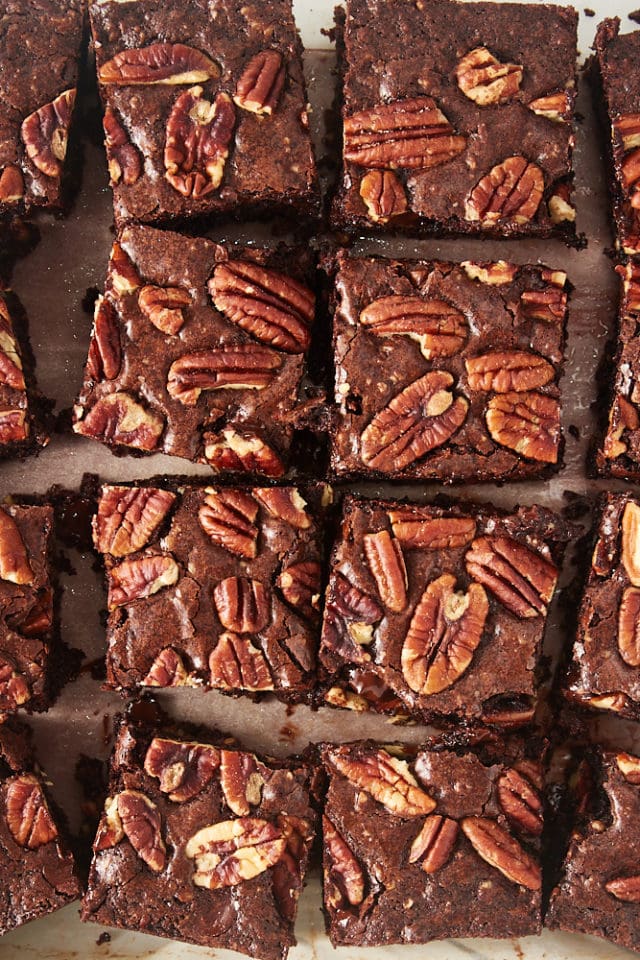 More Nutty Brownie Recipes