January 5, 2008
World Peace Cookies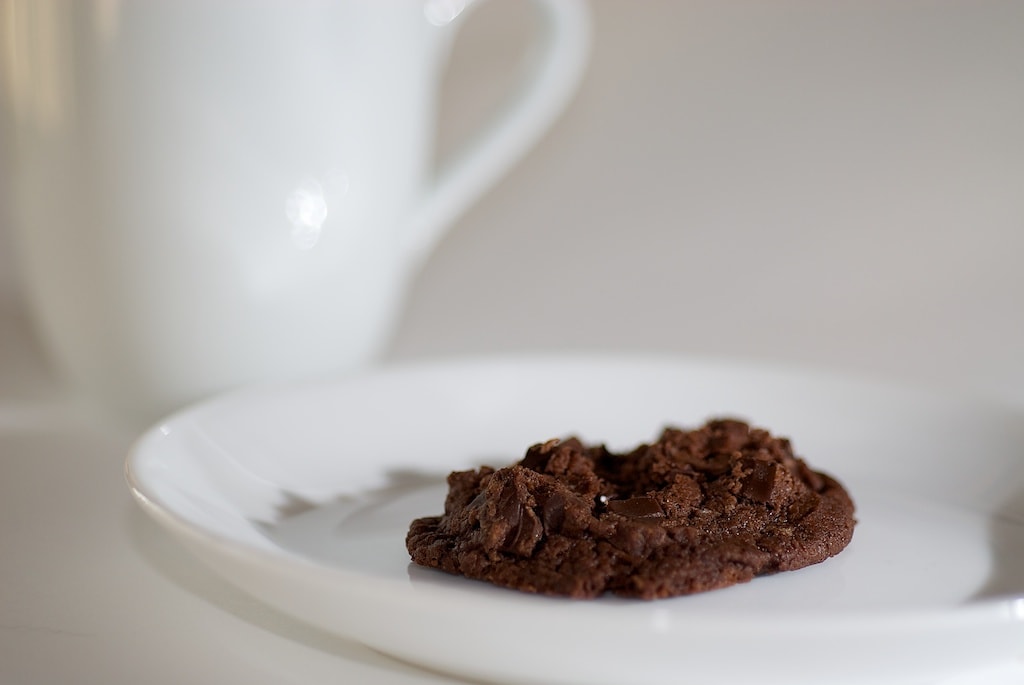 As we entered 2008, most of us with great designs on making this a better year, I thought what more appropriate recipe to make than Dorie Greenspan's World Peace Cookies? Nice sentiment for the new year, right? I thought so, anyway. So, I pulled out Baking: From my Home to Yours and dove right in.

Now, while these are named in honor of universal harmony, there was anything but peace in my kitchen as I made these. The recipe warned that these cookies might crack and crumble, so I thought I was prepared for that. But, when every one of them came apart when I sliced them, I was definitely discouraged. I envisioned these being lovely, round, perfect little cookies. Not so much.
They ended up being mostly round. And primarily non-lumpy. And nice to look at… if you squint.
In hindsight, a little more time in the refrigerator could have been beneficial. But, because their three hours in the fridge were up after 11pm, I didn't really want to wait any longer.
As I've learned, however, the most important thing is how the finished product tastes. Using only that criteria, these cookies are beautiful! They are super rich and delicate. The addition of fleur de sel really sets these apart. This recipe really finds just the right balance of salty and sweet.
While the end result wasn't quite what I envisioned, these cookies were certainly worth the time and effort (and cursing) that went into them. I can only hope that my next foray into baking these delicious cookies will yield a much prettier cookie. They certainly couldn't be any tastier.
World Peace Cookies
Prep Time: 25 minutes
Cook Time: 12 minutes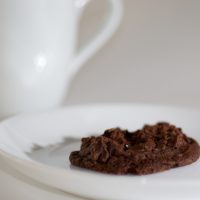 Ingredients:
1 & 1/4 cups all-purpose flour
1/3 cup unsweetened cocoa powder
1/2 teaspoon baking soda
11 tablespoons unsalted butter, at room temperature
2/3 cup packed light brown sugar
1/4 cup granulated sugar
1/2 teaspoon fleur de sel or 1/4 teaspoon fine sea salt
1 teaspoon vanilla extract
5 ounces bittersweet chocolate, chopped into chips
Directions:
Sift together the flour, cocoa, and baking soda. Set aside.
Using a stand mixer or hand mixer, beat butter on medium speed until soft and creamy. Add brown sugar, granulated sugar, salt, and vanilla extract. Beat for 2 minutes.
Turn off mixer and add dry ingredients. Pulse mixer at low speed about 5 times, a second or two each time. Mix just until flour disappears into the dough. The dough should look a little crumbly. Add chocolate pieces and stir just until mixed.
Turn dough out onto a work surface. Divide dough in half. Shape each half into logs about 1 & 1/2 inches in diameter. Wrap each in plastic wrap and refrigerate for at least 3 hours. The dough may be refrigerated for up to 3 days or frozen for up to 2 months.
Preheat oven to 325°. Line two baking sheets with silicone mats or parchment paper.
Slice logs into rounds about 1/2-inch thick. These are likely to crack and crumble as they are cut. Squeeze the dough back together and place each cookie on baking sheets, leaving about 1 inch between them.
Bake (one sheet at a time) for 12 minutes. These cookies won't look done or be firm. Cool cookies on pan on a cooling rack. Serve warm or cool completely and store.