Want a big-time chocolate experience? You've got to try these Dark Cocoa Powder Brownies. They're amazingly fudgy, dense, and rich!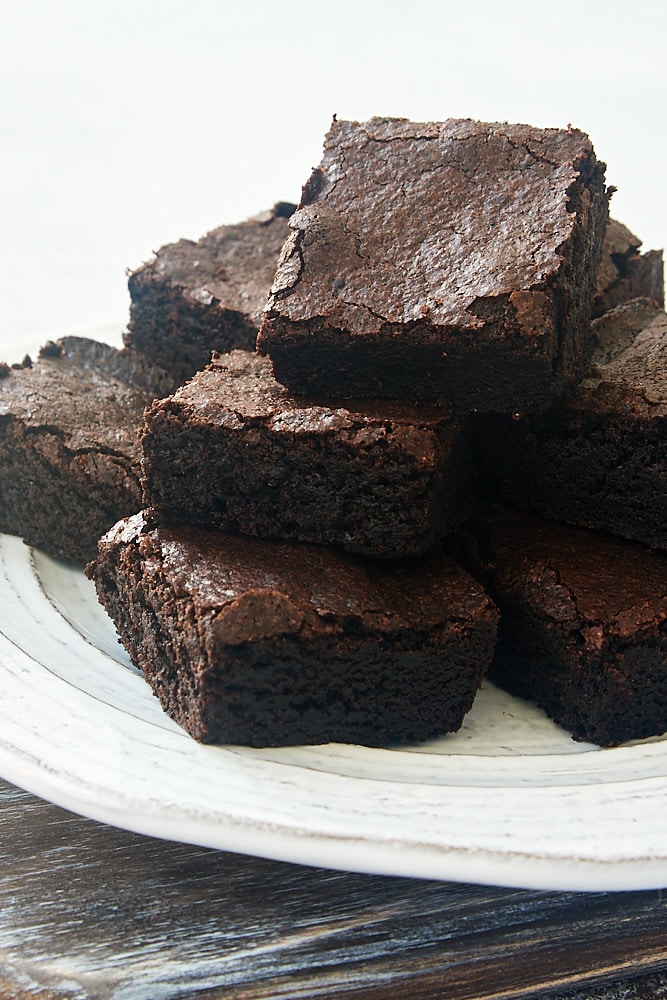 I've made countless batches of brownies over the years, which is evidenced by the sheer size of the brownies section of my Recipe Index. I rarely meet a brownie I don't like, and my tastes for them are all over the place. Whether they're cakey or fudgy, plain or with nuts, or anything in between, I'm likely to devour it with pleasure.
These Dark Cocoa Powder Brownies are at the far end of a few brownie-related spectrums. Fudgy? Most definitely. Dense? Yep. Rich? Oh, yeah. If that sounds like brownie perfection to you, then get ready to get baking.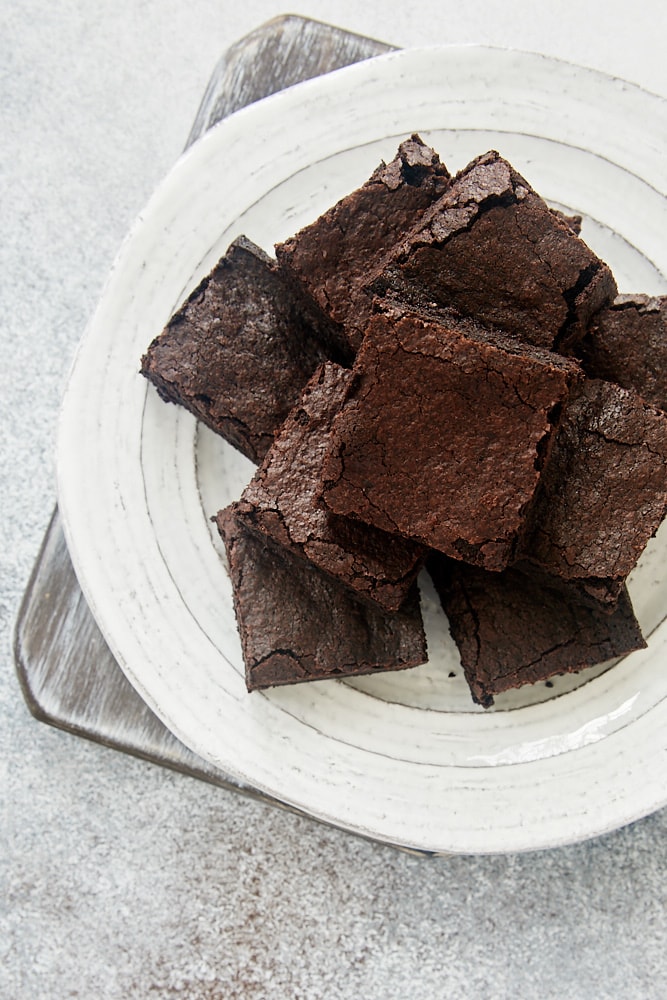 Using cocoa powder in brownies adds plenty of chocolate flavor while keeping the brownies dense and fudgy. Plus, you don't have to melt chocolate, so you can get these mixed and in the oven quicker and easier.
I like to use dark cocoa powder for richness and color in these brownies. As you can see in these photos, that dark cocoa makes these brownies super dark. It also adds a deeper chocolate flavor that's sure to hit the spot for you dark chocolate fans. If you like, you can use regular cocoa powder for a lighter color and less intense flavor. Either natural or Dutch process cocoa will work for this recipe.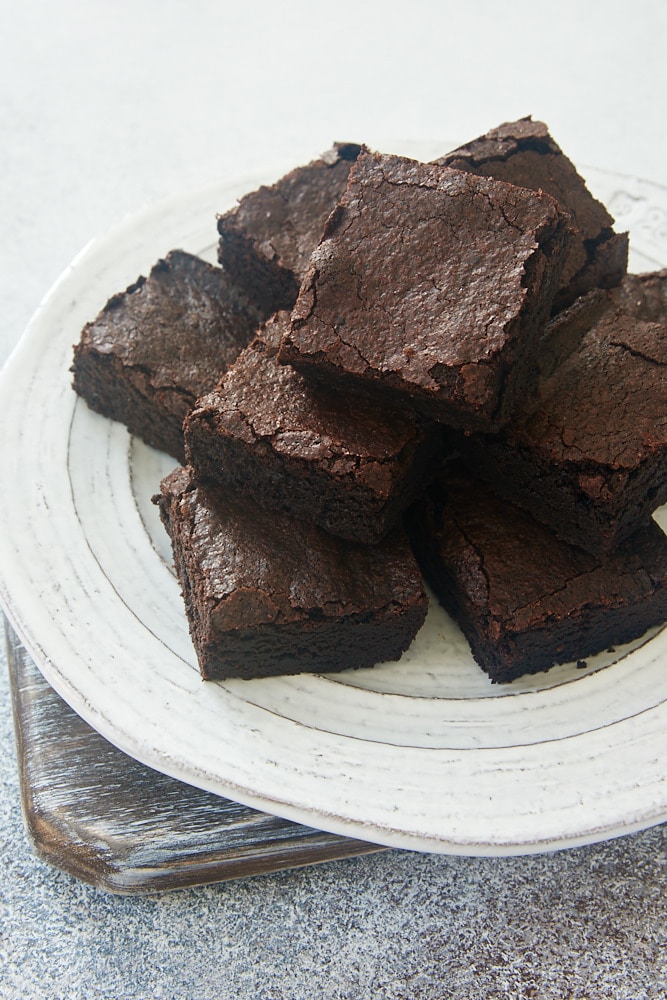 You can add nuts or chocolate chips if you like. They're great in any form, although I really like them just like this for a full-on chocolate experience. Either way, you don't need to get out your electric mixer for these, although you can certainly use one if you like. Just make sure not to overmix the batter or you'll lose some of that dense, fudgy texture.
If you can bear to wait, these Dark Cocoa Powder Brownies are even better the next day after baking. They somehow get even richer and fudgier. I love that they are such an all-out chocolate experience. Smaller than usual brownies may be a good idea here, as these pack a lot of rich flavor. Simply eat them out of hand or top with a little ice cream for an even more decadent treat!
Find more brownies recipes in the Recipe Index.
More Cocoa Powder Brownie Recipes
UPDATE April 2020: After some feedback from readers, I revisited this recipe and slightly tweaked it to make them better. However, I think there are some things to keep in mind when making these brownies to ensure that you love them as much as I do.
Tips for Success
Measure accurately. If you have a kitchen scale, use it. Otherwise, lightly spoon dry ingredients into a measuring cup and level. Dipping a measuring cup down into a container will inevitably compact the ingredient, giving you more than you need for the recipe. If you need a refresher on measuring accurately, see my tips for How to Measure Flour.
Use a high quality dark cocoa. I prefer King Arthur, linked below the recipe.
Use a light, non-shiny pan. A dark pan will bake the brownies faster and you'll end up with hard, tough brownies, especially around the edges.
Don't over-bake. A pick inserted into the center should have a few moist crumbs attached. If baked too long, the brownies will become tough and dry.
Remember that these are dense, fudgy brownies. Don't expect a light, crumbly brownie like many traditional versions.