The best cheesecake brownies you'll ever make! With a thick layer of mascarpone cheesecake baked atop a rich dark chocolate brownie base, these are guaranteed to be a hit.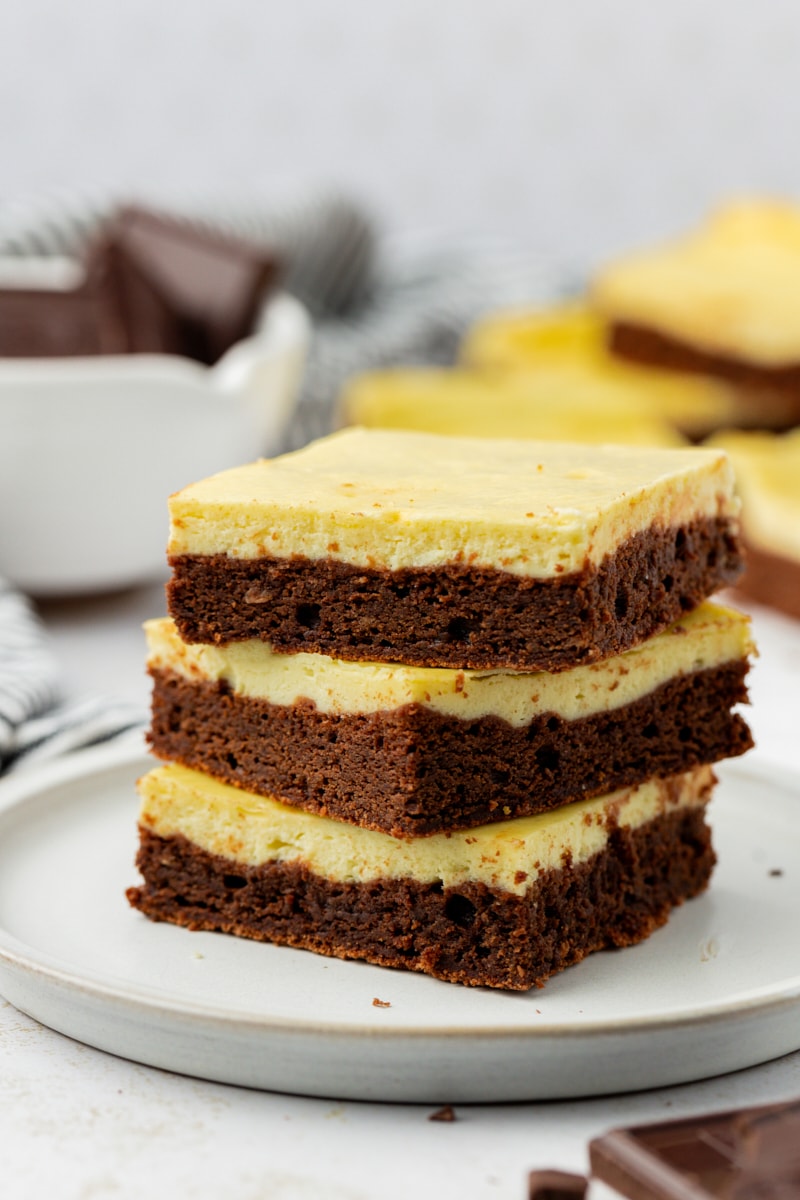 I love nutty brownies and small batch brownies, but when I want brownies and cheesecake together, these cheesecake brownies are my go-to. The mascarpone makes them just a bit different than the usual recipe. While the brownie layer is delicious on its own, topping it off with that rich mascarpone cheesecake layer is very nearly perfect!
Why You'll Love This Cheesecake Brownie Recipe
Maximum cheesecake in every bite. These brownies don't have swirls of cheesecake, the whole top is cheesecake! There's almost an equal amount of cheesecake and brownies, making these the perfect dessert for those who can't choose.
Easy to make. Skipping the swirl makes these brownies even easier to make, plus most of the ingredients here are pantry staples.
Rich and indulgent. With bittersweet chocolate, mascarpone, butter, and 5 eggs, these cheesecake brownies are supremely decadent. This is a brownie you'll relish as a dessert, not munch on mindlessly as a snack!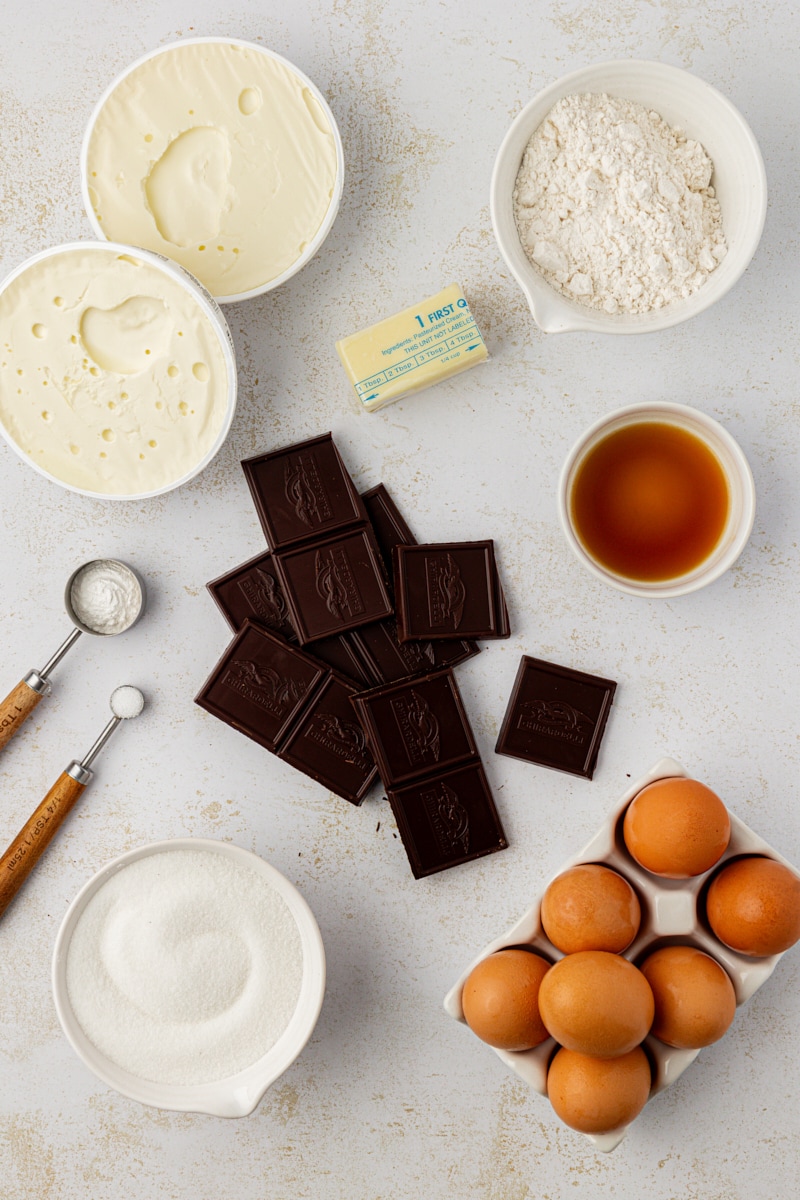 What You'll Need
Scroll down to the recipe card to find the ingredient quantities and recipe instructions.
What Is Mascarpone Cheese?
Mascarpone cheese is a soft Italian cheese that's very similar to American cream cheese, but not quite the same. Mascarpone is made with whole cream, while cream cheese is made with milk. It's sweeter and less tangy than cream cheese.
How to Make Cheesecake Brownies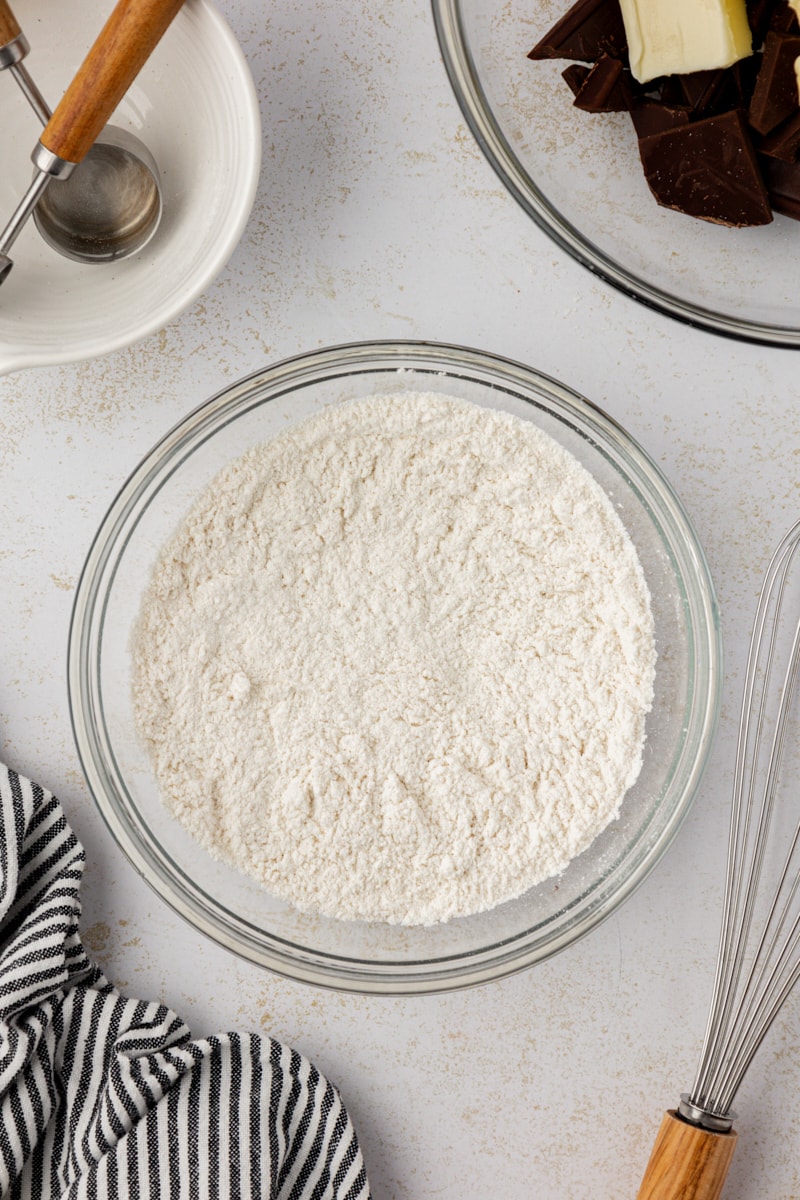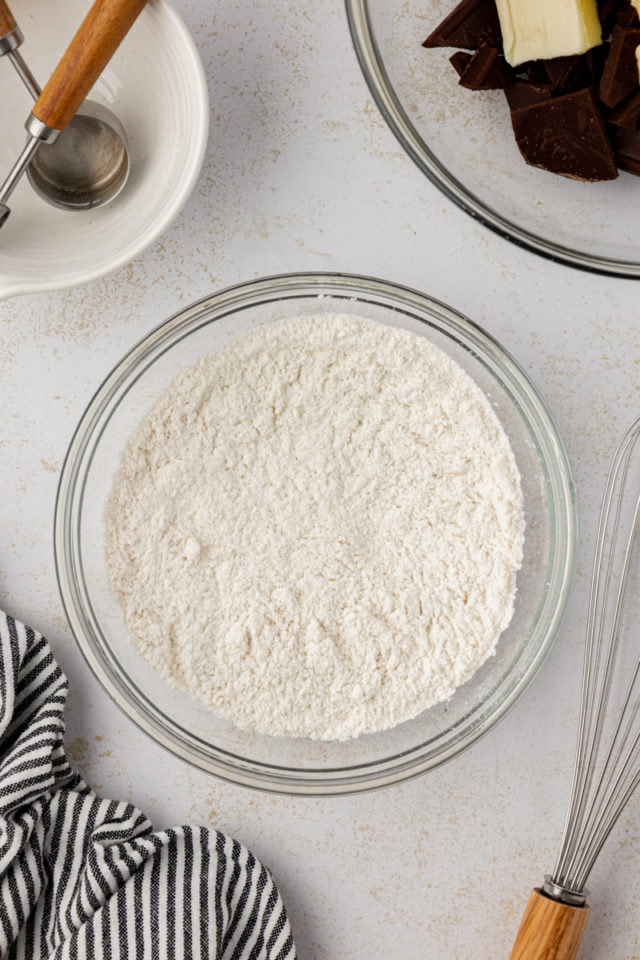 Prepare. Preheat your oven to 350°F. Grease a 9″ x 13″ x 2″ baking pan, then line it with parchment paper.
Mix the dry ingredients. Whisk together the flour, baking powder, and salt in a mixing bowl.
Combine the chocolate and butter. Melt the chocolate and butter in a barely simmering double boiler or in the microwave at half-power in 30-second increments. Cool slightly.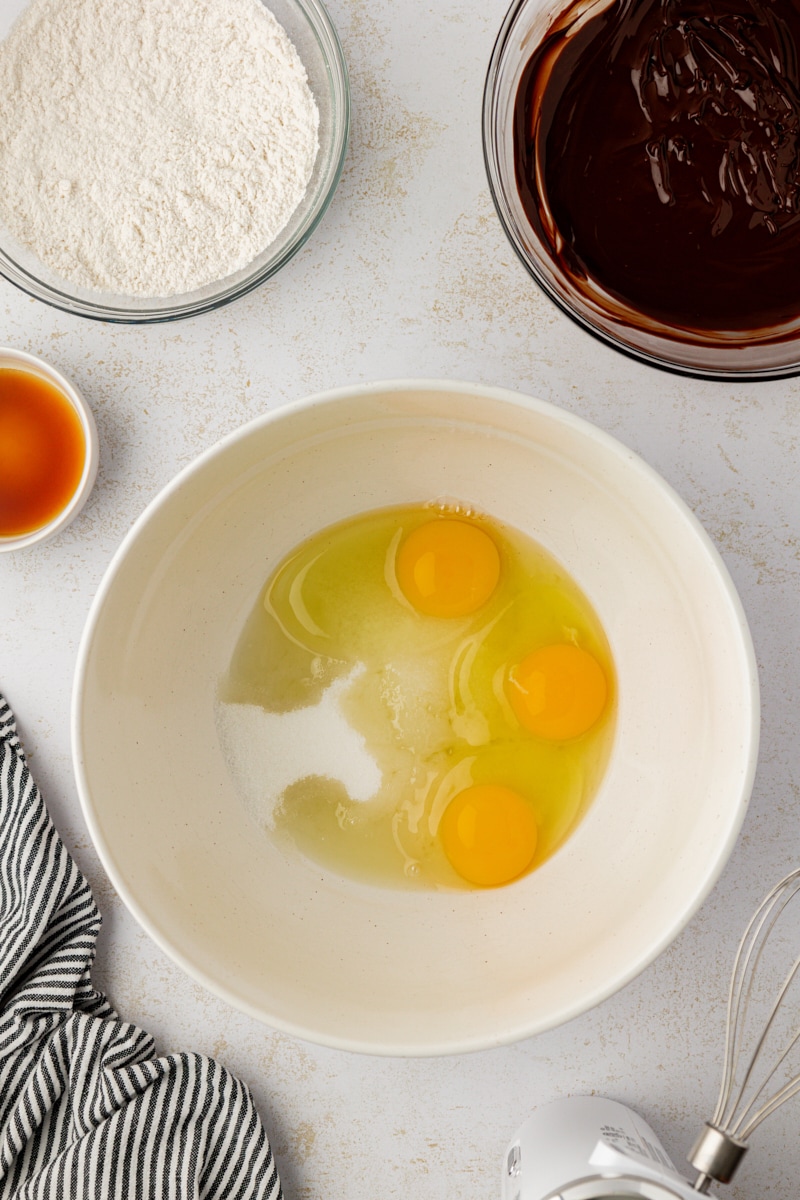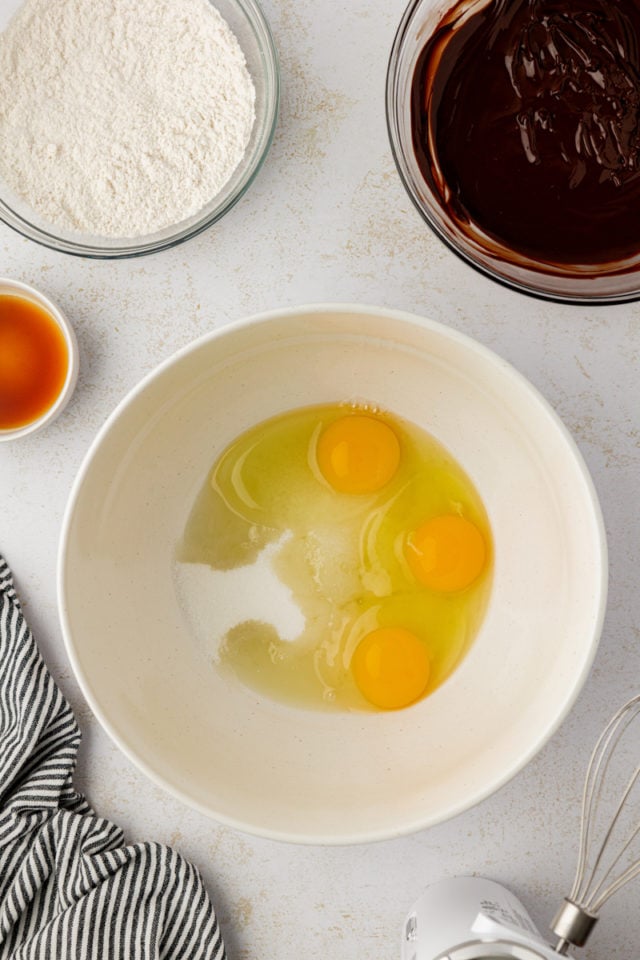 Mix the wet ingredients. Use the whisk attachment of an electric mixer to beat 3 eggs and 1 cup sugar on high speed for about 5 minutes, or until the mixture is thick and fluffy. Reduce the speed to low, then mix in the chocolate mixture and 1 teaspoon of vanilla.
Finish the brownie batter. Stir the flour mixture into the wet ingredients. Spread into the prepared pan.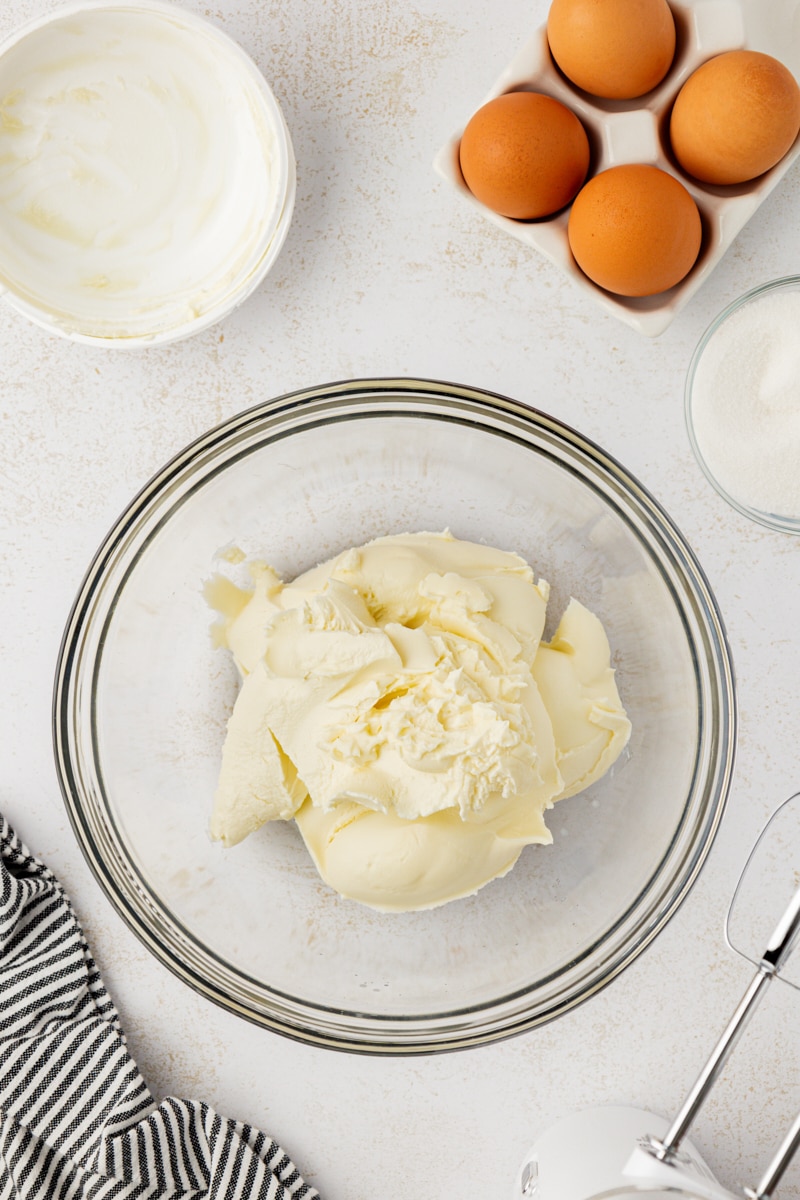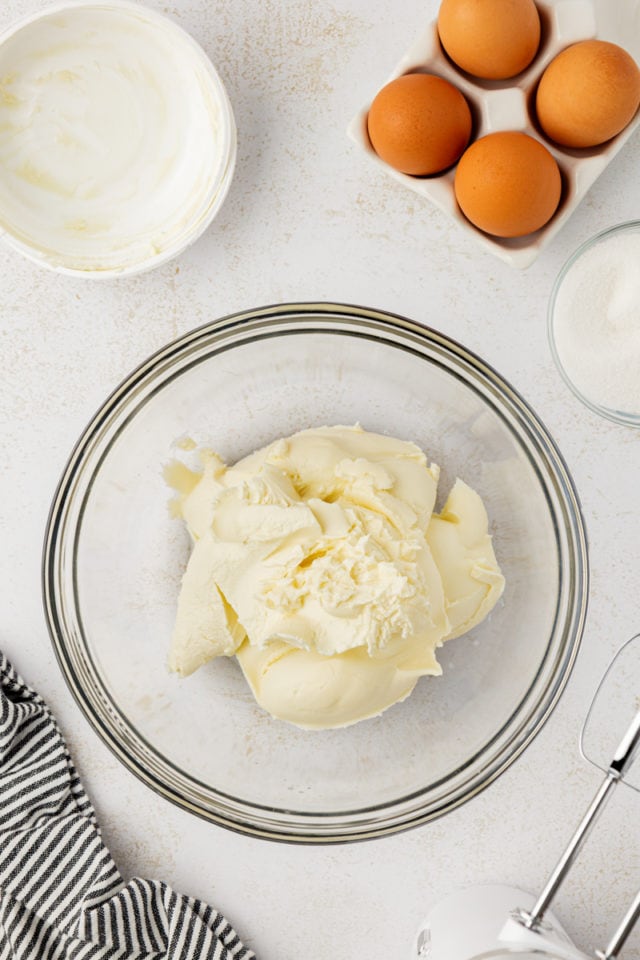 Make the cheesecake topping. Use an electric mixer on medium speed to beat the mascarpone cheese with 2 eggs, the egg yolks, the remaining sugar, and 1/2 teaspoon vanilla. Mix until smooth.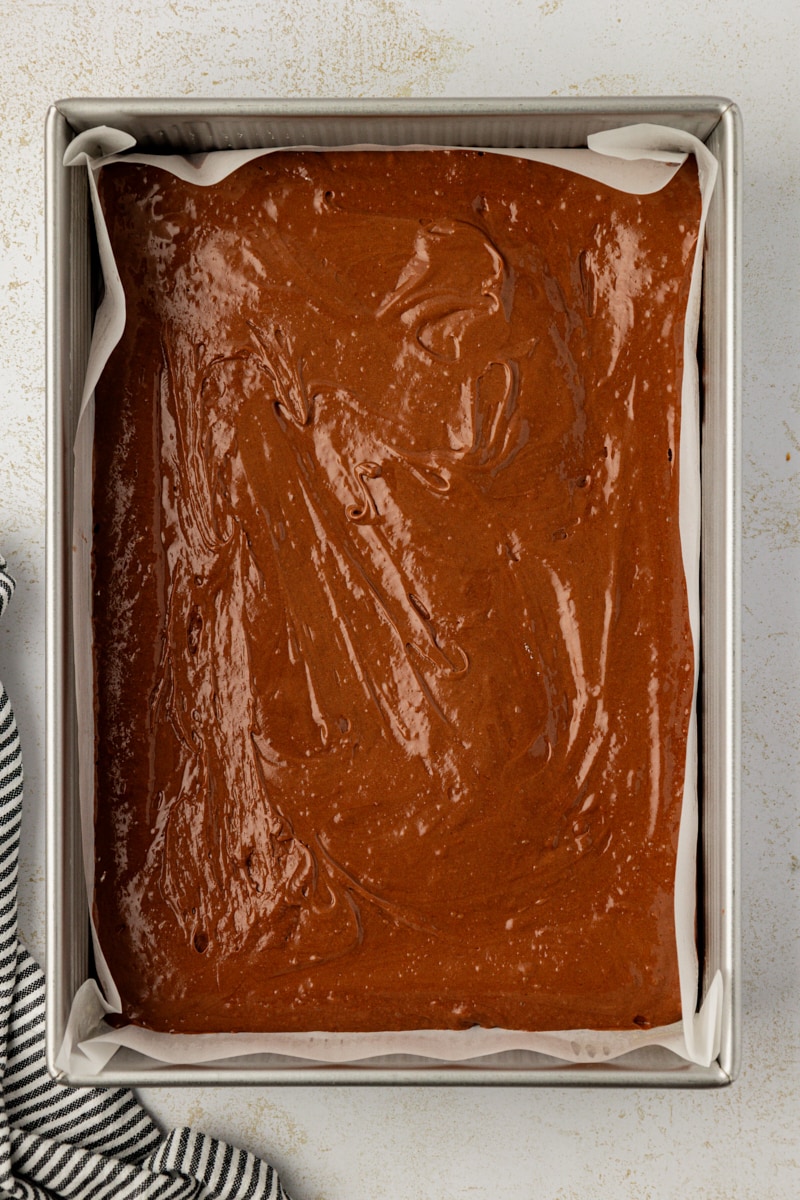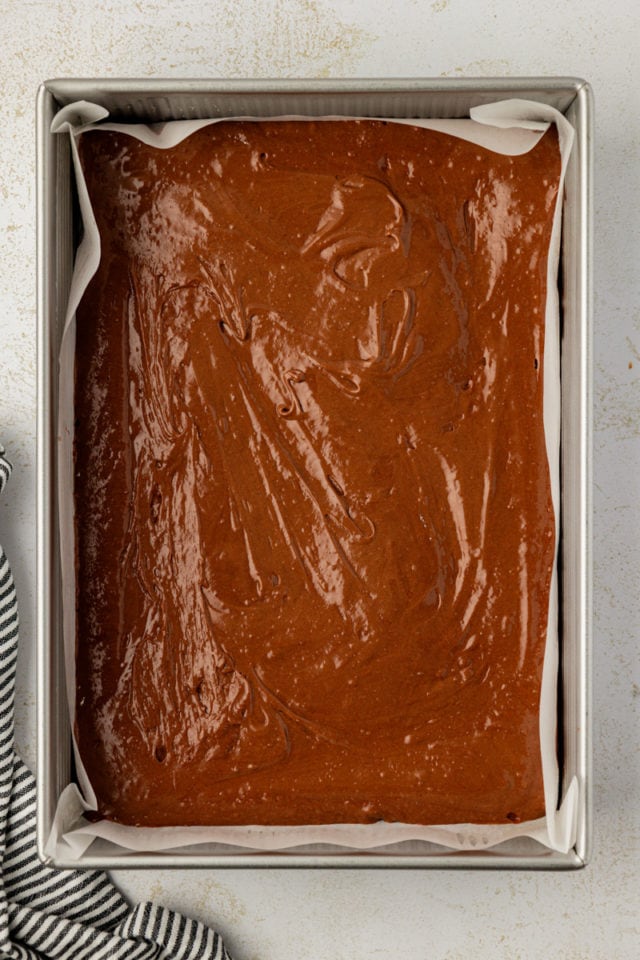 Bake. Spread the mascarpone mixture over the brownie batter, then bake the brownies for about 35 minutes, or until the top is golden and set.
Cool and serve. Set the pan on a wire rack and let the cheesecake brownies cool completely before cutting into bars and serving.
Tips for Success
Spoon and sweep the flour. If you scoop the flour with a measuring cup, you're likely to use more than you actually need. Learn more: How to Measure Flour.
Use a high-quality chocolate. A good chocolate is important here! If it wouldn't taste good to eat on its own, it's not going to be good in your cheesecake brownies either.
Let the mascarpone come to room temperature. Room temperature mascarpone (or cream cheese, if that's what you're using) will mix more smoothly and won't get stuck on the beaters.
Use a light touch when adding the cheesecake layer. Don't dump the mascarpone mixture in the pan. Gently pour it evenly over the brownie layer so the two layers don't mix together.
Make sure you know the basics. Read over my Baking Tips for Beginners and Tips for Baking Brownies from Scratch.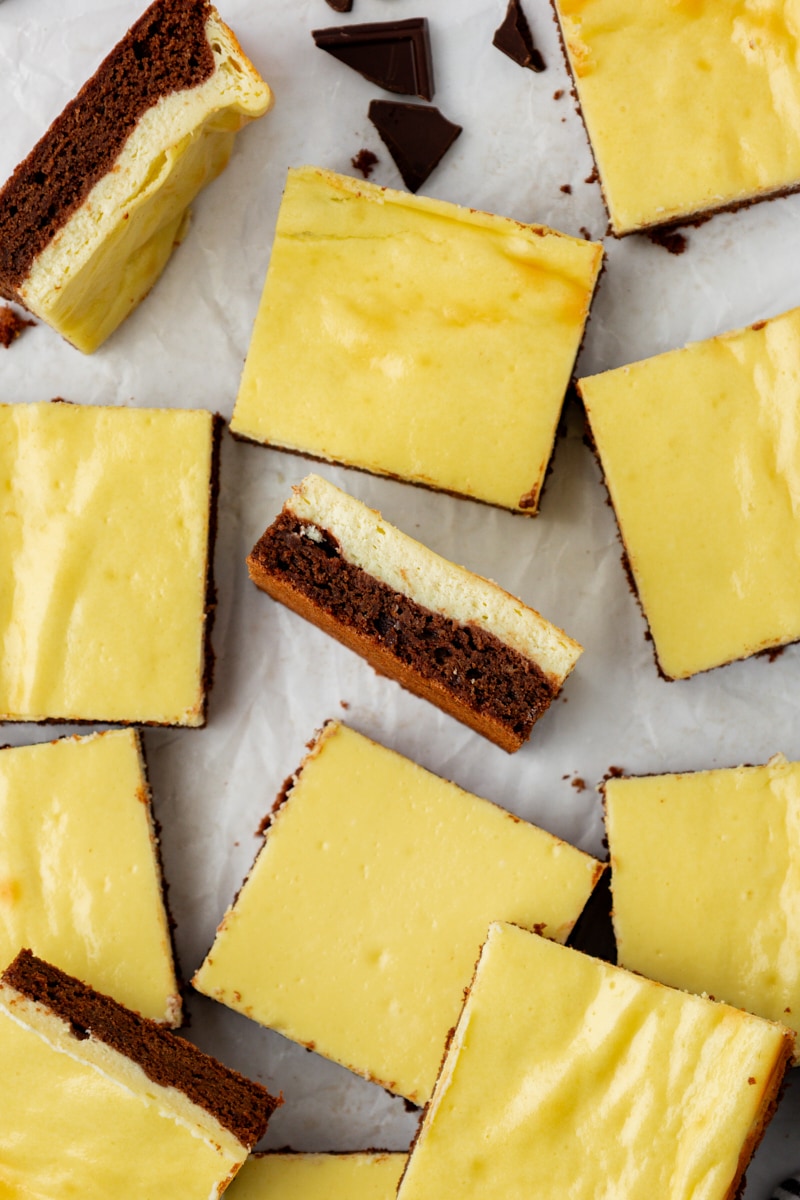 Variations
Swirl it. If you'd like, you can take a butter knife and swirl the two layers together.
Make it extra chocolatey. Add mini chocolate chips to the cheesecake layer for a little more decadence in these cheesecake brownies.
Try peppermint cheesecake brownies. If you're making these brownies for the holidays, add a few drops of peppermint extract to the cheesecake topping. (Be conservative, though—it's quite strong!)
How to Store
Refrigerate these cheesecake brownies in an airtight container for up to 5 days. You can let them sit at room temperature for a few minutes before serving.
Can I Freeze This Recipe?
Freeze these cheesecake brownies for up to 3 months in an airtight container or freezer bag. Let them thaw in the refrigerator before serving.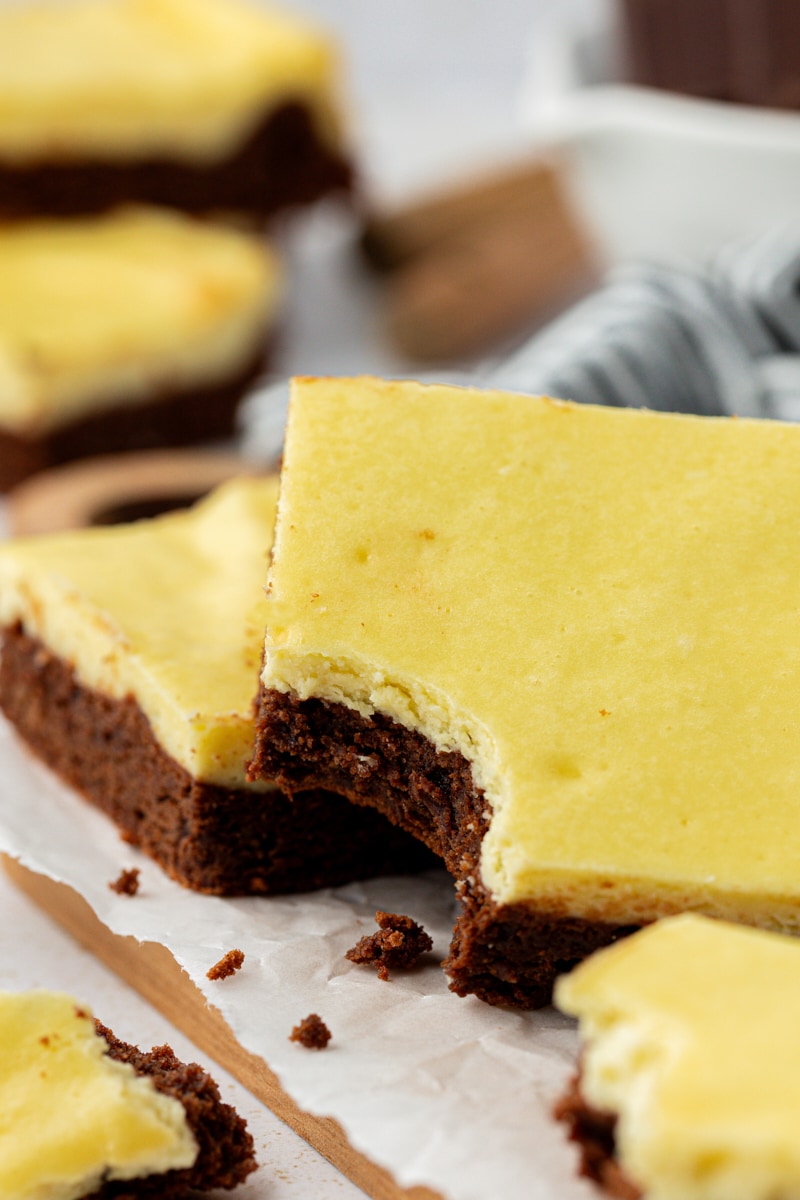 More Brownie Recipes