July 9, 2007
Monster Cookies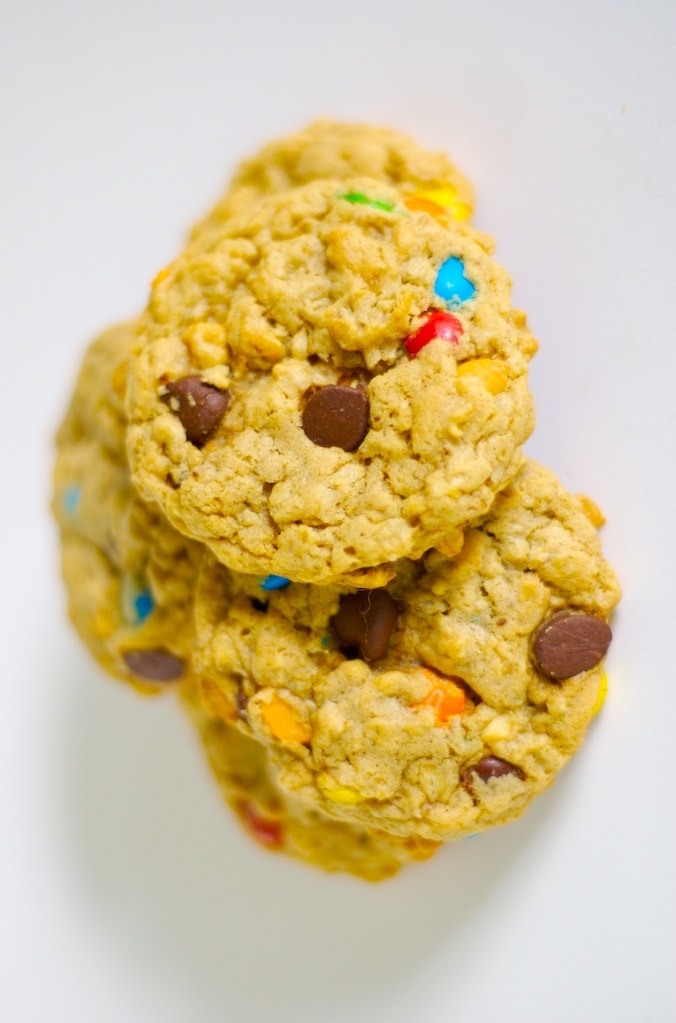 I have been drooling over The King Arthur Flour Cookie Companion: The Essential Cookie Cookbook for ages. It's a bit hard to justify buying a new cookbook when I have stacks of them with recipes tagged that I've not gotten around to trying yet. Recently, though, I found it at a very good discount at our local bookstore. That's pretty much all it took to get it finally added to my book shelf.
Deciding which recipe to make first was tough. I decided not even to tag any pages because I wanted to make so many of them. I narrowed it down to a few, and finally decided on these Monster Cookies.

These were surprisingly simple to make, considering the long list of ingredients. Everything goes in one bowl, which is especially handy and simple with a stand mixer. The dough was an interesting consistency. It was a bit like candy, or at least a bit unlike standard cookie dough.
I assume that the title of these cookies comes from the size of them, as well as all the flavors involved. I did, however, decide not to make enormous cookies. I used my usual cookie scoop and made average-sized cookies.
We really, really like these cookies. They are a nice twist on traditional peanut butter or oatmeal cookies. All the different flavors work well together. Plus, there's the added bonus of how simple they are to make. These are a great cookie to whip up when you need an easy, quick recipe.
This post contains affiliate links. If you make a purchase through one of the links, I'll receive a
small commission at no additional cost to you.
Find more cookie recipes in the Recipe Index.
Monster Cookies
Yield: about 5 dozen cookies
Prep Time: 20 minutes
Cook Time: 12 minutes per pan
Monster Cookies are big, chewy cookies packed with all kind of good stuff. These are irresistible!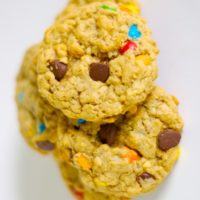 Ingredients:
3 large eggs
1 cup firmly packed light or dark brown sugar
1 cup granulated sugar
1 teaspoon vanilla extract
1 teaspoon corn syrup
2 teaspoons baking soda
1 teaspoon salt
1/2 cup unsalted butter, melted
1 & 1/2 cups chunky peanut butter
4 & 1/2 cups rolled oats
1/2 cup all-purpose flour
3/4 cup semi-sweet chocolate chips
3/4 cup butterscotch chips
3/4 cup mini M&Ms
Directions:
Preheat oven to 350°F. Line baking sheets with silicone liners or parchment paper.
Combine the eggs, both sugars, vanilla, corn syrup, baking soda, and salt in a large mixing bowl. Stir in the melted butter.
Next add the peanut butter, oats, and flour and mix thoroughly. Stir in the chocolate chips, butterscotch chips and M&Ms.
Chill the dough rest for about 30 minutes to allow the oats to absorb the butter.
Drop the dough by tablespoonfuls onto the prepared baking sheets.* Bake for 10 to 12 minutes or until lightly browned.
Notes:
Note: The recipe calls for the dough to be dropped by 1/4-cupfuls, yielding 26 4&1/2-inch cookies. If you make them this size, they suggest flattening the dough slightly before putting the cookies in the oven. I used a much smaller scoop and made about 5 dozen "normal-sized" cookies.