With peanut butter, chewy rolled oats, chocolate chips, butterscotch, and M&Ms, there's something for everyone in these giant Monster Cookies!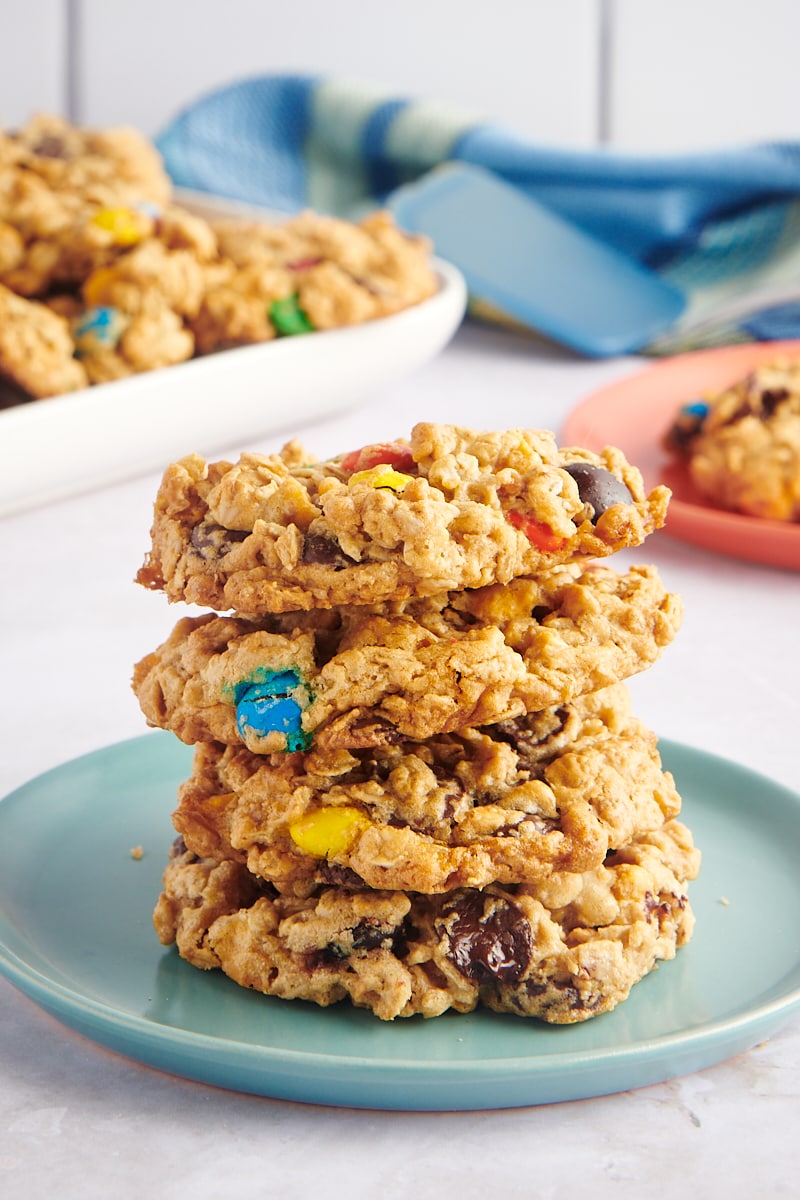 Thick, Chewy Monster Cookie Recipe
I have been drooling over The King Arthur Flour Cookie Companion: The Essential Cookie Cookbook for ages. It's a bit hard to justify buying a new cookbook when I have stacks of them with recipes tagged that I've not gotten around to trying yet. Recently, though, I found it at a very good discount at our local bookstore. That's pretty much all it took to finally add it to my bookshelf.
Deciding which recipe to make first was tough; I narrowed it down to a few, and finally decided on these monster cookies, which are surprisingly simple to make, considering the long list of ingredients. Everything goes in one bowl, which is especially handy with a stand mixer. The dough is an interesting consistency—a bit like candy, or at least unlike standard cookie dough.
We really, really like these monster cookies. They are a nice twist on traditional peanut butter or oatmeal cookies. All the different flavors work well together, and they're a great cookie to whip up when you need an easy, quick recipe.
(If you love these monster cookies, be sure to check out my other monster cookie recipes too: Monster Cookie Pie, Monster Skillet Cookie, and Chocolate Monster Cookies.)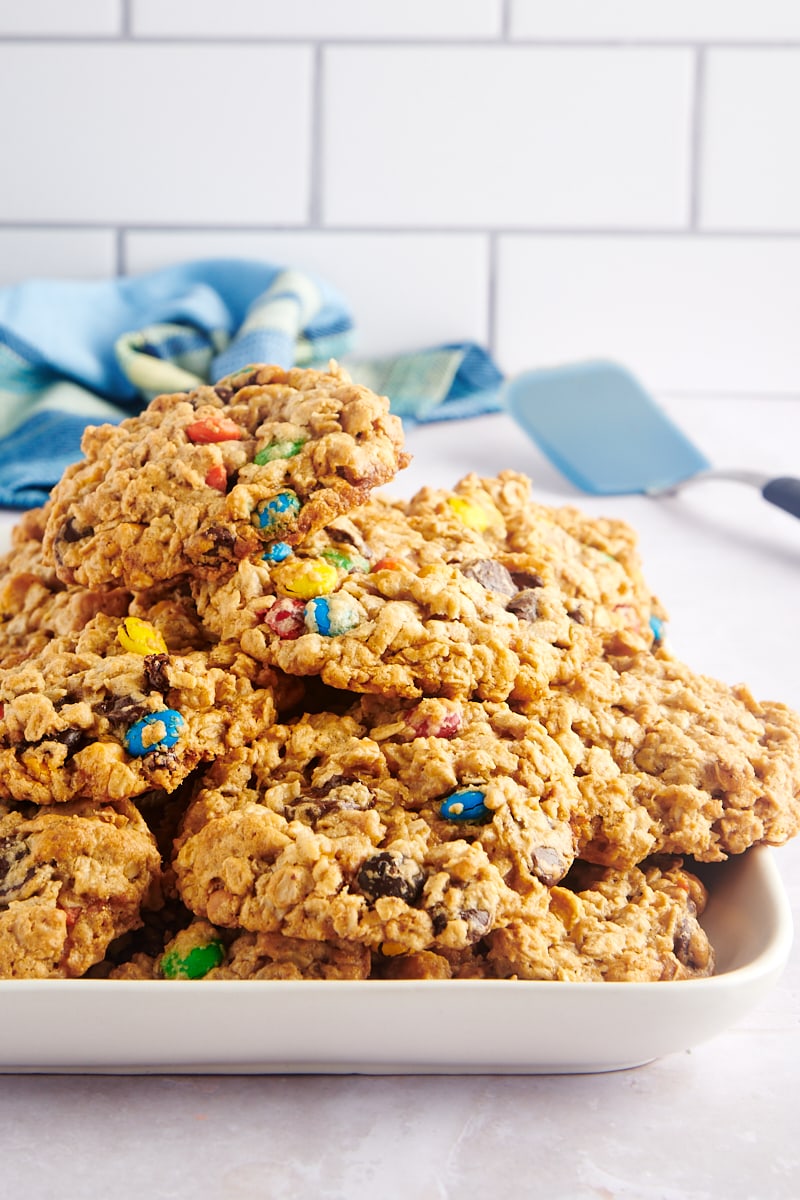 Why Is it Called a Monster Cookie?
Well, these cookies happen to be monster-sized, so that might be one reason! Another theory is that they're a little bit like Frankenstein's monster, with a whole bunch of different elements added to the mix—like what would happen if you combined oatmeal cookies, chocolate chip cookies, M&M cookies, and peanut butter cookies.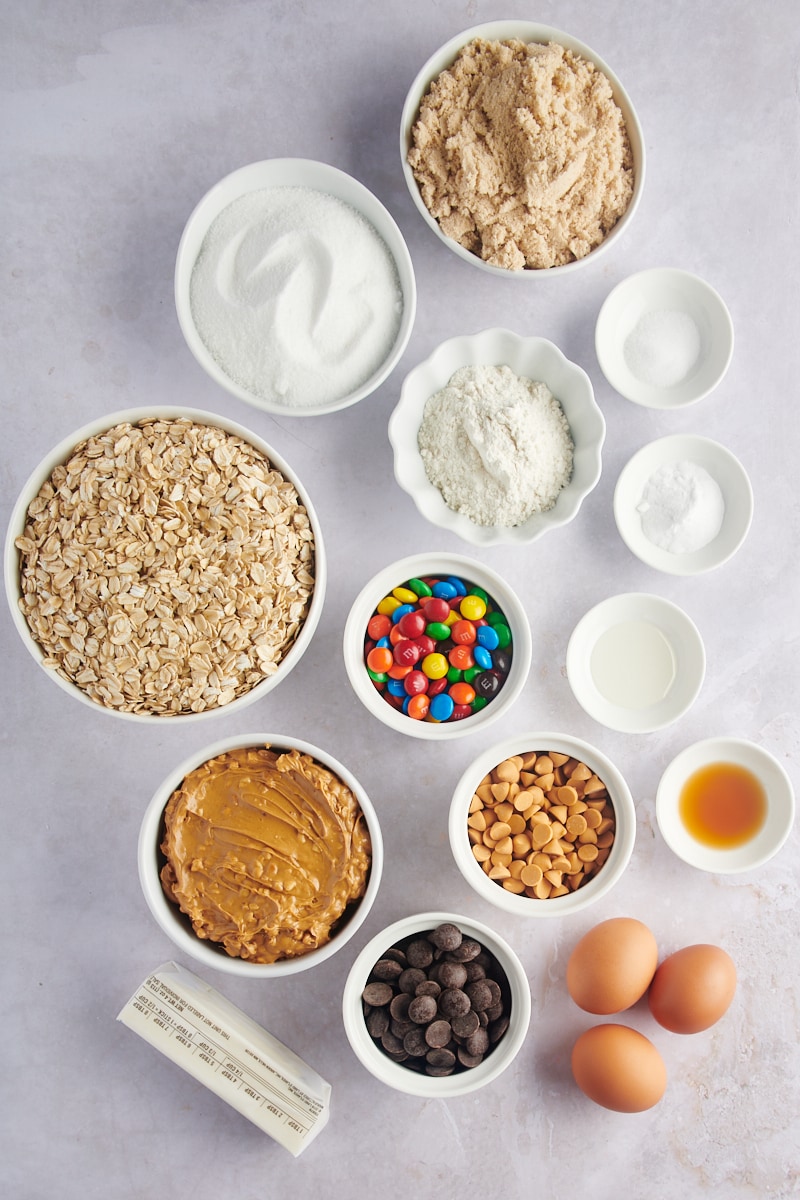 What You'll Need
Scroll down to the recipe card below this post for ingredient quantities and full instructions.
Eggs – Let these come to room temperature. I recommend baking with large eggs.
Light or dark brown sugar
Granulated sugar
Vanilla extract
Corn syrup – Use light corn syrup.
Baking soda
Salt
Unsalted butter – Learn more: Unsalted or Salted Butter: Which is Better for Baking?
Chunky peanut butter – Or another nut butter if you have a peanut allergy.
Rolled oats – Also known as old-fashioned oats. Learn more: Rolled Oats vs Quick Oats
All-purpose flour – Learn more: How to Measure Flour
Semi-sweet chocolate chips – Or chop up a chocolate bar for chocolate chunks.
Butterscotch chips
Mini or regular M&Ms
Monster Cookie Variations
The beauty of this recipe is that you can customize it with your own favorite mix-ins. Try different types of chocolate chips, toffee or caramel bits, chopped nuts, or anything else you like or happen to have on hand.
How to Make Monster Cookies
Here's how to make a batch of these chewy, ginormous monster cookies.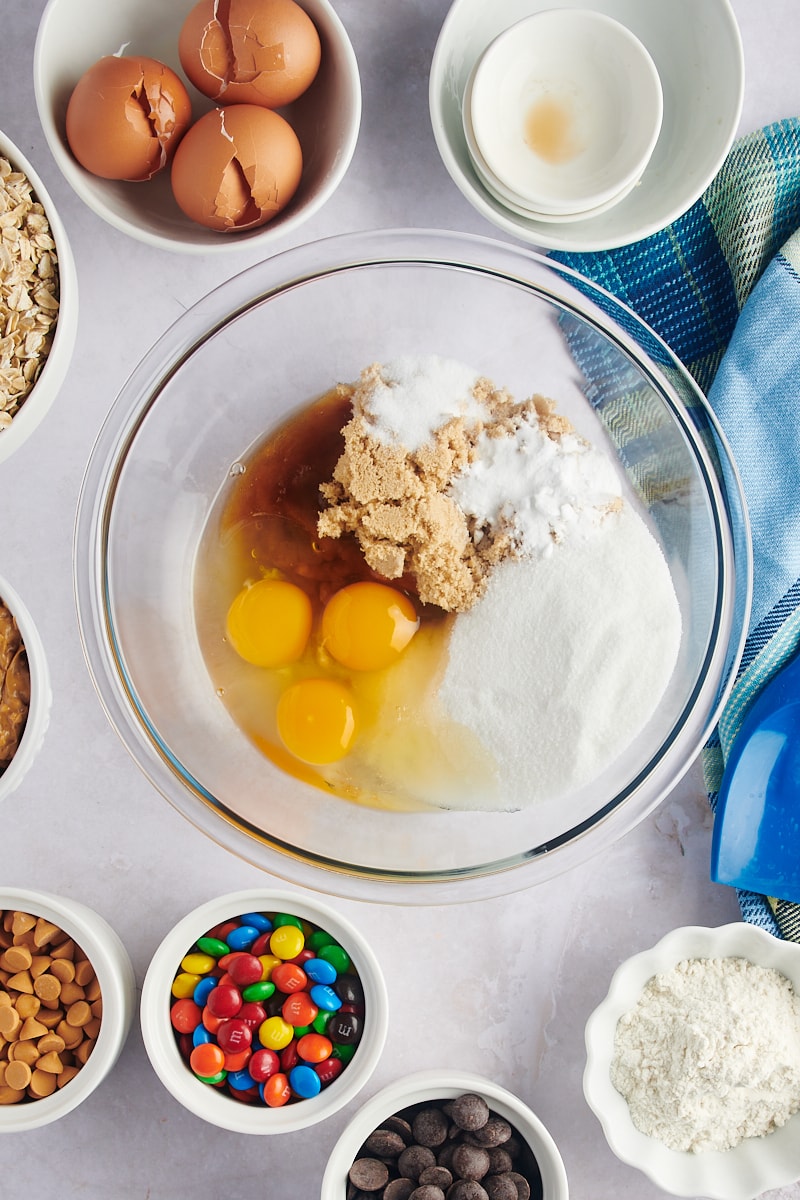 Combine the first 8 ingredients. Stir together the eggs, sugars, vanilla, corn syrup, baking soda, and salt in a large mixing bowl. Once the mixture is well-combined, stir in the melted butter.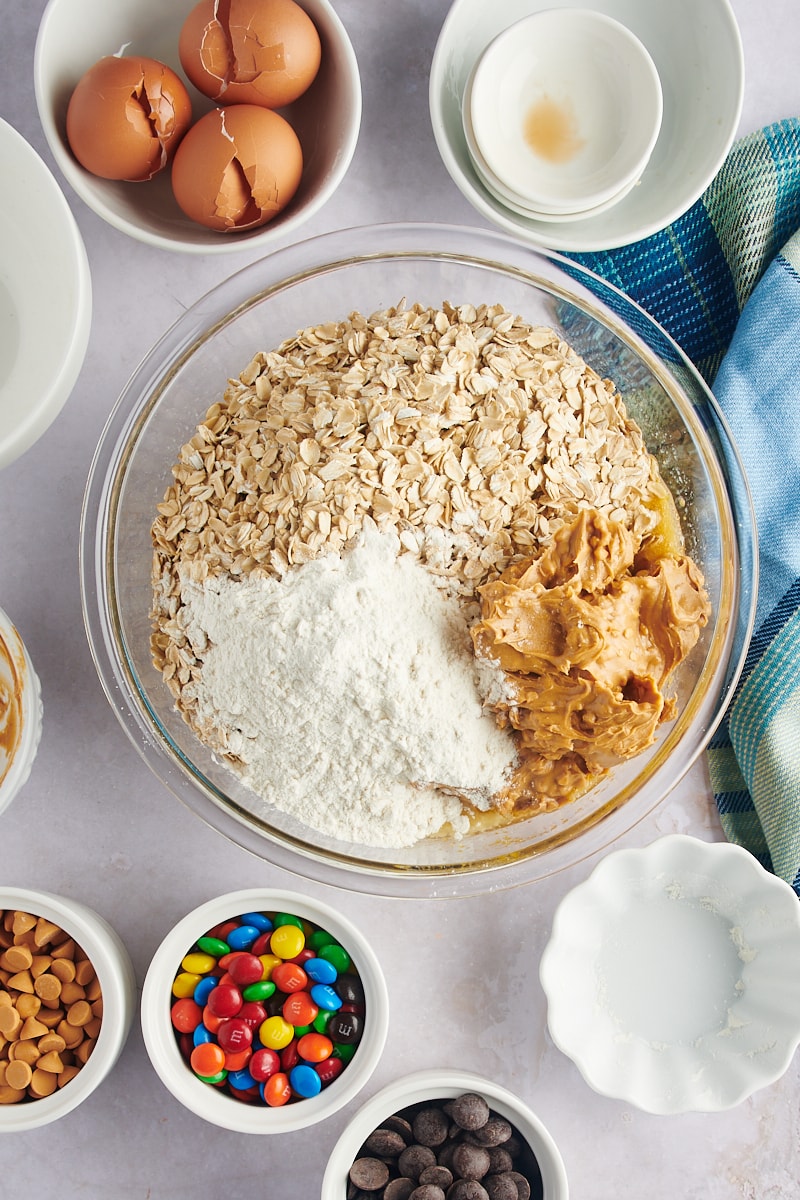 Add the remaining ingredients. Next, mix in the peanut butter, oats, and flour. Fold in the chocolate chips, butterscotch chips, and M&Ms. The dough will be a bit loose.
Chill. Place the bowl of dough in the refrigerator and chill for about 30 minutes. The oats will absorb the butter and the dough will thicken.
Prepare. Preheat your oven to 350°F and line baking sheets with silicone liners or parchment paper.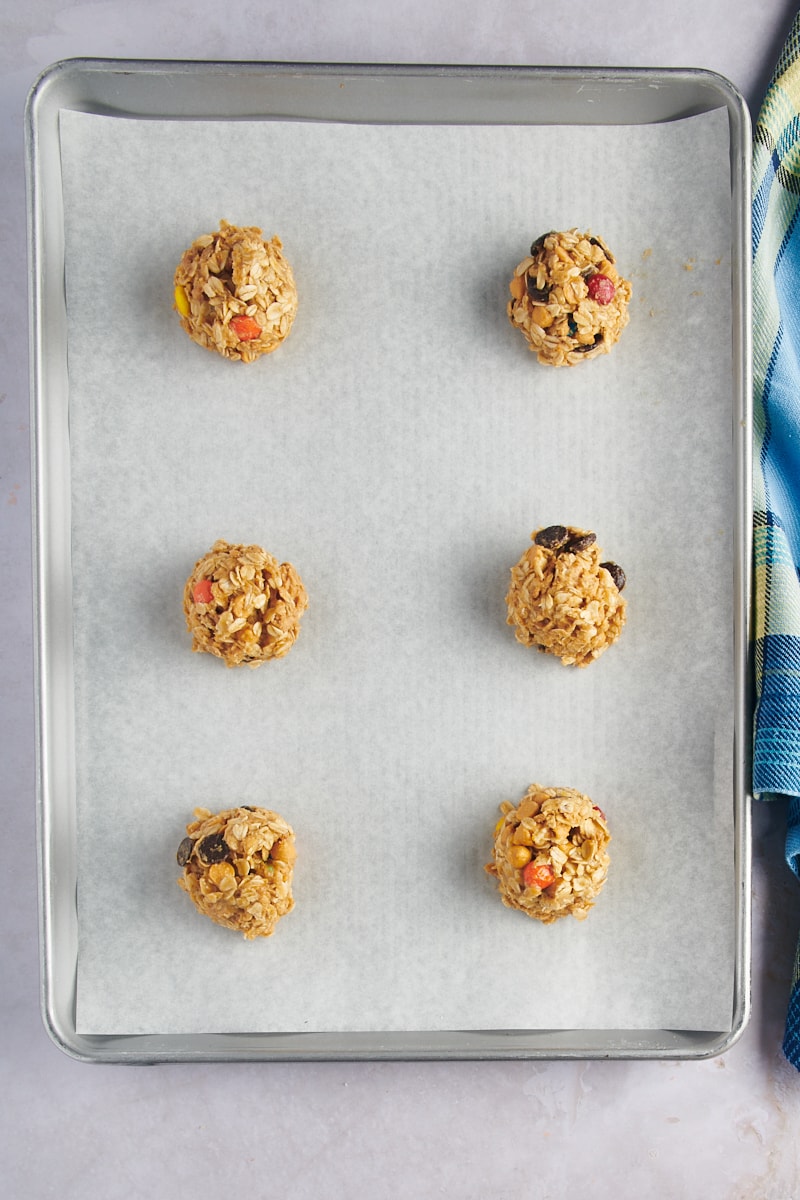 Form the cookies. Drop the dough by 4-tablespoon portions onto the baking sheets. (I use a cookie scoop for this.) Flatten the top of each cookie slightly.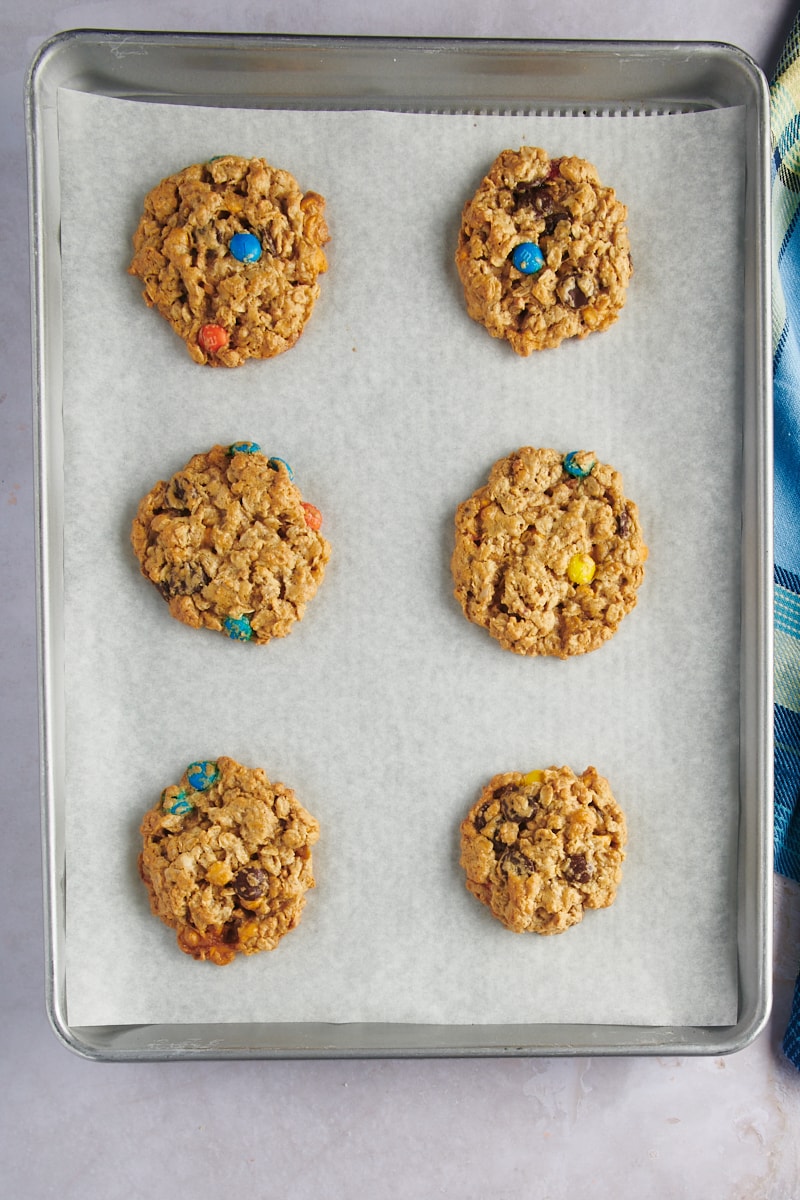 Bake. Place one pan in the oven at a time and bake for 12 to 15 minutes, or until the cookies are lightly browned. Chill the remaining dough in the refrigerator between batches.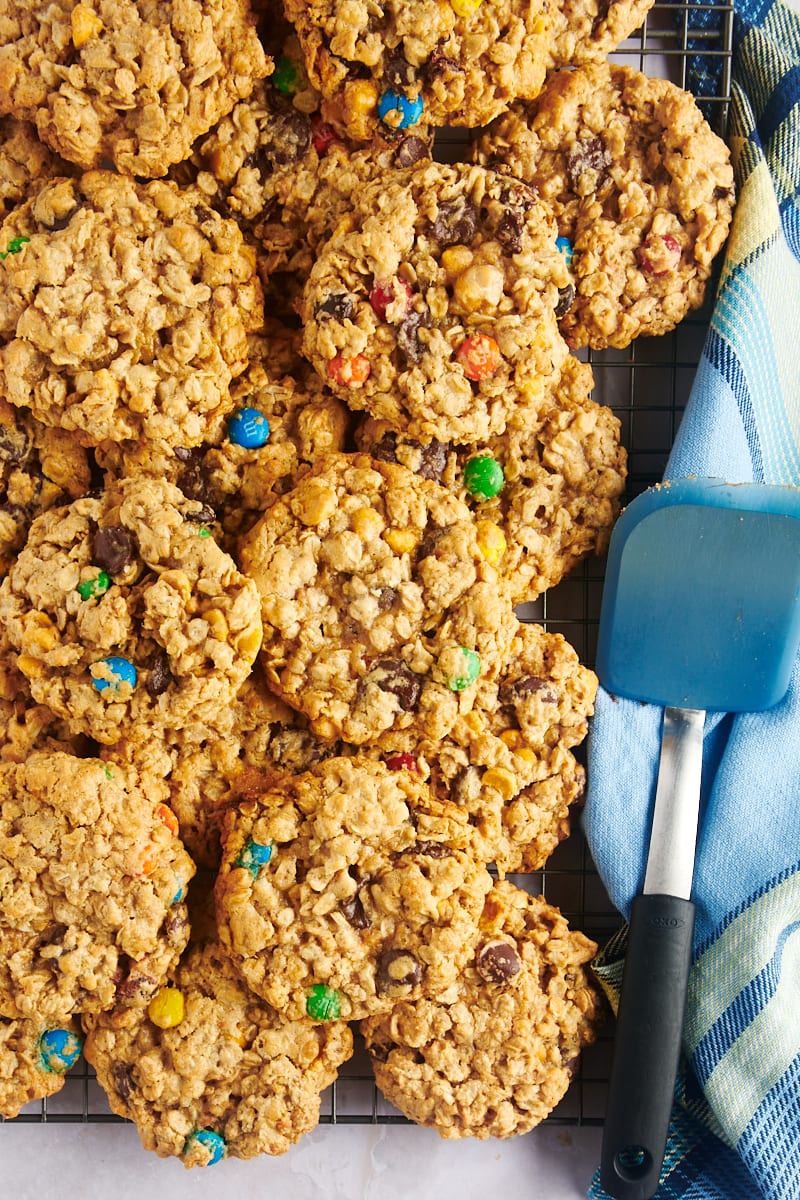 Cool. Let the monster cookies cool on the pan on a wire rack for about 10 minutes, then carefully transfer them from the pan directly to a wire rack to finish cooling. (Learn more: Why Every Baker Needs Wire Cooling Racks)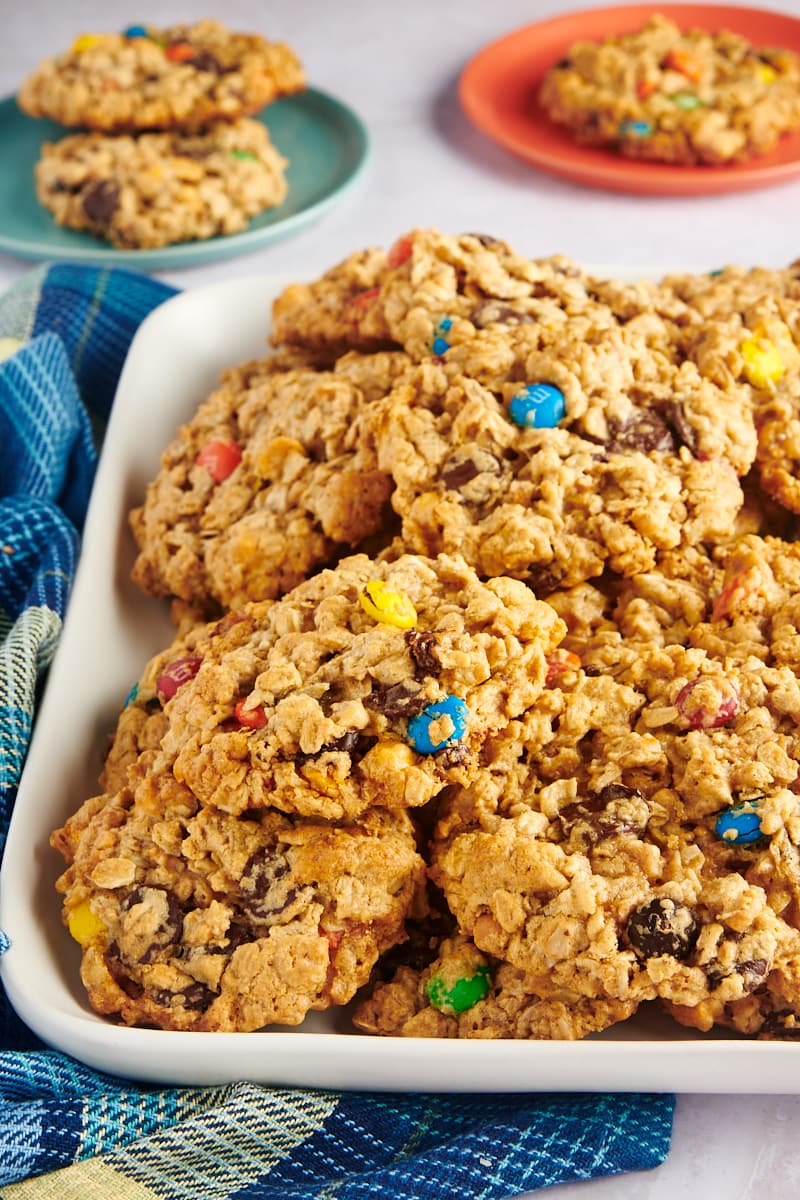 Tips for Success
Here are some simple hints and tips for perfect monster cookies!
Don't forget the chilling. If you don't chill the dough, your cookies are likely to spread while baking.
Use "regular" peanut butter. Skip the natural peanut butter that needs to be stirred when you're baking. The consistency can vary from one brand to the next, and also at different temperatures, which means it produces inconsistent results.
Adjust the size as needed. I've made these with smaller portions of dough, so if you want a larger number of smaller cookies, you can do that; just reduce the baking time slightly.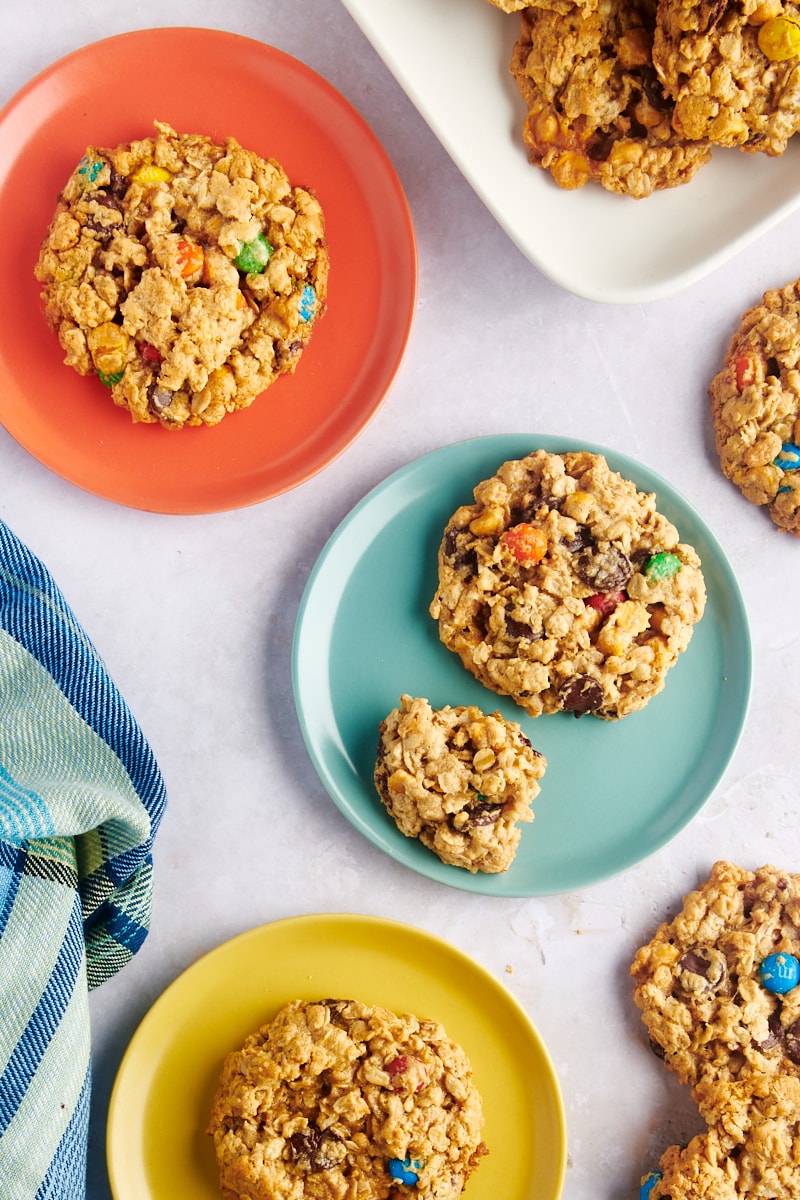 How to Store
Store these monster cookies in an airtight container on the counter for 2 to 3 days.
Can This Recipe Be Frozen?
You can freeze monster cookies in an airtight, freezer-safe container or freezer bag for up to 3 months. Let the cookies thaw at room temperature or warm them up in the microwave.
The dough can also be portioned and frozen for baking later; just add a few extra minutes to the baking time.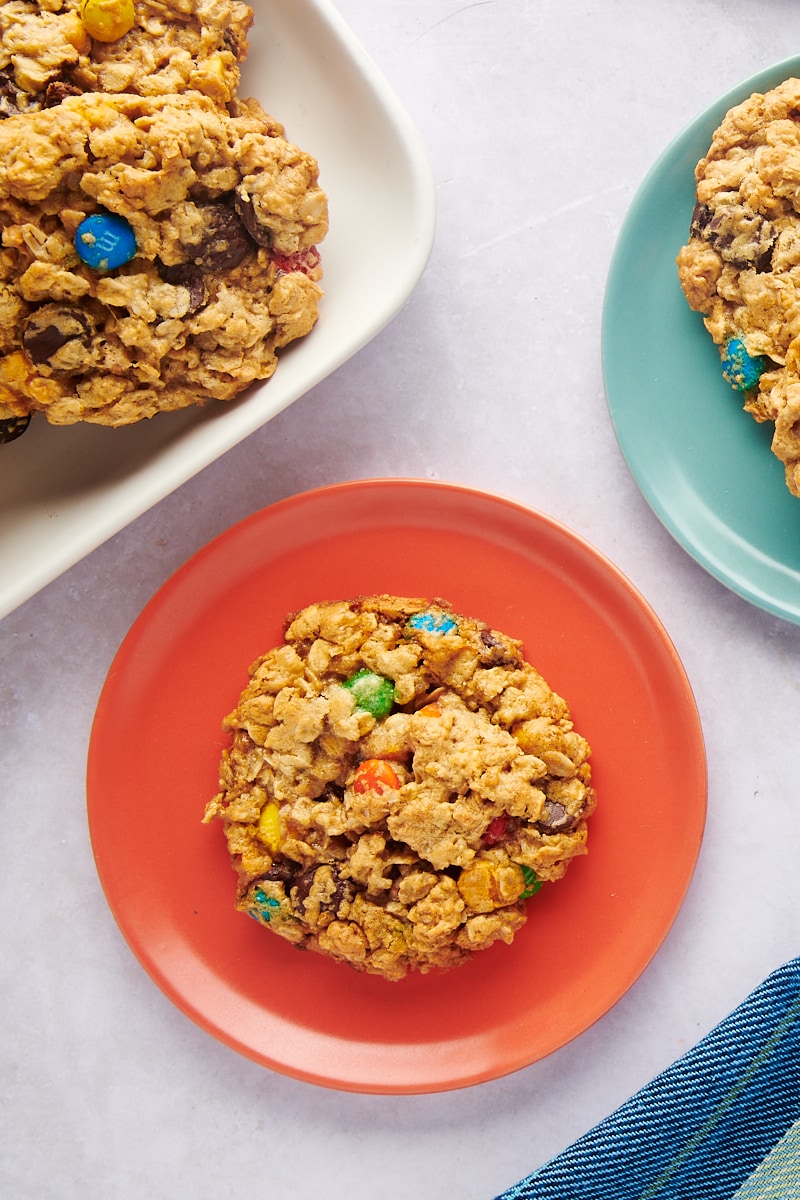 Video Tutorial: Monster Cookies
More Flavor-Packed Cookie Recipes