November 21, 2007
Brown Sugar Cinnamon Biscotti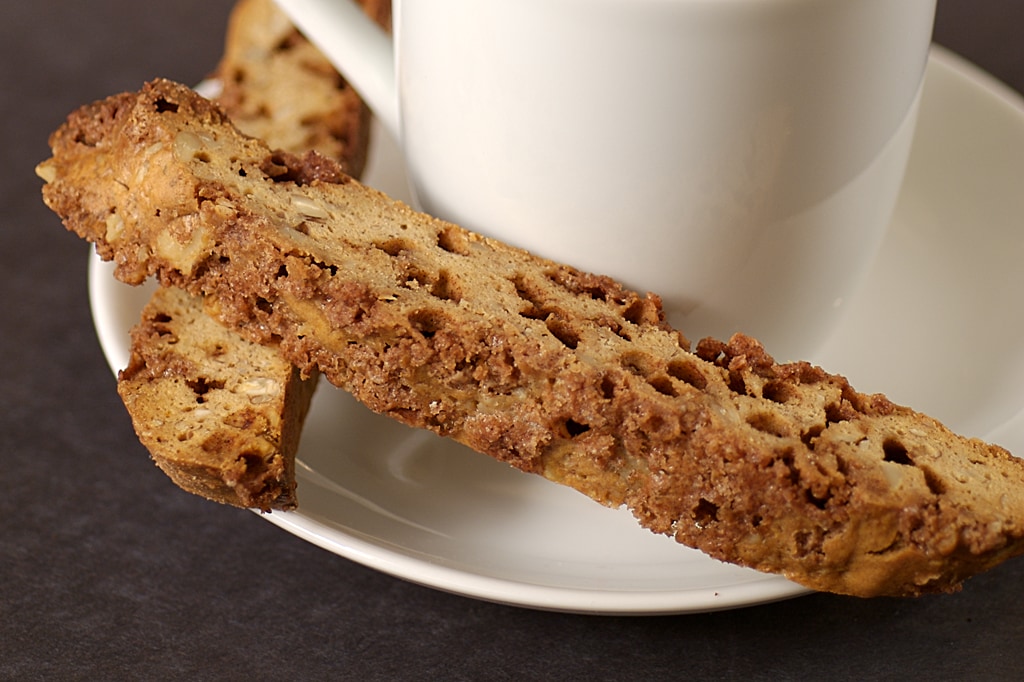 I was tasked this week with baking something that Quinn's parents could take with them to St. Louis for Thanksgiving. I started thinking about what kind of baked good would be most likely to survive an airplane ride, and decided that biscotti would be just the thing. I got out my King Arthur Flour Cookie Companion and found that they agreed with me. In fact, they refer to biscotti as "the ideal traveling companion."

This wonderful cookbook presents two basic styles of biscotti, Italian style and American style. American style is about what you'd expect our country would do to something – add butter and make it easier to eat. The Italian style is more what I think about when I think biscotti. It's hard, crunchy, and makes me concerned for my teeth.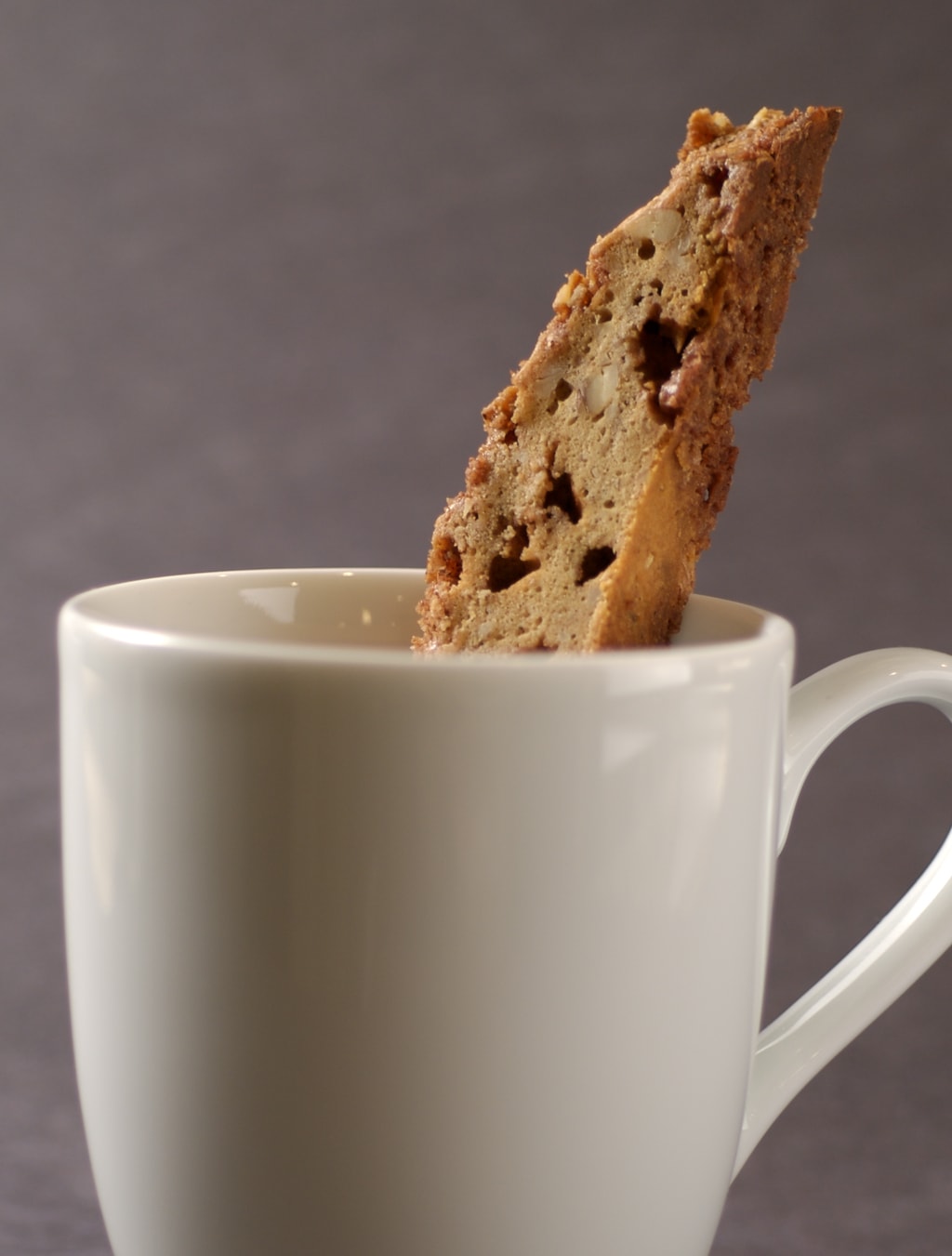 I went with the traditional Italian style version. After sampling a small piece, I was not disappointed. They are very hard and crunchy. As for the taste, these biscotti are delicious. The cinnamon and brown sugar really come through. If you have trouble finding cinnamon chips, check out The Baker's Catalogue.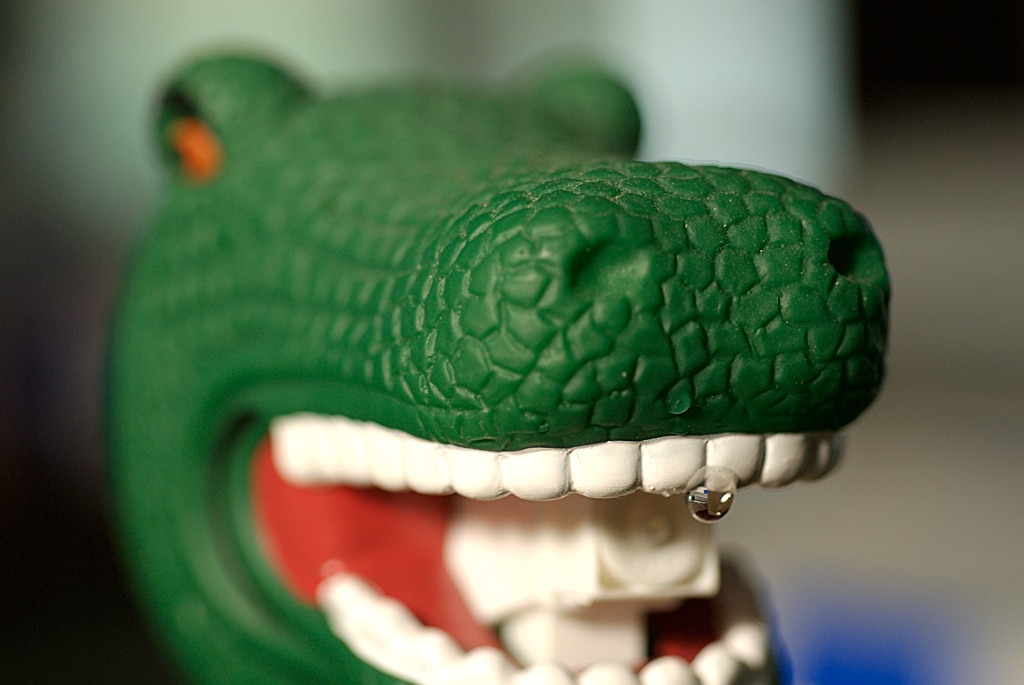 I haven't made biscotti in years. I used to make it quite often, but other baking ventures have led me away from it for a while. My only personal drawback to biscotti is that I don't drink coffee. I always thought that as I got older, I might develop a taste for it, but I just simply haven't. I love to smell it, but that's as far as it goes. If you're like me in this area, don't fret because biscotti is also wonderful with hot chocolate.
Also from The King Arthur Flour Cookie Companion: Monster Cookies
Recent biscotti inspirations:
Brown Sugar Cinnamon Biscotti
Yield: about 18 cookies
Prep Time:25 minutes
Cook Time:50 minutes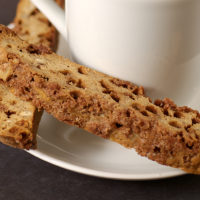 Ingredients:
2 large eggs
2/3 cup brown sugar
1/2 teaspoon baking powder
1/2 teaspoon salt
1 teaspoon vanilla extract
2 cups all-purpose flour
2 teaspoons cinnamon
1 cup cinnamon chips
1 cup chopped pecans (or other nuts)
Directions:
Preheat oven to 350°. Line a large baking sheet with parchment paper or silicone liner.
Beat the eggs, brown sugar, baking powder, salt, and vanilla until creamy. The mixture should be thick like pancake batter. Decrease mixer speed and add flour, cinnamon, cinnamon chips, and pecans. Mix just until blended.
Place dough on baking sheet. Shape into a log about 14 inches long, 2 & 1/2 inches wide, and 3/4 inches thick. Smooth the top and sides with a wet dough scraper.
Bake for 22 to 25 minutes. Reduce oven temperature to 325°.
Let cool on the pan for 5 to 15 minutes. Then, spray lightly with room-temperature water, covering the sides and the top, to make slicing easier. Wait 5 minutes, then slice the biscotti into 3/4-inch slices. Slice on the diagonal to yield longer biscotti. Be sure to slice straight up and down so the slices will not topple over during baking. Place sliced pieces on lined baking sheet, allowing about 1/2 inch between them.
Bake for 22 to 25 minutes. Remove from oven and transfer to a rack.
Notes:
After the biscotti have cooled, they can be stored in an airtight container for 2 weeks.