These sweet, colorful Strawberry M&M Cookies are the perfect treat for Valentine's Day. The sweet strawberry flavor pairs perfectly with the crunchy M&Ms to create a truly decadent dessert that everyone will love!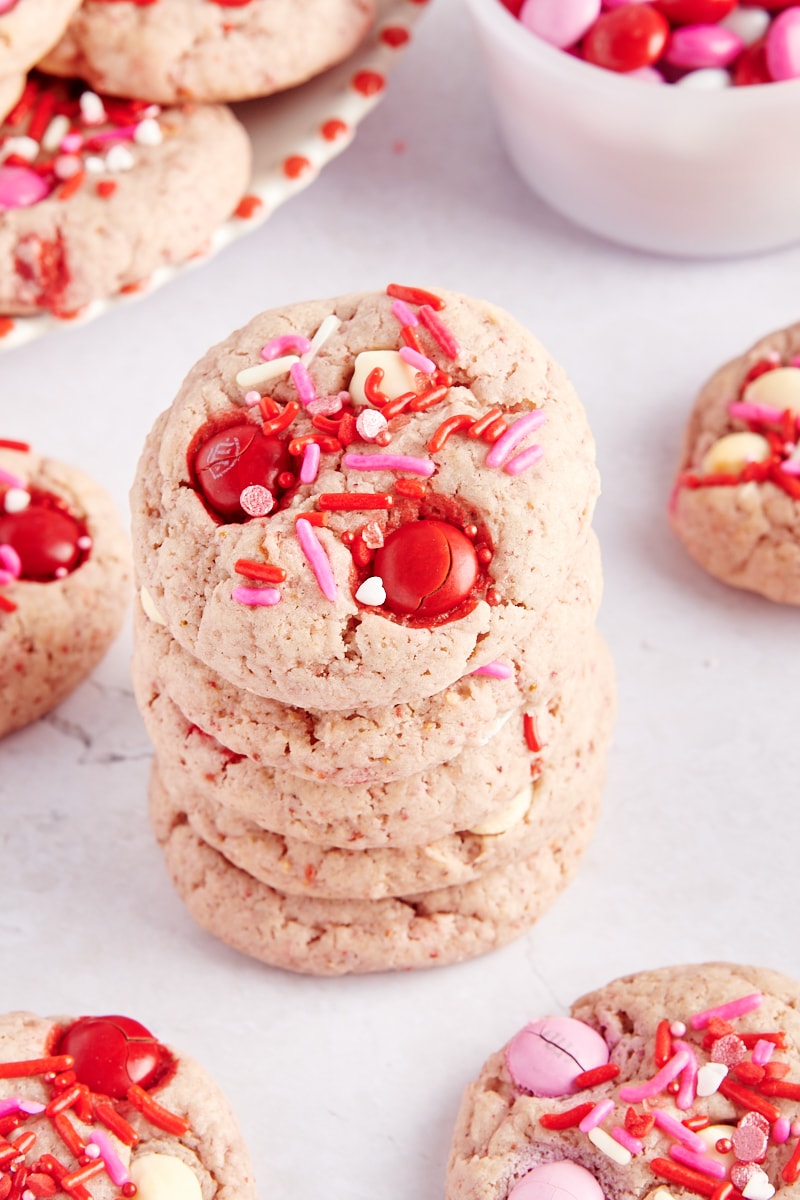 Strawberry Sugar Cookies with M&Ms
If you're looking for a happy, colorful treat to make this Valentine's Day, these Strawberry M&M Cookies are just the thing! This recipe combines strawberries and chocolate in easy-to-make cookies that are sure to be a hit with your Valentines.
Unlike many recipes for strawberry sugar cookies, there's no cake mix here. Instead, you'll get a batch of pretty pink sugar cookies thanks to freeze-dried strawberries. They're ground and added to the dough for wonderful strawberry flavor and a subtle pastel color.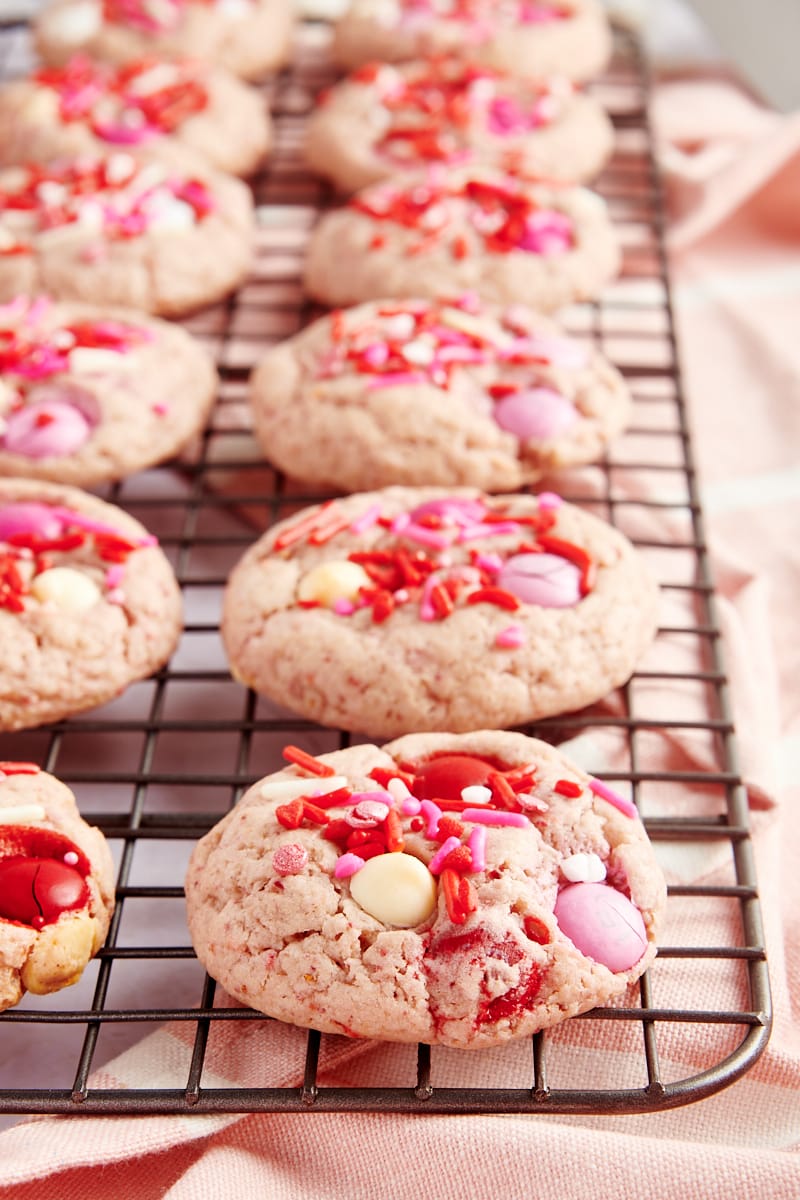 This cookie recipe has a long lineage here on BoB. It's a variation of my favorite sugar cookie recipe that's soft and flavorful, thanks to the presence of cream cheese in the dough. This isn't the first time I've added a fruity twist, either. If you're a raspberry fan, be sure to try my Raspberry Sugar Cookies.
I'm usually not much for the trappings of Valentine's Day, but I simply can't resist these cookies! And not only are they pretty and colorful, but they're also incredibly delicious!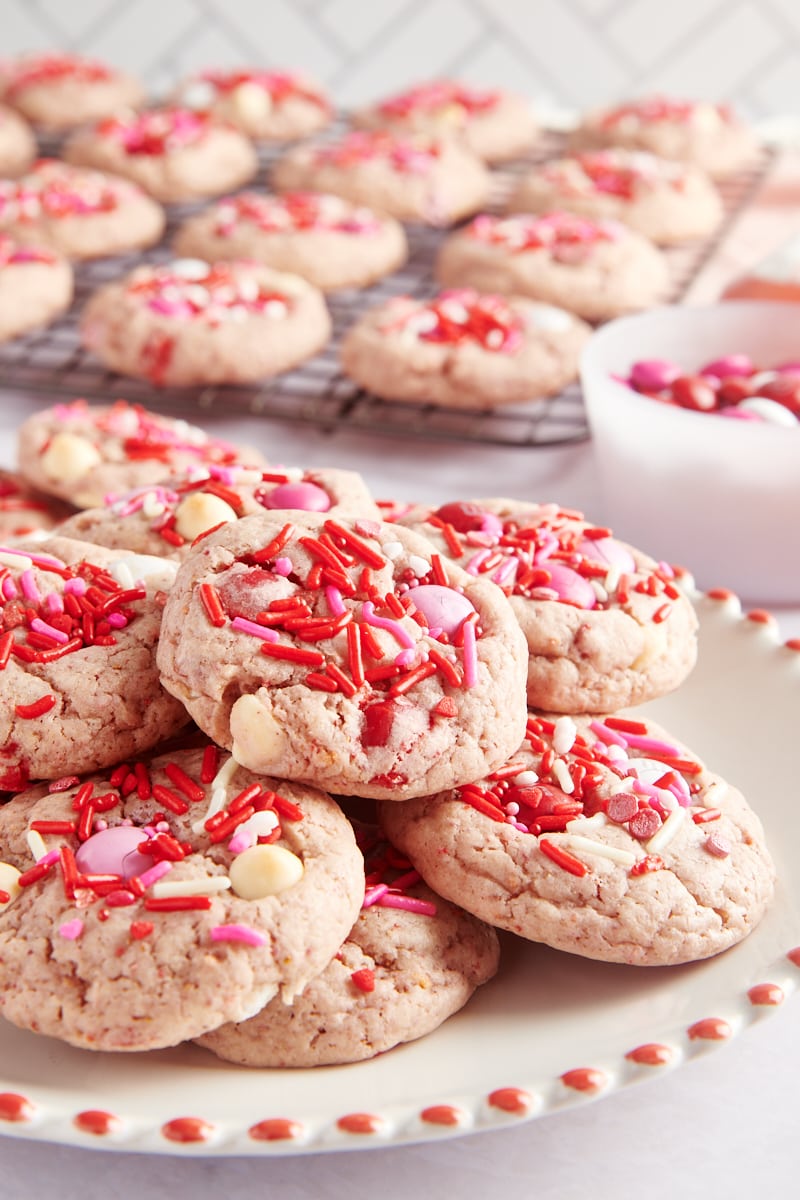 What You'll Need
See the recipe card at the bottom of this post for ingredient quantities and full instructions. Here are some helpful notes about the ingredients you'll need to make these strawberry M&M cookies.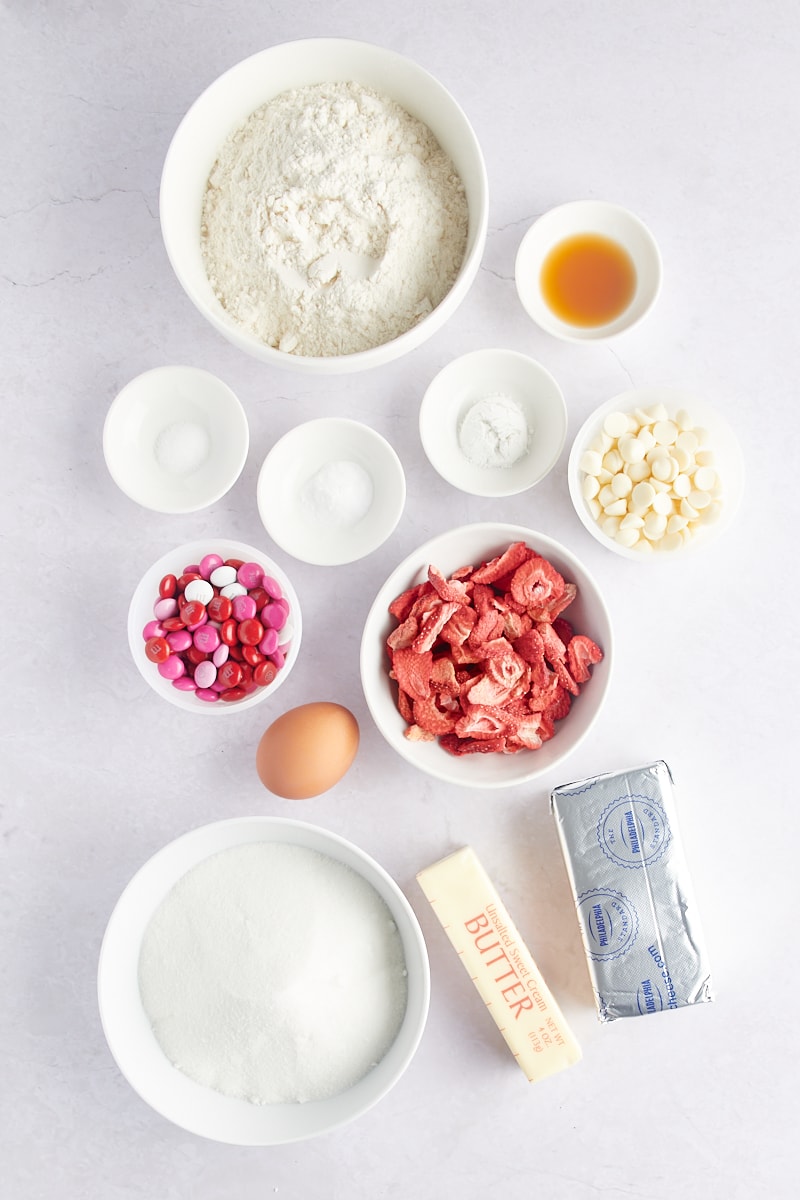 All-purpose flour – Measure by weight for best results. Otherwise, use the spoon and sweep method to simulate that accuracy. Learn more: How to Measure Flour
Baking powder
Baking soda
Salt
Unsalted butter – Let the butter soften before mixing. Learn more: How to Soften Butter
Cream cheese – Allow the cream cheese to come to room temperature before mixing. Full-fat cream cheese works best.
Granulated sugar
Freeze-dried strawberries – Look for these alongside the dried fruits. Grind the berries finely with a food processor, or place them in a zip-top bag and use a rolling pin to crush them.
Egg – Set this out along with the cream cheese and butter.
Vanilla extract
M&Ms – Use traditional M&Ms, Valentine's colors, or any other color combination you like.
White chocolate chips – I like the flavor of these with the strawberry and chocolate in the cookies, but you can just use more M&Ms if you prefer.
Sprinkles – These are optional but add even more color to these pretty cookies!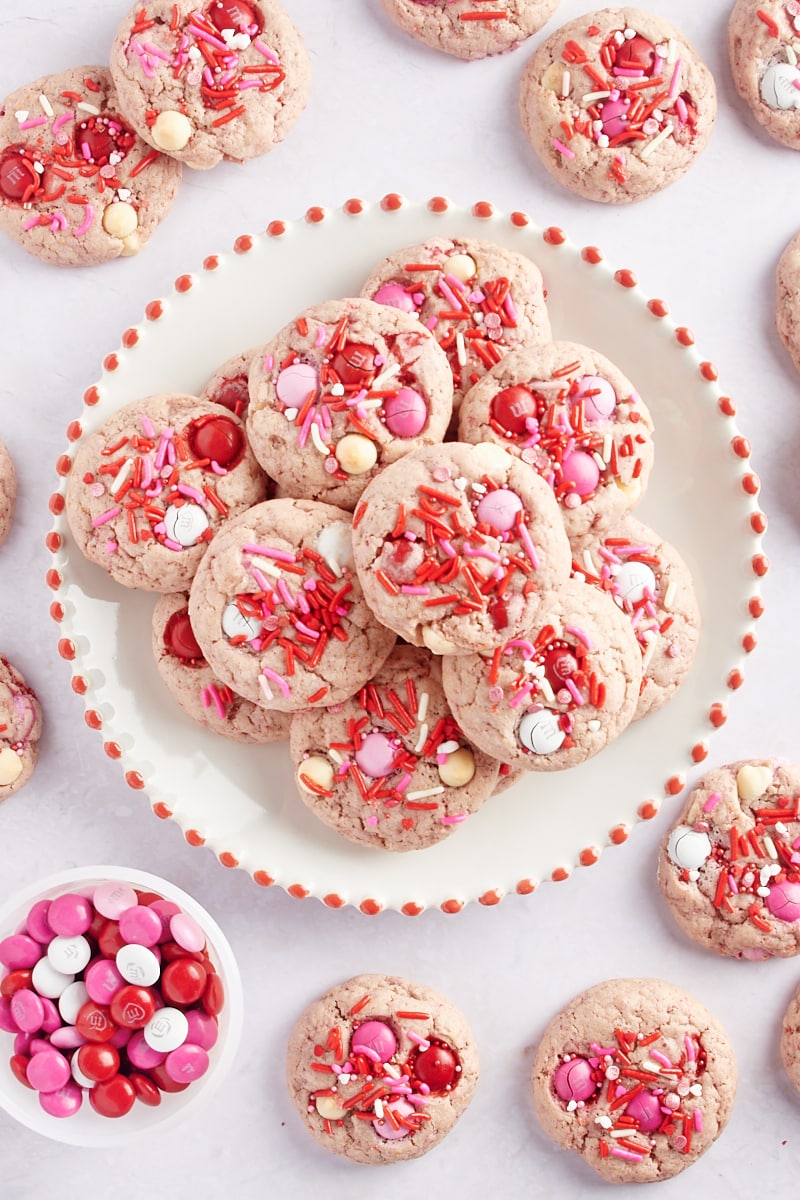 How to Make Strawberry M&M Cookies
These cookies mix quickly and easily, but be sure to factor the chilling time into your baking plans.
Make the Dough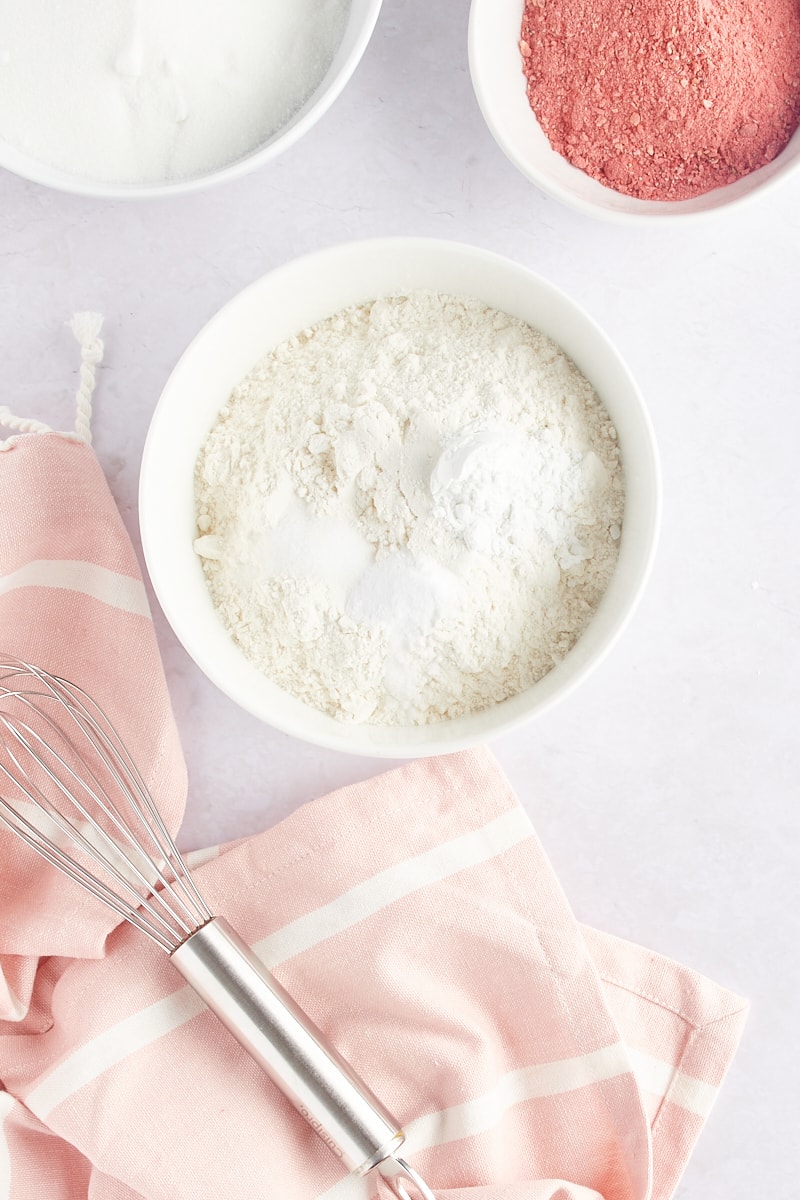 Combine the dry ingredients. Whisk together the flour, baking powder, baking soda, and salt.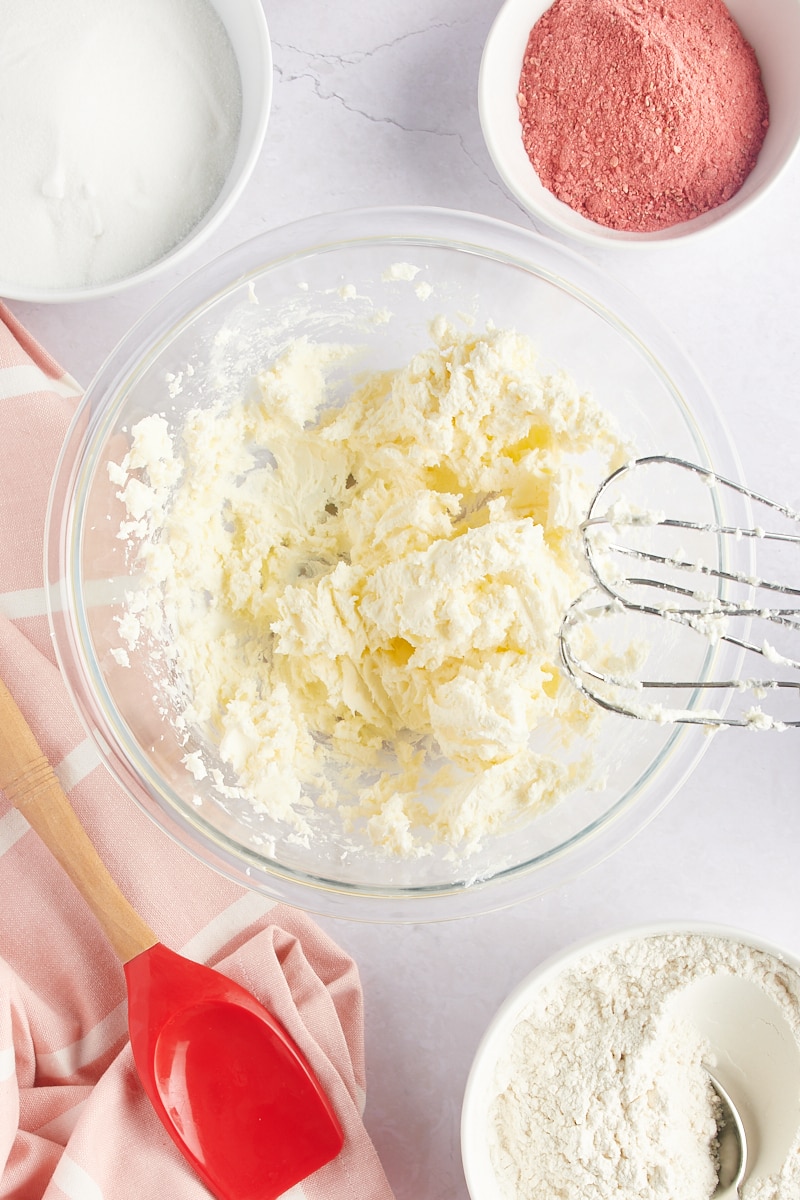 Combine the wet ingredients and strawberries. Place the butter and cream cheese in a large mixing bowl. With an electric mixer on medium speed, beat until fluffy and lightened in color. Add the sugar and ground strawberries, and mix until combined. Add the egg and vanilla, and mix well.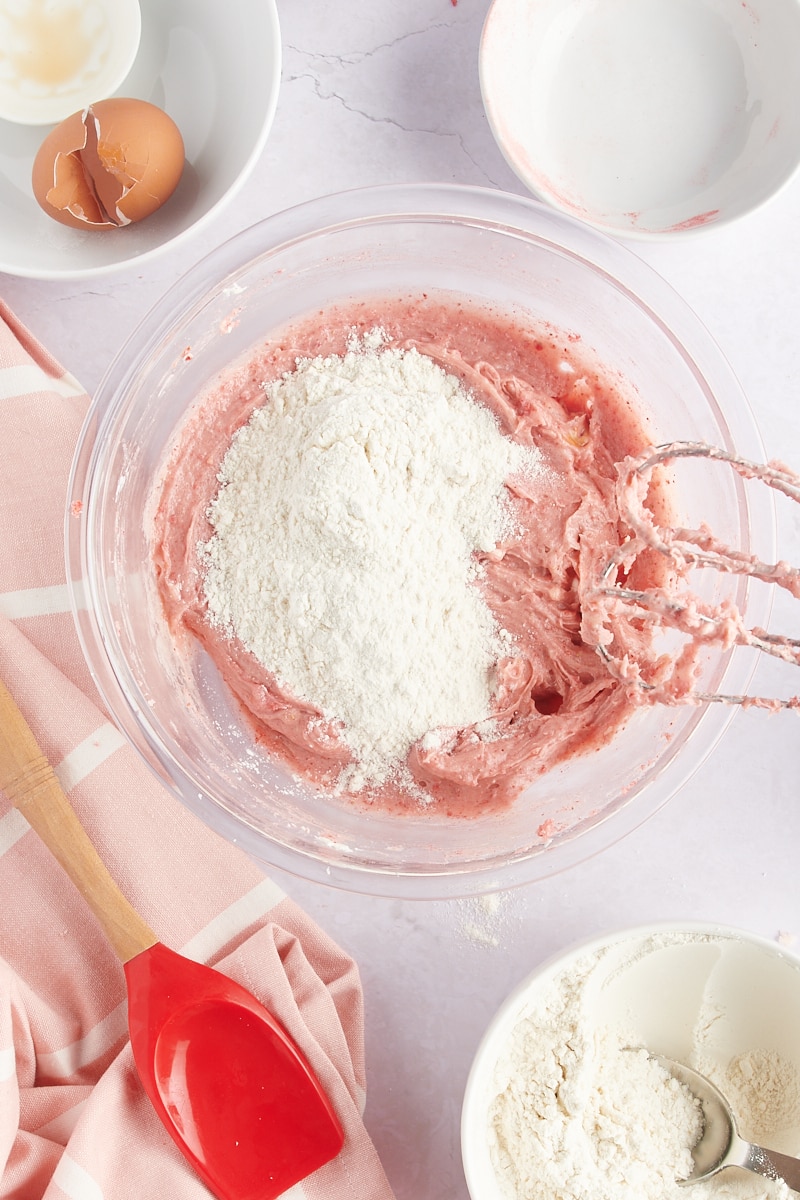 Finish mixing the dough. With the mixer on low speed, gradually add the flour mixture to the butter mixture. Mix just until combined or a few small streaks of flour remain.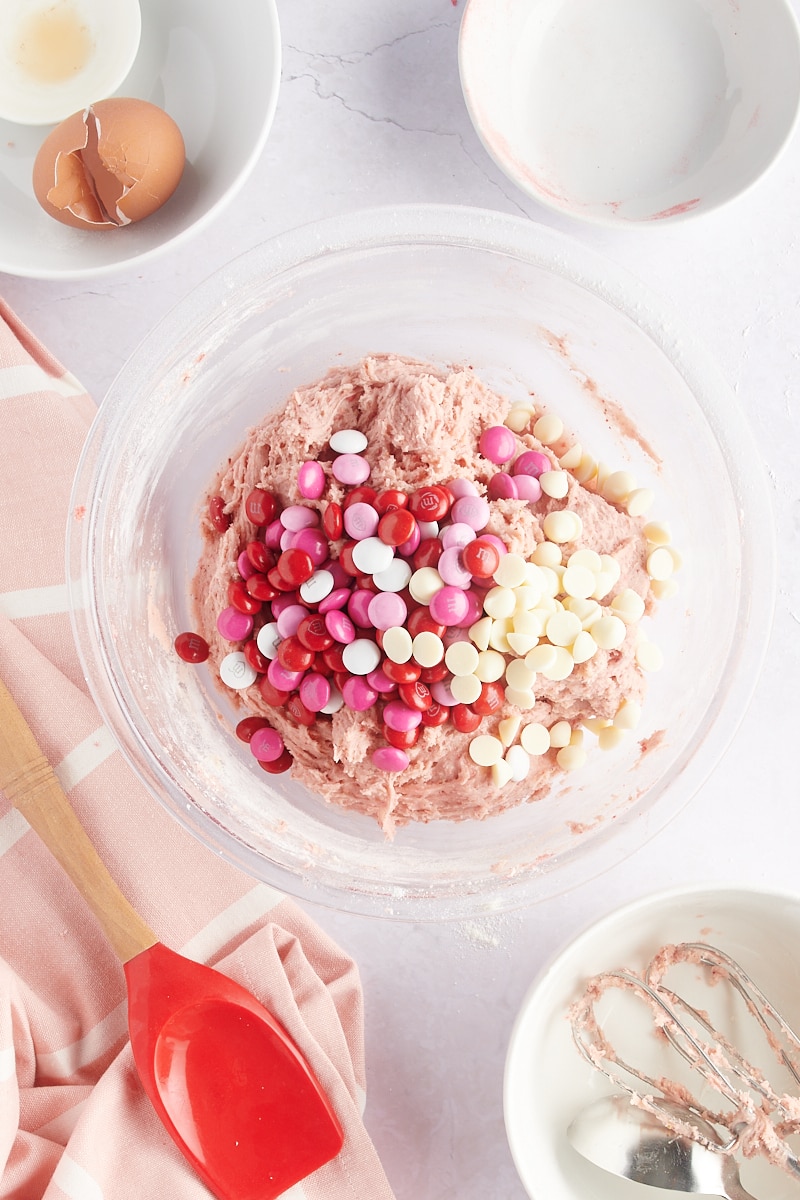 Stir in the add-ins. Add the M&Ms and white chocolate, and stir to combine. If you like, reserve some of the add-ins to top the dough after portioning.
Chill the dough. Cover the dough, and refrigerate for 1 hour. You can refrigerate overnight, but you may need to let the dough sit at room temperature for a few minutes before scooping.
Portion, Shape, and Bake
Prepare for baking. Heat the oven to 350°F. Line baking sheets with parchment paper or silicone liners.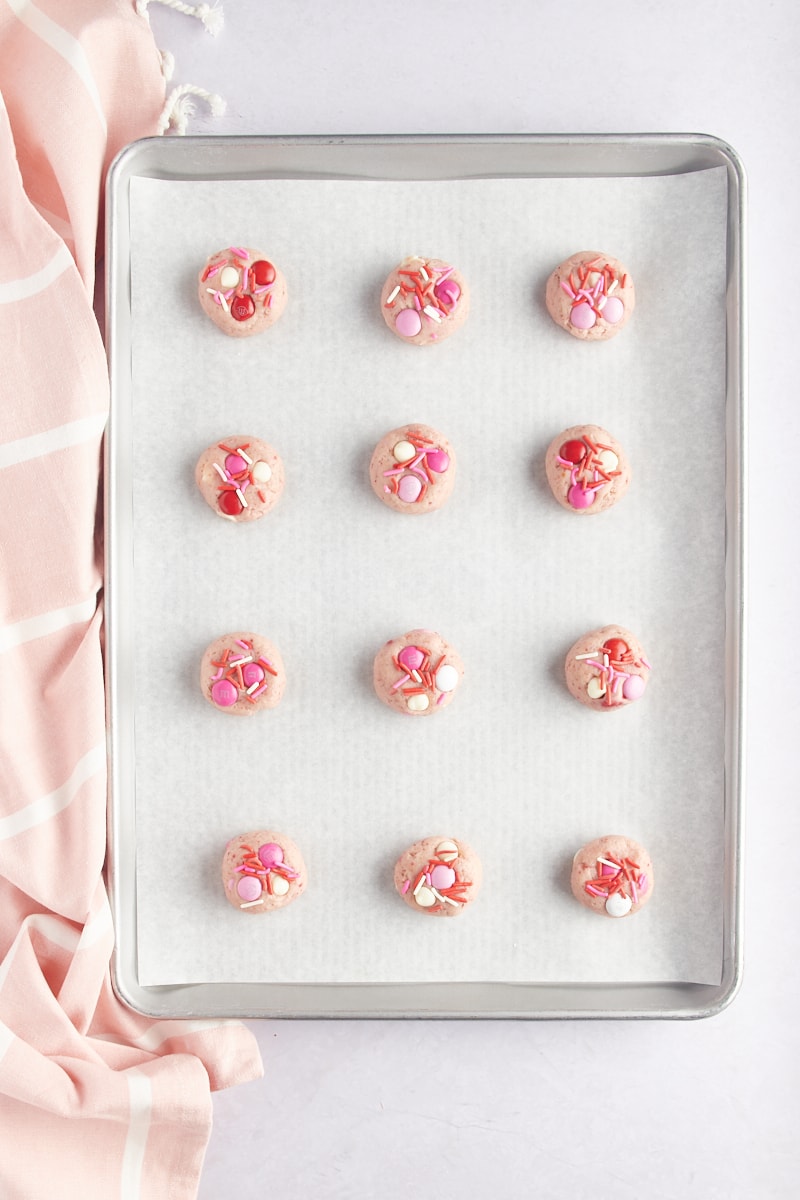 Portion the dough. Using about 2 tablespoons of dough at a time, roll the dough into balls and place on the prepared pans. (I use a #30 scoop for portioning.) Flatten the cookies slightly so that they're about 1/2 inch tall. If you reserved any add-ins, gently press them onto the top of the dough now. If you're using jimmie sprinkles, you can add those now as well.
Bake. Place one pan at a time in the heated oven. Be sure to keep the remaining dough refrigerated between batches. Bake the cookies for 12 to 15 minutes, or until the edges are lightly browned and the cookies appear set.
Cool. Place the pans on wire racks. If you like, add more sprinkles to the top of each cookie. After 5 minutes, transfer the cookies from the pan directly onto a wire rack to cool completely.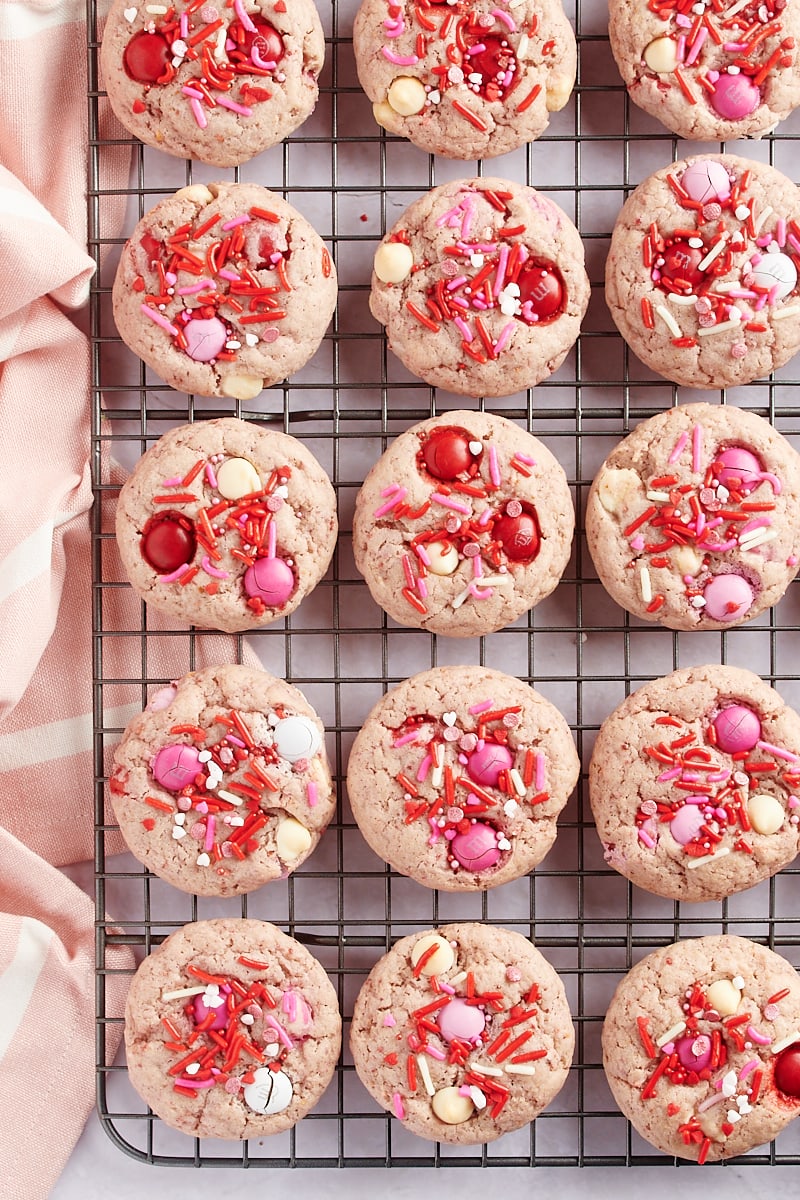 Ideas for Variations
There are lots of ways to give these strawberry cookies your own twist so they'll perfectly suit your tastes!
Omit the add-ins. Keep things simple and make a batch of strawberry sugar cookies with no other additions. You can roll the balls of dough in sanding sugar or granulated sugar for a little sparkle and extra sweetness.
Add chocolate chips. If you really love strawberries and chocolate together, substitute chocolate chips for some or all of the add-ins. For even more pretty pink color, try using ruby chocolate chips if you can find them.
Go all out with sprinkles! Stir a handful of sprinkles into the dough along with the other add-ins. Be sure to use sprinkles that will hold their shape through baking. Jimmies (long, skinny sprinkles) or quins (flat, round sprinkles) usually work best. Other types of sprinkles can be added to the tops of the cookies after baking.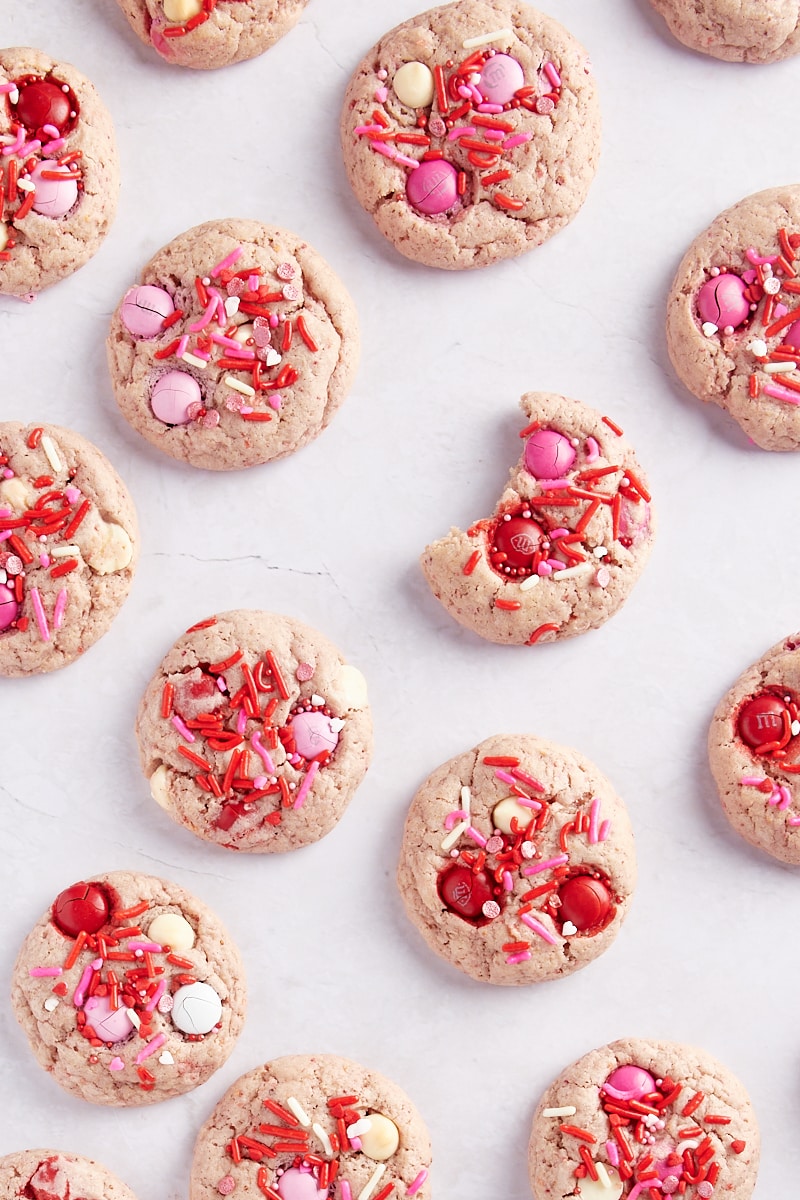 Tips for Success
I think you'll find these strawberry cookies to be easy to make. Here are a few tips to help make sure yours turn out perfectly!
Grind the strawberries finely. They'll mix into the dough more easily and thoroughly. I like to use my mini food processor to make quick work of this step. You can also place them in a zip-top bag and use a rolling pin or some other implement to do this.
Use a cookie scoop. It will make quick, accurate work of portioning the dough. For these cookies, I use a #30 scoop and then roll the dough into balls.
Don't skip the chilling time. That time in the refrigerator will help keep the dough from over-spreading and make it easier to handle.
Make them eye-catching! Save a few M&Ms to press into the top of the dough before baking so that those colors will really pop. Add sprinkles, too!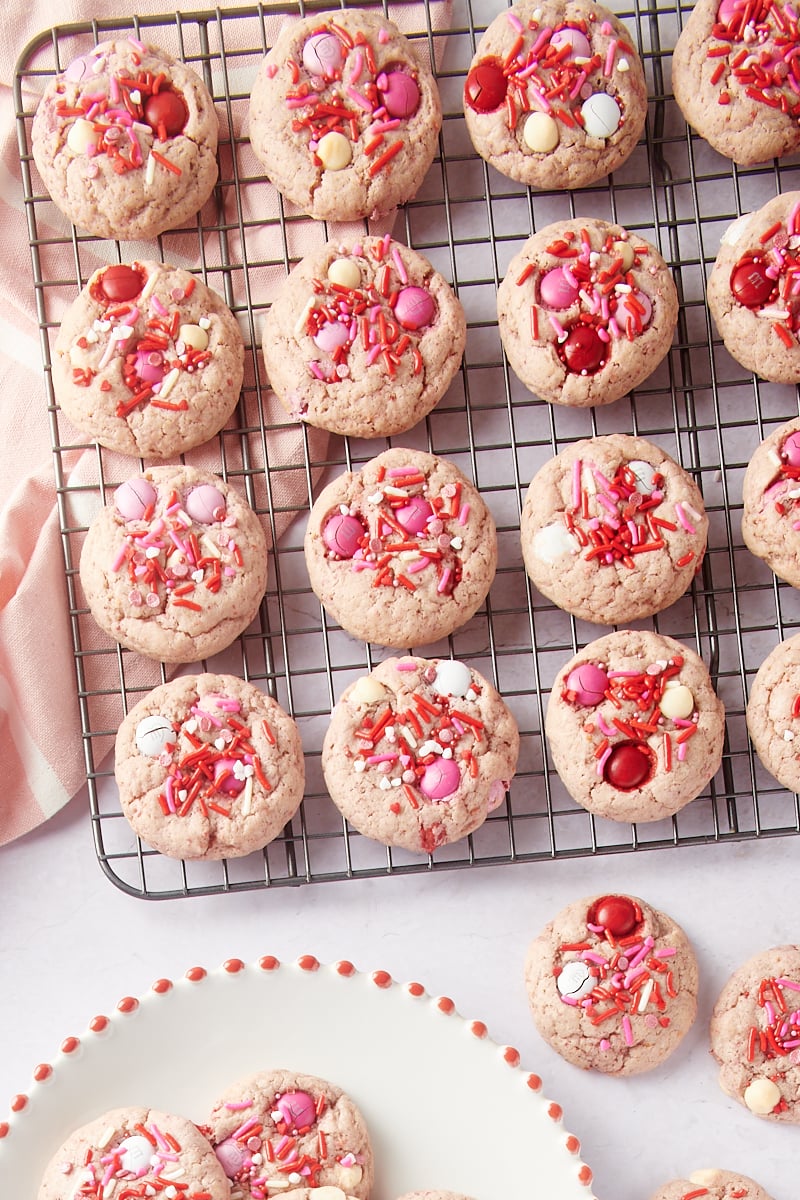 How to Store
After the cookies have cooled completely, place them in an airtight container. To keep them looking their best, place them in a single layer or place a sheet of parchment paper or waxed paper between layers. The cookies should keep at room temperature up to 3 days.
How to Freeze
Place the cooled cookies in an airtight, freezer-safe bag or container. If you're layering the cookies, place parchment paper or waxed paper between layers. Properly stored, the cookies should keep in the freezer up to 3 months. Thaw at room temperature.