Fall means different things to different people. For some, it's all about back to school. For others, maybe it's football. (I definitely don't fall into that category.) It could be new boots, coats, and scarves. (Okay, that's a little bit me.) For me, it's probably no surprise that it's mostly all about baking with my favorite fall flavors.
This Salted Caramel Pecan Pie checks off a lot of points on my fall baking list. First of all, well, it's pie. This is pie season, right? Secondly, pecans! Sure, I use them all year, but they seem to call to me quite loudly this time of year. And last but not least, there's caramel. Rich, gooey, salted caramel. Is this working for you?
While I'm calling this a pecan pie, it's not that closely related to what I think of as traditional pecan pie. Instead of the traditional pecan pie filling, this one is filled with plenty of homemade caramel.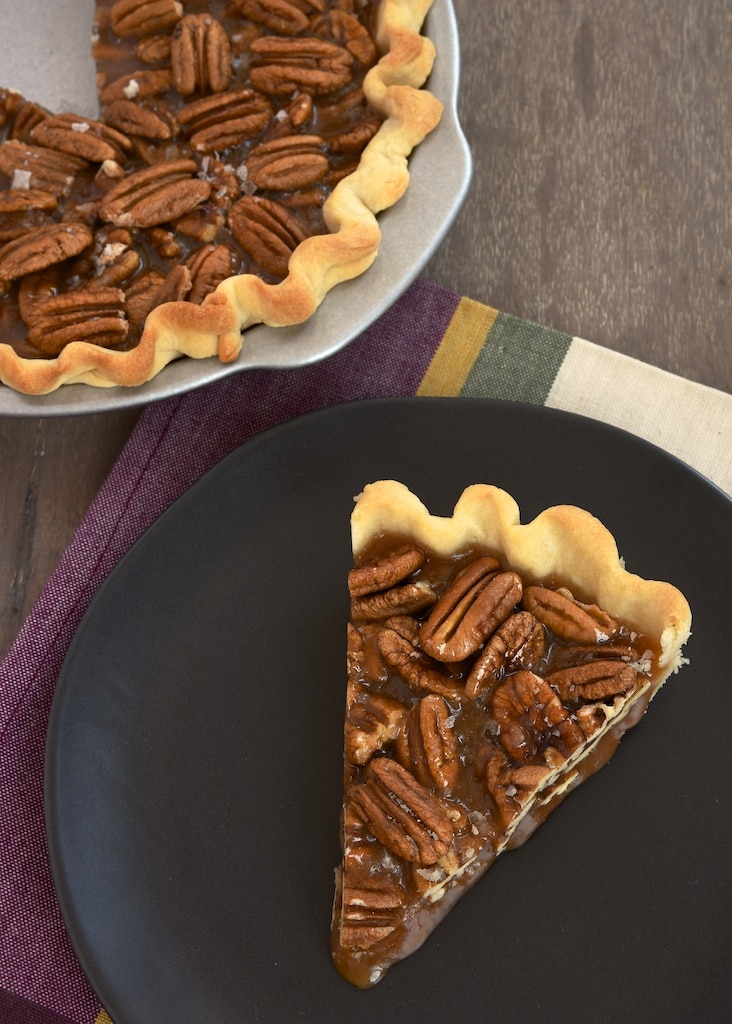 It wasn't that long ago that the thought of homemade caramel made me want to huddle in a corner. So, if you're in that camp, I completely understand. But believe me when I tell you that it's really not so bad to make. And this is coming from the girl who used to assume that caramel-making would take at least two tries to get right.
Here are the things you need to know for successful caramel making:
Use a bigger saucepan than you think you need. When you add the cream, it gets pretty bubbly and could make quite a mess if you're using a small pan.
Don't walk away from the stovetop. Not even for a second. Have everything you need ready and focus on what you're doing.
Don't stir it. Maybe you won't have that compulsion, but it's all I can do not to stir it. A little swirl of the pan is okay if you want to redistribute a bit, especially if you have a hot spot on your stovetop.
Don't cook it too long. I used to try to leave it cooking until it was all perfectly amber. That invariably sets off my smoke alarm. If the whole thing is perfectly amber on the stovetop, it will be overcooked. When you see amber in the majority of the caramel, it's most likely done.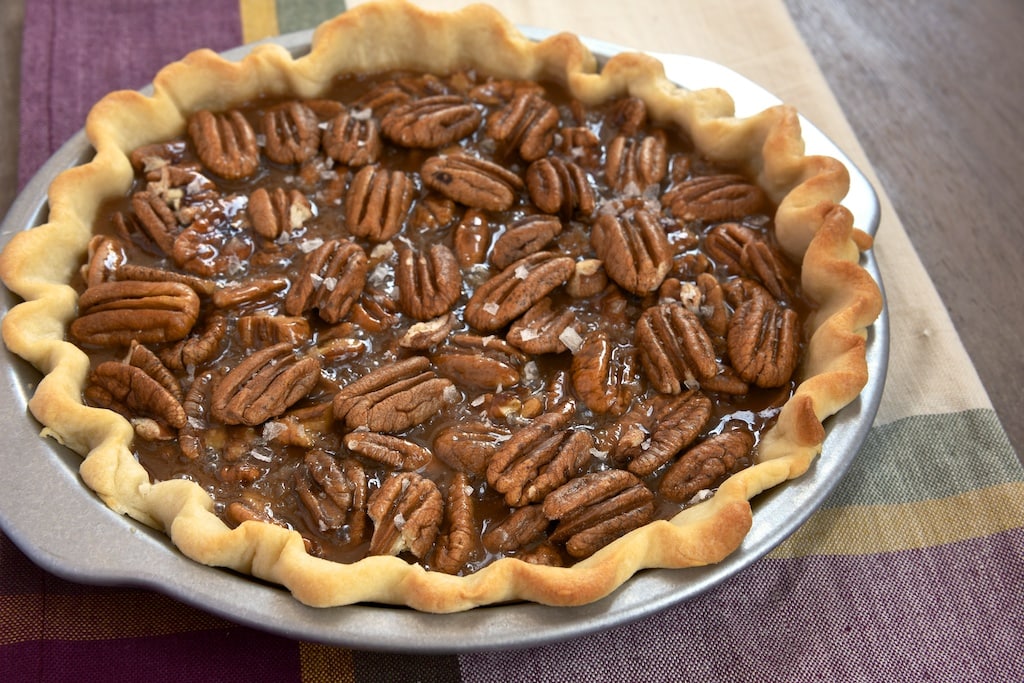 Now that you've got that down, let's talk pecans. You know I love them. But really, you can use any kind of nut you want here. I also love sweet and salty desserts, so I tend to go a bit heavy with the salt on top of the pie. If you're not as big a fan, just make this pie as salty as you like.
If there's any perceived negative to this pie, it's that it can be a bit messy and gooey. It slices much better when it's chilled, although I prefer eating it a room temperature. Honestly, it's so very good that no one will really care if the slices aren't perfect. Don't be surprised if you catch someone scraping every little bite out of the pan.
This recipe was originally developed in my continuing collaboration with Go Bold with Butter, where I am a paid contributor.