This Salted Caramel Pecan Pie is a modern twist on a classic dessert! Homemade pie crust is filled with pecans smothered in salted caramel. You'll love a big slice of this gooey, decadent pie.
Want more pecan pie desserts? Try these Chocolate Pecan Pie Bars or this Classic Pecan Pie recipe!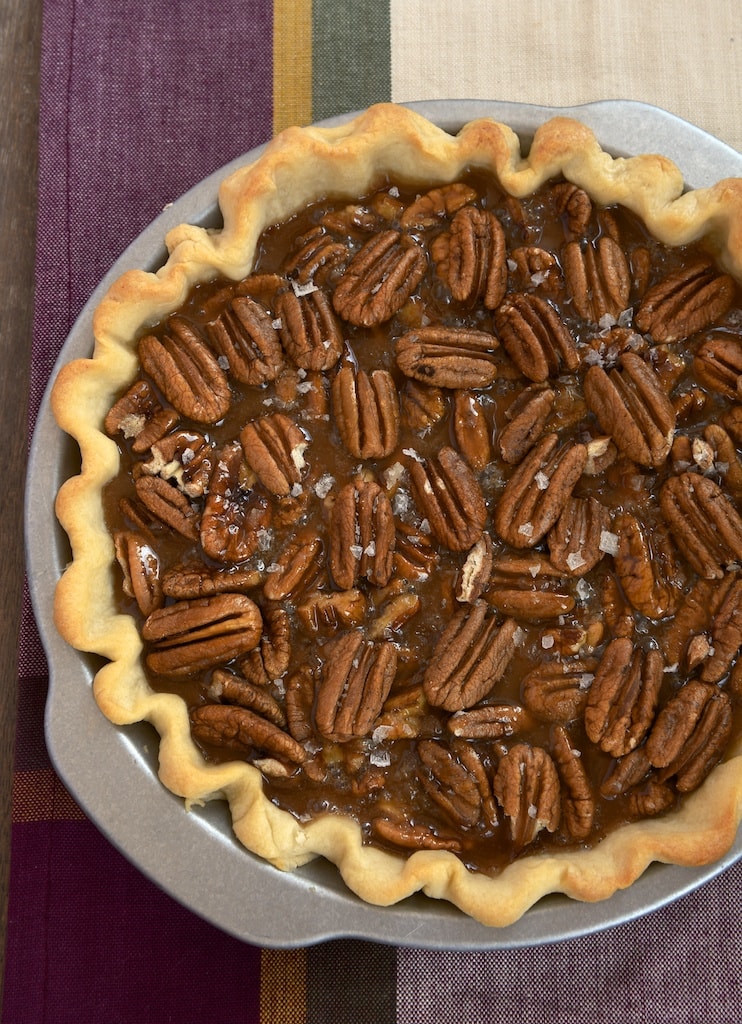 An Easy Twist on Pecan Pie
Fall means different things to different people. For some, it's all about back to school. For others, maybe it's football. (I definitely don't fall into that category.) It could be new boots, coats, and scarves. (Okay, that's a little bit me.) For me, it's probably no surprise that it's mostly all about baking with my favorite fall flavors.
This Salted Caramel Pecan Pie checks off a lot of points on my fall baking list. First of all, well, it's pie. This is pie season, right? Secondly, pecans! Sure, I use them all year, but they seem to call to me quite loudly this time of year. And last but not least, there's caramel. Rich, gooey, salted caramel. Is this working for you?
While I'm calling this a pecan pie, this is actually a twist on the traditional pecan pie. Instead of the old-fashioned pecan pie filling, this one is filled with plenty of homemade caramel.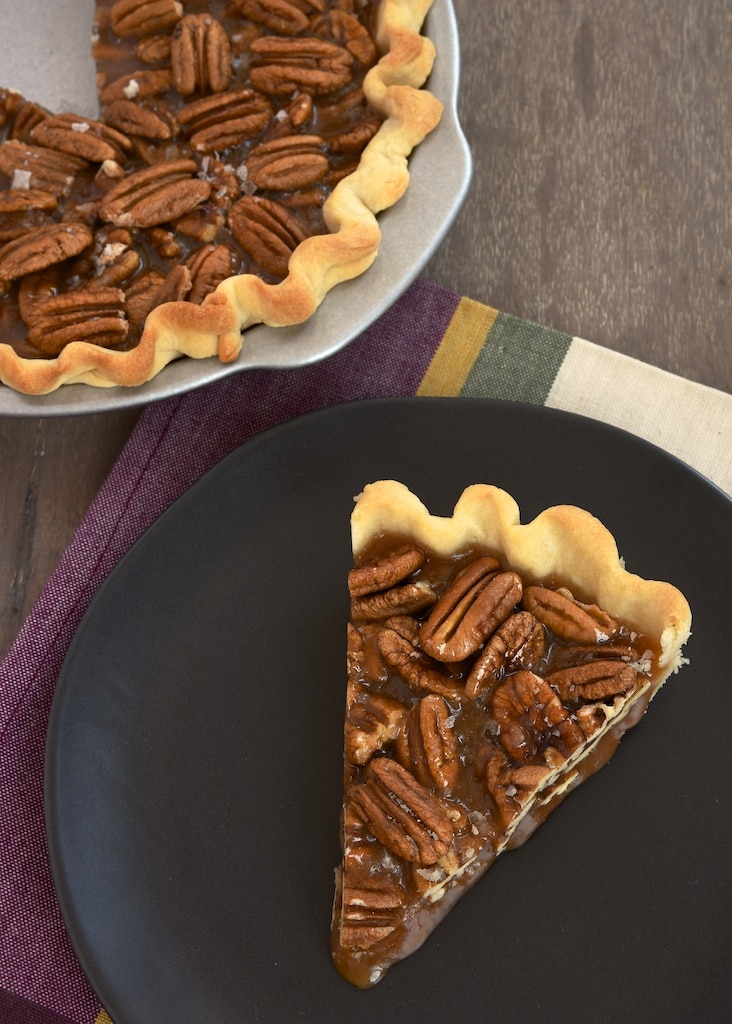 Making Homemade Caramel
It wasn't that long ago that the thought of homemade caramel made me want to huddle in a corner. So, if you're in that camp, I completely understand. But believe me when I tell you that it's really not so bad to make. And this is coming from the girl who used to assume that caramel-making would take at least two tries to get right.
Pro tips for success:
Use a bigger saucepan than you think you need. When you add the cream, it gets pretty bubbly and could make quite a mess if you're using a small pan.
Don't walk away from the stovetop. Not even for a second. Have everything you need ready and focus on what you're doing.
Don't stir it. Maybe you won't have that compulsion, but it's all I can do not to stir it. A little swirl of the pan is okay if you want to redistribute a bit, especially if you have a hot spot on your stovetop.
Don't cook it too long. I used to try to leave it cooking until it was all perfectly amber. That invariably sets off my smoke alarm. If the whole thing is perfectly amber on the stovetop, it will be overcooked. When you see amber in the majority of the caramel, it's most likely done.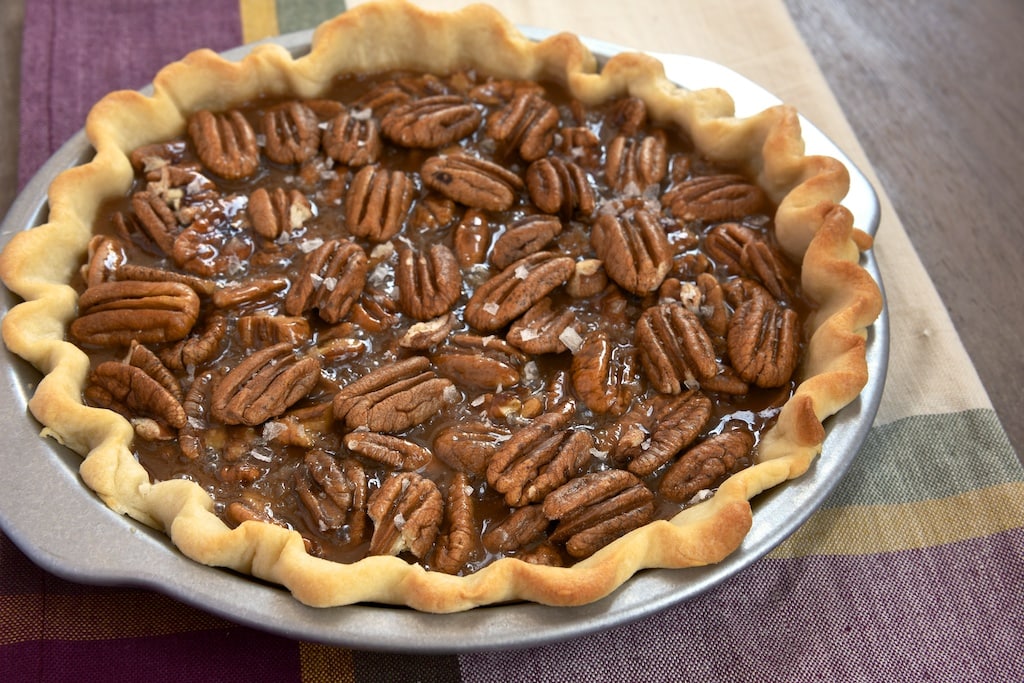 What You'll Need
Pecans – You can use another kind of nut if you prefer, just keep the overall amount the same.
Sugar
Water
Heavy cream
Unsalted butter – Don't use salted butter or you'll end up with too much saltiness in the finished product.
Light corn syrup – Light syrup has a mild, sweet flavor and no color.
Vanilla extract
Salt – There are two kinds of salt in this recipe. Regular salt is added to the caramel when you make it in a saucepan, then coarse salt is sprinkled over the top of the pie when it is setting. I tend to go a bit heavy with the salt on top of the pie. If you're not as big a fan, just make this pie as salty as you like.
How to Make Salted Caramel Pecan Pie
Preheat your oven to 350°F.
Make your pie dough. Fit the crust into 9-inch pie plate. Trim any excess dough from the edges. For a simple fluted edge, press the knuckle of one finger into the rim of the crust while holding two fingers about a half inch apart on either side of your knuckle. Repeat around the entire edge of the crust.
Prebake the crust. Line the crust with parchment paper so that the paper overhangs on all sides. Fill pan with pie weights (or dried beans). Bake for 20 to 25 minutes, or until edges are browned. Remove weights and lining. Cool completely.
Place nuts in the baked pie crust. Set aside.
Make the salted caramel. Place sugar and water in a medium heavy saucepan. Cook over medium heat, stirring constantly, until sugar is dissolved. Increase heat to medium-high and continue cooking, without stirring, until mixture turns amber. Be sure to watch closely to prevent burning.
Remove from heat and carefully add cream. (Mixture will bubble.) Stir until combined. Add butter, corn syrup, vanilla, and salt. Stir until combined and smooth.
Pour caramel over nuts in pie crust. Sprinkle with coarse salt.
Let the pie set. Allow it to sit at room temperature for 15 minutes. Then, refrigerate until set.
Chill and serve. You don't have to chill it per se, but the pie will slice more easily when chilled.
How to Store
I like to store this pie in the fridge, loosely covered with plastic wrap. It is much easier to slice when chilled since the salted caramel has all that gooey goodness going on. This pie will keep in the fridge for up to 4 days.
If there's any perceived negative to this pie, it's that it can be a bit messy and gooey. Honestly, it's so very good that no one will really care if the slices aren't perfect. Don't be surprised if you catch someone scraping every little bite out of the pan.
This recipe was originally developed in my continuing collaboration with Go Bold with Butter, where I am a paid contributor.