November 9, 2015
Pecan Pie Crisp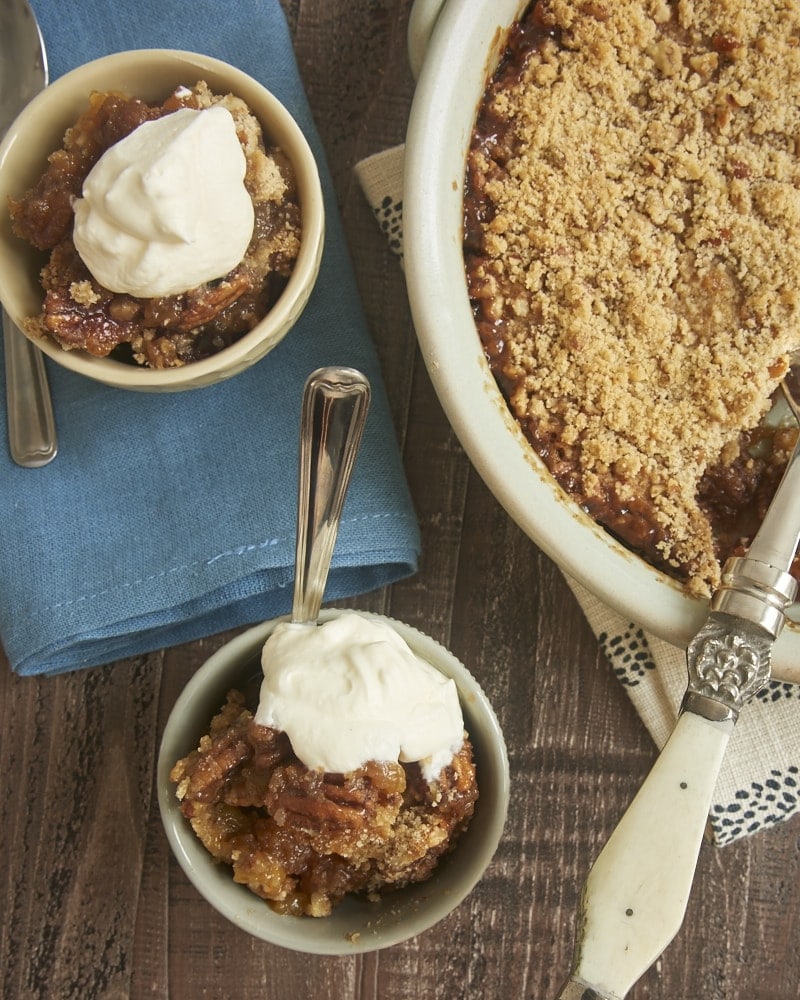 Pecan Pie Crisp takes that amazing pecan pie filling and turns it into a simple crisp with a sweet, buttery topping!
Confession time. When I was a child, I didn't like pie crust all that much. (I know, I know.) Most times when I ate pie, I just ate the filling. And one of my favorite fillings was pecan pie. It was just so gooey and absolutely irresistible.
If you've ever been tempted just to eat pecan pie filling, then you're going to adore this Pecan Pie Crisp. Imagine a baking dish full of that sweet, nutty, gooey filling topped with a buttery crisp topping. Who's ready to grab a spoon?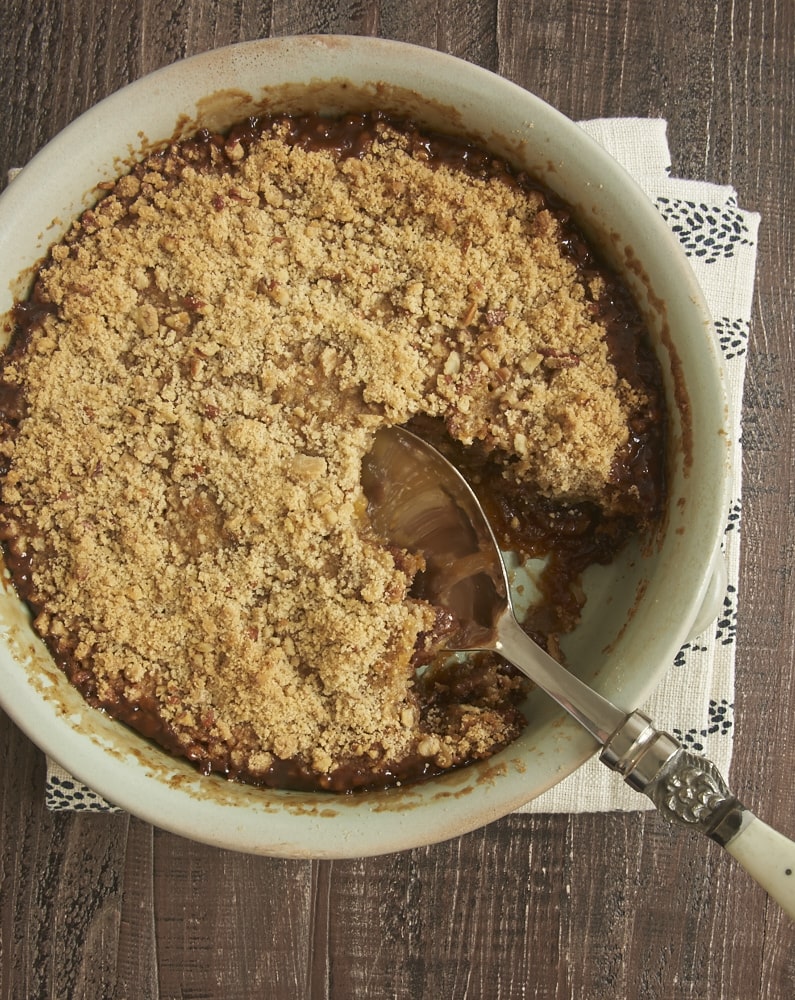 Of course, now I am all on board with pie crust, but I still love this Pecan Pie Crisp that focuses on that wonderful filling. If you've made pecan pie before, then this filling will likely seem very familiar to you. I don't use corn syrup often, but I like to use it for pecan pies. If you don't have easy access to corn syrup or just prefer not to use it, I'd suggest trying golden syrup or agave syrup. If you don't mind maple flavor, then maple syrup will usually work, too.
I love how simple it is to put this crisp together. The inevitable time comparison is to measure the time investment here versus a traditional pecan pie. If you've made pecan pie, you'll appreciate how quickly the filling mixes. Now just imagine skipping the pie crust effort in favor of a simple crisp topping.
This is a great recipe for anyone who either isn't comfortable making pie crust or just wants to streamline the baking process a bit. I do love homemade pecan pie, but this crisp is wonderfully delicious in its own right. After all, it's 95% filling, and I'm 100% okay with that.
Visit the Recipe Index for more pecan recipes!
More Pecan Pie Desserts (That Aren't Pie!)
Pecan Pie Crisp
Yield: 6 to 8 servings
Prep Time:15 minutes
Cook Time:30 minutes
If your favorite part of pecan pie is the filling, then Pecan Pie Crisp will be your new favorite dessert!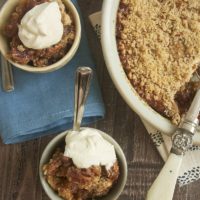 Ingredients:
For the topping:
3/4 cup (90g) all-purpose flour
1/4 cup (50g) firmly packed light brown sugar
1/8 teaspoon ground nutmeg
3 tablespoons unsalted butter, softened
1/4 cup (30g) chopped pecans
For the filling:
2 to 2 & 1/2 cups (about 225-250g) pecan halves**
3 large eggs
1 cup (240ml) light corn syrup
1 cup (200g) granulated sugar
2 tablespoons unsalted butter, melted
1 teaspoon vanilla extract
1/4 teaspoon salt
ice cream or sweetened whipped cream, for serving
Directions:
To make the topping:
Preheat oven to 350°F. Grease a 9- or 10-inch baking dish or skillet.*
Stir together the flour, brown sugar, and nutmeg. Add the butter and pecans, and mix until the mixture is crumbly. Set aside.
To make the filling:
Place the pecan halves in the bottom of the prepared pan.
Place the eggs in a medium bowl, and whisk them lightly. Add the corn syrup, sugar, butter, vanilla, and salt, and which until combined. Pour over the pecans in the pan.
Sprinkle the topping mixture evenly over the top of the filling.
Bake 25 to 30 minutes, or until the filling is bubbly and set. Be sure not to overbake. Let cool at least 15 minutes before serving.
Notes:
*If you use a 9-inch pan, you'll likely need to add about 5 minutes to the baking time to allow the slightly thicker filling to set.
**The original recipe has 2 cups. But I found that when I added them to the pan, I wanted a few more to fill out the bottom a bit more thoroughly.