One of my co-workers asked me to make this cake for her Thanksgiving dinner, so I thought I might as well make one for our Thanksgiving dinner, too. After going through many, many recipes, I settled on this one at Southern Living.
Anti-coconut Quinn turned up his nose, but I soldiered on, knowing that there were still other desserts to be made. (More on that as I further recover from Thanksgiving.) As I described this cake to him – coconut, cream cheese, pecans – he asked in mock seriousness if this cake had been actually created just for me. It very well may have been. Seriously, if you could work in some chocolate somehow, this would be essentially my favorite dessert.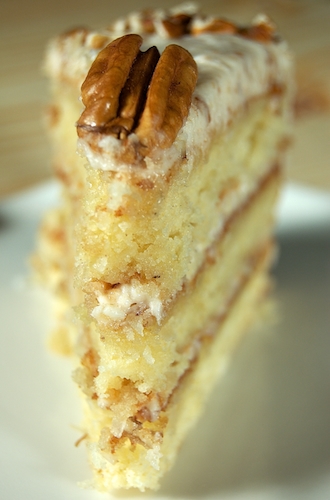 As it is, it's pretty high on my list. I think I could just eat the frosting by itself. The cake itself is very dense. To me, the coconut flavor is not very dominant. The frosting was easy to whip up, and there was just enough to frost the cake. I am normally intimidated by frosting cakes, but this frosting is very forgiving. And very good. Did I mention that already?
One little tip. The cake batter needs to be divided into three cake layers. To do this, weigh your mixing bowl while it is empty. Then, once your batter is made, weigh again. Subtract the weight of the empty bowl and divide the remainder by three. Place one of your prepared cake pans on your scale and zero the weight. Weigh out your calculated amount of batter. Then, you can have equal amounts of batter for each layer. Not only does this satisfy my inner perfectionist, but the cake layers will be the same size and will bake the same, making quite the lovely cake. And, if you don't have a kitchen scale, pick one up as soon as possible. You'll never understand how you baked without it.