November 24, 2007
Pecan Pie Cheesecake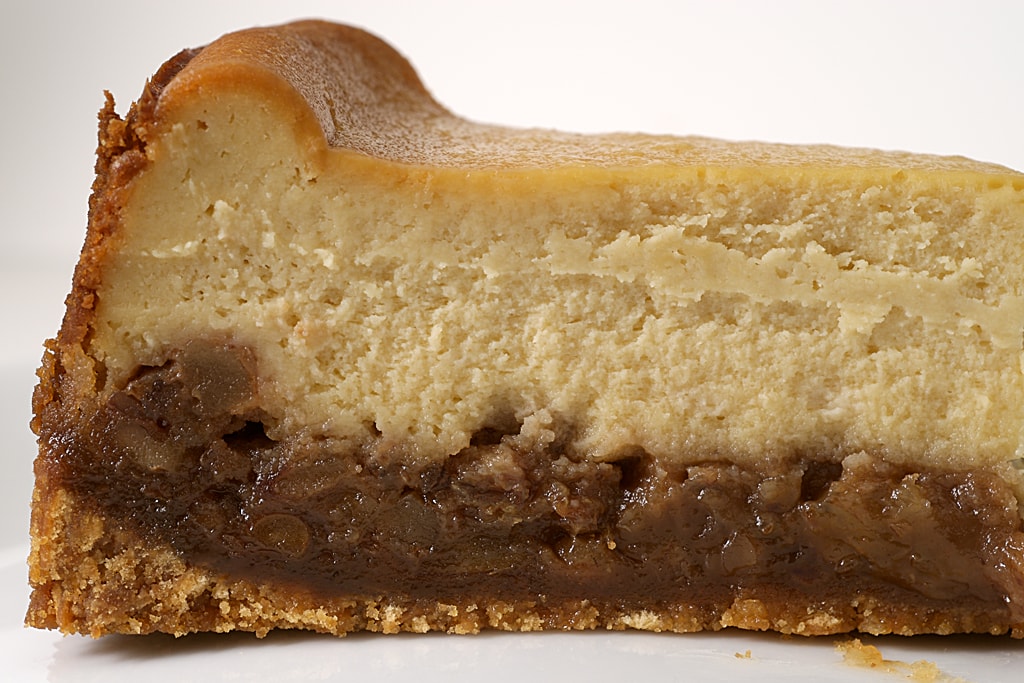 As I told you earlier in the week, one of our Thanksgiving desserts was this cheesecake recipe I've been waiting rather impatiently to make. It takes two of my very favorite things – pecan pie and cheesecake – and makes one fantastic dessert.

First, a bit about the preparation. This is one of the simplest cheesecakes I've ever made. The crust was a breeze – only three ingredients. I decided to sacrifice full crust coverage for a bit thicker crust. So, it didn't go all the way up the sides, but each bite provided more crust. The cheesecake filling did cause me a few fretting moments, as I worried that it was too thin. It was indeed much thinner than any other cheesecake I'd made previously. My worries were for nothing, though, as it baked up perfectly. And without a crack in site, I might add.
We had several desserts to choose from, but I don't hesitate to say that this one was by far the most popular. Some of the comments heard around the table: "That's the best cheesecake I've ever had." "Don't ever make any other cheesecake." "Can we have this again for Christmas?" "That's the best thing I've ever eaten." A couple of folks even secretly wrapped up and hid pieces to ensure that seconds would be enjoyed later. I don't say these things to imply praise of my own baking. I say them to encourage you to make this cheesecake!
So, it seems this one may make another appearance for Christmas. As for me and Quinn, well, we happened to be lucky enough to make it home with a couple of pieces ourselves.
Pecan Pie Cheesecake
Yield: 14-16 servings
Prep Time:40 minutes
Cook Time:1 hour 16 minutes
Ingredients:
For the crust:
1 & 3/4 cups vanilla wafer crumbs
1/4 cup firmly packed brown sugar
1/3 cup butter, melted
For the pecan filling:
1 cup sugar
2/3 cup dark corn syrup
1/3 cup butter, melted
2 eggs
1 & 1/2 cups chopped pecans
1 teaspoon vanilla extract
For the cheesecake:
3 (8-ounce) packages cream cheese, softened
1 & 1/4 cups firmly packed brown sugar
2 Tablespoons all-purpose flour
4 eggs
2/3 cup heavy whipping cream
1 teaspoon vanilla extract
Directions:
To make the crust:
Preheat oven to 350°.
Combine wafer crumbs and brown sugar. Stir in melted butter. Press into bottom and up sides of a 9″ springform pan. Bake for 6 minutes. Set aside to cool.
To make the pecan filling:
Combine all ingredients in a medium saucepan.
Bring to a boil over medium-high heat. Reduce heat and simmer until thickened, about 8-10 minutes, stirring constantly. Pour into crust and set aside.
To make the cheesecake:
Reduce oven to 325°.
With a hand mixer or stand mixer, beat cream cheese at medium speed until creamy. Add brown sugar and flour and beat until fluffy. Add eggs one at a time, beating well after each one. Stir in cream and vanilla.
Pour over pecan filling. Bake for 1 hour. Turn off oven and leave cheesecake in oven with the door closed for 1 hour.
Remove from oven and run a knife along the outside edges to loosen cheesecake from sides of pan. Let cool. Chill for at least 4 hours before serving.