These bite-size lemon chess tartlets offer a citrus twist on a classic dessert! They're chewy, just a little bit gooey, and full of bright lemon flavor.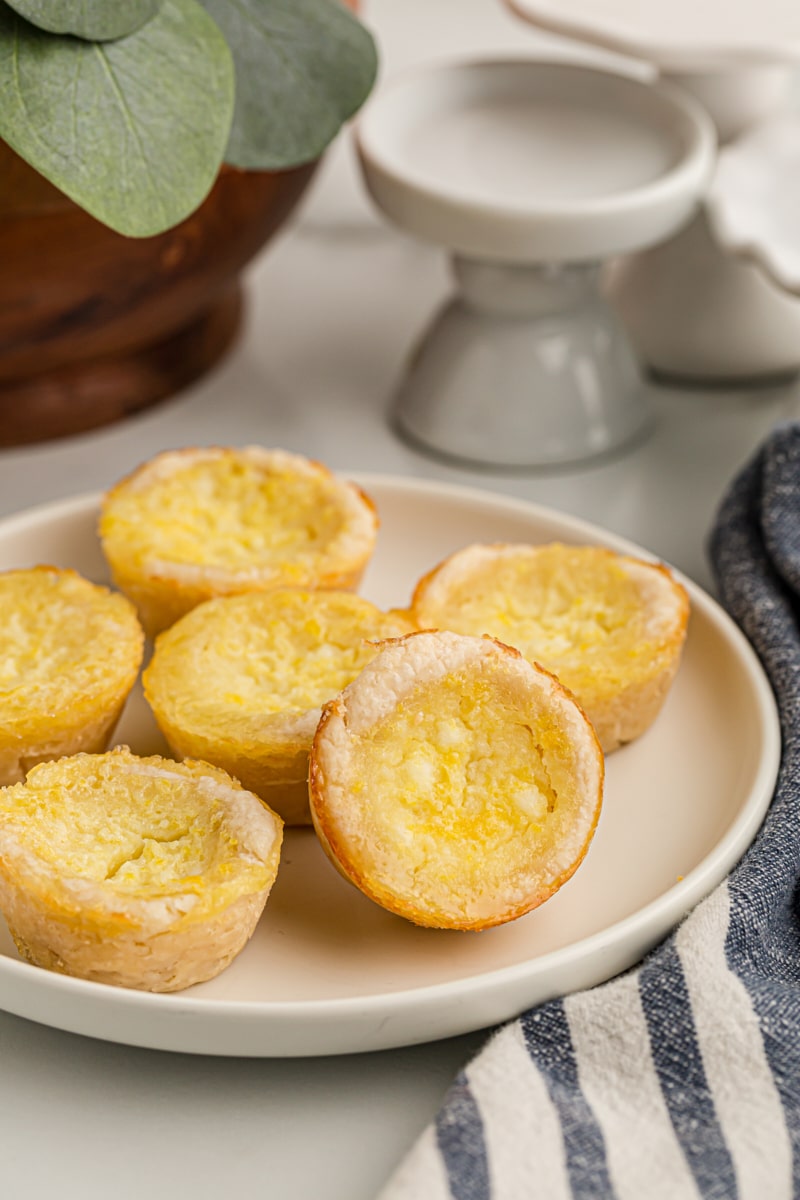 Mini Lemon Chess Pies
In my childhood, there were usually two kinds of pie at almost any big dinner. Pecan pie and chess pie. I, of course, adore pecan pie, and so did everyone else in the family. But, I clearly remember making the conscious decision that chess pie would be my favorite.
Truth be told, I am still utterly fascinated by chess pie and all of its variations. It's one of the best examples of how just a handful of ingredients can make something so very good. These mini lemon chess tartlets have a lemon twist that's just perfect for lemon lovers.
You can dress up these lemon chess tartlets with some toasted coconut, toasted almonds, or just a sprinkling of confectioners' sugar. You could even add a teaspoon of almond extract or coconut extract to the filling. I opted to go all lemon on these beauties. I think they're pretty perfect in their sweet, citrusy glory.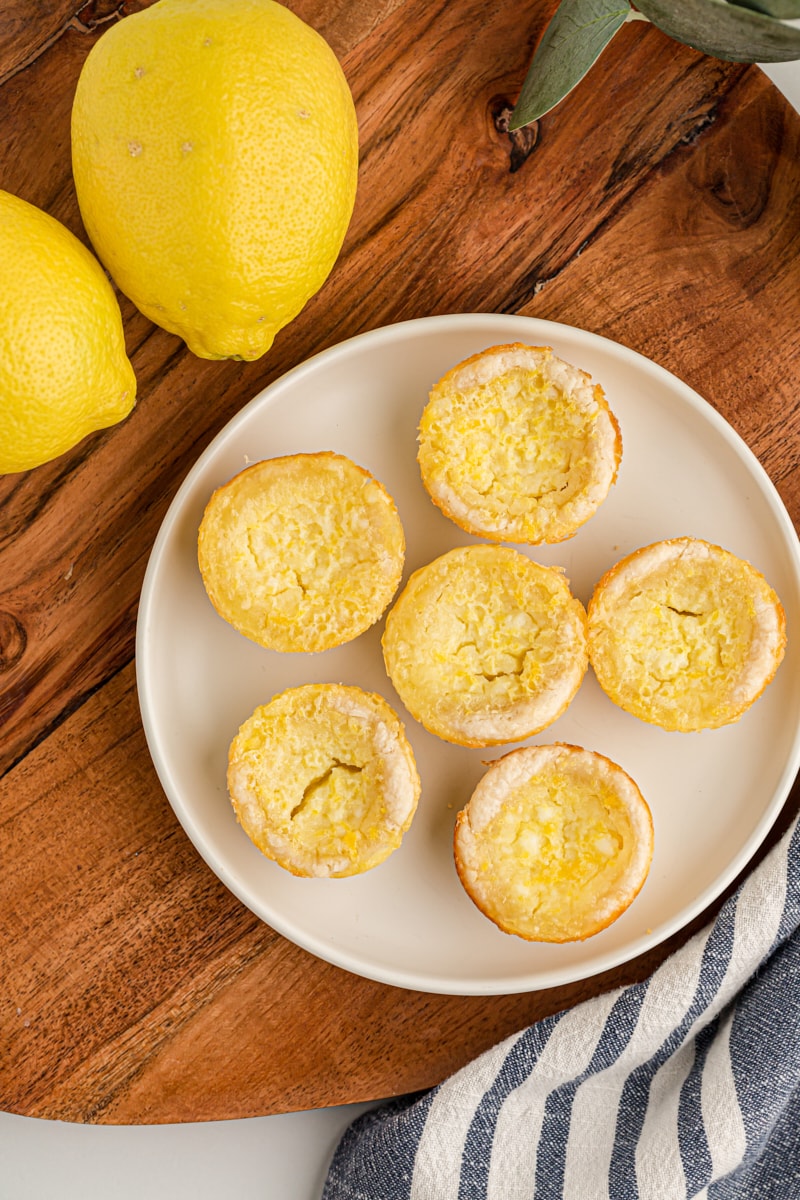 What You'll Need
Scroll down to the recipe card to find the ingredient quantities and recipe instructions.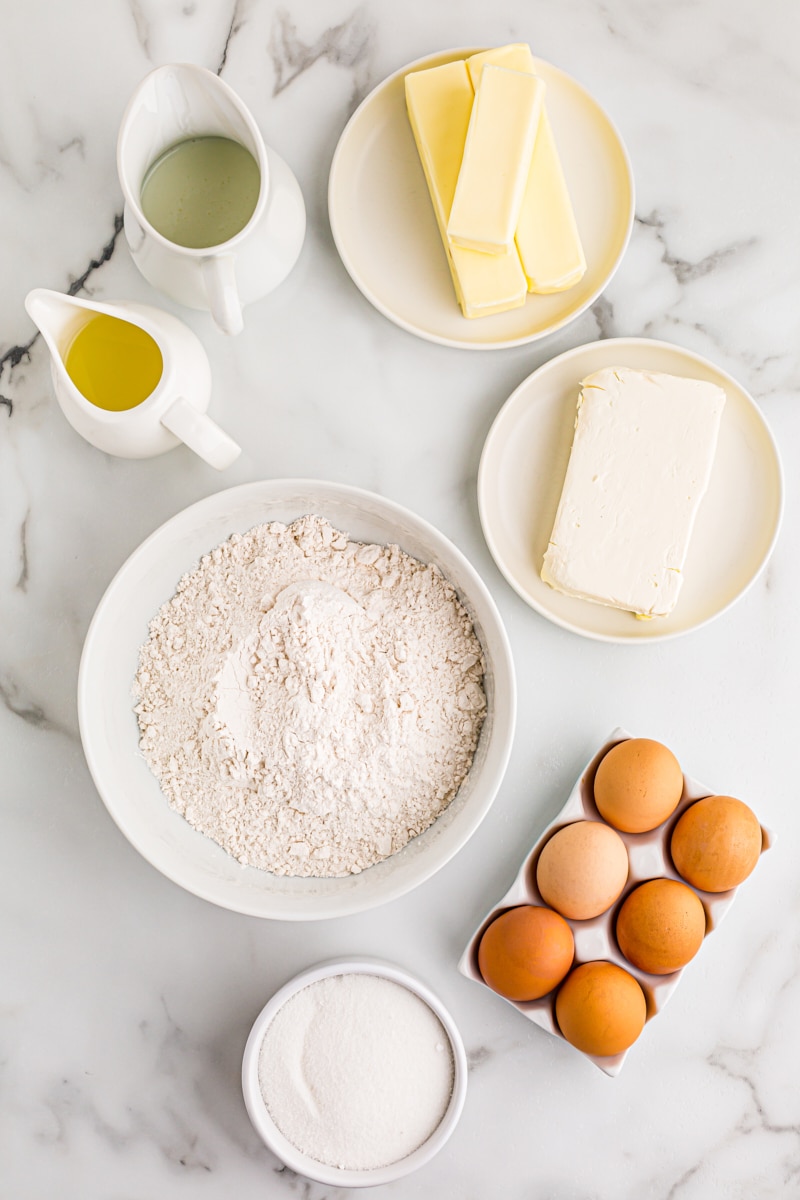 For the crust:
Cream cheese – Let this soften at room temperature.
Unsalted butter – This also needs to soften.
All-purpose flour – Learn more: How to Measure Flour
For the filling:
Eggs
Granulated sugar
Buttermilk – I recommend using store-bought buttermilk here, but buttermilk powder mixed with milk or a buttermilk substitute made with vinegar or lemon juice will do in a pinch.
Lemon juice – If you want to make candied lemon peels or add lemon zest to the tartlets for garnish, be sure to zest the lemon before juicing.
Salted butter – Melt this, then let it cool slightly.
What Is the Best Cream Cheese for Baking?
For this recipe, you want to use a full-fat block of cream cheese; most professional bakers prefer Philadelphia, and I agree. What you don't want is a tub of cream cheese—they're whipped with air and often have added stabilizers, so they'll change the proportions of the recipe.
How to Make Lemon Chess Tartlets
These take a bit more time than your classic chess pie recipe because you'll need to make 48 mini crusts. That said, the recipe is still quite easy!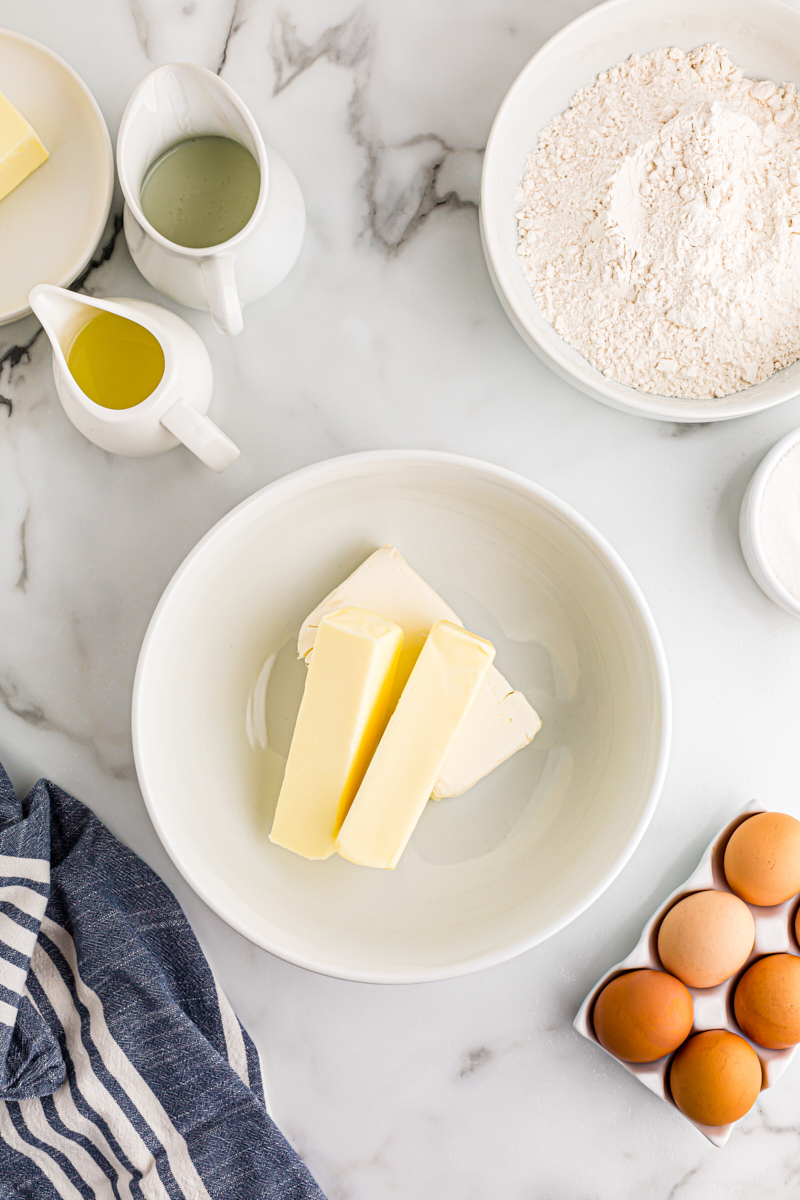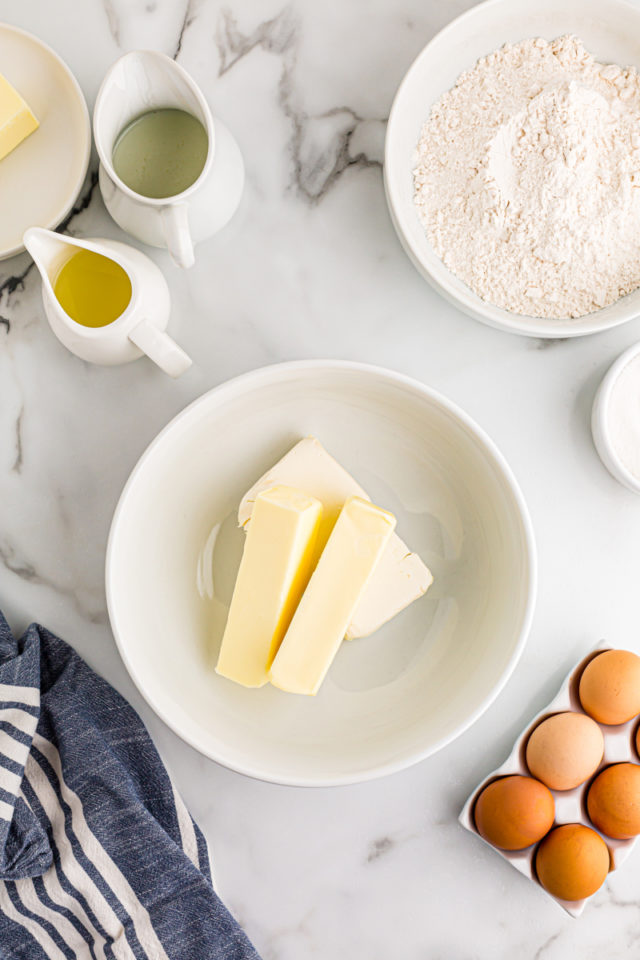 Make the crust dough. Use an electric mixer on medium speed to beat the cream cheese and butter until the mixture is creamy. Reduce the mixer speed to low and slowly beat in the flour. Mix just until combined.
Divide the crust dough. Roll the dough into 48 balls, using a scant tablespoon of dough for each. Place the dough balls on a baking sheet, cover, and chill for 30 minutes.
Prepare. Preheat your oven to 350°F and lightly grease 48 mini muffin cups just before the 30 minutes of chilling time is done.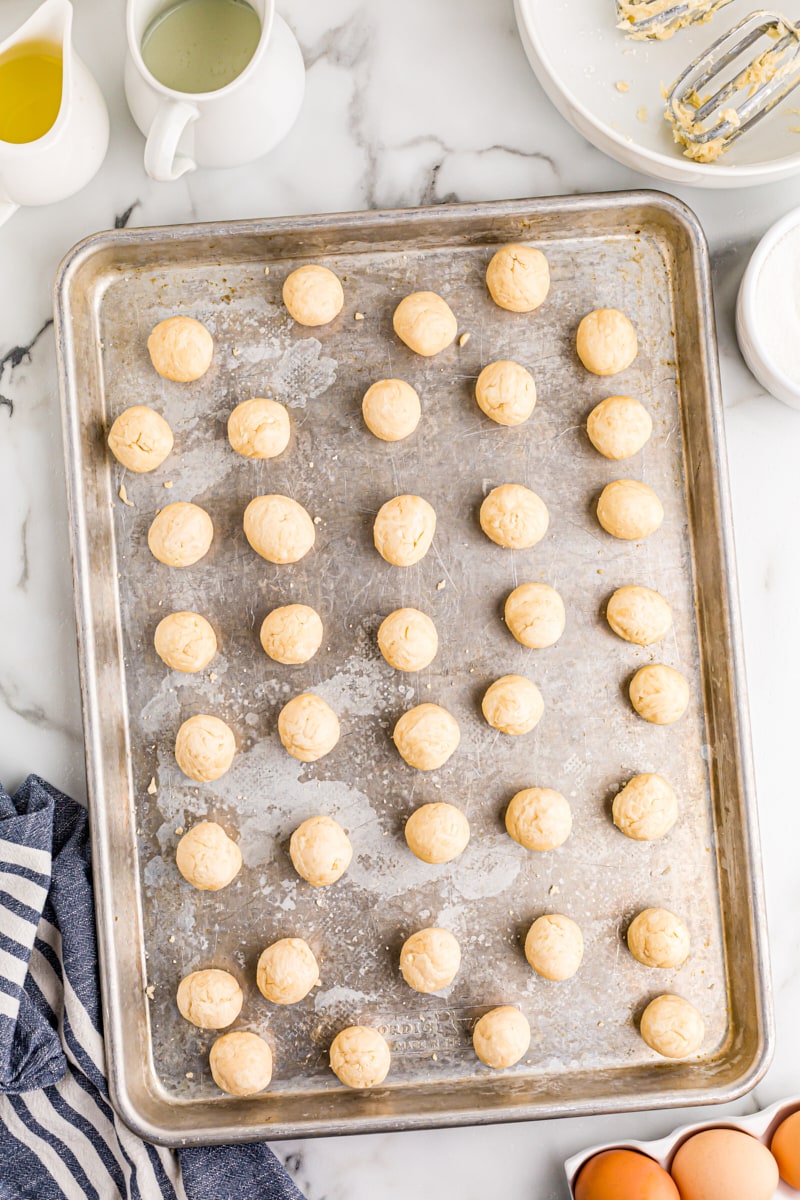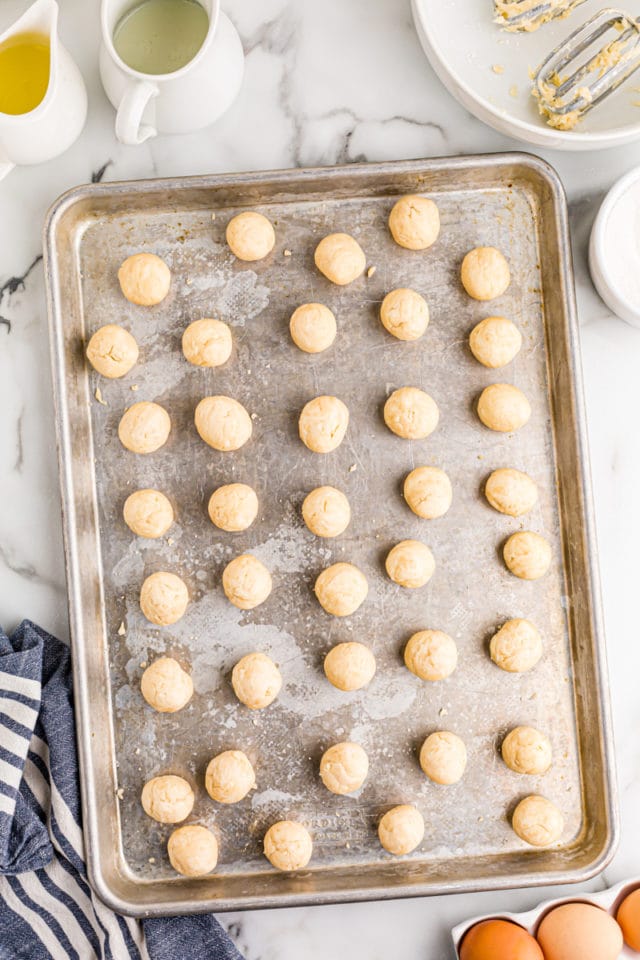 Form the crusts. Place 1 dough ball into each cup. Press the dough into the bottom and up the sides of the cups to form a pastry shell.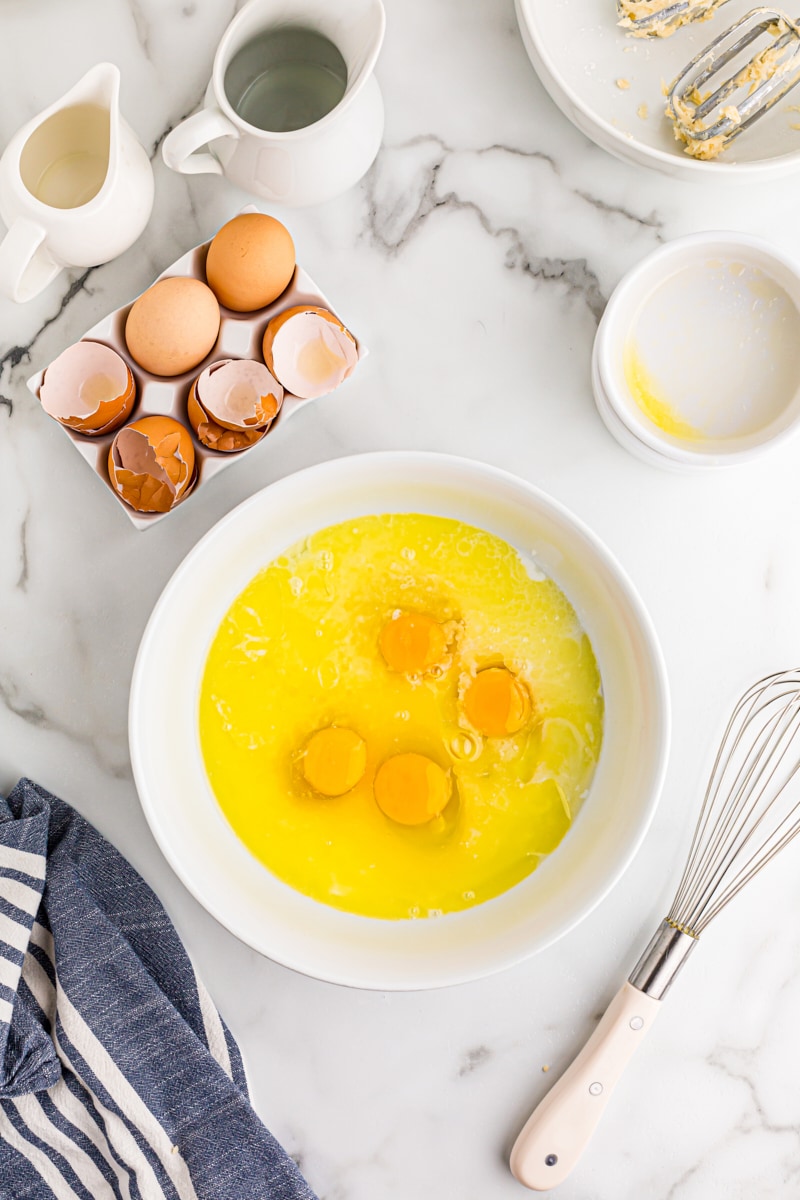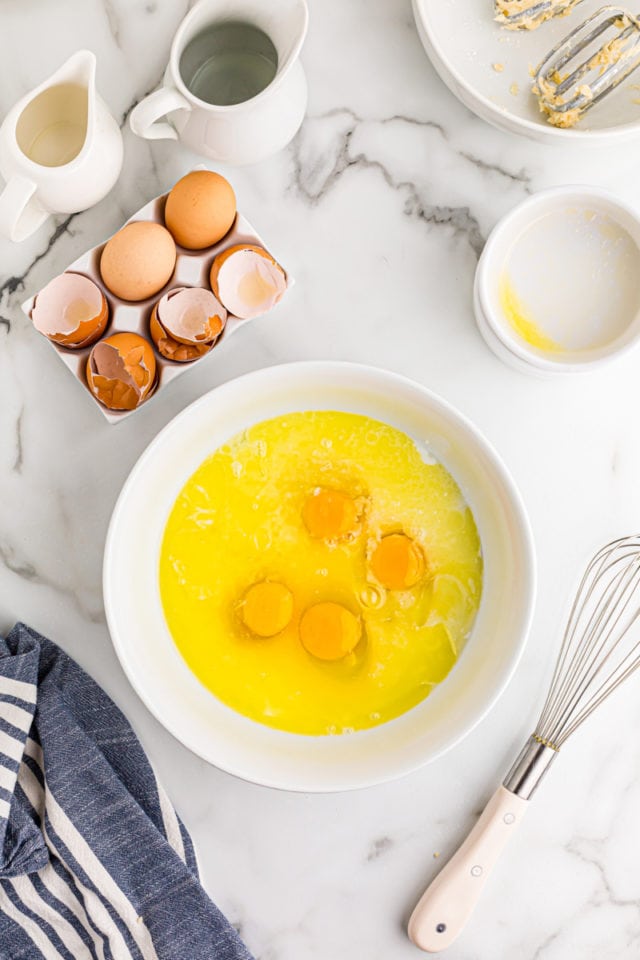 Make the filling. Whisk together the eggs, sugar, buttermilk, lemon juice, and melted butter. Divide this mixture into the pastry shells.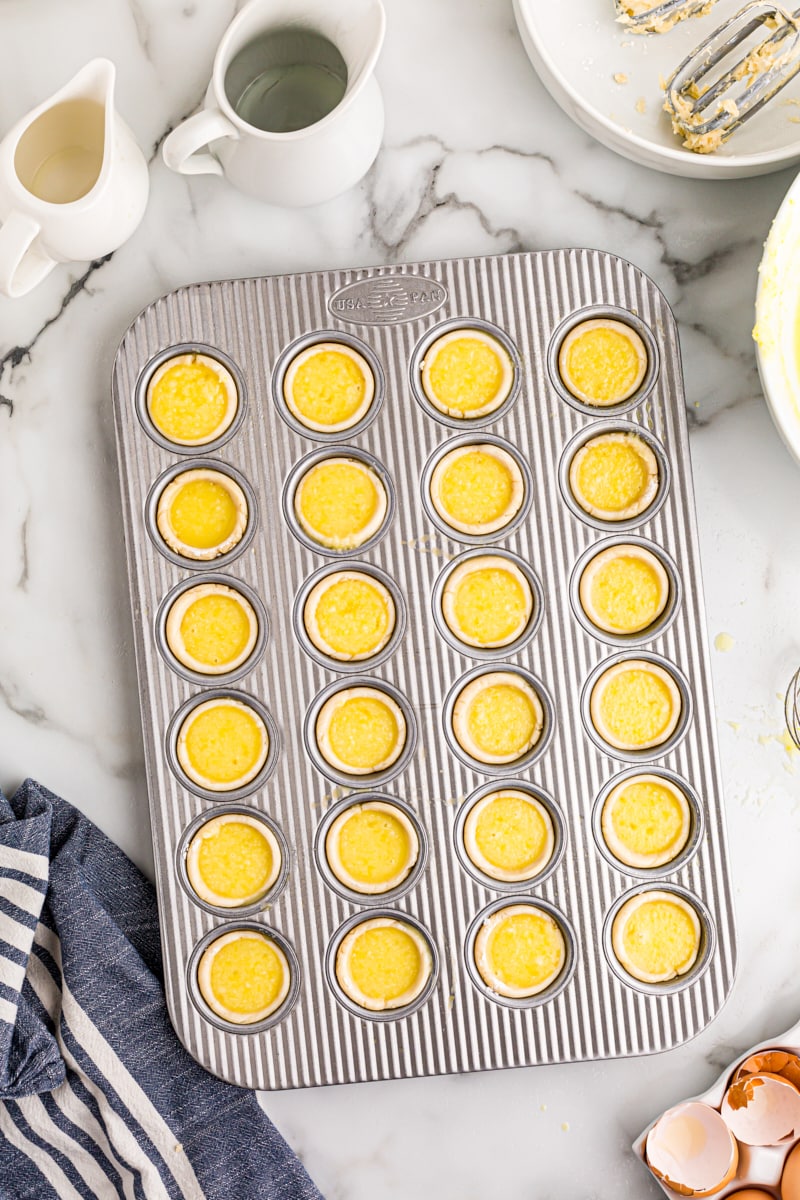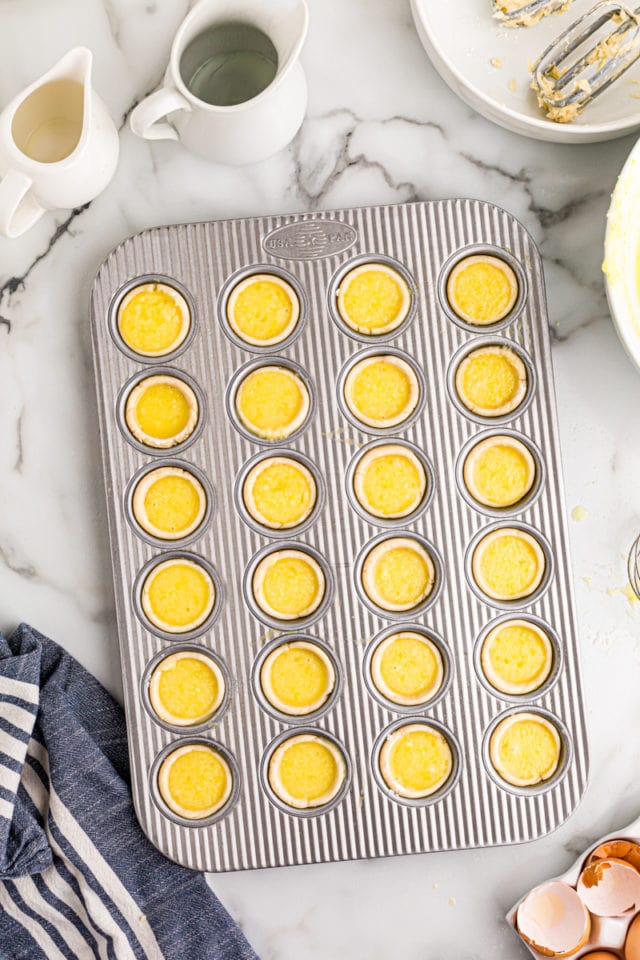 Bake. Place the mini muffin pans in the oven and bake for 18 to 22 minutes, or until the filling is set.
Cool. Let the tartlets cool in the pans on wire racks for 10 minutes. Then, carefully remove the tarts and set them directly onto the wire racks to finish cooling. (Learn more: Why Every Baker Needs Wire Cooling Racks)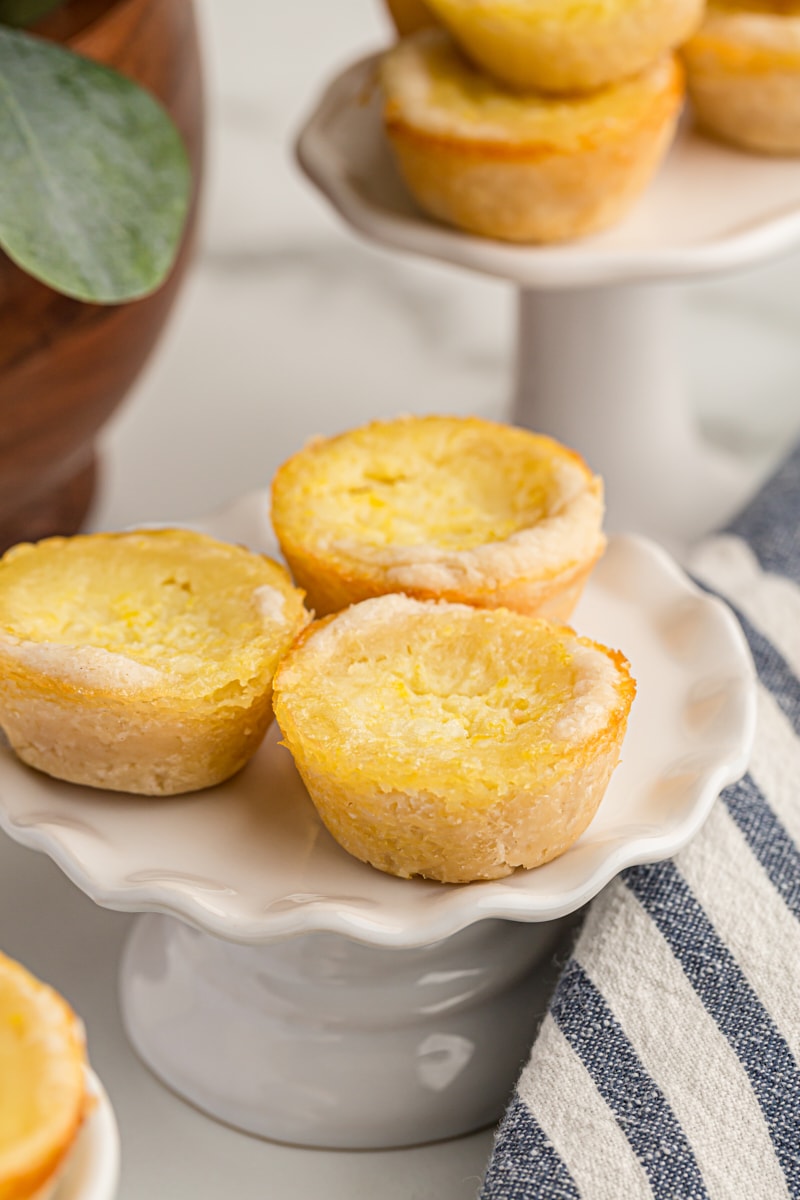 Tips for Success
Read over my baking tips for beginners, then follow these additional tips for perfect lemon chess tartlets.
Don't skip chilling the dough. It will be easier to handle once it's chilled. You can just use your fingers to press the chilled dough into the muffin cups, but a small tart tamper works well, too.
Use light-colored pans. Dark pans tend to over-bake the outside edges and the bottoms while leaving the inside under-baked.
Let the melted butter cool. It doesn't need to be all the way to room temperature, but you definitely don't want to use it while it's too warm. If you add it while it's still hot, it won't mix well with the cooler ingredients and may create a mixture that's not as smooth as you'd like.
Be careful removing the tarts from the pans. A thin knife or spatula should work well to help you get them out in one piece.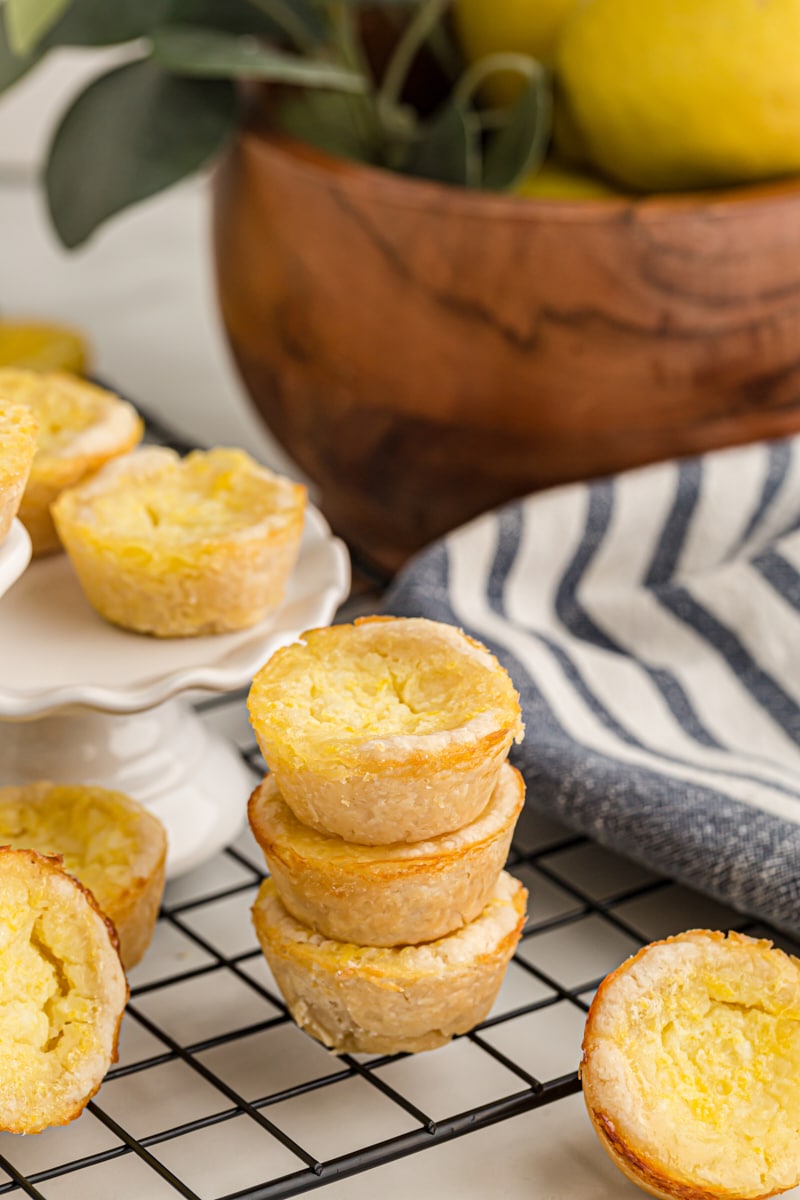 Serving Suggestions
These lemon chess tartlets are perfect on their own, but you can also dress them up a bit for a more impressive presentation. A few ideas include:
Top each tartlet with toasted coconut flakes.
Or, sprinkle toasted slivered almonds over the top at the end of baking.
Dust lightly with confectioners' sugar after the tarts have cooled.
Sprinkle white chocolate shavings over the tops of the cooled tartlets.
Garnish with fresh or candied lemon zest.
How to Store
Lemon chess tartlets will keep for up to 4 days in an airtight container in the refrigerator.
Can This Recipe Be Frozen?
Yes, these tartlets can be frozen for up to 3 months. Freeze them in a zip-top bag or airtight container with parchment paper between layers; let them thaw in the refrigerator before serving.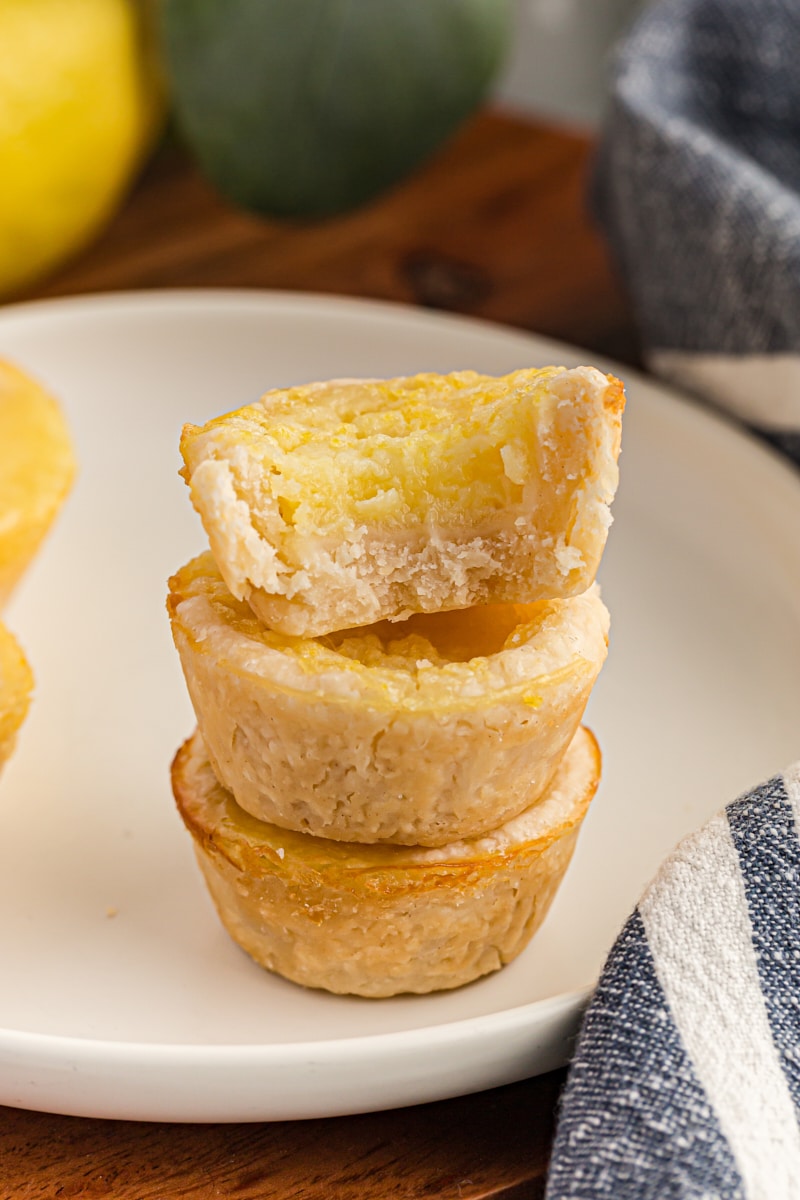 Video Tutorial: Lemon Chess Tartlets