December 28, 2015
Chocolate Peanut Butter Tassies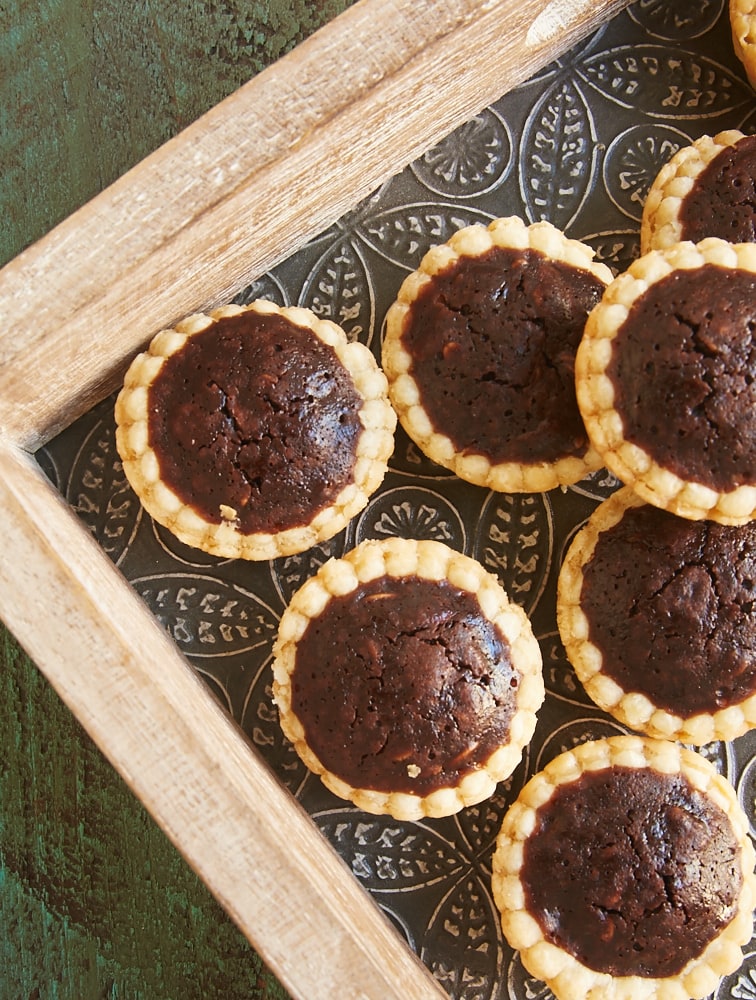 Just this past weekend in my weekly newsletter, I shared some of my favorite mini desserts that are great for parties. I love little one-or two-bite desserts that can simply be placed on a tray for your guests to help themselves. It makes party food easier for everyone!
Don't let their small size fool you. Mini desserts can have just as much flavor as their regular size versions. These Chocolate Peanut Butter Tassies feature a rich, fudgy chocolate filling with a bit of peanut butter added for even bigger flavor.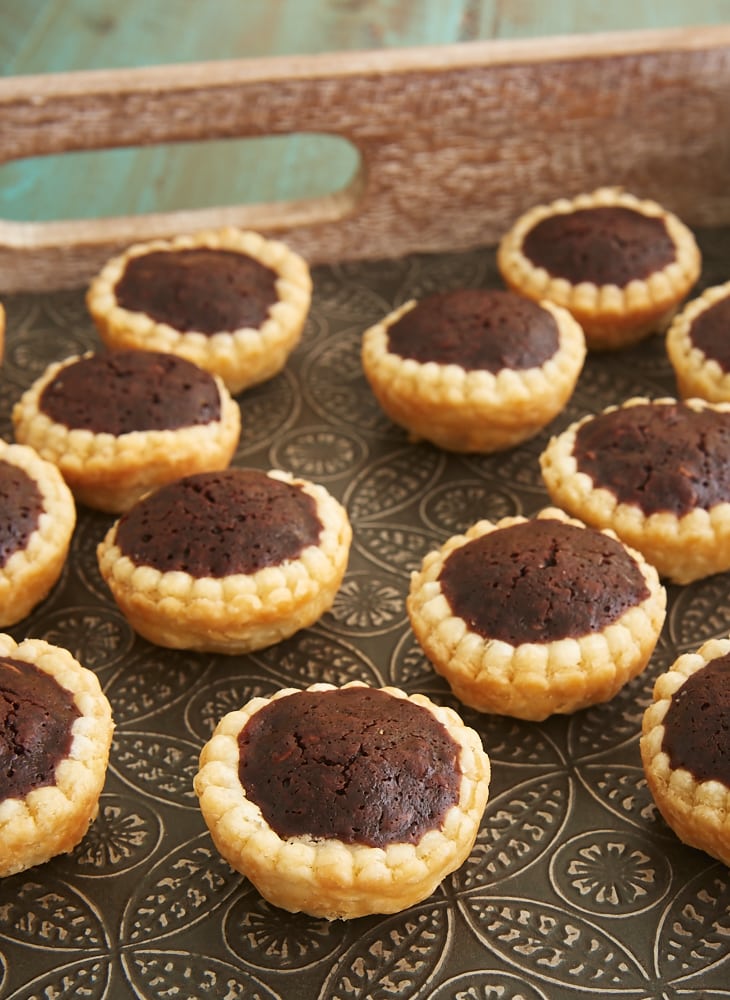 You'll need enough pie dough for a 9-inch pie crust. I use my go-to pie crust recipe, but feel free to use your favorite. Once you have your pie dough rolled out, just use a 2 & 1/2-inch round cutter to cut out rounds of dough. (I really like this fluted set of cutters.) The dough rounds will fit nicely in the cups of a mini muffin pan.
The fudgy filling mixes quickly and easily. A little cooking and mixing, a bit more mixing, and then just fill the pie crusts and bake. Then you'll have wonderful bite-size treats with full-size flavor!
Chocolate Peanut Butter Tassies
Yield: 24 mini pies
Prep Time: 30 minutes
Cook Time: 25 minutes
These rich, fudgy two-bite treats are perfect for entertaining!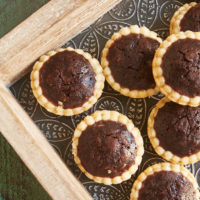 Ingredients:
For the pie crust:
1 & 1/4 cups all-purpose flour
1 teaspoon granulated sugar
1/2 teaspoon salt
1/2 cup cold unsalted butter, cut into 1/2-inch cubes
2 to 4 tablespoons cold water
For the filling:
3/4 cup firmly packed light brown sugar
3 tablespoons milk
3 tablespoons creamy peanut butter
2 tablespoons unsweetened cocoa powder
1 tablespoon unsalted butter
1 large egg
1/4 cup old-fashioned rolled oats
3 tablespoons all-purpose flour
1/4 teaspoon salt
Directions:
To make the pie crust:
Whisk together the flour, sugar, and salt in a large bowl. Add the butter and mix with a pastry blender or fork until the mixture resembles coarse meal and the butter is the size of small peas.
Add 1 tablespoon of water and continue mixing. Add more water as needed, 1 tablespoon at a time, until a dough forms.
Wrap the dough tightly in plastic wrap. Refrigerate for at least 2 hours.
Remove the dough from refrigerator. If necessary, let it sit at room temperature for 10 to 15 minutes until slightly softened but still cold.
Lightly flour a work surface. Roll out the dough into a circle about 1/8-inch thick. Use a 2 & 1/2-inch round cutter to cut out 24 rounds of dough. If necessary, gather and re-roll the dough once.
Lightly grease a 24-cup muffin pan. Place one dough round in each cup, pressing it down into the cup so that it lines the bottom and the edges.
To make the filing:
Preheat oven to 350°F.
Place the brown sugar, milk, peanut butter, cocoa powder, and butter in a heavy saucepan. Cook over medium-low heat, stirring frequently, until the mixture is smooth. Remove from the heat and allow to cool for 10-15 minutes.**
Stir in the egg. Stir in the oats, flour, and salt.
Divide the filling evenly among the pie crusts, filling each almost full. Bake 20 to 25 minutes, or until the crusts are browned and the filling is set.
Cool in the pan for 10 minutes. Then transfer the pies to a wire rack to cool completely.
Notes:
*You may substitute your favorite pie crust recipe. You'll need enough dough for a 9-inch pie.
**Be sure to let the hot mixture cool before adding the egg so that the egg doesn't cook as it's stirred into the filling.
This post contains affiliate links.