Light, airy chantilly cake looks and tastes like a dream! Perfect for a party, it layers moist raspberry-soaked vanilla cake with fresh berries and cloud-like whipped mascarpone and cream cheese frosting.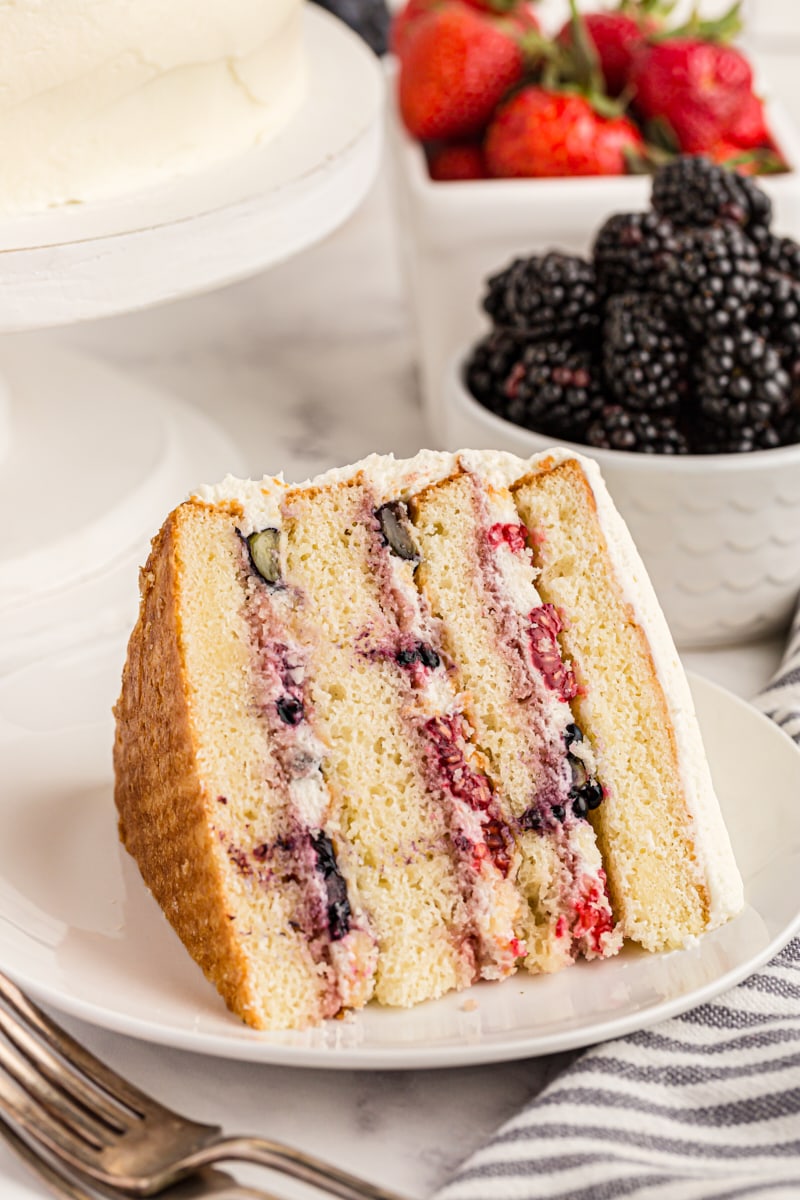 Berry Chantilly Cake
Sometimes you just need a show-stopping cake for a special occasion—something that will leave your guests speechless. For these times, nothing less than chantilly cake will do.
You all know that I like to keep it simple with baking, but I'm not afraid to roll up my sleeves and put in a little extra effort when I need to. Trust me when I say that this chantilly cake is absolutely worth it. With 4 layers of cake, fresh berries, and the most transcendent frosting, chantilly cake looks stunning and tastes even better.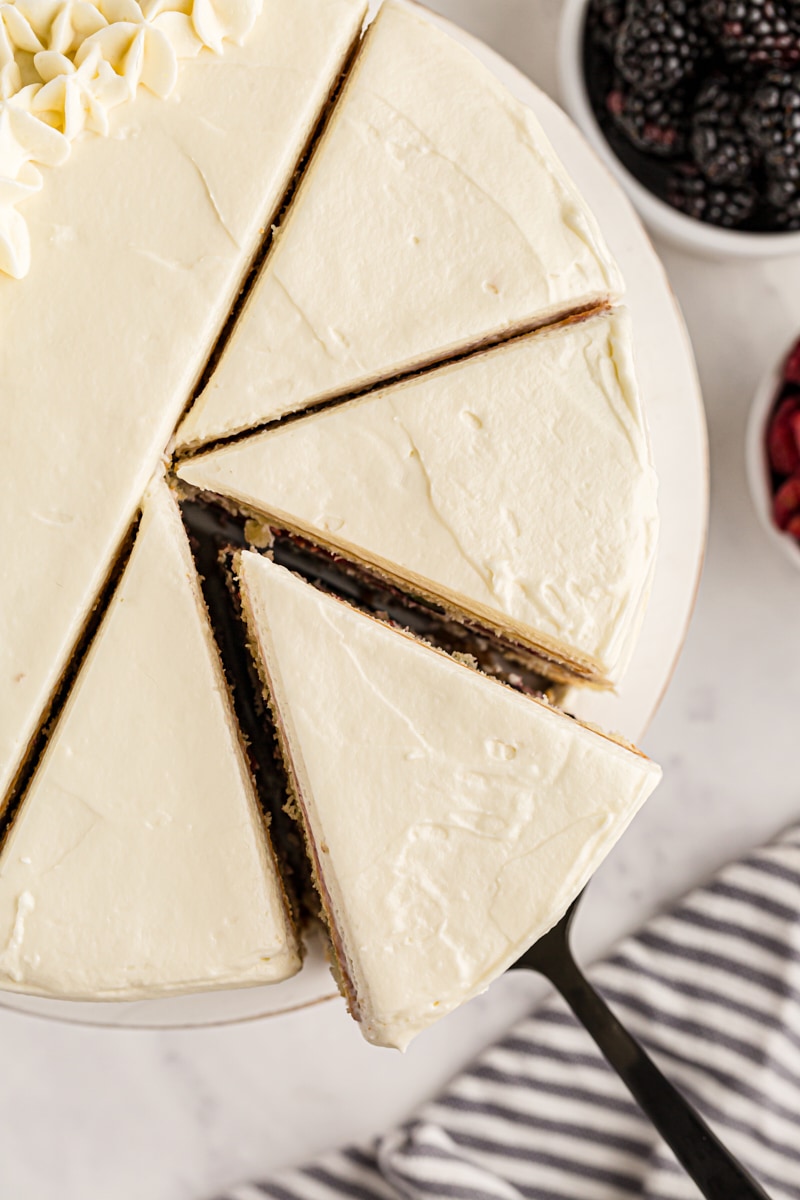 What Is Chantilly Cake?
As with so many classic cake recipes, there are many versions of chantilly cake. Some start with sponge cake, others use a traditional vanilla cake; a few recipes are simply made with whipped cream, while most incorporate cream cheese and mascarpone for more stability. Fresh berries and a light, airy texture are a common denominator.
(Love desserts with fresh berries? Try my Fresh Berry Tart, too!)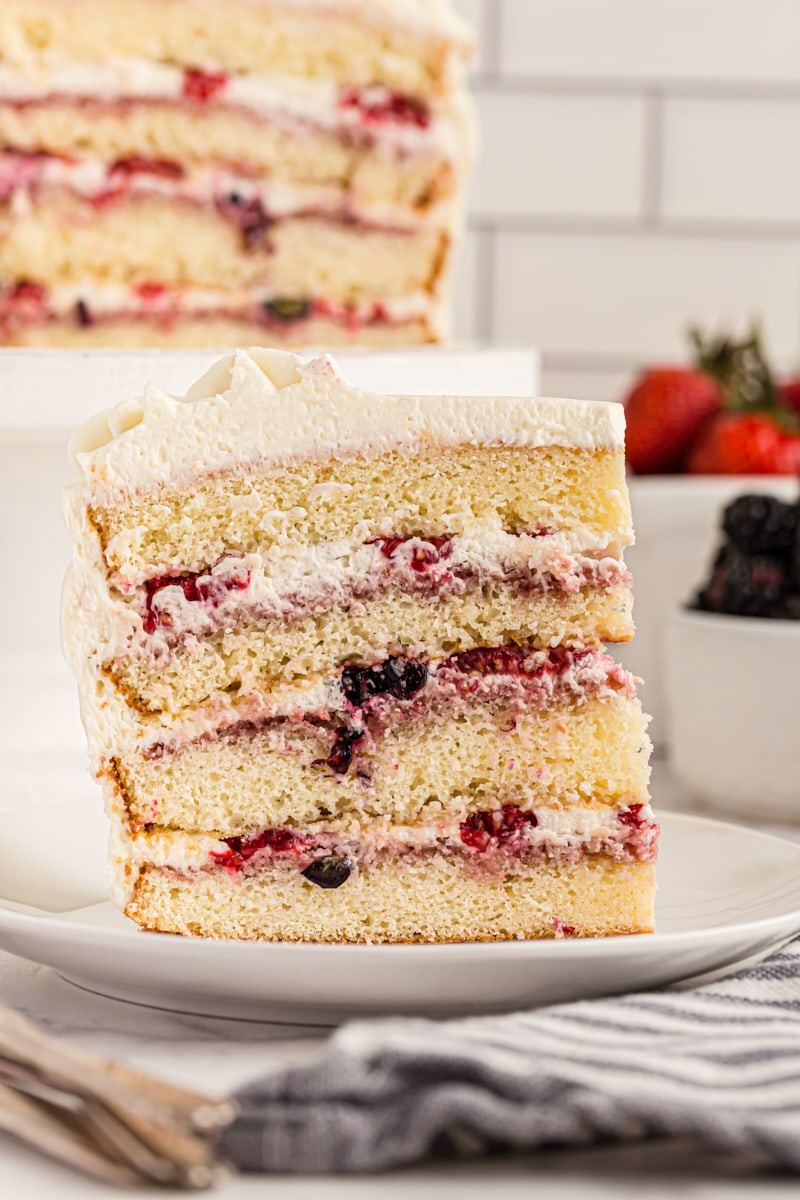 Why You'll Love This Chantilly Cake Recipe
Here's what makes this chantilly cake so special:
Impressive. Chantilly cake is an absolute stunner on a dessert table, but make no mistake: it's easier than you think to put it together.
Delicious, without being heavy. The layers of fluffy cake, whipped frosting, and fresh fruit mean this chantilly cake isn't overly decadent or filling. It's an absolute delight from start to finish!
Versatile. Get creative with your toppings, fillings, and decorations. There's room to make this recipe your own!
Ideal for summer get-togethers. The lightness of chantilly cake, along with the fresh berries, give it a summery feel.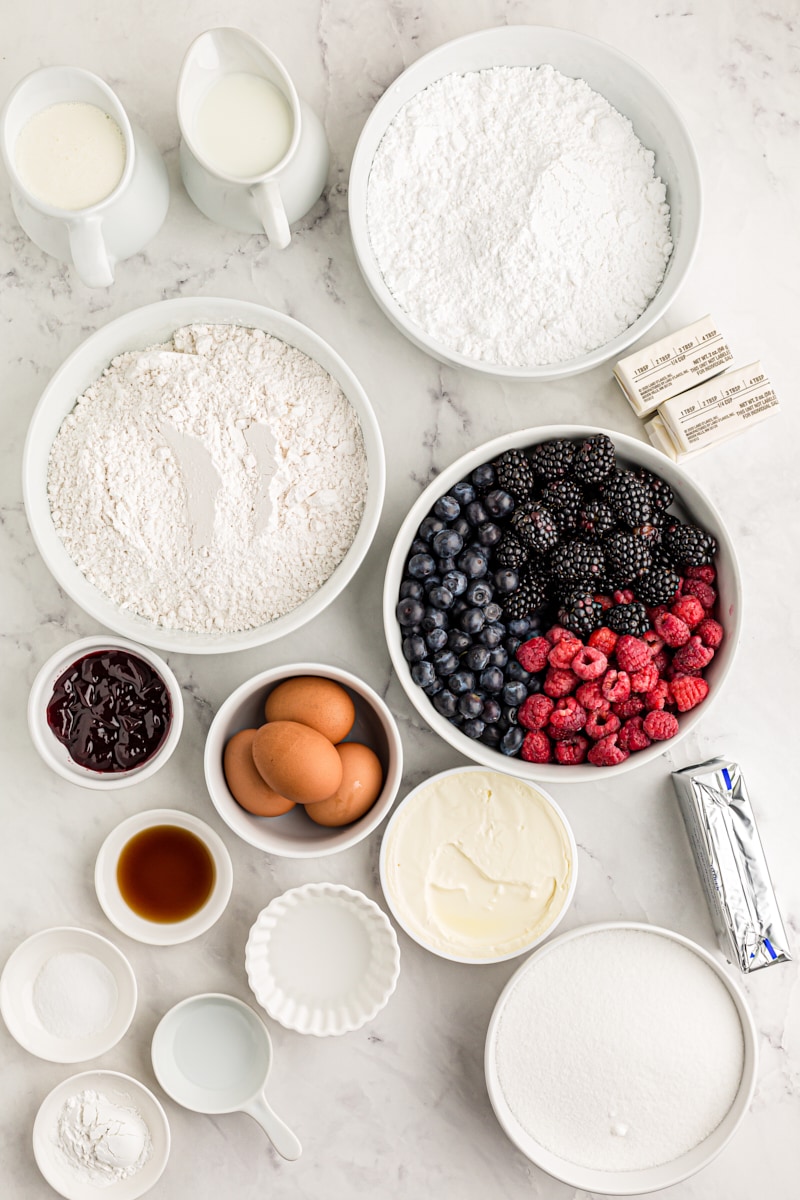 What You'll Need
Scroll down to the recipe card to find the ingredient quantities and recipe instructions.
Cake Layers:
Cake flour – Cake flour contributes to the light, airy texture of the cake layers.
Baking powder
Salt
Unsalted butter – Learn more: Unsalted or Salted Butter: Which is Better for Baking?
Granulated sugar
Eggs
Vanilla extract – Use store-bought or homemade vanilla extract.
Almond extract – Despite its name, almond extract has floral, fruity notes, rather than being nutty. It adds a lovely layer of flavor to this chantilly cake.
Milk –Whole milk is best for baking, but you can use what you have on hand.
Raspberry Mixture:
Raspberry jam – Seedless is best for this recipe.
Warm water
Frosting:
Cream cheese – Use cream cheese from a block, not from a tub.
Mascarpone
Confectioners' sugar – Sift this to keep lumps out of your frosting.
Heavy cream
Vanilla extract
Assorted berries – Strawberries, blueberries, raspberries, blackberries.
What Happens if You Use All-Purpose Flour Instead of Cake Flour?
Using all-purpose flour instead of cake flour will result in a denser, heavier cake, rather than light and airy. Learn more about the difference between all-purpose flour and other types of flour here: A Baker's Guide to Wheat Flours.
How to Make Chantilly Cake
Don't feel intimidated by this recipe! You can always break it up into blocks so you don't have to do it all in one go.
Make the Cake: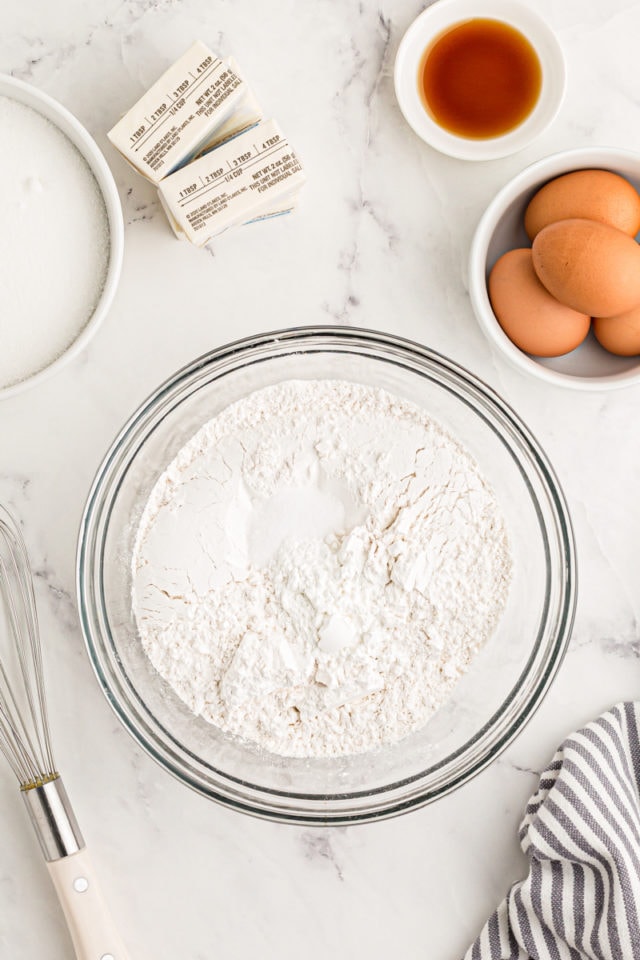 Prepare. Preheat your oven to 350°F. Butter two round baking pans, then line the bottom of the pans with parchment paper.
Mix the dry ingredients. Whisk the flour, baking powder, and salt in a mixing bowl.
Mix the wet ingredients. Use an electric mixer on medium speed to beat the butter and sugar until they're light and fluffy. Beat in the eggs one at a time, followed by the vanilla and almond extracts.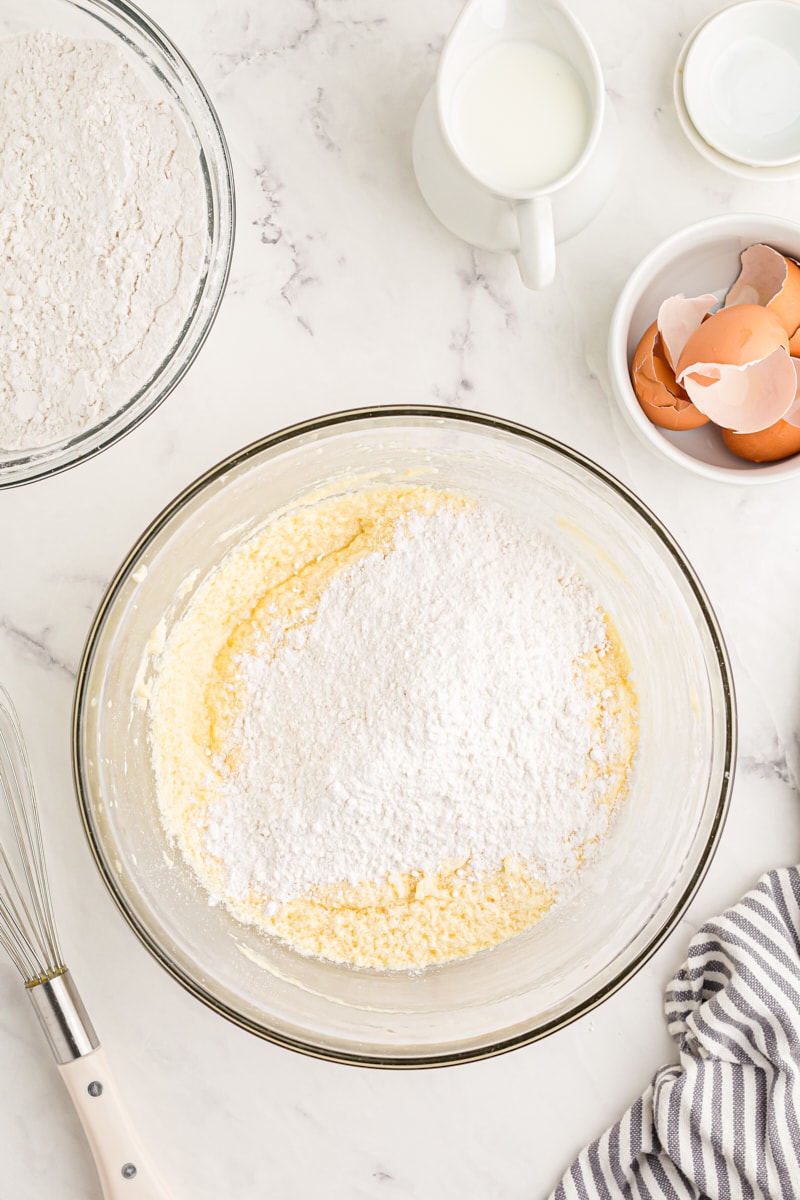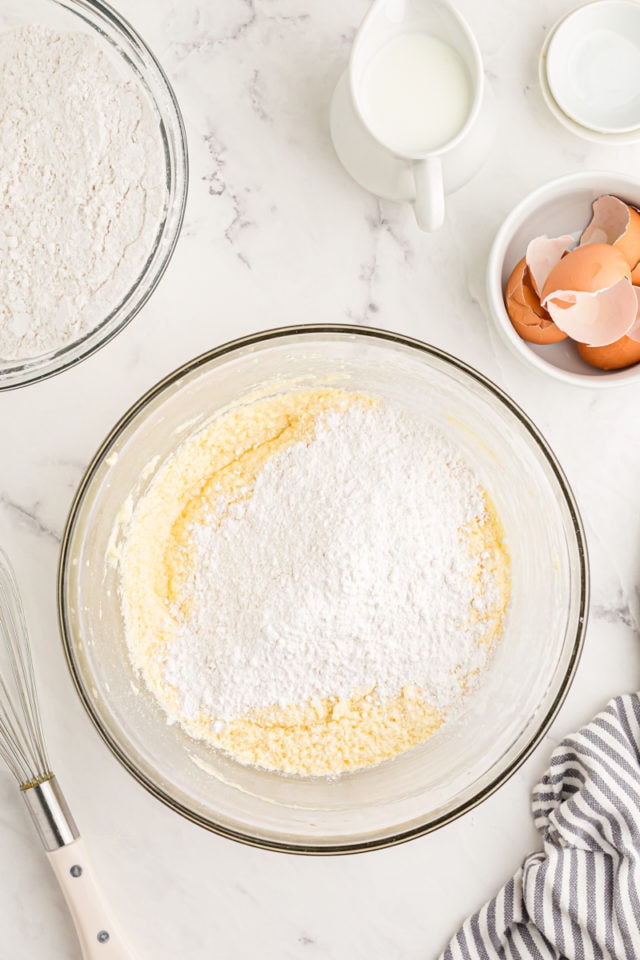 Finish the batter. Reduce mixer speed to low. Beat in the dry ingredients in three portions, alternating with two portions of milk.
Bake. Divide the batter between the cake pans and bake for 40 to 45 minutes, or until the cakes are golden brown and a pick inserted into the center comes out clean.
Cool. Let the cakes cool in the pans for 10 minutes, then turn them out onto wire racks to finish cooling.
Make the Raspberry Mixture: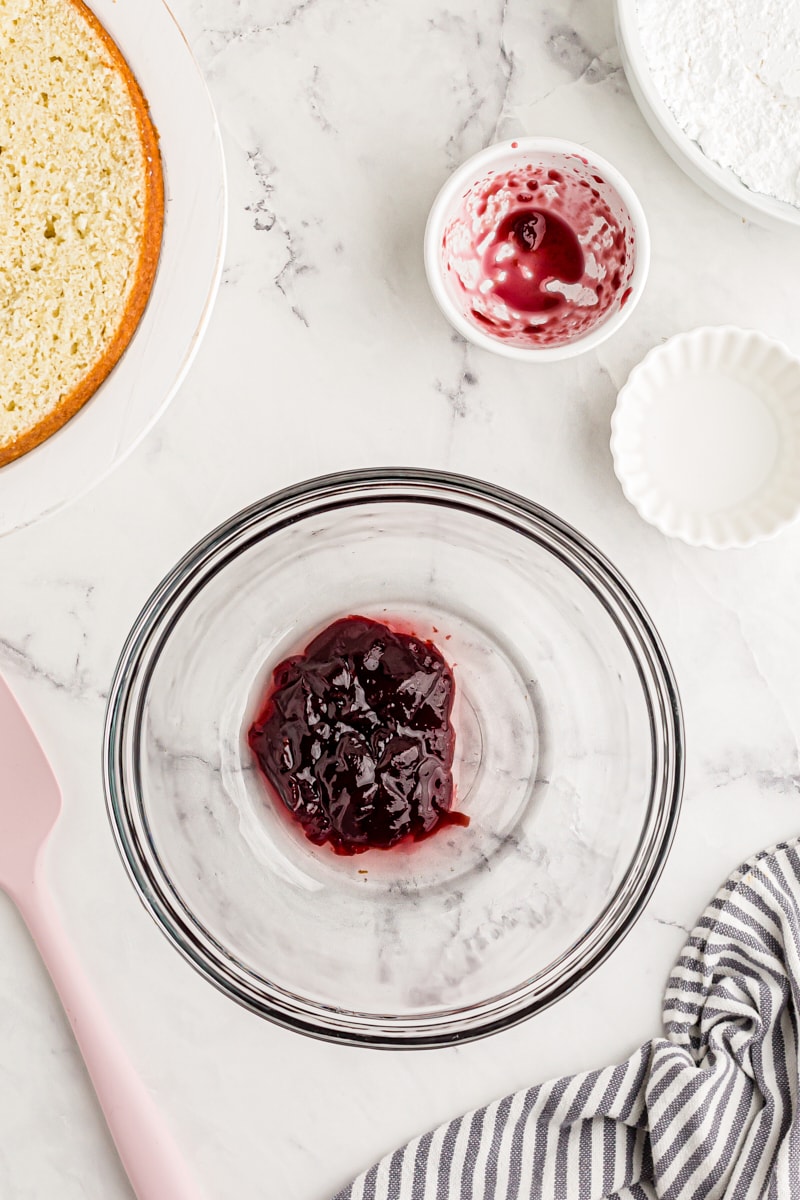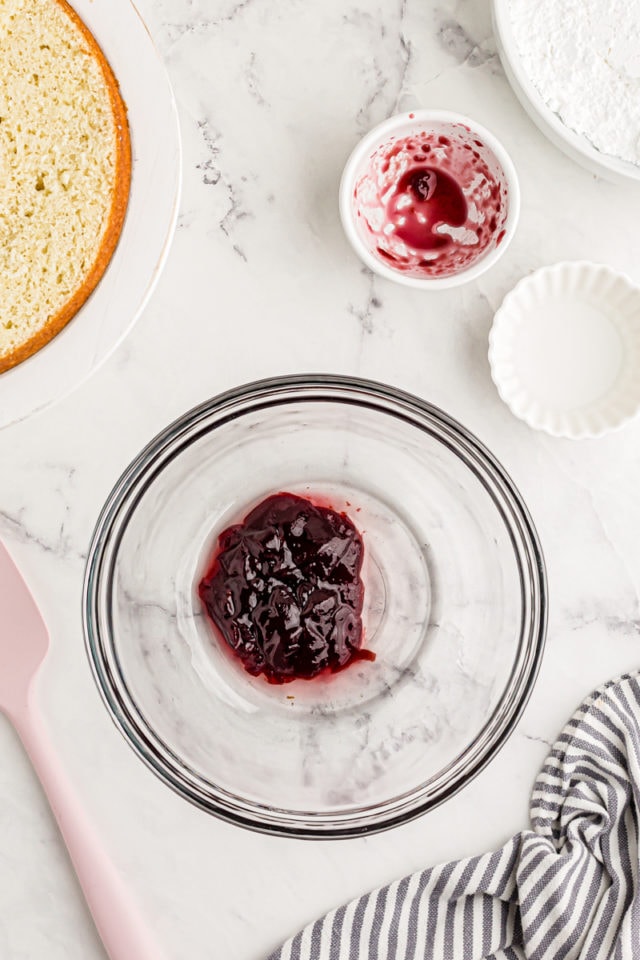 Combine. Whisk together the jam and 2 tablespoons of water until the mixture is smooth.
Adjust. Add more water a little at a time if needed, until the mixture is thin enough to brush on the surface of the cake.
Make the Frosting: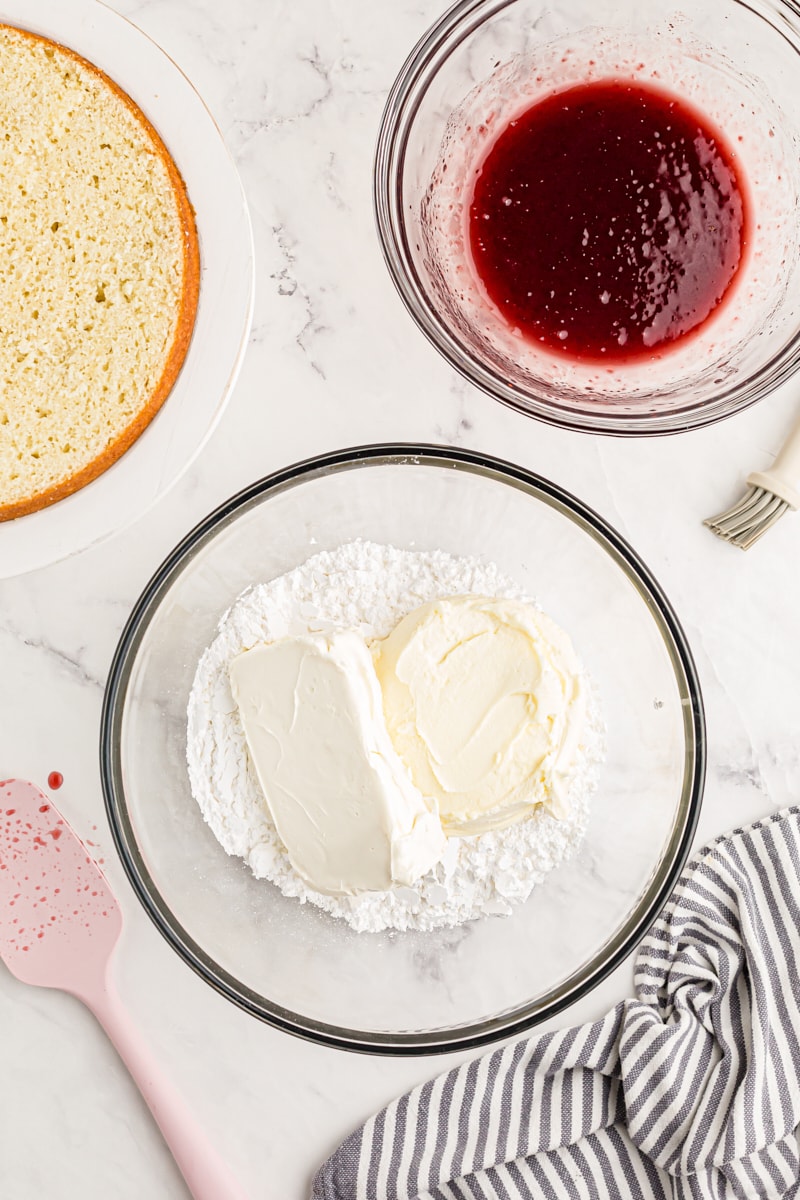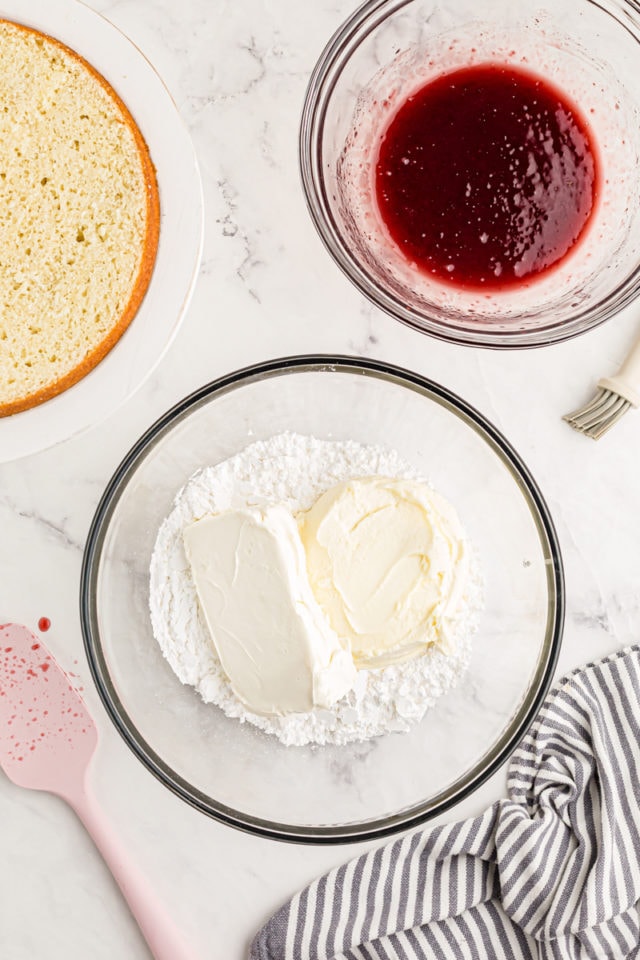 Beat the first 3 ingredients. Use an electric mixer on medium speed to beat the cream cheese, mascarpone, and confectioners' sugar in a mixing bowl until smooth and well-combined.
Whip the cream. In a separate bowl, use an electric mixer with a whisk attachment to whip the heavy cream and vanilla extract to firm peaks.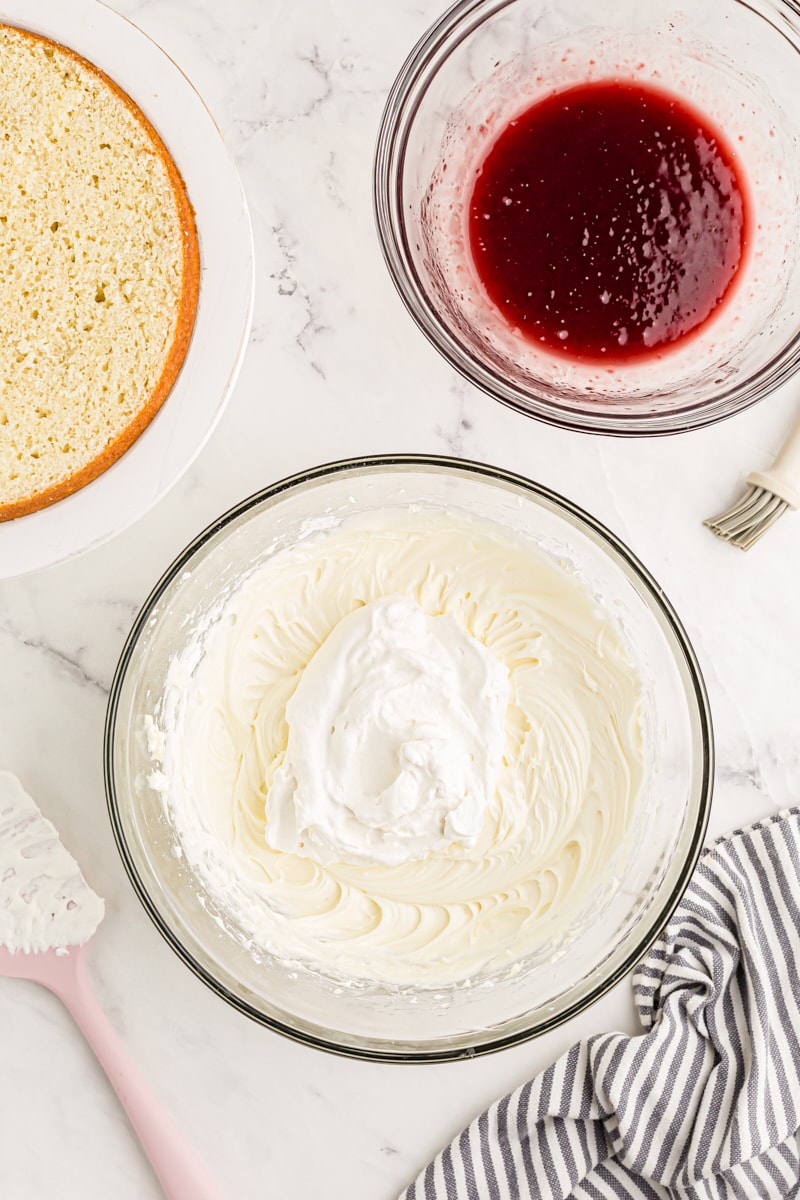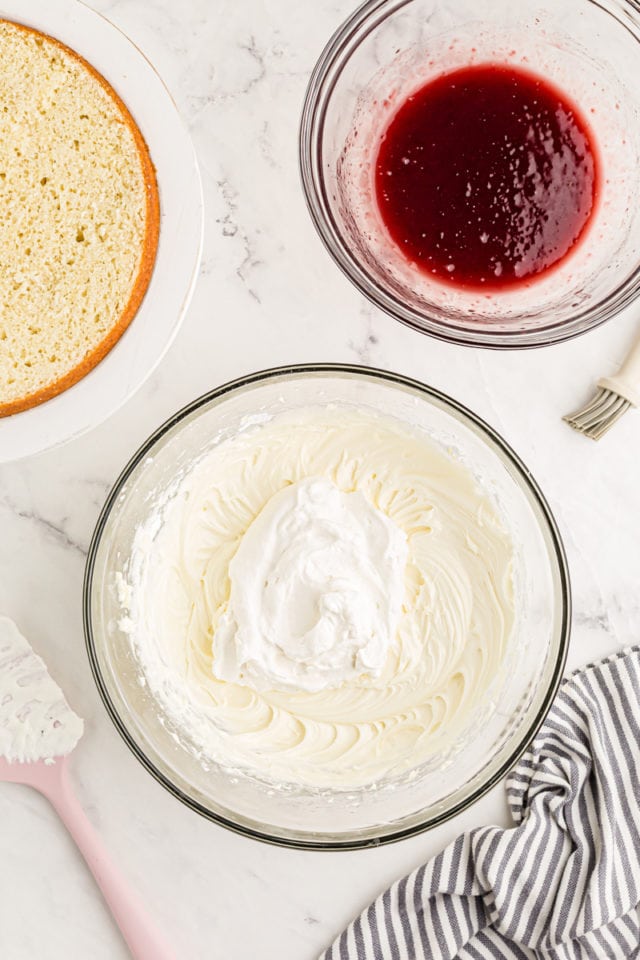 Finish. Fold about a quarter of the whipped cream into the cream cheese mixture. Then, gently fold in the remaining whipped cream.
Assemble the Cake:
Prepare the layers. Carefully slice each cake layer in half horizontally with a serrated knife, making four layers.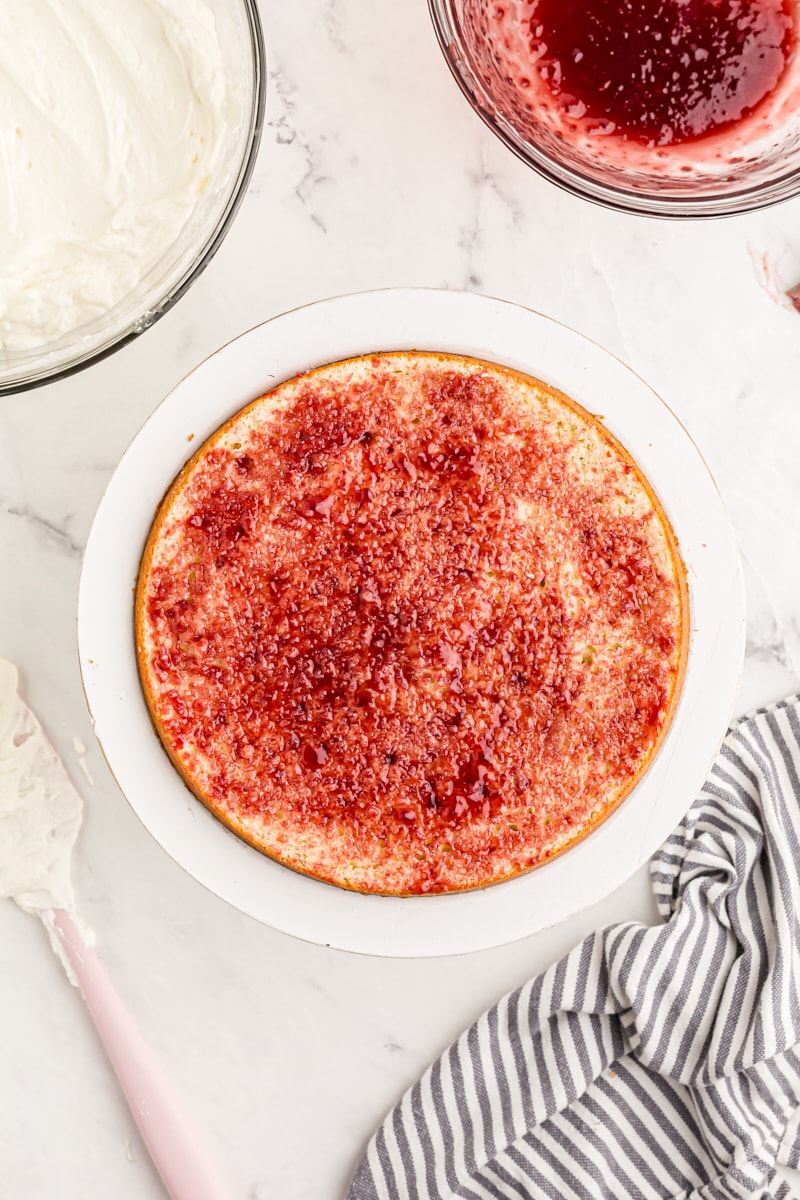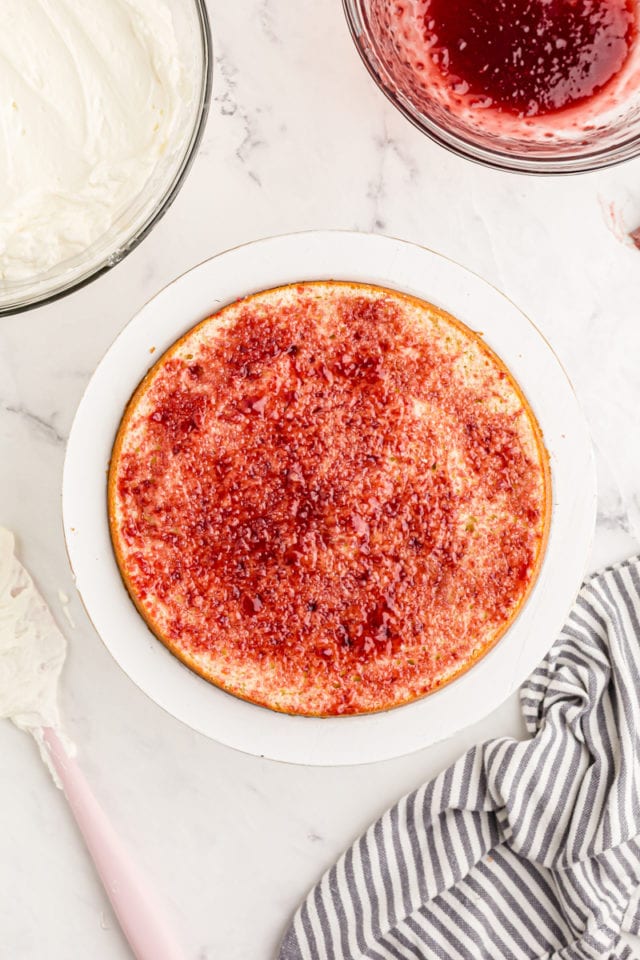 Layer the cake. Place the first cake layer with the cut side up onto a cake plate. Brush the top with 1/3 of the raspberry mixture, then top this with about 1/2 cup of frosting, followed by 2/3 cup of berries. Repeat with the next two layers.
Top the cake. When you reach the last layer, place this one onto the cake with the cut side facing down.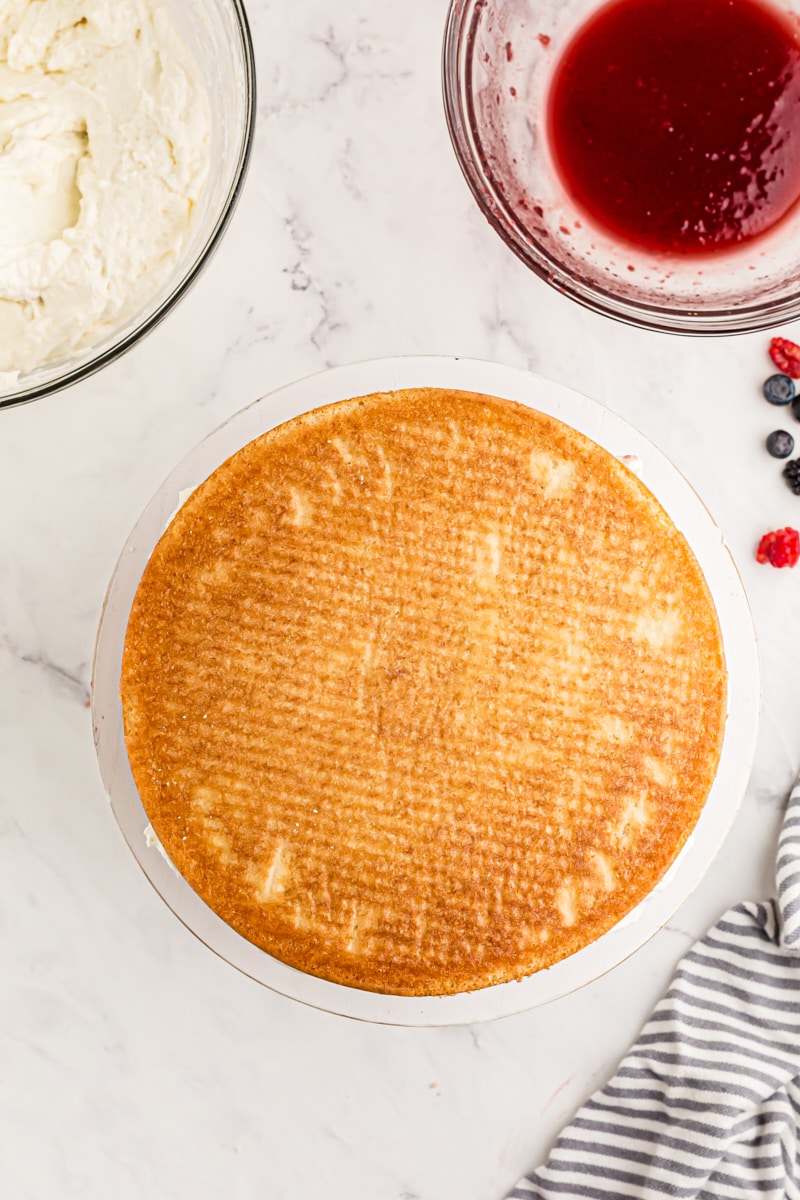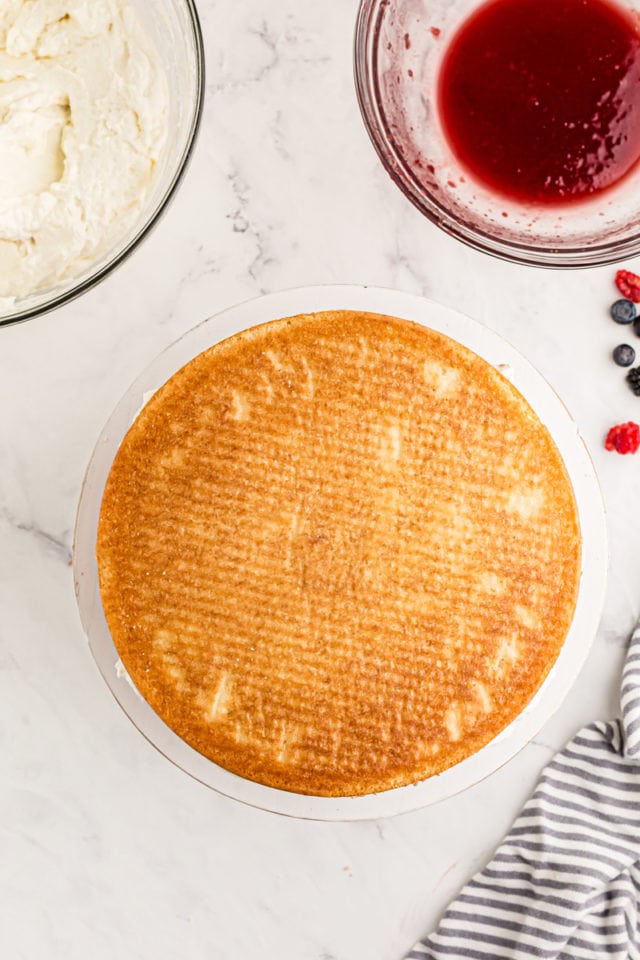 Frost. Use an offset spatula to frost the top and the sides of the cake, then garnish with the remaining berries.
Chill. Refrigerate for at least an hour before serving.
Tips for Success
Read over my baking tips for beginners, then follow these additional pointers:
Soften the butter, cream cheese, and mascarpone. This allows them to hold more air when beaten and it helps them mix more smoothly.
Cut the berries if needed. If you're working with large berries like strawberries and some varieties of blackberries, you may need to slice them in half so they fit nicely between the layers.
Level the cake layers for a professional look. If your cake layers come out of the oven looking domed, you can use a cake leveler or a serrated knife to trim the top a bit so your cake is even.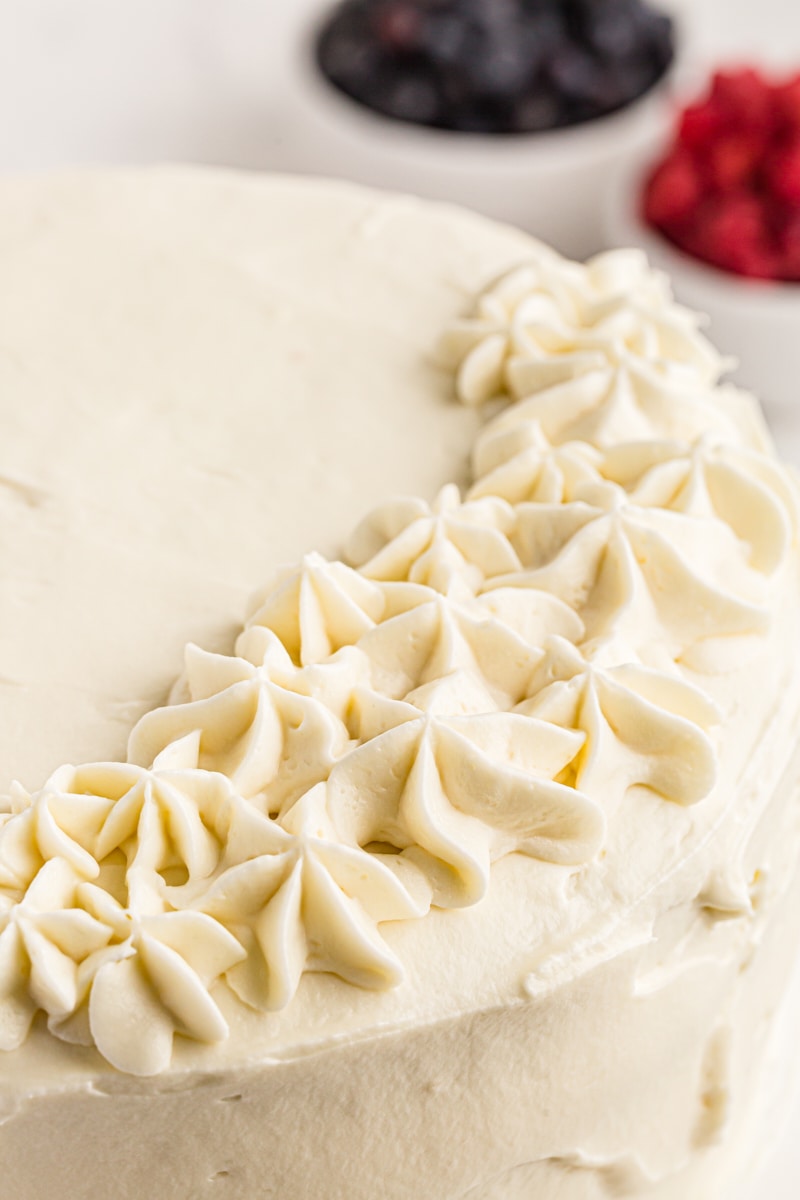 Variations
A traditional chantilly cake is made with fresh berries, but this is a recipe that works well with a variety of fillings. Lemon curd would be fantastic between the layers, as would ripe summer peaches. Try strawberry jam instead of raspberry, or brush the cake layers with amaretto liqueur to play up the almond flavor.
Decorating Options
If you'd like, you can reserve some of the chantilly frosting to pipe on top of the cake. Not confident in your piping skills? Simply adding fresh fruit to the top of your cake will make it look stunning. Covering the exterior with white chocolate shavings or toasted coconut are two more easy options.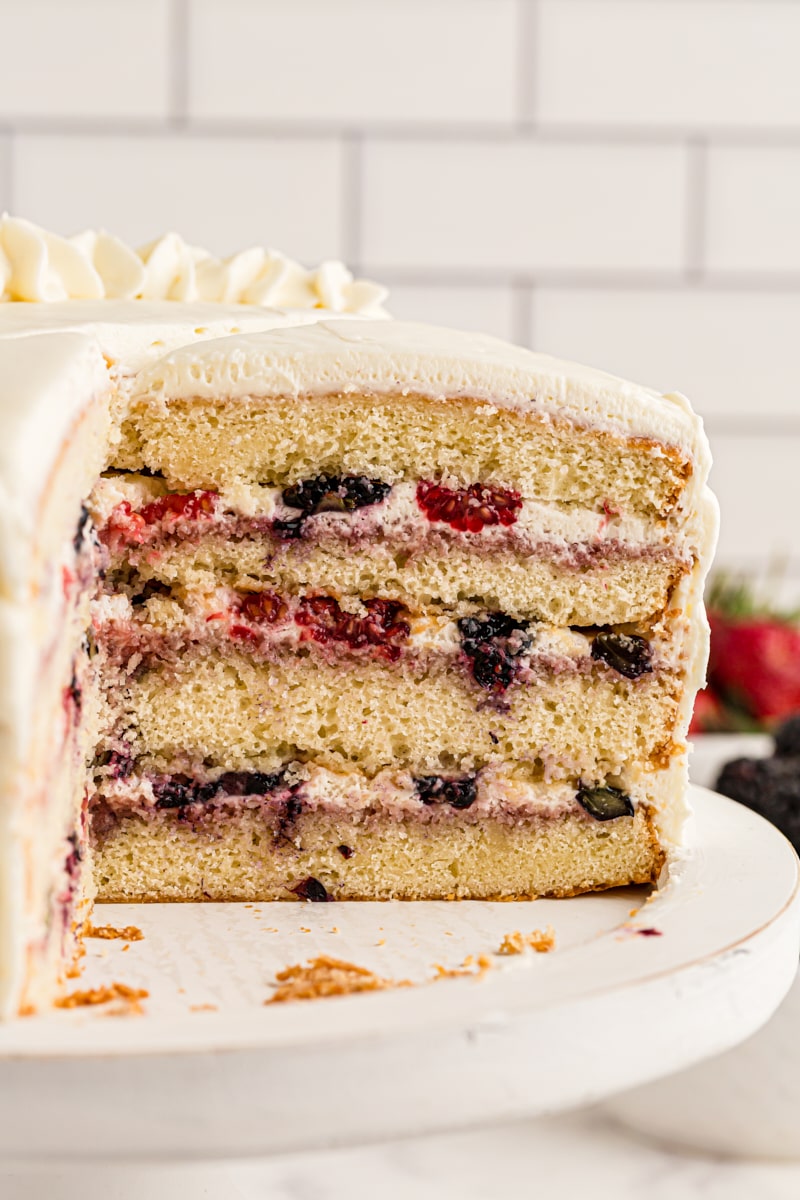 How to Store
Chantilly cake will keep in the refrigerator for up to 3 days, although it's best enjoyed the day it's made. Cover it lightly with plastic wrap or place leftovers in an airtight container.
Can This Recipe Be Frozen?
Yes, you can freeze chantilly cake for up to 2 months. To freeze the whole cake, set it on a parchment-lined baking sheet and place it in the freezer until the frosting is frozen solid. Then, wrap the cake in plastic wrap, followed by a layer of foil.
Freeze individual slices in an airtight container or wrapped in plastic and then place them in a zip-top freezer bag.
Thaw chantilly cake in the refrigerator before serving.