August 12, 2013
Peach Crumble Bars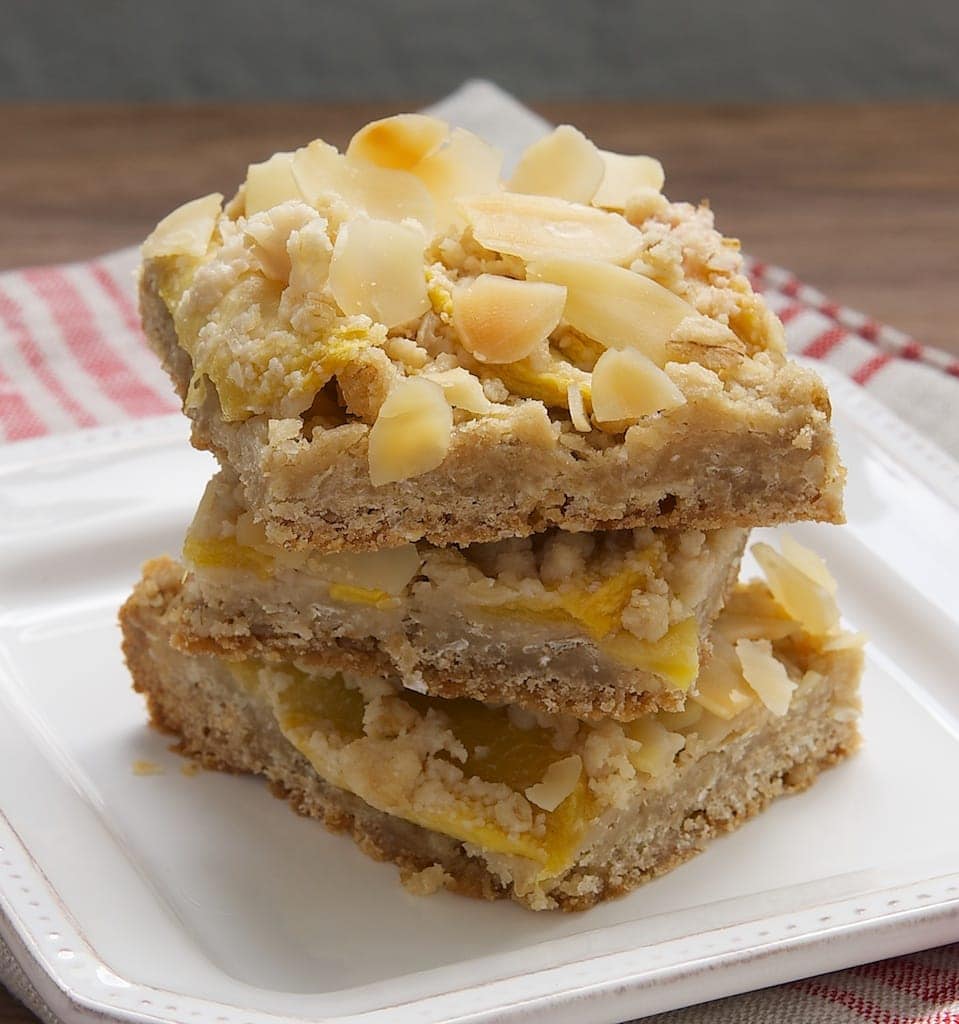 This has been the most fruit-filled summer I can remember. I've had access to some absolutely lovely fruit through our CSA, farmers markets, and even our local markets. The best blueberry days are behind us, but now we have peaches!
I confess that I've not done much baking with peaches. I was looking through the archives here at BoB and was a bit surprised to find that category lacking. I'm on it, though. My first round of peaches yielded this amazing cobbler. And, now, these simple bars.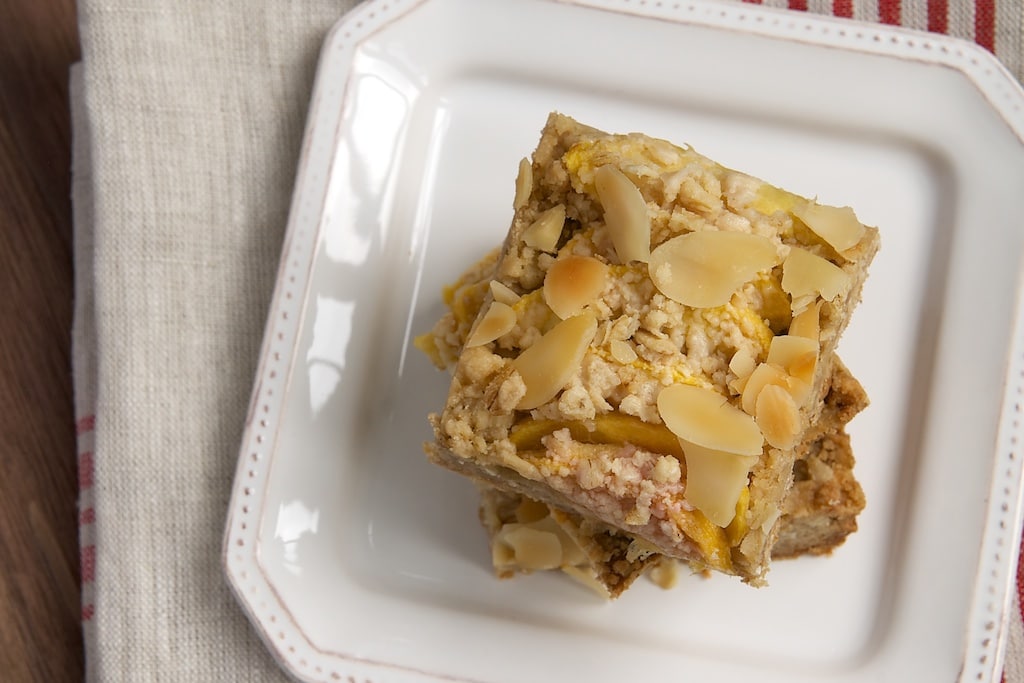 Next confession. I threw together these bars as kind of a last minute thing. We had plans to go to Shakespeare in the Park with friends last week. One of the best things about going (other than the play, of course) is that you can take food and drinks into the theatre. I was in charge of dessert and wasn't entirely sure what to make that would be nicely portable and not too messy.
I had just gotten fresh peaches, so that seemed the obvious place to start. I made a simple buttery crust and tossed a bunch of peaches with some Amaretto. Then, I topped it all off with a bit of crumb and some sliced almonds. I was very pleased with how they turned out, and we all happily devoured them.
These bars really let the sweet flavor of the peaches shine. That little splash of Amaretto gives them a bit of a kick that I just love. Of course, all that buttery crust and crumble are always a winner.
Find more favorite summer recipes in the Recipe Index!
Peach Crumble Bars
Yield: 24 2-inch bars
Prep Time:25 minutes
Cook Time:50 minutes
Peach Crumble Bars combine a buttery crust and crumble with fresh peaches for an irresistible sweet treat.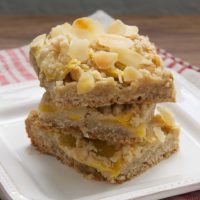 Ingredients:
2 cups all-purpose flour
1 & 1/2 cups old-fashioned rolled oats
1 cup packed light brown sugar
1/4 teaspoon salt
1 cup cold unsalted butter, cut into 1/2-inch cubes
4 medium peaches, peeled and sliced thinly
1 tablespoon Amaretto*
1/4 cup sliced almonds
Directions:
Preheat oven to 350°F. Lightly grease a 9″x 13″x 2″ baking pan.
In a large mixing bowl, stir together the flour, oats, brown sugar, and salt. Add the cold butter and mix with a pastry blender, a fork, or your fingers until the butter is the size of small peas. The dough will be crumbly but will hold together when pinched.
Set aside about 1 cup of crust mixture.
Press the remaining crust mixture evenly into the bottom of prepared pan. Bake 10 minutes.
Place the sliced peaces in a medium bowl. Add the Amaretto, and toss to coat.
After the crust has baked, arrange the peaches over the crust.** Sprinkle the reserved crust mixture over the peaches. Scatter the almonds over the top of crumb.
Bake 35 to 40 minutes, or until the edges are browned and the topping is lightly browned.
Cool in the pan before cutting into bars.
Notes:
*You can substitute almond extract for Amaretto, although I'd use 1&1/2 to 2 teaspoons instead of a tablespoon. Unless you're a big almond extract fan, then just go for it.
**Arrange the peaches however you'd like. I made three long rows and overlapped them slightly.