This classic blueberry bread recipe is a perfect example of the old adage "less is more." It's so easy to make, and the simple, delicious flavor of blueberries is the star.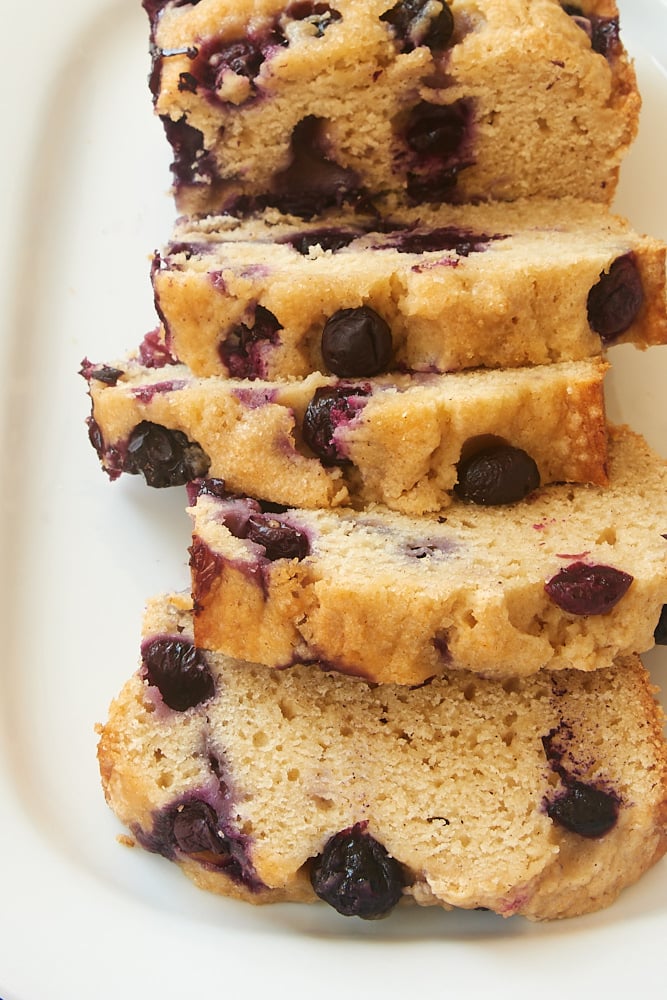 Easy Blueberry Bread Recipe
I go through countless blueberries every spring and summer. I go a little berry crazy in general, but I especially love blueberries. Coming up with different ways to bake with them is one of my favorite challenges. But I often seem to come back to simple things like this blueberry bread.
There's nothing exceptionally remarkable about this bread at first glance. It's a fairly standard quick bread at its heart. It's made with basic ingredients using the traditional muffin method, but its simplicity is what allows the blueberries to shine.
Make no mistake, the blueberries are the star here, with the rest of the ingredients lending a supporting role. Put it all together and you've got a lovely quick bread for breakfast or snacking.
(If you love baking with blueberries, try my Pineapple Blueberry Muffins, Blueberry Cream Cheese Tart, and Mini Blueberry Cream Cheese Pies next!)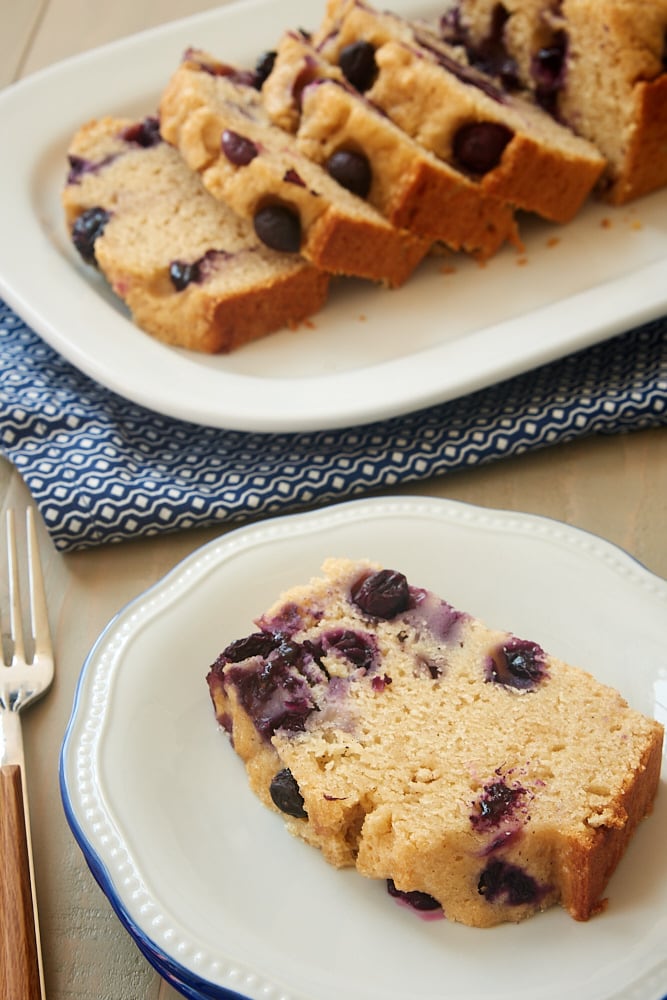 What You'll Need
Scroll down to the recipe card below this post for ingredient quantities and full instructions.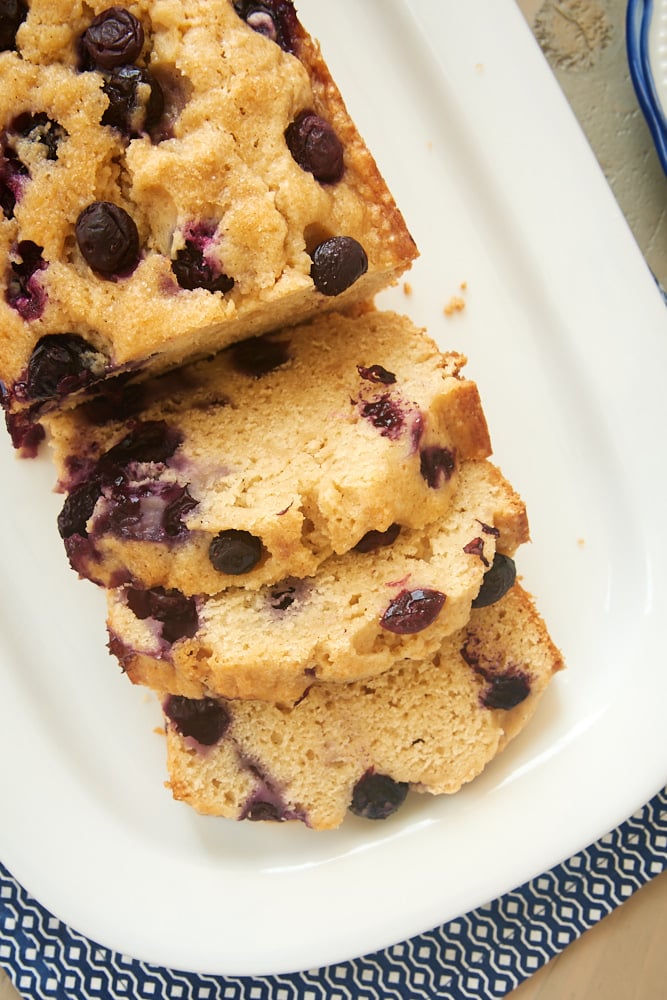 How to Make Blueberry Bread
This classic blueberry bread recipe comes together in a matter of minutes. The hardest part is waiting for it to bake and cool! Here's what you'll need to do.
Prepare. Preheat your oven to 350°F and grease a standard 9″x 5″ loaf pan. If you like, you can line the pan with parchment paper and grease the paper.
Mix the dry ingredients. Whisk the flour, sugar, brown sugar, baking powder, salt, and cinnamon in a large bowl, then make a well in the center.
Mix the wet ingredients. In a second bowl, combine the butter, egg, milk, and vanilla.
Combine the wet and dry ingredients. Pour the wet ingredients into the well in the flour mixture. Stir until just combined, then fold in the blueberries.
Bake. Pour the batter into the prepared pan, then smooth the top with a spatula. Sprinkle with sanding sugar, if using, and bake for 50 to 60 minutes, or until the bread is golden brown and a toothpick inserted into the center comes out clean.
Cool. Let the bread cool in the pan on a wire rack for about 10 minutes, then transfer the bread directly to the rack to cool completely. (Learn more: Why Every Baker Needs Wire Cooling Racks)
How Do You Keep Blueberries from Sinking in Bread?
You may have heard the trick of tossing blueberries in flour to keep them from sinking, but this changes the proportions of the recipe—you don't want to add more flour!
Instead, measure the flour for the recipe, then take a tablespoon of flour from that to toss with the blueberries. This way, you won't be adding any extra flour to the recipe.
Tips for Success
These tips will help you get the perfect loaf of blueberry bread!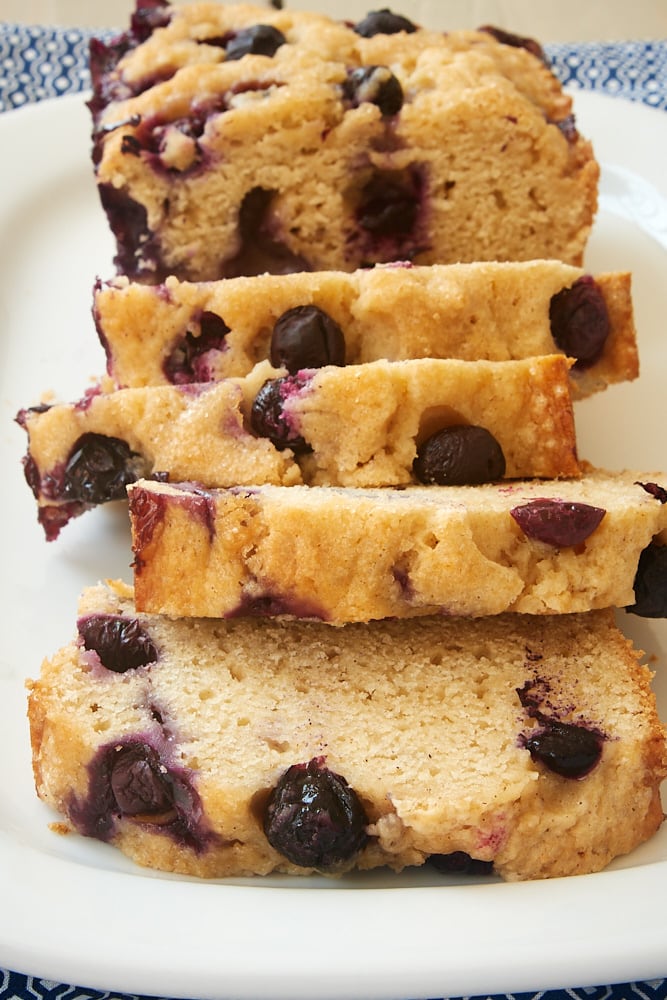 Serving Suggestions
While I love a thick slice of this blueberry bread for a simple breakfast or snack, you can dress it up and serve it for dessert, too. Try it with:
How to Store
This bread will keep at room temperature, wrapped tightly or in an airtight container, for 3 to 4 days.
Can This Recipe Be Frozen?
You can freeze blueberry bread for up to 3 months. Wrap the bread or individual slices in two layers of plastic wrap, then wrap again in aluminum foil or place in an airtight, freezer-safe container or bag. Thaw it overnight on the counter before serving.
More Simple Blueberry Recipes