This classic blueberry bread recipe is a perfect example of the old adage "less is more." It's so easy to make, and the simple, delicious flavor of fresh blueberries really shines through!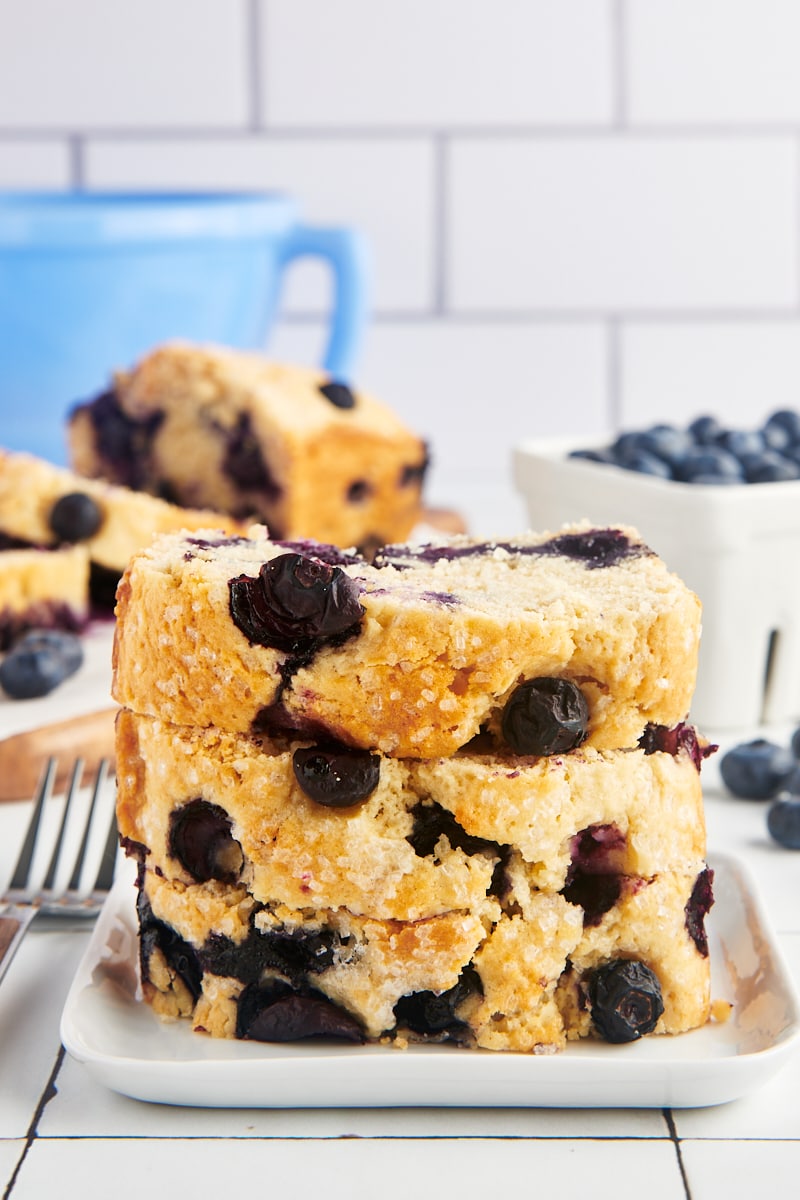 Easy Blueberry Bread Recipe
I go through countless blueberries every spring and summer. I go a little berry crazy in general, but I especially love blueberries. Coming up with different ways to bake with them is one of my favorite challenges. That said, I often seem to come back to classic, simple baked goods, like this perfectly moist blueberry bread.
There's nothing exceptionally remarkable about this quick bread at first glance – it's fairly standard at heart. It's made with basic ingredients using the traditional muffin method, but its simplicity is what allows the blueberries to shine. Make no mistake, the blueberries are the star here, with the rest of the ingredients lending a supporting role. Put it all together and you've got a lovely quick bread for breakfast or snacking that everyone will be obsessed with.
(Also, if you love baking with blueberries, try my Blueberry Banana Bread next!)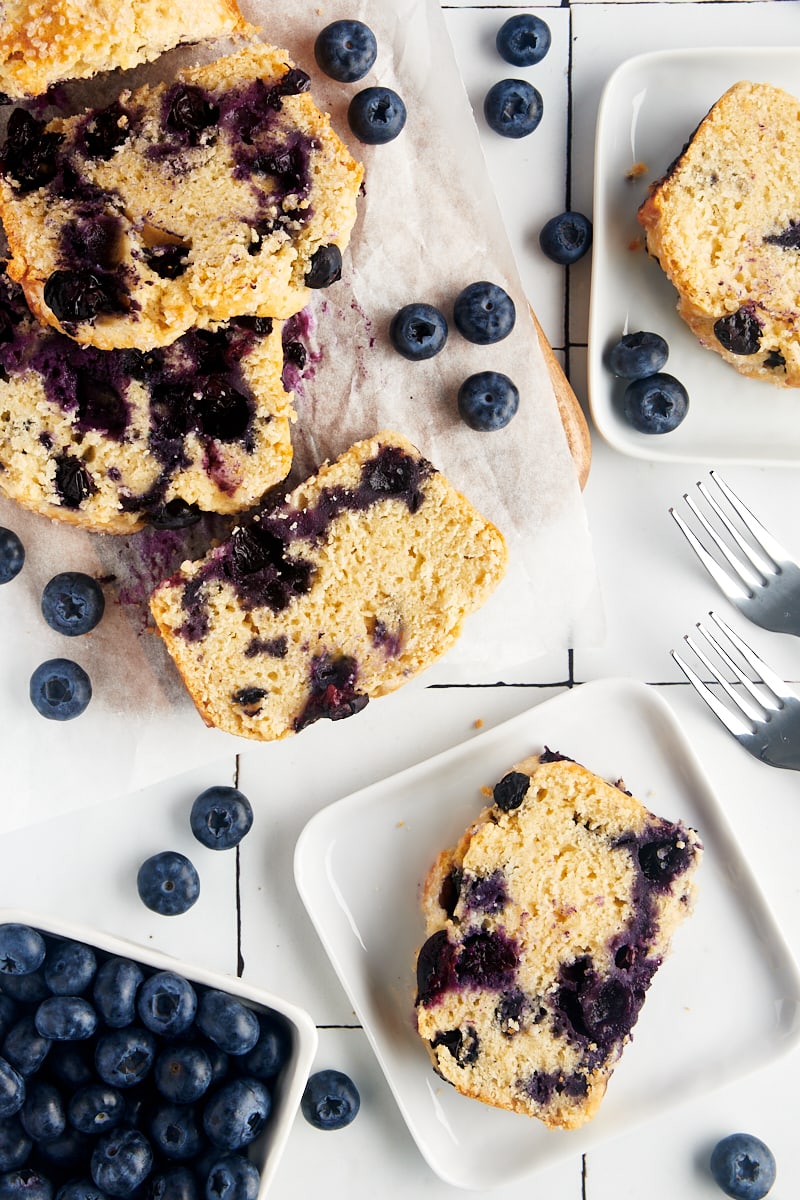 Why You'll Love This Blueberry Quick Bread
It's always a good time to make yourself a loaf of blueberry bread. In other words, it's perfect for every occasion! Here's why I think you'll love this quick bread recipe as much as I do:
Moist and cake-like. The texture of this blueberry bread is just divine! It's so tender and cake-like.
Sweet and comforting. To make this bread today, we'll be combining white and brown sugar, cinnamon, vanilla, and, of course, fresh blueberries! The result is a loaf of bread that is homey and sweet, but not overwhelmingly so.
Quick and easy. It will only take you about 15 minutes to prep this bread for the oven – that's it! After that, it'll be just an hour before you've got a gorgeous blueberry loaf cooling on the counter.
Perfect for any time of day. You can enjoy a slice of blueberry bread for breakfast, as a midday snack, or even as a light dessert! Whatever feels right to you.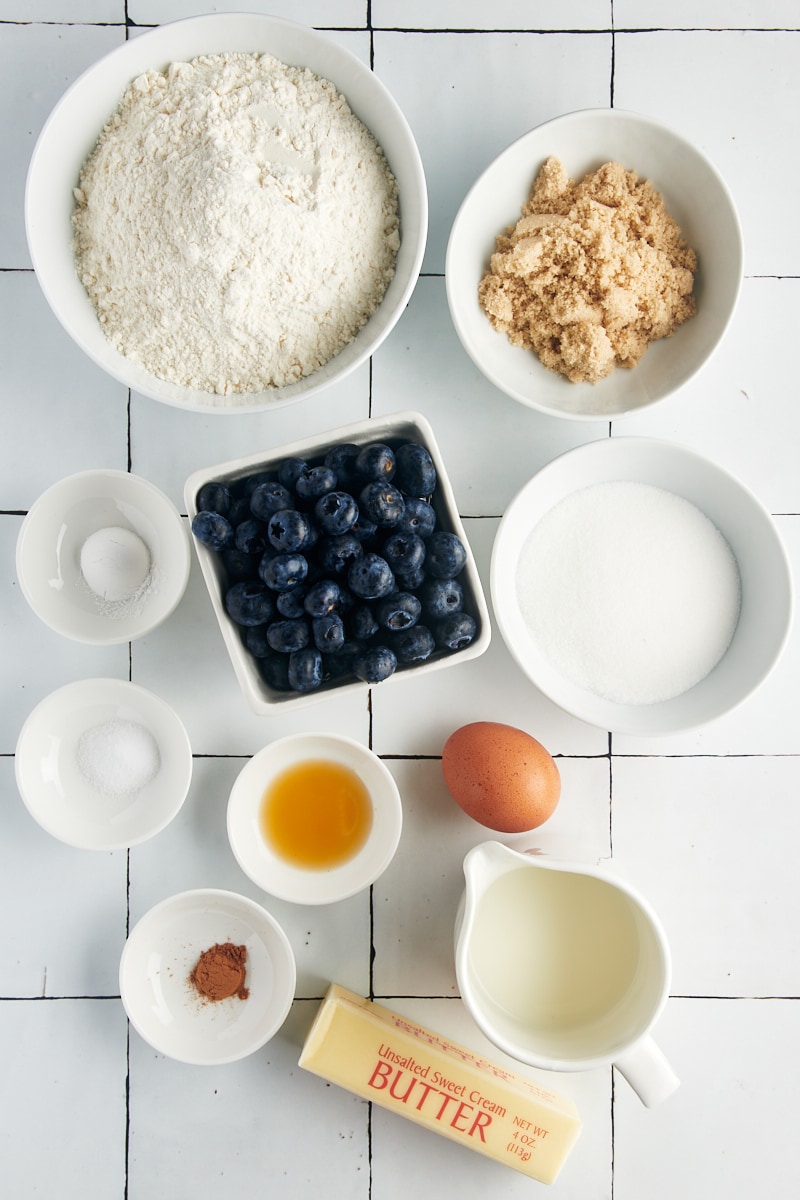 What You'll Need
Let's talk about what you'll need to make this blueberry bread recipe reality. Scroll down to the recipe card below this post for ingredient quantities and full instructions.
All-purpose flour – Check out this post on How to Measure Flour before you begin for tips and tricks!
Sugar – Today we'll be using both granulated sugar and light brown sugar.
Baking powder – This will help your bread rise up nice and tall, and give it a light texture.
Salt – To enhance the other flavors and to balance out the sweetness.
Ground cinnamon – Optional, but I love the sweet, earthy flavor it adds.
Unsalted butter – Learn more by checking out this post on Unsalted or Salted Butter: Which is Better for Baking?
Egg – Lightly beat the egg before adding it to the other ingredients.
Milk – Whole milk is always best in a quick bread.
Vanilla extract – You can substitute another extract (like almond) or even some fresh lemon juice or lime juice. Try using about a tablespoon of juice and replace the cinnamon with a little zest if you go that route.
Blueberries – I recommend using fresh blueberries, but you can use frozen blueberries if needed. (Learn more: Fresh vs Frozen Fruits in Baking.)
Sanding sugar – This is optional, but it adds a nice crunch to the top of the bread.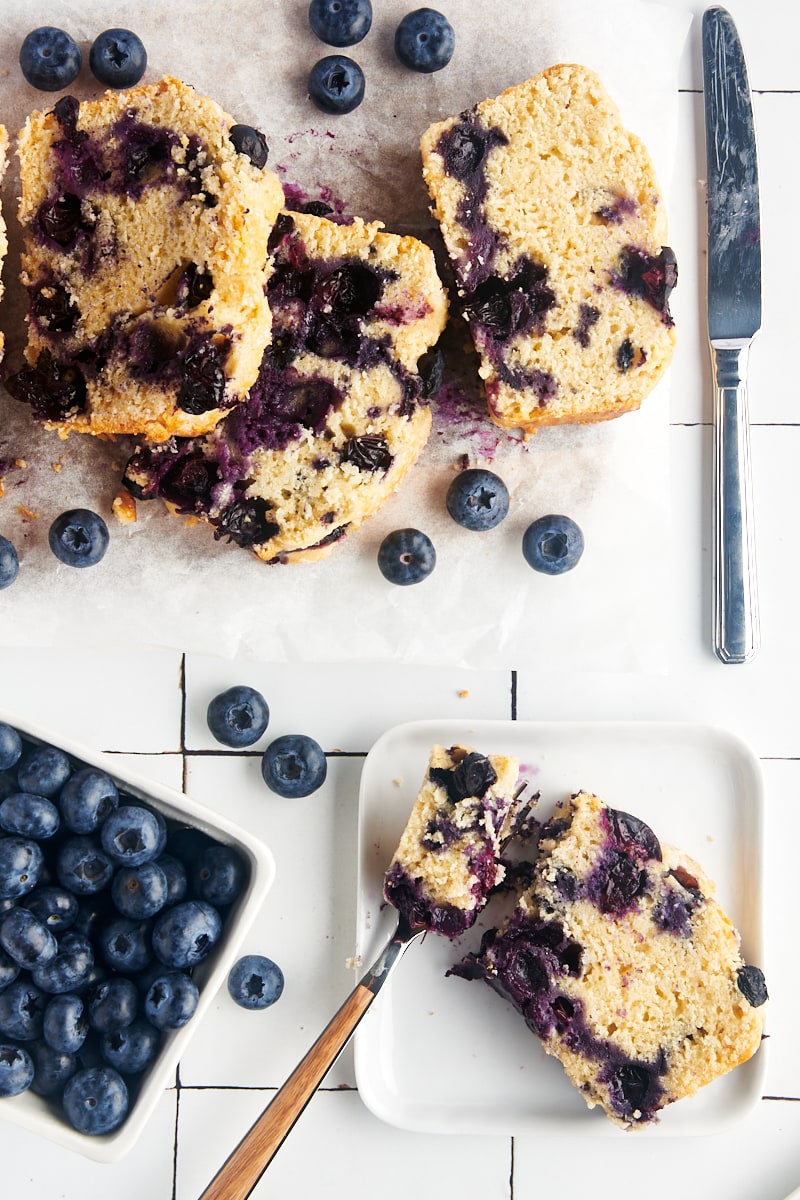 How to Make Blueberry Bread
This classic blueberry bread recipe comes together in a matter of minutes. The hardest part is waiting for it to bake and cool! Here's what you'll need to do.
Prepare. Preheat your oven to 350°F and grease a standard 9″x 5″ loaf pan. If you like, you can line the pan with parchment paper and grease it.
Mix the dry ingredients. Whisk the flour, sugar, brown sugar, baking powder, salt, and cinnamon in a large bowl, then make a well in the center.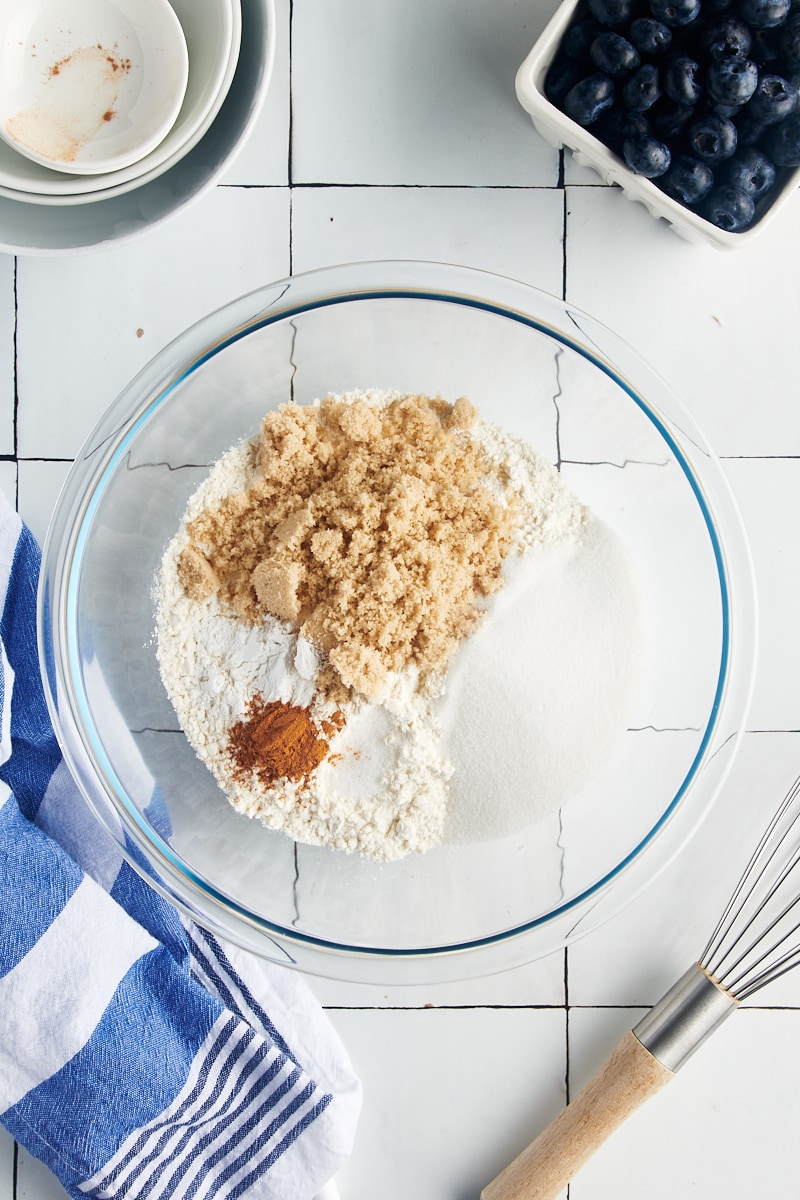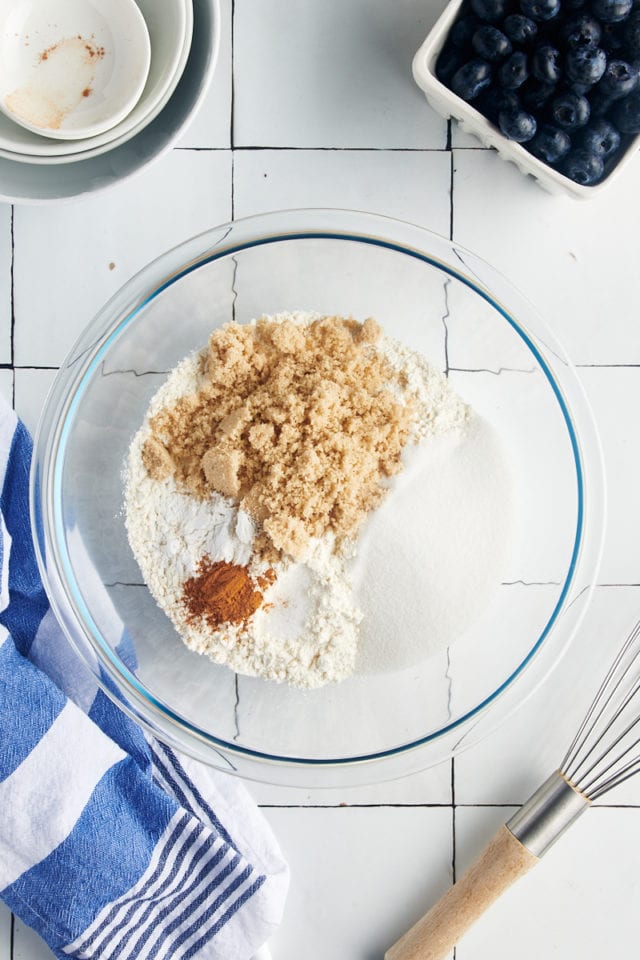 Mix the wet ingredients. In a second bowl, combine the butter, egg, milk, and vanilla.
Combine the wet and dry ingredients. Pour the wet ingredients into the well in the flour mixture. Stir until just combined, then fold in the blueberries.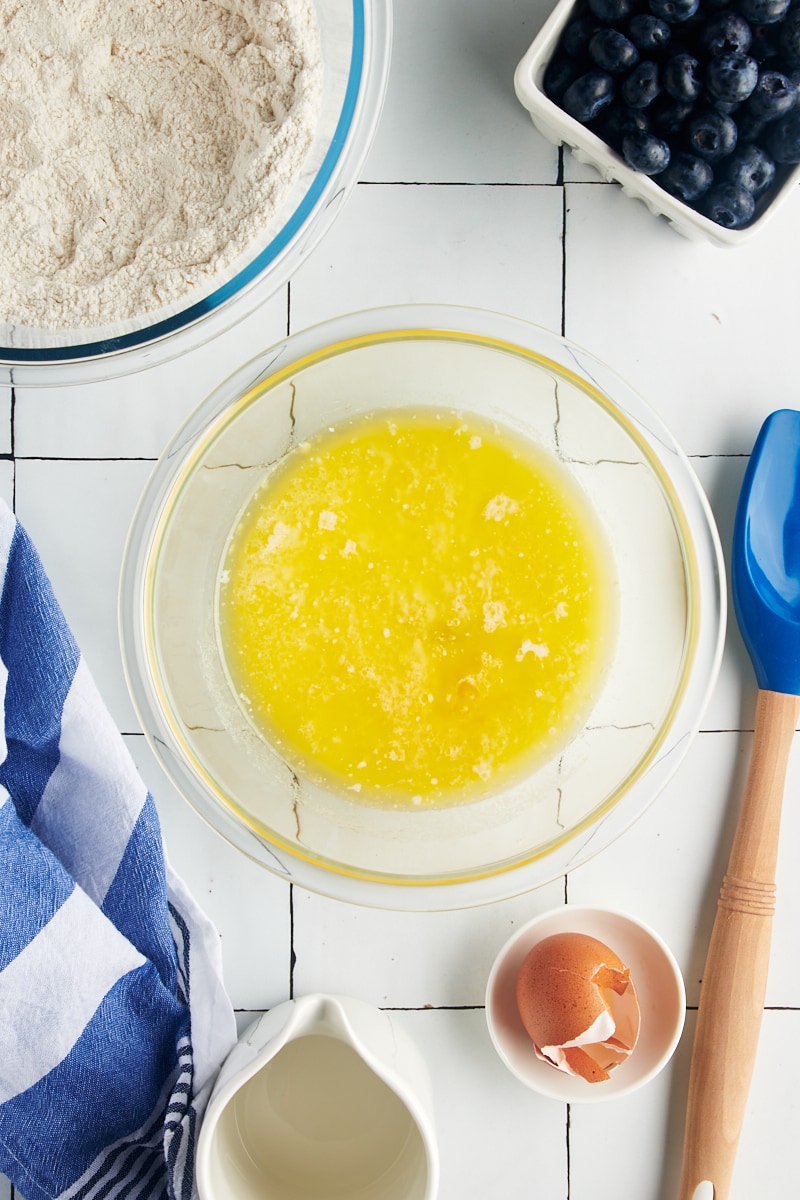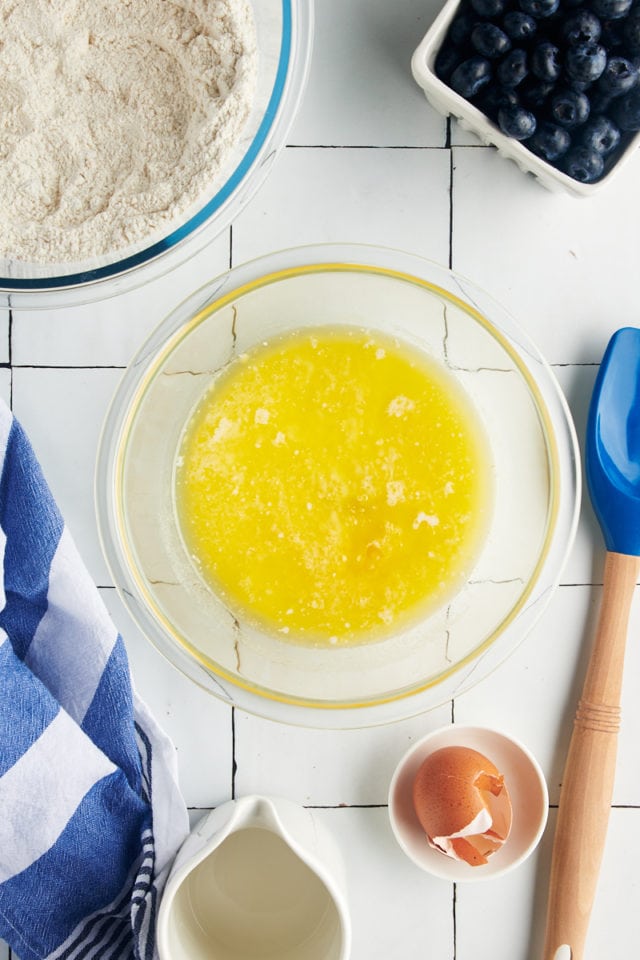 Bake. Pour the batter into the prepared pan, then smooth the top with a spatula. If you saved any blueberries for the top, add them now. Sprinkle with sanding sugar, if using, and bake for 50 to 60 minutes, or until the bread is golden brown and a toothpick inserted into the center comes out clean.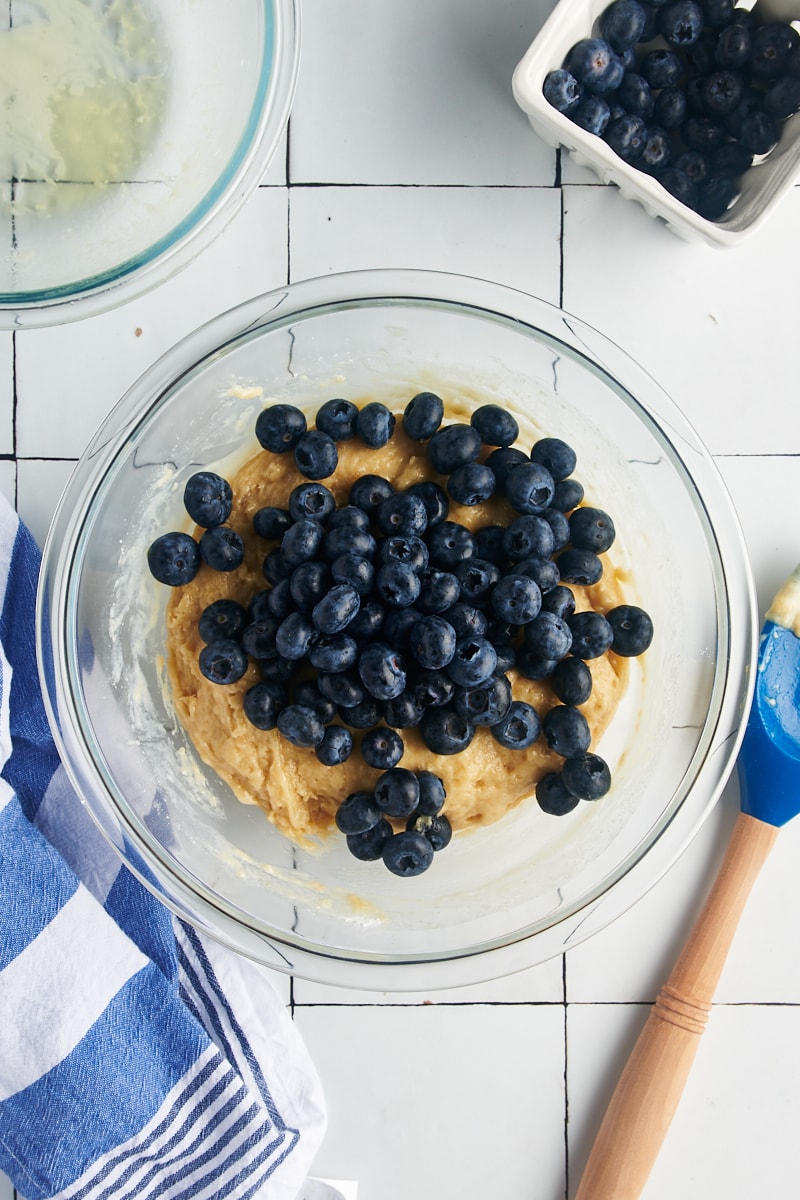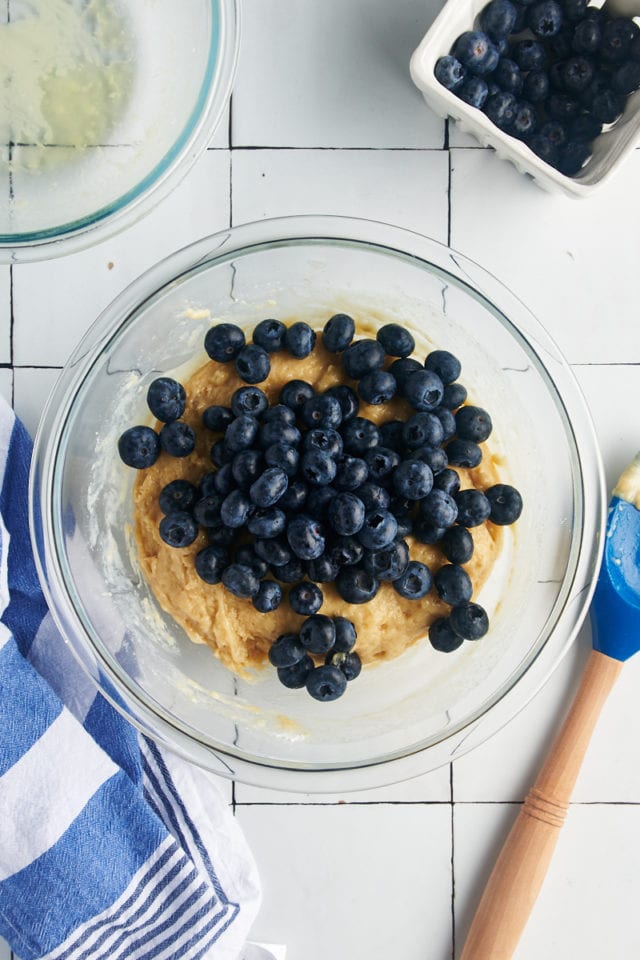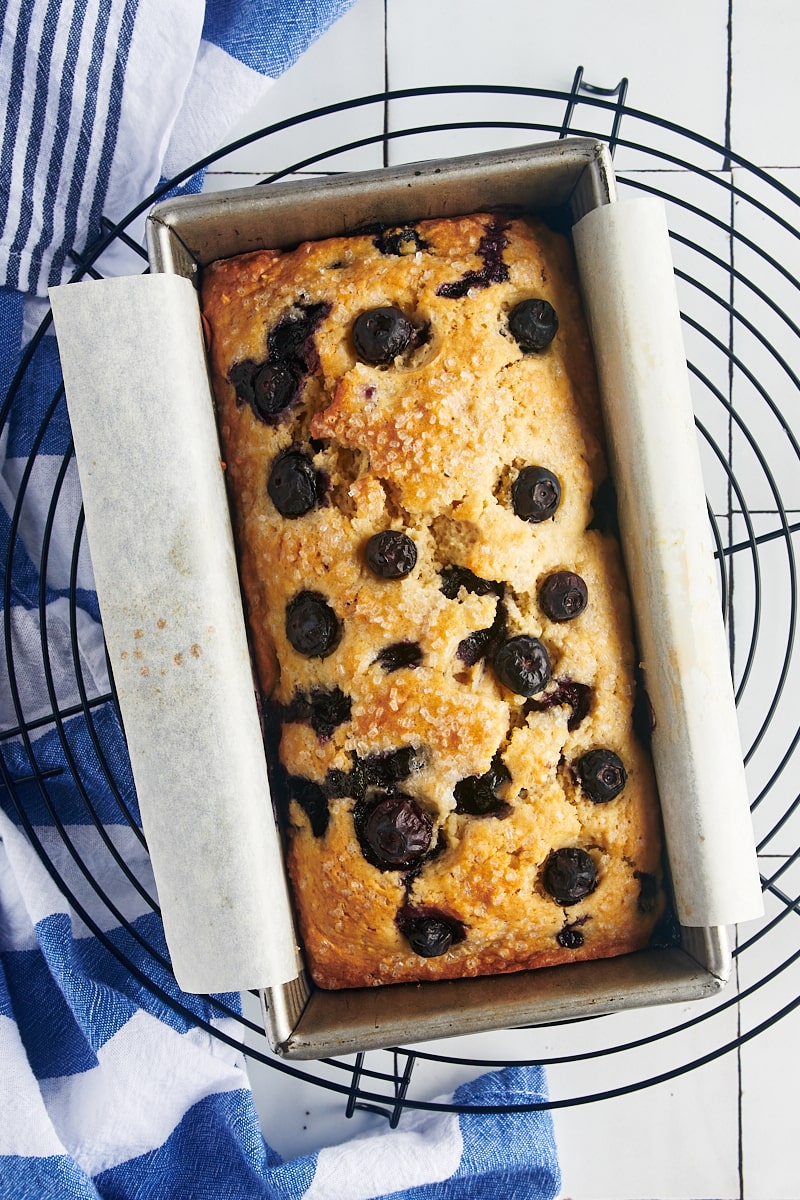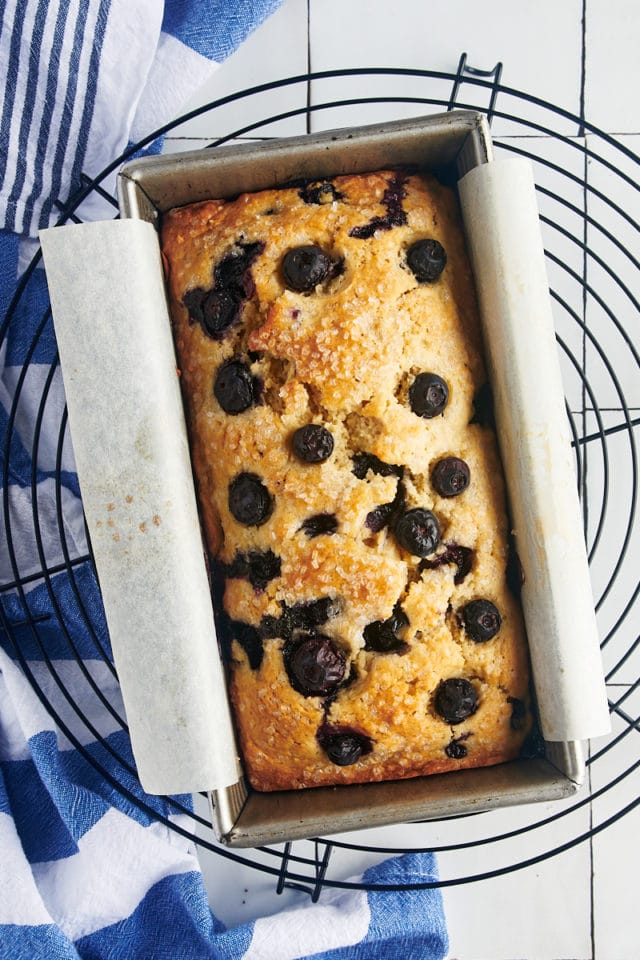 Tips for Success
That's all there is to it! But, before you start, check out these tips on getting the perfect loaf of blueberry bread:
Scatter blueberries over the top. If you'd like, you can reserve a few blueberries to place on top of the bread before baking so the berries aren't all hidden inside the loaf!
Making muffins. For those of you who might prefer muffins to a quick bread, be sure to see my tips for converting quick bread to muffins.
Don't over-mix. It's always important not to over-mix a quick bread batter so you don't end up with a dense, tough loaf.
Rinse and dry the blueberries. If you're using fresh blueberries, make sure to rinse them thoroughly and then dry them to remove any excess moisture.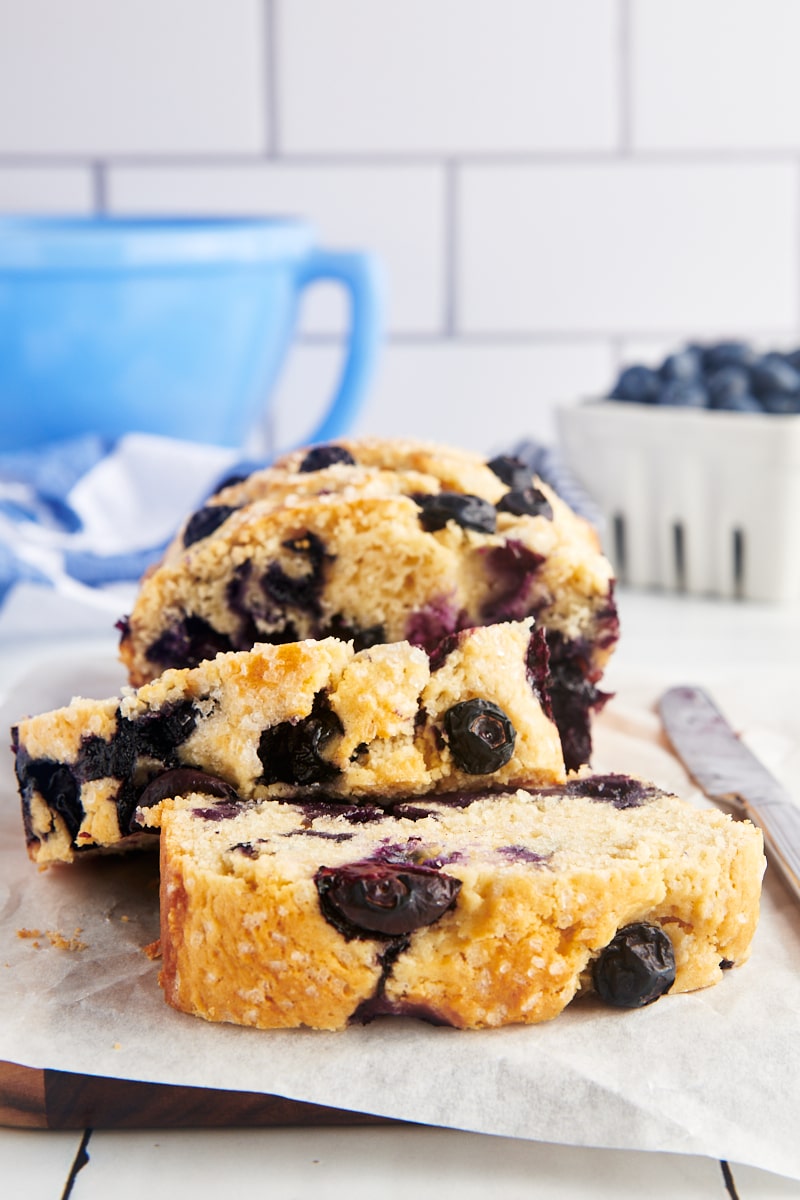 Frequently Asked Questions
How do you keep blueberries from sinking in bread?
You may have heard the trick of tossing blueberries in flour to keep them from sinking, but this changes the proportions of the recipe—you don't want to add more flour! Instead, measure the flour for the recipe, then take a tablespoon of flour from that to toss with the blueberries. This way, you won't be adding any extra flour to the recipe.
Can I use frozen blueberries in this bread?
In short, yes. Make sure to add them in straight from the freezer, though, as thawed blueberries will likely bleed into the batter once mixed. For more information, be sure to check out the link above in the ingredients section!
Why is my blueberry bread dense?
Dense bread is usually the result of over-mixing the batter. A good way to avoid this is to stir just until you don't see any more streaks of flour or a few small streaks of flour remain, and then pour the batter into the pan to bake.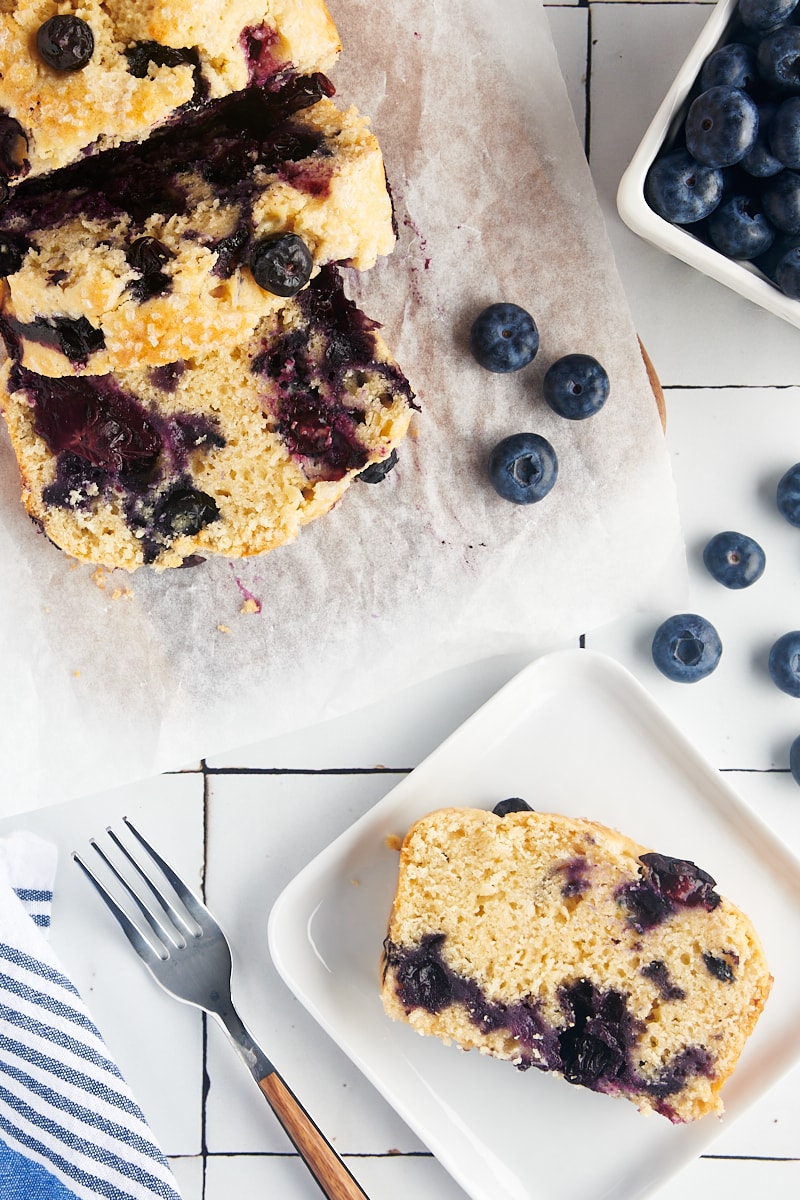 Serving Suggestions
While I love a thick slice of this blueberry bread for a simple breakfast or snack, you can dress it up and serve it for dessert, too. Try it with:
How to Store
This bread will keep at room temperature, wrapped tightly or in an airtight container, for 3 to 4 days. If you want to preserve it for a little bit longer, store it in the refrigerator for a couple days more. Just make sure it's in an airtight container so it doesn't become dry.
Can I Freeze This Blueberry Loaf?
You can freeze blueberry bread for up to 3 months. Wrap the bread (or individual slices) in two layers of plastic wrap, then wrap it again in aluminum foil or place it in an airtight, freezer-safe container or bag. Thaw it at room temperature before serving.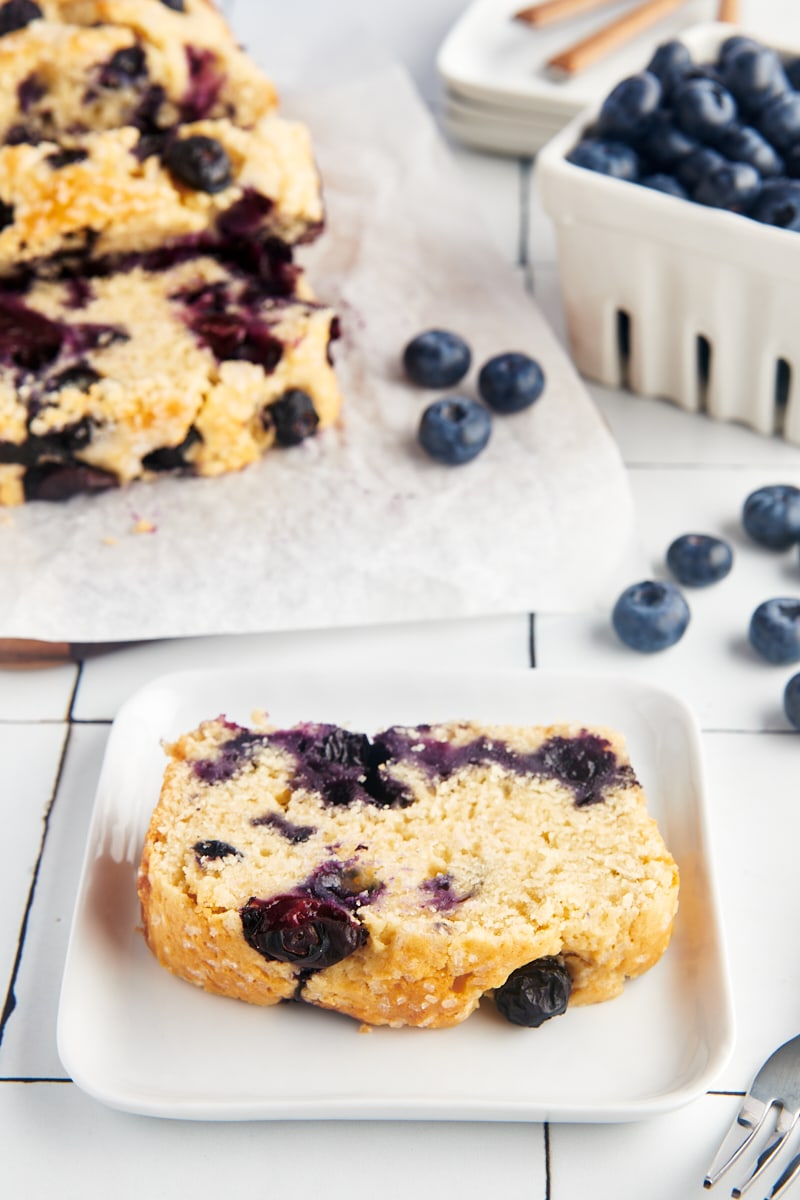 More Simple Blueberry Recipes