May 28, 2019
Brown Butter Coconut Pecan Muffins
Brown Butter Coconut Pecan Muffins are wonderfully flavorful without being overly sweet. They're quick and easy to make, too!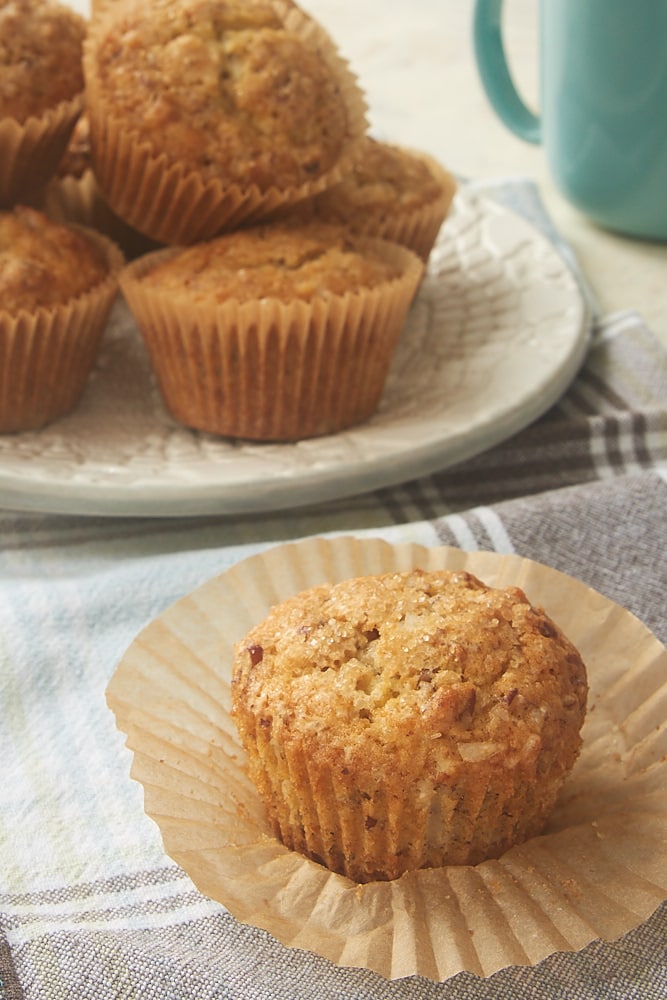 The flavor combination in these Brown Butter Coconut Pecan Muffins is one of my favorites. I often use brown butter versus plain melted butter or oil in muffins to add a richer flavor. With the addition of coconut and pecans, you also get sweet, nutty flavor with a little crunch. It all works together without being too much. In fact, these muffins are pretty perfect in my book.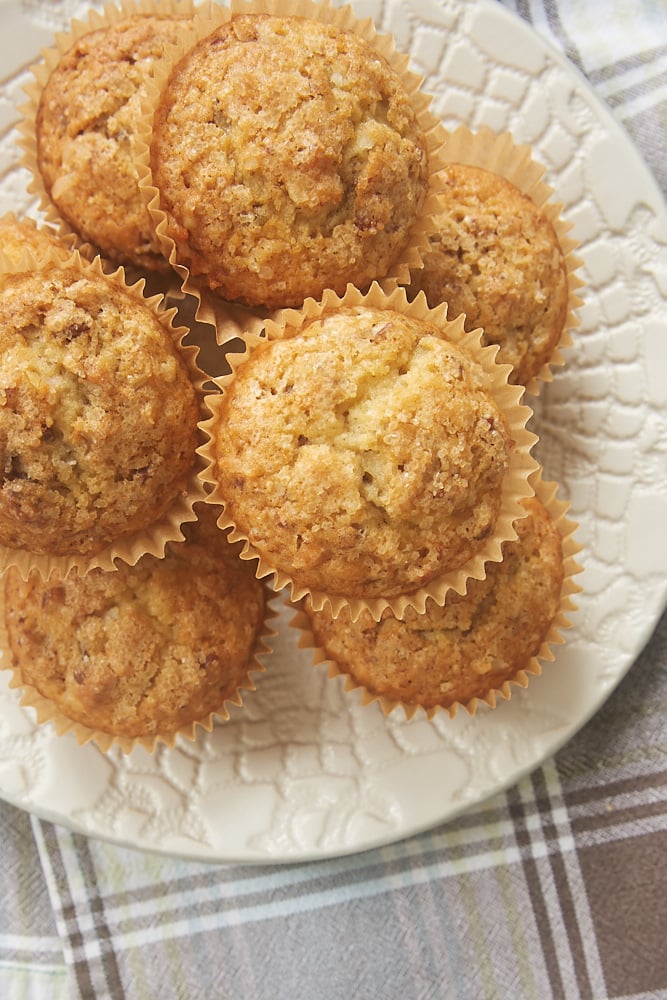 As with most of my muffin recipes, these muffins are not too sweet. I usually dial back the sugar and focus more on the other flavors so you get less of a cupcake experience and more of a muffin. I do like to sprinkle a little coarse sugar on top of the muffins before baking to add a hint of sweetness and sparkle. Either white sanding sugar or turbinado sugar will do.
If you want to take an extra step for even more flavor, you can toast the coconut and pecans before adding them to the batter. To do that, spread them in an even layer on a lined, rimmed baking sheet and bake at 350°F for 10-15 minutes. Alternately, you can toast them in a skillet over medium-low heat for about 10 minutes.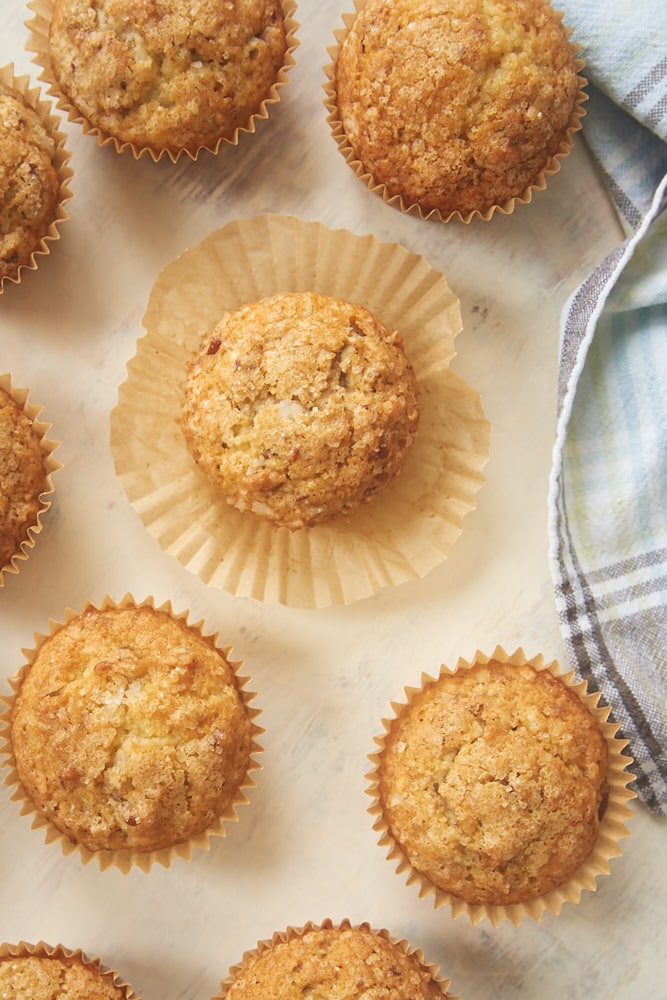 As with most muffin recipes, these Brown Butter Coconut Pecan Muffins are quick and easy to make. You'll have these mixed and in the oven in short order. If you need a refresher on the finer points of making muffins, be sure to review my tips for mixing with The Muffin Method.
Brown Butter Coconut Pecan Muffins are perfect for a grab-and-go breakfast, a simple brunch addition, or a sweet snack. These are certainly in regular rotation in my muffin baking lineup!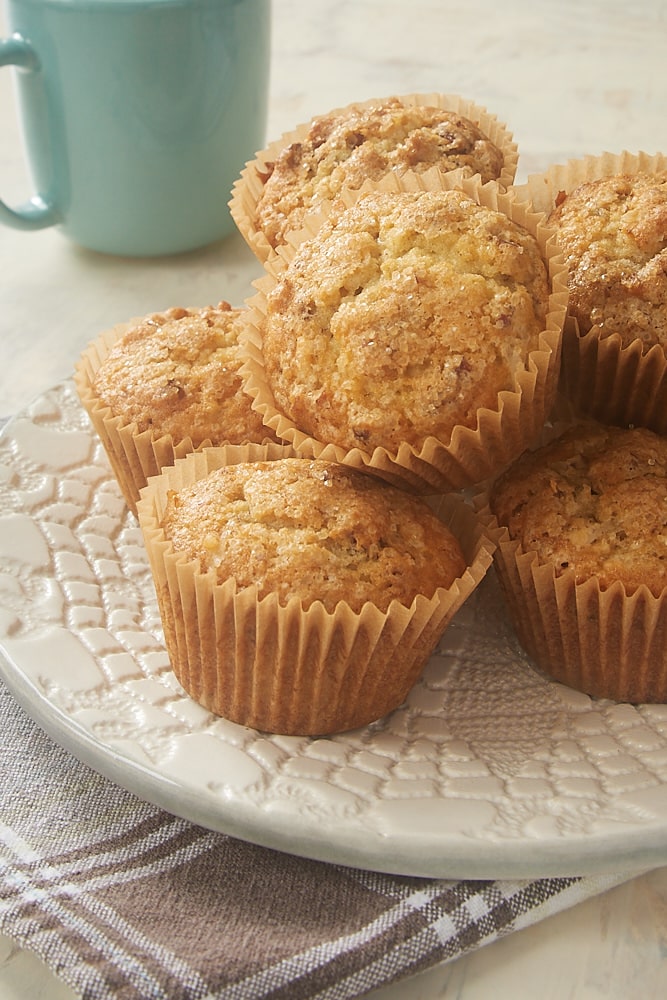 Find more muffin recipes in the Recipe Index.
More Coconut Muffin Recipes
Bake or Break is a participant in the Amazon Services LLC Associates Program, an affiliate advertising program designed to provide a means for us to earn fees by linking to Amazon.com and affiliated sites.
Brown Butter Coconut Pecan Muffins
Yield: 18 standard muffins
Prep Time: 20 minutes
Cook Time: 22 minutes
Brown Butter Coconut Pecan Muffins feature wonderful flavors in a quick and easy muffin!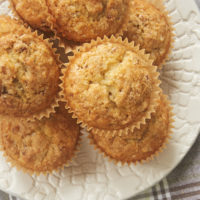 Ingredients:
10 tablespoons (141g) unsalted butter

2 cups (240g) all-purpose flour

1 teaspoon baking soda

1/2 teaspoon baking powder

1/2 teaspoon salt

3/4 cup (150g) granulated sugar

1/4 cup (50g) firmly packed light brown sugar

2 large eggs

3/4 cup (170g) sour cream

1 teaspoon vanilla extract

1/2 cup (60g) chopped pecans

1/2 cup (43g) sweetened shredded coconut

sanding sugar or turbinado sugar, optional
Directions:
Place the butter in a medium saucepan or skillet. Cook over medium heat until the butter melts and begins to foam. Continue cooking, stirring occasionally, until brown specks begin to form at the bottom of the pan and the butter has a nutty aroma. Set aside to cool slightly.
Preheat oven to 400°F. Line or grease 18 standard muffin cups.
Whisk together the flour, baking soda, baking powder, and salt. Stir in the sugar and brown sugar. Make a well in the center of the mixture.
Place the eggs in a small bowl and beat lightly. Add the cooled butter, sour cream, and vanilla, and stir to combine. Add the egg mixture to the well in the flour mixture. Stir just until combined.
Stir in the chopped pecans and coconut.
Transfer the batter to the prepared pans, using about 3 tablespoons of batter to fill each cup about 3/4 full. (I like to use a 3-tablespoon scoop for easy portioning.)
Sprinkle each muffin with a pinch of sanding sugar or turbinado sugar.
Bake 18 to 22 minutes, or until a pick inserted into the center of a muffin comes out clean. Cool in the pan for 10 minutes before transferring to a wire rack to cool completely.