April 24, 2019
Cinnamon Roll Cream Cheese Coffee Cake
This fantastic Cinnamon Roll Cream Cheese Coffee Cake is part cake and part cheesecake plus the irresistible flavors of cinnamon rolls.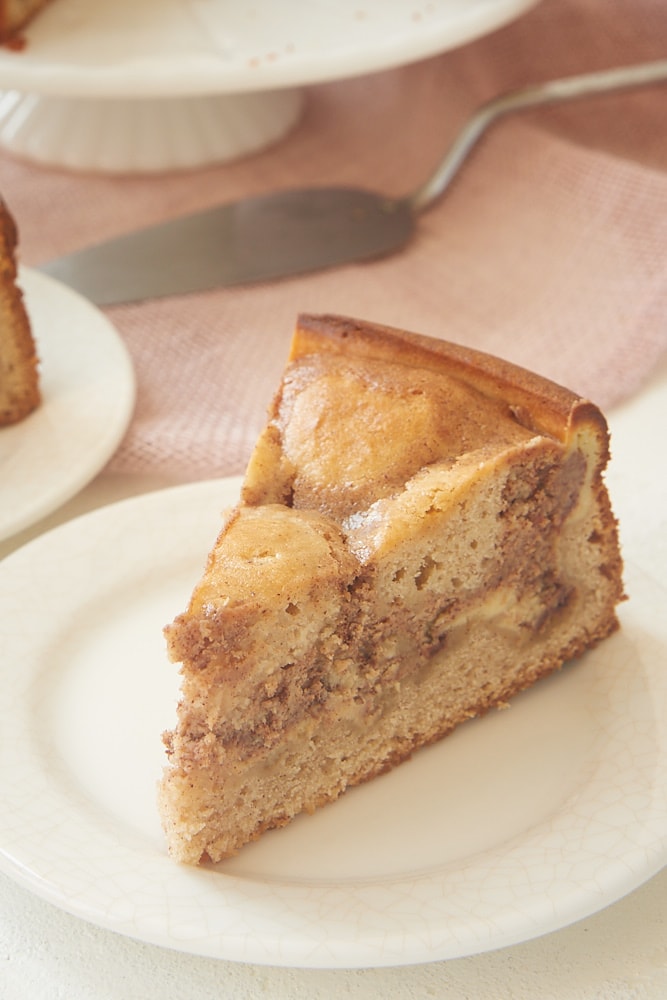 There are times when you make a dessert, and it's love at first bite. That's the case with this Cinnamon Roll Cream Cheese Coffee Cake. Actually, that's not entirely true. I knew I was smitten about halfway through making it the first time. And then there was the heavenly smell coming from the oven as it baked. By the time I got to that first bite, I knew it was going to be amazing.

There are three different components to make for this cake, but they're each easy enough to prepare. Just be warned that you will use a lot of bowls and mixing spoons to get the job done. Start with an empty sink and dishwasher and you'll be in good shape.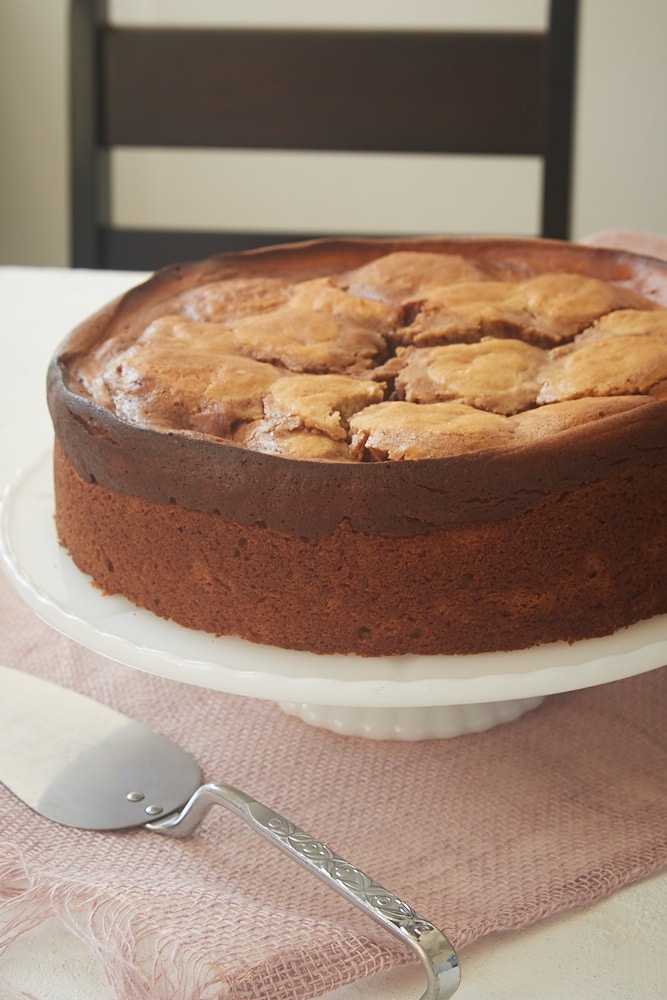 This beauty is more cake than cheesecake, but it still benefits from being baked in a springform pan. It's a big, tall cake so the height of a springform pan works well. Plus, you won't have to struggle with trying to flip the cake out of the pan and onto a serving plate because you can just remove the sides of the pan.
Because you'll be swirling the cinnamon filling into the cream cheese filling, that filling gets a little more mixed than normal, so don't be surprised if you see a few cracks in the top when it's done. Honestly, a few cracks don't bother me. I choose to believe it adds to its rustic appeal. And once you serve it, it's likely no one will care what it looks like!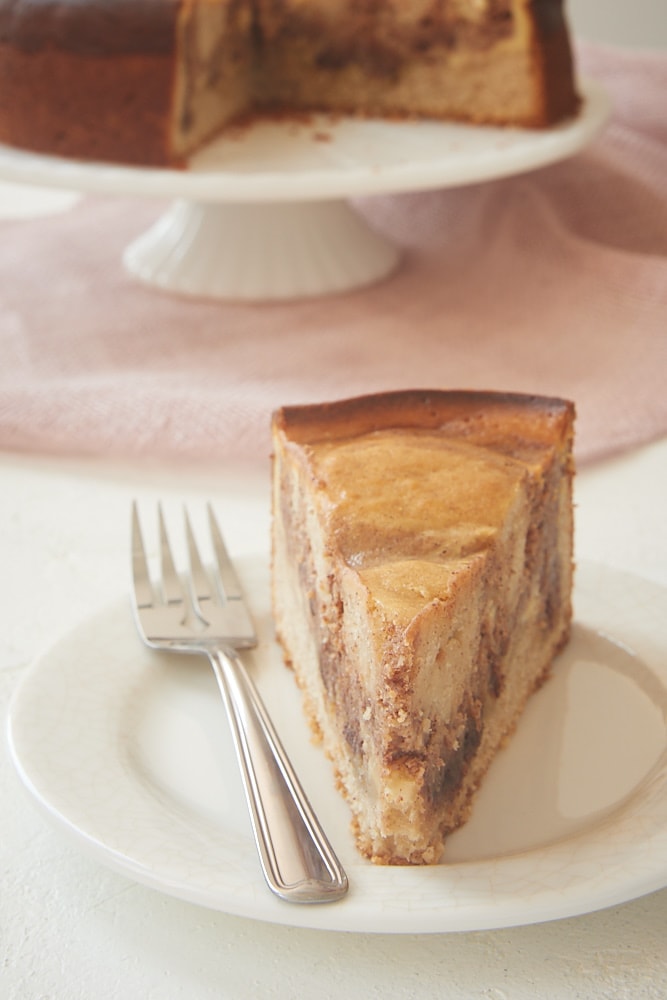 I initially thought that it would be pretty perfect to top slices of this cake with a simple glaze like you'd use to top cinnamon rolls, but honestly it just doesn't need it. It's plenty sweet on its own without it. Plus the presence of the cheesecake layer provides a similar sweetness and flavor so you won't definitely won't miss it.
While this is certainly not what I'd call a quick and easy recipe, it's not an all-day thing, either. I can have this mixed, assembled, and in the oven in under 40 minutes. Considering everything that's going on here, that's impressive. And the impressive part certainly carries over to the flavor. This is one incredible cake!
Find more coffee cake recipes in the Recipe Index.
More Cream Cheese Coffee Cake Recipes
Bake or Break is a participant in the Amazon Services LLC Associates Program, an affiliate advertising program designed to provide a means for us to earn fees by linking to Amazon.com and affiliated sites.
Cinnamon Roll Cream Cheese Coffee Cake
Yield: 16 servings
Prep Time: 40 minutes
Cook Time: 1 hour 20 minutes
Coffee cake meets cinnamon rolls and cheesecake in this incredible Cinnamon Roll Cream Cheese Coffee Cake!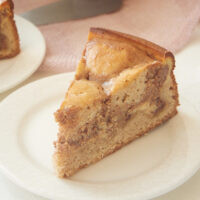 Ingredients:
For the cake:
2 & 1/4 cups (270g) all-purpose flour
2 teaspoons baking powder
1 teaspoon ground cinnamon
1/2 teaspoon salt
1/2 cup (113g) unsalted butter, softened
1 cup (200g) granulated sugar
1 large egg
1 teaspoon vanilla extract
3/4 cup (177ml) milk
For the filling:
16 ounces (454g) cream cheese, at room temperature
1/2 cup (100g) granulated sugar
2 tablespoons all-purpose flour
1 & 1/2 teaspoons vanilla extract
2 large eggs, lightly beaten
For the cinnamon swirl:
1 cup (200g) firmly packed light or dark brown sugar
1/3 cup (75g) unsalted butter, melted
1 tablespoon ground cinnamon
Directions:
To make the cake:
Preheat oven to 350°F. Grease a 9-inch round springform pan.
Whisk together the flour, baking powder, cinnamon, and salt. Set aside.
Using an electric mixer on medium speed, beat the butter and sugar until light and fluffy. Add the egg and vanilla, and mix well.
Reduce mixer speed to low. Add the flour mixture in three portions, alternating with two portions of milk. Mix just until combined. (The batter will be thick.)
Spread 3/4 of the batter in the prepared pan. Set aside the remaining batter.
To make the filling:
Using an electric mixer on medium speed, beat the cream cheese, sugar, flour, and vanilla until combined. Add the eggs, and beat on low speed just until combined.
Pour the filling mixture over the cake batter in the pan.
To make the cinnamon swirl and finish assembling the cake:
Combine the brown sugar, butter, and cinnamon. Drop by tablespoonfuls over the filling.
Use a thin knife to swirl the cinnamon mixture into the filling.
Drop the remaining cake batter by tablespoonfuls over the filling.
Place the pan on a lined, rimmed baking sheet to catch any potential spills or leaks.
Bake 70 to 80 minutes, or until the center is almost set. If necessary, cover the top loosely with foil during the last 20 to 30 minutes to help prevent overbrowning.
Cool the cake in the pan on a wire rack for 10 minutes. Then, carefully run a thin knife around the edges of the pan. Cool for 1 hour. Then remove the sides of the pan.
Notes:
This cake is best served warm. Refrigerate any leftovers and reheat servings as needed.