June 26, 2017
Amaretto Almond Bundt Cake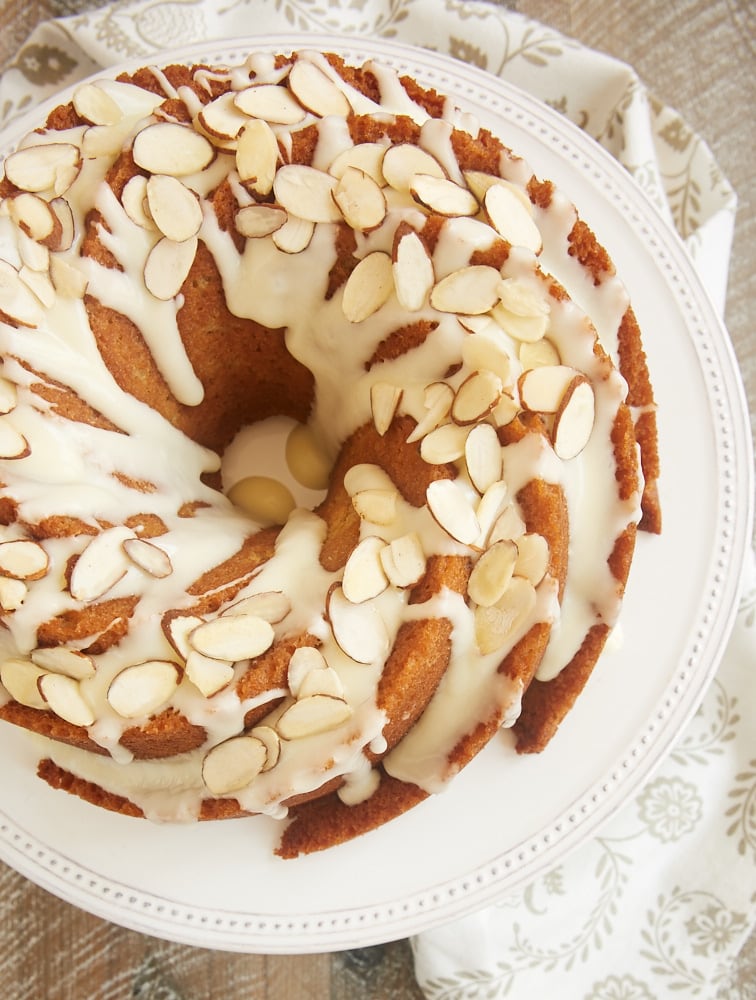 Almonds and almond extract are permanent staples in my pantry. They both have such great flavor and such versatile uses that I find myself using them often in baking, whether in addition to other flavors or in an all-in way with desserts like this Amaretto Almond Bundt Cake.
With almonds, almond extract, and almond liqueur all working together in this cake, there's plenty of almond flavor for even the biggest almond fan.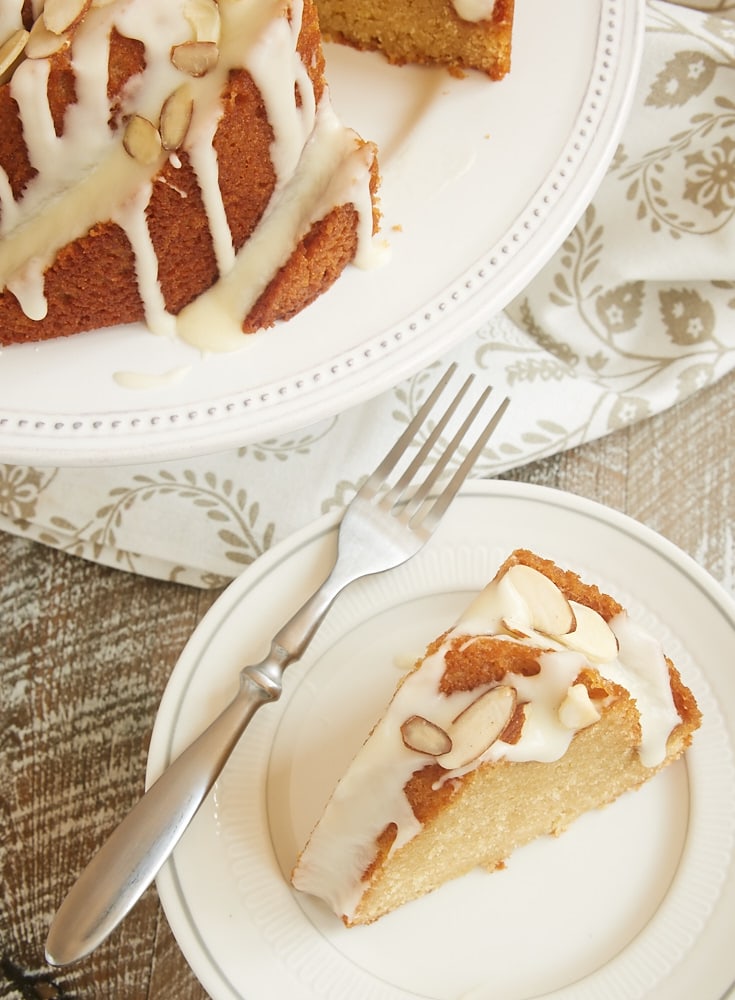 For plenty of almond flavor, the addition of almond-flavored liqueur is just the thing. It really deepens the flavor and takes it to another level. For those of you who don't bake with alcohol, you can simply omit the liqueur if you like. You may want to add another 1/2 to 1 teaspoon of almond extract to replace some of the almond flavor from the liqueur.
This cake has such a lovely, soft texture to go with all of that big almond flavor. It manages to be dense yet moist and soft and the same time. And topping it off is a simple, sweet almond glaze. Then we go all in with some toasted almonds sprinkled on top. Who's ready to dive in?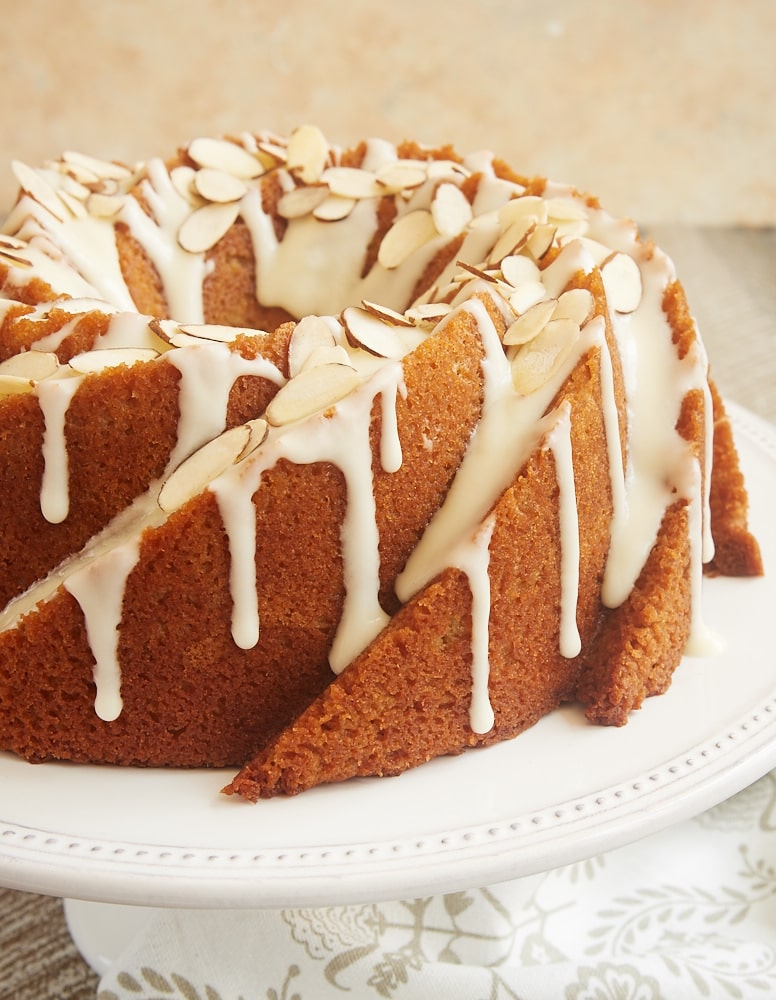 I'll give you one note about choosing a pan for baking this cake. It will fit in a 10-cup pan, although it will bake right to the top. If you're worried at all about your cake spilling over, then go with a 12-cup pan. The cake you see here was baked in a 10-cup Heritage Bundt pan, and it did indeed bake all the way to the top. Just keep in mind that inaccurate measurements can lead to larger volumes of batter. (Click here if you need a quick review for measuring flour.)
This cake has quickly become one of my favorites. The simple preparation, the amazing flavor, and the wonderful texture all combine for a big-time dessert winner. Plus, it's just so pretty, isn't it? If you're a big almond fan, I think this cake is destined to become one of your favorite desserts, too.
Find more Bundt cake recipes in the Recipe Index.
This post contains affiliate links. If you make a purchase through one of the links, I'll receive a
small commission at no additional cost to you.
Amaretto Almond Bundt Cake
Yield: 12 to 16 servings
Prep Time: 25 minutes
Cook Time: 1 hour
If you love almonds in a big way, you must try this fantastic Amaretto Almond Bundt Cake. Such a lovely, delicious cake!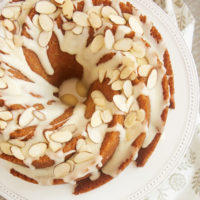 Ingredients:
For the cake:
2 & 1/2 cups all-purpose flour
1/2 cup almond flour, almond meal, or finely ground almonds
1 teaspoon salt
1 teaspoon baking powder
1/2 teaspoon baking soda
1 cup unsalted butter, softened
1 cup granulated sugar
1 cup firmly packed light brown sugar
4 large eggs
3 tablespoons almond-flavored liqueur, such as Amaretto
1 teaspoon vanilla extract
1 teaspoon almond extract
1 cup milk
For the glaze:
1 cup confectioners' sugar, sifted
3 to 5 tablespoons heavy cream
1 teaspoon almond extract
toasted sliced almonds, for garnish
Directions:
To make the cake:
Preheat oven to 350°F. Generously grease a 10- or 12- cup Bundt pan.*
Whisk together the flour, almond flour, salt, baking powder, and baking soda. Set aside.
Using an electric mixer on medium speed, beat the butter, sugar, and brown sugar until light and fluffy. Add the eggs, one at a time, mixing well after each addition. Mix in the liqueur, vanilla extract, and almond extract.
Reduce mixer speed to low. Add the flour mixture in three portions, alternating with two portions of milk. Mix just until combined.
Transfer the batter to the prepared pan and spread evenly.
Bake 50 to 60 minutes, or until the cake is golden brown and a pick inserted into the center comes out clean.
Cool the cake in the pan on a wire rack for 20 minutes. Then, flip the cake onto a serving plate to continue cooling.
To make the glaze:
Whisk together the confectioners' sugar, 3 tablespoons of the cream, and the almond extract.
Add more cream, about a teaspoonful at a time, until the glaze is the desired consistency. It should be thick but pourable.
Drizzle the glaze over the cooled cake. Garnish with almonds.
Notes:
*The cake you see here was baked in a 10-cup capacity pan. It worked fine but baked right to the top. A 12-cup capacity pan might be a safer choice if you're concerned about spills.