These Blueberry Sour Cream Mini Muffins are soft, sweet, and moist little muffins that are bursting with fresh blueberry flavor.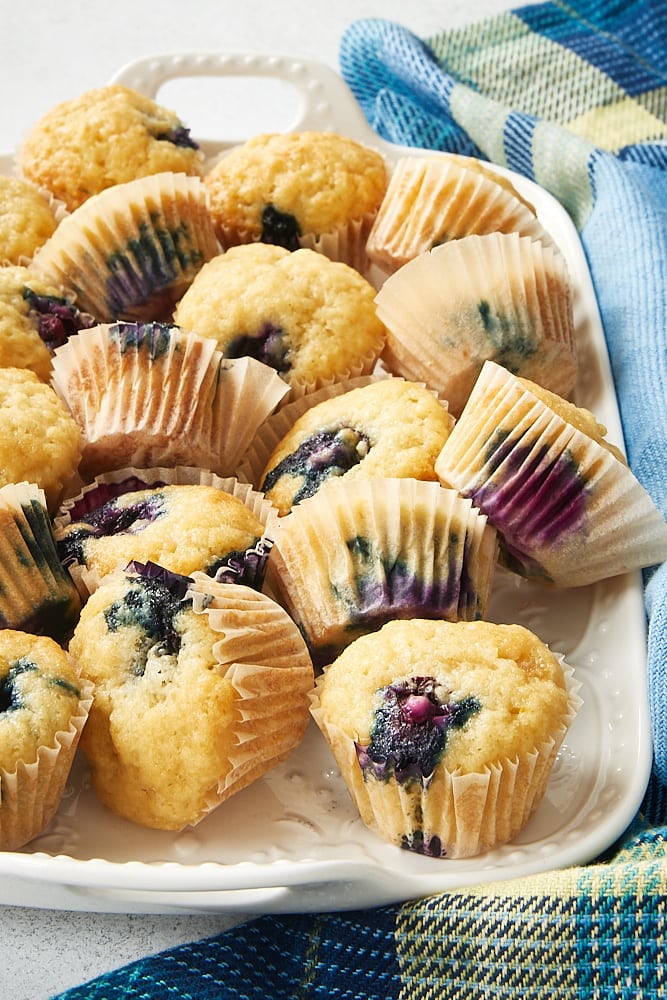 Homemade Mini Blueberry Muffins
It doesn't take long browsing here at BoB to see that I enjoy baking with berries. I love all kinds of berries, but if I have to pick a favorite, I would likely choose blueberries. And, one of my favorite uses for blueberries is muffins, which is also obvious—see my Pineapple Blueberry Muffins, Blueberry Coffee Cake Muffins, and Quick and Easy Blueberry Muffins for proof!
To take standard mini blueberry muffins to the next level, I used one of my favorite baking ingredients, sour cream. I love the moist texture and tangy flavor that it adds, which is especially good when paired with the sweetness of blueberries.
The end result is a batch of tender, sweet muffins with lovely flavor. They're a nice breakfast treat, and they also lend themselves to sweet snacking throughout the day. Be warned, though—you probably won't be able to stop with just one!
What You'll Need
Scroll down to the recipe card below this post for ingredient quantities and full instructions.
All-purpose flour – Learn more: How to Measure Flour
Baking soda
Baking powder
Salt
Lemon zest
Unsalted butter – Learn more: Unsalted or Salted Butter: Which is Better for Baking?
Granulated sugar
Light brown sugar – Don't use a dark brown sugar here; its stronger molasses flavor is a little too much for this recipe.
Eggs – Let these come to room temperature.
Vanilla extract
Sour cream – Be sure to use full-fat sour cream, not reduced-fat or fat-free.
Blueberries – Smaller berries will work far better in these little muffins. They're also more flavorful!
Is It Better to Use Fresh or Frozen Blueberries for Muffins?
You can use either! If you do choose to use frozen berries, make sure they're still frozen when you add them to the batter, not thawed. This way, they won't turn your muffins blue!
Variations
These muffins benefit from a bit of lemon zest in the batter to give them a little citrus zing, but if you'd like even more lemon flavor, you can use lemon juice in place of the vanilla extract. A crumb topping is also delicious on these muffins—use the topping from my Blueberry Crumb Muffins recipe. A sprinkle of Demerara sugar on top adds a delightful crunch too!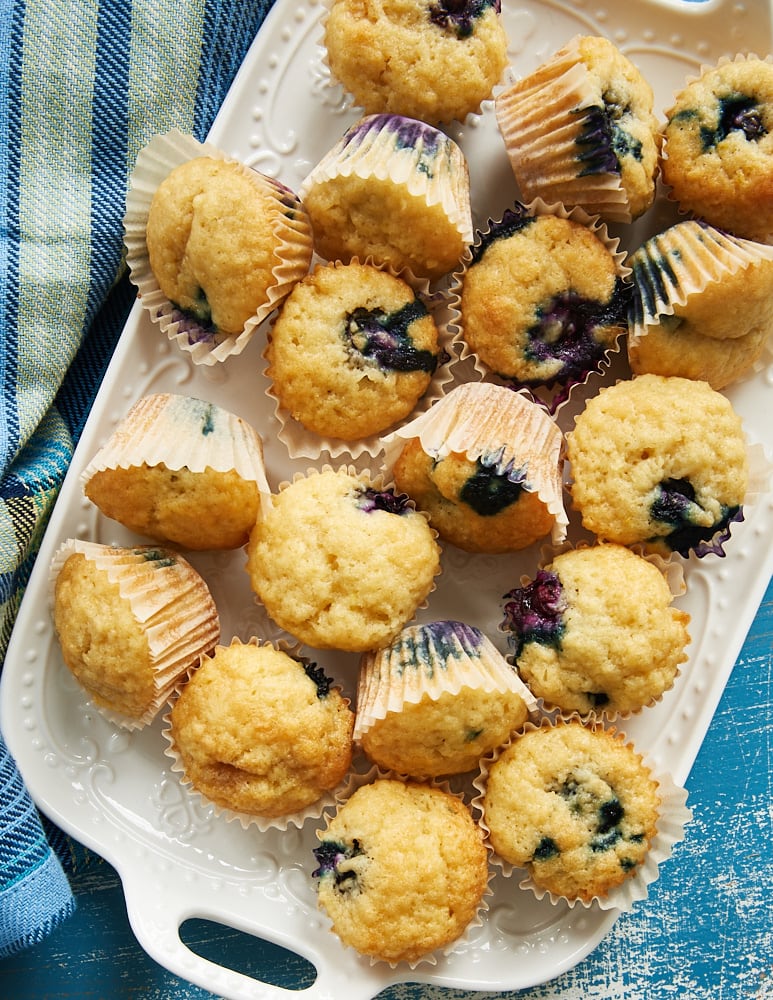 How to Make Blueberry Sour Cream Mini Muffins
The beautiful thing about blueberry muffins is how easy they are to whip up!
Prepare. Preheat your oven to 400°F and grease or line 48 mini muffin cups with paper liners.
Mix the dry ingredients. Whisk the flour, baking soda, baking powder, salt, and lemon peel in a mixing bowl.
Mix the wet ingredients. In another bowl, mix the butter, sugar, and brown sugar until combined, then add the eggs and vanilla.
Combine the wet and dry ingredients. Add about 1/3 of the flour mixture to the wet mixture, stirring until almost combined. Stir in half of the sour cream, then mix in half of the remaining flour mixture, followed by the remaining sour cream. Mix in the rest of the flour mixture, then fold in the blueberries.
Fill the muffin cups. Spoon about a tablespoon of the batter into each muffin cup.
Bake. Place the muffin pan in the oven and bake for 10 to 12 minutes, or until the edges are lightly browned and the centers are set.
Tips for Success
Here are some of my best tips for perfect mini blueberry muffins! For more hints, see this post: Tips for Baking Muffins
Don't over-mix. This is probably one of the most common issues with making muffins! When you over-mix, too much gluten develops, resulting in tough muffins.
Use room temperature ingredients. Let both the sour cream and eggs come to room temperature and you'll be rewarded with a lighter, fluffier texture.
What about using yogurt? Yes, you can swap the sour cream for yogurt! Just be sure to use a whole milk yogurt here.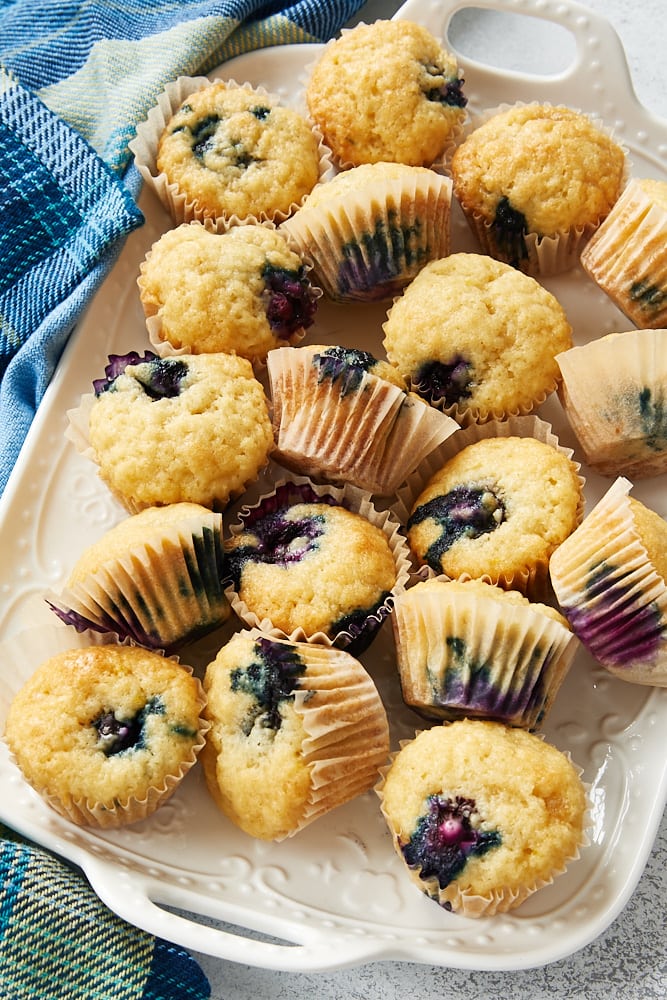 How to Store
Store these muffins in an airtight container at room temperature for up to 3 days.
Can This Recipe Be Frozen?
You can freeze your Blueberry Sour Cream Mini Muffins for up to 3 months. Place them in an airtight container or freezer bag; let them thaw at room temperature or warm them up for a few seconds in the microwave.
Find more muffin recipes in the Recipe Index.
More Berry Muffin Recipes