July 10, 2017
No-Churn Chocolate Peanut Butter Swirl Ice Cream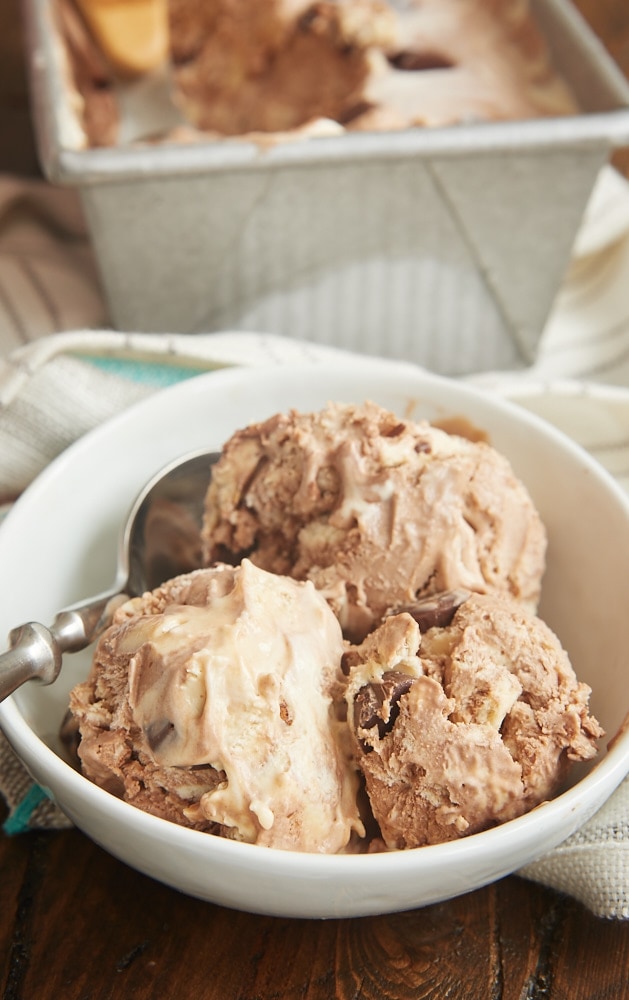 Chocolate and peanut butter are an enduring favorite flavor pair for me and for many of you, I'm sure. It's certainly one of my go-to flavor combinations when I'm in the mood for something sweet.
Add that to my abiding affection for no-churn ice cream and my determination to make it more frequently, it seems obvious that I'd feel inspired to put it all together and make this No-Churn Chocolate Peanut Butter Swirl Ice Cream!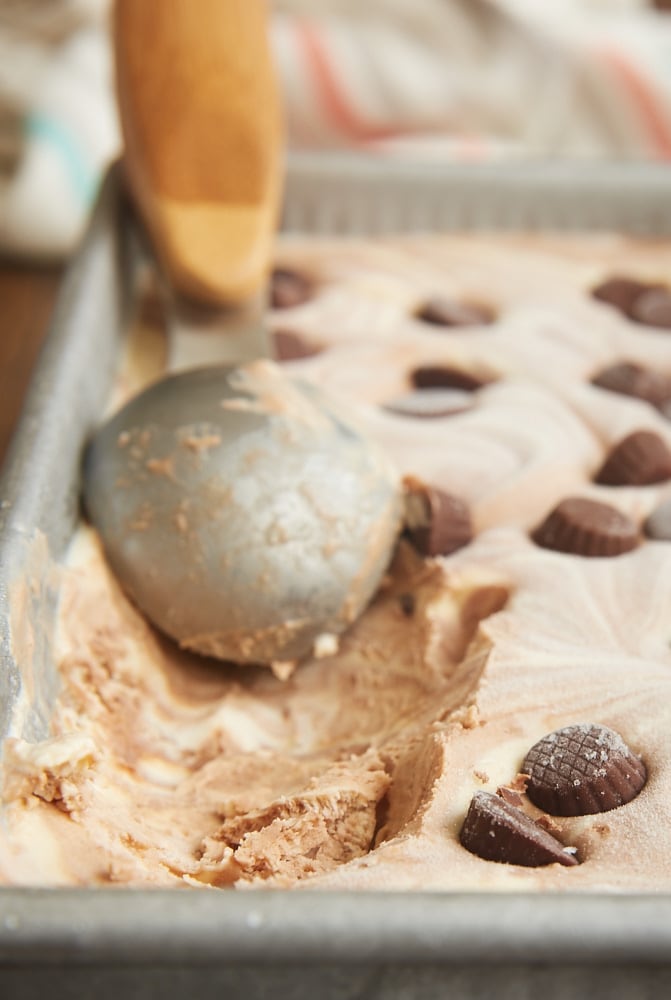 I have a bit of a confession. As much as I adore all things chocolate, I generally don't care for chocolate ice cream. The flavor is just usually not what I want it to be. The chocolate ice cream in this swirl, however, is fantastic. With all the chocolate flavor coming from a good cocoa powder, it has such a lovely chocolate flavor.
The peanut butter ice cream portion of this swirl is excellent, as well. It's subtle on the peanut butter flavor, and that compliments its chocolate counterpart perfectly. And with it all swirled together, you'll get plenty of both flavors in each bite.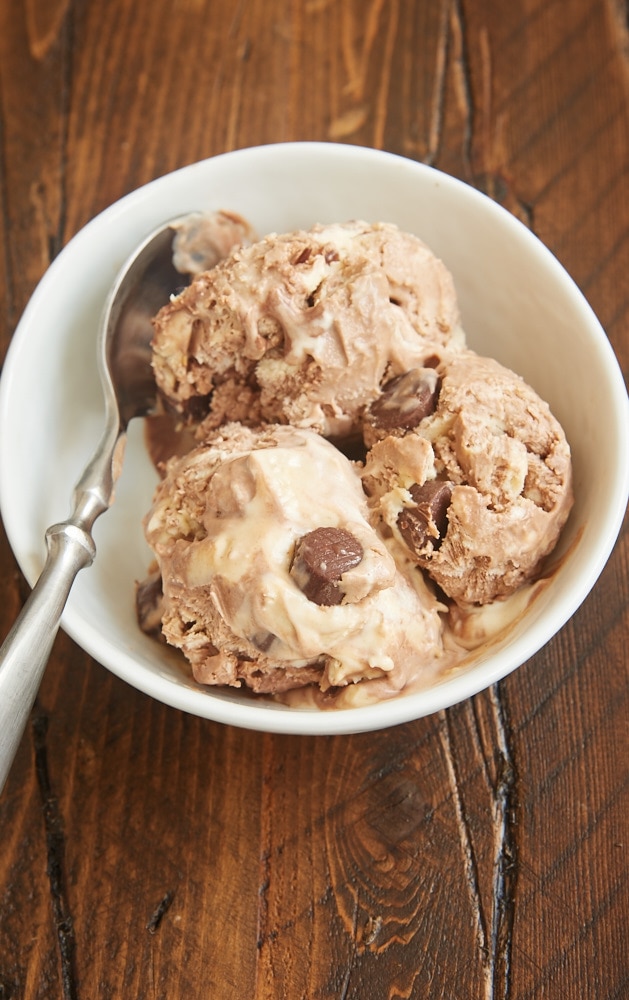 Before I started working on BoB full time, I had co-workers who would stash peanut butter cups in the break room freezer for an afternoon sweet treat. I somehow never jumped on that bandwagon, but the thought of that is what led me to add peanut butter cups to this ice cream. I like to use the really small peanut butter cups so they're a bit more manageable mixed into the ice cream. If you use larger ones, I'd recommend chopping them into bite-size pieces.
One of the beauties of no-churn ice cream is how easy it is to make. That's certainly true here, even with the extra step of making two flavors of ice cream. In the end, you'll need an extra mixing bowl, but it's still astounding that something this good can be so easy to make.
Of all the ice creams I've made, this may very well be my favorite, and that's saying a lot. It just has so many good things going for it, from the flavor to the ease of preparation to all those little frozen peanut butter cups. This one is destined to have dedicated space in my freezer for batch after batch!
Find more no-bake treats in the Recipe Index.
This post contains affiliate links. If you make a purchase through one of the links, I'll receive a
small commission at no additional cost to you.
No-Churn Chocolate Peanut Butter Swirl Ice Cream
Yield: 10 to 12 servings
Prep Time: 20 minutes
No-Churn Chocolate Peanut Butter Swirl Ice Cream features two fantastic ice creams swirled together along with a bevy of peanut butter cups. The flavor is amazing, and it is SO easy to make!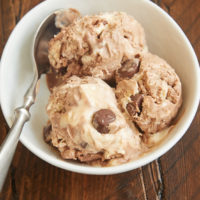 Ingredients:
14 ounces sweetened condensed milk, divided
1/4 cup unsweetened cocoa powder
1 teaspoon vanilla extract, divided
1/4 cup creamy peanut butter
2 cups heavy cream
about 1/4 cup mini peanut butter cups
Directions:
Place a 9″x 5″x 3″ metal loaf pan in the freezer.*
Place half of the condensed milk (7 ounces, or about 1/2 cup + 2 tablespoons) in a mixing bowl, and place the other half in a separate mixing bowl.
Add the cocoa powder and 1/2 teaspoon vanilla to one of the mixing bowls. Whisk together until thoroughly blended.**
Add the peanut butter and the other 1/2 teaspoon vanilla to the other mixing bowl. Whisk together until thoroughly blended.**
Place the cream in a separate bowl. Use an electric mixer with a whisk attachment to whip the cream at medium-high speed until firm peaks form.
Add half of the whipped cream to the chocolate mixture, and fold gently. Add the other half to the peanut butter mixture, and fold gently. Be sure not to over-mix.
Set aside a handful of the peanut butter cups for the top of the ice cream. Divide the remaining peanut butter cups between the two mixtures, and gently fold them into each.
Alternate adding scoops of each ice cream to the chilled pan. Then use a thin knife to swirl the ice creams together. Sprinkle the reserved peanut butter cups on top of the ice cream.
Tightly cover the pan, and freeze for about 5 hours before serving.
Notes:
*Any freezer safe container of roughly the same volume should work.
**You can do this my hand or with an electric mixer on medium-low speed.