August 11, 2016
Mini Blueberry Cream Cheese Pies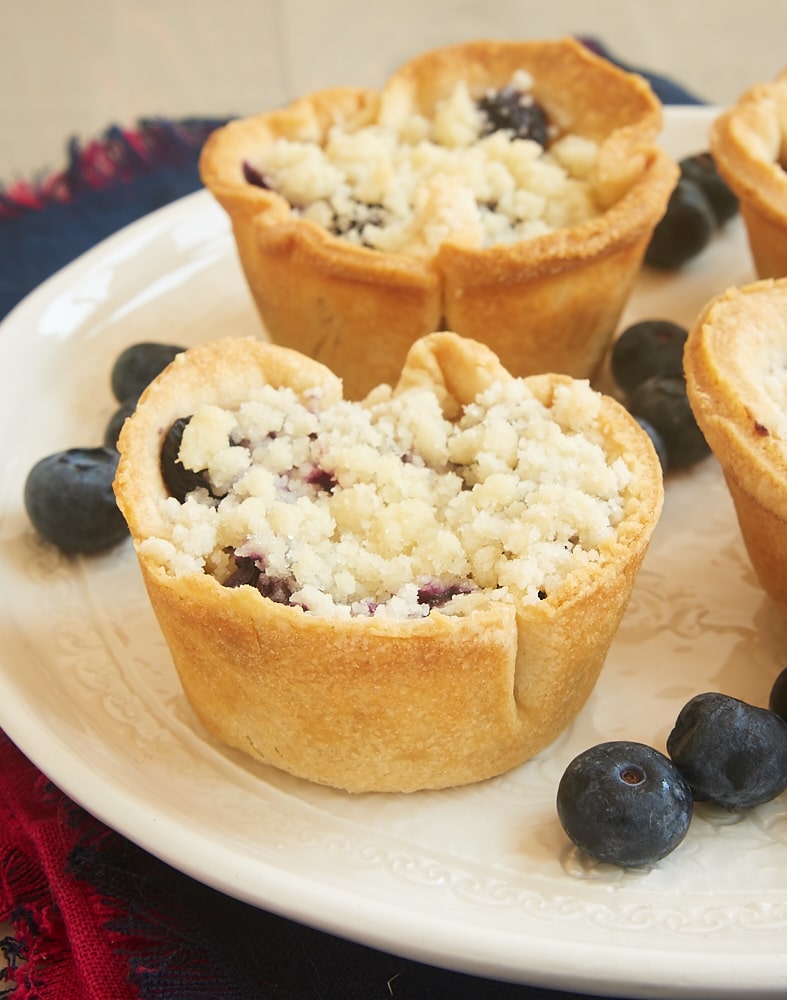 This recipe was created in partnership with Driscoll's.
Blueberries and cream cheese are one of my favorite flavor combinations. Those two just play together so well that I try to pair them as much as possible in recipes like cheesecakes, crisps, and cakes.
I had somehow never used that dynamic duo in a pie, but I have now remedied that in a big way with these little pies. They're filled with a fairly traditional blueberry pie filling, but they have a little cream cheese twist with a layer of sweetened cream cheese in the bottom of each pie.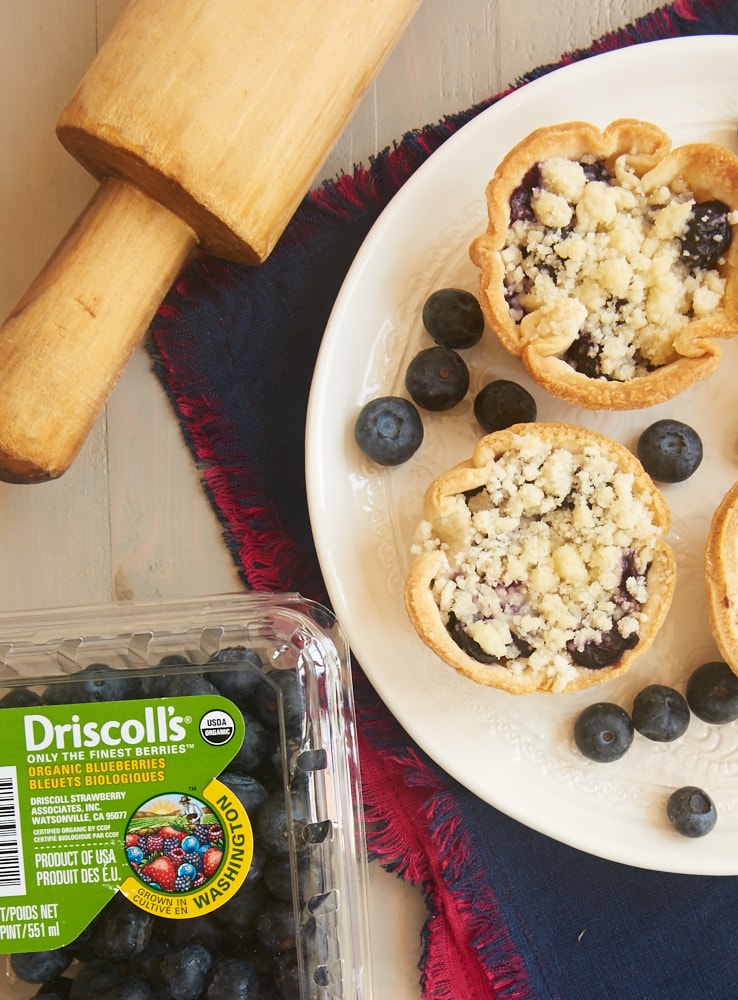 The cream cheese filling is a little ode to one of my all-time favorite mini pies. I love that sweet cream cheese surprise inside! It's such a wonderful, rich twist to blueberry pie.
One of the things I love about baking with blueberries is that there's no chopping, coring, peeling, or other prep work before you can get baking. Just give them a good rinse, let them dry, and you're ready to go. Without that extra prep, this pie filling is ready to go into the pie crusts in short order.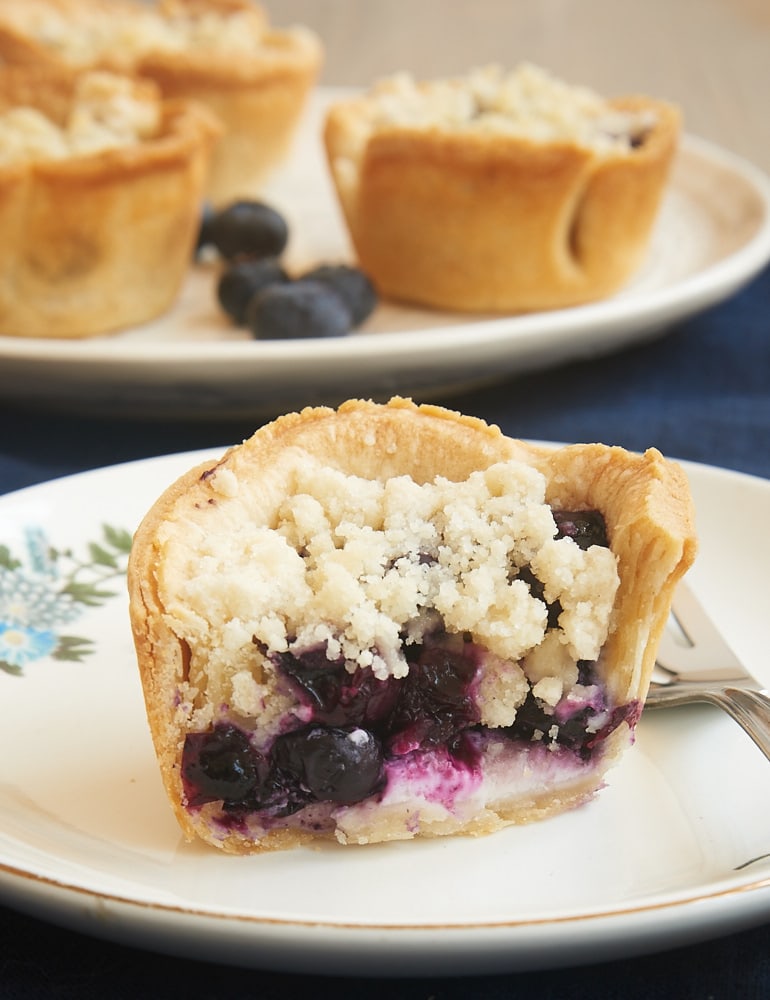 I really like the addition of vanilla to these pies. It just works so well with the cream cheese filling. For something a bit different, substitute almond extract. Or omit the extract altogether, and add the zest and juice of a lemon for a citrus bite.
These little pies are a great choice for entertaining. Your guests can just grab a pie without worrying about slicing and serving. Plus, mini desserts are just so adorable, aren't they? And if you're a crust fan, these little guys will give you a higher crust to filling ratio. With that amazing filling, their individual size, and that sweet crumb topping, these are sure to please!
Find more blueberry recipes in the Recipe Index.
Mini Blueberry Cream Cheese Pies
Yield: 12 mini pies
Prep Time:35 minutes
Cook Time:30 minutes
Skip the slicing and serving with Mini Blueberry Cream Cheese Pies. Love that cream cheese surprise inside!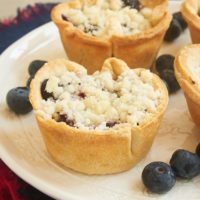 Ingredients:
For the crust:
pastry for double crust pie*
For the crumb topping:
3/4 cup all-purpose flour
1/4 cup granulated sugar
pinch of salt
5 tablespoons unsalted butter, cold and cut into cubes
For the cream cheese filling:
4 ounces cream cheese, at room temperature
2 tablespoons confectioners' sugar
For the blueberry filling:
1 package (1 pint or 2 cups) Driscoll's Blueberries
2 tablespoons water
2 tablespoons granulated sugar
2 tablespoons cornstarch
1 teaspoon vanilla extract
Directions:
To make the crust:
Preheat oven to 350°F. Grease a 12-cup standard-size muffin tin.
Roll out the pie dough to about 1/8-inch thickness. Cut the dough into 12 4-inch circles.**
Fit the circles into the bottom and up the sides of each muffin cup. Place the pan in the refrigerator.
To make the crumb topping:
Combine the flour, sugar, and salt in a small bowl. Add the butter, and mix with a pastry blender, a fork, or your fingers until the mixture forms crumbs.
Refrigerate while you make the fillings.
To make the cream cheese filling:
Using an electric mixer on medium speed, beat the cream cheese and sugar until thoroughly combined and smooth.
Divide the mixture evenly among the 12 pie crusts (roughly a rounded teaspoon in each), and spread evenly in the bottom. Return the pan to the refrigerator.
To make the blueberry filling:
Combine the blueberries, water, sugar, and cornstarch in a medium saucepan. Bring to a boil, stirring frequently. Continue cooking for 2 or 3 minutes, or until the mixture has thickened.
Remove from the heat, and stir in the vanilla.
Divide the blueberry mixture evenly among the pie crusts, filling each almost to the top.
Sprinkle the crumb mixture over the tops of the pies.
Bake for 25 to 30 minutes, or until the crusts are golden brown.
Notes:
*Use a double recipe of my go-to pie crust or your favorite pie crust. I recommend dividing the dough in half before refrigerating to make rolling the dough more manageable.
**The crust should reach the top of the pan or stick up above the pan just a smidge. Muffin pans can vary a bit, so you may want to make sure the first circle fits before cutting out all of them. I used the largest cutter in this cutter set, and used a knife to cut around the outside of the top for a 4-inch circle to fit my Wilton muffin pan.
This post is sponsored by Driscoll's. All opinions written are my own. This post contains affiliate links.