These Mini Lemon Pound Cakes are dense, rich, and full of bright lemon flavor. They're the perfect little bite!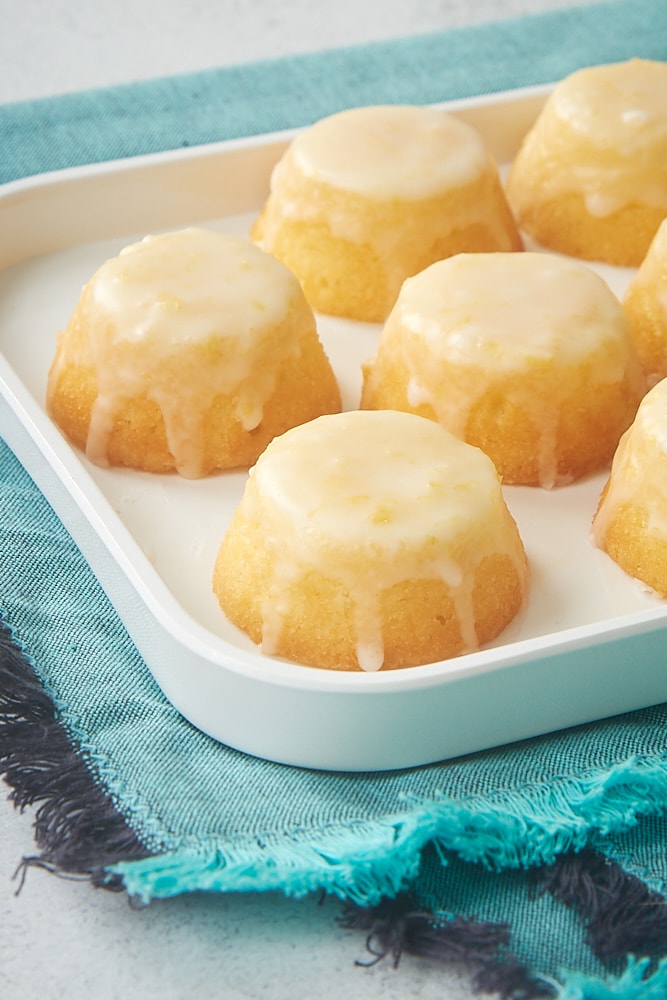 Easy Iced Mini Lemon Pound Cakes
When it comes to favorite desserts, many people favor chocolate or caramel; maybe pumpkin or even vanilla. But then there are those of us who have a weakness for lemony treats. This recipe is for you, my friends! There's lemon zest and lemon juice in both the pound cake and the glaze, which means you get maximum lemon flavor in every bite.
These pound cakes are baked in mini muffin pans to give them that one-bite appeal, making them perfect for serving on your dessert table for a grab-and-eat treat. I like to serve these cakes in what I suppose is upside-down form; I flip them out of the pan onto a cooling rack and glaze them just like that. It changes things up a bit and creates a unique look that I love.
What You'll Need
This recipe is made with simple, straightforward ingredients you can easily find at any grocery store. Here's what you'll need.
For the cakes:
All-purpose flour
Lemon zest – You can get the zest and the juice from 1 medium lemon; if you're making the glaze too, you'll need 2 medium lemons for the whole recipe.
Salt
Unsalted butter – The butter needs to be softened, so set it out about half an hour before baking.
Cream cheese – At room temperature, please!
Granulated sugar
Eggs – Also at room temperature
Lemon juice
For the glaze:
Confectioners' sugar
Lemon juice
Lemon zest – I recommend using a fine zester so you don't have large pieces of lemon zest in the glaze.
Milk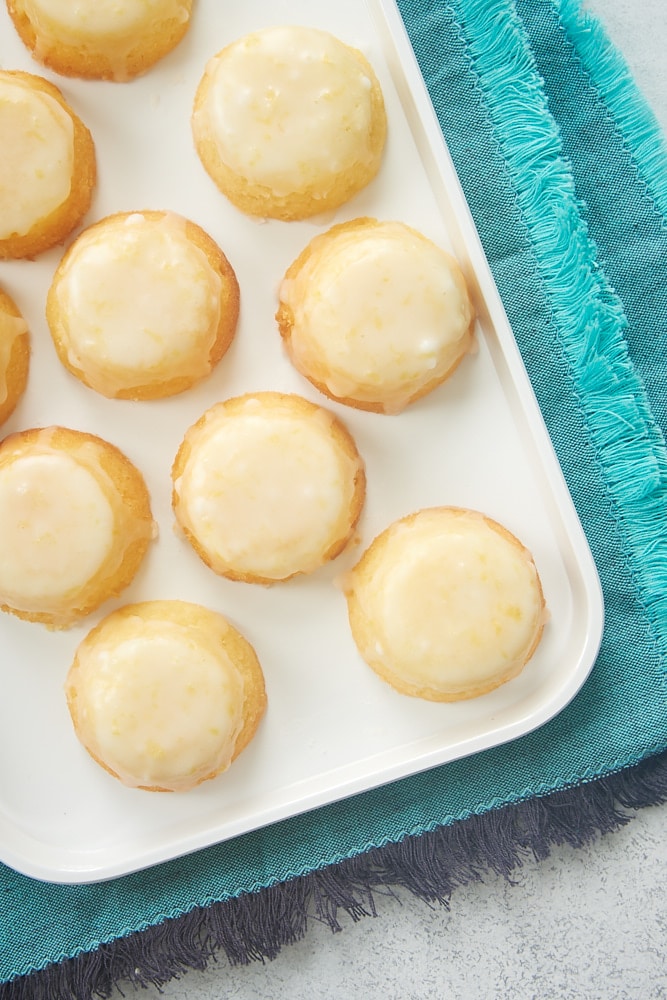 How to Make Mini Lemon Pound Cakes
Here are step-by-step instructions on how to make mini pound cakes:
Prepare. Preheat your oven to 350ºF and grease 48 mini muffin cups with butter or nonstick spray.
Whisk dry ingredients. Combine the flour, zest, and salt in a large bowl, and whisk to combine.
Beat the wet ingredients. Use an electric mixer on medium speed to beat the butter, cream cheese, and sugar in another large bowl until the mixture is light and fluffy. Beat in the eggs one at a time, followed by the lemon juice.
Combine wet and dry ingredients. Reduce the mixer speed to low and slowly pour the flour mixture into the wet ingredients. Continue to mix until just combined.
Fill the muffin cups. Divide the batter evenly among the prepared muffin cups, using about 1 & 1/4 tablespoons per cup.
Bake. Place the muffin tins in the oven and bake for 15 to 18 minutes, or until a toothpick inserted into the center of a cake comes out clean.
Cool. Let the cakes cool for 10 minutes in the pan, then carefully remove them and let them finish cooling on a wire rack.
Make the glaze. Combine the confectioners' sugar, lemon juice, lemon zest, and 1 tablespoon of milk in a small bowl and stir until smooth. Add more milk a tablespoon at a time until the glaze is pourable, but still thick.
Glaze the cakes. Spoon the glaze over the cakes or dip the tops of the cakes into the glaze. Place the cakes on a wire rack set over a sheet of wax paper to catch any excess glaze that drips from them. Allow the glaze to set, then serve.
Tips for Success
Here are some tips and tricks for perfect little pound cakes:
Portioning the batter. To get these cakes just the right size, I recommend using a scoop to portion the batter. I use a #50 scoop, which holds about 1 & 1/4 tablespoons. If you use too much batter, you'll get a muffin-top effect which detracts a bit from the look if you plan on flipping them upside down like I did here.
Using extra batter. When I make these cakes, I often find that I have just a bit of batter remaining. If you have another pan, you may get two or three more mini pound cakes out of the recipe or if you have a small oven-safe ramekin, you can put any excess in there to bake yourself a slightly larger cake to enjoy.
Sift the confectioners' sugar. This ensures that there are no lumps of sugar in the glaze. It's easier to sift first than trying to fish out all the little lumps later!
How to Store
These Mini Lemon Pound Cakes can be stored in an airtight container in the refrigerator for up about 5 days, or at room temperature for up to 2 days.
Can This Recipe Be Frozen?
Yes, these pound cakes are perfect for freezing! I recommend freezing them on a sheet pan lined with wax paper; once they're frozen solid, pop them in an airtight storage container or freezer bag. They'll keep in the freezer for up to 2 months; let them thaw in the refrigerator before eating.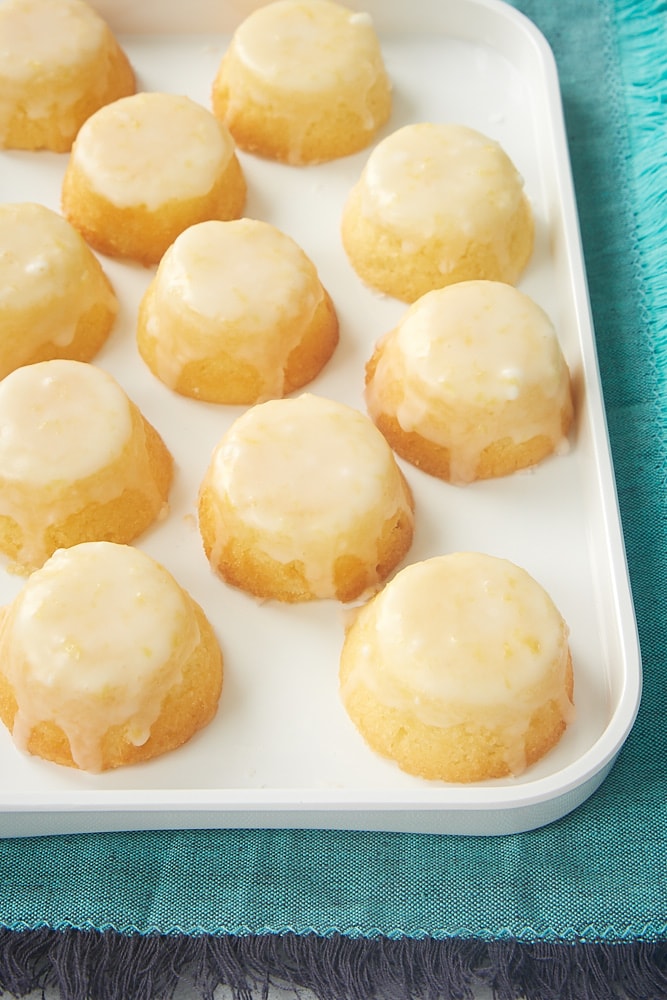 Video Tutorial: Mini Lemon Pound Cakes
More Pound Cake Recipes