May 6, 2019
Mini Lemon Pound Cakes
Mini Lemon Pound Cakes are full of bright lemon flavor. These bite-size treats are a favorite grab-and-eat treat!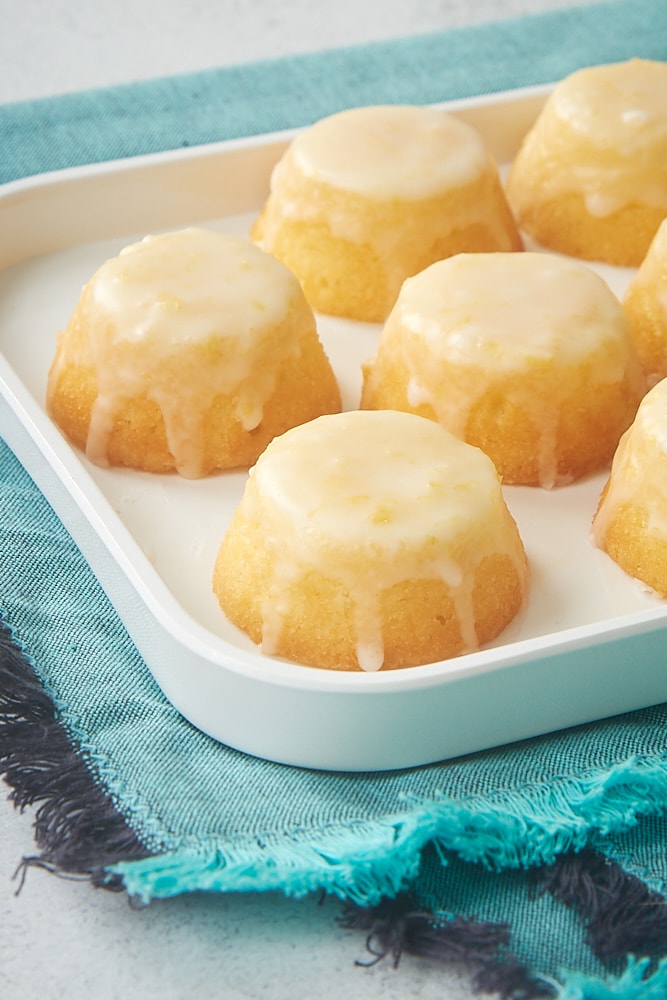 If you love all things lemon and have a thing for mini desserts, then let me introduce you to these Mini Lemon Pound Cakes. These little guys are mini, bite-sized treats with lots of lemon flavor!

On their own, the cakes have a nice lemon flavor. But that lemon glaze really ups the lemon ante for big, big flavor. If you want to skip the glaze for a lighter lemon flavor, a simple sprinkling of confectioners' sugar would be a nice way to add a simple garnish.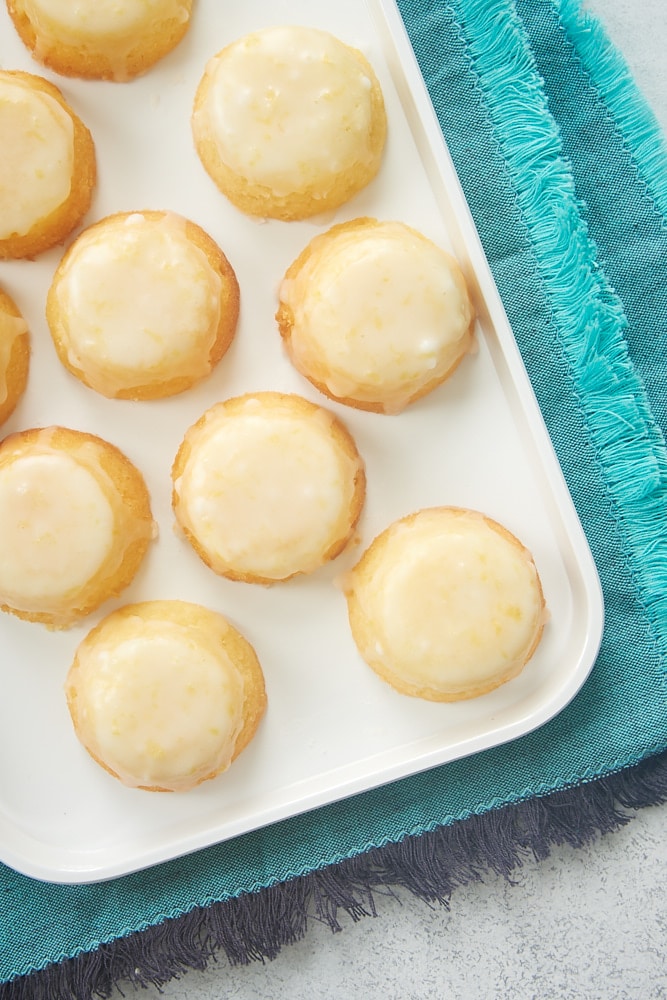 These cakes are baked in mini muffin pans to give them that one- or two-bite appeal. I like to serve these in what I suppose is upside-down form. I flip them out of the pan onto a cooling rack and glaze them just like that. It changes things up a bit and creates a little different look that I love.
To get these little cakes just the right size, I highly recommend using a scoop to portion the batter. I use a #50 scoop, which holds about 1 & 1/4 tablespoons. I find that to be just right to get the perfect size and shape. If you use too much batter, you'll get the muffin-top effect which detracts a bit from the look of them.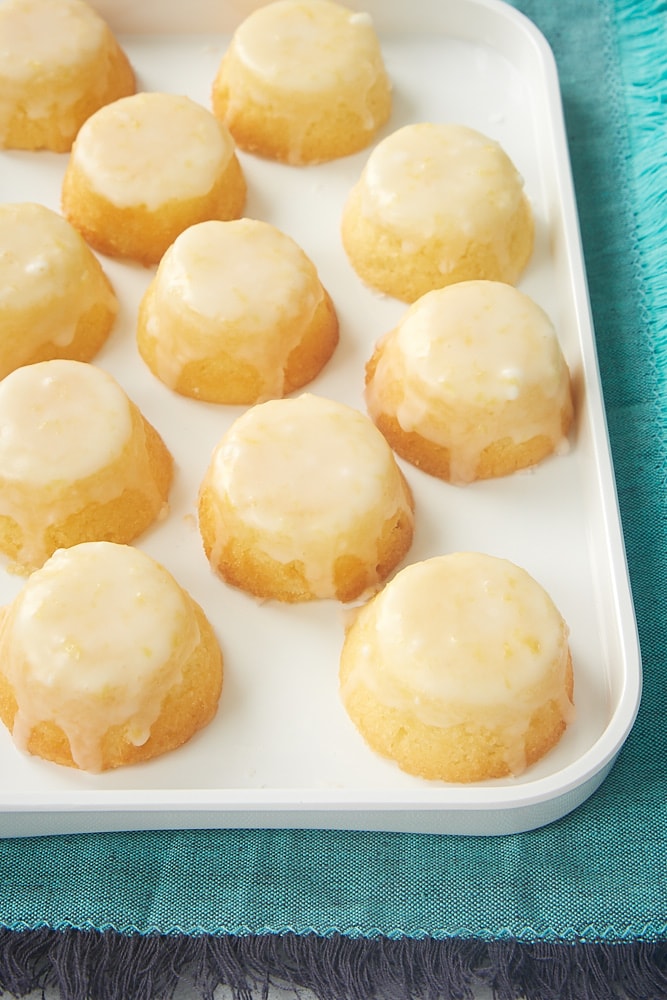 When making these cakes, I often find that I have just a bit of batter remaining after portioning 48 cakes. If you have another pan, you may get two or three more cakes out of the recipe. Or if you have a small oven-safe ramekin, you can put any excess there to bake a slightly larger cake.
I really, really adore these little cakes. They're perfect for serving on your dessert table for a grab-and-eat treat. Or package them for a homemade hostess gift, housewarming treat, or just to brighten someone's day!
Find more lemon treats in the Recipe Index.
More Pound Cake Recipes
Bake or Break is a participant in the Amazon Services LLC Associates Program, an affiliate advertising program designed to provide a means for us to earn fees by linking to Amazon.com and affiliated sites.
Mini Lemon Pound Cakes
Yield: 48 mini cakes
Prep Time: 25 minutes
Cook Time: 18 minutes per pan
These bite-size Mini Lemon Pound Cakes are deliciously lemony!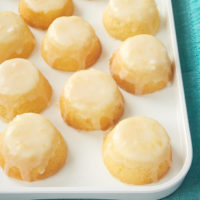 Ingredients:
For the cakes:
1 & 1/2 cups (180g) all-purpose flour
2 teaspoons lemon zest (from 1 medium lemon)
1/4 teaspoon salt
3/4 cup (170g) unsalted butter, softened
4 ounces (113g) cream cheese, at room temperature
1 & 1/2 cups (300g) granulated sugar
3 large eggs
2 tablespoons lemon juice (from 1 medium lemon)
For the glaze:
2 cups (220g) confectioners' sugar, sifted
2 tablespoons lemon juice (from 1 medium lemon)
2 teaspoons lemon zest (from 1 medium lemon)
1 to 2 tablespoons milk
Directions:
To make the cakes:
Preheat oven to 350°F. Grease 48 mini muffin cups.
Whisk together the flour, zest, and salt. Set aside.
Using an electric mixer on medium speed, beat the butter, cream cheese, and sugar until light and fluffy.
Add the eggs, one at a time, mixing well after each addition. Mix in the lemon juice..
Reduce mixer speed to low. Gradually add the flour mixture, mixing just until combined.
Divide the batter among the prepared muffin cups, using about 1 & 1/4 tablespoons of batter per cup to fill each 3/4 full. (Use a #50 scoop for best results.)
Bake 15 to 18 minutes, or until a pick inserted into the center comes out clean.
Cool in the pan for 10 minutes. Then transfer the cakes to a wire rack to cool completely.
To make the glaze:
Combine the confectioners' sugar, lemon juice, lemon zest, and 1 tablespoon of milk. Stir until smooth.
Add more milk, a small amount at a time, until the glaze is thick but pourable.
Glaze the cooled cakes by spooning the glaze over the cake or dipping the tops of the cakes into the glaze. Set the cakes on a wire rack over a sheet of wax paper or a sheet pan to allow any excess glaze to drip off of the cakes. Allow the glaze to set before serving.