May 5, 2016
Butter Pecan Cheesecake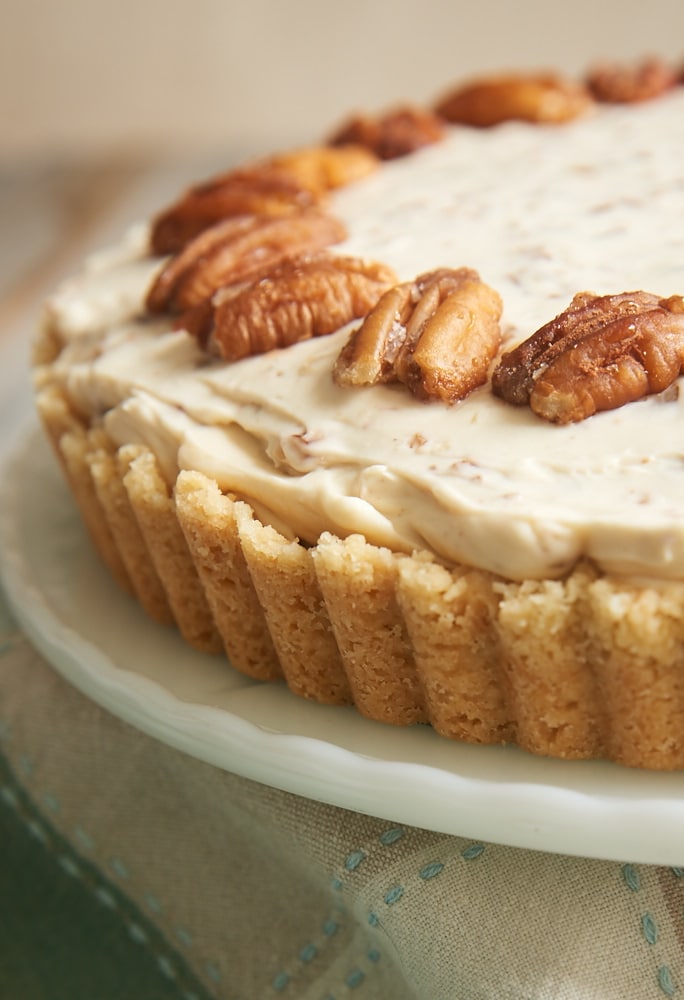 It's not the most interesting choice, but butter pecan is my favorite flavor of ice cream. That's been the case since I was a child. Truth be told, I'm not likely to pass up any dessert labeled as butter pecan.
A while back I shared with you one of my favorite ways to toast pecans. It involves butter and sugar (and sometimes a bit of cinnamon). With minimal effort, you'll get a batch of toasty, sweet, caramel-y pecans. They're perfect for a sweet snack, but I also love to think of ways to use them in baking. (Helloooo, cookies!)
And now I've added them to one of my absolute favorite things – cheesecake!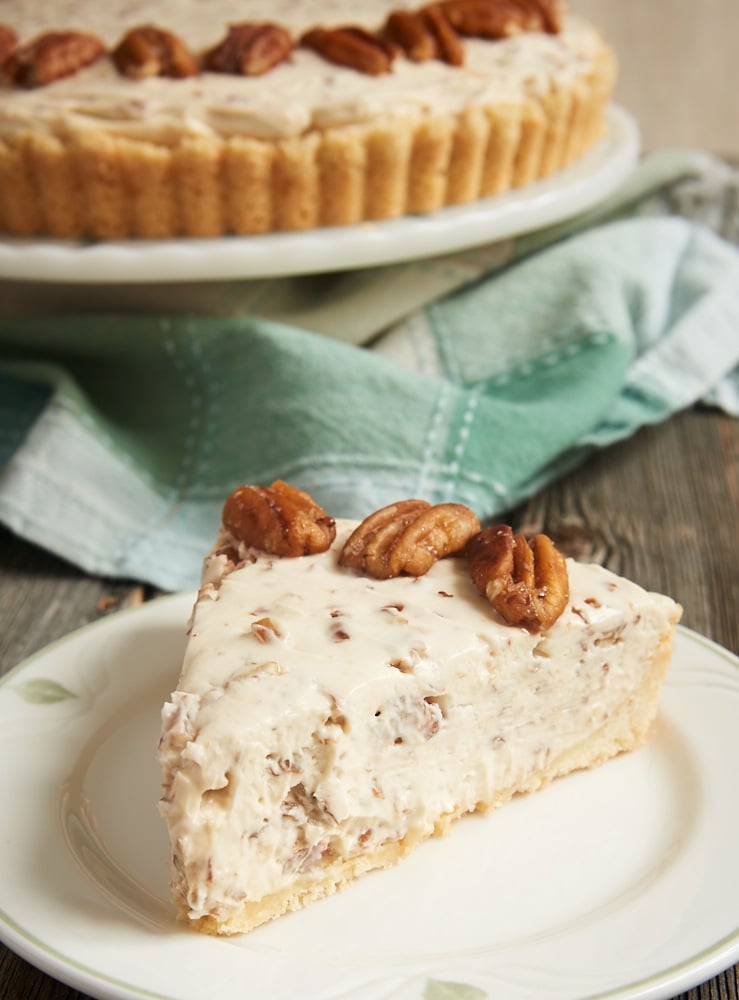 The no-bake filling is a simple combination of cream cheese, sugar, vanilla, and whipped cream. Perfectly delicious all on its own. But! Then a whole bunch of those buttery, toasty pecans get stirred into the filling to give it a fantastic nutty twist.
I paired that luscious filling with a basic shortbread crust. If you like, try a cookie crust instead. The classic graham cracker crust is always a good choice. Or try a cookie crust made from Pecan Sandies, vanilla wafers, or another of your favorite store-bought cookies.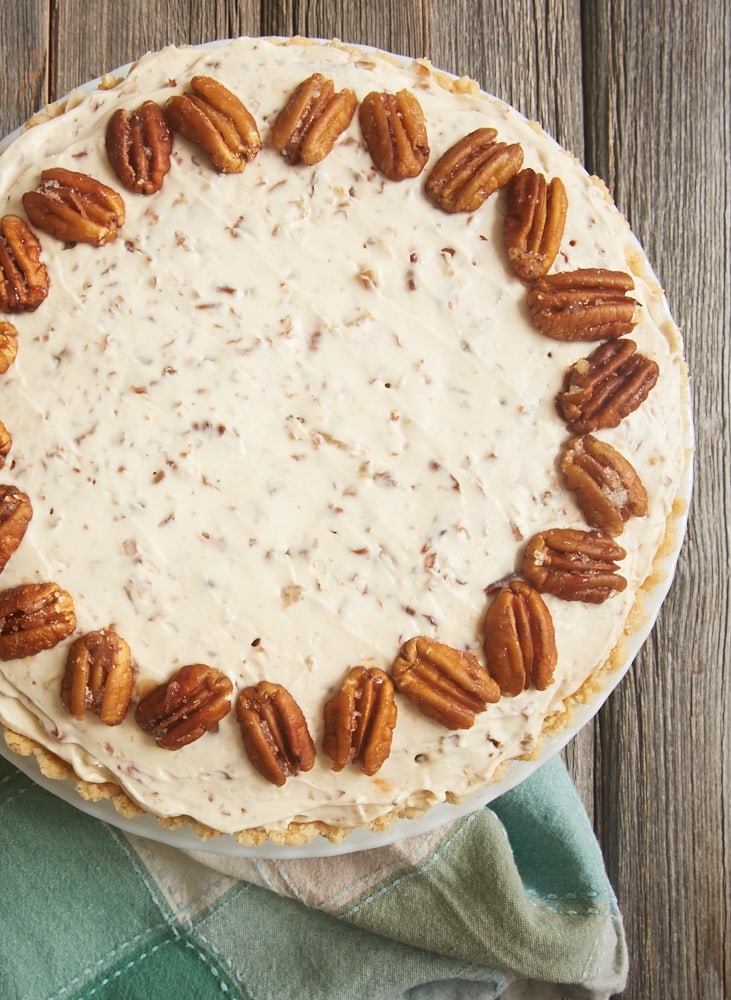 The flavor of this cheesecake is remarkably reminiscent of butter pecan ice cream. If we share a mutual adoration of that wonderful ice cream, then this may very well become your favorite cheesecake. It's like a wonderful mashup of that ice cream and cheesecake. And I have to say that I am 100% okay with that.
Find more cheesecake recipes in the Recipe Index.
We are a participant in the Amazon Services LLC Associates Program, an affiliate advertising program designed to provide a means for us to earn fees by linking to Amazon.com and affiliated sites.
Butter Pecan Cheesecake
Yield: 8 to 10 servings
Prep Time: 30 minutes
Cook Time: 25 minutes
Buttery toasted pecans add big flavor to this Butter Pecan Cheesecake!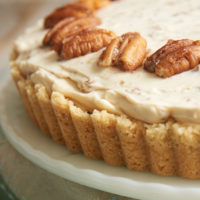 Ingredients:
For the crust:
1 & 1/4 cups all-purpose flour
1/2 cup granulated sugar
1/4 teaspoon salt
1/2 cup unsalted butter, cold and cut into 1/2-inch cubes
For the pecans:
2 cups pecan halves and pieces
2 tablespoons unsalted butter
3 tablespoons granulated sugar
pinch of salt
For the filling:
16 ounces cream cheese, at room temperature
1/2 cup granulated sugar
1/2 cup firmly packed light brown sugar
2 teaspoons vanilla extract
1 cup heavy cream
Directions:
To make the crust:
Preheat oven to 350°F.
Combine the flour, sugar, and salt. Add the butter, and mix with a pastry blender, a fork, or your fingers until thoroughly combined. The mixture will be crumbly but should hold together when pinched.
Press the crust mixture into the bottom and up the sides of a 9-inch tart pan with a removable bottom.*
Bake 20 to 25 minutes, or until the crust is lightly browned. Do not overbake, or the crust will become too hard. Set aside to cool.
To make the pecans:
Melt 2 tablespoons of butter in a large skillet over medium heat. Add the pecans, sugar, and salt.
Continue cooking over medium heat, stirring frequently, until the pecans are toasted and the sugar sticks to them (about 7 or 8 minutes). Set aside to cool.
If desired, set aside some of the pecans for garnish. (I used about 20 pecan halves for the garnish you see in the above photos.) Once cooled, roughly chop the remaining pecans.
To make the filling:
Using an electric mixer on medium speed, beat the cream cheese, sugar, brown sugar, and vanilla until thoroughly combined and smooth.
In a separate bowl, use an electric mixer with a whisk attachment to whip the cream until soft peaks form.
Fold about a third of the whipped cream into the cream cheese mixture. Then gently fold in the remaining whipped cream.
Stir in the chopped pecans.
Spread the filling evenly in the cooled crust. Garnish as desired. Refrigerate at least 4 hours before serving.
Notes:
*This cheesecake can also be made in a 9-inch pie pan or a 9-inch springform pan.
A note about the crust: Shortbread crusts can be temperamental. Be sure your butter is cold and that you've measured the ingredients accurately. Avoid dark pans. Don't overbake. If at all possible, make sure your oven temperature is correct with an inexpensive oven thermometer.
Love butter pecan? Be sure to try these great recipes, too!