Butter Pecan Cheesecake is filled with buttery, toasty pecans for a dessert that's completely crave-worthy!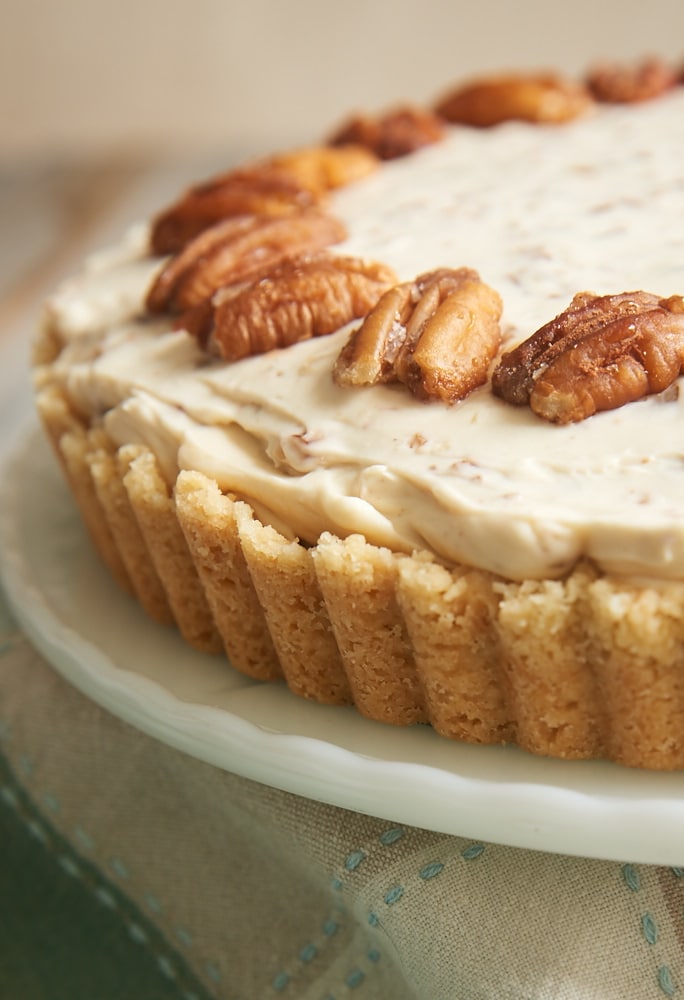 Butter Pecan Cheesecake
Do you love cheesecake? How about butter pecan? If you're like me, then the answer is a resounding yes! So why not combine two favorite things into one amazing dessert? This Butter Pecan Cheesecake is sure to amaze your taste buds. It's creamy, decadent, and downright delicious. And the best part? It's really easy to make!
One of my favorite ways to toast pecans involves butter and sugar (and sometimes a bit of cinnamon). With minimal effort, you'll get a batch of buttery, toasty, sweet, caramel-y pecans. They're perfect for a sweet snack, but I also love to think of ways to use them in baking. (Helloooo, cookies!)
And now I've added them to one of my absolute favorite things – cheesecake!
The no-bake filling is a simple combination of cream cheese, sugar, vanilla, and whipped cream. Perfectly delicious all on its own. But! Then a whole bunch of those buttery, toasty pecans get stirred into the filling to give it a fantastic nutty twist.
The flavor of this cheesecake is remarkably reminiscent of butter pecan ice cream. If we share a mutual adoration of that wonderful ice cream, then this may very well become your favorite cheesecake. It's like a wonderful mashup of that ice cream and cheesecake. And I have to say that I am 100% okay with that.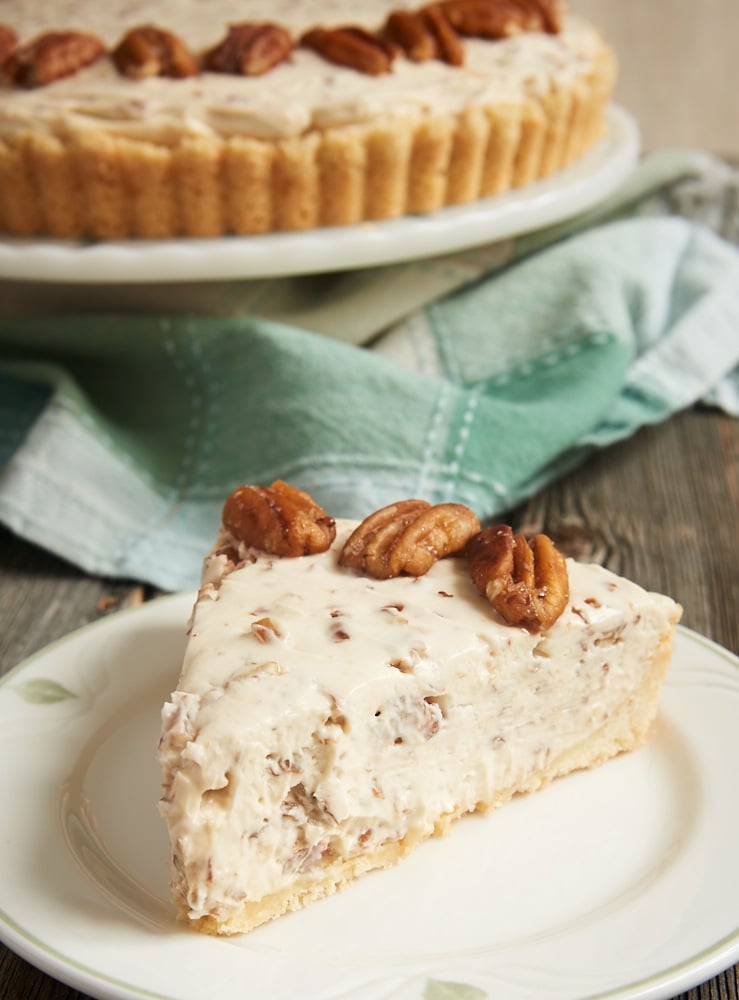 What You'll Need
Don't let the long-ish ingredient list give you pause. Many of these ingredients are repeated in the different components of the recipe, and they're all common baking ingredients.
For the crust:
All-purpose flour – Be extra sure to measure the flour accurately, as a shortbread crust is not very forgiving. For best results, measure by weight. If you don't have a scale, use the spoon and sweep method.
Granulated sugar
Salt
Unsalted butter – The butter for the crust needs to be cold for mixing. I usually cut it into cubes and return it to the refrigerator while I gather the remaining ingredients.
For the pecans:
Pecans – Pecan halves make for a pretty garnish on top of this cheesecake, but you only need pecan pieces for the filling.
Unsalted butter
Granulated sugar
Salt
For the filling:
Cream cheese – Full-fat cream cheese works best. Let it come to room temperature so it will mix smoothly.
Granulated sugar
Brown sugar – Light brown sugar works well here to give a little caramel-like flavor without overwhelming the pecans.
Vanilla extract
Heavy cream – Look for heavy cream or heavy whipping cream.
How to Make Butter Pecan Cheesecake
Despite preparing three separate components, this cheesecake is really simple to make. No special equipment, no water bath, and no long bake times! If you want to simplify further, see my notes below for changing the crust.
To make the crust:
Prepare for baking. Heat the oven to 350°F.
Mix the ingredients. Combine the flour, sugar, and salt. Mix the butter into that mixture with a pastry blender, a fork, or your fingers until combined. It should form crumbs that hold together when pinched.
Bake. Press the crust mixture into the bottom and up the sides of a 9-inch round tart pan with a removable bottom. If you like, place the pan on a rimmed baking sheet lined with parchment paper to catch any potential leaks from little gaps in your pan. Bake 20 to 25 minutes, or until the crust is lightly browned. Be sure not to over-bake. Place on a wire rack to cool.
To make the pecans:
Melt the butter. Place the butter in a large skillet over medium heat, cooking until the butter melts.
Continue cooking. Stir the pecans, sugar, and salt into the melted butter, and cook until the pecans are toasted and the sugar sticks to them. This should take 7 or 8 minutes. Set aside to cool. If you like, set aside some of the pecans for garnish.
To make the filling:
Start mixing. With an electric mixer on medium speed, beat the cream cheese, sugar, brown sugar, and vanilla in a large bowl until combined and smooth.
Whip the cream. With an electric mixer with a whisk attachment, whip the cream until soft peaks form.
Add the whipped cream and pecans. Fold about a third of the whipped cream into the cream cheese mixture. Then gently fold in the remainder. Don't over-mix. Stir in the chopped pecans.
Fill the crust. Transfer the filling to the cooled crust, and spread evenly. Garnish with reserved pecans.
Chill. Cover and refrigerate the cheesecake at least 4 hours before serving.
Other Crust Options
I like to pair this luscious filling with a basic shortbread crust, but you can make things simpler and try a cookie crust instead. The classic graham cracker crumbs crust is always a good choice. Or try a cookie crust made from Pecan Sandies, vanilla wafers, or another of your favorite store-bought cookies. Be sure to see my tips for making a cookie crumb crust.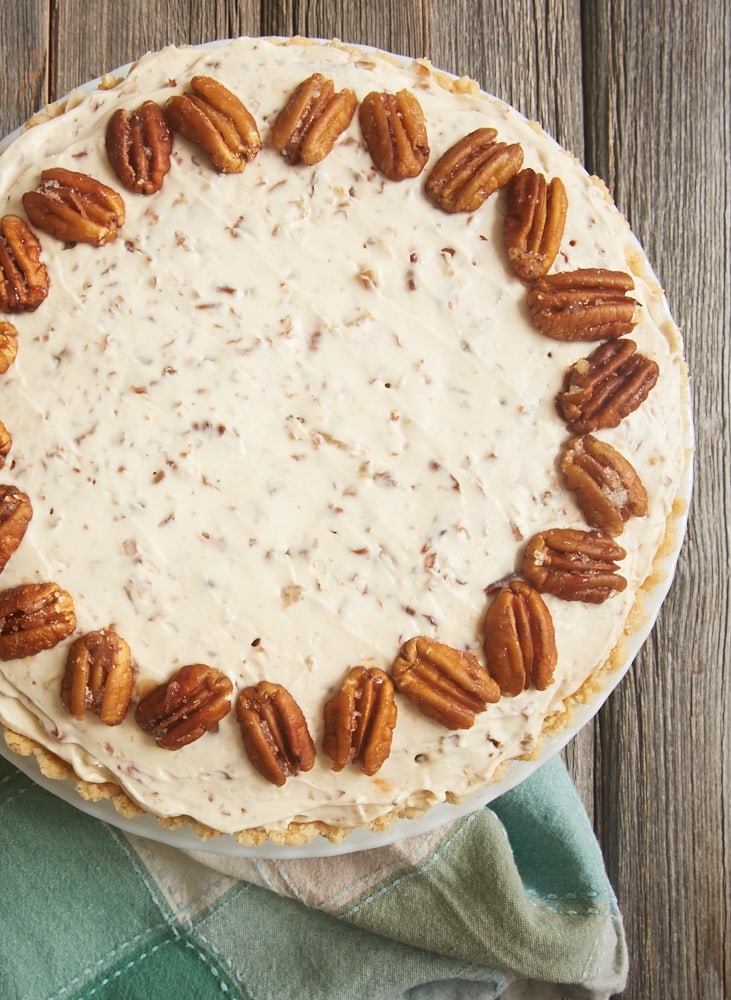 Tips for Success
Don't over-mix the crust. Too much mixing can lead to a tough, hard crust. Be sure to mix just until the mixture is combined. It will be crumbly, but it will hold together when pressed or pinched.
Want to use a different pan? A tart pan with a removable bottom works really well, but you can use a 9-inch springform pan or pie pan if that's what you have.
Don't over-mix the filling. When adding the whipped cream, fold it gently and with minimal mixing. If it's mixed too much, the whipped cream will deflate and your cheesecake won't have that light, fluffy texture.
How to Store Leftovers
Keep the cheesecake covered and refrigerated. It should keep 2 or 3 days.
Can This Cheesecake Be Frozen?
Yes! After the cheesecake has set sufficiently in the refrigerator, wrap it well with plastic wrap and then wrap again in aluminum foil or place in a freezer-safe container. Properly stored, it should keep up to 3 months. Thaw overnight in the refrigerator.
Video Tutorial: Butter Pecan Cheesecake
Love butter pecan? Be sure to try these great recipes, too!