This wonderfully delicious No-Bake Raspberry Cheesecake is a breeze to make with raspberry preserves. A no-fuss winner!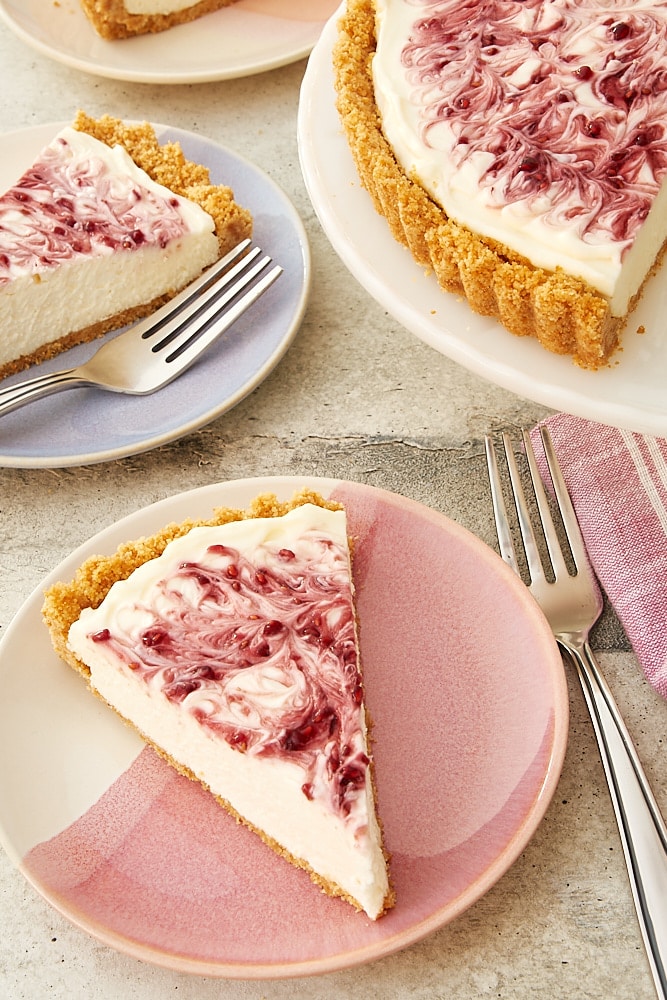 Cool, Creamy Raspberry Cheesecake
I use warmer days as an excuse to make more no-bake cheesecakes. Although, to be perfectly honest, I don't need warmer weather to justify a near-constant craving for those cool, creamy desserts. No long bake times, no water bath. Just an easy-to-make cheesecake without the fuss!
You know how I love to use preserves in baking, and this cheesecake is an excellent use of them. Once the filling is made, just dot the top with small dollops of preserves, and then use something small like a toothpick to swirl them into the filling.
If you're looking for an easy, no-fuss dessert that's sure to please, you've found it in this No-Bake Raspberry Cheesecake. I think you'll love its simple preparation every bit as much as its amazing flavor!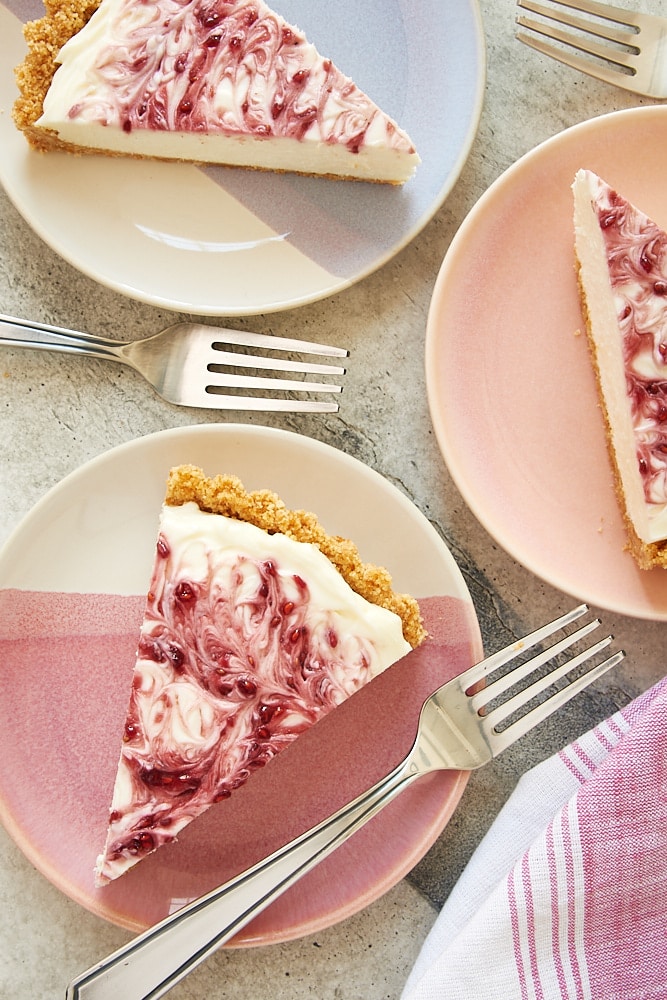 What You'll Need
If you bake frequently and believe your refrigerator is not complete without cream cheese and at least a few varieties of preserves, then you very likely have all the ingredients you need to start whipping up this cheesecake.
For the crust:
Vanilla wafer crumbs – You can use any type of crunchy cookie for the crust. I like vanilla wafers or graham crackers in this recipe, but try shortbread or lemon or some other variety that sounds like a good flavor pair with your choice of preserves. And if you need some tips, be sure to read How to Make a Cookie Crumb Crust.
Unsalted butter – Melt the butter before mixing with the cookie crumbs.
For the filling:
Cream cheese – Bring the cream cheese to room temperature so it will mix smoothly. Full-fat cream cheese (the kind in a brick shape) works best.
Granulated sugar
Vanilla extract – Try almond extract for a little different flavor.
Heavy cream – Look for heavy cream or heavy whipping cream.
Raspberry preserves – As much as I love the flavor here, don't limit this recipe to raspberry preserves. Use whatever kind you like to suit your tastes. You'll only need about 2 tablespoons of preserves to make this pretty, flavorful swirl.
How to Make No-Bake Raspberry Cheesecake
This cheesecake is a cinch to make. It comes together quickly and easily. The only tough part is waiting for it to chill so you can slice into it!
Make the crust. Combine the cookie crumbs and melted butter until thoroughly moistened. Press into the bottom and up the sides of a lightly greased 9-inch pie pan or tart pan with a removable bottom. You can decide whether or not you want to bake the crust. See my notes below for more about that.
Begin mixing the filling. With an electric mixer on medium speed, beat the cream cheese, sugar, and vanilla until thoroughly combined and smooth.
Whip the cream. In a separate large bowl, use the whisk attachment of an electric mixer to whip the cream on high speed until soft peaks form. Start on a lower speed and work up to high so the cream doesn't make a mess. Learn more: How to Make Whipped Cream
Finish mixing. Fold about 1/3 of the whipped cream into the cream cheese mixture. Then gently fold in the remaining whipped cream. Don't over-mix; fold just until combined.
Fill the crust. Transfer the cheesecake batter to the crust and spread it evenly. Dollop the preserves over the top of the cheesecake. (You may need to stir them well first.) Use a toothpick or thin knife to swirl the preserves into the filling.
Chill. Cover and refrigerate the cheesecake at least 4 hours before serving.
Does this crust need to be baked?
Honestly, it's a matter of preference. I find that briefly baking the crust makes it sturdier and enhances the flavor. But it's not necessary if you'd rather skip the oven time.
If you want to bake the crust after pressing it into the pan, place the pan on a lined, rimmed baking sheet. Bake for 10 minutes at 350°F. Be sure to allow the crust to cool completely before filling.
If you'd prefer not to bake the crust, place it in the refrigerator after pressing it into the pan. That will allow it to firm a bit before filling it.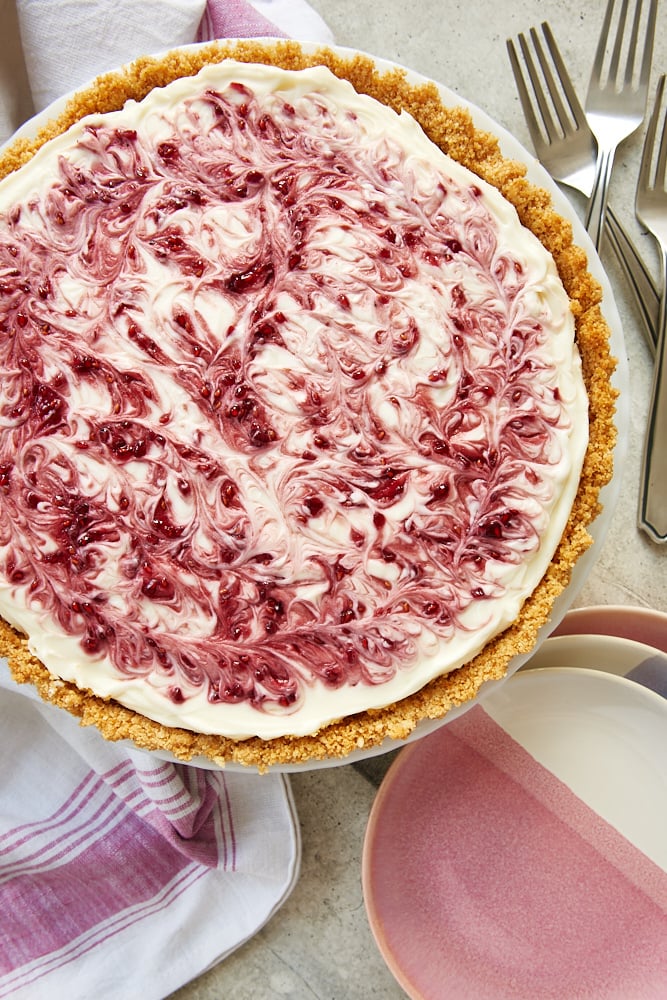 Tips for Success
Choosing a pan. No springform pan needed here! This cheesecake will work in a 9-inch pie plate or a 9-inch tart pan with a removable bottom. Either is perfectly fine, but I usually go with a tart pan. I not only prefer the appearance but I also like the simplicity of removing the entire cheesecake from the pan for serving and slicing. It makes things much easier and neater.
Don't over-mix. When adding the whipped cream to the filling, mix only as much as needed to get everything combined. Too much mixing will deflate that lovely whipped cream and your cheesecake won't set properly.
Don't skip the chill time. This cheesecake needs that refrigerator time to set and firm properly.
How to Store
Keep this cheesecake tightly covered in the refrigerator. It should keep up to 5 days, although it will be at its best within a couple of days.
Can This Cheesecake Be Frozen?
Yes, although the texture may be affected. After the cheesecake has chilled properly, wrap any leftovers well in two layers of plastic wrap and place in a freezer-safe container or zip-top bag. Properly stored, it should keep up to 3 months in the freezer. Thaw overnight in the refrigerator.
More No-Bake Cheesecake Recipes