Butter Pecan Shortbread is a wonderfully simple yet so, so delicious recipe. With a short list of ingredients and a quick prep time, these are sure to be among your favorite quick and easy treats!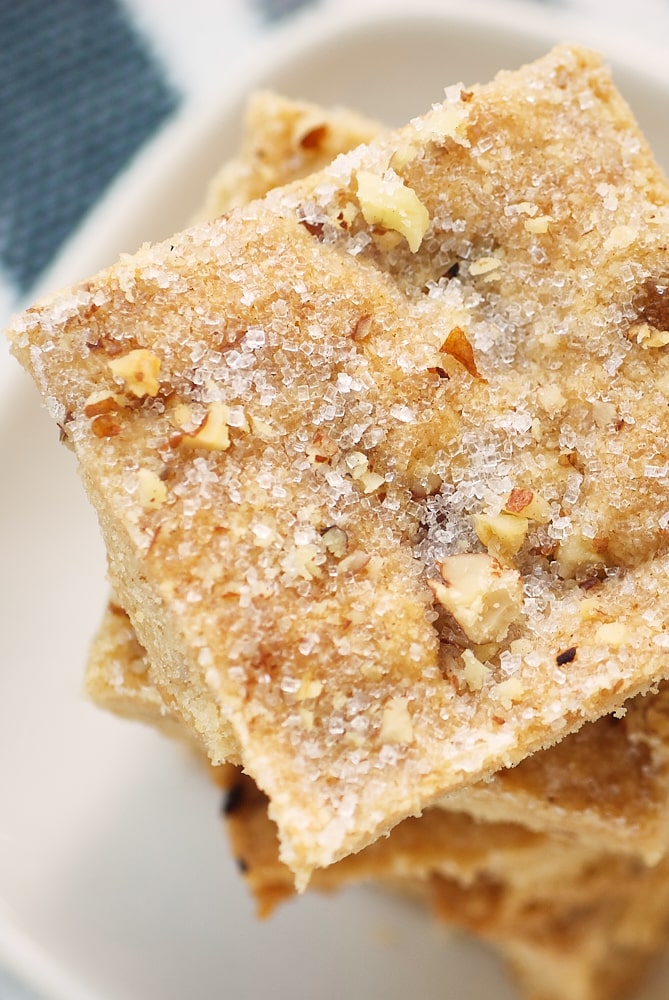 Butter Pecan Shortbread
Shortbread is one of the simple joys of the baking world. Usually, there are just a handful of ingredients. The effort is minimal. And, the simple flavors are just right.
Of course, throw some pecans into something, and I'm definitely on board. With those few ingredients and very little time, you can have this Butter Pecan Shortbread in the oven. Your kitchen will be filled with the delightful aroma of buttery cookies and toasted pecans.
Having some great quick and easy recipes is such a must for bakers, and these Butter Pecan Shortbread are an excellent addition to that category. If you're a fan of all things butter pecan, you're going to love having these in your baking arsenal!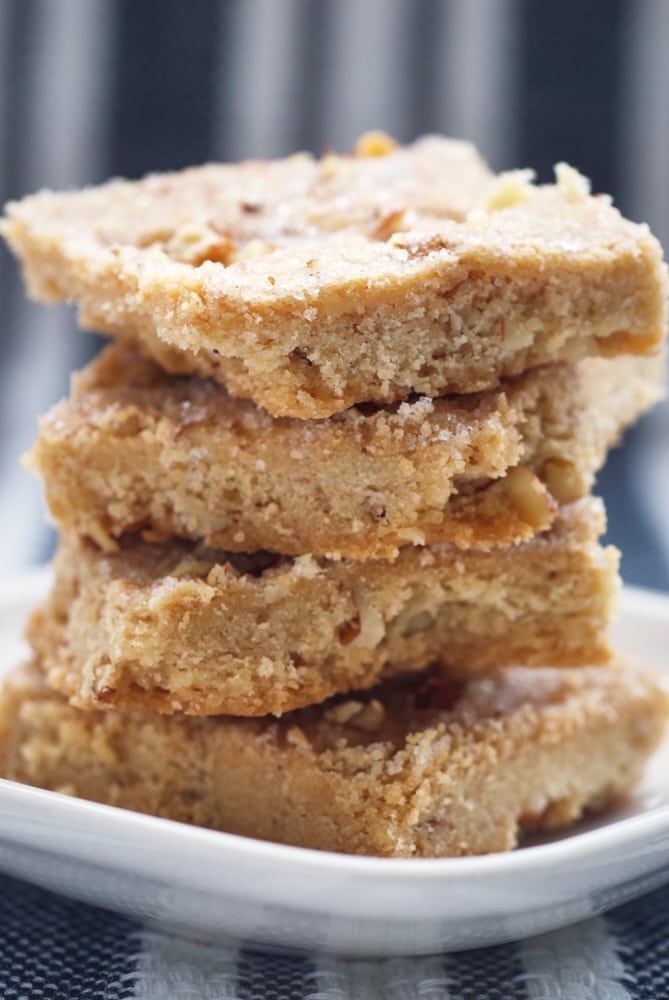 What You'll Need
Here's the wonderfully short list of ingredients for these amazing shortbread!
Unsalted butter – Set out the butter about half an hour before baking to allow it to soften.
Brown sugar – You can use light or dark brown sugar, depending on your taste preferences.
Vanilla extract
All-purpose flour – As always, measure by weight for best results. Otherwise, spooning and sweeping is the way to go.
Pecans – Remember to set some aside for the topping.
Coarse sugar – I love the look of coarse sugar (like sanding sugar) on these bars. It really helps dress up a simple baked good. If you don't have coarse sugar or sanding sugar, you can certainly use regular granulated sugar. It might not have the same aesthetic appeal, but it will still add that extra sweetness.
How to Make Butter Pecan Shortbread
You'll love how quickly and easily these bars come together!
Prepare for baking. Heat the oven to 350°F. Line an 8-inch square baking pan with aluminum foil or parchment paper, allowing the lining to hang off on two sides so that it will be easy to lift after baking.
Combine the wet ingredients. With an electric mixer on medium speed, cream together the butter and brown sugar until the mixture is creamy. Mix in the vanilla.
Add the flour and pecans. With the mixer on low speed, gradually add the flour and mix until combined. Stir in 1/4 cup of the pecans. The mixture will be crumbly but should hold together when pinched.
Transfer the dough to the pan. Spread the dough evenly in the bottom of the prepared pan. Sprinkle the remaining pecans and the coarse sugar over the top of the dough.
Bake. Place the pan in the oven, and bake until the edges are lightly browned (about 25 minutes). After baking, place the pan on a wire rack and allow the bars to cool for 10 minutes. Then use the overhanging lining to lift the bars from the pan onto a cutting board. Cut into squares.
Tips for Success
Make careful measurements. This is always important in baking, but especially so with shortbread.
Shortbread dough versus other cookie doughs. Shortbread dough doesn't have the same consistency as something like chocolate chip cookie dough. When mixed, it will be crumbly but should hold together when pinched or pressed.
Don't over-mix. While it will likely take several minutes to mix the dough, don't overdo it. Too much mixing leads to tough, dense cookies.
Use a light-colored metal pan. Dark pans tend to over-bake the bottoms and edges.
How to Store Leftovers
Place the cooled bars in an airtight container and store at room temperature up to 5 days. For a few more days of storage, place the container in the refrigerator and bring the bars to room temperature before serving.
For longer storage, wrap the shortbread well with plastic wrap and place in an airtight, freezer-safe container or bag. Properly stored, they should keep in the freezer up to 3 months. Thaw overnight in the refrigerator or for an hour or so at room temperature.
Video Tutorial: Butter Pecan Shortbread
More Shortbread Recipes
Visit the Recipe Index for more pecan recipes!