January 29, 2010
Butter Pecan Cake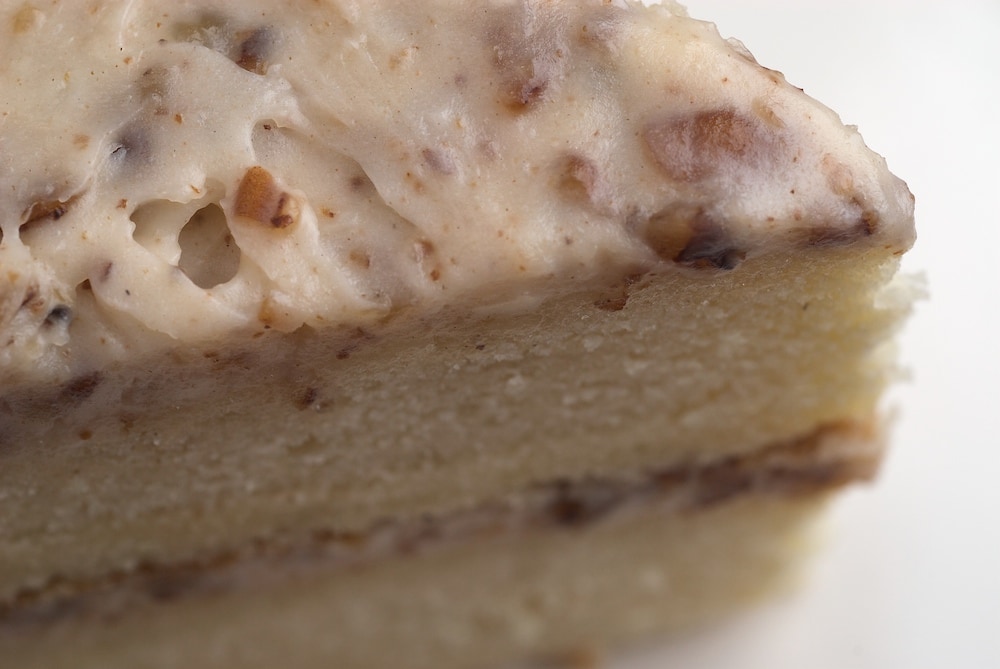 It's been a while since I had a non-chocolate recipe on BoB. Personally, I don't think there's any such thing as too much chocolate, but maybe variety isn't such a bad thing, either.

Granted, this cake does have a bit of white chocolate in it, but I don't count that. White chocolate is an entirely different entity in my book. In fact, I'm not normally a big fan of the stuff. It's usually far too sweet for my liking. (Did I really just type that?!?) If any recipe can make me change my mind, it's this one.
I found this recipe while flipping through Christmas With Southern Living 2005. I have no idea how I skipped over it back then. Having made and tasted this cake, I am so sad for my past self that it took me four years to get around to making it.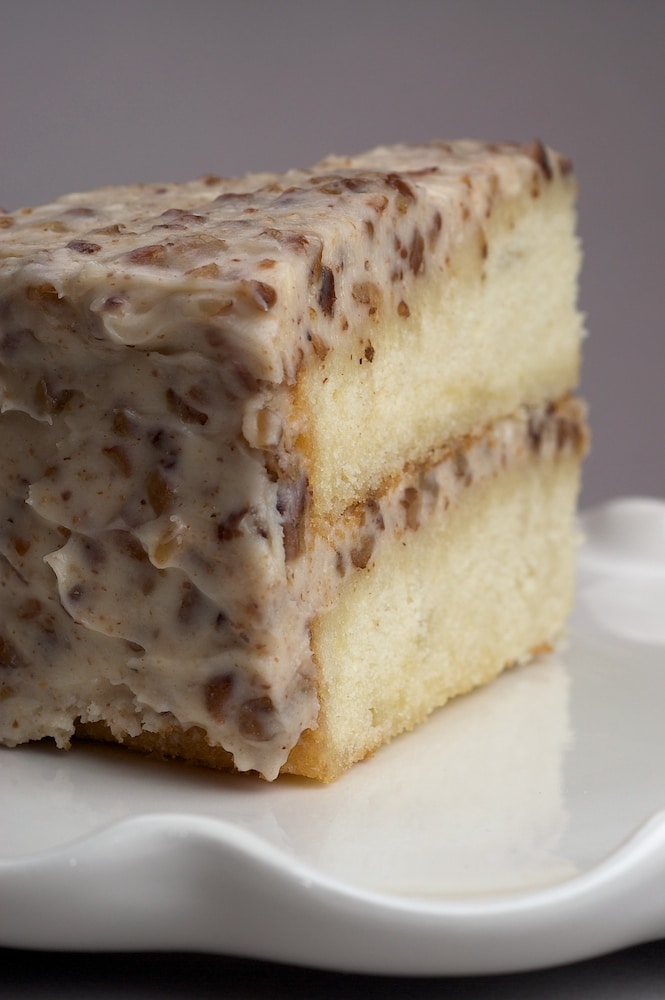 You can tell by the photos that this three-layer cake looks suspiciously like a two-layer cake. Honestly, that's what happens when one layer doesn't quite turn out the way you want. That turned out to be a good thing. Quinn, the official froster of the BoB kitchen, thinks that making the frosting cover an extra layer would have been a challenge.
I must say that this cake is fabulous. It is definitely near the top of my list of favorite cakes. The white chocolate is not overpowering. The cake is just right. And that frosting! I could be happy with a shot of that for dessert any time.
This cake is just as delicious as it is beautiful. It's a great dessert for a special occasion or to make an everyday occasion special.
Visit the Recipe Index for more cake recipes.
Butter Pecan Cake
Yield: 12 to 14 servings
Prep Time:30 minutes
Cook Time:32 minutes
Plenty of nuts and white chocolate make this Butter Pecan Cake a delicious, irresistible dessert.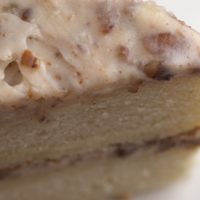 Ingredients:
For the frosting:
2 tablespoons unsalted butter
1 & 1/4 cups coarsely chopped pecans
11 ounces cream cheese, softened
1/2 cup unsalted butter, softened
16 ounces confectioners' sugar
2 teaspoons vanilla extract
For the cake:
6 ounces white chocolate, chopped
1/2 cup boiling water
1 cup unsalted butter, softened
1 & 1/2 cups granulated sugar
4 large eggs, separated
1 teaspoon vanilla extract
1 cup buttermilk
1 teaspoon baking soda
3 cups sifted cake flour
toasted pecan halves for garnishing, if desired
Directions:
To make the frosting:
Melt 2 tablespoons butter in a large skillet. Add the pecans and cook over medium heat, stirring occasionally, until toasted – about 10 minutes. Remove from heat and cool completely.
Using an electric mixer on medium speed, beat the cream cheese and 1/2 cup butter until creamy. Gradually add the sugar. Beat until light and fluffy. Stir in the buttered pecans and vanilla. Cover and chill at least 1 hour.
To make the cake:
Place the white chocolate in a bowl and pour boiling water over it, stirring until smooth. Set aside to cool.
Preheat oven to 350°F. Grease three 9-inch round cake pans and line with wax paper. Grease and flour the wax paper.
Using an electric mixer on medium speed, beat the butter until creamy. Gradually add the sugar, beating well. Add the egg yolks, one at a time, beating after each addition. Stir in the melted white chocolate and vanilla.
Combine the buttermilk and baking soda. Add the flour to the butter mixture, alternating with the buttermilk mixture. Begin and end with the flour. Mix at low speed after each addition until blended.
Beat the egg whites to stiff peaks. Gently fold into batter. Pour the batter evenly into the prepared pans.
Bake for 20-22 minutes, or until a toothpick inserted in the center of cake comes out clean. Cool in the pans for 10 minutes. Then, remove from pans to wire racks to cool completely.
Spread the frosting between layers and on the top and sides of cake. Garnish, if desired. Store in refrigerator.
Notes:
This is indeed a 3-layer cake, despite the fact that I only used 2 layers. That just made for a higher frosting to cake ratio!
This post contains affiliate links.