Butter Pecan Cake features beautiful, delicious cake layers made with white chocolate. And it's all topped with an incredible frosting filled with buttery pecans!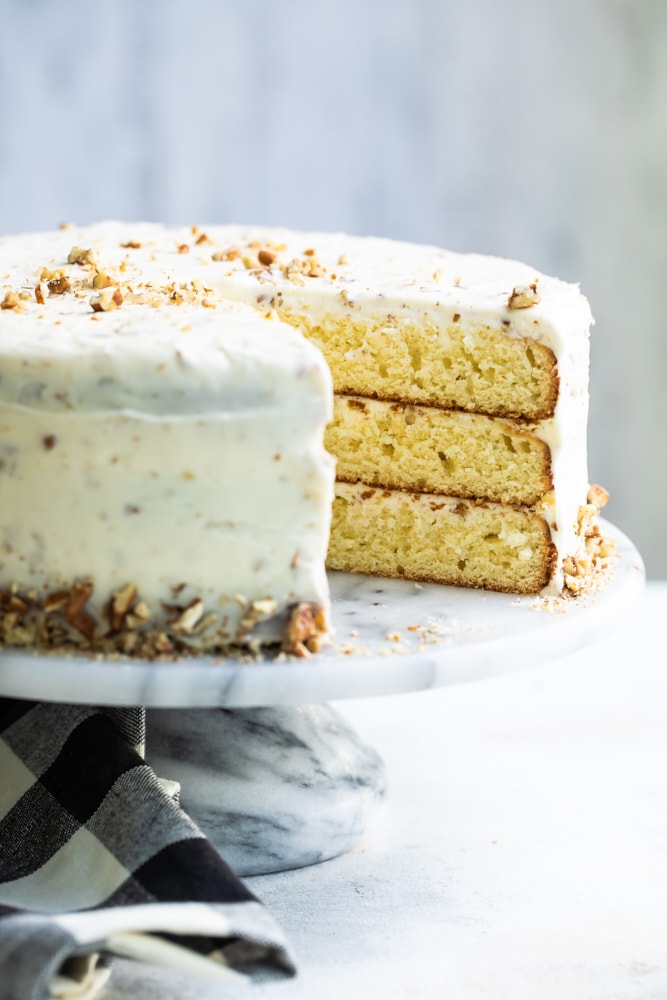 Butter Pecan Cake
I have a serious weakness for butter pecan. I am not likely to pass up anything labeled butter pecan – ice cream, cookies, and maybe especially this Butter Pecan Cake.
Not only does this cake celebrate all things butter pecan, but there's also some white chocolate here, too. Mixed into the cake batter is a good dose of melted white chocolate. I'll readily admit that white chocolate isn't my favorite flavor, but it works SO well here with the other flavors.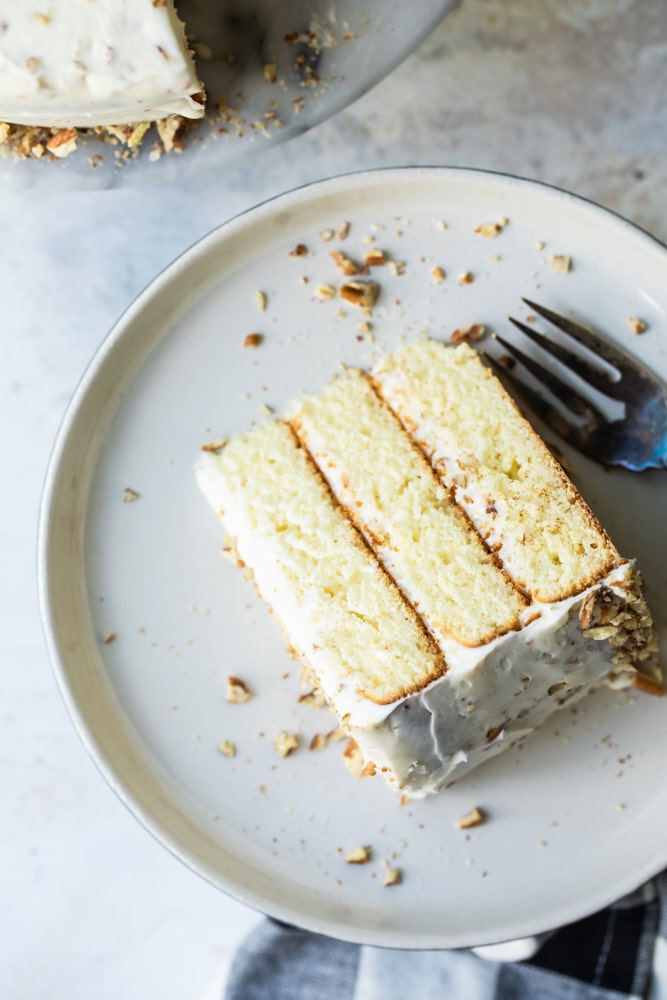 I don't find the white chocolate flavor to be overpowering. Rather, it serves to complement the other flavors in this fantastic cake. Be sure to choose a good quality white chocolate for the best results.
The cake itself has such a nice texture. It's fluffy and moist, yet still sturdy enough to stand up to layering and frosting. Cake flour really makes a difference here, as does the extra step to whip the egg whites.
Tips for Success
Use light-colored, non-reflective, metal pans. Dark pans tend to over-bake the edges and potentially lead to under-baked centers. Glass pans conduct heat differently than metal pans, so I generally don't recommend using them for most baking recipes.
Sift the confectioners' sugar for a smooth frosting. While it's not absolutely necessary, you'll have a much smoother and prettier frosting if you take the time to sift the sugar.
Use a good quality white chocolate. Choose one that tastes good out of hand and that melts well. Be sure that you're using white chocolate. Cocoa butter should be the primary ingredient. Be cautious of products labeled "white baking chips" or something similar. If the label doesn't call it white chocolate, it's not white chocolate, and it will affect the flavor and texture of the cake.
Don't use self-rising cake flour. There are many brands of cake flour that are self-rising, meaning that they contain leavening agents. If you use that, then you're adding extra leavening to the cake, which can cause it to be tough or dry. If you're not sure if your cake flour has these added ingredients, just check the ingredients on the package.
Measure accurately. Use a scale if at all possible, especially for the flour. Otherwise, spoon and sweep! (Read more here: How to Measure Flour.)
Don't over-mix the batter. Too much mixing means a tough texture. Be especially cautious to mix only as much as needed when adding the egg whites.
Make more frosting if you like. This amount of frosting won't be overly thick between the layers and on the outside of the cake. I tend to prefer a moderate amount of frosting on cakes, but I know we all have different tastes. Take a look at these photos to see if it looks like enough for you. Simply scale the recipe if you think you'd like more frosting.
Keep the cake refrigerated. It should keep for at least a few days tightly covered in the refrigerator. Bring to room temperature for serving.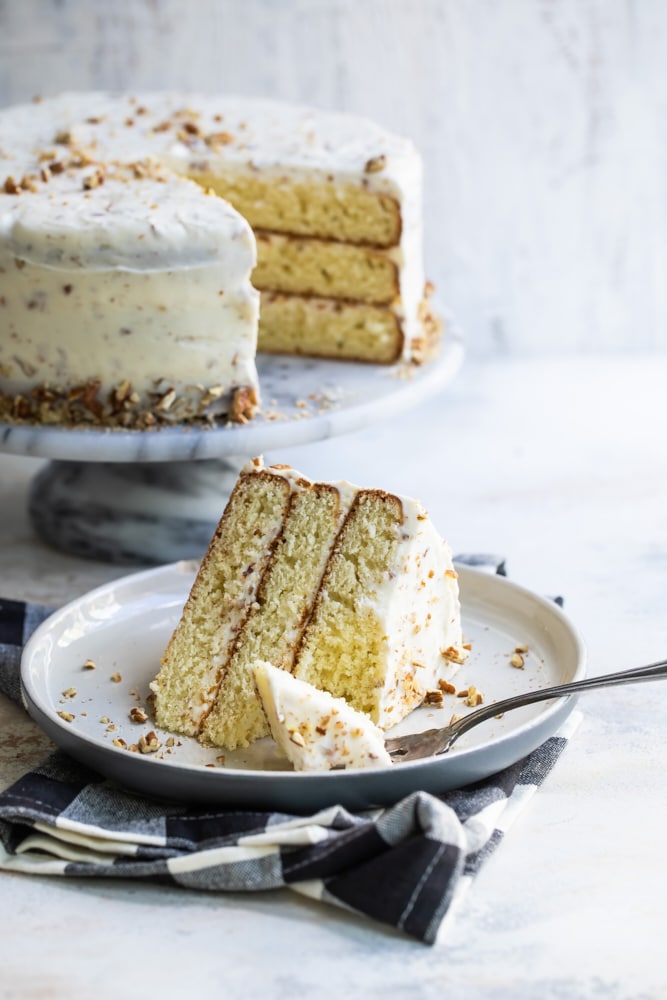 The first time I made this cake, I proclaimed it to be one of my all-time favorite cakes. And it has certainly lived up to that distinction. The flavor, the texture, the frosting… It really is pretty darn fabulous!
And this lovely Butter Pecan Cake is just as delicious as it is beautiful. It's a wonderful dessert for a special occasion or to make an everyday occasion special!
Visit the Recipe Index for more cake recipes.
More Butter Pecan Desserts