Butter Pecan Oatmeal Cookies add sweet, toasted, buttery pecans to a hearty oatmeal cookie for a wonderfully chewy, nutty cookie.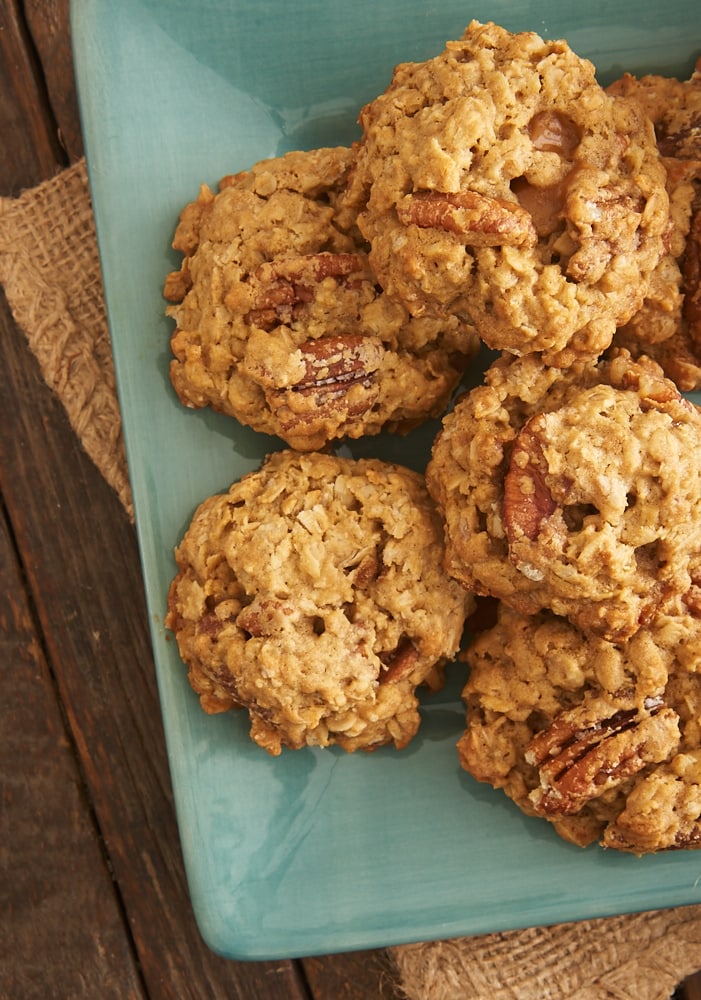 I'm not a fan of fussy recipes. You know, the ones that have a few steps in the directions that just seem unnecessary. But sometimes there's that one extra step in a recipe that takes it from pretty good to pretty amazing.
That's the situation with these cookies. Sure, you could just add some pecans to the dough. But taking a few minutes to toast those pecans in a little butter and sugar makes them so much better that it's worth that bit of extra effort. Not only do you get a great toasted flavor, but you also get a little extra bite of sweetness and butteriness.

I should also probably mention that these buttery, sweet pecans are also quite good all on their own. You might want to take that into consideration and just make extra for snacking. I must confess that not quite all of the ones I made for this batch made it into the cookies.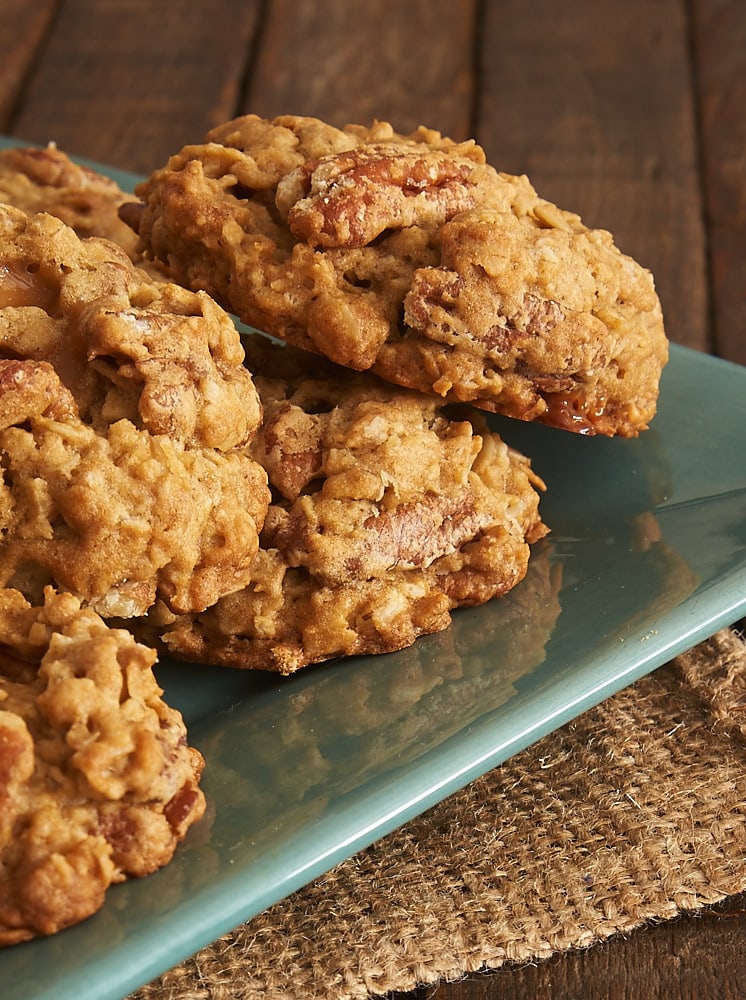 With those sweet, toasty pecans and lots of brown sugar in these cookies, the addition of a little bit of caramel to the batter enhances the flavor and adds chewy bites throughout the cookies. Store-bought soft caramels cut into small pieces are such a simple way to infuse a little extra caramel flavor into these delicious cookies.
I use a 3-tablespoon scoop for forming the cookies. I like the uniformity of cookie size and shape for even baking. Whether you use a scoop or not, those big pecans in the dough can make forming the scoops a little tougher. Just make sure the scooped dough is not too loosely formed, and they'll turn out just fine.
I bake a lot of cookies. But I must say these Butter Pecan Oatmeal Cookies are now one of my favorites. I just love their big flavor! These are some serious cookies, my friends. They're the perfect blend of chewy, nutty, and sweet in a big, bakery-sized cookie.
Find more cookie recipes in the Recipe Index.
More Oatmeal Cookie Recipes
Bake or Break is a participant in the Amazon Services LLC Associates Program, an affiliate advertising program designed to provide a means for us to earn fees by linking to Amazon.com and affiliated sites.