This moist Blueberry Banana Bread is studded with juicy, fresh berries for a summery spin on the classic quick bread recipe. Homemade banana bread is perfect for breakfast, a snack, or even a healthy dessert.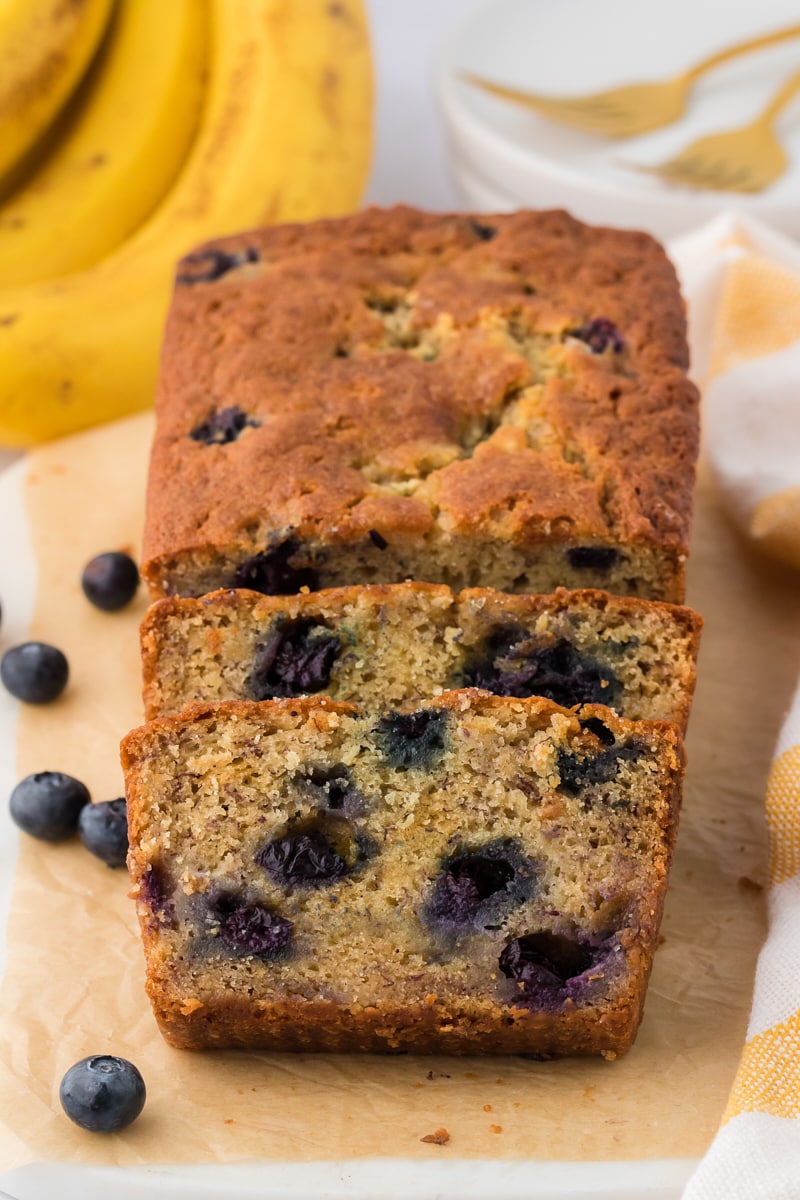 Easy Blueberry Banana Bread Recipe
Finding new ways to use blueberries is the best thing about blueberry season. Some years it's a blueberry cream cheese tart, others it's a batch of blueberry pie bars, but if you're looking for a simple blueberry recipe, it doesn't get much better than this Blueberry Banana Bread.
I have a longstanding love of banana bread, which is good because I make it relatively often. (We have a tendency to buy bananas and not eat them. Anyone else do that?) While many banana bread recipes taste like a variation of the standard, adding blueberries to this bread makes it taste entirely different.
The blueberries bring a bright flavor to the table, and they also make the bread incredibly moist. Neither the banana nor the blueberries dominate here; instead, they're perfectly balanced. I also add a bit of sour cream to create a tender crumb and lend a little tartness to bring the whole thing together.
Leave your mixer in the cabinet for this recipe—you can easily mix this bread without it. And, if you prefer, you can make 12 standard-sized muffins instead of a loaf.
(And, if you're looking for another way to use up those blueberries, try this easy blueberry bread recipe!)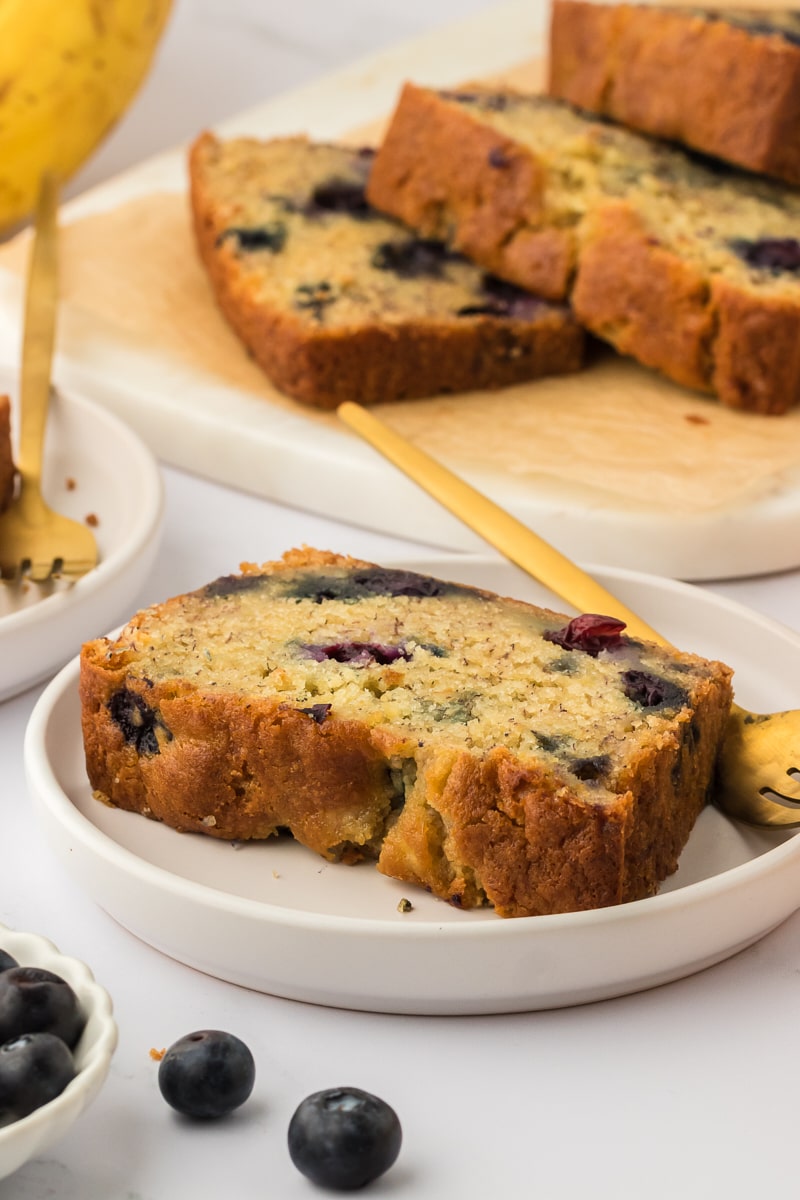 Why You'll Love This Blueberry Banana Bread
Banana bread made with fresh blueberries is truly a delight! Here's why I think you'll love it as much as I do:
Perfectly moist. This banana bread comes out super soft and tender every time you make it due to the sour cream, the bananas, and more.
Super sweet. Two kinds of sugar, fresh blueberries, and vanilla extract combine to make the sweetest loaf of banana bread!
Great for all times of the day. Blueberry banana bread can be eaten for breakfast first thing in the morning, as a midday snack, or as a lighter dessert – it's up to you!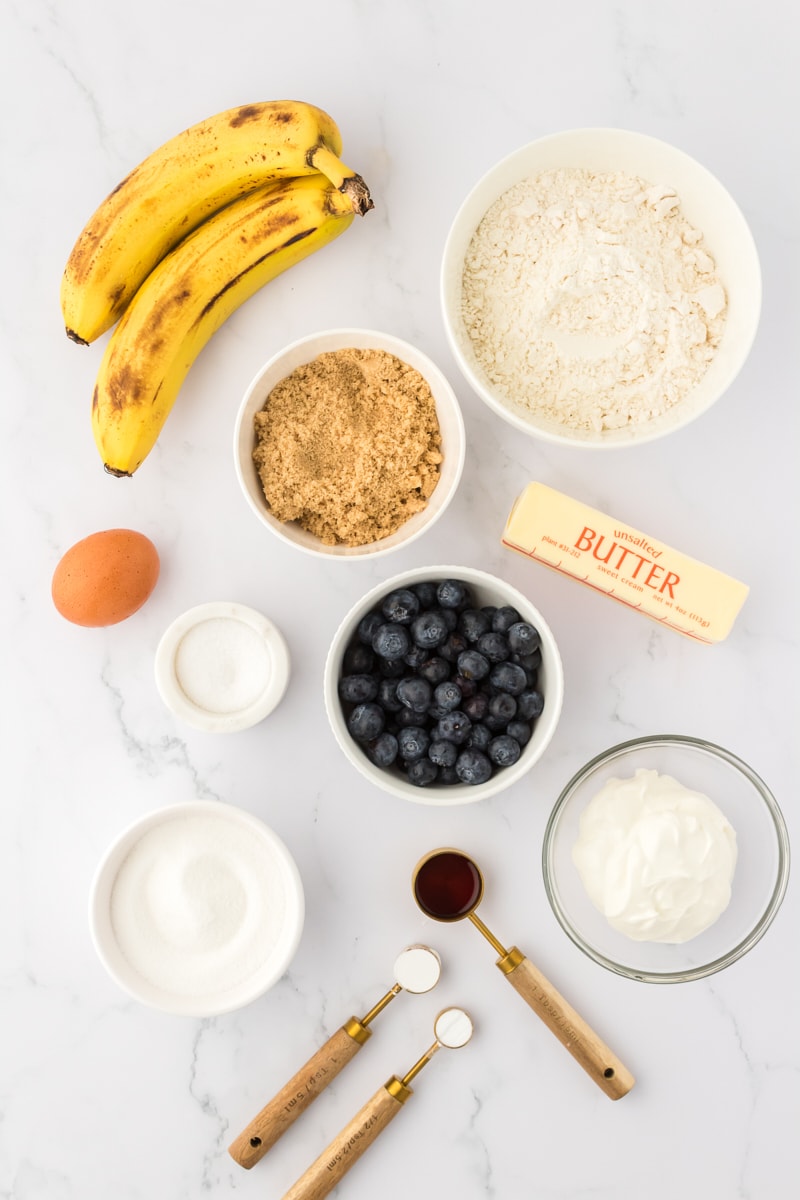 What You'll Need
Scroll down to the recipe card below this post for ingredient quantities and full instructions.
All-purpose flour – These tips on how to measure flour are definitely worth a quick read-through!
Baking powder & baking soda – To give your banana bread a little lift.
Salt – To enhance and balance out the sweetness.
Unsalted butter – Check out this post on unsalted or salted butter: which is better for baking? for more info.
Sugar – Use both granulated sugar and light brown sugar. Dark brown sugar is a little too assertive for this recipe, so stick with light brown.
Egg – Let this come to room temperature.
Vanilla extract – Pure vanilla extract is the way to go.
Overripe bananas – The darker the bananas, the better. Not only are they sweeter, but they'll also add more banana flavor to the recipe.
Sour cream – You can swap this with Greek yogurt if you prefer.
Blueberries – If blueberries aren't in season, you can use frozen instead of fresh. Learn more about using frozen fruit in baking.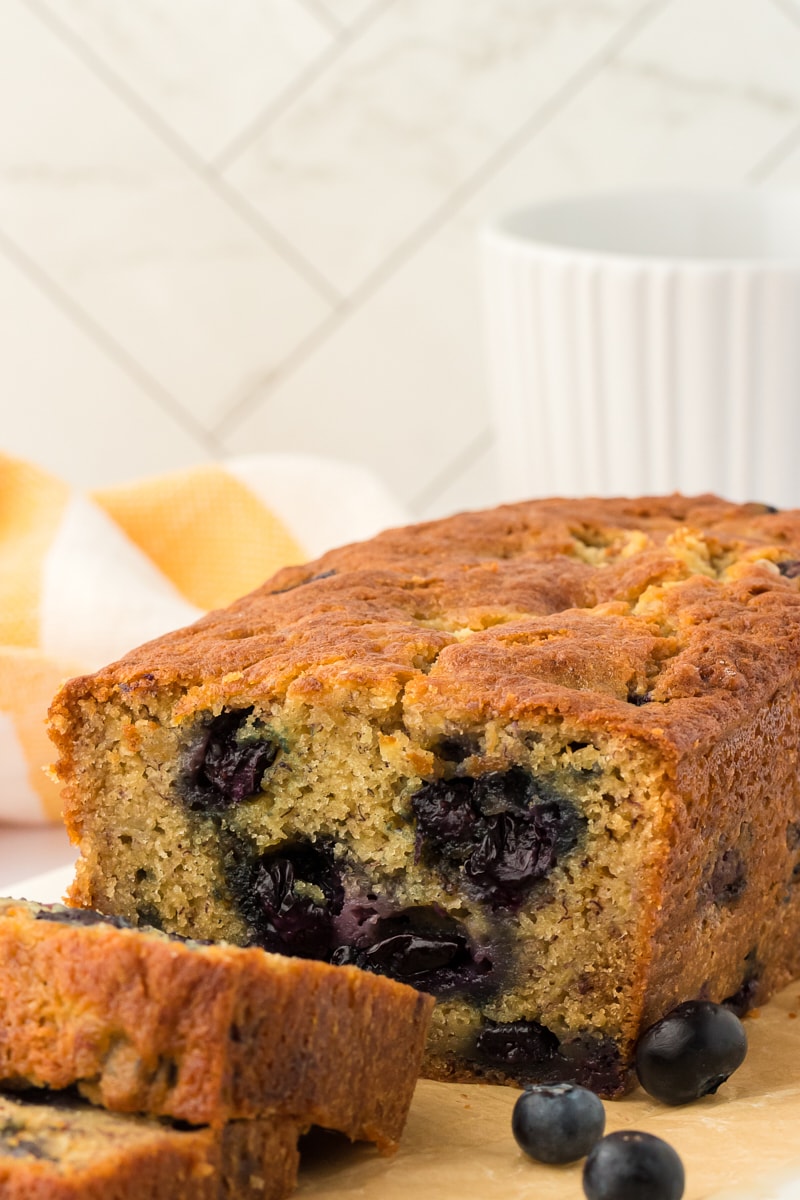 How to Make Blueberry Banana Bread
Like most quick breads, this blueberry banana bread is, well, quick! Mixing the batter takes mere minutes.
Prepare. Preheat your oven to 350°F. Grease and flour a standard 9"x 5" loaf pan, tapping out the excess flour.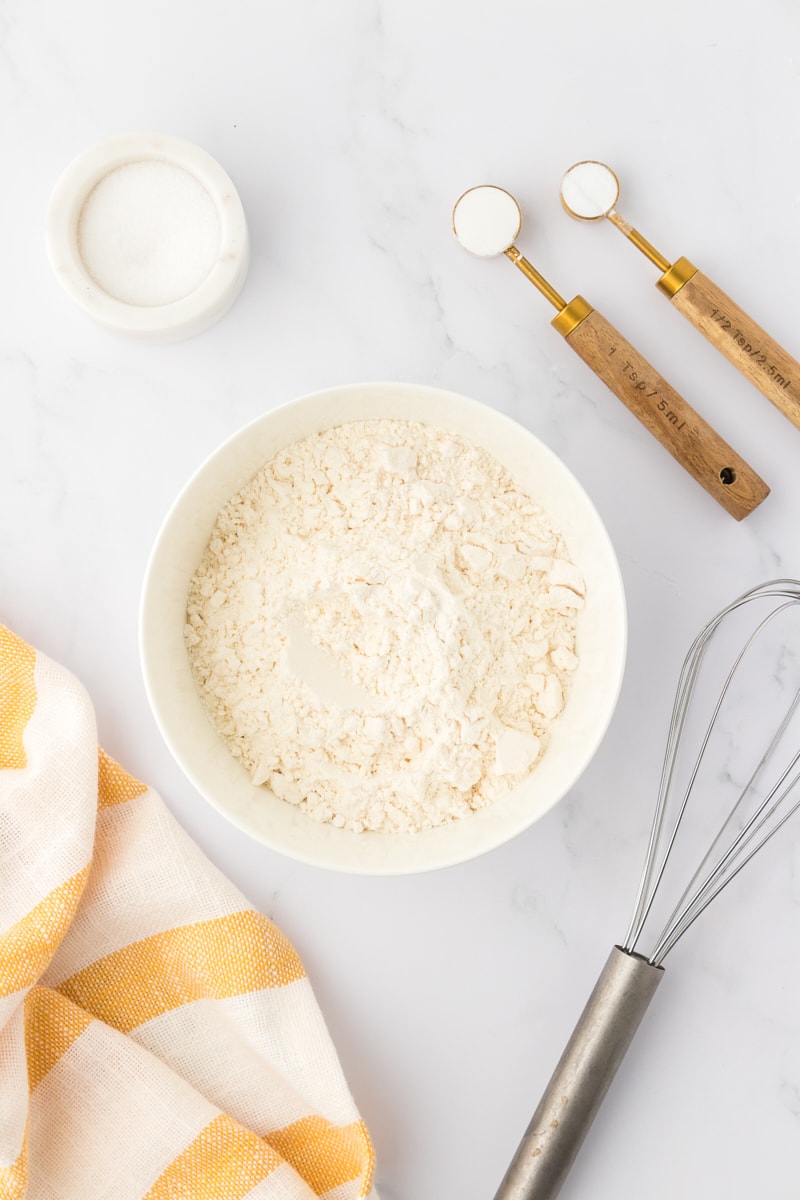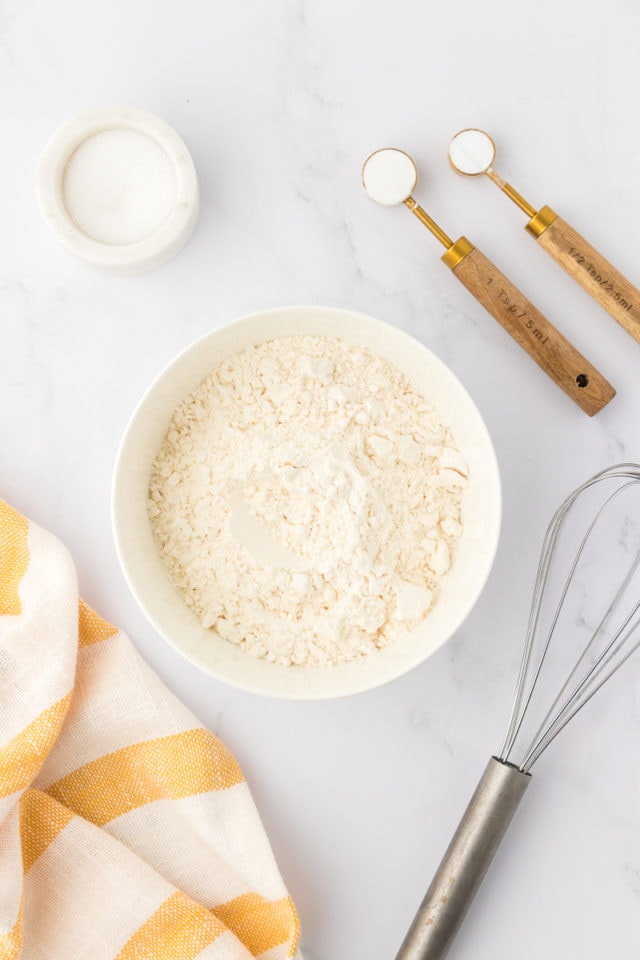 Mix the dry ingredients. Whisk together the flour, baking powder, baking soda, and salt in a mixing bowl.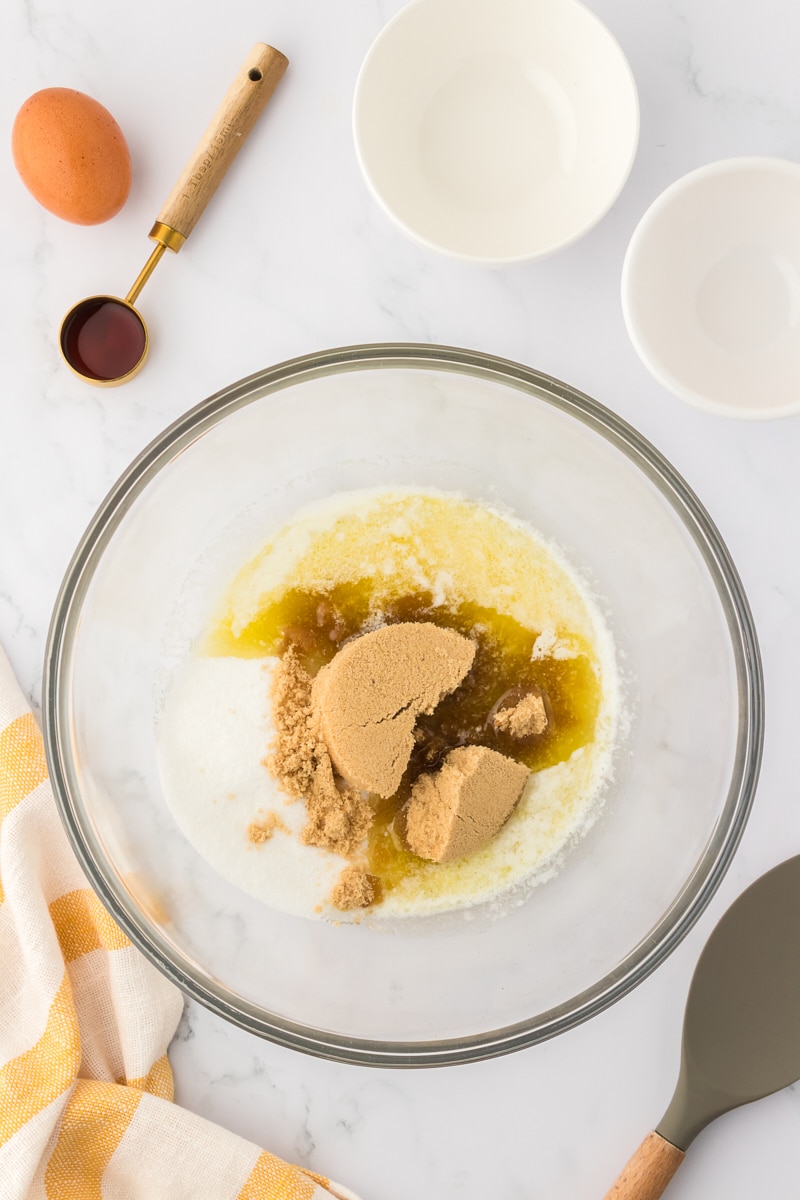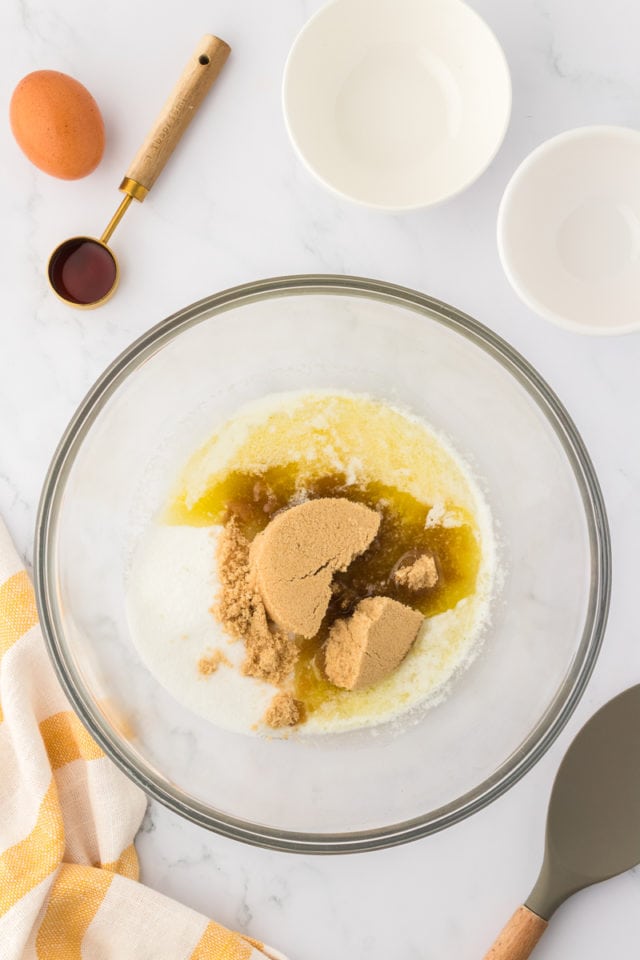 Mix the wet ingredients. Combine the melted butter, sugar, and brown sugar in another large bowl. Whisk in the egg and vanilla, then stir in the mashed bananas and sour cream.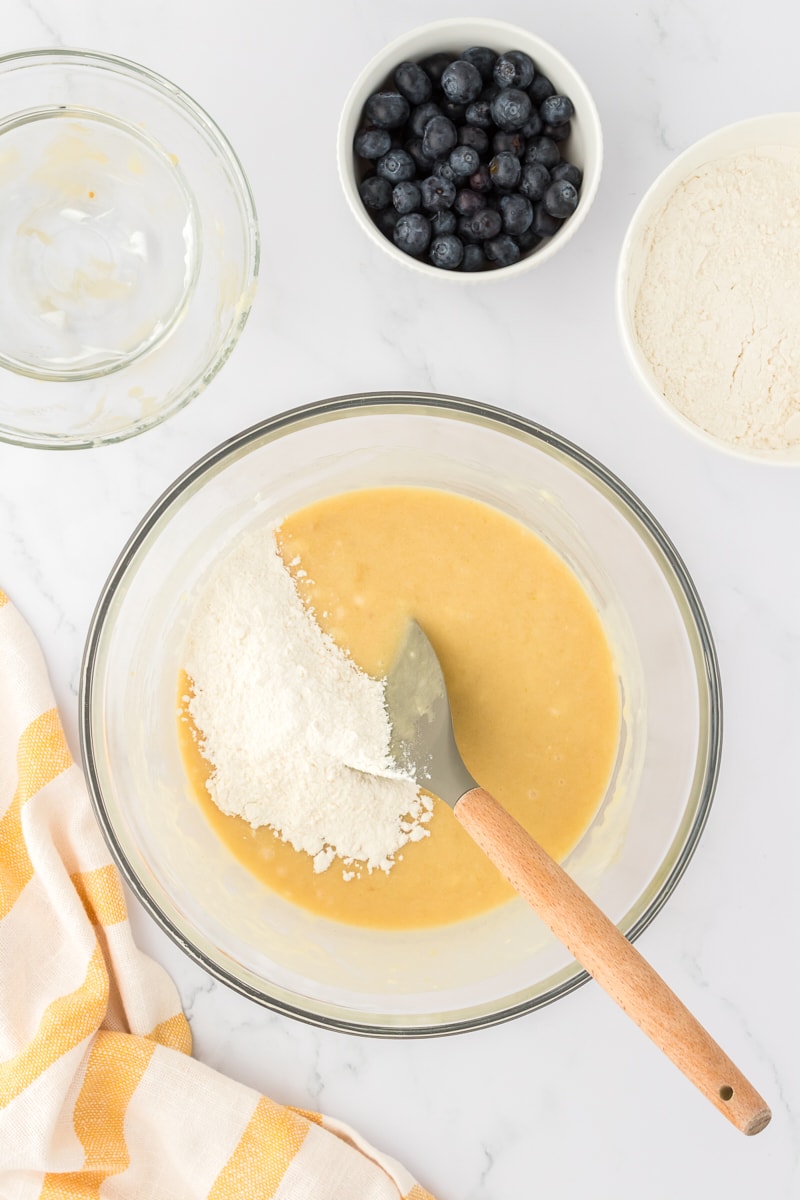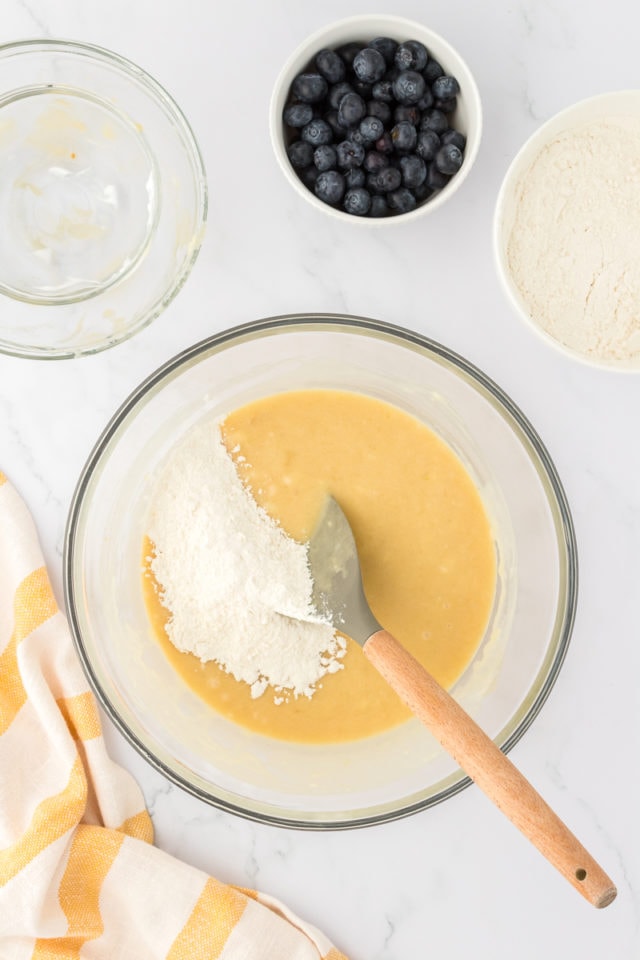 Combine the wet and dry ingredients. Add the dry ingredients to the wet ingredients in 3 or 4 portions, mixing just until combined. Fold in the blueberries.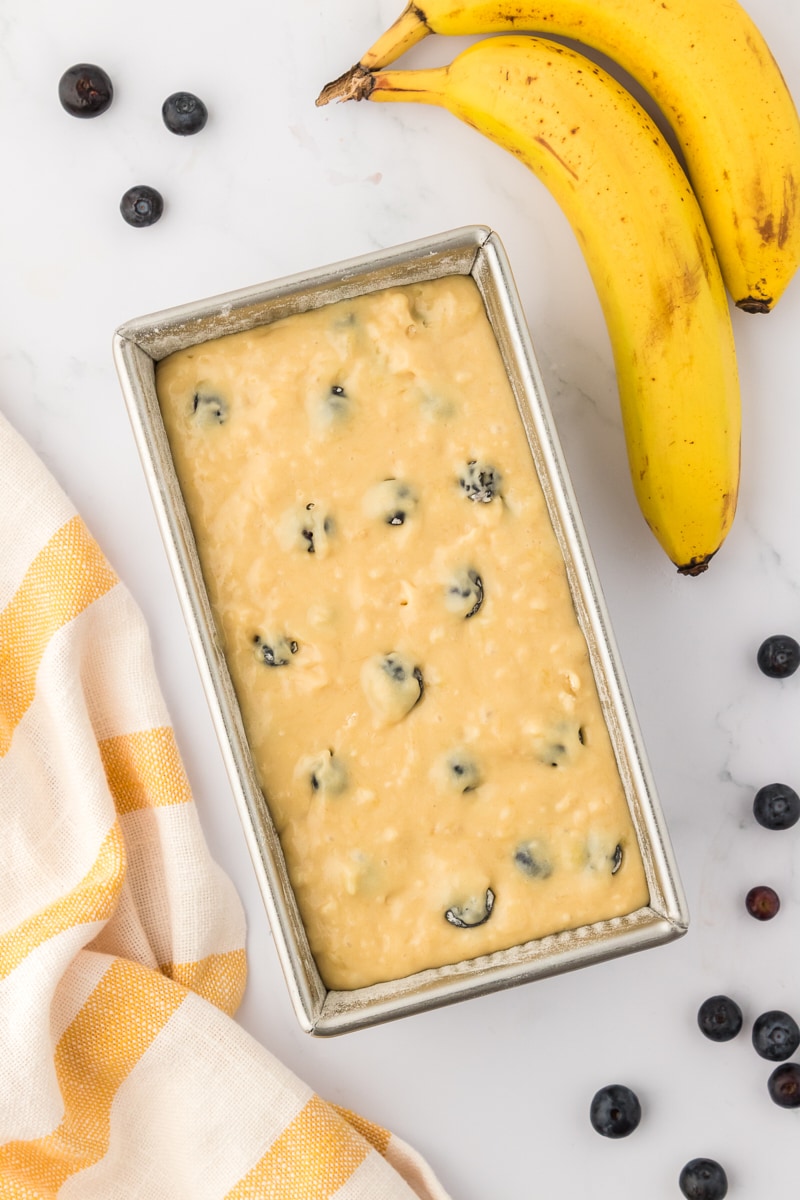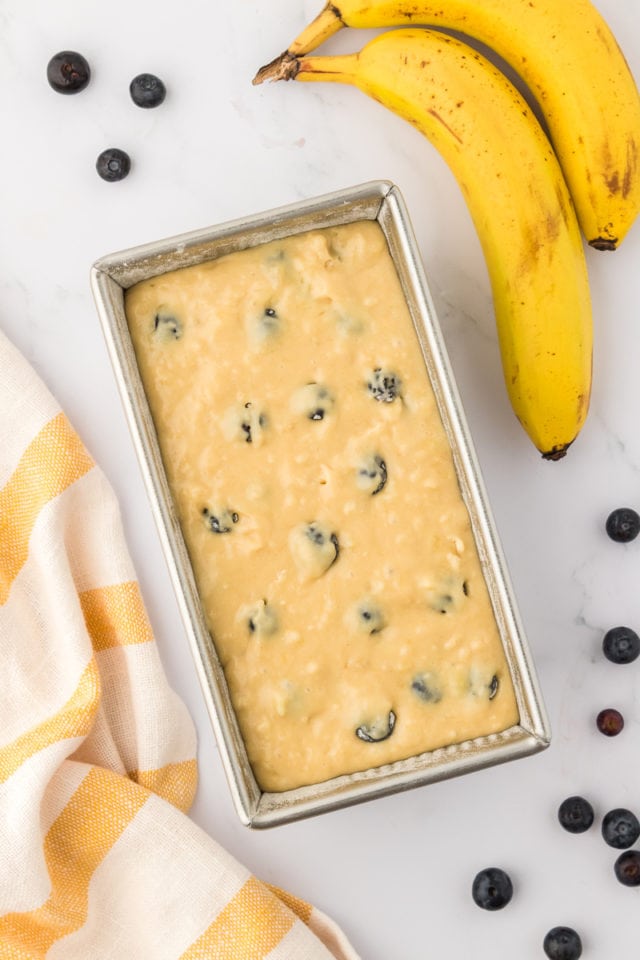 Bake the bread. Pour the batter into the prepared loaf pan and bake for 40-45 minutes, or until a toothpick inserted into the center comes out clean.
Let the bread cool. Let the bread cool in the pan for 10 minutes, then run a knife along the edges and turn the loaf out onto a wire rack to finish cooling. (Learn more: why every baker needs wire cooling racks.)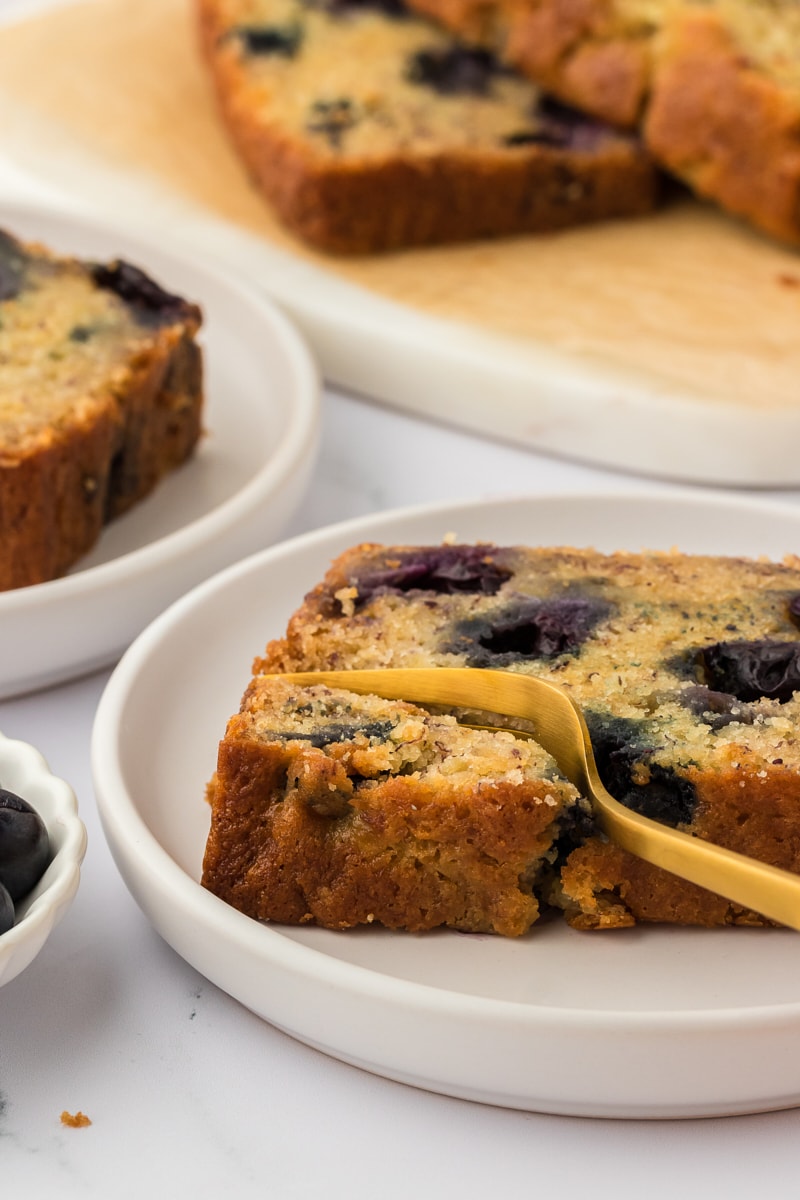 Tips for Success
Here are some hints and tips to help you make perfect blueberry banana bread:
Mash the bananas well. A few lumps are okay, but you want them to be fairly liquid-y when you mix them into the batter.
Measure accurately. If you aren't using a scale to measure by weight, lightly spoon the flour into the measuring cup, then sweep off any excess with a butter knife.
Don't over-mix the batter. If you do, you'll end up with a dense, tough loaf of banana bread.
Let the bread cool before you slice it. If it is too warm, the loaf might fall apart when you try to cut it.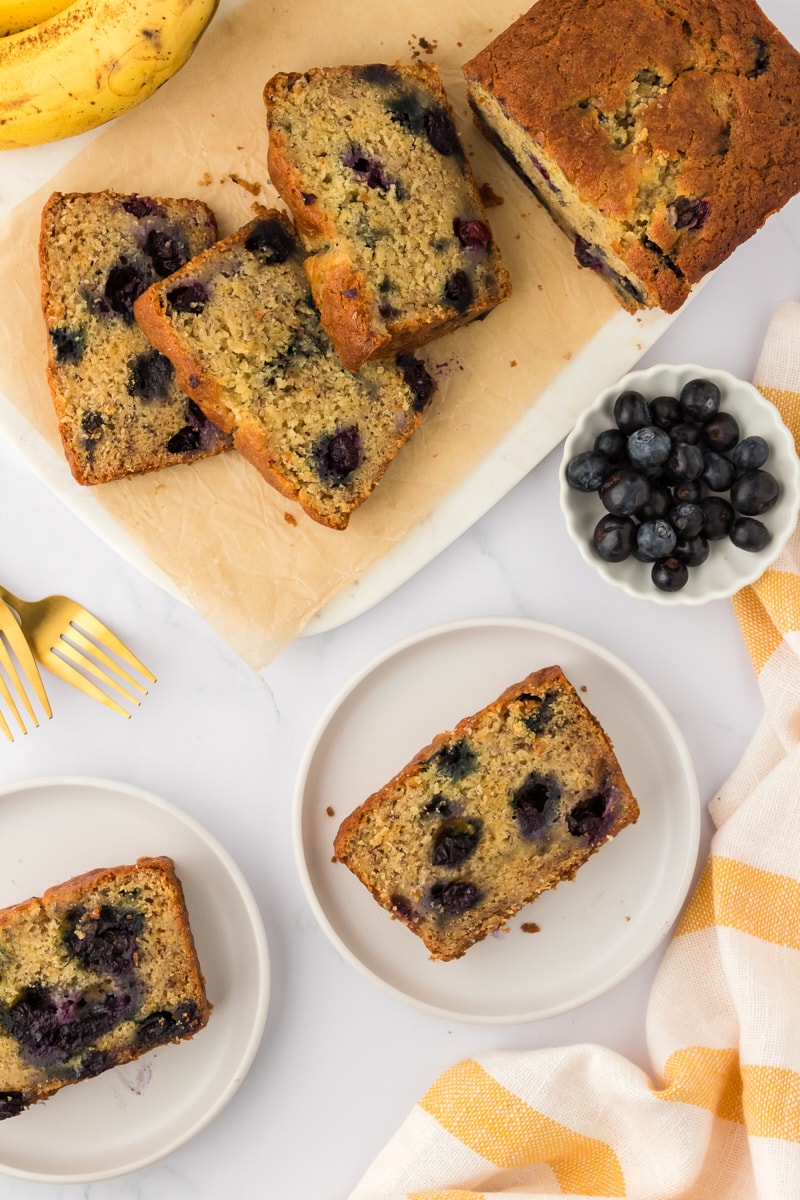 Serving Suggestions
This blueberry banana bread is delicious as-is, but here are a few ideas for switching things up: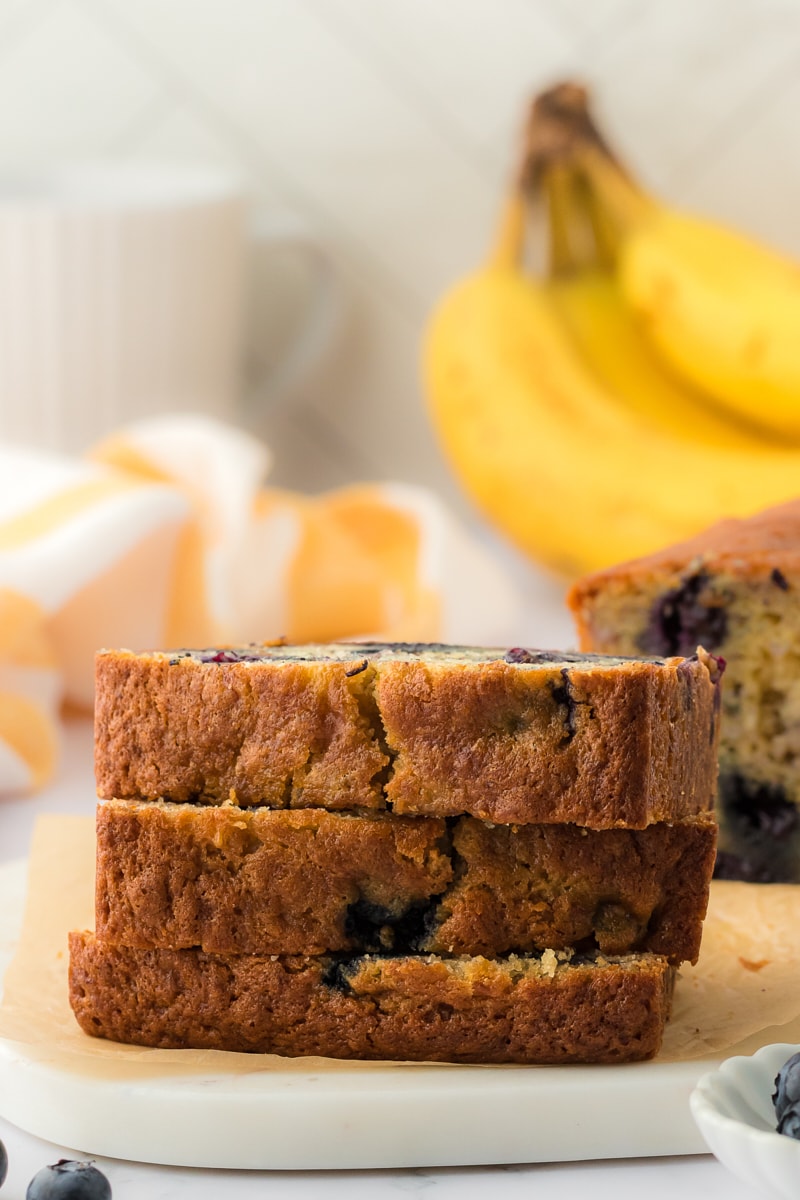 How to Store
Wrap the banana bread tightly in plastic wrap and store it at room temperature for 3-4 days. I don't like to store it in the fridge because it tends to dry out.
Can I Freeze Blueberry Banana Bread?
You can freeze blueberry banana bread for up to 3 months. Wrap it tightly in plastic wrap—you can freeze an entire loaf or individual slices. Let the bread thaw at room temperature before serving.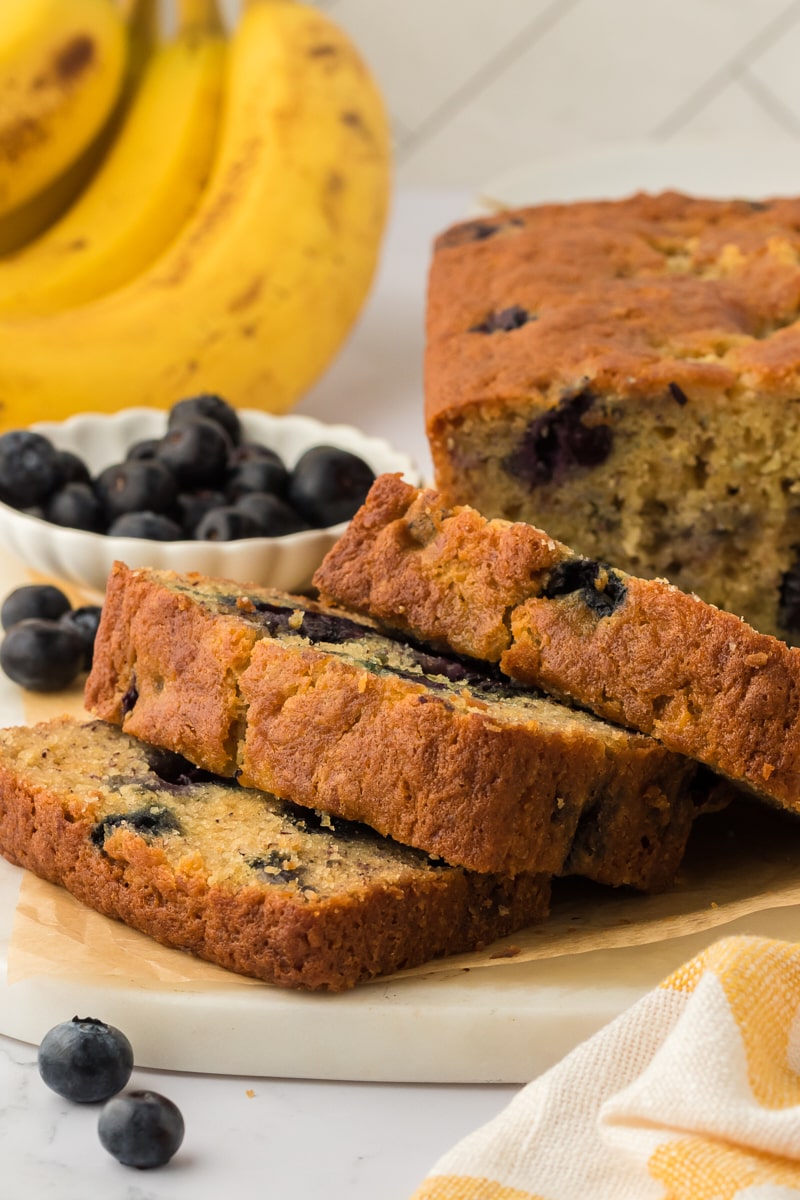 More Blueberry Recipes
These blueberry desserts and sweet treats are easy to make, and perfect for using up fresh fruit!