February 5, 2013
Chocolate Pound Cake with Vanilla Bean Glaze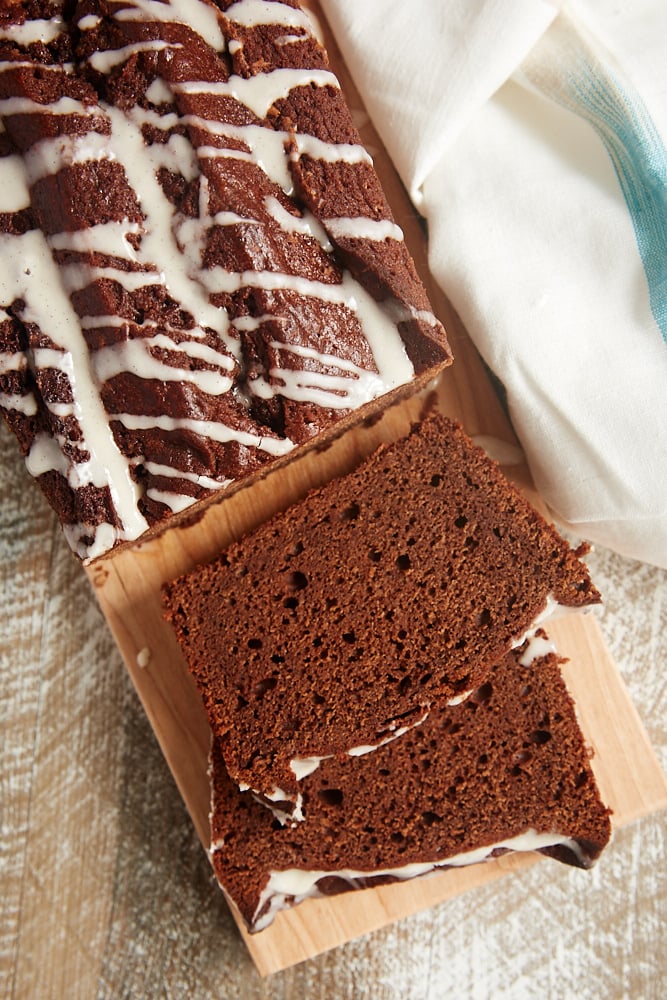 This Chocolate Pound Cake is a must-bake for chocolate fans! Enjoy it just as it is or top it off with a simple vanilla glaze.
As much as I adore chocolate, I'm not always the biggest fan of standard chocolate cake fare. I usually find either the flavor or the texture lacking in some way. But, this rich and dense Chocolate Pound Cake with Vanilla Bean Glaze is one of my favorites.
It gets its rich chocolate flavor from a big helping of cocoa powder. As I tend to do, I will now mount my Good Ingredients Soapbox. You definitely want to use the very best cocoa powder you can find for this chocolate pound cake recipe. I have a few favorites, like Scharffen Berger and Valhrona. I've been using those and a couple of others for years and have always been pleased with them. There are many other great brands out there, so just find the kind you like best.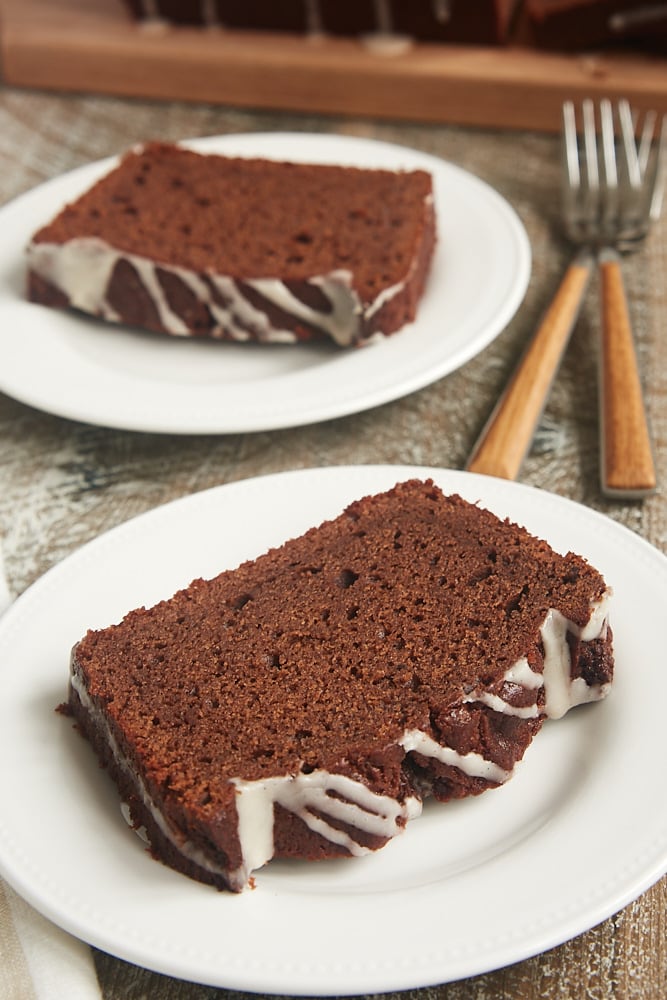 Now, back to the cake. It's absolutely delicious all on its own, but it also benefits from a little something extra in the form of a simple vanilla bean glaze. It adds a little sweetness to complement all the richness of the cake.
The glaze features another of my favorite ingredients, Vanilla Bean Paste. You'll get a bit bolder vanilla flavor from paste versus extract. Plus, it has all those lovely vanilla bean specks! All that being said, you can certainly use vanilla extract if that's what you have on hand.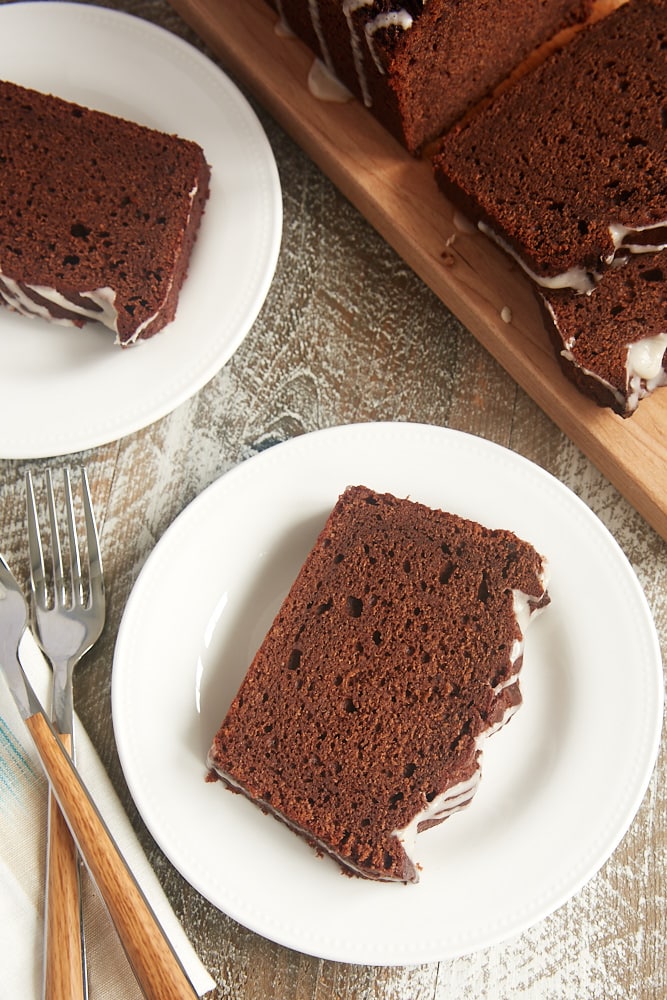 I prefer to use a small amount of the vanilla glaze just drizzled on top of the cake. If you'd like more than what you see in my photos, feel free to scale the glaze recipe to suit your tastes. I also find that a thicker glaze works better with this cake, so add the milk to the sugar slowly so you get just the right consistency.
This chocolate sour cream pound cake is just the thing for a simple dessert or to wrap up for a homemade gift. Or just grab a slice to go with your cup of coffee or tea. I think you'll love its flavor, texture, and simplicity.
Find more cake recipes in the Recipe Index.
More Chocolate and Vanilla Desserts
We are a participant in the Amazon Services LLC Associates Program, an affiliate advertising program designed to provide a means for us to earn fees by linking to Amazon.com and affiliated sites.
Chocolate Pound Cake with Vanilla Glaze
Yield: 12-16 servings
Prep Time: 30 minutes
Cook Time: 1 hour 20 minutes
Chocolate and vanilla are a perfect pair in this Chocolate Pound Cake with Vanilla Bean Glaze.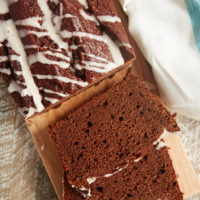 Ingredients:
For the cake:
1 & 1/2 cups all-purpose flour
1/2 cup unsweetened cocoa powder
1/2 teaspoon baking powder
1/4 teaspoon baking soda
1/2 teaspoon salt
3/4 cup unsalted butter, softened
1 cup granulated sugar
1/2 cup packed light brown sugar
3 large eggs
1 & 1/2 teaspoons vanilla extract
3/4 cup sour cream
For the glaze:
1/3 cups confectioners' sugar
2 to 4 teaspoons milk
1/4 teaspoon vanilla bean paste or vanilla extract
Directions:
To make the cake:
Preheat oven to 350°F. Generously grease a 9"x 5" loaf pan.
Whisk together the flour, cocoa powder, baking powder, baking soda, and salt. Set aside.
Using an electric mixer on medium speed, beat the butter, sugar, and brown sugar until light and fluffy. Add the eggs, one at a time, mixing well after each addition. Mix in the vanilla.
Decrease mixer speed to low. Add the flour mixture in three portions, alternating with the sour cream. Begin and end with flour mixture.
Transfer the batter to the prepared pan. Bake for 60 to 70 minutes, or until a pick inserted into the center comes out clean.
Cool in the pan for 10 minutes. Then, remove from the pan to a wire rack to cool completely.
To make the glaze:
Whisk together the confectioners' sugar, 2 teaspoons of milk, and vanilla.
Mix until smooth. If mixture is too thick, add more milk, a small amount at a time until pourable. Drizzle the glaze over the cooled cake. Allow the glaze to set before serving.