If you're a fan of lemon desserts, you'll love this easy recipe for homemade lemon curd. It's perfect for filling cakes, cupcakes, and tart shells, or just spreading on toast. Plus, it's really easy to make – you just need a few simple ingredients!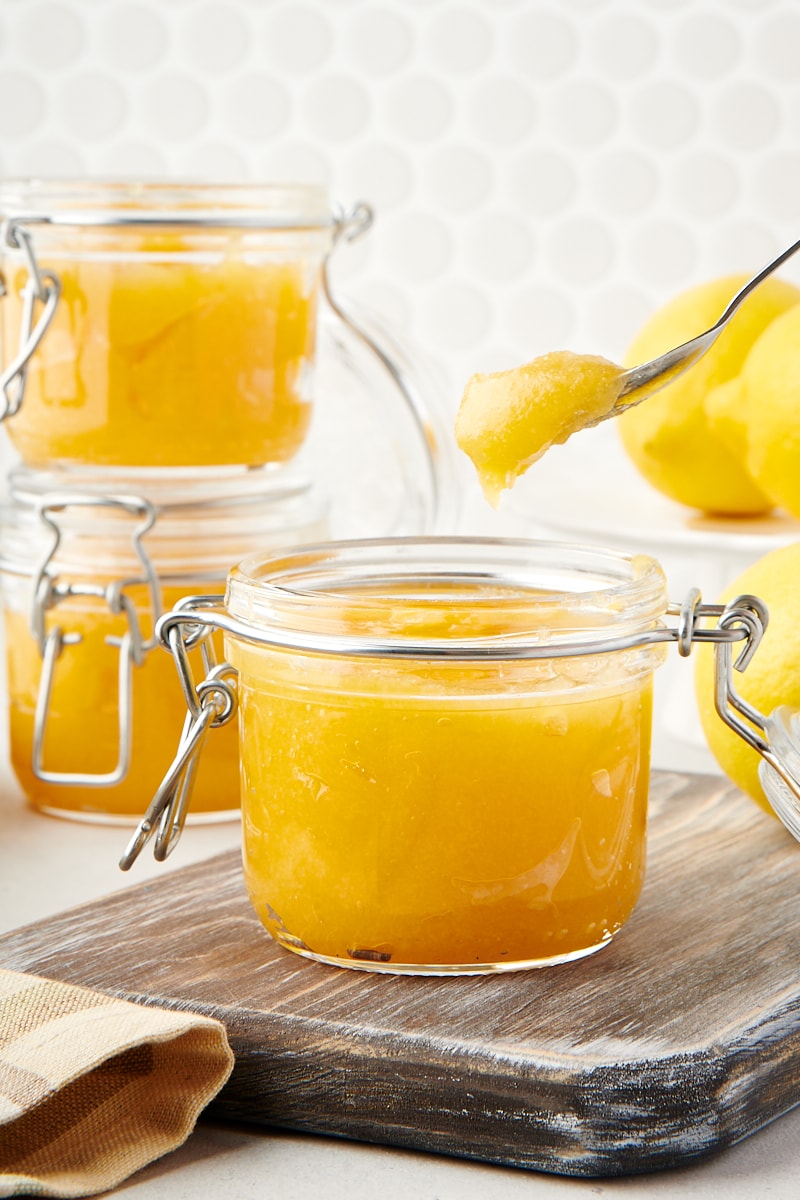 Homemade Lemon Curd
If you love all things lemon, then you're likely already familiar with lemon curd and its intense lemon flavor. But have you ever made it yourself? Let me tell you, it's so easy and so amazingly good!
While I certainly won't shun store-bought lemon curd as a shortcut ingredient, I definitely prefer this homemade version. If you've ever wanted to try making it yourself, this is a great recipe to try as it's simple and straightforward. Your lemon-loving taste buds will thank you!
What is Lemon Curd?
Lemon curd is a sweetened lemon spread or sauce that is typically made with lemon juice, butter, sugar, and eggs. Unlike other fruit spreads, it has a custard-like texture, thanks to the butter and eggs. While lemon curd can be store-bought, it is also surprisingly easy to make at home.
This particular recipe is my favorite for making lemon curd. I like that it can be made on the stovetop with a more traditional method or in the microwave for a quicker, easier take.
Uses for Lemon Curd
Lemon curd is a delicious and versatile spread that can be used in a variety of ways. A simple way to enjoy it is to spread it on toast or scones. Try it on waffles or muffins, too! It also makes a great filling for cakes, pies, and cookies. (Try Lemon Yogurt Crumb Cake, Ginger Lemon Hand Pies, or Lemon Thumbprint Cookies!) Or simply use it as a topping for ice cream or yogurt. If you're a fan of all things lemon, I'm sure you'll find all sorts of ways to put your homemade lemon curd to good use!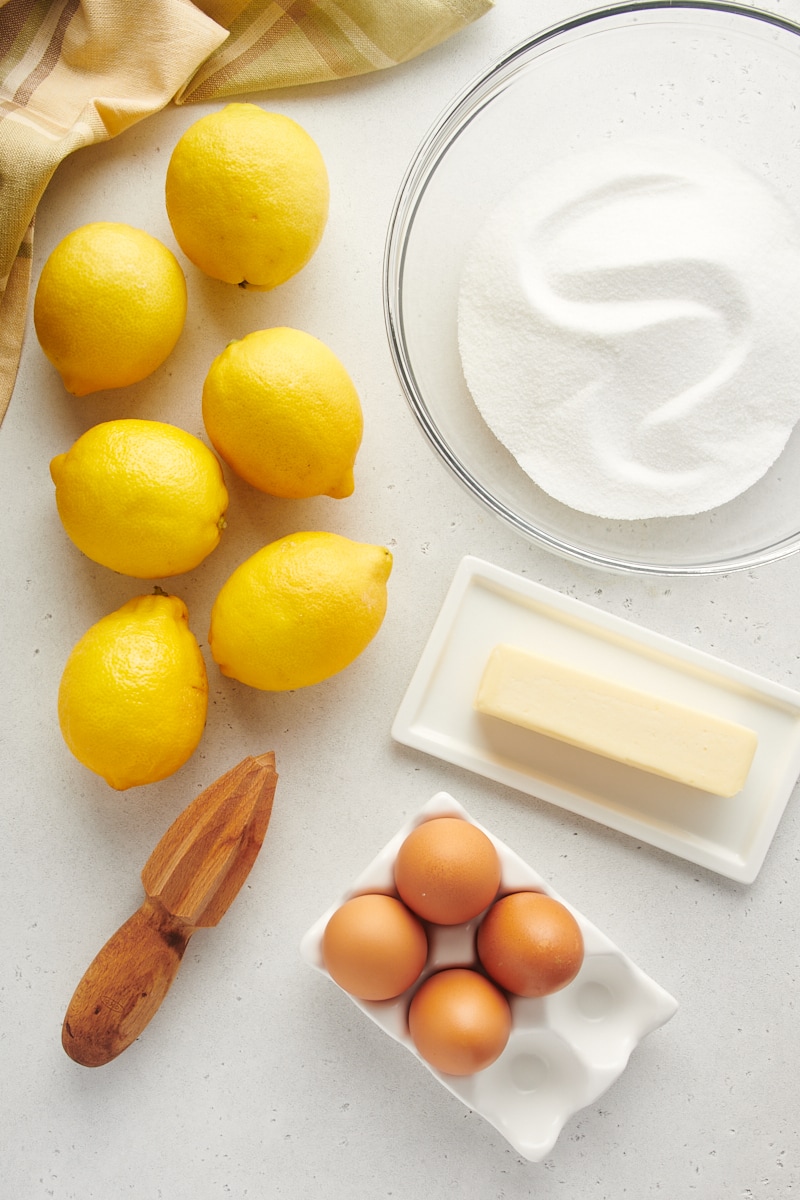 Ingredients
You only need four ingredients to make this simple lemon curd. Here are some notes about the ingredients, but be sure to see the recipe below for the specifics.
Lemons – You'll need about 6 medium lemons for this recipe. See my notes below about choosing the best lemons to make curd.
Unsalted butter – The butter adds wonderful flavor and texture to the curd, so be sure to use one of good quality.
Granulated sugar – If you want a less sweet, more lemony curd, you can dial the amount of sugar back a bit. Keep in mind that less sugar can make your curd more likely to be lumpy.
Eggs – Some recipes for lemon curd use a different ratio of egg yolks and egg whites, but we're keeping things simple with whole eggs.
What Kind of Lemons Make the Best Curd?
While any lemon can be used to make curd, there are certain varieties that are particularly well suited for this purpose. Eureka lemons are a good option, as they have a strong lemon aroma and are relatively easy to find. Lisbon lemons are also a good choice with their strong lemon aroma and flavor.
Meyer lemons also make excellent curd, although they are not widely available year-round. Their sweet and floral flavor makes for a little different lemon curd experience. These lemons are less acidic than other lemon varieties, which results in a smoother and more balanced curd.
For the best flavor, look for lemons that are fragrant and have thin skins. Another important tip is to look for unwaxed lemons as you'll be using the zest. If you're unable to find unwaxed varieties, you can try scrubbing the lemons well to try to remove as much of that wax as possible.
No matter which type of lemon you choose, you're sure to end up with a delicious and tangy curd!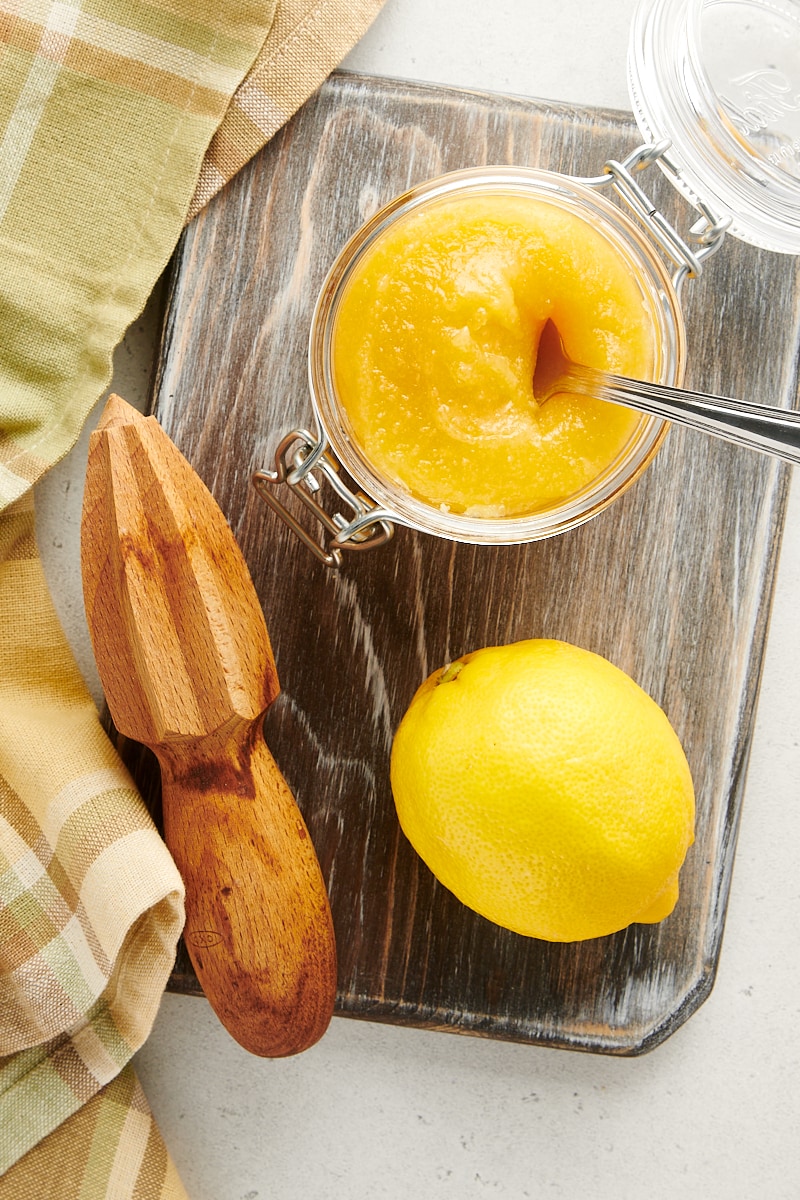 How to Make Lemon Curd
This recipe for lemon curd can be made either on the stovetop or in the microwave. Either way, the mixing portion is the same, so just choose whichever method you prefer.
Zest and juice the lemons. You'll need a total of 2 tablespoons of zest and 1 cup of juice. Learn more: How to Zest and Juice Lemons
Begin mixing. With an electric mixer on medium speed, beat the butter and sugar until the mixture is fluffy and lightened in color. Add the eggs one at a time, mixing well after adding each one.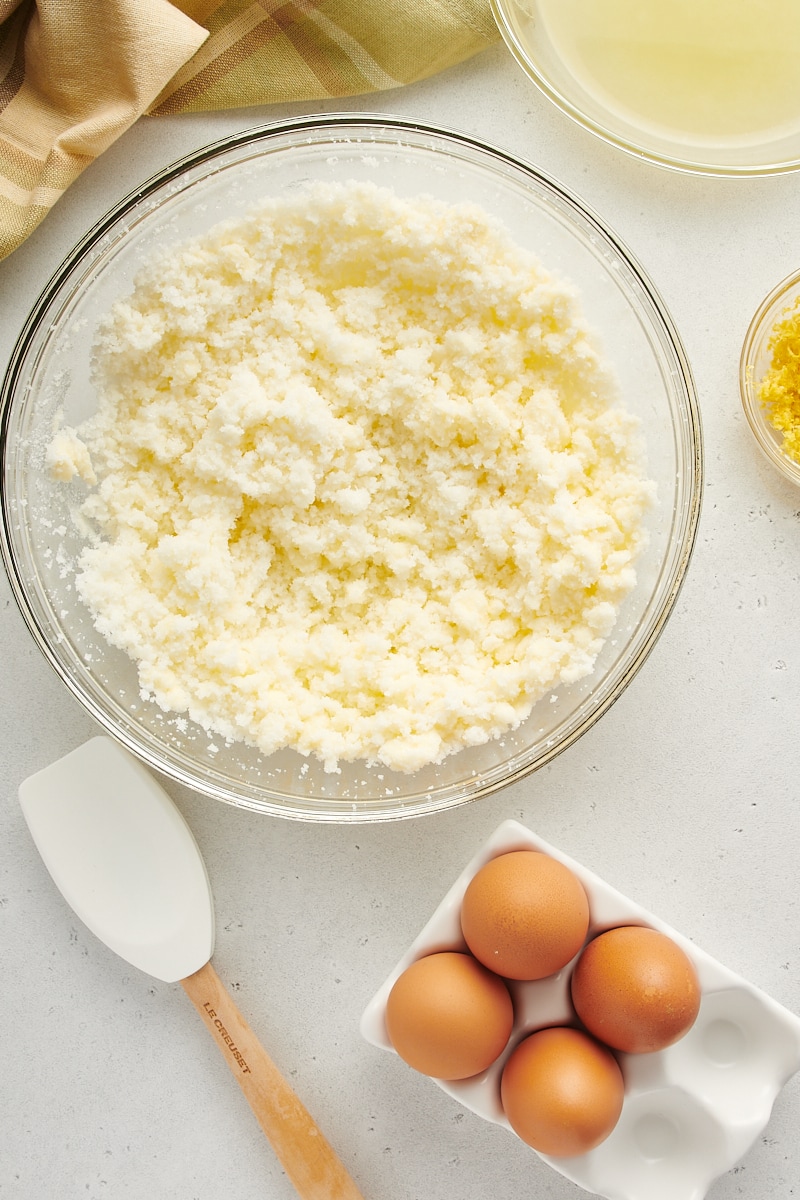 Finish mixing. With the mixer on low speed, gradually add the lemon juice. Mix just until combined. Stir in the lemon zest. At this point, the mixture will look curdled.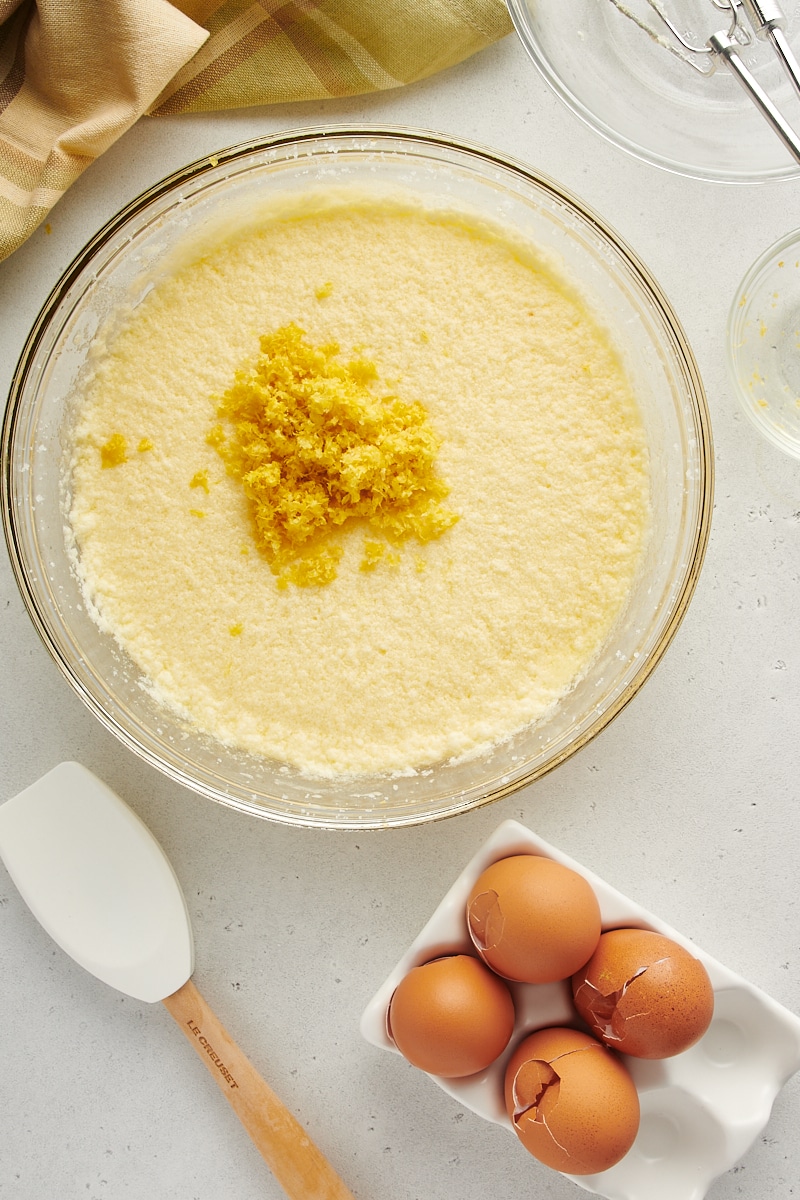 Cook. Use one of the methods described below to cook the curd until thickened. Remember that it will thicken as it cools.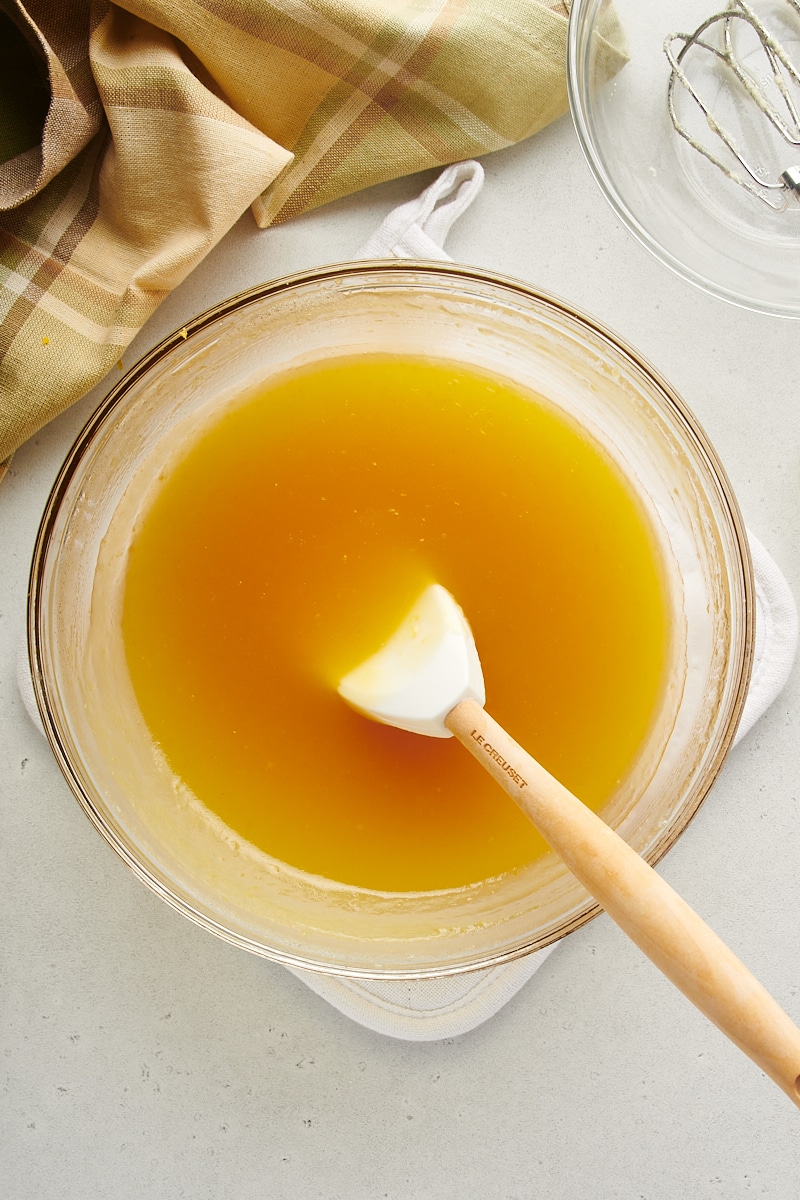 Chill. If you used the stovetop method, transfer the curd to a bowl. Place plastic wrap directly onto the surface of the curd, covering well. Refrigerate for at least 4 hours. If you like, you can transfer the curd to individual jars for storage or gifting.
Lemon Curd Microwave Method
Microwave the mixture on high speed for 5 minutes, stirring every minute. (Be sure you're using a large microwave-safe bowl.) Continue heating in 30-second intervals, stirring after each interval for another 2-3 minutes until the mixture thickens and coats the back of a spoon. It should start to mound slightly as it's stirred.
Keep in mind that all microwaves are different, so it may take more or less time to get the curd to the right consistency.
Lemon Curd Stovetop Method
Place the mixture in a heavy saucepan. Cook over medium-low heat, whisking constantly. The temperature shouldn't be so high that the mixture bubbles. Continue cooking and whisking until the mixture thickens and coats the back of a spoon. This will likely take 10 to 15 minutes. If you have a candy thermometer, you can check the curd for doneness. It should reach 170 to 180°F.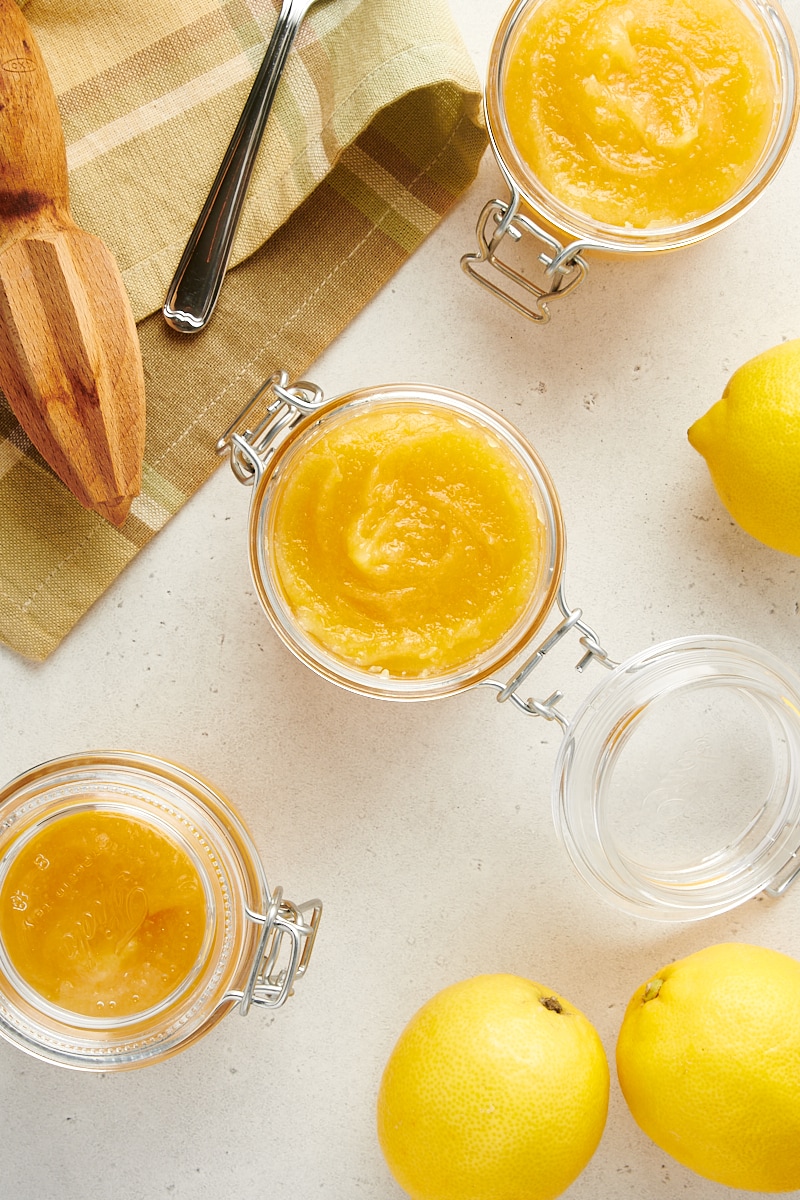 Tips for Success
Use fresh lemon juice. It may be tempting to use bottled lemon juice, but you'll be far happier with the results you'll get from using fresh lemons.
Don't skip the zest. You'll get a better lemon flavor and prettier color with the zest. Be sure to zest only the outside rind and not the pith underneath. I recommend a fine grater like a microplane to get very small pieces of zest.
Try other citrus fruits. Lime, orange, and grapefruit will all make delicious curds, too!
How to Store
Lemon curd should keep up to 2 weeks in an airtight container in the refrigerator.
Can Lemon Curd Be Frozen?
Yes! Place the curd in a freezer-safe container and press a layer of plastic wrap on top before sealing. Leave about 1/4 inch or so of space at the top to allow for any expansion as it freezes. Properly stored, it will keep for several months, maybe even a year! Thaw it overnight in the refrigerator.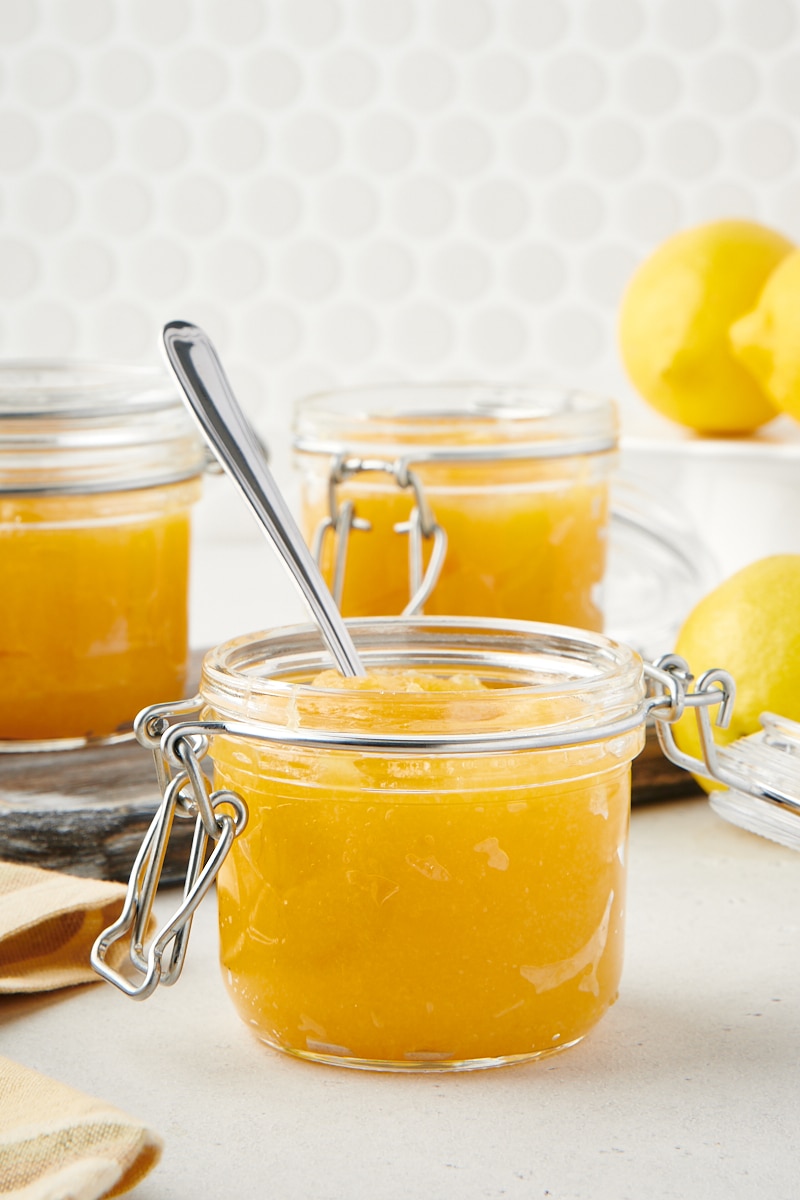 Frequently Asked Questions
Do I need to use a double boiler to make lemon curd?
Some people swear that a double-boiler is a must for making lemon curd on the stovetop, but I don't find that to be true as long as it is cooked over the appropriate heat and whisked regularly. That being said, it's still a consideration, especially if your stovetop's temperature is a bit unreliable.

If you find that you need or want to use a double-boiler, be sure to use a glass or non-reactive metal bowl for the curd. Place it over a pot with a couple of inches of simmering water. Make sure the bowl with the curd mixture doesn't touch the simmering water in the pot below. Then, cook as directed in the recipe. You may also need to add a few minutes to the expected cooking time.
Does lemon curd need to be strained?
This one is a maybe. Straining the lemon curd serves a couple of purposes. First, it will catch any seeds that may have made it into your mixture. Secondly, it will remove any bits of egg that may have scrambled a bit while cooking.

Straining will also remove at least some of the bigger bits of lemon zest. That can be good or bad, depending on your preferences.

If you want or need to strain your lemon curd, use a fine mesh sieve.
Why isn't my lemon curd thickening?
When lemon curd is ready to remove from the heat, it will be thickened and smooth. It should coat the back of a spoon, and leave a trail if you run your finger through the curd on the spoon. Think of it like a pudding that's more pourable. If your curd is thick but not as thick as it should be, keep cooking.

If it still won't thicken at all, this can be due to mis-measuring ingredients. Most likely, something may be off with the amount of lemon juice or eggs. You can try whisking some of the mixture with another egg yolk and then slowly whisking that into the mixture. Cook a bit longer, and it should thicken.
Why is my lemon curd too thin?
It likely didn't cook long enough. You can try returning it to the heat and continue cooking it. Or just embrace that you made a nice lemon sauce!
Why is my lemon curd lumpy?
Lumpy lemon curd is most likely a result of cooking it at a too high temperature. To fix this, you can remove it from the heat, whisk it really well to make it smooth, strain it, and then continue cooking. Instead of that vigorous whisking, you can try giving it a spin in your blender or using an immersion blender.
Why does my lemon curd taste metallic?
Lemons can react with some metals, giving your curd a slight metallic taste. If you're cooking the curd on the stovetop, be sure to use a non-reactive pan to avoid this. A stainless steel or glass bowl works well.
Is it possible to over-cook lemon curd?
Absolutely. Lemon curd that has been over-cooked will be lumpy, curdled, and have a pronounced egg flavor. You can attempt to rescue it as described above for lumpy lemon curd.