Confession time. Until just a few days ago, I had never baked with rhubarb. Honestly, my encounters with it had been few and far between. But, when you're handed a bunch of rhubarb, you bake with it. Right?
I wanted a trustworthy recipe, as I didn't feel comfortable coming up with my own on my maiden rhubarb voyage. I consulted a favorite cookbook and found a recipe for a quick bread that seemed like just the thing. That book was The Sweeter Side of Amy's Bread, a long-standing member of my cookbook collection.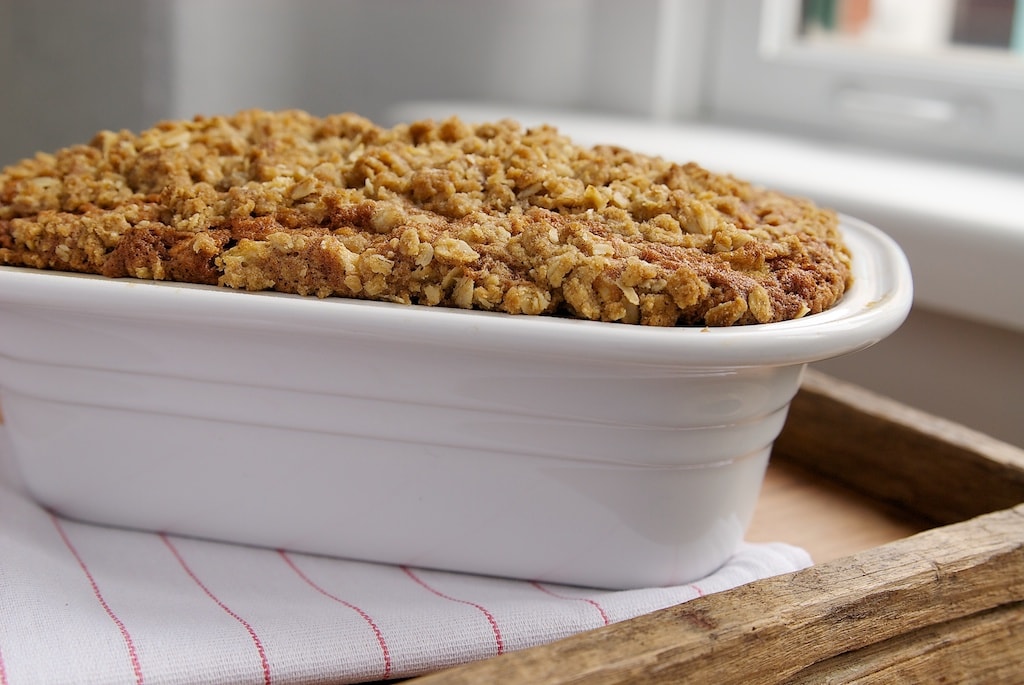 The recipe appealed to me because of its simplicity and flavors. I figured I had a good chance of liking a rhubarb recipe if I liked everything else that went into it. So, I got busy washing and trimming and drying the rhubarb. Not having any experience with prepping it, I think it took me longer than it should have. Some of you may be rhubarb masters and fly through that part quickly.
The result of my labors was a delicious, spice-laden, hearty, big bread. And, I do mean big. As you can likely tell from these photos, the bread just about baked out of my loaf pan. You'll have plenty to share.
It's an ideal choice for breakfast, brunch, or whenever the mood strikes. Serve it warm with a little butter or maybe even cream cheese spread right on a slice.
Scroll past the recipe for this month's Baker's Bookshelf Giveaway!
Baker's Bookshelf Giveaway
Last month
, I began a new giveaway series to celebrate some of my favorite cookbooks. I call it Baker's Bookshelf. About once a month I'll pick a favorite cookbook, share a recipe from it, and give Bake or Break readers a chance to win a copy for themselves.
This month's featured cookbook is The Sweeter Side of Amy's Bread. Amy's Bread is one of my favorite bakeries in New York. When we lived in Chelsea, I visited their Chelsea Market location frequently. While they are known for their freshly baked breads, you know I can't resist their desserts. In fact, the recipe for one of my favorite brownies is in this book.
The book is also full of recipes for cookies, cakes, yeast breads, and more. I'm so happy to be able to give one of you the chance to win this beautiful book!
Please read all of the entry details and conditions below. The winner must be a U.S. resident 18 years or older. If the winner does not respond within 48 hours, another winner will be chosen. Please add bakeorbreak at gmail dot com to your address book so that a winning email from me doesn't end up in your spam folder.
If you are unable to see the raffle widget, please make sure your browser is updated or try using another browser.
Good luck!
Disclosure: This giveaway is being provided solely by Bake or Break.